MJ Hibbett & The Validators
Blog
Gigs
Facts
Music
Shop
Links
Blog
Two Nights At The Cinema
It was a right cultural whirligig round our way last weekend, with THEATRE, LIVE FILMING, and then on Sunday evening the first of TWO trips to The Pictures!
The Lights and Camera of my Action had suggested we go to see "Bohemian Rhapsody". the Queen film that came out a while ago. We'd meant to go and see it over Christmas but hadn't got around it it, and assumed it had long gone, but she discovered it was still showing at our local VUE. I confidently declared that we would probably be the only people there, as it had been on for so long, so was a little discombobulated when we arrived to discover that it was SOLD OUT!
We would later discover that it was showing in one of the small rooms upstairs in the Vue, where they usually show The Art Films, and guessed that it had probably been put there to finish off its run, only to suddenly get attention again with The Golden Globes win the other week. We had got all dressed up to go out of the house and didn't want to just slink home so we had a look at what ELSE was showing, booked tickets for "Stand & Ollie" a little while later, and went for a DRINK!
Having a DRINK was such good fun that we decided to have another during the FILM, which was a lovely idea except for the fact that OH MY WORD it takes a long time to buy anything in that cinema. Unless you go at approx 10am there is ALWAYS a huge queue, and we later debated whether this was a tactical decision. Maybe Vue think punters will initially queue up just for a ticket, but after spending TWENTY MINUTES waiting in line they eventually decide to make it worth their while and spend A MILLION POUNDS on a drink and popcorn as well. If this is the case, then they only have themselves to blame for people choosing to stay home instead - drinks and snacks are easily accessible and FREE there, and all you need to do to get That Real Cinema Experience is sit closer to the telly!
EVENTUALLY we got in, and even managed to get an "upgrade" to the VIP seats by... er... going and sitting in them. I must say they were very comfy, and you get a GRATE view - take THAT, Vue Cinemas! Actually I spent the first ten minutes of the film terrified we would get Told Off, but luckily I was with an International Rebel who said, correctly, it would be FINE.
We had differing views on the film itself. The Steps In My Dance Routine didn't like Steve Coogan in it, and thought he was basically doing Alan Partridge with a weird unconvincing accent, which is a criticism I can accept. I, however, flipping LOVED it. I don't know what it was about the story of MEN going on the road together and playing to small audiences, but something about it clicked with me. I especially loved the bit at the end where they're on stage and the camera goes back to just show their Iconic Silhouettes. It MOVED me!
There were no such difference in opinions the NEXT night when we tried again to see "Bohemian Rhapsody" and this time succeeded. It was GRATE! I do LOVE a good Rock Biopic and this was a REALLY good one. There were Astounding Impersonations! Re-workings of Well Known Events! Clearly Shoe-Horned-In Moments Of Jeopardy! A MONTAGE within the first twenty minutes showing them going from rehearsal to sellout show! Several other "writing the song" MONTAGES going from "No, I don't want to play the hit song 'Under Pressure' I refuse" to it being a HIT! Several people saying "There is no way that this song will be re-released several times and become a major international anthem"!
One of the few things it was missing was a series of PUNS based around song titles e.g. a clear opportunity was missed to show a magician at one of Freddie's parties and have John Deacon say "What do you think to the illusionist, Brian?" and Brian May reply "Well, It's A Kind Of Magic, I suppose... HANG ON!" or at ANY POINT Roger Taylor hurting himself and insisting that they do the gig because "The Show Must Go On guys... HANG ON!"
What it did have in BULK was Historical Revisionism. Crumbs! When we left the cinema we were wondering why it had got such bad reviews, but then a look online later showed that a lot of it was due to people OUTRAGED by how much things had been changed around. I am not the sort of person to know the in-depth histories of bands (NB apart from The Beatles OBVS, but surely everybody knows exact dates for all events in their lives and has read The Big Mark Lewisohn Book?) so was Quite Surprised to find quite HOW MUCH they had changed things. As The Dates On My Calendar later remarked, it was less a biopic and more of a ROCK MUSICAL loosely based on The Story Of Queen.
It was still dead good tho, and my only complaint about its Golden Globe success would be to say that The Bloke Who Played Brian May was ROBBED - and I say that as someone who has stood mere FEET away from the great man at a Badger Demo for SEVERAL minutes. He was AMAZING!
posted 18/1/2019 by MJ Hibbett
(click here for permanent link)
(0) comments
Filmic Innovation
I was back in the STUDIO on Sunday afternoon to commence filming new VIDEOS for the next PLINTHS release.
Myself and Mr J Dredge gathered in Theatre Deli in Broadgate to do filming for TWO (2) films. We only really needed to do ONE (1), for the next single which should be out in March, but I knew that we are SO EFFICIENT that we usually only use the first hour of our two hour bookings, so we worked out something else to do if that became the case. SPOILERS: it did.
The first video we did was for the song "Pancake Day". I've wanted to do a DANCING video for AGES, ever since The Knees In My Legs watched the video for
What Is Life
by G Harrison and LOVED it. John and I discussed what we could do, with the initial idea that we'd have John doing simple dance moves, and make it look like there were three of him doing them at the same time. However, once we got started I realised that a) this would be really difficult and b) it looked GRATE with just him doing it on his own. It may surprise you to find out that I am NOT a professionally trained DANCE director, but it turns out that watching several series of Strictly and going to CHARLESTON lessons about a decade ago is all the training I needed to stand there saying "PLACE your hand! STRAIGHTEN your leg! Marvellous darling!"
It may also surprise those who know him to find out that John is NOT a professionally trained dancer, but once we got going he WENT for it, and looked GRATE. We did a whole bunch of different moves which we'll cut together, and I fuly expect "Pancaking" to take its place alongside "Dabbing" and "Flossing" at all of next season's high society balls.
After that we did some stuff for a song called "Idiots Rule The World". The idea for this was to film John's face singing the song, so I could superimpose it over some ACTUAL idiots who rule the world. To enable this I had bought some sheets of green paper from the Art Shop at work, and we spent some very happy minutes cutting a hole out to fit John's FACE. This left a gap around the sides, so we stuck another sheet across the back, making a rather marvellous Personal Green Screen, as seen below.
Watch out Andy Serkis, there are new Special Effects Experts in town! To make it work properly I ended up stood behind John, holding the side of the sheets with one hand and shining the torch from my phone down the back with the other, to try and keep it all the same shade of green, which I feel made John look like the SECOND daftest person in the room. I was very glad the the windows along the sides of the room were FROSTED!
When I got home I had a quick check to make sure that this had actually WORKED, and was amazed and relieved to find that YES, it actually had! There will now follow several weeks of tinkering with both videos before we UNLEASH them on the public, but hopefully this blog will serve as a Behind The Scenes Documentary TEASER until then!
posted 16/1/2019 by MJ Hibbett
(click here for permanent link)
(0) comments
Back To The Panto
On Saturday afternoon myself and The Rising Of My Curtain went to the THEATRE in London's Fashionable Stratford area of London, there to see THE PANTO!
We last went to the panto at the same venue
a couple of years ago
, but that time we had sat in the STALLS. THIS time we'd been invited by a chum who had splashed out (about four months ago when there were bargains) on a BOX. I've never been in A BOX at The Theatre before, and found the whole experience Quite Luxurious. It was right up by the stage, so you had to lean out sometimes to see what was going on, but it was dead nice being in your own private little ROOM. If I ever get to do something like that then I will investigate taking a PICNIC!
The show itself was Quite Good, but much like
last time
I found myself taking NOTES throughout. It was the penultimate show of the run (with the last one that evening) so I thought it would be full of LARKING ABOUT and also EXTRA BUSINESS but it was actually played Very Straight Indeed. Almost TOO straight in places - the whole show stuck very firmly to The Story, so there wasn't much in the way of topical gags, and the Jokes That Only Grown-Ups Will Understand came thick and fast for the first ten minutes, and then petered out in favour of Getting Children To Dance, which, to be fair, was FAB. Is "flossing" on The National Curriculum, or are The Young People just very mobile these days?
The cast were GRATE throughout, though there were bits where, if I had been DIRECTING, I would have said "No, that line is a JOKE, try saying it as such." It's WEIRD - on the rare occasions I have encountered Actual Actors they never seem to notice JOKES and have to have them pointed out, but then try and do OTHER lines as jokes that AREN'T. Do they not teach GAGS at RADA, or is it Advanced Flossing instead?
One thing they definitely DID do properly though was Mention Local Places e.g. when they had to go into the forest it was EPPING FOREST, the shops were Westfield, the palace was in Stratford etc etc. It is always weirdly exciting to hear Somewhere You Live mentioned like this, I must remember to add it to my Things Everyone Likes list, along with Seeing Two Or More People Moving In Unison and Finishing On A Song.
In fact, I must remember to send that list round Theatres next year. Come on, PANTO BOOKERS, call me!
posted 15/1/2019 by MJ Hibbett
(click here for permanent link)
(0) comments
Collaborative Curries
The Validators are world-renowned for their rock and roll excesses, crazy lifestyles, and "don't give a flip" attitude, but, beneath that surface layer of sheer 100% punk rock, it may surprise you to learn that we can also on occasion be Quite Organised.
This was evidenced a few days ago when everyone received an email from Mr FA Machine with SIX agenda items for discussion regarding our activities in 2019. Along with items about GIGS and RECORDING he also made the very VALID point that we had not yet arranged our Christmas Curry. This is an hallowed tradition, undertaken almost every year, generally just AFTER Christmas when we... well, have a curry. We also take the opportunity to have a Band Meeting too, and after Frankie's email several more items were brought up for the agenda, not least a BOOK SWAP which, I am sure you will agree, is about as flipping rock and ruddy roll as it is possible to get. Watch out, William Idol, there are some new crazy rebels in town!
We will thus be convening in early February to dine and discuss. Coincidentally this will take place only a couple of days after ANOTHER grand tradition with Artistic Collaborators i.e. a CAMDEN curry with Mr & Mrs Hewitt. Two curries in one week? No wonder Him Out Of The Libertines is looking worried!
posted 11/1/2019 by MJ Hibbett
(click here for permanent link)
(0) comments
Back On The Road (in a bit)
Over the Christmas period, as well as watching films and going to CHURCH and so forth, I also engaged in some ROCK PREP. For LO! Starting in February Mr Matt Tiller and I are going on TOUR!
I believe I have spoken about this before, but now it is all sorted with seven (SEVEN!) dates around the country and, indeed, London. Here is the full list as it currently stands:
| | |
| --- | --- |
| Thursday 7 February: | Urban Xchange Bar, London |
| Sunday 17 February: | The Joiners Arms, London |
| Wednesday 20 February: | The Globe, Leicester |
| Thursday 28 February: | The Green Room, Sheffield |
| Thursday 7 March: | Gullivers, Manchester |
| Friday 15 March: | New Bristol Brewery, Bristol |
| Thursday 21 March: | The King & Queen, London |
That's nearly as many gigs as I have done in the WHOLE of 2019! I am right looking forward to it, though it's been a bit weird getting back in the hang of this sort of thing, especially as I'll be doing them all SOLO. For most of the past few years I've done gigs EITHER with The Validators OR with Steve, but this time it'll be just ME! I mean, OBVS I'll be playing with Matt at each of them, and doing a lot of the travelling together too, but the gigs will be ALL HIBBETT!
It's been a remarkably smooth process getting it booked, as Mr Tiller has been an EXCELLENT tour-booking colleague. We have had MEETINGS and everything! We've also got a proper POSTER to use, which looks like THIS: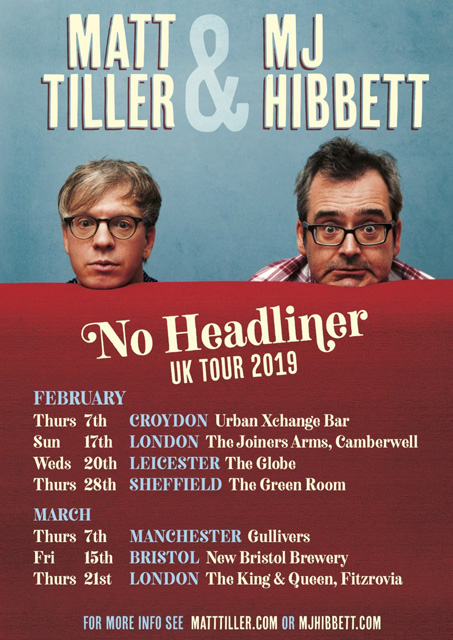 I currently have HIGH IDEALS of doing a vast range of different songs every night... though I have a sneaking suspicion that this will get boiled down to a core UBERSET as usual. There'll definitely be some NEW songs in the mix, though I can't necessarily guarantee any new GAGS. Do come along if there's one near to you though, we will both be VERY glad of the support!
posted 9/1/2019 by MJ Hibbett
(click here for permanent link)
(0) comments
Christmas Films
I watched a LOT of telly over Christmas, which I believe is what The Baby Jesus would have wanted. For LO!, when the Shepherds watched their flocks by night, all watching BBC, did not the Angel of The Lord come down and switch to ITV?
The BEST thing I watched was That Bros Documentary Everyone Was Going On About - honestly, if you have not watched it yet it really IS as brilliant as everyone keeps saying it is, it's called 'When The Screaming Stops' and it's
on the iplayer
. Go and have a look!
A lot of the talk online was about how funny it is, which it definitely is (I'm still laughing at the bit about conkers even now), but it's also surprisingly moving - they're very open about their emotions throughout, but when they struggle to get it across to each other you just want to go and give them both a big hug. I also really liked the BAND bits - when Matt tries to tell Luke how an introductory DRUM FILL should sound, BEFORE they've even started playing the song, it reminded me of all the times that I... I mean, somebody very insensitive who isn't me... have done that sort of thing, and how AWFUL it is for all concerened.
Anyway, whether you've been in a band or not, liked Bros or not, or indeed had a sibling or not, it is BLOODY GRATE and you will kick yourself if it drops off the iPlayer before you get a chance to see it!
I did not, however, spend the ENTIRE Christmas period sat on my arse in front of the telly. Perish the thought! I also managed to drag myself out to sit on my arse in front of a cinema screen, when I went to see "Spider-Man: Into The Spider-Verse" and it was AMAZING! As with the Bros film I had read a LOT of reviews telling me how brilliant it was and, once again, they were CORRECT. BLIMEY! It was the most comics-y superhero film I have ever seen and, not coincidentally, also THE BEST. EVER! I loved the way it did all the really FUN stuff from comics, all the imagination and excitement and DAFTNESS, without feeling it had to get tied up in explaining every single aspect. I loved the fact that it ACKNOWLEDGED how many times we've seen the Origin Story and then did each separate Spider-Person's story in a very All Star Superman way i.e. cut to the absolute essentials. I also loved the way it put Actual Comics in, like Kirby Dots or the Bill Sienkiewicz version of The Kingpin, and most of all the way it took an existing story and MANGLED it to make it BETTER for film but also using the MADDEST ideas, and wrapped the whole thing up with LOADS of a) actual proper jokes b) actual proper action and c) actual proper EMOTION. Goodness me, I believe I cried AT LEAST 3 times during the film!
Go and see it! It is GRATE!
posted 7/1/2019 by MJ Hibbett
(click here for permanent link)
(0) comments
Holy Christmas
Either side of our HOLIDAY this year The Routes On My Network and I did a LOT of bouncing around visiting relatives, which meant that by Christmas Day itself we had done EVERYONE and thus had the whole day to ourselves, so we could do whatever we wanted. It turns out that what we wanted was to go to CHURCH!
Our reasoning was thus: for the past several years we've always gone to St John's in Leytonstone (where we used to live) for the Christmas Carol service, but missed it this time due to the aforementioned holiday, so thought we'd give it a go on Christmas Day itself instead. This turned out to be unexpectedly BRILLIANT.
Our journey commenced with a 40 minute HIKE back to our old hood, arriving just in time for some milling about before the service itself began. I'd been to church a few times on Christmas day when I was little, and vaguely remembered it as taking AGES with everyone dressed up and being Quite Serious and STERN. St John's was NOT like that at ALL - if anything it reminded me of an INDIE GIG. Nobody seemed entirely sure what was meant to be happening, the main act was NERVOUS (it turns out that his DAD was in the audience, so maybe that was why), there were GUITARS, and the whole audience got to sing along. This latter was because there was no CHOIR to do the singing for us, which led to the congregation going for it with some GUSTO, even on the songs that most of us didn't know. Highlights included the vicar stopping the first song a verse early and the congregation all going "There's another VERSE!", him and his Dad having to have three goes getting the lights on the tree to come on when we all shouted "Let there be LIGHT!" (which I'm pretty sure is in the bible), the curate not being able to work the Powerpoint presentation that had all the song lyrics on, a crew of children with SHAKERS putting off the vicar and his pal on guitar and piano, and an extended metaphor about JESUS being one of the Mr Men.
We also got some CHOCOLATES halfway through (again, that's definitely in the BIBLE), said hello to each other at some length, and I had my usual Christmas Sniffle during "Oh Come All Ye Faithful" (NB reminds me of my NAN). I tell you what, if they put THAT sort of service on Telly Religion (rather than the TERRIFYING Midnight Mass of LATIN and INCENSE and TERROR that I'd seen 5 seconds of on BBC1 the night before) I reckon it would turn Church Attendance right round. I know it's made ME want to go more - to Christmas Carols AND Christmas Day!
posted 4/1/2019 by MJ Hibbett
(click here for permanent link)
(0) comments
Feliz Navidad!
Myself and The Baubles On My Tree went off for some SUMMER SUN just before Christmas, and let me tell you this: it was GRATE!
We went to sunny TENERIFE, where it was weirdly like SUMMER but also CHRISTMASSY. It was most odd to be wandering round in shorts and sandles while Shakin' Stevens sang in the background, but being strong-willed and determined we somehow managed to get by. The people of Tenerife have some particular tastes in Christmas decorations - they like Poinsettia, Reindeer made from fairy lights, gigantic wireframe presents you can walk inside, and especially nativity scenes. Man ALIVE but there were a lot of nativity scenes - our hotel alone had TWO, and we saw an INCREDIBLE one when we went on our (one and only) day trip to La Laguna. The Tourist Information centre there had an entire ROOM full of a model village version of Bethlehem which told the entire bible story as you walked around it. It was brilliant, also quite surprising as I found myself squealing "Ooh, it's Herod!" There was also a life-size scene in the courtyard of the building, which had The Baby Jesus missing. It wasn't Christmas yet though, so maybe he would be there for his birthday?
Another thing they like in Tenerife is FOOD LABELLING, which was extremely helpful, and also VEGANISM. There were LOADS of places to eat, though we spent the majority of our lunchtimes popping to a place called Malaika, a totally vegan cafe in Puerto de la Cruz, and then going to a healthfood shop on the way back to the bar... sorry, apartment... which sold Violife CREAM CHEESE, which I'd not seen before. I'm not quite sure WHY there was so much Ethical Eating going on, but we were very glad for it. We also, very ethically, drank as much LOCAL BEER as we could. We were ethical every day, sometimes several times over!
One of the other highlights of the week was the Lago Martianez, an enormous LIDO down by the seaside, where we spent a very ethical afternoon eating locally sourced foods ("chips", I think they call them) and LOLLING ABOUT on sunbeds. There was an EXTREMELY cold saltwater pool which The Salt In My Brine spent about 20 minutes longer in than me (so about 22 minutes), and I had a PROPER KIP in the sunshine. It was ACE!
Towards the end of the holiday news started to drip through about the drones at Gatwick, where we were due to fly back to. We hoped it would all be sorted out by the time it was our turn to go, but amazingly, given that Chris Grayling was exerting all his mental powers on solving the problem, the airport was still closed the night before we were due to set off. The Times On My Timetable spent a lot of time texting and emailing people to try and find out what was going on, and rather brilliantly got our check-out time delayed so we had more time to pack. In the end our bus pick-up was put back from about 1pm to 6.30pm, giving us an extra afternoon to be ETHICAL in the cafe and the poolside bar.
Then it took AGES to get to the airport via a traffic jam, during which the mostly British passengers told each other what we'd heard, followed by a SCARE at the check-in desk, where we went to get a much needed PINT and returned 20 minutes later to find that the desk had CLOSED! Luckily for us the chap from Norwegian Airways, the ONLY person in the check-in lounge, sorted us out, but it was a bit scary!
The rest of the journey was FINE, and we ended up getting home just after 6am, which meant it was the first time in about a DECADE that I'd stayed awake for 24 hours. We was KNACKERED, but very happy with a BRILLO holiday. I would heartily recommend a bit of WINTER SUN!
posted 2/1/2019 by MJ Hibbett
(click here for permanent link)
(0) comments
Totally Acoustic Returns!
I had an EXTREMELY busy day on Thursday, featuring a training course (with me giving the training), an ART exhibition and a Christmas DO, all before 5pm! By the time I got to The King & Queen I was ready for some ROCK, and luckily that was available in plentiful supply.
For LO! I was there for the Christmas edition of
Totally Acoustic
! We hadn't done one of these for over a year so I was RIGHT looking forward to it. On the way to the pub I bumped into The Popinjays, who'd already been in, SOUNDCHECKED, and were now off to get some GRUB, and then once upstairs I found Mr D Green practicing his 80's singalong, so all the acts were ALREADY there, which is always a GRATE relief to me. I was thus able to concentrate on setting up the seating, saying hello to people, and having a much needed PINT.
By just after 7.30pm not only were all the acts in place but most of the AUDIENCE was too. It was delightful to see pretty much ALL of our regulars there (with Mr S Hewitt and Mr T Eveleigh arriving just as we began and making us COMPLETE) and also a good bunch of new people, including Mr T Parsons who had been on my mailing list for YEARS but had never actually seen me before!
I thus took to the stage area and, after a rousing choral rendition of
the theme tune
, did THIS:
It all seeemed to go pretty well - it's been AGES since I last did a gig so I'd wondered if I remembered how, but it seems to be like riding a bike i.e. smelling faintly of oil and with a good chance of falling over. Dave then came straight on for his SYNTH-led singalong, which was BRILLIANT. Dave could well do a gig without ANY music or other forms of entertainment, just TALKING, but here he had three AMAZING tunes and also SONGSHEETS, so the whole room sang along. More people should do this sort of thing! It climaxed in an Actually Rather Moving version of "Only You" which will be available for further enjoyment on the podcast!
After the traditional short break The Popinjays came on. The Validators and I had played with them
in Cologne
and found them to be a) GRATE b) DELIGHTFUL people, and that assessment was found to stand up in an acoustic setting. It was a bit weird actually - when I asked them to do it they said they'd NEVER really done anything remotely acoustical before and seemed to genuinely be a bit nervous about it, but they took to it INSTANTLY as if it's what they'd been doing all their ROCKING LIVES. It was fantastic, I really hope they do it some more!
And then it was time to settle in for the usual BEERS, WHISKY, and CHAT that traditionally follow at Totally Acoustic, which was as lovely as ever. It felt simultaneously like AGES since we'd last done one of these and also no time at all, and it reminded me, and I think all the other regulars, how much FUN it was and what a FLIPPING ACE pub The King & Queen is. Myself and The Dates In My Diary discussed the matter when we got home and agreed that perhaps some time COULD be found to do it a bit more regularly again, so look out next year for Totally Acoustic's RETURN, not monthly but perhaps on a QUARTERLY basis!
posted 10/12/2018 by MJ Hibbett
(click here for permanent link)
(0) comments
Last Christmas (in the EU) UNLEASHED!
Man the barricades and deck the halls, for LO! today we unleash our epochal combination of POLITICAL SONGWRITING and CHRISTMAS HIT in the shape of our brand new Christmas song,
Last Christmas (in the EU)
!
As with all of our previous Christmas singles it's been added to our
Christmas Selection Box
, which this year is not only available via
Bandcamp
but also (in most countries anyway) on
iTunes
,
Spotify
, and pretty much ALL streaming and download sites. At long last you will be able to add our MIGHTY FESTIVE CATALOGUE to your Playlists!
We are very PROUD of this one, as we think it is ACE, and hope you think so too!
posted 3/12/2018 by MJ Hibbett
(click here for permanent link)
(2) comments
Christmas Video Completed
This morning I finally completed a project what myself, The Validators, and The Items On My List have been working on for LITERALLY MONTHS: this year's Christmas VIDEO!
As regular readers will be aware, work on this began WAY back
in September
when The Validators exhibited symptoms of Not Exactly Enthusiasm for the song I'd originally written to be this year's Christmas single. The aforementioned Tinsel On My Tree pointed out that she'd already told me a MUCH better idea, for a song about this being out last Christmas in the EU, and upon review it turned out that she was, as ever, CORRECT.
A song was thus written to these new guidelines, a demo version was provided to the Validators, approval was granted, and then the following month
we commenced recording sessions
. The usual procedures then applied to THIS activity (when you have been in a band together for TWENTY YEARS you do tend to find that your procedures are both DEFINED and COMPREHENSIVE) until the track was HONED to perfection, at which pointed I applied my BRANE to the video.
The story was agreed quite early, following contributions from all stakeholders (I know I always say it, but The Validators really are JOLLY GOOD at this sort of thing - if we ever turn our skills to WORLD DOMINATION then all would fall before us) and the general format, which i can only describe as A MODERN EPISTOLARY NOVEL hem hem, was agreed quite early on, but it took AGES to do the actual IMAGERY. I had originally intended to star in it myself as SANTA, but that just looked RUBBISH. Luckily myself and The Partners In My Partnership found a NEW STAR during a trip to our local department story who suddenly CRYSTALIZED the entire CONCEPT. When you see the video you'll understand what I mean!
Next there was a PHOTOSHOOT, conducted this time by The Pictures In My Album, and then about a FORTNIGHT of putting the whole thing together. For reasons of EASE I ended up assembling the various images in POWERPOINT (again, when you see the video you'll see why I did it that way), which turned out to be a dead good idea, but did involve a LOT of copying, pasting, sizing, text formatting and so on. It took AGES to do but, rather wonderfully, utilising this method meant that EDITING the final video was a piece of CAKE. I even learnt how to force Powerpoint to export slides as high-definition PNG files in the process - I bet Godley and Cream never had to edit THEIR computer's registry when making a video! THEIR LOSS!
There was then a final round of discussion with stakeholders which, again, garnered excellent results. The Validators are pretty much THE BEATLES of ROCK ADMIN - who needs Brit Awards when you can conduct a full virtual team meeting by email and have action points ACTIONED by 7.30am the following day?
The upshot of ALL of this is that the video is now DONE and is ready to be UNLEASHED on Monday morning, alongside the song and indeed the entirety of the revamped
Christmas Selection Box
album on iTunes, Spotify, and ALL of that sort of thing (unless you're in certain parts of the world, for
reasons explained elsewhere
, in which case you'll need to get it on
bandcamp
). It is, I think, going to be QUITE the Thing - not only a lovely Christmas song with a FAB video, but also pretty much GUARANTEED to bring down the government and end Brexit!
posted 30/11/2018 by MJ Hibbett
(click here for permanent link)
(0) comments
Pre-tour Photo Shoot
For the past couple of weeks Mr M Tiller and I have been endeavouring to make a mutually agreeable appointment to discuss some of the finer aspects of our TOUR next year, including doing some PICTURES and VIDEOS for promotional purposes. He suggested I go over to his place in Camberwell on Wednesday of this week (aka YESTERDAY at time of writing) so I checked in my diary and saw that I was somewhere with work for most of that afternoon. On further investigation I realised that I was going to be at Camberwell College of Art! PERFECT!
Thus I spent a very happy afternoon at Camberwell College a) finding the room I was Giving Training in b) working out where the projector was and how it worked c) GIVING the Training what I was there to Give, and then d) heading off to chez Tiller. Upon arrival Matt made me a VERY posh cup of coffee (he ground the beans himself! I saw him do it!) and then we went into his front room to do some short VIDEOS. Matt works in TELLY and so has gathered together various bits and bobs of KIT over the years, and so we had Actual Lighting for this session. It looked very nice when we watched it back, photographically at least, even though the content was mostly the two of us LARFING at each other and forgetting the tour dates.
Shortly after that Matt's cousin-in-law arrived to take PHOTOGRAPHS. She is a Professional Photographer so there was some more time spent with LIGHTING and DEPTH OF FIELD and PHOTOGRAPHER THINGS, but then the SHOOT began and it was ENORMOUS fun. "I don't even have to direct you!" she said as the pair of us titted about, pulling silly faces while variously hiding behind a sofa, pretending to be superheroes, and almost falling over.
It was a very pleasant end to a working day which will hopefully lead to some quality Promotional Materials. I shall ALERT you as soon as they are available to VIEW!
posted 29/11/2018 by MJ Hibbett
(click here for permanent link)
(0) comments
Very Cherry 13
I had a lovely facebook message from Mr G Jones yesterday, telling me that there had been a
REVIEW
of
A Very Cherry Christmas volume 13
which mentioned how much they liked my contribution,
The Christmas Robot
.
This pleased me NO END. It's always nice to get a good review of course - whatever GRUMPS say - and it's such a long old time since we actually RELEASED anything that COULD get reviewed that I'd sort of forgotten how nice it actually is! I was also pleased that
the review
gets EXACTLY what I was going for in the song.
Most of all it was a nice reminder to ME that this stuff is actually meant to get out into the WORLD. For the past couple of months we've been hard at work prepping
Christmas Selection Box
for OFFICIAL RELEASE, by which I mean not just adding a couple of songs as we usually do but unleashing it upon iTunes, Spotify and all that sort of thing. We're adding a whole bunch of new songs to it, including this year's CHRISTMAS HIT which will not only celebrate Christmas but will also DEFINITELY bring down the government, along with a couple of extra HITS - more on THESE when release day comes around on the 3rd of December.
This process has been helped along a GRATE deal by those lovely people at
Emubands
, who sort out our digital distribution for us. I filled in all the forms and uploaded all the relevant tracks, and they very kindly, and quickly, got in touch to tell me what I had done WRONG. The main error was that I'd included a bunch of cover versions and then clicked "Worldwide Distribution", which meant that I'd have to go round getting CLEARANCES for several territories. They offered various ways to deal with this, the easiest of which was simply not bothering with the difficult ones, so I'm afraid that people living in the USA, India, Pakistan and (I think) Japan will just have to stick to
Bandcamp
. Sorry!
However you choose to enjoy it, the whole SHEBANG will be released in a couple of weeks. In the meantime I say let's get Christmassy NOW - we've had to sit through Brexit all year, we deserve a bit of festive cheer!
posted 21/11/2018 by MJ Hibbett
(click here for permanent link)
(0) comments
Return Of Representation
This blog may appear quiet, but beneath its metaphorical waters there has been a MAD FRENZY of activity, for LO! I have been doing THE WRITING!
Regular sufferers of my MIGHTY MUSINGS will be aware that a year or two ago I very nearly got signed up with an AGENT for my book 'Storm House'. It got as far as me signing a contract, but not quite as far as THEM signing it, as the Agent who'd liked the manuscript moved to another job JUST as it was happening. It was all a bit distressing, and I ended up releasing the book MYSELF instead last year, which was a whole LOT of fun.
The Agent Who Wasn't had told me that 'Storm House' was actually a CHILDREN's book, so I sent it off to a couple of Children's Novel competitions and BLOW ME if it didn't get longlisted for BOTH! One of these,
the Times/Chicken House Children's Fiction competition
sent me some GRATE notes, including a suggestion that the reason it hadn't got SHORTlisted was that it didn't feature children enough in lead roles. I took this as a CHALLENGE and did a larger re-write, which I then sent out to MORE agents.
To cut a long story short, there then followed a LENGTHY period of rejection, followed by a request for a full manuscript from one agent, followed by a telephone conversation, followed by a MEETING, and then an envelope containing a contract whicj THIS agent had ALREADY SIGNED!
Thus I was, this week, in the very happy situation of being able to email all the other agents who had not yet said "no"to tell them that I had Taken On Representation and was no longer available to them. HA! It did feel good I must say, although it was a little bit of a struggle to find the time to do it because the above mentioned MEETING had then led to a REVISIONS OUTLINE which in turn has led to me doing a MASSIVE rewrite of the book to bring a LOT more younger characters in. There's name changes, age revisions, a whole bunch of new characters, LOADS more monsters and an entirely new subplot. Perhaps most of all there's a change to the TITLE and, most fun for me, the generation of an APPENDIX giving a whole history of the institution.
I have been enjoying it ENORMOUSLY! The current plan is for me to finish this big re-draft by the middle of December so that My Agent can read it over Christmas and then come back with (hopefully smaller) further revisions so that he can take it out round publishers early in the New Year. It is RATHER EXCITING but, as I'm sure you can understand after last time, I'm doing my best to contain it all by not saying too much (I hope) about it. All being well there'll be some news next year, but in the meantime I've got a whole lot of typing to get on with!
posted 20/11/2018 by MJ Hibbett
(click here for permanent link)
(0) comments
Academic Experimentalism
I spent a large chunk of Saturday at WORK this weekend... or at an old work anyway. For LO! I was attending
Transitions 8
, the Comics Studies conference that takes place at Birkbeck College where I spent MANY years in gainful employment. It was slightly odd being back there, although it was reassuring that, even after so long away, I was still able to get Mildly Lost trying to get to another floor. Some things never change!
The highpoint of the day for me was right at the start, when Dr M Gray gave the keynote which was party about her book on Alan Moore but also contained a range of "beefs" she has about the field of Comics Studies. It was all very politely done, including the complaint that Comics Studies is too polite. She was saying, as I understood it at least, that the FIELD should be more confident in itself so that different theories/schools/ideas could argue with each other, rather than all trying to be Team Comics. She also mentioned that Comics Studies had a lot of FORMALISM in it (i.e. talking about the structure, the panels, the FORM of comics rather than what's in them or how they came to be or what they MEAN), to the detriment of other areas of interest, which led to people throughout the rest of the day saying "Sorry, I'm a formalist" in a very polite way. It was dead good to have something right at the beginning which put the cat amongst the pigeons a little bit, and rather pleasantly WARPED all the talks for the rest of the day.
I am very much NOT a formalist so I must admit I did find some of the talks about... well, formalist, but there was plenty of good stuff too. My main concern, I must confess, was my OWN talk, which was coming at the end of the day. When I first arrived the organisers came over to apologise for sticking me and my fellow PhD-er Mr G Lawley on at the end, and then for the fact that they'd had to move around various parallel sessions so that we were the only thing on in that last slot. "You mean we're HEADLINING?" I asked. Apparently you CAN look at it that way, but i don't think anybody else was.
When our session finally came it was, to be honest, GRATE fun. Guy did an EXTREMELY interesting talk about the history of American comic books before Superman, which consisted, amazingly, of only five years of STUFF. There were descriptions of Cultural Production, there were interesting What Ifs, and there was a demonstration of How Comics Are Made using a folded up broadsheet newspaper that was FASCINATING, also ILLUMINATING!
My talk was called "Doctor Doom as The Avatar Of Supervillainy In Not Brand Echh" and it was based on a bunch of BLOGS wot I'd written a while back for my
Marvel Age Doom
blog. I was a bit NERVOUS about it because I was trying a different presentation technique, as I've always been a bit disappointed in how my previous comics talks have worked out. For each one I'd pretty much written the whole thing down and then read it out - I've done my best to LOOK UP and engage a bit, but someone reading off a piece of paper is always a bit DULL, and I always think that if you're going to WRITE a paper then the best thing to do would be to ask people to READ it themselves, so I was determined to improve my SKILLZ in this regard.
I've also been doing quite a lot of presentations at WORK since I started my current job, and that's really made me see that it's better to try and say LESS in order to get more Actual Information across. ALSO it turns out that slides are NOT just for either a) lists of words or b) Dave Gorman-style gags but can ACTUALLY be used to c) guide YOURSELF through what you're talking about. THUS I tried to carry this over to my Comics talk, and built a set of slides to help ME as well as the audience.
On top of all of that, I wanted to set myself up for something where I could ENJOY myself and tit around a little bit, like what I do at gigs. As it turned out this, and all of the above, TOTALLY happened. It was FAB! There were actual GASPS when I did a slide showing the enormous number of comics I was looking at, which was EXTREMELY gratifying, and at one point I saw a Leading Comics Academic wiping ACTUAL TEARS of LARFTER from his eyes.
I was a bit worried about what would come in the questions, so was a bit surprised when the above Notable Thinker put his hand up and asked "Do you ever find out what's under Doctor Doom's mask?" but luckily I have extensive experience of answering questions like that from my NEPHEW, so was able to fully respond. Someone else asked WHY Marvel thought it could do humour, and where it had come from, and this forced my BRANE to think on the spot and come up with a Fairly Sensible Answer.
What I am trying to say is that it went DEAD WELL and I was, and am, VERY PLEASE about it. It does feel at the moment that all of the Transferable Skillz wot I picked up in all these years of ROCK are finding new homes in other areas, and I have to say that I rather like it!
posted 12/11/2018 by MJ Hibbett
(click here for permanent link)
(0) comments
Christmas Is Coming
There has been much Validators Activity of late, as we exercise our IMMENSE Teamworking SKILLZ to prepare the latest version of our CHRISTMAS album,
Christmas Selection Box
for release.
For LO! this year we are going to put the WHOLE album onto iTunes, Spotify, and all that sort of thing so that it can be heard and enjoyed much more widely. For too long Christmas Playlists have been made which do not feature, for instance,
Roy Wood In The Blue Note
, which is frankly a CHRISTMAS CRME.
We're also taking the opportunity to add several more songs to the tracklisting, not least our forthcoming single
Last Christmas (in the EU)
, which is not only one of the most festive tunes we have ever done, but is also pretty much GUARANTEED to bring down the government. We're now at the stage where Frankie has done the main mix and we are all getting him to tweak tinier and tinier aspects of it. It is, I am fully confident, his FAVOURITE part of the process.
Meanwhile we've also been working on a track called
Christmas In The Future
which is, basically, an ART project. I asked The Validators to send my roughly one minute of what they thought Christmas might sound like in THE FUTURE and then, while they set to work, recorded a narration a bit like what Phil Spector does on HIS Christmas album. None of us knew what the others were doing, so when I put it all together i was DELIGHTED to discover that it did indeed sound VERY futuristic and VERY Christmassy!
Also, it's only a minute long, so it's a lot less hassle to listen to than the Phil Spector one.
We've also got the order of tracks to sort out, but I'm full of hope that we'll get everything done by this time next week, at which point I'll get it all uploaded to iTunes etc ready to be UNLEASHED by the start of Advent. There's going to be a brand new VIDEO too, it's going to be the best Christmas EVER!
posted 8/11/2018 by MJ Hibbett
(click here for permanent link)
(0) comments
Homework
The clocks went back by an hour at the weekend, but if felt to me as if they had gone back THIRTY YEARS, for LO! I spent most of my free time doing HOMEWORK!
Admittedly this homework was mostly about DOCTOR DOOM and MARVEL COMICS, but still, I felt Mildly Oppressed to be sat at my desk typing up an ESSAY about The Production Of Culture Approach as it might be used to Periodise The Marvel Age when, surely, all my pals were out on their BIKES and/or hanging around outside Our Price. It turns out that doing a PhD involves a LOT of homework, but I'm having to do a bit more than usual at the moment because of some extra tasks that have come in, notably a BOOK CHAPTER!
For LO! I got a VERY exciting email last week telling me that my proposal to write a chapter entitled "Doctor Doom: The Transmedia Supervillain" for a new book about Marvel had been ACCEPTED! It's only accepted to the stage of first draft at the moment, so if they don't like it they can still say no, but it's all RATHER thrilling. This first draft is due in mid-January, which would be plenty of time if it wasn't for the fact that I have a) a conference presentation about 'Not Brand Echh' to do in a couple of weeks and b) a whole different chapter about Periodisation to hand in for the actual Phd not long after that and c) a massive Confirmation Document to complete so that I can carry on doing it too.
THUS I was chained - CHAINED - to the laptop for a large part of the weekend, but OBVS it could have been a lot worse. When I worked at The University Of Leicester I was offered the chance to do a PhD in STATISTICS, and almost did it until somebody said "You'll be spending 5 years doing this, so it has to be something you're really interested in and care about," which I wasn't and didn't, so luckily I SWERVED that particular NIGHTMARE. I AM interested in Doctor Doom and DO care about Transmedia Archeology though, which is lucky because that person was RIGHT!
I've now completed a Production Of Culture analysis of Marvel Comics from 1961-1987 (it is QUITE INTERESTING and also features lots of PICTURES) and on Sunday evening I presented a first go at my presentation to The Slides In My Powerpoint (she is one lucky lady!) so now I can spend some time planning out the Confirmation stuff and MUSING upon the Book Chapter. A little while ago I was having a mini-MOPE because there wasn't much going on. Now there's almost TOO MUCH!
posted 30/10/2018 by MJ Hibbett
(click here for permanent link)
(0) comments
Coal Drops Yard
I work in London's Fashionable Kings Cross area of London, where there are always new things popping up, or being rebuilt. For instance, my proper office is in the Granary Building, which used to be... well, a granary building, but is now the main site for Central St Martins.
It's all very funky and exciting, especially when something new opens that you can go and have a nosey around, and so it was last Friday when the
Coal Drops Yard
area opened up. It's right next door to the Granary Building and all the time I've been coming here - first for PhD stuff and latterly for Actual Job - it's been boarded up, so it was a bit of a shock to wander out at lunchtime and see a whole new ZONE ready for looking at.
Originally this was the coal yard for the industrial site that sat here next to the canal and near Kings Cross and St Pancras stations, but the whole thing has now been cleaned up and re-tooled as a SUPER CHI-CHI shopping destination. It looks GORGEOUS, especially the two roofs which scoop around and up at one end like two waves crashing into each other. Apart from that though it's weirdly pointless. I, and everyone I know who went to have a look, came back and said "It's all very nice, but I can't see why I'd ever go there again." The shops are SO chi-chi that it's hard to work out what they actually are - you walk past some and think, is it a cafe? is it a shop? or is it maybe an art gallery of some kind? There appear to be NICK NACKS available, but does anybody need quite that much tat? One of the shops seems to concentrate on chocolate, but my boss claims that he saw a bar of chocolate that cost FIFTY QUID, which surely can't be right can it?
Usually in places like this you can find a PUB at one end, but at Coal Drops Yard everywhere looked like it was a RESTAURANT, with staff congregating at the doors to show you to a table or - more likely for ROCK AND ROLL REBELS like me - keep you out. I walked around the whole area and honestly could not work out what the point of any of it was!
CONVERSELY they've just opened a new PUB in St Pancras station, right at the back where the HS1 trains go from. It's ALWAYS full, even after only being open for a week, and when myself and The Maths In My Retail Plan popped in last Tuesday it was clear that EVERYBODY knew EXACTLY what it was for, and were thoroughly enjoying it. I predict that the PUB will last a lot longer than most of the chi-chi nick nack shops down the way!
posted 29/10/2018 by MJ Hibbett
(click here for permanent link)
(0) comments
Bandcamp Rationalisation
Last week I received a TXT from Mr R Kirkham, asking for THORTS about
It Only Works Because You're Hibbett
. This is the tribute album to ME that Ray organised a few years ago, and my thoughts on it can mostly be summarised as "HOORAH!" but he was after something a bit more practical than that.
He'd originally put the album on his own Bandcamp site and made some CDs, with all proceeds going to a NATURE charity that we agreed on, but now that the physical copies have sold out he was wondering what would be best for the long-term future of this EPIC and MARVELLOUS creation. It seemed sensible for me to download it and then stick it up on my OWN
Bandcamp Page
, partly so that Ray didn't have to worry about ADMINISTERING it, but also so that it would be HIGHLIGHTED to anybody who came visiting to look at our OUTPUT.
So that's what we did, and you can now find it on the above mentioned
Bandcamp Page
. I hope this means that more people get to hear about it, because I think it is GRATE. There's a whole host of ALLIES and CHUMS on it - listing any of them would mean having to miss some out, so I would suggest you go and
have a look for yourself
. If you read the tracklist and think "COR! That sounds FAB!" then you can find out whether you are right - HINT: you will be!
posted 26/10/2018 by MJ Hibbett
(click here for permanent link)
(0) comments
Quiz Machine
Last night I took a trip back in time, and also down the road, to see 'Henry Cage: Quiz Machine' at 2 Northdown, just round the corner from my work. This was the new show from Mr Harry Carr AKA Harry from the MA, and there was a whole bunch of fellow ALUMNI in attendance. It was dead good!
The pre-show featured Ms E Morgan for our traditional periodical chat about How It's All Going - for Emma it appears to be going QUITE EXCITINGLY with things in ACTUAL DEVELOPMENT - and towards the end Ms M Malm, before we went round the corner to meet up with Ms M Velevitch and Ms L Hayford for the show itself. It was LOVELY seeing everybody again, and seems VERY hard to believe that we finished the MA four years ago. That can't be right can it? I'm prepared to believe we might have STARTED it four years ago, but that seems like AGES since it was all over. I always think that one of (if not THE) best things about that course was the other people who were on it - hanging around in the pub with them on Wednesday nights was certainly my favourite part of the teaching anyway - and it was fab to lurk around with them in a Theatrical Space again.
The show itself was dead good too. I've seen a couple of Harry's shows before and he has always been a WHIZ at doing Audience Participation without making anyone feel BAD about it. He got people up on stage and, while staying in character and being funny, made them feel part of the show without forcing them to do things they didn't like. It was also deceptively CUNNING - it was set up like a pub quiz, which allowed for JOKES all the way through (PROPER jokes too) but then a SUB-PLOT to develop which built even more jokes into it. The best bits, according to me, were a) the way he immediately got audience members to pretend to be team leaders and shout out their scores at the end of each round b) the catchphrase "I'll allow it" and c) ending with getting everyone to stand up and sing a Christmas Carol. This latter felt bizarre at the time, but it was a lovely way to get the whole audience united, and also standing up ready to applaud when he left the stage!
It was, all in all, a fab night - a reminder of fun times in the past and a sign that those kind of times can carry on!
posted 17/10/2018 by MJ Hibbett
(click here for permanent link)
(0) comments
Gigs And The Got Them
A couple of weeks ago I had an upsetting 24 hours when I had NO GIGS BOOKED AT ALL!
It happened just after we'd finished
the show at The Gladstone Arms
. Suddenly, for the first time in over a decade, I had ABSOLUTELY NO GIGS booked in the diary. It was awful!
I was, however, terribly brave about the whole thing, not least because I knew that there were gigs AHOY, and indeed by Sunday we had got one BOOKED, with
Totally Acoustic
returning for a Christmas Special on December 6th. I'm not bringing these shows back on a particularly regular basis just yet, but I HAVE missed them, so I'm hoping to do a couple more next year too.
With that under our belts MORE gigs flowed in, with one in January in DERBYSHIRE tentatively arranged for The Vlads (more details of that one when it's properly sorted out). Then there was a GIG AVALANCHE as no less than FIVE gigs were slotted in over the rest of the week - as
previously mentioned
Mr Matt Tiller and I had been plotting some gig-getting, which all went extremely smoothly, though the first one was a bit of a MAD DASH.
We'd looked at a list of possible places to play around February/March time, and one of the nominated locations was Leicester. I realised on the Friday that, actually, that was when The Leicester Comedy Festival was on, so had a quick look to see what the deadline for show submissions was.
I checked this at about 11am on Friday 5 October. The deadline turned out to be 5.30pm on Friday 5 October!
There thus followed a FLURRY of activity. I decided NOT to contact the promoter at The Criterion to ask for a slot because a) that is where Steve and I usually did OUR shows, so it would have felt like CHEATING and also b) they're not THE quickest people to answer emails, so instead I emailed the Cookie Club, who we went to last time to do
Hey Hey 16K
at The Globe. Amazingly they got back to me RIGHT away and, with a phone call and a LOT of emails between Matt and I, the whole thing was BOOKED and PAID for with over an hour to spare before the deadline. It was, I think, the easiest fringe show I have EVER booked!
After that Mr T Eveleigh got in touch and offered us gigs in Sheffield and Croydon, then Matt sorted us out shows in Manchester and Bristol too! We were both slightly FLABBERGASTED by how straightforward it had been. Tour booking is usually A GRIND, but this had been easy. Almost... too easy?
We're hoping to get in a few more shows, possibly Plymouth and then one in Camberwell and finally back at The King & Queen (probably for the next
Totally Acoustic
) and then we'll have a RIGHT proper tour all booked. It looks like next Spring is going to FLIPPING ROCK!
posted 16/10/2018 by MJ Hibbett
(click here for permanent link)
(0) comments
A Trip To Edinburgh
I left work at lunchtime on Thursday to catch a TRAIN. It's the sort of thing I used to do all the time when I was in Regularly Touring Mode but haven't for AGES, and in this instance it wasn't for ROCK anyway. For LO! I was heading to Edinburgh for a CONFERENCE!
The whole thing had been booked through work, which meant that - STEEL YRSELVES - I had to travel all the way there in STANDARD class! As I always say, booking first class just means you got ORGANISED a bit earlier, and the LUXURY of getting a single seat all the way is not one that we should allow THE WEALTHY to have all to themselves, THUS my use of that particular carriage is an act of CLASS WAR which, it just so happens, also entitles me to free biscuits. It ALSO makes the trip much more relaxing, as if you've got a single seat it means you never have to worry about LOONIES coming and sitting next to you. And yet you try telling that to the Finance team at your work and they don't believe you!
There were no loonies to report on either leg of my journey, but it was still MUCHO BUSY, especially on the way there, and it wasn't quite the luxurious afternoon of reading comics, gazing out of the window, and eating free biscuits that I usually look forward to. Still, I got to Edinburgh in the end and strolled through that GORGEOUS city to the Premier Inn in New Town. COR but it is a lovely place, Edinburgh, I like it a LOT!
I popped out to get some TEA after I'd checked in, and did a bit of CUNNING SHOPPING which I must remember to do again in future. I really fancied a cup of TEA - I drink Peppermint Tea when I'm out and about because a) tea-style tea NEVER tastes any good outside of your own home and b) Peppermint is, so far, almost impossible to mess up - and I'd noted that it would cost £1.75 for a cup in the hotel. HOWEVER, a whole PACK in Tesco round the corner only cost 80p! I believe this is what the young people call WINZ - i had THREE CUPS before bed time! Take THAT, so-called Costa Coffee!
The next morning it was still DAMP so I got the bus across town to the conference hotel. The driver seemed DISGUSTED that I didn't know that all single tickets in Edinburgh cost the same, but I managed not to HULK OUT and instead enjoyed the trip down Princes Street, VERY glad not to be walking along it in the rain. I hopped off next to The Waldorf Hotel which is where the conference was. It was DEAD POSH inside and rather nice, though my dears I am sorry to report that when they brought the food out for lunch most of the plates were MUCKY! Clearly they have diverted New Dishwasher Money into the Fancy Napkins Fund instead.
The conference itself was about Research Data Management and was Quite Interesting. Whenever I go to a conference I always think it is going to be about STATISTICS, despite the fact that I've not been to one of those in YEARS, so tend to be pleasantly surprised that I'm still awake after ten minutes, but this one was actually RELEVANT to my Professional Interests, and gave me some IDEAS. It was good!
It all finished just before 4pm, leaving me with 90 minutes before my train left, so I decided to do the honourable thing and go to THE PUB. I was trying to work out a route that would avoid both Princes Street (BORING) and too many HILLS, then remembered that I'd walked past this hotel every day when we did
Hey Hey 16K
so followed that route down to the Grassmarket and round past Sneaky Pete's. It felt weird to be doing it without a Hula Hoop over my shoulder!
Like a FOOL I waited until I'd gone a long way down Cowgate before turning left up to the Royal Mile, which meant I had to MOUNTAIN CLIMB up the SHEER FACE of an extremely inclined street, and was out of breath by the time I got to the top and stumbled into the whisky shop. Once I'd made my purchase and recovered myself I went round to The Halfway House for a quick drink before getting my train home. It's a LOVELY pub which I will always remember as the place where a) Mr S Hewitt and I watched the closing ceremony of the 2008 Olympics and a) we agreed to do 'Dinosuar Planet' the next year and most importantly b) he declared his avowed intent to take part somehow in the 2012 Olympics. We did both!
It did feel weird to be saying goodbye to Edinburgh after such a flying visit, but I have high hopes of going again soon. I'll book my own ticket this time though!
posted 15/10/2018 by MJ Hibbett
(click here for permanent link)
(0) comments
Mad Day
Things have been a little quiet in ROCK lately, but they haven't half been busy at WORK. Yesterday, for instance, was a bit of a MAD DAY.
It started off with a trip to the London College of Communication in Elephant & Castle, where I went to talk to an Artist/Lecturer about ways to capture Practice Research on our computer system. It was DEAD INTERESTING and also entirely compliant with my professional interests. Talking about this sort of thing is always fun, but I am especially enjoying it at the moment because I am getting close to Actually Knowing What I'm On About. I've been in this job just over six months now and I've reached the blissful point where not all questions result in my SWEATING WITH DREAD. It's quite nice!
I then hopped on a tube and went to High Holborn, to explain our system to some people involved in the Teaching Pathway. At UAL academic staff are either on a Research, Teaching or Knowledge Exchange Pathway, depending on what they mainly DO, and so far our system's been mostly set up to work for Research. THUS I'm now going round talking to people on the other pathways to see what they could actually USE it for. This also is great fun, and also SENSIBLE as I haven't a flipping clue what they might like it to do!
With that done I zoomed off to Oxford Circus for a quick nip into GOSH before returning to Elephant & Castle to attend a Committee where I was giving a PRESENTATION. I have also now reached the point where I can not only TALK about the systems but also ANSWER QUESTIONS without wanting to run away and hide under an easel somewhere. The meeting was GRATE as everyone seemed DEAD KEEN, as they were at my NEXT meeting which took me back into town and to The London College Of Fashion for ANOTHER presentation. I'm always AFEARED when I go there that EITHER everyone will sneer terribly at my outfit OR worse still STEAL my Unique Look for next year's collections. In actual fact they tend to be lovely, and this time were even MORE keen on the system. It's all a bit weird really, I keep expecting people to REJECT any idea of new computer stuff, but instead they say "But this is amazing and will solve all of our problems!" It's like appearing in an advert for washing powder!
After that i got back on the tube AGANE and headed back to Elephant and Castle one last time, for the launch of
The Comics Research Hub
at LCC. This is the rather brilliant plan for bringing together ALL the various Comics Studies research that goes on across the six colleges of UAL - we are basically a WORLD LEADER in this field, but nobody seems to notice because everybody's spread out across different sites and departments. Seeing everybody gathered together in the room was RATHER exciting, like when THE AVENGERS have a meeting of ALL the members and even George Perez struggles to fit them all in!
It was also a bit weird for me because there were people there from BOTH my aspects of UAL - the PhD AND the actual job - so I found myself in the odd position of SWANNING AROUND a little bit introducing people to each other. Luckily there was also time for some FREE BEER, so it wasn't all out of the ordinary, but CRUMBS it was a busy end to a busy day!
And then this afternoon I'm off to a Conference in SCOTLAND. What has happened to me? I thought jobs were supposed to be boring?!?
posted 11/10/2018 by MJ Hibbett
(click here for permanent link)
(0) comments
Two Johns, Jilted and Otway
Last night myself and The Synapses In My BRANE met at Great Portland Street to go and see John Otway and Jilted John. The gig had originally been at Koko, but then the venue was closed down for some reason and the show was moved to 229, which was MUCH better for us. Koko is one of those old Victorian theatre venues that always feel too dark, MUCH too cramped and, for some reason, too expensive, and is also in stinky CAMDEN. 229 was much handier (and right next door to a Pizza Express doing their ACE vegan pizzas too) and actually dead nice. We'd been there a couple of times before, and remembered it as a long thin basement, but I think it must have moved next door, as we went through a different entrance and the room we found ourselves in felt like a Hotel Ballroom. It was under a hotel, so it might well have been!
You can always tell if you haven't seen Otway for a while by the presence of NEW JOKES. We guessed we hadn't seen him for at least a couple of years, which meant there were about THREE new gags! I've been going to see him for thirty years now, and the set/act has not changed that much in all that time - it develops much like a GLACIER - so it was a bit of a shock to be laughing at gags I hadn't heard before, especially when some of them were actually Quite Good!
He was, as ever, GRATE, and it's lovely now to hear him tell his stories and realise that we were a (tiny, but still) part of some of them. I'm always amazed, when I see him playing non-headlining gigs, to realise that there are still people going to gigs who somehow have never SEEN Otway before! Especially at a show like this, where everyone else was at LEAST our age and had clearly been to at least SOME gigs before, yet many of them were laughing in SURPRISE (rather than everyone else's comfortable DELIGHT and RECOGNITION) at some of the jokes. I can only surmise that they must have been doing it on purpose, saving their first Otway gig for a special occasion.
He was supporting Jilted John, who was dead good, but it did make for a bit of a strange combination. Here was John Otway - an ACTUAL Punk Legend with TWO hits - doing the support for a PRETEND Punk Legend with ONE hit, which was a PRETEND Punk song even at the time! I guess maybe the fact that Jilted John hasn't done around 2,000 actual gigs since the 70s means it's a bit more special to see him!
As the second half of the gig went on it slowly dawned on me that this was a SHOW - the songs were linked together, and told chronological stories. Was the set based on a MUSICAL maybe? I don't know, he didn't make a big thing of it or anything, but it felt as if there was more to it than met the EAR. I was, I must admit, a bit disappointed that John Shuttleworth didn't come on for the encore, but John Otway DID, and it was hilarious watching everybody realise that he only knew the "Gordon Is A Moron" bit for the main song (which, wonderfully traditionally, they did a second time at the end).
It was dead good but, as I say, a bit confusing. Did I see a Punk Rock show? A pastiche, tribute, or recreation of same? Or something ELSE?!?!?
posted 9/10/2018 by MJ Hibbett
(click here for permanent link)
(1) comments
The Gladstone Arms
Saturday was that most delightful of days: one full of THE VALIDATORS!
For LO! not only did we have a GIG booked in the evening, but we also had a RECORDING SESSION in the afternoon, to do some DRUMS for this year's Christmas song. When the song was written a couple of weeks ago we all got A Little Bit Excited about it, and decided that we needed to make an effort to record it properly (or at least not improperly). Tim had thus suggested that he, Emma and Tom set off for London a bit early (Frankie had already booked his train, so his timings were IMMOVABLE) and then we meet in a rehearsal studio in Holloway to do some recording.
So that's what we did! We were in a place called Storm, which was actually very nice. I'm continually surprised by how PLEASANT most rehearsal studios are these days. I spent a LOT of time in them during the 1990s when they were uniformly cold, damp, smelly and AWFUL, but these days they tend to be CLEAN and even have GEAR in them that works. Kids today with their habitable rehearsal space and functioning equipment, they don't know how lucky they are!
Tim had brought his CAJON and various other bits of kit with him, although it turned out he hadn't brought the RIGHT bits of kit, so had to manhandle it all together somehow from furniture. Meanwhile Tom and I set up our respective recording devices in separate parts of the room, to try and get a decent spread of sound, and prepared to record, with me standing next to Tim, singing and playing guitar as a GUIDE.
After the first take Tim very gently suggested that I sing NOT QUITE SO LOUDLY - partly so that we would get as clean a take of the drums as possible, and partly because the end of the song has a KEY CHANGE so the less of my inability to a) play the chords b) hit the notes which made it onto the recording, the better! I thus found myself basically stood behind him, WHISPERING the words as we went along, which actualy seemed to work quite well. We then did the same for ANOTHER song (details of which are UNDER WRAPS at present) before settling into a brief PRACTICE and then heading off to South London, where we were due to play a gig at
The Gladstone Arms
.
As
previously discussed
it is a LOVELY pub, made all the lovelier than the arrival, just a few minutes after us, by Mr FA Machine. The Validators were COMPLETE at last!
The sound was done by a very nice, very enthusiastic, very DILIGENT Romanian chap, and sounded GRATE. We had a good old NATTER and were joined by various CHUMS and lovely people, and then at about 8pm we went on stage (or "corner of the room") and did THIS:
It sounded, by all accounts, DEAD GOOD - as I say, the soundman was GRATE, and playing in that formation, with all acoustical instruments modestly amplified through the same PA, alongside Tim's Cajon set-up, means that we can actually HEAR each other and react accordingly. There was one GRATE bit where a song started too slowly, and I remembered that if I just sped up a bit then everyone else would too! BAND SYNERGY!
I must admit that I did get a bit distracted by a table sat right in front of us who insisted on HAVING A VERY LOUD DRUNKEN CONVERSATION throughout, but that is more me than them. I am out of practice at Not Taking It Personally! Otherwise everybody seemed to be well into it, even those who did not know us, and I was once more especially pleased with the end bit to
Two Nights, One Pub
, which is dead good.
After our set there was more chat before it was time to say farewell to The Validators as they set off back to The Midlands. It really is DEAD NICE when we have a couple of gigs in close proximity like this, as you get to carry on conversations from last time and, indeed, discuss how GRATE it had been the last time too! Talk of our Christmas Curry hung in the air as we went our separate ways, but hopefully there will be time for a get together again before that!
posted 2/10/2018 by MJ Hibbett
(click here for permanent link)
(0) comments
---