Blog
Gigs
Facts
Music
Shop
Links
Hang Up The Moon
OMG and also KEWL - get a load of
this here vidoe
for
Hang Up The MOon
by the MIGHTY
FIGHTING COCKS
. It's BLOODY GRATE!
And goodness me, who IS that Unconventionally Handsome UKE demon at the start?
posted 31/3/2007 by MJ Hibbett
(click here for permanent link)
(0) comments
NEWS!
It's the last working day of the month, so as TRADITION DICTATES i have just sent out the latest issue of
THE NEWSLETTER
. As it says, there are THRILL-PACKED times ahead, including then usual SPECIAL OFFER on early delivery of the single for people on the mailing list, so if you want to be a part of all that do please
Sign Up!
.
Meanwhile, one other item of LATE BREAKING NEWS is that I'm doing a
GIG
on Monday in That London, as a last minute EMERGENCY SUPPORT REPLACEMENT for about FOUR bands who've pulled out in succession - it's with Thee More Shallows, Michael L Clamp and Former Utopia at The Social, and I'll be on about 9-ish, I think.
Right then, I'm off to the post office now to get the PROMOTIONAL JUGGERNAUT rolling!
posted 30/3/2007 by MJ Hibbett
(click here for permanent link)
(0) comments
Brixton
Off to Brixton again last night for another go at Vic Lambruscco's Cabaret Hour at Jamm, having missed the last one through SEVERE POORLINESS. I arrived to find everything gearing up, had a chat to Vic and also Mike from Urban75, and then briefly spoke to a young chap called
Nathan Penlington
. I WORRIED for him - he seemed, to mine WIZENED old eyes, a bit young and nervous, and I thought maybe he'd not done much of this before. Vic went on and did some of his poetry then an American guy, and it was all quite HARSH and, if not agressive, at least a bit angry. "Oh dear!" i thought, as my OLDER STATESMAN OF ROCK/Paternal instincts for a fellow specky bloke on his own FEELINGS emerged. "I do hope he'll be all right."
How very very very wrong I was - he was ABSOLUTELY BRILLIANT. Confident and RIGHTFULLY so, completely in control of the room, FUNNY, TOUCHING and all round GRATE - i was REALLY impressed, usually I think of POETS that they are just lazy sods who want to go on stage and can't be bothered to even learn to play something a s PEASY as GUITAR (and usually i am CORRECT - POETS! If you're not going to bother to learn an instrument, at least LEARN THE WORDS!!), but he was doing PROPER stuff - one particularly long BIT about buying an ice cream cone wasn't really poetry OR stand-up, it was just ACE.
Usually at this point, when the person before me is dead good, i am aiming THORT DAGGERS at them, but i was really enjoying myself, and went on stage full of beans to do THIS:
It's the short version of the SINGLE PROMOTION SET! To start with, after the RIOTOUS reception of individual LINES at Cambridge, i thought it wasn't working but, actually, it seemed to go down quite well, and I held my NERVE and ENJOYED myself - especially in the AVANT JAZZ section of
Do The Indie Kid
. After me there was an American guy playing accordian, who was also DEAD GOOD - it was all round a GOOD NIGHT really. A lot of times ONE goes to things called CABARET and it's just a bunch of people who haven't got enough of a good idea to play on their own for more than 10 minutes, but this time it felt like it was a SELECTION BOX of HIGHLIGHTS, and the long old journey back to the East End FLEW past in a happy blur of JOY. It was a GOOD night!
posted 30/3/2007 by MJ Hibbett
(click here for permanent link)
(0) comments
They're Here!
WHOO!! Half an hour agao I had a phone call from our office's front desk to say a BIG BOX had arrived for me - it was THE SINGLES! I HEFTED them downstairs and opened the box with SOME trepidation - would it be the right singles? Would they look OK? Would the insides be done properly? Would the music play? Would the multimedia bit be OK?
It took me a while to accept the FACT, but FACT it is: YES! It's ALL GOOD!
It's SUCH a relief - I've been convinced that these would all go wrong but NO, it all seems to have come out OK and they look REALLY nice. Here's the FRONT COVER for you: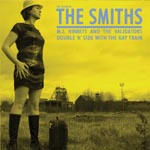 NICE isn't it? And the back cover is ... well, that's something ELSE. Inside there's four more of our Smiths Cover Recreation, and all in all it looks SMASHING. HOORAH! FINALLY we can get GOING and send the things out - it's officially released on April 30th, but if you happen to be an DISC JOCKEY you may well be getting a copy through the post in two and a bit weeks, and if you're on the
mailing list
then I'll send out the traditional EARLY PURCHASE OPPORTUNITY email a little bit before then.
It's all rather exciting, and ESPECIALLY a relief this time around as it means i can now get GOING - and ROCK!
posted 29/3/2007 by MJ Hibbett
(click here for permanent link)
(1) comments
A ROCK Concert
I headed off to Southwark last night for a VERY exciting GIG - as I think I've mentioned, The Strings On My Guitar has been learning how to play guitar for the past few months, which has all been LOVELY. OK, it's been a bit embarrassing when she's come home with chords i've never heard of, or demonstrated that, actually, i have been doing it WRONG for all these years, but this has been MORE than countermanded by a) PRIDE and b) getting to learn some more chords.
Last night, then, was their end of term concert, when they were to play two of the CLASSICS of Learning To Play Guitar: "Stairway To Heaven" and "Wild Thing". Oh YES! I arrived in the GROUNDS of the Church Hall to hear the gentle strains of the whole class practicing and singing the former WAFTING over the gardens, and sat down to wait and LISTEN to it. A load of people all singing together quietly is a LOVELY sound, communal AND intimate, and it sounded ACE.
We went into the Church Hall and got ready to ROCK. There were several other guitar classes represented, and I was expecting to at LEAST hear a version of "House Of The Rising Sun", but most of them were CLASSICAL. The first lot were very good, but there was no singing. I LIKE singing! HANDILY our heroes took to the stage second, and it was ACE - people YELPED with delight when "Wild Thing" started, it was lovely. FOR ME this is the big difference between the CLASSICAL stylings and "folk" (as their class is called) INSOMUCHAS Classical seems to be all about people going "SHH!! Watch in SILENT AWE at my technical proficiency!" whereas the folk/popular styling is a LOT more "Come on everybody, let's have a SINGALONG!" With the former you're an observer, with the latter it gets better the more people JOIN IN.
Anyway, it was ACE and of course The Bars In My 12 Bar was THE BEST - ooh, i was so proud, like a Parent at a School Play the CAMERA was much in use, and i had a LOVELY time. After that there was a whole lot of other classes, and it was sweet to see pretty much EVERYONE was BRICKING it - there was a lot of going "PHEW!" at the end of every song, it was lovely. At the end of it all we HIED ourselves to THE PUB, as is traditional, to drink BEER, and for me to WALLOW in the PRIDE of being The Roadie!
posted 29/3/2007 by MJ Hibbett
(click here for permanent link)
(0) comments
Waiting For The Courier
I've spent most of today, like most of the past couple of weeks, sat at work HOPING against HOPE that there'd be a call from the front desk to tell me a PARCEL has arrived, for LO! i am waiting for the delivery of our new single. It was meant to be here a couple of weeks ago, but as ALWAYS seems to happen there were "unexpected" delays.
It ALWAYS goes like this - I don't think I've EVER been responsible for a Musical Release which has actually been delivered on time and yet EVERY time I always think it IS going to arrive. It's been MOST frustrating when I've had stuff delivered at home and had to sit around waiting for it, so at least this time I'm sat somewhere I'd be ANYWHERE, but it still winds me up. Would it be that hard for them to be HONEST about it? Or, indeed, to LET ME KNOW WHAT'S HAPPENING? I used to cower in fear from the idea of pro-actively chasing up manufacturers LEST they deem us unworthy and decided not to bother at all, but this time around i have been being ARSEY with them, and for the past few days have been ringing up and DEMANDING to know what's going on. The story today is that the CDs AND the sleeves are DEFINITELY done, DEFINITELY put together and are DEFINITELY with the courier company so will DEFINITELY be delivered tomorrow lunchtime, but as they were DEFINITELY on the way two weeks ago, then one week ago, then by Monday, then Tuesday, then today, i am not exactly holding out much hope.
Except, of course, i REALLY AM and will be spending all day tomorrow LEAPING out of my chair every time i hear the front door going! THAT'S how they get away with it!
posted 28/3/2007 by MJ Hibbett
(click here for permanent link)
(0) comments
Myspace Excitement
I've just stuck my SESSION TRACKS from Phoenix FM up on our
MYSPACE page
for your ENJOYMENT. I was planning to change it all soon and put some of the single tracks on, so these'll only be there for a short time. Have an EARFUL while you can!
And in other myspace news, there's a rather lovely COVER VERSION of
The Lesson Of The Smiths
over
HERE
. It's a cover version of one of our songs! WAHEY!
posted 27/3/2007 by MJ Hibbett
(click here for permanent link)
(0) comments
Even More Travel
We left Brentwood for the OPEN ROAD, with Mr E Curry from Phoenix giving me a lift to Harlow, so's I could catch the train to Cambridge. It should have been a quick 20 minute drive but it took over NINETY, as the roads were SCREWED. Apparently there'd been an accident on the M25, which had spread CHAOS throughout the South East, verily e'en unto the M11, so we soon found ourselves stuck in a MASSIVE traffic jam about five miles long. THIS is where things got EXCITING, as we had GPS, so NIPPED off round some country lanes and got about half a mile further along until we hit ANOTHER queue, where we sat for twenty minutes enjoying watching people BEING REALLY ESSEX. My favourite bit was a lovely old granny LEAPING UP AND DOWN in her car seat BELLOWING abuse and waving her arms at other people in the queue (such was her RAGE) whilst in the other lane people drove THE WRONG WAY at HIGH SPEEDS, even including someone in a LANDROVER doing SKIDZ as they HURTLED round it anti-clockwise. Going to Essex always feels a bit like entering THE WILD WEST, in both a GOOD and a BAD way.
Anyhow, we'd had enough of that after a bit so SADDLED UP and hit the trail again, whooshing round the roundabout we'd been stuck at and out across the PRAIRIE again in a different direction. THIS time we got to the M11 junction where it looked like cars were piled up ON TOP OF EACH OTHER. They weren't, obviously, but the way people were HULKING OUT with DEMENTED HATRED for each other and grasping at MILLIMETRES of space made it feel like it, so we turned around again and finally found a clear route through to HARLOW: FRONTIER TOWN!
I stumbled into Harlow Station DESPERATE for a WEE, and discovered that the GENTS were all LOCKED due to "a smashed window and
your
safety", according to a felt tipped sign stuck to the door, so I had to use the LADIES. It was NOT a pleasant place to be, in fact the whole place was one of the GROTTIEST stations i have ever been in - and HEY! I have been in a LOT of railway stations. EVERYWHERE seemed to be DRIPPING and/or be covered in slime, ALL the floors looked like the loors of a toilet in a dodgy nightclub at 1am - suddenly, remembrance of ROCK CITY, NOTTINGHAM, and having to MOONWALK across the dancefloor to get mobility - and it STANK. Also all electrical equipment seemed to be SPARKING DANGEROUSLY.
I was thus quite pleased to get on the train and get GOING. My carriage was soon filled with a MOB of teenage boys who were LEAPING AROUND and FIGHTING each other, making a right old racket until two stops later when two slightly older teenage GURLS got on in a cloud of perfume, and the boys instantly STILLED. It was quite sweet really!
Eventually we got to Cambridge and I got a taxi over to The Portlant Arms where I met Chris and the other people running the evening, and soon everything became IMMENSELY PLEASANT. The Portland's a dead nice pub, even without the really good venue bit, and with the lovely company I was soon having a DEAD good time, so much so that I had to FORCE myself to go and sit in my ROOM (i'd booked a room ABOVE the pub for the night: CLEVER) and watch telly for a bit to STOP myself having too much NICE BEER and thus invalidating the actual gig. PROFESSIONALISM!
Soon it was time for the ROCK to begin, and first on was Tom Conway who was dead good - I thought he was going to be DOUR, largely because he is VERY tall and thin, but he was really engaging and funny and THOROUGHLY enjoyable... which, as I went on to say, is always slightly annoying, as I had to follow him, which I did with THIS:
I had a GRATE time! Everybody seemed to be WELL into it, with some songs getting LAFFS throughout - at the CORRECT places! - especially on the LIVE SOLO DEBUT for
Do The Indie Kid
, and the reintroduced
Never Going Back To Aldi's
seemed to work out dead well too. EVIDENCE of how much i enjoyed it can be found in the FACT that I talked so much between songs that i had to CUT two songs from the end to fit it all in. It was really really really good fun - HOORAH!
After that it was Dolittle, and I'll say this for them, they acted during the gig like they were playing a STADIUM, but they'd been like that in the SOUNDCHECK too, goodness ME they were really going for it, AND though they were playing "stripped down" (vocals, guitar and bass) they had more GEAR than most ORCHESTRAS - in-ear microphones, about five pedals EACH and ALL sorts. After THEM it was Daniel Flay, who were DEAD good. It looked like the singer was going to EXPLODE INTO TEARS at any point, so EMOTIONAL and UPSET was he throughout, and at the beginning he seemed to be about to RUN AWAY AND SOB because he thought something was wrong with his guitar but, actually, this made it all rather COMPELLING and, handily, they had some LOVELY songs to play. I was IMPRESSED!
So yes, a lovely night topped off by a long chat with some people from Wisbech and Stamford (though singing the traditional Peterborough Utd Lament "We Hate Cambridge and We Hate Cambridge, We Are The Cambridge Haters" may NOT have been such a good idea, geographically speaking) and NORMALLY I would have looked forward for a good hour or so of BEER and CHAT afterwards, but i was KNACKERED, so hied me away to my bed.
I'd PLANNED to have another lie-in, but just like on Saturday I woke up REALLY early - at 7am, which was even worse as this was 6am in the old money - and set off to the station again. This being Sunday meant, of course, Public Transport was BUGGERED and i had to get a train to STANSTED before getting a bloody BUS to London (as they'd decided to close BOTH routes from Cambridge to London - HOORAH for the privatised rail network!). Still, when I arrived i got STRAIGHT on a train to Stratford, crossed the platform and got STRAIGHT on tube to Leytonstone, so at least the END of my Odyssey Of Transport was done in record time.
I spent most of Sunday in BED after all that - I was DONE IN!
posted 27/3/2007 by MJ Hibbett
(click here for permanent link)
(1) comments
Back To Brentwood
As it was going to be a BUSY WEEKEND i had laid PLANS to make sure i didn't wear myself out and get a repeat of the UNPLEASANTNESS re. Baboon's Bottom that has happened before, HENCE i had built in a good old LIE IN for Saturday morning, that i might be RESTED before heading to Essex. My BRANE, however, was having none of it, and woke me up at 7am saying "Come on! let's hit the ROAD!"
I tried to go back to sleep and failed, then harboured thoughts about popping in to work or something, before realising that, actually, if i got up and WENT I could actually go HOME for a couple of hours, so that is what i DID - it was GRATE! An unexpected BONUS trip home thus followed, and it was a happily recharged Hibbett who set off that afternoon for BRENTWOOD, there to play a session on the newly opened
Phoenix FM
, who were celebrating the start of the PERMANENT LICENCE.
This was also the start at my attempt to utilise as many forms of transport as I could - it being the weekend nearly all public transport was, as usual, SCREWED, so I had to get a "rail replacement" bus (NB IT IS NOT A GOOD ENOUGH REPLACEMENT) to Wansted Park - a 3 minute journey by train which took half an hour by bus, although it did mean i got to be a HERO by persuading a train platform full of people of various nationalities that a) there was no TRAIN coming today (they took a lot of persuading) b) they needed to get a BUS instead and oddly c) the bus WASN'T going to be coming along the railway line. Still, it did all get quite jolly and I had a nice chat with one guy about the iniquities of Weekend Public Transport.
I thus arrived at Wansted Park full of CHEERINESS, which got battered a bit by the floods of REALLY MISERABLE looking people between there and Forest Gate Station, not least the family queuing behind me at the ticket machine who GLARED SILENTLY at me throughout my transaction in SOUR FACED UNISON. It was a bit scary.
Anyway, i got the super-quick
Mystery Train
from there out to Essex and discovered that Brentwood is actually on a MOUNTAIN, which I had to scale to get to the radio station, where I discovered Eddie, Steve and co. all gathered together in their brand new station. A year or so ago the government granted over 200 new licences for community radio stations around the country, as they'd realised that local commerical stations had LONG AGO stopped being anything but franchies of two or three massive companies, and so after nearly 10 years of temporary licences Phoenix was going FULL-TIME. They were having various people in to do sessions during the day and had very nicely asked me to do a short set, so THIS is what i did:
It was LOVELY. Mr E Curry introduced me then dashed into the room where I was playing to watch, which meant that for about ten minutes _I_ and i alone was in FULL CONTROL of MY OWN RADIO STATION! WHoo! I really really enjoyed myself - quite a few gigs recently have seen us/me being slightly ignored by large sections of the audience and some of the COLOSSAL CONFIDENCE has been slightly battered, so it felt DEAD GOOD to be playing to people who a) actively wanted to listen and b) seemed to be enjoying it. I LIKED it! ALSO, as the studio was in the shopping centre, people kept walking past looking in, sometimes waving or LARKING about, sometimes looking TERRIFIED to realise that i could SEE them through the window. It was all VERY jolly, and it sounded quite good as well - i have MP3s, which i shall try and put up on the
MYSPACE
quite soon.
That done we nipped into the studio next door for a quick chat, and then it was HO! for the next part of my odyssey: CAMBRIDGE!
posted 26/3/2007 by MJ Hibbett
(click here for permanent link)
(0) comments
Back On The Road Again
After spending most of the year doing the occasional gig and otherwise relaxing around the house I was very much back back BACK on the road again this weekend, with a LOT of travel and a LOT of ROCK. It all kicked off on Friday afternoon with me getting the train up to Leicester, where i checked in to my HOTEL (i am SO posh) and then wandered over to the DMU students union. I expected it to be a bit WEIRD, as this was my ALMA MATER (it was Leicester Poly when I was there) but i was UNPREPARED for how EMOTIONAL i got when I arrived. Even though it's a totally different building to the Student Union we had IN MY DAY (that one got knocked down, like pretty much EVERYWHERE that I've ever drank in in Leicester) i still found myself getting VERY NOSTALGIC. "Pint of wine, Chips and Cheese" I said to Tom when he arrived, as i was MID REMINISCENCE for our traditional Friday Night Ritual at the Indie Disco.
Tom had been delayed a little, as he couldn't find anywhere to park, and we were both shocked to discover that, these days, students have CARS! CARS i tell you - IN MY DAY we were lucky to have SHOES! Well, maybe not THAT much, but goodness me there seems to be a lot more AFFLUENCE around with students than back then, although I am prepared to accept that it may just be because they are all up to their EYEBALLS in DEBT. We went in and found that not only are The Kids Today MASSIVELY RICH, they are also about TEN YEARS OLD. Goodness ME - we sat in the bar AGOG at how they were allowing CHILDREN in the bar, and even seemed to EMPLOY some of them. YE GODS!
Ollie the promoter chap was also very young, a lovely chap who was a bit AFEARED i think to be faced with my ARCHAIC RAMBLINGS. I couldn't help myself and kept saying "Ooh,is it the Poly Bop tonight?" and "Are you in The Rock Soc?" I might as well have asked if the Disc Jockey had any Duke Ellington platters. Mr Frankie Machine soon arrived, closely followed by The Pattisons (with Tim ALSO saying "Pint of wine, Chips and Cheese") and, as the main band hadn't arrived yet, we fell to CHAT, including the GRATE NEW PUB GAME: Guessing Which Albums We ALL Owned. This was actually QUITE DIFFICULT - we began with "The Stone Roses" simply because Tom had recently PURCHASED it after the rest of us had expressed our HORROR that he had got into his thirties without ever owning a copy, and there was more to come as various people confessed to not having "It's A Shame About Ray", "Giant Steps" and many many more. Eventually we realised that there are only a FEW CDs we have in common - The White Album, "Velvet Underground & Nico", "Palomino" by John Sims and "The Italian Flag" by Prolapse - and some of THEM shouldn't really count. After all, Lou Reed was ALWAYS down the Durham Ox giving copies of his albums away, you couldn't NOT have one.
Eventually it was soundcheck time which was done at high speed as a) they wanted to open the bar and b) we wanted to go to the pub. We strolled across town to get some CHIPS then popped into The Criterion for DELICIOUS BEER. Mr Machine wasn't driving, so he was able to demonstrate his own DRINKS OF THE PAST, impressing us all at the start of the evening by attempting to RE-DRINK his OWN student favourite, GUINESS and TEQUILA. Unfortunately this was unavailable so he had to make do with GUINESS and BRANDY. Luckily the Criterion had NICE BEER, so we drank that instead.
Back to the venue we went and soon it was time to BEGIN, and this is what we played:
It felt GOOD - it's a long old while since we've all played together but we seemed to slip into it with EASE, and everything sounded pretty darn good, especially the LIVE DEBUT of
Do The Indie Kid
and ESPECIALLY especially the AVANT JAZZ FREAKOUT in the middle - it was GRATE. It was a shame then that not many people paid much attention to us - Ollie and Mr Steve McHaggis were down the front watching, and there was a small group of young people in the corner who seemed to be enjoying it (although one, who raised her hand when I asked "Anyone here from the Drama Society?" seemed TERRIFIED when I announced that i used to be in CHARGE of it, LO! as if i were a GRIM PORTENT of a possible FUTURE) but most of them had other things on their mind for a Friday night, which was MORE than fair enough. We thought it might take off at the start, when a bunch of YOUTHS started dancing down the front... but then they got fed up and packed it in!
We were all quite happy though, and were in a jolly mood as we packed all our gear up and took it to the lift. We cheerily went downstairs with it... and suddenly felt us out the back of the building, with the doors shut behind us! I'd asked earlier about getting our gear from backstage, as most of us would need to leave before the other band had finished, and it seems they thought we had to go INSTANTLY - either that or the presence of a bunch of OLD GITS like us was spoiling it for everyone else, but it was all a bit STRANGE to suddenly be out in the cold like that! Tom went home to bed and The Pattisons gave Frankie and I a lift to the railway station, he to catch his train home and me to walk back to the aforesaid hotel for a much needed KIP.
I retired HAPPY but TIRED... but MORE ROCK was to come.
posted 25/3/2007 by MJ Hibbett
(click here for permanent link)
(3) comments
An EXCELLENT Evening
I was back on the train heading for the Midlands yesterday afternoon, ready to PROPERLY get going on our new album - we had a practice of new stuff a couple of months ago, but then due to STUFF it all peetered out a bit, but THIS time around we have three practices and two GIGS all in the space of about five weeks, so it definitely FEELS as if we are LIMBERING UP... for ROCK.
I was due to stay at Hotel Tiger in Leicester, so I got me a return THERE rather than to Derby (also because of PEAK HOUR TRAVEL RESTRICTIONS it was better that way), which meant that rather than wandering the lonely streets of Derby (edge of) I could pop into Leicester City Centre for a bit of a wander and some TEA, before hopping BACk on the train for Derby. It was a NICE way to do it, and I ended up sat in
The Brunswick
having a frankly FANTASTIC pint of Pedigree. Mr F A Machine arrived for a swift half, then we went over to the practice room to meet the rest of the Vlads, therein to ROCK.
It all went VERY VERY WELL INDEED. We spent the first half hour or so on our usual warm up exercises i.e. saying hello, plugging things in, and trying to stop The Rythmn Section from playing Fall songs. We then had a couple of goes at
My Boss Was In An Indie Band Once
, trying to FINESSE it a bit, but mostly ARGUING (gently) about how fast it should or shouldn't be.
That done we moved on to the first of the NEW new songs of the evening,
We Can Start Having Fun
. It's one that Tim seems to have been quite keen on but which has WAVERED in my affections, but GOODNESS ME it sounded BLOODY GRATE when we did it. Ooh, the DYNAMICS! The BUILDS! The shivery feeling all down my back when we got to the TRIUMPHANT ENTRANCE of the ORCHESTRA! It was very very exciting and we were all QUITE aware of it, and LO! we were pleased.
Next was
Best Behaviour
(or "the one with the good bass line" as it was previously known) which, on first run through, sounded FAR FAR too LONG. We had a brief debate about cutting out verses or COMPRESSING sections, but instead did it without any INSTRUMENTAL INTERLUDES, and LO! it sounded much better, especially, I thought, the middle bit. Mind you, that's the bit that i wrote MYSELF (with the rest being JAMMED) so BIAS may be present.
By now operating on FULL POWER we moved on to
Do The Indie Kid
... and that was REALLY REALLY GOOD. And when i say REALLY REALLY GOOD i mean REALLY REALLY REEEEAAALLLLYYY GOOD. This is the one that we JAMMED at the end of the last practice with the INTENT to write a poppy song with a proper chorus - I wrote some other lyrics to it which were SENT BACK as they weren't GOOD ENOUGH, so all along it has been a bit SPECIAL to us, and - let us not assume false modesty - this is probably because it is GRATE.
We were ROCKING ALONG through the verses and the choruses and had a couple of goes at it where we had to stop, consider the number of BARS to certain sections, and try again, always aware that we had yet to reach the AVANT JAZZ FREAKOUT section. On the third or fourth attempt we reached it, each of us i am sure gripped with FEAR as to how it would turn out, but in actuality it was ACE - i believe this is going to be one of THE songs for the next album, also for The Live Arena, so hopefully it won't be long until you can hear it, it was a THRILLING EXPLORATION into THE MUSIC OF THE FUTURE.
And after THAT bit we had the attempted FIVE PART HARMONIES of the final bridge AND the mass dancing singalong at the end, it was FAB - so much so that not only were Emma and I doing the DANCE that goes with it, even Frankie had CLAMBERED out of his deck chair to BOUNCE HIS HIPS.
We were, in fact, feeling pretty pleased with ourselves and decided to have a go at a bit more JAMMING. IDEAS were not exactly overflowing, however, until we had a go at what turned into a Twelve Bar Blues... with RIFFS! I almost never play a proper RIFF on the guitar, but used to do them all the time on bass, so it was an EXTREME PLEASURE for me to have a go at it again, and we all had a THOROUGHLY good time. DOUBTS were expressed as to whether I'd be able to sing and play it at the same time, or indeed FIND words to fit, but Emma was singing away on the other side of the room and we did TAPE it, so we should be able to get SORTED.
There was just time for a quick RECAP of what had gone before and then it was time to HIE into the night, with myself and Tom enjoying our traditional discussion about HOW GRATE WE ARE on the way back to his house. It had been an EXCELLENT evening!
posted 21/3/2007 by MJ Hibbett
(click here for permanent link)
(0) comments
Slimbridge
On Friday night The Water In My Wetland Centre and i headed off to picturesque
SLIMBRIDGE
to spend the weekend at a friend's 40th Birthday celebrations. The train journey was surprisingly JOLLY - as anyone who utilises the rail network will know, some companies try to "manage congestion" by charging UTTERLY LUDICROUS amounts of CA$H to travel during "peak times" which has to effect of a) allowing them to reap OBSCENE piles of money from people who have no choice when they can travel and b) causing the first few trains AFTER the "peak time" to be UTTERLY RAMMED with people trying to get on them. Another example of our MARVELLOUS Privatised Rail Network - HOORAH! (NB sarcasm).
THUS the train to Bristol was as full as the Central Line at 8am (i.e. VERY) but we placated ourselves with the idea that LOADS of people would get off at Reading and we should be able to get a seat. We were standing in First Class, so our PLAN was to leap off at Reading, dash down to standard (as the corridors were all RAMMED and impossible to get down with baggage) and HOP back on again. However hardly ANYBODY got off and so we had to RUN back to first class (as the train staff we slamming doors in standard saying "Train Full!) and FITE our way back on again. We ended up standing ALL THE WAY to Bristol Parkway, but it was actually quite nice as i BATTLED to the buffet car to get some glasses, so we drank a bottle of wine between us in CONCERT with most other people standing around and got Quite Boozy. We also say The Actor Rhys Ifans go by. It was all quite exciting.
The train was late so we missed our connection, had an OK but less than enthralling hour and a bit at Bristol Parkway, and got to Cam & Dursley station rather LATE. HAPPILY our taxi turned up quite soon, and I had to GRIT MY TEETH to resist the temptation to JOIN IN with the taxi driver's ACCENT. Ooh, it was hard - LIKE people in Glasgow and Birmingham (for instance), just HEARING the way he talked made me want to do the SAME accent as it was so GRATE, but UNLIKE those places it is very similar to MINE OWN. The For Hire Light On Top Of My Taxi commented that the accents were so similar he seemed to be able to understand everything i was saying. I BAIN'T NO MIND WHAT SHE MEAN, SIR.
So yes, we arrived at
Slimbridge YHA
to find it UNCHANGED from the Youth Hostels we had known when YOUNG including, for me, the many ABROAD I had stayed in whilst Inter-railing OH so many moons ago. SIDEBAR: it doesn't help with Feelings Of Age when I realise that SEVERAL of the countries i visited aged 18 and 19 don't actually EXIST anymore.
It was like a trip to a MORE INNOCENT TIME - we had our own room (with BUNK BED!) but most people were in a dorm. It was all very FRUGAL but CLEAN and TIDY, there was a games room (ping pong, snooker, and video games from 1985), you were locked out of your room from noon to 5pm (when you ought to be HIKING and TWITCHING) MEALS were served very strictly from 8am-8.30am and AT 7pm, and they were SCHOOL DINNERS (and very nice too). One felt the URGE to get some bicycle clips, some ginger ale and a few HEART CHUMS - the only odd thing about it was that, apart from our group, everybody ELSE staying in the Youth Hostel was a LONG WAY from being YOUTHS. It appeared to be a MISNOMER.
Anyway, we had a lovely time - we went to the Wetlands Centre and saw LOADS of DUCKS, which was BRILLIANT. For most of my life I have thought that all ducks had yellow beaks, with occasional outbreaks of red and white by KRAZY REBELS, so when I saw a photograph of a duck with a blue beak earlier this year i was astounded. Turns out there are LOADS of them with blue beaks, the wetlands were PACKED with them. I also learnt that there are three types of pattern on a swans's beak (yellow neb, penny face and darky, FACT FANS) and that there are few things that smell LESS PLEASANT than a building full of FLAMINGOES. We had a FAB time and celebrated with a Well Earned Pint afterwards.
After all THAT The Crop In My Field and I got even MORE wholesome and headed off for a HIKE into the nearby village. We visited the local church and discovered that it had been the Parish Church of
William Tyndale
, which was DEAD EXCITING for me as i got to REEL OFF all my KNOWLEDGE of same on the way back, ENCORING with my imperfect recollections of
Scott Of The Antarctic
, as it was his SON who had set up the Wildfowl Trust we had visited. Yes indeed, The Sole On My Walking Boots, she is ONE LUCKY LADY!
That evening there was an ENTERTAINER booked, and when she was arrived i fell into AUTO PILOT and found myself UNLOADING GEAR - it was all i could do NOT to set up the entire PA system, and had to FORCE myself to go elsewhere and drink BEER. When she started it was a bit difficult for her, as she was doing COMEDY, and it was a) a bit BLUE and b) more for a large crowd in a CLUB than a small gathering of PALS, as she sort of needed people to be INVOLVED, whereas everyone was COWERING, not wanting to say ANYTHING and get PICKED ON. I was thus IMPRESSED when she fairly quickly CHANGED TACK and moved on to the SINGING bit. "It's OK" she said "I'll not pick anyone out anymore - just have a dance and a singalong!" and OH BOY that is what happened next - it was like a DISCOTHEQUE, but with live singing. Of dancing, there was MUCH.
Next day there was a much LESS ram packed train journey home (featuring BIRTHDAY CAKE!) and then one of those lovely BONUS AFTERNOONS you get when you arrive home a bit early from a weekend away, and suddenly have unallocated FREE TIME which I personally filled by watching TELLY. It was a WHOLESOME end to a WHOLESOME weekend!
posted 19/3/2007 by MJ Hibbett
(click here for permanent link)
(1) comments
LINKS!
A quick couple of links for you this morning, first of all
some pictures of our gig at The Pleasure Unit
a couple of weeks ago. Someone should REALLY invent SWEAT BIBS for the sake of people like Tim and I who, frankly, ROCK SO HARD that... um... we dribble MAN SWEAT all down our fronts. One of our cats seems to REALLY love the smell of aforementioned MAN SWEAT (when I leave my bag in the hall - ESPECIALLY when it's got Sweaty PE Kit Inside It - she has to be WRASSLED from it) but i fear it is not so attractive to other Human Beings. If only CATS were the target audience for our live performances we would be RICH RICH RICH... if only in CatNip.
And talking of live performance, here is another of
them petitions
, this one's to ask Mr Tony Blair to have a look at the new licencing regulations (which, i think, means a pub has to get an Entertainments Licence to allow ANY musical performance on its premises - previously you were SAFE if you only had two or LESS [NB but not too much less] people performing at once, leading to MANY MANY Sunday afternoon singalongs which now would be HEINOUSLY ILLEGAL) and SORT IT OUT. It is a cause with which I agree!
posted 15/3/2007 by MJ Hibbett
(click here for permanent link)
(0) comments
On The Pitch And In The Boardroom
Hand me down my skimpy shorts, broken nose and weathered frown! Bring me my sheepskin jacket and cigars too, for LO! this morning i have been in PLAYER MANAGER mode - to the MAX!
In a BLIZZARD of EFFICIENCY we now have a sudden DELUGE of Validators Activity to look forward to. We've got a PRACTICE next Tuesday night, followed by the GIG at DeMontfort University on Friday 23rd that I mentioned yesterday (the day after THAT I'm off to BRENTWOOD in the afternoon to do a session on Phoenix FM, then to CAMBRIDGE in the evening to ROCK The Portland Arms, but these are SOLO endevours beyond the remit of this BLOG, so i shall mention them no further). A couple of weeks after that we find ourselves regrouping for our SECOND practice, then - rather unnervingly - playing ANOTHER gig in Leicester on April 5th at Sumo.
That's right - we're practicing BEFORE a gig. TWICE. If we get much MORE Professional In Attitude we will start working THE CLUBS.
But that's not all! We've just sorted ourselves out so that the whole band will be getting together AGAIN on April 22nd to play the Smog all-dayer - this is the one where i was going to have to WRESTLE the song "Dress Sexy At My Funeral" to the ground, but now we will be able to PILE ON in a BUNDLE and just SIT on it until it says "Uncle". I don't know why you'd want it to say that, but it's something that the ever loving blue-eyed THING is always keen on, so if it's good enough for him and his Aunt Petunia it is good enough for ME.
ANYWAY. In a return to usual form i am RELIEVED to see that our NEXT practice is AFTER the gig - THAT'S more like it - and then things calm down rather. We MIGHT be starting the recording for the NEXT album in May, and the plan is to spend a gentle summer doing a bit of that, and also maybe some festivals.
Talking of which - AHA! - the Festival On A Train that i was on about yesterday is now pretty much CONFIRMED, and we should be playing on Sunday July 29th at the
Indie Tracks
festival at Ripley Station in Derby, hopefully sometime in the afternoon. This all looks GRATE - they're announcing it properly quite soon, but the list of bands playing so far looks ACE!
So as you can see, it is a ROCKING TIME ahead - but for now i must leave you, I've got some ORANGES to HALVE!
posted 14/3/2007 by MJ Hibbett
(click here for permanent link)
(1) comments
More Gigs!
HECTICITY LEVELS: RISING! As we wait patiently for the arrival of the new single the action is FRENETIC behind the scenes, as we GEAR UP for a return to RECORDING and also to THE GIGS.
I've just updated the
GIGS
page with a whole HEAP of new dates, including one a week on Friday at De Montfort University (and OH WIKI WE LOVE YOU look at their list of
Famous Alumni
!!) and the first couple of (hopefully) SEVERAL Festivals in the Summer. We've actually ALSO just been asked to play at a festival ON A TRAIN in July - EXCITEMENT!
I'm trying to keep calm and NOT try and book loads of gigs though - so far this year nearly all our BOOKINGS have been ones people have ASKED us to do (rather than me BADGERING people), and it's SO much a) nicer b) easier that way!
posted 13/3/2007 by MJ Hibbett
(click here for permanent link)
(0) comments
Peterborough
Friday night saw The Crust On My Pastie meeting at King's Cross Station to get the train back to Peterborough, LAND OF MY YOUTH, where I was going to be playing my first gig for about 14 years, about 30 seconds away from where i played my first EVER gig.
When we arrived outside the venue the taxi driver said "You're not going in THERE are you? I wouldn't - it's full of people with weird haircuts". He said it with a smile, but still it was a VERY Peterborough thing to say. The Glass Onion was once, MANY THOUSANDS OF YEARS AGO, a pub called The Fountain, which used to serve quite nice Ruddles County, but now it is VERY different. It's actually really nice, all sofas and wall hangings and the general ambience of a Festival that's settled down from travelling. We met Messrs Hare and Myland (with whom I played the aforementioned first EVER gig on my 18th birthday, just over the road when the Gaslight Club was at the De Rosalia Hotel) and then hit THE BAR. I knew they had a wealth of organic BEER style BEERS for LO! i had read about it on their website, so asked about organic LAGER, to get some for The Beer In My Pint Glass. "Oh yes, we've lots of Organic Lagers!" said the Nice Young Man behind the bar (all the staff there were DEAD nice, and were also VOLUNTEERS), before reeling off a list of the BEERS. "But what about lager?" I asked. "Oh - we've got Freedom Lager or Carlsberg." "Is that ORGANIC Carlsberg?!?" i asked - well, you can get Organic Weetabix, so why not eh? "No" he replied, and I felt bad for even asking.
We settled down for a bit of a CHAT, and I was just talking to Moony, the lovely chap who was in charge of the evening, when my PARENTS arrived. We sat around having very jolly time, enjoying the BEER, and soon it was time for me to get up and do my set, which was THIS:
It seemed to go OK - it felt like a TOUGH ROOM largely because a lot of the people there had popped in for a drink and a chat, rather than to be BELLOWED AT by me, so it felt like i was working quite hard to get everyone's attention. NERVES struck early on, as it felt VERY strange to be singing
The Peterborough All-Saints' Wide Game Team (Group B)
just five minutes down the road from where most of the action took place, and thinking about that made me cock up and attempt upon
Hey Hey 16K
(which I seem to mess up quite often these days). HOWEVER, i DUG IN and by the end of the set things were all going quite nicely - the room felt good, people were smiling, I was happy, and I got ANOTHER Very Peterborough remark during "Boom Shake The Room" when someone responded to "Why don't you tell the girls what you want to do?" with "Stick it in 'em!" Aaah, land of my fathers!
It was all very pleasant anyway. We watched the young lady who was on next, HUGGED our good-byes to the SMASHING people who ran the place (it really was an ACE pub, and I'd LOVE to go back, not least to try the BEERS i didn't try on that night) and popped off to The Hand On Heart for lasties. It was on the way, it was a bit quieter, and I'd read about it SO often in CAMRA-style publications that I thought it might be worth a look. On entering we found ourselves BACK IN TIME - it was VERY like The Angel, the pub in Leicester where i first attained man's estate and became A REGULAR, with very plain decoration, tables around the edges, lots of photographs and DEAD FRIENDLY people. I guess you'd call it a 50's pub, but to me it was 1989 all over again. Added to this excitement was the fact that they were serving DEUCHARS XPA - not Deuchars IPA, one of my favourite types of BEER - EVER - but XPA, which turned out to be like it, but SLIGHTLY NICER.
Ooh, it was like suddenly realising there was a Beatles b-side you'd never heard before! We left the pub in high spirits, had some more HUGS and went home to my parent's house full of the joys of ROCK, also BEER.
posted 12/3/2007 by MJ Hibbett
(click here for permanent link)
(2) comments
Nuclear War In "Bad Idea" Shocker!
So, myself and The People On My Protest March went over to Butler's Wharf in That London last night to witness a "unique performance" put together by Damon Albarn, Brian Eno, Robert del Naja from The Massive Attacks and some other people to protest against Trident. It was meant to start at 6.30pm, but the Greenpeace website said to get there for about 6 o'clock ready for it all to begin.
THUS we met just before 6 o'clock and walked through a PARTICULARLY ACE bit of That London round Tower Bridge which has been DOLLED UP quite a bit of late - CHI CHI little alleyways and shops cavorted about before we emerged onto a BANKSIDE VISTA of Tower Bridge, The Tower Of London and lots of other LONDON stuff right next to City Hall - it looked GLORIOUS and ONE felt joyous to be alive and living in such a fantastic place.
We got to the wharf and sat ourselves on a bench to wait... and wait ... and wait. Half past six came and went as a crowd gradually gathered, peering over the water at the Arctic Sunrise which was moored nearby. We could see people milling about but nothing much continued to happen... for about three quarters of an hour. It was a bit BLOODY ANNOYING really - we'd been told to get there for a certain time, which we all had, it was COLD, and it's not like they hadn't had ALL BLOODY DAY to get it sorted out ON THEIR OWN BOAT is it? It's just RUDE, is what it is - i hate it when ROCK STARS do it and at least they've got the excuse of BEING IDIOTS, so when a campaigning organisation does it it's just ANNOYING.
However, at about 7.15pm things finally kicked off... and became MUCH MUCH MUCH MORE ANNOYING. You'd think people of MEANS like Messrs Eno and Albarn would have been able to afford at least a FAG PACKET to FINESSE the PIECE on, rather than leaving it as the contents of the back of a soggy BEER MAT, but maybe it was ART that i don't understand. What happened was that a choir of people went "Aaah... Aaah... Aaah" for FORTY MINUTES. THAT WAS IT.
OK, there was MULTIMEDIA on top of it - while people were going "Aaah... Aaah...Aaah" apparently at random (for, as noted, FORTY MINUTES) three ACTORLY VOICES read out SANCTIMONIOUS STATEMENTS over the top. Apparently, and I may need to have a second listen to get this right, Nuclear War would be a BAD THING. THANKS DAMON! They started off reading out facts and statements about The Nuclear Clock which, as I'm sure we're all aware, is SET by a group of Scientists to represent how close the world is to the brink of disaster. Throughout the PIECE the ACTORLY VOICES kept saying "The Clock Is Ticking" which ACTUALLY IT ISN'T. ALSO they would say "It is 1953. The Clock stands at five minutes to midnight" or "It is 1990. The Clock stands at seventeen minutes to midnight" i.e. SOMETIMES IT GOES BACKWARDS. SO IT'S NOT TICKING EVER FORWARD, IS IT?!?
AAARGH! And to make it WORSE it was all read out in disjointed segments, THUS:
POMPOUS VOICE:
The Clock!
WHINGING VOICE:
STANDS! at!
MAN WITH STAGEFRIGHT TALKING TOO FAST:
Quarter to four!
And while all THAT was going on the big screen on the side of the boat was listing FACTS about all the times the world has come CLOSE to the brink of Nuclear War by accident. Obviously this is meant to make us think "The very presence of these terrible weapons means it would be so easy to accidentally destroy ourselves!" but ACTUALLY, what with all the tossing about that was going on, I found myself thinking "Hmm.. so, after sixty years of near-accidents, doesn't this demonstrate how effective and reliable the fail-safe methods are?"
There was also a big piece that came on saying "Denying other nations the right to build nuclear weapons whilst refusing to disarm yourself is like standing with a cigarette dangling from your mouth demanding that everybody else stops smoking." AAARGH! NO! IT REALLY ISN'T!! First of all, smoking PRIMARILY harms THE SMOKER and if it harms anyone else IT IS ALREADY DOING SO. Actually, a smoker telling other people not to smoke is AT WORST a little hypocritical AT BEST trying to stop other people making the same mistakes that they have done. NGGG!!! A BETTER metaphor surely would be to say it is like waving a gun around at people, telling them not to build their own guns? With ALL that that implies?
So yes, I found the whole experience a bit frustrating and annoying, and obviously so did a good few other people as the crowded waterfront grew noticeably less crowded as the droning dragged on. Oh yes, and also - JUST before the whole thing started ANOTHER boat drew up right in front of the Arctic Sunrise, presumably with a crowd of journalists to review it, which moored their giving THEM a nice view of the whole thing. At the beginning i found this OUTRAGEOUS - so, we the Greenpeace supporters and people who'd come to join the protest, WE had to stand waiting for 45 minutes in the cold on the edge of the river a hundred feet away, but the MEDIA were shipped in just before it starts with a really good view? THANKS for showing us WHO YOU VALUE!
HOWEVER, as it all wore on i realised that maybe NOT being on a boat stuck in the river was a good thing, as we were able to MAKE OFF, which after forty minutes we did. Just as we went under the bridge it finished, and it MAY WELL BE that it was followed by an hour's worth of interesting music, well-argued points, and fun and good times applied in a - let's try and remember - WORTHY CAUSE, but personally i had had QUITE ENOUGH for one evening.
When we got home we watched "The Great Global Warming Swindle" which said that, actually, Global Warming is caused by THE SUN (and showed some fairly convincing STATS to demonstrate this, tho i HANKERED for someone who thought it was MAN causing it to explain this - many of the speakers banged on about the lack of debate in this area of science whilst manifestly failing to engage in it themselves), and that the rush to say it is due to the actions of HUMANITY was a RUSE started by - wait for it - an alliance of THE EXTREME LEFT and MARGARET THATCHER!
At this point I fully expected them to say that THE STEREOPHONICS were involved too, and we would have had the full set!
Normally I would have HIED me to WIKI to see what was going on, and would probably have been a lot more QUESTIONING about the people making these claims that went against so much that we'd been told about The Environment, but after the concert this evening i was WEAKENED, and took much of it in. It's such a shame that it had been such a load of old bollocks - it IS a cause that I agree with, and if (as The High Collar In My Brian Eno In Roxy Music Costume said) they'd said more about how WASTEFUL it was to spend SO much ca$h that could be used SO much better elsewhere and spent LESS time ponderously berating us with THE OBVIOUS we'd all have been a lot better off.
And THAT'S what I was doing on The Day That Captain America Died!
posted 9/3/2007 by MJ Hibbett
(click here for permanent link)
(0) comments
1997
Whilst doing that
interview
yesterday I checked to see WHEN exactly the
Belle & Sebastian
gig mentioned in it was, and was a bit SURPRISED to find it was ten years ago - ten years ago TODAY, in fact!
In some ways it feels very RECENT - much of the evening is fresh in my memory and I think i'm FAIRLY MUCH the same person as I was then... but then again, thinking about it, I'm an awful lot happier now than I was then, am having MUCH more fun than I was back then too, and doing plenty of things I wouldn't even have thought of at the time. It was around the same time as I first new Mr Francis Albert Machine and THE WHITAKER and the beginnings of
AAS
were in the air, and it was around then that I decided to STOP writing songs that could have EITHER fitted into
VOON
OR some daft idea of what I thoguht "Proper Songs" were about and instead concentrate on what _I_ wanted to sing/bellow about. It was a big time of change in my life, and going to that gig was a big part of the SURGE in BELIEF that, actually, you COULD go off and do exciting new things with exciting new people in exciting new places (Derby! Sheffield! That London!) and have some FUN, rather than loitering around the same old pubs, complaining about nothing ever happening.
I've had some Unhappy Times over the ten years since then but MY GOODNESS I've had an awful LOT more good times since that night - in ROCK and also The Personal Life - and I honestly think most of them simply wouldn't have happened if I'd not decided to go up to Scotland to see Adventures In Stereo supporting "some band who've been on Steve Lamacq." I'm off to a gig tonight which I don't think WILL be as life changing as that one, but the beautiful thing about GIGS and - HEY! - indeed LIFE, is that you never know...
posted 8/3/2007 by MJ Hibbett
(click here for permanent link)
(0) comments
Read My THORTS
I've got a
GIG
next month at the
Whitechapel Gallery
at a
Velvet Sheep
night, so Nick who's organising it asked me to do an INTERVIEW to help publicise it.
Now, obviously i am LOATH to BANG ON about myself at ANY length... hem hem... so prepared myself to answer a few questions, little knowing that it was going to be like A LEVELS or something - crikey, there were a LOT of questions and some of them were QUITE HARD. You can see for yourself - the
whole big interview
is over on
their site
- it's a BIG one!
posted 7/3/2007 by MJ Hibbett
(click here for permanent link)
(0) comments
Smog
I'm playing a
GIG
next month at an all day tribute to Bill Callahan AKA The Bloke From Smog. It's all rather lovely, except for the TINY problem that the only song of their's I know I've heard is Cold Blooded Old Times. HANDILY George from Damnably (who's putting it on) has provided me with a CD of some of their songs, and suggested I have a go at
Dress Sexy At My Funeral
.
THUS last night I sat down with my headphones and guitar to have a listen - and really liked it. I really really like the words, and had an ACE time singing them, tho i did get a bit annoyed with the MUSIC, as it is All Over The Shop with different bits and changes and that - I'm RUBBISH at working out other people's songs at the best of times, and when it's "structurally difficult" then it gets even worse. I mean, I can understand WHY people would want to do a song that didn't CONFORM to ROCK STRUCTURE, like if they had a song that just didn't FIT it, but I tend to find it all a bit dreary when people do it ALL THE TIME. If the only way you can make your stuff interesting TO YOURSELF is to make the verses SLIGHTLY DIFFERENT LENGTHS, then I RECKON it is time to take a long hard look at whether or not you might like to consider another outlet for yr creativity.
Hey, that is my opinion - SO SUE ME ALREADY. It always seems to me that it's probably a better bet to make songs ACTUALLY ABOUT SOMETHING INTERESTING in the first place, then you don't have to worry about whether or not the chorus conforms to a centuries patriarchal system of beats or not. It's like when you see ART that is about ART or BOOKS about BOOKS or - DREAD DOOM - Songs about BEING ON TOUR etc etc - i say STOP listening to music/looking at art/reading books and GO OUTSIDE AND DO SOMETHING ELSE INSTEAD.
ANYWAY, as you can tell, I was rapidly moving from really liking the song to getting myself all riled up about Other Stuff, so decided to WRESTLE the structure to the floor and do my OWN version of it. HA! With CHORUSES! So that is what I did - and it fell into it surprisingly easily and suddenly felt lovely and KEEN and POINTED and all round good times. Hoorah!
It might all come out rubbish still, mind you, but at least if I forget how to play my version it might sound MORE like the original!
posted 6/3/2007 by MJ Hibbett
(click here for permanent link)
(2) comments
Bethnal Green
After the comparitive EASE of the night before, Saturday's gig in Bethnal Green felt like a MILITARY CAMPAIGN. Lizzie from
Strange Fascination
, who organised it, had been ON THE CASE for several weeks making sure people were sharing KIT, getting there on time, BRINGING people and so forth, whilst we'd had several days of planning at OUR end to discover a way to get myself, The Foot Pedal On My Bass Drum, The Performing Pattisons, and all our GEAR (including drum kit) there and back again whilst enabling us all to a) have a curry on Brick Lane and b) have some BEER.
THUS at approximately 5pm i was trundling my GIG bag along Leytonstone High Road to meet The Pattisons in the pub car park at Green Man Roundabout. We drove to Bethnal Green, dropped Tim and all the gear off outside the pub, then went back to my house. The PLAN was to leave the gear there overnight and pick it up in the morning, however although we'd checked and been told that it was FINE to leave gear there, we HADN'T asked about picking it up again - it turned out nobody would actually BE there on Sunday, so really it was a good job we didn't leave the CAR in Bethnal Green too.
Anyway, me and Emma drove back, picked up The Jingles In My Tambourine, then headed off for the TUBE back back again to Bethnal Green. I feel that I now know the area a little better than I did before. We got there just in time for a quick soundcheck, at which point Tim's sister and family arrived, were told that they couldn't bring children in, replied that that was fine as we were going for a curry, and off we went to Brick Lane.
Tim was AGHAST at our Metropolitan Refusal to be SWAYED by all the men saying "We give you FREE BEER!" and we went into a place that Tim's sister's friend had been in before, and had a LOVELY meal - ooh, it was like being a GROWN UP or something as we all sat around drinking our various tigers, cobras and kingfishers, and having a RIGHT jolly old time. It was all a bit slow-moving, but everyone else seemed quite happy with this, and in the end it didn't really matter as we weren't on until LAST.
SIDEBAR! This seems to happen to us/me quite a lot at the moment - we're in a PECULIAR place where people seem to think we are Significantly More Famous Than We Actually Are. It's all due, i guess, to our RADIO ONE SESSION (also probably to the fact that any one of us is apt to blurt out "We did a Radio One Session!" at any moment, FOR KICKS - much like i did just then! WHOO!), along with the other various STRANGE and Slightly Krazy things that have happened to us in recent times, like the Rolling Stone recommendation and Hey Hey 16K. Whatever it is, it means that we seem to be playing a LOT later these days, but not always with the CROWD DRAWING APPEAL that people seem to expect.
THUS though the room was COMPLETELY RAMMED when we arrived (giving me THE FEAR), by the time we actually got to the stage it was significantly more roomy. Also, in our defence, it WAS 11.15pm, so a good deal of people had left for tubes and NIGHT CLUBS by the time we hit the stage and did THIS:
It all seemed to go all right - I think we were a bit CLATTERY for the first few songs, and I certainly felt NERVOUS as we were doing SEVERAL songs that I didn't know as well as others, and ESPECIALLY because we were doing the BAND DEBUT of
My Boss Was In An Indie Band Once
. Still, as we got into the second half of the set I relaxed and enjoyed it, and STOPPED looking at the people leaving and concentrated on the LOVELY bunch of people stood in the middle of the room with BIG GRINS on their faces. TOP TIP: if you go and see a band you like, it is always a NICE THING to stand in the middle of the room, especially near the front, with a BIG GRIN on your face, as it will REALLY cheer up the band and make them play better!
So yes, we whizzed through to the end having quite a bit of fun with an "experimental" version of
We Only Ever Meet In Church
featuring BOTH an Excitingly Heavy last verse (Tim carried on with the middle longer than I did, so I joined in with STACCATO GUITAR and we just did it like that, which was Quite Exciting) and - bizarrely - a MASSED SINGALONG of "Happy Birthday" as we finished.
When all was done we packed up, thanked Lizzie, said hello to a couple of people from other bands, then went outside to FLAG DOWN a taxi. A black cab came along so Tim and I GALLANTLY packed The Ladies off in it... with all the heavy gear. It was only as they pulled away that I realised that MAYBE it should have been us with the heavy stuff. "Clubbing then?" Tim said as we strolled off with a guitar and a snare drum between us...
He JESTED of course, and we were soon mini-cabbed home and the four of us were enjoying a Sophisticated, also REALLY LATE, bit of DRINKING together around our kitchen table. Next morning there was tea and toast and CHAT and all in all a feeling of LOVELY SUNDAY-NESS pervaded the house.
Mind you, i was KNACKERED for the rest of the day after they'd left - up past ONE A.M. for TWO nights in a row! ROCK AND ROLL BABYLON!
posted 5/3/2007 by MJ Hibbett
(click here for permanent link)
(0) comments
Forest Gate
It was all very strange on Friday afternoon - I knew I had a gig on that evening, but it really didn't feel like it as I'd gone to work in the morning without my guitar, and even came home AFTER work, which is something I haven't been able to do before a gig for YEARS, for LO! i was playing in Forest Gate which is only about half an hour's WALK from my house.
However, as it was raining i decided to get the TRANE instead, which was ALSO weird. I got on the train at Leytonstone High Road Station, sent a TXT to The LifeGiving Water In My Rain Cloud... and then, just as i was clicking "SEND", got OFF the train and Wansted Park... it was WEIRD! A quick stroll through Forest Gate and five minutes later I was at the venue, BB's Social Club, which was also a little strange - much like The Hull Adelphi it was an ordinary HOUSE in an ordinary suburban street of JUST houses. I went through the side door and, again like The Hull Adelphi, I found myself in a great big VENUE - this time a proper SOCIAL CLUB with a bar, stage, seats and everything you'd expect to find, just not where you'd expect to find it.
UNLIKE The Hull Adeplhi, and with the greatest possible respect to that lovely venue, it SMELT absolutely LOVELY - BB, who runs the place, is also a COOK and there was the delicious aroma of Caribbean Cookery around the room - helped, I guess, by the fact that it was a totally non-smoking venue. It was DELICIOUS, and I there and then fell in LOVE with the place. It just felt RIGHT, COSY and happy and friendly and also (probably more to the point) reminding me of many many tea-times when I'd go round to Steve Carter's house during Junior School and his Auntie Gee would cook us STRANGE yet DELICIOUS foodstuffs. To be honest though, my main TASTE MEMORY of those times is not the Cooking Of A Different Culture, but VIMTO. We always used to have Sainsbury's Blackcurrent Drink (Ribena for special occasions) and I'd never tasted the exotic delights of VIMTO before.
ANYWAY, I was there to play at The Relay, a night run by Mr James Brown. No, not that one. Or that one - isn't odd how some names keep popping up? Michael Jackson also seems to be SIMILAR. No, he was James Brown who, it turns out, used to live in Leicester, so we had a nice chat about various venues, places and people we had in common, culminating in the traditional Leicester ex-pat discussion of When They Knocked Through At The Charlotte . Also there was Mr Paul Torbohm, brother of Ms Catherine Tornbohm, who I'd know since he was BUT A LAD when myself and Doctor Neil Brown used to share a house with his sister about 200,000,000 years ago when we were students, and one of the NICE things about the evening was that, after all this time i FINALLY got to see him playing a gig himself.
This all happened in the first half of the evening, the Open Mic night which, as these things usually do, seemed to feature a regularly bunch of people who turned up every night, and so it was actually all quite polished, also very supportive of each other and friendly. ALSO as these things usually do, everything over-ran by quite a long way, so it wasn't until 10.30 that we got FED the massive piles of cooking that I'd been smelling for the past few hours. It was ACE, and I was almost moved to TEARS to see the big tray full of CUBED VEGETABLES that you don't seem to GET these days.
It was all very jolly, but also LATE, and it was PAST ELEVEN O'CLOCK when I got to the stage and did THIS:
It seemed to go down OK - I was a bit nervous at the start, knowing i had a couple of NEW songs to play, but people seemed to like it, though the fact that everybody else there had EITHER performed earlier themselves OR had come with people doing the same made me feel a bit like i was being JUDGED, and I was VERY conscious of the fact that a) people had been calling me "the headliner" and "the main act" all night b) I was doing two or three times as much as all the regulars had and c) i was getting PAID! THUS I put my BACK into it and by the end it was all rollicking along very nicely.
It was a little sad, then, that by the time i HAD finished there wasn't much time to sit around and chat, and I strolled along the road with George Former Utopia (who'd very nicely come to see me and give me a SMOG CD for his forthcoming SMOG All-Dayer) chatting of GIGS PASSIM. I got into a taxi and was almost INSTANTLY home and safe, to sit and have me a glass of WHISKY and RUMINATE on a Surprisingly Easy Gig!
posted 5/3/2007 by MJ Hibbett
(click here for permanent link)
(0) comments
Nine Months To Go!
I got into work - SHOCKINGLY - a bit late today, as myself and The Jim Steinman Remix Of My "Never Forget" and I MANNED seperate telephones and Web Stations to try and get through to book us some tickets to see TAKE THAT at the end of the year. Predictably all ticket spouting webpages COLLAPSED at 1 second past 9am, and I ended up spending twenty minutes pressing redial on my phone as I trawled round pressing "refresh" on the computer, until SUDDENLY a voice was saying "Press 1 for Take That". Press 1 i DID and then schlepped through an automated system, during which i accidentally started booking tickets for the Saturday night show - we'd decided to go for the MONDAY as, wisely, we believed that we'd have more chance of getting better seats than on a weekend, and the DOME (where the gigs are) is so nice and near to our house (relatively) it didn't matter which night we went.
I kept on through the system as i REASONED that by the time I'd cancelled, tried again and got through it'd all be over... and then, in my PANIC, just as they were selling me tickets for row 9 Million, i put an INCORRECT PHONE NUMBER IN! DOOM! FEAR! HORROR... oh, and then suddenly i was speaking to a nice lady who asked me what day I'd like - i was able THUS to get MUCH better seats on the Monday night, HOORAH! I was IMPRESSED too as ALL tickets were EITHER 25 or 45 quid - OK, this is still NOT CHEAP and there's several annoying quids worth of "booking" fee (GRR!), but compared to the prices you TEND to have to pay to get decent tickets it is NOT SO BAD REALLY. Previously when we've been to BIG SHOWS (e.g. Macca, Coldplay) we'd got "cheap" tickets and ended up having no fun at all, as you might as well have been watching it on TELLY (tho even then BEER would have been cheaper and the sound BETTER) so had AGREED that we'd pay WHATEVER IT COST to get as close to the front as we could this time, and so i was almost disappointed to be paying comparitively little.
In the interests of comparison I have just worked out that if you paid full price you could have seen ALL my gigs last year (barring Secret Garden Party, which was a FESTIVAL) for £45.50! BARGAIN!
Anyway, we've got our tickets BOOKED now and the gentle RISE in excitement can begin. We're going on 3rd December - it'll be the start of CHRISTMAS!!
posted 2/3/2007 by MJ Hibbett
(click here for permanent link)
(0) comments

An Artists Against Success Presentation