Blog
Gigs
Facts
Music
Shop
Links
The Big Session
I woke up in the MIDDLE OF THE NIGHT on Friday thinking "Why on earth are all these people talking in the corridor? SHUT UP! Don't they know what time it is?"
I looked at my watch. It was 9AM. BUGGER.
My vague plans to get up brisk and early, get to Derby EARLY for the afternoon's recording session, and then have a healthy walk through town were DASHED by a) my late rising and b) the LUDICROUS HANGOVER I found myself with. You know in cartoons when people walk around with ANVILS being HAMMERED inside their heads? LIKE THAT.
THUS I got the later train TAXIED across town to Snug, where I met Mr R Collins for many MANY much needed cups of COFFEE, also TO WORK. Tim has been in recently doing PRE-PENULTIMIXES of all the songs for the next album, and having identified JOBS my mission this day was to DO all of them.
We started off with
All The Good Men
, adding a sample of a HEN PARTY to the start, also instrumental sections, and putting down a GUIDE for some extra backing vocals I am suggesting for Emma to have a go at. Next we added the SAMPLES I'd recorded for
Do More, Eat Less
on Wansted Flats the other weekend, and had a brief but IN DEPTH discussion with Rich about the PHILOSOPHICAL IMPLICATIONS. I then did an extra VOCAL PART at the start of
Red Black Gold
which basically DEMANDS that it be the first song - it's meant to be a 1970s audio tape of someone saying "Regardez, ecoutez et repetez" and, as I don't HAVE such a thing on my person, we needed to recreate it. Rich did such a good job of making it sound genuine that it FREAKED ME OUT - it was a scary voice from the PAST, suddenly made real!
Next we added some samples of Russian Radio to the end of the next song before going on to
Being Happy Doesn't Make You Stupid
. For this I'd sorted out MORE samples, this time arranging them into the correct places (you'll see what I mean when you hear it) before doing THE MOST EXCITING OVERDUB: EVER. If you've heard us play it live you'll know there's an acapella bit in the middle, which Tim decided wasn't quite EXCITING enough. He asked for SOMETHING to go there, so I asked Rich i he could produce a RISING TONE. "Ah, Ligatto!" he said, and I nodded enthusiastically, as if I knew what he was on about. Turns out LIGATTO is Italian for "INCREDIBLY EXCITING NOISE which makes you think the entire room is EITHER going to EXPLODE or FLY INTO SPACE." It was AMAZING! When it was done we both sat their with HEARTS RACING! The NEXT album will be JUST that noise for 45 minutes!
We then used a bit of AUTO-TUNE (heresy!) on a couple of snippets of
We're Old And We're Tired (and we want to go home)
before adding a PAD to the middle bit of
My Boss Was In An Indie Band Once
. A PAD is STUDIO SPEAK for "Big sounding yet INCONSPICUOUS-ish noise which sits behind other sounds and makes it sound better/fuller" (which is why they tend to just say "pad").
Since I was at the KEYZ we next did some WURLITZER ORGAN on the second half of
Leicester's Trying To Tell Me Something
. It's a LONG old song, and needs extra bits, and I was just adding some GENUINE Leicester Gigs In The Early 1990's CROWD NOISE to an instrumental section (take from tape of Genuine Leicester Gigs In The Early 1990's) when Tim came in and DEMANDED to hear what we'd done so far. He thus RE-DID the Russian Radio Samples and added EXTRA CACKLING to the end of
Being Happy Doesn't Make You Stupid
, while I popped to the shops for some GRUB.
I returned to find he'd added TAMBOURINE variously and we celebrated with some EGG CUSTARDS. The Tiger arrived around this point, bringing MUFFINS, causing Tim to reveal he had MINCE PIES. Egg Custards, Muffins and Mince Pies - we are like LED ZEPPELIN aren't we? It was my first Mince Pie of the year tho, it was LOVELY.
WELL FED I then went in and played GUITAR on the TITLE TRACK for the album, a new PIECE we have DEVISED. Oh yes! I did it to a CLICK TRACK, which Tim attempted to be DISGUSTED by until I pointed out that he had spent the past MONTH cutting and pasting things so could not exactly claim to be STEVE ALBINI. This song features FRENCH LYRICS - they basically SUM UP the "message" of the whole album (which, you may have noticed by now, is getting a bit CONCEPTY) but do so in FRENCH so that, well, so that it doesn't feel so WOOFY to be saying it out loud. There was MUCH discussion about correct pronunciation, but I think we got it in the end.
It was getting close to my TRAIN time by now, and all I had left to do was a new version of the GUITAR SOLO in
We Can Start Having Fun
. I tried and tried for AGES to get this right and just could NOT do it, so bowed to the inevitable and asked The TIGER to play it on violin instead. This he did, and then off I went.
In my absence much good work was undertaken by Tim, Tom and also Mr F A Machine who arrived shortly after I'd gone to do a TON of BRASS. I, however, was WHIZZING home where I arrived JUST in time for a much needed CURRY. It had been a GOOD day - Tim's in the studio to MIX some of the above on TUESDAY. I CAN'T WAIT!
posted 30/11/2008 by MJ Hibbett
(click here for permanent link)
(0) comments
Farewell Markie
I toddled off to Sheffield after work on Thursday, to play the farewell gig of Markie Paralleogram (aka Mark from Velodrome, for older readers), who is leaving for New Zealand on Monday. As I have said about a million times, Mark and the rest of Velodrome RESCUED me from ROCK DESPONDENCY many years ago, appearing as a beacon of LIGHT in the GLOOM of a Leicester scene heavily laden with miserableness, demonstrating that, actually, there were a LOT of nice people in bands who were HEAPS of fun to be with if only you were prepared to get on a train and go and play with them. If it hadn't have been for them i may have given up altogether - yes, it is THEIR FAULT.
I arrived at The Shakespeare to find two things guaranteed to gladden my heart - lots of PALS, and REAL ALE on TAP. I was sat enjoying BOTH of these when behind me I heard someone come into the pub singing
Hey Hey 16K
at HIGH volume. It was Mr R Pipes, who'd recently bought a Hey Hey 16K t-shirt and had been pleased to find I was playing this very gig just down the road from him. He'd bought his guitar with him, having been BUSKING in the afternoon, so we went outside and I did him and his friends a quick rendition of
Hey Hey 16K
(with a final version which confused him MIGHTILY, as he'd only heard the web video version) after which he did his song "Beanbag" in return. It was lovely.
Some more chat, some more beer and, with Mr P Green unable to play due to POSSIBLE BABIES I was on first to do THIS:
Boom Shake The Room

I had a LOVELY time - you'll note there were only six songs, largely due to me talking REALLY A LOT, including my favourite bit where instead of everybody shouting "OI HIBBETT!" during
Easily Impressed
and Mark adding "You wanker!" before I could reply (as is his TRADITION) I got HIM to do the first bit and everyone ELSE to do the last. HA! It was ACE! I also did my BIG SOPPY BIT similar to that at the start of this re. everyone in Sheffield being lovely. HEY! It is true, ALSO i had had beer.
The rest of the evening flew by in a flurry of ROCK also CHAT until I found myself at midnight REALLY QUITE TIDDLY, unable to finish my beer, and having to hug a whole ROOMFUL of lovely people, including of course Mark, before staggering off back to The Ibis where I had the same room i ALWAYS have. They keep changing the number of it, for some reason, but it's always EXACTLY the same!
posted 30/11/2008 by MJ Hibbett
(click here for permanent link)
(0) comments
Working From Home
I was WORKING FROM HOME yesterday - Working From Home is GRATE, it means a) you get to work SUPER EARLY (i.e. straight after - sometimes DURING - breakfast) b) you can watch TELLY while you have your lunch c) you can talk to the CATS d) the FACT there's loads of stuff to do means you get on and DO your work stuff quicker to get it over with and also e) the time you would normally spend gazing out of the window/playing solitaire/refreshing your facebook updates [delete as appropriate] can instead be channelled into ROCK.
THUS I got a HECK of a lot done yesterday, and by the evening time I had not only written and recorded a new ADVERT SONG (featuring the lyric "a hod full of the future", which i am particularly pleased with) but nearly finished the VIDEO for the Christmas Single. I got up extra early this morning and DID finish it, including sub-titles at the end so everyone can sing along, and BY HECK i am MOST pleased with it. It's taken an ENORMOUS amount of work to do - not only are there TWENTY FOUR seperate scenes, one for each window on the calendar, but also several different versions of the chorus, the calendar itself, The Validators version of BAND AID and all SORTS of extra bits. I'm hoping that there's SO much in it that people will want to re-watch it, I am RATHER proud of it.
It'll be available to DOWNLOAD from December 8th, and will be HERE on that very day - tho if you'd like an EARLY ALERT to it going online, do please sign up for
the newsletter
. Talking of which, I've got THIS month's to send out now - TO THE EMAIL!
posted 27/11/2008 by MJ Hibbett
(click here for permanent link)
(0) comments
Going Postal
I had a jolly morning and lunchtime yesterday finishing off the MAILOUT for the Christmas single - getting stamps, sticking envelopes, posting letters and then HO! for the Secret BBC Window near Broadcasting House where you can send stuff to BBC types. And that's that - today I EMAILED most of the intended recipients to let them know it was on the way, and now all that's left to do is sit back and see if anyone plays it.
Well, all right, there's a bit more to it than that - I've got to finish the video off yet, and then put it up, let everyone know when the single's available, and RE-LEARN the song so's we can do it at gigs, but really the hard work's all done. And to be honest, it wasn't really all that difficult. As time's gone by releasing singles has got MUCh easier as we've found good places to manufacture them for us and I've got used to the publicity side, but I must say this has been the easiest of the LOT. The fact that it's a song we recorded and mixed AGES ago certainly helped, but most of all it being a DOWNLOAD ONLY has been a BOON. It's so easy doing it this way, though it also takes a bit of the EXCITEMENT off it, as there's no real physical product to have SHELVES full of.
Still, I guess I'll always have the
Do The Indie Kid
seven inches ... and by that I mean I'll ALWAYS have them... unless there's a terrible accident with a SKIP in the new year...
posted 25/11/2008 by MJ Hibbett
(click here for permanent link)
(1) comments
Urban Hiking And Googly Eyes
It was a busy and DIVERSE weekend what has just gone by - Saturday found me meeting Dr N Brown for an URBAN HIKE. Back in the summer we went for a BEER but couldn't find a nice pub so ended up walking for about an HOUR, and had such a nice time doing so that we agreed to do it PROPERLY another time. THUS we met up at Mile End Station and HIKED along the canal to Limehouse Basin, then along the Thames Path stopping briefly at THE BEACH (it had SAND!) and in a PUB before marching all the way to Temple on the Embankment, through Covent Garden, ending up at The Museum Tavern here in picturesque Bloomsbury. It was BRILL, and by HECK that pint at the end felt WELL EARNED. Next time we're going to go in the other direction towards Leytonstone, conquering HACKNEY MARSHES as we go, and hopefully ending up at The North Star. Urban Hiking: it's like normal hiking but with a LOT more pubs, also corner shops.
In stark contrast, almost the entirety of Sunday was spent at the computer doing the VIDOE for The Big Christmas Single. I got LOADS done, including a LOT of filming (for future reference: The Santa Bob Dylan bit, the Open University bit, the New 24 bit - it'll make sense when you see it) and SPLICING, as well as finally getting the hang of PANNING, CROPPING and especially CHROMA KEYING. I tell you what, when I set off on the rocky road of ROCK i expected to pick up a few skills along the way - drinking bourbon, finger picking, riding motorcycles, talking to GURLS etc etc - but I never in my wildest dreams expected to be turned into a VIDEO EDITTING MACHINE. I can do GREEN SCREEN now! OK, not very well, but still, it's like a one man WETA WORKSHOP round mine at the moment!
There's still a little way to go, with pretty much the whole last verse to film and some TWEAKING, but it's looking pretty good I must say. Release date is December 8th, and BY GOLLY you will be informed when it's ready to see!
posted 24/11/2008 by MJ Hibbett
(click here for permanent link)
(0) comments
Marylebone
After meeting The Food In My Buffet for a cheeky CURRY in the Selfridges Cafe (it's on the 4th Floor there,it is ACE) I strolled up to Marylebone, only getting slightly lost on the way, to play at Freedom Of Expression. It's a GRATE gig to play, although Tim Who Runs It is cutting back a bit next year - here's me thinking I'm Mr Super Busy doing 70 gigs a year, he does about ONE HUNDRED AND FIFTY! And he doesn't even get to PLAY at most of them, he's just the promoter!
I can't remember the name of the first chap on, partly because as soon as he came on I thought "Ooh, a young Elvis Costello!" then he said he'd got a cold from some of the children he teaches and my BRANE spent the next 20 minutes trying to get my BRANE around the idea of D McManus trying to teach STUDENTS. After him it was Superman Revenge Squad who was, as ever, GRATE, then I went on and did THIS:
It was a slightly shorter than normal set because things were running a bit behind... though i can't complain as a lot of the behind NESS of it was due to me bringing on a HEAVILY extended talky bit with Mr T Eveleigh beforehand, during which I asked him the Three Questions he usually asks, and then went on A LOT about my moustache. Still, all seemed to go well and it was nice to do
If You're Too Turned On
and see the looks of RECOGNITION from the more mature gentlemen in the room!
posted 23/11/2008 by MJ Hibbett
(click here for permanent link)
(0) comments
News Roundup
ITEM! I got a rather exciting package in the post yesterday, five copies of the rather fantastic new compilation "That's How I Feel" from those Krazy Kolonials at
Stereorrific Recordings
. It's a compilation celebrating their 10th Anniversary with ARTISTES recording cover versions of their favourite songs from the Stereorrific catalogue, and the very first song is my "interpretation" of "Saddle Up" by The Weisstronauts. The whole album is GRATE - when I know how to get hold of it, i shall pass the information on!
ITEM! The other week I got an email from Mr R Harbron in THUNDER BAY, Canada, asking for the chords to
We Only Ever Meet In Church
. "Chords" is rather overstating the case, as the way I play it it's just D throughout! He worked it out slightly differently and has done a LOVELY version of it, which he performed at the weekend in a local cafe. Thanks to the power of the MIGHTY INTERWEB you can see it
HERE
... Tho you might need to be logged in to facebook to do so. It's LOVELY!
ITEM! Finally, there's more pictures of my ongoing
SPONSORED MOUSTACHE GROW
over on my
justgiving page
. A couple of people asked about it at the weekend, so if you'd like to sponsor me please do so, it's starting to look PROPER now!
posted 18/11/2008 by MJ Hibbett
(click here for permanent link)
(1) comments
Indiepop All-Dayer
Off to NOTTINGHAM yesterday lunch time for the Fog Of Ideas/Layer Of Chips Fanzines' Indiepop all-dayer. The Extra Space In My First Class Carriage was coming up with me and we had a DELIGHTFUL journey up once the train had STRUGGLED for half an hour to get out of St Pancras due to a steep gradient and MISTY RAIN. It was clearly all downhill after that tho as we ended up only 10 minutes late arriving in Nottingham and BREEZED the short distance to the Ibis, where we were staying.
There seemed to be a CURSE upon Validators - Tom had called in sick with a COLD and Frankie had damaged his hand in an accident at the TIP so couldn't play his OWN gig at the start of the day, let alone ours. THUS we retired to the PUB, getting back in time to see The Pocketbooks, also to see people doing what must SURELY become known as The Pocketbooks Dance: a sway from the hips upwards with head nodding and a big GRIN all over your face. Simply EVERYONE was doing it!
The Performing Pattisons arrived halfway through their set and, after a very brief conflab, we got onstage and did THIS:
It was a LOT of fun, and seemed to go down pretty well - INDEED i was slightly unnerved by the number of people who seemed to know ALL THE WORDS, and be SINGING them!
Do The Indie Kid
was ESPECIALLY GRATE for its LENGTHY singalong middle section, which led nicely into a STRING of singalong bits. Tim is pushing to DROP
Easily Impressed
from the regular set, but agreed to do it this time if i didn't do the usual intro... which would have been fine except that was when Emma went downstairs to check that The Pattison Girls were OK, leaving me to WAFFLE a bit.
WAFFLING is something I am well practiced at, however, and all was WELL. We packed up, took the drum bits outside and said goodbye to the Pattisons then me and The Cake On My Plater went over to the pub for a MUCH NEEDED PINT. We fell in with a bunch of lovely people and ended up having a long chat with The Wilsons, which unfortunately meant I forgot to get us back to see Lardpony. I was a bit annoyed with myself about this, as I'd not seen them with the full band for ages AND they'd brought half the gear, but we did get back in time to see Mr Pete Green and his JUGGERNAUT, who were ACE.
At this point I got THE HUNGER so we popped down the road for some GRUB and thus inadvertenly missed Mascot Fight too. I felt EXTRA guilty about this one, as not only have I never seen them, not only is Rich from them ENGINEERING our album, but they'd also provided the drum kit for everyone. GUILT!
We were back in place to see Mr Phil Wilson and his rocking new back, however, and they were AMAZING. It was really very very VERY good indeed, very LOUD and EXCITING and packed with SOUND and ROCK ACTION and ... well, I can only say "Golly!" in response to it. Especially GRATE were the new songs, especially especially "Up To London" which has been stuck in my head ever since.
We flew over for another swift pint, during which congratulations were proferred before zooming back to catch the ONLY band who could have followed such a ROCK EXPLOSION: The Bobby McGees. One of the MANY brilliant things about The Bobby McGees is that you are GUARANTEED a fantastic gig every time you see them, and this was certainly the case this time, especially when Eleanor did a song accompanied by SAW, which was a sudden case of the SPINE TINGLING in the middle. I say this to all sorts of people, but this is because it is true: if you've never seen The Bobby McGees live DO SO IMMEDIATELY, you will NOT be disappointed.
Also good this time: Anastasia The Saw Player/JAZZ RECORDERIST had brought her Mum with her, a former Rocket Scientist. Not so good; me being unable to resist asking "So you were a rocket scientist - is that difficult?"
With everything finally finished we said our goodbyes and trundled back round the corner and to bed. It had been a FANTASTIC day, although my tip for next time: include some bands i DON'T like please, so i can have some grub/beer without feeling so bad about it!
posted 17/11/2008 by MJ Hibbett
(click here for permanent link)
(0) comments
Tonight, Matthew...
Up to Leicester last night for our gig supporting Half Man Half Biscuit at The Charlotte. Our first ever Validators gig was supporting them in Derby and over the years we have managed to get in to see them for free in this manner SEVERAL times - Tim estimated SIX last night.
Upon my arrival I met Dr Neil Brown at Leicester's Traditional Place To Meet People: The Clock Tower. Whilst there I looked in AWE once again at the crappy statue they put up to commemorate Leicester(shire) winning the rugby, football and cricket in the same year. Typically of LEICESTER nobody really noticed for six months, as they don't like to make a fuss, and eventually got a crappy little statue put up. If it had been NOTTINGHAM then they would have demolished Mansfield to build a GIGANTIC BURNING EFFIGY of Robin Hood, complete with massive speakers to shout about it.
Not, of course, that living in Leicester for 16 years made me biased in ANY way. So yes, Dr Brown and I went for a couple of BEERS, first in The Globe then in The Criterion, the latter featuring tasty PIZZA. I was thus full of The Christmas Spirit when I arrived at The Charlotte to find Tim finishing putting his drumkit, and was RELIEVED to find that Phil The Soundman is STILL Phil The Soundman, not least because he's mentioned in
Leicester's Trying To Tell Me Something
.
Half Man Half Biscuit had also just arrived (in a much swankier Birkenhead Van Hire VAN than usual, apparently specially chosen because they were doing two nights in a row) and we had a quick chat - they're ever so nice chaps, and don't seem to mind too much that every year or so we APPEAR at their gigs, looking excited and carrying guitars. It became clear that Carl The Drummer wasn't going to be there until much later, so couldn't do soundcheck, and it was at this point that I began to behave like a Pushy Mother. "Go on Tim!" I said, "Ask if you can play, go on, join in, you know all the songs - here, there's something on your face, let me spit on a tissue."
Ken the guitarist walked by just then and said "Do you want to come up and do the soundcheck for us, just do a jam?" and Tim VERY CALMLY said "Yeah, all right", and off he went. There was a BRIEF moment of FEAR when Nigel was nowhere to be found and Tim looked over to see if it was going to become Half Vlads Half Biscuit but Nigel soon appeared and THIS happened: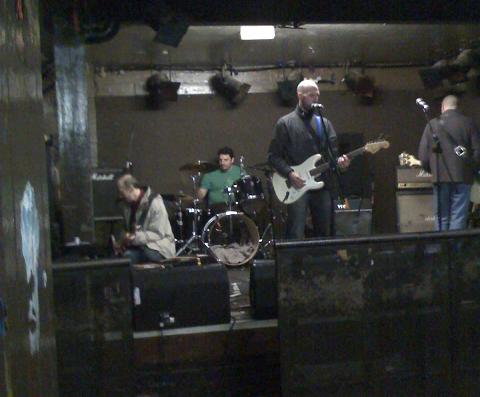 It was like an extra special Christmas Edition of Jim'll Fix It, as one young man's dreams came true. They did a run through of "Blue Badge Abuser" which, obviously, Tim knew VERY well, and throughout various Biscuits looked over and gave APPROVING NODS and swapped IMPRESSED GLANCES. Tim later admitted he'd been SWEATING with FEAR, but he looked relaxed and ASSURED - i was SO proud - and then eased into "Outbreak of Vitus Gerulaitis" to finish. It was GRATE - goodness knows _I_ was really excited, i am guessing he was quite pleased about it too though, as he said afterwards, it was a good job it wasn't The Fall as he would be in tour with them in AMERICA by this morning.
Rob and Tom had arrived so we did our soundcheck quickly and then popped back to The Criterion for a quick beer and BAND MEET, during which Tim let out his excitement in the form of some SQUEALING. As we went in we met a couple of people we used to know in Leicester who later did what ALL people we used to know in Leiceste did i.e. having been told what time we'd be on they a) turned up just after we'd finished and b) proudly told us about it.
Back to The Charlotte just before Emma arrived, setlists were written, and soon it was time to go on and do THIS:
It was GRATE! Most of the other times we've played with HMHB we've been greeted by steely glares and disdain, but this time we appeared to go down pretty well. People cheered, joined in the "Oi Hibbett!", had some BANTER, and one man got VERY excited about Tom's violin playing. "He's got it all!" he said, as he staggered by.
The fabness of the gig was very much helped by the fact that The Charlotte has, somewhere along the line, got AMAZINGLY better sound i.e. now it is GOOD whereas for DECADES it was appalling. I can only guess they've got new gear in, but it sounded brilliant from where we were standing, and seemed to be good out the front too.
Next followed some wandering around chatting to the PALS who'd come along, and also to a chap from the band The Fallen Leaves. They'd originally been playing too, and I'd assumed that they'd had to pull out for some reason, but actually it turned out they'd been DROPPED so there'd be time for a long Biscuits set. I felt really bad about it, as they'd been on the bill first, but he didn't seem to mind - he thought we were a better fit and, most importantly, he'd only asked to play so HE could get in for free, and to make up for being dropped Andy'd given him a free ticket! RESULT!
Talking of Andy Who Runs The Charlotte, I had a quick word with him where, for some reason, I told him the story of the time he refused to play us for supporting HMHB because there weren't enough people in the room. "But it was packed!" i said. "No, it's just that everyone was FAT" he replied. WHY i told him that I don't know... he DID say, however, that we were much better than he remembered us being. Ten minutes later Geoff from Probe Plus/Biscuits manager said EXACTLY the same thing! Could this be our new Top Press Release quote? "MJ Hibbett & The Validators: not as bad as you remember."
There then followed the usual GRATE 90 minutes of Hot HMHB ACTION - it was all excellent, tho I do begin to PINE for the large weird venues I've seen them in as The Charlotte, like The Forum the other week, is not really a pleasant place to be in when it's RAMMED, especially when there's clumps of grumpy old blokes who don't want to move to let people go to the toilet. It was VERY MUCH the traditional HMHB audience, like a crowd of Travelling Football Supporters rather than the much more MIXED bunch that was in London the other week.
It was a fantastic night all round, definitely the best one we've had supporting them, and also one of the best PAID gigs we've ever had - we didn't get any money for doing the gig, but if we'd paid to get in it would have been about eighty quid!
posted 14/11/2008 by MJ Hibbett
(click here for permanent link)
(1) comments
It's Beginning To Feel A Lot Like Christmas
First of all, sorry to anyone who came to look at the site this morning and found it claiming to have DISAPPEARED. My service providers had a "scheduled" maintenance this morning which a) they certainly didn't tell me they were going to have and b) went on for three hours longer than they eventually claimed it would. Still, we're back now, and with some GRATE news:
The Christmas Singles have arrived!
ZANG! Yes, I know I said this was going to be a download ONLY release, and it is, but we still needed a few copies for sending out as PROMO, and it is THESE that have arrived this morning. I've got to say, the people we use for small amounts of CDs (
Short-Run
in Bristol) are AMAZING. I only sent them the master CD on MONDAY, and they're here already! This puts me WAY ahead of schedule for sending them out, probably a couple of weeks before the release date of December 8th.
There will be a LOT more to be said about this, but for now here is the COVER: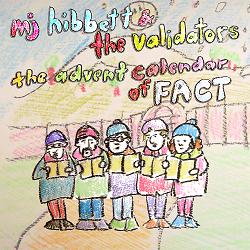 NICE isn't it?
posted 12/11/2008 by MJ Hibbett
(click here for permanent link)
(0) comments
Matron!
Yesterday lunchtime I was in the GYM, dancing on The Dancing Machine (i don't think that's what it's called, but that's what it feels like) and was having my usual shower afterwards. Nothing strange there... until i noticed what appeared to be the baby Alien from out of ALIEN looming from the cubicle next to me. I didn't have my glasses on and, to be frank, was not expecting it, so it took me a couple of seconds to realise that OMG! It was an ERECT PHALLUS! WAFTING ABOUT!
My dears I was SHOCKED! It's a big open shower room and so Dangly Bits are seen Dangling everywhere you look, but the DANGLE LEVEL on this particular item was ZERO. I had never seen the LIKES of such a thing before - and afterwards I realised I had NEVER EVER seen one, outside of one's own MIGHTY MEMBER or, indeed, Medical Textbooks.
I felt like an Elderly Aunt Alarmed By A Bull Elephant, if I'd had a bicycle I would have fallen off it!
In the cold light of day I have regained my composure, though i have to say: Ugh! It wasn't a very nice thing to see at all - maybe PENII are like INFANTS, and there is something in your GENES that make you think other peoples are a bit GRIM, whereas your own is DELIGHTFUL and CHARMING? Or am i just BLESSED?
Also: you don't think it was
THE MOUSTACHE
that was to blame, do you? I'm aiming for Tom Selleck, but could it be VEARING TERRIFYINGLY towards That Bloke Out Of Frankie Goes To Hollywood? QUICK! To the FERRARI!
posted 11/11/2008 by MJ Hibbett
(click here for permanent link)
(1) comments
Super Dynamic Weekend Action
I had a lovely weekend of a) staying at home and b) ACTION, as I FORGE FORWARD on several fronts of ROCK.
On Saturday morning I went over to Wansted Flats to do some FIELD RECORDINGS with my little digital four track and the tiny stereo microphone I bought on eBay ages ago but have never really got much use out of. It came into its own this time (largely because I finally worked out how to use it properly) as I recorded some leaves scrunching underfoot followed by wind rustling through trees, birdsong and, in the distance, a kids football match. I also found a GRATE page of Russian Militiary Music and old soviet radio broadcasts, which we might use on
Red Black Gold
. Now all I need to do is work out some FANTASTIC FOUR quotes for
Being Happy Doesn't Make You Stupid
and record a HEN NIGHT for
All The Good Men
. YIKES!
Talking of the album, NEGOTIATIONS continued apace with our Producer as to running order, possible additions to the tracklisting, and indeed the COVER. It turns out both Tim and I had had a similar idea, of using a French Textbook on the template, and he had INDEED bought one a little while ago whilst on a trip to London. It looks GRATE!
I also did quite a bit of PREP for our next release, the downloadable single of
The Advent Calendar Of FACT
. I editted together rough versions of all the choruses for the VIDOE and started making the Advent Calendar we'll be using for the verses - according to my ROCK SCHEDULE I'm going to have this all finished by next weekend. This, I feel, is somewhat optimistic.
And finally, as well as all that I continued my CHARITY WORK i.e. my
sponsored moustache grow
for
Movember
. As CHARITY WORK goes it's pretty easy, just growing a moustache is not exactly marathon running, but i do keep forgetting I've got it. "Why is that person glaring at my LIP?" i think. "Oh, right". I've got a couple of pictures up on my
justgiving
page now, if anyone fancies a) a look b) donating some CA$H. Especially if anyone fancies the latter, I don't want to look this daft for nothing!!
posted 10/11/2008 by MJ Hibbett
(click here for permanent link)
(0) comments
People Off The Telly, On The Radio
Oh the GIDDY METROPOLITAN WHIRL of life in the capital - last night I met with my publisher, had drinks with The Cherry On My Cocktail Stick, popped into a Radio Show Recording and then drifted home for LATE SUPPER. If anybody claims to have a more SOPHISTICATED lifestyle than THAT I shall... well, I shall probably right a lightly satirical song on them for my next REVUE.
John The Publisher was down for a SEMINAR, so we met for a quick pint beforehand to discuss VITAL MATTERS like foot health, also plans to write some more songs. Just before he had to dash off to his DO over at the PRS offices the aforementioned Friend At My Social Occasion arrived, briefly met John for the first time, and settled down for a quick SHANDY before we went round the corner to The Drill Hall, to watch a recording of Clive Anderson's Chat Room.
We've been trying for AGES to get tickets to one of these shows - it's not that either of us really listens to much Radio Comedy, but it seemed like a Good Night Out and the FACT that it seems so difficult to get onto the LIST of people who get tickets only made us want it MORE. When we got into the Drill Hall BAR we found it full of people who were surprisingly a) MATURE and b) POSH. I guess it is a MARK of the success of Radio 2's ongoing rebranding that you expect their audience to be all HEP and GROOVY these days, as it WAS a surprise to find that the actual audience was still the traditional, as I say, Mature, Slightly Posh people who have always BEEN listening to Radio 2. I guess that's a clue to why the BACKLASH against Russell Brand and Jonathan Ross was SO large - for years the hardcore Radio 2 Audience has been politely IGNORING their presence on their network (much as us hardcore 6Music Audience members do our best to ignore George Lamb...) but once it was bought out into the open they saw EITHER the need OR the chance at LAST to do something about it.
Anyway, we hung around for a bit near the doors to the studio, gradually getting CRUMPLED as the Old Hands came to QUEUE in a polite, mannerly, but actually SLIGHTLY AGGRESSIVE way. When the doors opened we were nearly CRUSHED in a GREY STAMPEDE as people made for the best seats. There were a LOT of Walking Stick Rage.
Once everyone was settled in Clive Anderson came on and did The Warm-Up, which was all very jolly, then introduced the guests. MUCH excitement at The Hibbett End as the first two walked on - Nick Robinson and Arthur Smith! WHOO! A PROPER Famous Person Off The Telly AND A Comedy Legend! RESULT! I was also pleased to see next was Miranda Hart from off of Hyperdrive (which I really liked but wasn't mentioned) and then Steve Pound MP, who I didn't know much about. But still, 3 out of 4 guests being someone I'd heard of, PRETTY GOOD!
The show then got underway and, all in all, was dead good. They recorded over an hour's worth for a half hour show, so there were quite a few bits that SAGGED, and I guess when they edit it they'll even out the contributions. Clive Anderson ALSO seemed to be quite excited about having Nick Robinson on so asked him LOADS of stuff and, though he wasn't always terribly funny, he WAS always DEAD INTERESTING. Arthur Smith also was REALLY FUNNY, he was GRATE, and I was INTERESTED to see that both he and Miranda Hart had come on with loads of NOTES. Miranda Hart herself didn't seem to say much at all, and looked a bit nervous about it all, though did make a GRATE, also IMPASSIONED speech about Nasty Comedy and how, actually, it's MUCH easier to get laughs with swearing and being MEAN than writing Actual Comedy, and the WHOLE audience NODDED. We also APPLAUDED a bit about Barrack Obama being MEGA BRILL. The only slightly annoying bit, for me, was Steve Pound KEEPING making the same jokes and interrupting other people, but then I guess as an MP that's what he does in THE HOUSE.
It was all dead good anyway, and as we left I did rather hope we'd be able to go again - though next time I'll try and remember NOT to have a whole pint of guinness JUST before going into a room where you have to sit still for an hour!
posted 7/11/2008 by MJ Hibbett
(click here for permanent link)
(0) comments
Hitting The Century
As regular readers will hopefully remember, every Tuesday and Thursday for just over a year I've been writing about My Exciting Life In ROCK on the
Pop Art Digest
. I originally intended to do it for a couple of months and see how it went, but I've somehow managed to now do A HUNDRED episodes!
And I must say, it's worked out rather fantastically that
EPISODE 100
is pretty much my FAVOURITE of ALL the tales of My Exciting Life In ROCK - the one about me going through the wrong hotel door in Glasgow, as related in the STAGE VERSION of
My Exciting Life In ROCK
.
Every month or two I think about packing in these stories, as I gradually get closer to the present day - the vague plan is to try and get ahead of myself (I try to write them the week before they're due to go up so i can - PROFESSIONALISM - go back and edit them a bit before putting them online) a bit then go BACK BACK BACK and do the stories of my earliest bands, like
The Masters Of Nothing
and
VOON
. Goodness KNOWS there are a LOT of stories to be told there. I've just his quite a RICH SEAM of TALES now though, so it might be a while yet.
My other idea is to RE-edit the stories and start putting them out as a sort of fanzine. I don't know if this is a good idea or not though - the main reason for wanting to do it, to be honest, is so's I can use the really nice print shop round the corner - and don't know if anyone would actually want to BUY such a thing. Maybe it'll be something for the New Year!
posted 6/11/2008 by MJ Hibbett
(click here for permanent link)
(0) comments
House Of Fun
Last night was an epochal evening, a great moment in history, one that surely be remembered for ever more as, yes, the night MJ Hibbett & The Validators recorded their version of "House Of Fun" by Madness.
What?
The evening began with my DASH to St Pancras, slowed slightly by bumping into one of my former bosses from Leicester. East Midlands Trains have, SENSIBLY, eased the boundaries of "peak time", so now I can get a train out of London as LATE as 16.25 (rather than 15.55) and come back from Leicester as EARLY as 08.56 (not 09.48). OK, I know it's not a huge change, but it makes a big difference when you're trying to get out of work!
Derby, CHIPS, a stroll through the city centre to The Snug, and I was soon in the control room with Rich and Producer Pattison. We had some time to use before the rest of The Vlads got there, so we did some jiggery pokery to extend the intro to
We Can Start Having Fun
, identified a need to a) radically increase the volume of the guitar solo ("It needs to be as loud as the vocals!" i said. "It is - there's no vocals in this bit!" said Mr Pattison) and b) probably replace it with a Violin Solo anyway.
We then went into the studio itself to record a big pile of extra backing vocals for
Being Happy Doesn't Make You Stupid
. The first couple of batches were just to RAMP UP the crowd singalong, but then Tim got us doing DEIRDRES backing vocals i.e. like the recently split-up Young Indie-Pop Band, THE DEIRDRES. "HEY!" we sang, "THERE!" "EMO!" we added, "BOY!" It was all we could do to stop ourselves baking some CAKES for sale at gigs. When we'd finished Tim said "See? We CAN have fun without being silly." I didn't know whether to feel pleased or chastened, but DO expect to have ALL my pocket money this week.
With that done we got set up to try and learn the song. This was slightly HEAVY GOING until our MUSICAL DIRECTOR Mr FA Machine arrived. He and I had agreed to swap instruments, with me on bass and him on guitar, and this was a WONDERFUL THING. Frankie is a pretty AMAZING guitarist, and he WHISTLED through various different ways of playing the song, and I was very very happy to be able to actually PLAY ALONG. I am, as I am sure anybody who's seen me in action will know, NOT a natural guitar player, but give me a BASS and I am at home. It was LOVELY for me to be able to play an instrument with a bit of confidence, especially when Frankie could lean over and say "How about playing THIS?" show me something, and then for me to BE ABLE TO PLAY IT. Evenutally.
We worked stolidly, methodically, at the song for about 90 minutes, the three of us BOSSING EACH OTHER ABOUT, only moving on to the next section when we were sure we'd got each previous one SORTED. "House Of Fun" is a RIDICULOUSLY complicated song, with inversions, bridges, extra bits, shortened bits and ALL sorts, and the fact that it doesn't SOUND like it is testament to what a GRATE band Madness really are.
Emma and Tom arrived, and they got set up in the control room, Tom playing along to work out his bits, Emma giving us GUIDE vocals, which by this stage was INCREDIBLY handy. After another half an hour or so we were ready, and after four or five attempts had a VERSION. One more go from THAT and we were done - and it sounds PRETTY NIFTY. It's for (hopefuly) inclusion on a French Tribute Albu, and we'd been told we were NOT to do an overly faithful cover version but to do our own take and I must say, tho the final product is very recognisably "House Of Fun", it sounds a lot like us TOO.
Much of the evening then flew by in overdubs, first of my vocals, then Emma's, then some GROUP ones and finally Tom's violin. The nice thing was we were working as a TEAM, with Producer Pattison and Musical Director Machine especially coming into their own this time. Every time I left the room I'd come back to see Francis IN CONFERENCE with another Validator, saying "Hmm, but how about if we try THIS note there? Isn't THAT delightful?"
Meanwhile there was further SHENANIGANS as I wandered about shooting bits of VIDEO. We're planning to release
The Advent Calendar Of FACT
as a download-only Christmas Single, and I'm going to make a video for it which will partly, SORT OF, look a bit like Band-Aid. A BIT. This meant lots of sneaking around filming people while RECORDING, and also some filming people PRETEND to record - ooh, it was like The Beatles recording "Hey Bulldog" and making it the vidoe for "Lady Maddona"!
My favourite bit was a tiny little snippet for the line "a drunken mob of Carol Singers", when I filmed The Validators CAROL SINGING at the door to the studio. As they burst spontaneously into song you would have thought BUTTER WOULDN'T MELT. Happily order was soon restored by the usual bout of wind-breaking, bad language and Remarks In Poor Taste... oh that Mrs Pattison, you can't take her anyway!
With everything finally finished we bid our farewells to each other and then to Rich and headed home, with Tom and I dropping into Pattison Mansions on the way home (we'd stayed a bit later than the others) to drop in Tim's iPod and LANYARD. He ALWAYS seems to leave something behind - perhaps in future it can be the subject of a SWEEPSTAKE.
We eventually got back to Leicester to spend an increasingly hopeful, yet KNACKERED, couple of hours drinking The Whisky and starting to believe that MAYBE Obama might actually WIN! I still feel dodgy SAYING it in case i JINX it and they go back and say "No, hang on, there's all these other votes we forgot to count" or something, and i KNOW that, like May 2 1997 today will probably be the start of a gradual slope into disappointment, but for now: WAHEY! USA! LET! US! ROCK!
posted 5/11/2008 by MJ Hibbett
(click here for permanent link)
(1) comments
I Shall Be Released
It seems like YEARS since the idea of
Be True To Your School
, the Fortuna Pop! 'Best Of' was first MOOTED... and that's because it WAS years. It was meant to be released back in 2005, when they reached their 50th release, but it somehow never happened, until NOW! It's available ... er... in shops, I guess, but also on iTunes, tho I'd HEARTILY suggest tracking down a CD version, as it has FANTASTIC sleevenotes. I sat and read through them laughing away, also thinking "YES! I remember that, i was THERE!" If you WEREN'T there ("there" usually meaning Upstairs At The Garage, for some reason) it's still dead good, and features my very first single,
Work's All Right (if it's a proper job)
from the
Work Is A 4 Letter Word EP
And talking of things that I'd almost, but not quite, forgotten about - a while ago I wrote an ARTICLE for
Maps Magazine
, which appears in their latest edition which is OUT NOW. I think it used to be a print magazine but has now, wisely, gone ALL ONLINE. My article is, hopefully, the first of a series called "The Latest Review" where I'll be reviewing gigs I went to YEARS ago. Yes, I realised that i can't JUST write about gigs I DID, so am now writing about ones I WENT to as well! The first one's about Belle & Sebastian in Glasgow, and is a story that, I'm sure, EVERYONE who knows me and many who don't have heard me bring out whenever I am DRUNK. It's a good story!
posted 4/11/2008 by MJ Hibbett
(click here for permanent link)
(0) comments
Sitting On The Porch
I had a LOVELY weekend this weekend - i don't want to sound like a GRIZZLED OLD WARHORSE or anything, but after the FRANTIC month of dashing around, ROCKING (alarmingly, excluding when we went on holiday, this was my first full weekend at home for SEVENTEEN WEEKS!) it was lovely to not really HAVE to do anything, apart from potter around the house, occasionally having cups of tea/watching telly with The Doors On My House. BRILLIANT.
That's not to say there was no ROCK - far from it, as I wrote not one but TWO songs for adverts. The first was meant to be CLASSICAL ACOUSTIC MUSIC and, as you would probably guess, i STRUGGLED. I had FIVE different attempts and SWEATING over it on Saturday afternoon and evening then ALL of Sunday morning, and though i actually rather LIKED the end result it wasn't what was quiet. The SECOND one was rather more easy, as it was meant to be ENERGETIC and "like the theme tune to Jamie Oliver's New Show". I watched a video for this... song... and VERY EASILY wrote one that wasn't much like it, but INSPIRED. It too is instrumental but it MIGHT be possible to sing DISPARAGING words about someone having GURL'S HAIR over the top of it.
I'll try and get round to putting some of these ad songs on the
new songs page
soon. I've been meaning to do it for a while now, but: BUSY!
It's all been a bit much really, but things quiet down considerably now (although 70
Gigs
for 2008 is looking even more likely as I've just confirmed two more) and, as I keep saying in order to convince myself, NEXT year I'm going to do a lot less. Current plans state hardly ANY gigs January-April, so's we can have time to get the next album ready... but I guess we'll have to see. Having TOO MANY gigs, it's not such a bad problem really!
posted 3/11/2008 by MJ Hibbett
(click here for permanent link)
(0) comments

An Artists Against Success Presentation