Blog
Gigs
Facts
Music
Shop
Links
Back In Brixton
It was all a bit of a strange start to Friday evening - I almost always go off to gigs straight from work, but as I'd forgotten to take my guitar with me I had to go home first, which turned out GRATE in two ways - firstly all the Actual Work Style Work I had to do, which I'd planned to finish off by staying in the office until 8pm, I actually CONCENTRATED on and got finished by five o'clock, because I HAD to, and secondly i got to go home and see everyone and have my TEA. LOVELY!
It also meant I wasn't at the venue until just after nine o'clock, so spent the entire evening slightly out of kilter. To me it was just after SEVEN o'clock, as that's usually when I arrive, so I was surprised to find everyone slightly more DRUNK than expected. I was actually pleasantly surprised by The Albert as a whole - everyone says London is very cosmopolitan, but I personally very rarely find it to be so, as certain pubs have certain styles and ages of people in them, but The Albert was REALLY mixed - young and old, black white and other, tiddly and decidedly dodgy, everyone was mixed up and chatting to each other. It was BRILL!
I said hello to Mike The Promoter, who's also off to Indietracks (and thus felt even MORE depressed about not getting to go for the proper weekend, as I was telling him how AMAZING it's going to be) and then settled down to chat to Steve, who'd come down from Sheffield for the weekend, and his pals.
It was all very convivial, tho I noticed that when Helen McCookerybook came on it was SO convivial that it was one of those gigs where the CHAT tends to wipe out the singing. I really enjoyed her set, and it was a shame that people were too busy having a beer and a Friday Night Chat, but that's the thing about free gigs in pubs - you DO get people coming to see you by accident, but you also get people quite happily not bothering.
THUS I decided to do a set of NO QUIET ONES and NO Audience Participation, which looked like this:
I REALLY enjoyed it - surprisingly a LOT actually as, as with Helen McCookeryBook, not many people were listening and MANY people were talking, but the ones that did want to watch seemed to enjoy it, and there were several people who got sucked into THE WEB OF HIBBETT as they passed by, stopping for a couple of songs to see what was going on before heading back to their pals. ALSO I think it was such a contrast to the politeness of the night before - after I'd finished various people (and it was a MASSIVELY various variety of people) stumbled staggered and strode onto the dancefloor to GET DONE to the disco. It was a brilliant MESS of MESSINESS, and I thought "Yes - THIS is the gigs that i LIKE!"
I was also thinking, as I had been since first thing that morning "We should really have a song like 'Uptight' by Mr Stevie Wonder, that's a BRILLIANT song..." at which point the DJ PLAYED 'Uptight' by Mr Stevie Wonder. Coincidence? Or MESSAGE from The Gods Of ROCK?
After me it was The Boycott Coca Cola Experience who suffered, as both their predecessors had, from the noise but also from the lack of Strange Old Guy BELLOWING One OF The Songs, which had been one of the best bits last time. They were still dead good, also DECIDEDLY DIFFERENT from pretty much ALL other bands - which you could say about the whole night really. I had to slink off halfway through their set to get my train home, and did so FULL of the joys of ROCK. Gigs, they're GRATE!
posted 31/5/2008 by MJ Hibbett
(click here for permanent link)
(0) comments
Shortfuse
I stayed LATE at work last night before heading off to ANGEL for my gig at Shortfuse, on the way having a TERRIFYING experience. Stood on the platform at Kings Cross I took my phone out of my pocket to check it was working, pressing the button to make the lid flip up and then - WHOA! WHOO! EERK! - felt it flip OUT of my hand, land on the floor, and then BOUNCE onto the platform onto the tracks. ARGH! I looked at it, thinking "Well, at least that means I HAVE to get a new one now!" when I realised the tracks on the Northern Line are only about a foot down, so quickly looked along to see if there was a train coming. There WAS, but it was a LONG way off yet, so I KNELT down and LEANED over and picked up the phone.
The train SWOOSHED by about 30 seconds later - i wasn't really in ANY kind of danger at all, but GOOD GOLLY it was all a bit scary. I got on the train with my heart beating at a 1,000,000 m.p.h. and thinking "EEK!" And all this with a bad back too!!
I got to the venue at about 8pm and met John The Promoter, who seemed fairly relaxed. One of the NICE things about these sort of gigs is that they're really not that arsed about soundchecks, so you can turn up JUST before it's all due to start - something I've still not got used to, which is why I was the first one there. By 8.30pm the other acts had arrived... but no audience had. By nine o'clock there was only ONE paying customer, and John The Promoter and John Citizen (the compere) came round to everyone to ask whether we thought it was worth carrying on and playing the gig. I must admit a part of me thought "CANCEL! Let's go HOME!" I realised that ODDLY the ONLY time I have EVER had a gig cancelled for lack of audience was the LAST day of the LAST show I did in Edinburgh, when we, and the venue staff, all CHEERED with relief when nobody turned up, as we were a bit "poorly".
A bad OMEN perhaps? I dutifully said "Well, I've played to a lot LESS people", which is very TRUE as about SEVEN had arrived by now. Everybody else seemed ready to do it, so they waited a bit longer and then told us that we WOULD go ahead, but without a break in the middle, so that it'd also be done with quicker. Fine by me!
I'd spoken to Mr Citizen a bit earlier on about compering and the difference between ROCK and Poetry style gigs - i told him I thought it was a crap job, but he said he enjoyed it because you didn't need to do any preparation. I'm not sure if that was true, as he seemed very relaxed when he got up to do his bits, but also DEAD GOOD. He did lots of Asking Questions Of The Audience, tho unusually NOT so he could make The Smart Remarks, but because he seemed actually interested! It was a bit odd at first, but once you were used to it it was actually rather lovely, and made the whole room feel more TOGETHER. I was IMPRESSED - although the fact that he reminded me vaguely of DEREK GRIFFITHS (especially with his hand gestures) probably swayed me somewhat.
The other acts were some poets... sometimes you see poets who DEFY your idea of what they can be like, like Nathan Penlington (who usually hosts these nights but was off sick) or Penny Broadhurst, and sometimes not. It was all OK really, but it did remind me of why i prefer the (ON AVERAGE) slightly less PORTENTIOUS/PRETENTIOUS nature of The Rock And Roll Gig.
POLITENESS! Anyway, I was on third, and THIS is what I did:
It seemed to go OK - I tried doing a bit more TALKING than usual, doing an ABBREVIATED version of the story from
My Exciting Life In ROCK
to kick off with. It didn't work all that well, possibly because I DASHED into it a bit and also DIDN'T do any intro at the start as to WHY i was suddenly on about a BOOK, but then it all gradually relaxed and I managed to TELL A NARRATIVE (it's catching!) with the others that felt like it worked all right. I was quite PLEASED that I'd been brave this time and actually tried something a BIT different, especially when I could HEAR everyone REALLY listening to
It Only Works Because You're Here
. As I say, I DO prefer the HONESTY and CASUALNESS of ROCK to these sort of things - where I often feel everyone's just being POLITE and are there because it is The Poetry, rather than for FUN - but it's GOOD to put yourself in these different situations. I think.
When the last guy had finished it was time to get going home, and as I said my goodbyes i was handed a envelope by John The Promoter. This morning on my way to work I remembered it was still in my pocket, so opened it and found, along with a TENNER, a CARD saying thanks for playing! It was LOVELY - i was really rather touched with the idea that they'd go to the effort of doing that, it was GRATE!
It was while thinking this that I realised - I'm playing Brixton tonight, and forgot to bring my guitar into work with me, so will have to go home and get it. BUM!
posted 30/5/2008 by MJ Hibbett
(click here for permanent link)
(0) comments
Tick Tick Tick: BOOM!
It's been a good couple of days for ticking things off The List for
My Exciting Life In ROCK
- the PHOTO SESSION on Sunday has spurred Steve and I on to do GRATE THINGS - we've just about BOOKED the Press Preview (Press Preview!!), and at lunchtime I posted a CD with the artwork for the posters and flyers on it. TICK and DOUBLE TICK!
Fancy a LOOK? Here we go then: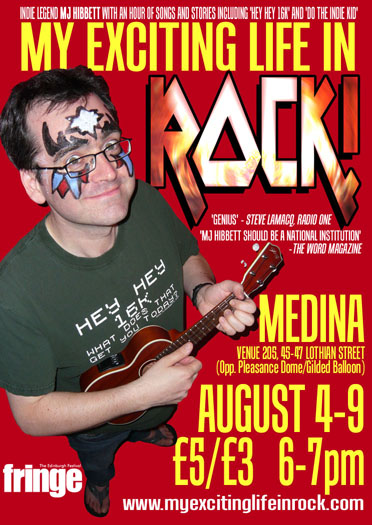 In the meantime we're gearing up for a FRENZY of Validators Activity - I've been in conference with Producer Pattison and we THINK we're just about sorted for getting the next single mixed, mastered and manufactured in time for the GLORIOUS CORPORATE SYNERGY of our Edinburgh Show/Hot New Single/World Thrashing Video PLAN to actually OCCUR. We've got QUOTES for manufacturing, Tim has ARTWORK bits from me to design the single, and this very lunchtime i went and bought some props for the video shoot (video shoot!) that will be occurring this Sunday.
And on top of all THAT there's a gig tonight at The Camden Head then ANOTHER at The Prince Albert in Brixton tomorrow night - i'm looking forward to both, but ESPECIALLY the latter now that I've realised that the Victoria Line runs late on Fridays so i WON'T be walking home. ESPECIALLY with my poorly back - still hurting thanks, but on the mend. Yes, I know, I am INCREDIBLY BRAVE. Where's my lolly?
posted 29/5/2008 by MJ Hibbett
(click here for permanent link)
(0) comments
TWOINK!
So,yesterday lunchtime I went off to the GYM for a WORKOUT (hey! you don't get an ADONIS-like figure like MINE without some WORK) and after ten minutes on the Dancey Dancey Machine I went over to the WEIGHTS. "Hmm", i thought, "My back feels a bit stiff. I know, I'll do some BACK exercises, that'll sort it out!"
WRONG! The first attempt hurt, the second REALLY hurt, and the fourth went TWOINK! as my back WENT. AAARGH! Also OW! OOH! AAAARGHH!!! It was INCREDIBLY painful, I managed to have a shower but then walking back to work hurt SO much i thought I was going to be sick. ARGH!
We were due to meet my brother and his Mrs, so I thought "Aha! Self-medication of muscle relaxants!" which DID sort of work in that it didn't hurt quite so much after a while BUT did make everything SEIZE UP so it took me about five minutes to get to the loo, HOBBLING like an old man. My brother did attempt to HELP me at one point, bless him, tho he did look VERY relieved when I said I could make it on my own and WOULDN'T need assistance at the critical moment, but all in all I felt a Little Bit Self-Conscious.
I got woken in the night by the AMAZING Thunder Storm and couldn't get comfy for AGES, so today I am slightly crabby and VERY stiff but - HEY! - being EXTREMELY brave about the whole thing. I'm Working From Home in the hope that a bit of rest will sort it out and I can still get out tomorrow and Friday for GIGS, but if you see me HOBBLING, any sympathy would be very appreciated!
In conclusion then: OW!
posted 28/5/2008 by MJ Hibbett
(click here for permanent link)
(3) comments
A Very Busy Weekend
Some people (in The South at least) were all upset by the X-TREME RAIN TERROR of the weekend, but personally i LIKED it, as less Lurking Around In Gardens means more ACTION PACKED ACTION. This weekend: LOTS of that.
It didn't really START that way though - Saturday seemed to involve quite a lot of loafing around the house doing bits and bobs, although we DID instigate a Grand New Curry Methodology: GOING to the curry house to order it and then having an BEER while it was cooked. This methodology is one i highly FAVOUR.
LOADS more got done on Sunday, including me coming into town and watching IRON MAN. You know those rubbish superhero films where they decide to remove pretty much ALL the good bits, and make it slightly DOUR and DARK, without any of the funny bits, EXCITING bits, or indeed ENTIRE PLOT of the original comic? This was completely NOT one of those, it was BLOODY GRATE! HOORAH! And yes, i DID stay until the very very very end to see Samuel L Jackon. ZOINKS!
I also met with Dr Neil Brown for an unscheduled HIKE across The City and a trip to TWO pubs in Mile End, one of which was an Authentic Traditional Actual East End Pub (you could tell it was authentic because EVERYONE WAS SHOUTING AT THE TOP OF THEIR VOICES) and then a BOHEMIAN pub where they had AMAAAAAZING beer. Again: HOORAH!
Then on MONDAY we had Mr Pete Knight and The Hewitts (which sounds like a 60's Beat Group doesn't it?) over for a LUNCHEON PARTY, followed by a complete run through of
My Exciting Life In ROCK
. Steve was taking NOTES throughout - i thought he had a LOT of ISSUES to raise, but it turned out he'd been writing out the running order. PHEW. We had a brief discussion of THAT before moving on to taking PHOTOGRAPHS.
Aaah! The PHOTOGRAPHS! Last week I bought some FACE PAINTS so as to enact the IDEA we'd fostered between us, and was delighted to find that they are DEAD easy to do - honestly, i could make a MINT at FETES witht his equipment - and looked REALLY good. Steve clambered up a step ladder and took a variety of PICS, and once I'd photoshopped out various nasal hairs and SPOTS I think we have an IMAGE that will do us proud. Once the poster is AGREED i will SHARE but my friends it is looking DEAD COOL!
That done there was time for tea and further chat re. Accomodation (BOOKED!) and trains (NOT BOOKED YET!) before we all said our farewells, and I was able to relax into TEATIME, safe in the knowledge that it had been a Bank Holiday well spent. I say one final time: HOORAH!
posted 27/5/2008 by MJ Hibbett
(click here for permanent link)
(0) comments
Leicester: ADDENDUM
I was a little TIRED yesterday and so forgot a few things that I really wanted to mention about yesterday's gig:
ITEM!
On the way to St Pancras I bumped into Interweb Illuminati member Mr Rob Manuel - we were all a bit surprised about it, you NEVER bump into people you know in That London. I HAD just been THINKING grateful thoughts about how he'd pretty much TAUGHT me how to do Video Editing when we did the
Gay Train Video
so maybe his SINISTER REPTILIAN POWERS had caused it to happen?
ITEM!
Before we did the gig we commenced filming the NEXT video, with some shots of Frankie LURKING around outside an office, and then Tom (as Main Site IT Guy) FLEEING. Standing around in the streets of Leicester shouting "YEAH! That's GRATE! Do it again with more FEELING!" was a WHOLE lot of fun.
ITEM!
Tim had come all the way from INDIA to do the gig, and had bought a rather special PRESENT back with him - a bag of multi-coloured guitar-shaped sweets which, when shuffled around, looked [almost] EXACTLY like the cover to
A Million Ukeleles
. It was a lovely thought - the sweets themselves were a little RUM tho!
posted 24/5/2008 by MJ Hibbett
(click here for permanent link)
(1) comments
Leicester
Off to lovely LEICESTER last night on the Last Train Before Prices Go KRAZY. I arrived with AGES of time to spare, so went for a quick look around the new Cultural Quarter. OOH! There's a MASSIVE new theatre being built, which looks like it's been DROPPED from a mighty height, SQUASHING several old factories and INTIMIDATING The Old Odeon - I find i now talk like an OLD person re. Leicester. "It's near the old Ritzy's - YOU KNOW". All around the area things had been CLEANED, swanky new flats were in evidence, and there was even a RESTAURANT. It almost made up for the continuing
demolition of pubs
. Almost.
I got the the Firebug STILL with plenty of time, so stood around having a chat with Mr Steve Haggis, our promoter for the evening, before first Tim then Tom arrived. LO! there was much setting up of GEAR, alongside the Mai 68s, who got there at the same time.
We had a mini-soundcheck, as neither Emma nor Frankie were there yet, and then greeted The Wilsons who'd arrived somewhat FLUSTERED. They'd cunningly booked the hotel DIRECTLY opposite the pub, had been VERY pleased to see it was THAT close... and then been told they were double booked and then SHUNTED across town to the rather LESS handy and salubrious Hotel On Top Of The Multi-Storey Car Park. BOO!
Phil got soundchecking and we went downstairs, where there was a MEETING of many many lovely people who'd come to see us - it turned into a Meeting People's Girlfriends For The First Time BONANZA, as not only did Mr Whitaker introduced me to his young lady AND The Tiger the TIGRESS, but ALSO Mr J Sutcliffe turned up with HIS new Mrs. It was GRATE! ALSO also i had plenty of time to discuss DR WHO with Mr Lawson (MOFFAT! WHOO!) and it was good times ALL round.
We went upstairs for The Mai 68s and found Mr Haggis looking RELAXED and HAPPY, which was rather good. After them Mr Wilson came on and i was WELL pleased, as a) he was dead good and b) people there really liked him. Large chunks of audience were PALS we'd bought along (NOTABLY from Tim's work and Tom's FRISBEE club) who didn't realise the extent of his LEGEND, but just liked him because he was dead GOOD. It was FAB, and at the end there was audible SINGING ALONG from gentlemen arranged at the bar at the back.
And finally it was US, and we did THIS:
In The Rain


It was GRATE! I am very proud to say that I did not make a SINGLE mistake throughout - OK, my contribution to The Music Of The Future may have been slightly ILL ADVISED (i was VENTING), but otherwise it was all good, helped along by the really good sound. It was THOROUGHLY enjoyable to start to finish, and when it DID finish we got Phil to come back on and do In The Rain with us - we'd been expecting it at the end of HIS set, but when that didn't happen we got him back for the end of ours. This time i DIDN'T lurk around like a Dad At A Disco with my cup of tea, preferring instead to DANCE AROUND, occasionally managing to remember to pretend to join Emma at the microphone.
It was all rather lovely, and there was MUCH hugging as we all went our seperate ways, including me heading back to Tom's for WHISKY. WHISKY! It was BRILL!
posted 23/5/2008 by MJ Hibbett
(click here for permanent link)
(0) comments
Work In Progress
Our BT Broadband isn't working properly at home just at the moment - once again I've tried all i can to fix it but am PERPLEXED and THWARTED... and also, after the DEBACLE last time when it turned out it was my own fault, I'm reluctant to ring anyone, so am crossing my fingers and hoping that when I get home tomorrow night it will be MENDED. BY MAGIC.
The upside of this is that it DISCOURAGES me from just sitting back down at the computer when I get home, and instead doing some work on THE SHOW. For the most part this has involved THINKING about it, which resulted in me LEAPING out of bed this morning and dashing downstairs to work out a BRAND NEW SONG called "(theme from) My Exciting Life In ROCK". Previously The Show had started with
The Peterborough All-Saints Wide-Game Team (group B)
which is ALWAYS a good way to start a set but, I realised, meant that I'd have do TWIST AROUND a bit to make it fit. The THEME of said Show is a Rock Biography, with various chapters - it starts with the Introduction then moves to Chapter 1: Growing Up, which is where
The Peterborough All-Saints Wide-Game Team (group B)
should REALLY go.
Moving that around meant that the first song was now
I Did A Gig In New York
which is ALSO a good way to start a set... but, in this case, has about five minutes of STORY leading in to it. THUS I resolved to write a theme tune and, having done that, and having had quite a bit MORE moving around, removal and addition of songs various, means that THIS is pretty much the setlist for Edinburgh:
(theme from) My Exciting Life In ROCK

Boom Shake The Room

It does look like quite a LOT of songs to me - it's meant to be an hour long, and that's at least 40 minutes JUST on the songs. Hopefully the talky bits will get quite QUICK by the time I actually DO it, as having a vague idea what I'm about to say next will make it a bit easier. I'm having the first proper run-through over the weekend with Steve Who Is Stage Manager, so we'll see how we get on.
In the mean-time tho, it is back to more Conventional ROCK Pursuits, as The Vlads gather tonight in Leicester to ROCK The Firebug in the company of Mr Phil Wilson and The Mai 68s. If you happen to be around, do pop along won't you? It will, i feel, be Rather Good!
posted 22/5/2008 by MJ Hibbett
(click here for permanent link)
(0) comments
A Business Meeting
To the PUB last night for another Business Meeting with my Stage Manager to discuss
My Exciting Life In ROCK
. VERY SERIOUS BUSINESS. And maybe a little beer.
I
think
everything is looking pretty good, we pretty much worked out how we're going to get everything sorted out. We've got a Major Milestone (see, I said we were Business Like) at the end of June, when I'll be doing the big mailout of singles and press releases, by which time we've GOT to have all dates, flyers, press releases, mailing lists, posters and, well, EVERYTHING sorted out. After that it's just doing gigs!
Talking of which, we ALSO made a few amendments to the show ITSELF, and now it looks like
I Come From The Fens
and
Rock And Roll Mayhem
are OUT, while
Clubbing In The Week
and Boom Shake The Room are IN! This, i feel, makes everything MUCH better, but I'll have to have a run-through to check.
Before all THAT tho I've got to get my funky ASS in gear and find some FACE PAINTS. It is upon FACE PAINTS that the success of the entire project HANGS!
posted 20/5/2008 by MJ Hibbett
(click here for permanent link)
(3) comments
The Next Single
After writing all that stuff yesterday I realised I haven't actually said WHAT the next single is, not ONLINE anyway. This is a bit surprising as OFFLINE i have been going on about it no end, as it is part of a Large Plan which ties together ALL sorts. Here's the FACTS:
The next single, if everything works out OK, is going to be
It Only Works Because You're Here
. The reason for this choice is twofold - 1) I think it is a HIT and have been going ON and ON for about TWO YEARS to the rest of The Vlads about how GRATE it is and have FINALLY managed to persuade them of this and 2) it's one of TWO songs from the NEXT album (the other being
Do The Indie Kid
) which will appear in
My Exciting Life In ROCK
, and so I thought it'd be a good idea to RELEASE it!
We're going to put it out (touch wood) the week before our show at
Indietracks
, when it will be accompanied by a BRAND NEW VIDEO (which is the one I've been busily STORYBOARDING, and which we're hoping to sort out in the next couple of weeks).
The main b-sides will be
Sod It, Let's Get Pissed
and
Professional Competent Rocking And Tight
, as these are the two songs in the show that we HAVEN'T ever properly released. I recorded a VERSION of the former yesterday, and re-mixed a previous attempt of the latter adding, IRONICALLY, some crowd noise from a gig i taped about 18 years ago featuring one of the FIRST Professional Competent Rocking And Tight bands I ever came into contact with... Tho not, by a long stretch, the last. These VERSIONS are intended primarily as Validators Learning Demos, but they turned out pretty well so may well end up being left AS IS for the single.
I said "main b-sides" up there because there will ALSO be BONUS TRACKS,
I Did A Gig In New York
(from the no-longer-available
A Million Ukeleles
and
Easily Impressed
and
I Come From The Fens
(from
The Milk & Baubles EP
, which I only have about 10 copies left of). The idea of having THESE on there is that people who come to see me in Edinburgh will be able to get pretty much ALL the songs in the show by buying this new single,
The Lesson Of The Smiths/The Gay Train
and
Warriors Of Nanpantan
, which I can stick together in a BARGAIN PACKAGE.
So yeah, that's the SCHEME in full - a single featuring my favourite song, accompanied by a VIDEO, which we can use to PLUG the Edinburgh Show AND the next album! If it all goes to plan it should be GRATE!
posted 19/5/2008 by MJ Hibbett
(click here for permanent link)
(0) comments
We'll Be Having Negotiations Over The Summer
Tim and Emma were in the studio on Friday night - I'd forgotten about it until I got a text from Tim saying "Think Cosmonauts!" This is the kind of GNOMIC messages that Producer Pattison sends every now and again - I EVENTUALLY found out that it was referring to the ICON on the computer that applied to a certain effect on the vocals. Anyway, he was getting all excited because they were doing SUCH good work, and next morning i was SIMILARLY thrilled when I downloaded the latest mixes.
For LO! they are GOOD STUFF. There's a rather KRAZY mix of
Do More, Eat Less
featuring the aforementioned vocal effect, also with some AMAZING bits of cutting and chopping, backing vocals, and VIBRASLAP. It's pretty brilliant, and that's BEFORE we include the horn-led representation of wildlife ballet in the middle. There's also the latest version of the EPIC (seven minutes!!)
Leicester's Trying To Tell me Something
which seems to be changing from the LENGTHY ROCKER I originally thought it was going to be into what i IMAGINE My Bloody Valentine to sound like. Not what they DO sound like, mind you, but what i IMAGINE.
It's GRATE having Tim go AT the mixes like this, as he keeps doing completely UNEXPECTED things, but my favourite of ALL is
It Only Works Because You're Here
. I've spent MONTHS trying to persuade everyone that it was a HIT, and by golly i think this proves I'm write, it sounds AMAZING. It's now got MORE Vibraslap, GORGEOUS backing vocals and FABULOUS guitars on it - Mr Machine and I have SWAPPED instruments for this one, and it does rather lend the whole thing a ZAZZ and a SHIMMY that makes it stand out rather. It's sounding GRATE - i am RATHER excited - and that's BEFORE we get round to putting the string section on. YOIKS!
The only downside is that I do rather feel like the owner of a recently promoted Conference team, who got where they did purely by having an Star Manager who they KNOW is SURELY going to be taken from them by a bigger club. When Tim said he wanted to have a go at Producing I was only HUMOURING him, thinking I'd wait until he got too upset to carry on and LEAP in. I didn't realise he'd be THIS good at it, and now I'm AFEARED!
posted 18/5/2008 by MJ Hibbett
(click here for permanent link)
(0) comments
Soul: UNSOLD
Bah! The Secret Project I was on about is now UNhappening! They were very nice about it all, but it turns out that tho they wanted a Quirky Homemade Non-Mainstream song, they didn't want it QUITE as Quirky, Homemade and Non-Mainstream as i made it!
I am, of course, GLEEFUL: Who wants to write songs to order and for money? Eh? Oh yeah. THAT WOULD BE ME. Still, they seemed pleased with what I'd done, so who knows, the ONE MAN HIT FACTORY could be fired into action again!
Back in the world of True Indie Rock (which I was thrown into ABRUPTLY last night, meeting that Mr Steve Lamacq in the PUB, and leaving a few minutes before Bob Stanley From St Etienne came in: LONDON GLAMOUR!) a couple more
GIGS
have appeared, at The Camden Head on May 29th and The Buffalo Bar on June 18th, both in That London. We're also undergoing Constructive Negotiation within The Vlads for time to shoot the VIDEO for our next single, as well as REHEARSALS (yes! us! practicing!) for our show at
Indietracks
- I'm having a MEETING next weeking with Stage Manager Carsmile, when we should hopefully be able to devise time for a couple of PREVIEWS too.
And talking of
Indietracks
, they've got an
article by ME
up now on the
Indietracks Blog
, talking about how we came to be DOING the World Premiere of My Exciting Life In Rock there.
Cor, that was a bit of a NEWS ROUNDUP wasn't it? Next week: MORE!
posted 16/5/2008 by MJ Hibbett
(click here for permanent link)
(0) comments
Secret Project
I'm working on a Secret Project at the moment - it is a SECRET!
What i CAN divulge is that it's a song written to order for a sort of advert thingy - if it comes off (and it's looking LOTS more likely than any of the other times I've tried this sort of thing i.e. EVEN VAGUELY) it should be RATHER exciting.
The whole thing started on Monday, when I got given a BRIEF to write a song for, which I wrote and mostly recorded on Monday evening, finishing off on Tuesday before coming in to work. There was then some DISCUSSION, as I had gone for a Metaphorical Lyric which they didn't think would work, so i SIMPLIFIED it massively... which was too simple, so I changed it again. It may sound like this sort of thing would be Annoying, but actually i found it both INTERESTING and also FUN - usually when you write a song it's completely DONE by the time anyone else hears it, and so if it isn't right you can't really go back and change it. Sometimes The Vlads will suggest a change, or even on occasion SEND IT BACK, which is allowable and indeed WELCOME, but doesn't happen very often.
ALSO of course when you write your OWN song you're just doing what you like, whereas this time it was done explicitly to fulfill someone else's requirements... which was BRILLIANT, as it forces the BRANE to try and come up with Elegant Solutions to Problems Posed. THUS I worked out a whole different way of doing the song to fit with what they wanted, then went home and recorded it all over again, last night and this morning.
The second version faced TWO additional problems: firstly, I'd been in the pub with Mileage after work, so was a little DIDDLY, but more importanly SECONDLY I was trying to write it to fit with the VISUALS they'd provided. It was like writing a SOUNDTRACK... sort of. It took a while but I eventually worked out the BPM required to make it nearly fit and the STRUCTURAL ALTERATIONS to make it do so fully, and then did most of the actual recording this morning. I got up at HALF PAST SIX! IN THE MORNING!!!
It's done now though and they seem pretty keen, so we'll have to wait and see what happens. I REALLY hope it works out - i shall let you know how I get on!
posted 14/5/2008 by MJ Hibbett
(click here for permanent link)
(1) comments
School Reunion
I went to my School Reunion on Saturday night. It was a) WEIRD and b) GRATE, usually both at the same time!
I met beforehand with my colleagues Messrs Guest and Myland for some mutual GEEING UP before we went in. They were affecting airs of nonchalance, i was EXCITED! When we went into the proper pub where it was happening there was suddenly about a DOZEN people who i hadn't seen for TWENTY YEARS - my brain was going "Oh yes, there's Dean" while simultaneously screaming "AAAARGHH!!!! WHAT IS! GOING! ON?"
It was all lovely tho, especially when my Best Friend From Junior School Mr Steven Carter arrived - we spent ALL out time hanging around together back then, and after brief preliminary Grown-Up stuff (Married? Kids? Living?) we got straight down to the important business of each other's opinion of the current series of Judge Dredd. OH YES. It was BRILL - I've not seen him for ... er... nearly 17 years, and most of my memories are of running around EITHER in sunshiney playgrounds playing Battle Of The Planets OR of being around at his house doing pretty much the same, but being together i suddenly remembered things like "AH! Steve says things like THAT!" as long dormant bits of BRANE got back into action.
So yes, it was bloody lovely, even tho sometimes it was a bit odd when people said "Everybody's still the same!" I'm not! Surely? I'd like to think not anyway, and a couple of others did quietly mention this, but if felt like a guilty secret. Also NOTICEABLE was the fact that everybody LOOKED the same... as long as you looked only at the middle of their faces. When I first went in Robin Gardner, who I'd ALSO know since the age of SIX, came over and for a moment I thought "Who is THIS MAN?!?" then looked at the middle of his face and went "It's Robin!" and the technique stayed VALID throughout the rest of the night.
We moved on to another pub after a bit where we FREAKED OUT our former PE Teacher who happened to be there... tho I seem to recall he was easily confused at the best of times. It ended up being a rather late night, BUT a rather lovely one. Next day, however: not so pleasant. PAIN!
I'm really glad I went - especially as, I think, I managed NOT to try and show off all night and be a wazzock. LOADS of people had said not to go, and amongst our little group only half those who said they'd go actually did, but it was brilliant. I would RECOMMEND!
posted 13/5/2008 by MJ Hibbett
(click here for permanent link)
(0) comments
School Reunion
I went to my school reunion on
posted 12/5/2008 by MJ Hibbett
(click here for permanent link)
(0) comments
Not Brixton
I set of for the final date of The Accidental Tour a bit later than I normally would - past experience had told me that the venue, Jamm, doesn't really OPEN until 9pm, and as I didn't really need much of a soundcheck there was no gain from sitting around in a big dark empty room for an hour or so waiting for something to happen with only a pint of Guiness for comfort.
Thus I arrived in Stockwell (not Brixton) at twilight on a balmy evening and set off on what I thought would be a bit of a HIKE. I usually go to Jamm (formerly The White Horse Brixton) via Brixton station, but as this would be CLOSED by the time I got there tonight (REFURBISHMENTS) I'd have to go back via Stockwell anyway, so thought I might as well have a look where I'd be going. Stockwell is actually quite nice, and like in Stoke there was a JOLLY atmosphere of people happily bantering with each other in the street. It was also surprisingly CLOSE to Jamm (formerly The White Horse, Brixton [not Brixton]) which LOOMED into view after only 10 minutes. These 10 minutes of Nice Stockwell ENDED abruptly as soon as I got onto Brixton Road, where suddenly the shouting was NOT Jovial, and LO! the first of the MANY Brixton Loonies came hurtling along, waving arms and shouting to herself. BRIXTON! Is it just that LOONIES are drawn there by a LOONIE MAGNET, or does LIVING there turn you into one? RESEARCH, i feel, should be pursued.
I was still a bit early, due to the efficient journey, so sat outside for a bit listening to the LOONIES go by, shouting at each other. After a while I went inside, following a Tense Couple (HIM: "But nobody else is inside, the bar isn't even open" HER: "I Want To Listen To Music. AT LEAST I KNOW HOW TO ENJOY MYSELF"). Later on he'd disappear and she'd do the Strange Heckling of People Who Talk To The Telly And Don't Realise This Isn't The Same. Loonies in training!
I usually play my bits during the Vic's Cabaret Hour section at the front, but had been PROMOTED this time to the bit just after, so sat and watched Cabaret HOur in its entirety... which wasn't long because one of the two acts had broken down on the A2! Still, the Cabaret 25 Minutes (not such a good title) was GRATE due to the presence of the poet Richard Allen. He was BRILLIANT - really funny and enjoyable to watch, with a nervous ENERGY that made me think, really, he should be in a band instead. He also proved my emergent THEORY that the GOOD poets are the ones that learn the words, and that RUBBISH ones EITHER rely on reading from a book to cover up how boring they are OR are pretentious gits who think that JUST by doing that they are A Poet. It is an EMERGENT theory, it needs work!
So yes, he was GRATE, and AFTER him, and into the main BIT, it was
The Boycott Coca Cola Experience
. I'd seen a bit of their soundcheck and was INTRIGUED, and my INTRIGUEMENT was correctly placed, as they were completely FANTASTIC. It was SORT OF a bit like I,Ludicrous, if they were a proper old fashioned BLUES band, but also a bit like people IMAGINE Jazz to be, but isn't, and also KIND OF like Poetry. But not really.
It's difficult to describe (as you've probably noticed) but I loved every minute of it, ESPECIALLY when they got an Guest Vocalist on who APPEARED to be a Local Loonie, but may not have been - he started YELPING and SCREAMING some words while they BLUESed away behind him, and suddenly the atmosphere was ELECTRIC. It felt like Something Was Happening, and when they'd finished they came back on for a VERY MUCH DESERVED encore. Brilliant!
Pity, then, the poor sap who had to go on and follow them. Here's what I did:
It seemed to go all right - it's always a bit strange playing at Jamm, as you can't really see what's going on in the room. I was aware of people LEAVING throughout but, as discussed before, that is a BAD thing to be aware of, and I made an effort NOT to focus on that but look into the room itself. Here things changed BIZARRELY - one minute I'd look and find it EMPTY, the next it seemed to be PACKED! People seemed to quite like it but clearly I was not going to be able to match up to Boycott Coca Cola, but I can't say I really minded. I'm playing with them AGAIN at the end of the month in Brixton, I'll make sure i go on BEFORE them that time!
And thus I strolled off to Stockwell, the Accidental Tour COMPLETED. It's been GOOD to do such a quick succession of MASSIVELY different gigs, and my oft-repeated fear of only playing "Scene" gigs has certainly been put to rest for a while, but goodness me, I can see why most people tour WITHOUT going to work at the same time. I couldn't half do with a lie-in!
posted 9/5/2008 by MJ Hibbett
(click here for permanent link)
(0) comments
Stoke
I don't want to tempt fate... but I'm about to. Isn't the weather BRILLIANT? Today, stood on the platform at Stoke Station, I DARED to imagine a long glorious summer where it's like this for AGES - could it possibly happen? It'll probably be snowing by the weekend, I know, but still, it is nice to be able to DREAM it could be so, and if nothing else let this be a NOTE to The Future: when, in August, we are all saying "Pah! What happened to the summer? Eh?" let us remember that it happened this week!
It was in DELIGHTFUL Sunshine that I arrived in STOKE yesterday tea-time, emerging from the station thinking "Now, where is the hotel? Oh, there" for LO! The North Staffs Hotel is DIRECTLY opposite the station. I checked in and got myself sorted out, NOTING that it is the sort of place where the LACK of Wedding Reception seems somehow WRONG - it feels like you're just hanging around waiting for the disco to get started, and being their midweek feels NAUGHTY.
Map in hand I set out to cross STOKE. Stoke's the sort of place which your BRANE, probably trained by Lazy Comedians, thinks is going to be rubbish, but actually it's LOVELY. Maybe it is the weather but it reminded me of the School Summer Holidays of my YOUTH, with all sorts of different people wandering around in the streets, saying hello to each other. This was ESPECIALLY so when I took a long-cut through Hanley Park, which was much like Peterborough Park, except bigger and a bit nicer. There were ponds, there were strange abandoned pagodas, there were games of football and children on swings. It was absolutely brilliant!
As i emerged I realised that I'd climbed a hill and could now see to the edge of town where there were GREEN ROLLING HILLS! I was later told that many of these were old slag heaps, but still: WELL DONE STOKE!
I arrived at The BandStand to find soundchecks ongoing, so asked for directions to a nice pub. I got DRIVEN round the corner to The Coachmakers. Among Proper Real Ale Pubs this is surely the PROPERIST - it had fantastic beer (i had one of the nicest pints of Bass i have ever had in my LIFE, and I have had MANY of them), a wobbly mixture of people, four different TINY rooms, and a folk duo tuning up in the back room. I didn't SEE an old gentleman with a dog, but I'm sure he was there somewhere.
Back to the venue for a CHAT and then at 9.20pm I went on and did THIS:
Predictably, on this lovely day in a lovely place, it was LOVELY. I'd been a bit worried beforehand as it looked like ABSOLUTELY NOBODY was going to be there, but actually there was a good few, especially when A Smile And A Ribbon came through. It was a TINY room, so I did it Totally Acoustically, which is always more fun, especially this time when the Soundman spent the whole gig at his DESK, occasionally motioning to non-existent faders like a driver having to sit in the passenger seat.
I noted that one chap looked weirdly familiar, so when it'd finished I went over to see if it was Dougie McKinnon, long ago LEGEND of the uk-indie mailing list of a DECADE ago. It was! I was MOST pleased to see him, and we had a chat before heading back in to see Horowitz, who were dead good once again. I don't know if it's the use of Technology or just a run of decent soundchecks, but being able to hear everything really does help, especially when you hear the GUITAR bits and think "COR - that is GOOD!"
In the next break I was shown some photographs that Man With A Proper Expensive Camera had taken, which looked AMAZING. I wish I'd remembered to give him a tenner for a CD of them now! After THAT A Smile And A Ribbon were on, and were lovely again - even more fun than when I'd seen them at Indietracks, tho that MAY be partly because I WASN'T 48 hours DRUNK!
With everything done I headed home, with a brisk walk through this lovely city - or, rather, five towns. Thanks Stoke, that was ACE!
posted 8/5/2008 by MJ Hibbett
(click here for permanent link)
(0) comments
Documentary Evidence
It really feels like i am ON TOUR now - for the first couple of gigs it was just like, well, doing a couple of gigs, but it feels like SUCH and INCREDIBLY long time since I was last at work, and Thursday's gig in Nottingham feels like YEARS ago, so I thinki am back in The Saddle... just in time to pack in tomorrow night!
Another part of feeling ON TOUR is the documentary evidence that has accrued, such as
Warren's Pictures of Sheffield
(CLEARLY demonstrating Participation), or
Phil's video of Thursday
where there be DANCING. Whilst looking at that one I also noticed THIS
video of us doing "To The End" on the BARGE
. I do appear to be a little "challenged" by some of the singing, tho it's nice to see a) Miss L Pattison dancing away and b) NO SIGN of footage of The Country House debacle later on... phew!
It's really nice finding these little bits of documentation floating around - the only downside of being ON TOUR (did I mention that I'm ON TOUR at the moment, by the way?) is that it can FLIT BY a bit, and the actual gig bits can quickly FADE from the BRANE, so seeing them again like this is lovely. Thanks very much, everyone, for sticking them up!
posted 7/5/2008 by MJ Hibbett
(click here for permanent link)
(0) comments
Fuzz Club BBQ
My oh my, isn't it a lovely day? I woke up - as is TRADITIONAL with me when On The Road - at 7am, couldn't get back to sleep, and so got home to That London just after eleven o'clock, and thus enjoyed the BRILLIANT experience of a Free Day Off. I'd booked today off work so that I could have a lie-in this morning, but with that not happening i suddenly had HOURS of extra COMPLETELY FREE time, so as well as the DELIGHTS of Going In The Opposite Direction On The Tube To Usual (AWAY from work! HOOPLA!) I've had this fabulously summery day to lurk around DOING stuff and/or sitting in the back garden reading Word Magazine, eating a LOLLY.
But I am getting ahead of myself - our story begins YESTERDAY when a tube and a train found me in lovely Sheffield, where I decided NOT to wait but instead to walk alongside the tramlines to my hotel. This was a GRATE idea as a) no tram came and b) it was SUCH a gorgeous day and I had a fantastic view of The City Of The Future as I strolled round.
Once I'd checked in, decanted shirts and got ONTO a tram to head for The University I was in a FINE mood, which somehow DISAPPEARED as suddenly I got The Fear. I wandered around the Students' Union Building for a bit feeling LOST, as i am SURE they change the internal layour EVERY time I go, just to confuse me, so was RELIEVED beyond measure to bump into Penny, who is IN CHARGE. She took me to drop off my gear and get some GRUB, but somehow the Being Looked After made The Fear get WORSE - not only was i convinced i'd be AWFUL, but now I could see how VERY MUCH I'd be letting everyone down! EEK! THE FEAR!
I started to calm down a bit once I'd met my PALS and had a few beers, although I was still a bit nervy as I was playing in The Interval Bar where, SEVERAL years ago, I'd done one of my worst gigs, when myself and Frankie Machine were roundly ignored before being upstaged by some German Exchange Students playing Guns 'N' Roses covers on our guitars. It was very busy, and very noisy, and so i was very worried about the whole thing, but nonetheless - some would say HEROICALLY - i went on, and did THIS:
Boom Shake The Room


It was BLOODY GRATE! HOORAH! Also, PHEW! As soon as I started speaking people gently FLOCKED towards me, and suddenly there was an actual Bona Fide CROWD. I was a bit worried about the sound, as it seemed to be coming out of speakers RIGHT over on the other side of the room (where, two songs in, a very disgruntled table full of people got up to sit outside where it was quieter) but soon got used to it, and had a HIGH old time. Right in front of where I was playing were two tables, occupied by people who thought they'd found a good spot for a quiet pint. One of the two tables took the whole thing in good humour and even joined in when asked to, the other COMPLETELY ignored me. Even when I dedicated
Being Happy Doesn't Make You Stupid
to them and got the whole crowd to LOOK at them whilst singing the "Hey There Emo Boy" bit - STERLING work!
The Fight For History
got cheers rather than DISGRUNTLEMENT this time, I managed to remember the words for
Sod It, Let's Get Pissed
and there was even a big CHEER when I announced
The Lesson Of The Smiths
, but my FAVOURITE bit was when I got everyone to join in with the Music Of The Future bit in
Do The Indie Kid
. To me, it was VERY VERY FUNNY INDEED, also, of course, A HAPPENING.
I really did have a lovely time, and then continued to do so for the next couple of hours with MUCH CHAT with LOVELY people and also DELICIOUS BEER - the GRATE thing about being in The Interval was that it was all REAL ALE so although today I am a little woozy and WIND POWERED I am not, technically speaking, particularly hungover. This may also be due to the recent installation of an ENOUGH ALARM, which goes off in my brain when it's time for me to go to bed. It went off just after midnight, so I said my farewells and headed home.
I was hoping a lie-in, but as we know, that wasn't to be - it was the only disappointment of a BRILIANT day out!
posted 6/5/2008 by MJ Hibbett
(click here for permanent link)
(2) comments
Foxfest
The Accidental Tour continued today, featuring me DLRing it over to Lewisham PONDERING how much better the world would be if yr Alternative Rock Stars decided to FORGO Heroin (etc) and indulge instead in PUZZLER Magazine. If you're REALLY that unimaginative as to be BORED by the Business of ROCK, you'll find it's an EXCELLENT way of passing the time, extremely absorbing, and a whole LOT cheaper and healthier than THE BROWN. Mind you,heroin doesn't suddenly feature unexpected/random pictures of The Stars Of Daytime Televions in the middle of crossword puzzles (as far as I'm aware anyway) which does rather tend to FREAK ONE OUT.
Still, happy with my success at a particularly knotty PIECEWORD I entered the Fox & Firkin to find it FULL of good times and lovely people, also a SWEEPSTAKE run by the organisers to determine at what time Mr Johnny Yeah would turn up. BLESS, he was already there, and I spoke to him and also MYLES (who am IN LOVE, aaaah) and then met Ellen, who had been to Monkey Chews last night AND is coming to Sheffield tomorrow too - WELL DONE, says I!
It's a lovely place, The Fox - even the Burly Moody Looking Security Guy on the door (who supplied me with my LANYARD! YEAH!) is a smashing chap, and everyone was being WELL efficient. Carl Who Is In Charge was wondering around with walky-talky headphones on, there was a BIG SCREEN (which, OK, was showing the stage which was 20 feet away, but still), a big rider and, as I say, LANYARDS!
Shortly after I arrived I got to see JD & The Longfellows for the first time - I've heard of them for YEARS via Kooba Radio, but it was the first time I'd seen them LIVE, and they were GRATE, turning the whole afternoon suddenly into a BIG DRUNK WEDDING DO. It was FAB! I watched them from the other end of the room, where The Acoustic Stage was set up (i said it was EFFICIENT, and I did not lie) and where, as SOON as they'd finished, Mrs Claire "Dicko" Gibb INTRODUCED me (by telling everyone AGANE about our SHAMEFUL Country House farrago) and I did THIS:
It seemed to go pretty well - there were no Young Conservatives FROWNING at me after
The Fight For History
and indeed there was a big CHOREOGRAPHED DANCE TROUPE for
Do The Indie Kid
. I actually COMPLETELY forgot the second half of the first verse of
Sod It, Let's Get Pissed
so tried again... and forgot it AGANE, so covered by... er... saying "Lalala i've forgotten all the words". I don't think anybody noticed. Or if they did, they didn't appear to mind.
Afterwards it was HO! for the BEER GARDEN where suddenly everything was beginning to feel a bit like SUMMER. It was LOVELY, as indeed was the company, and a happy hour or so was passed with BEER and TALL STORIES before it was time for me to head back to the Future Train, and for home. I am on TOUR, I needs to get some KIP!
posted 4/5/2008 by MJ Hibbett
(click here for permanent link)
(3) comments
Posh/Monkey Chews
Things Not Often Said: "I had a lovely time in Peterborough". Yesterday, however, this was TRUE as we went to watch Posh play their final game of the season. The game itself was absolutely crap - ALL of League Two was already decided and clearly the MINDS of the Posh Squad were on their holidays, but it didn't really matter. There was much Good Natured Chat, some TASTY beer in the happily timed BEER FESTIVAL at Charters, and much Discussion therein afterwards. I had a GRATE time, so much so that my step-papa and I agreed that we could maybe even go AGAIN next year! MADNESS!
Some trains and tubes later I was back at Monkey Chews in Chalk Farm - last time I played there the bloke after me took all his clothes off and did a poem about his penis, but this did not recur. Instead we got The Bumblebees, featuring the two lads me and Pete Green played with in Bristol, and they were GRATE. Lots of tunes, LOTS of extremely AMIABLE banter ("Camden was nice - well done everybody") and ESPECIALLY ACE all-together singing bits. I couldn't help but think, as I looked around the room, that for your first London Gig this was about as good as it could get, especially as there were about SIX Record Labels in attendance! They were all very much of The Indie Variety so i don't THINK anybody would have been garlanding them with cocaines afterwards, but still.
After them was Horowitz, playing the best gig i think i have seen them do. It was probably helped by the sound being good, but everything really worked together and it was full of FUN and SONG and DANCING. GRATE!
And then it was ME, doing THIS:
It all seemed to go FINE - i was a bit off-put by the fact that there was a woman stood right at the front THROUGHOUT who looked vaguely ANNOYED by the whole thing - as ever, even if there's 500 MILLION people leaping around having a good time, I'll always see the person who ISN'T, and I think me introducing
The Fight For History
by saying that at least Boris Johnson getting in meant that all the fcuking idiots who voted for him would get a taste of what Tories In Power is REALLY like annoyed her even MORE. Or, maybe she just thought I was rubbish!
It was VERY VERY HOT INDEED throughout too, so i may have looked MOVED to TEARS during
It Only Works Because You're Here
, but it was actually SWEAT. It was all good fun though, especially towards the END of the set when i did the LOUD FAST ones, which I think I should have done throughout.
A quick nip outside with Nick And Pals for a GASP OF AIR, then back in for Zipper who appeared to have bought a TON of Spanish People with them, and LO! there was much dancing until SUDDENLY it was nearly midnight and time to head home for TUBES.
It was, I must say, and all-round LOVELY night. The Accidental Tour: So Far, SO GOOD!
posted 4/5/2008 by MJ Hibbett
(click here for permanent link)
(1) comments
BT Tower, Poking Out Of The Beach
I really must be careful what I have to eat before going to bed!!! Last night we were listening to the radio post-bedtime and, well, i must have dropped off because I had the MOST peculiar dream. I dreamt that London had voted Boris Johnson as Mayor!!!!!!
I know! It was obviously some part of my psyche having a flashback to the 80's or something, when a bunch massively corrupt, self-serving, hopelessly financially incompetent yet private-schooled educatedly arrongant bastards shat over the rest of us with policies designed only to benefit themselves and those like them, and screw the rest of us. For a while the dream was quite amusing - imagine if people DID turn out and vote for them! In this amazing dream there was a hard-right wing racist, lying shit who wanted to demolish all the good work of the past eight years (what MUST my imagination be like! I dreamt that he was going to banish "cronyism" by bringing in his own team of people to do all the work for him, but wouldn't say who they'd even BE!!!) but somehow managed to get away with it by pretending to be a "loveable" "bumbling" "buffoon". In the dream - and, again, I'm sure the milk in my tea must have gone off and turned to cheese or something, as this is ridiculous - people became hypnotised by his silly hair cut!!!
Dear oh dearie me, imagine if that was true! I wonder what DID happen in the Mayoral Elections last night then? Let's just see...
Oh my God. All the time, it was... they finally really did it. You Maniacs! You elected Boris! GODDAM YOU ALL TO HELL!
posted 3/5/2008 by MJ Hibbett
(click here for permanent link)
(0) comments
Nottingham
Off to Nottingham last night then, for date ONE on my Accidental Tour. A pleasant train journey and a pointless by lovely tram ride (it'd probably be quicker to walk than take the 1 minute trip to Hockley from the station, and certainly cheaper, but HEY! TRAMS!) found me sat in The Lord Roberts, where I was soon joined by Legend Of The Indie and All Round Good Guy Mr Phil Wilson. We had a couple of PINTS, a bit of a DISCUSS, and then nipped over the road to Lee Rosy's tea room, where we started to get stuff set up. Mr Frankie Machine arrived soon after and the three of us spent a happy fifteen minutes STARING at various wires in the PA hoping that, through QUANTUM PHYSICS, the act of LOOKING HARD at various plugs and THINKING at them would get them to work. Eventually, through use of Computing Good Practice (trying EVERYTHING turned on and off, one by one) we discovered that one of the speakers wasn't switched on. AHA!
Tim arrived and we began setting up GEAR, then we soundchecked Phil, by with time The Frankie Machine Big Band had arrived. We'd just about sorted them out when Tom and Emma arrived in The Tigermobile, by which point it was pretty much time to get started. I RAN over to the pub for a much needed half as PANIC was setting in. Sam Tasty had organised the night, but had verged on cancelling it as he had a Work Thing come up that he had to attend - the night was resurrected by ME taking over promotion, which was GOOD in that it mean it all happened, but NERVE WRACKING in that I suddenly found myself Promoting A Gig. I HATE promoting gigs! It's worrying, frightening, annoying and WORRYING (again), even when it's Totally Acoustic or something, so The Fear was digging in. Still, Young Jamie offered to do the DOOR for me, and once The Frankies had kicked off things felt a bit better. I've never actually seen them playing as a full unit before, and it was really rather good, especially when the SHAKER came in. I don't think the shaker gets enough credit in ROCK!
Next up it was US, and we did THIS:
It all seemed to go pretty well - "hilariously" we did
Hey Hey 16K
pretty much CORRECT all the way through for the first time in AGES and by COMMENTING upon this fact pretty much ensured that i would a) almost forget to play and subsequently b) forget half the words when we DID play
Being Happy Doesn't Make You Stupid
. DOH!
With us done it was time for a refreshing cup of tea and Mr Phil Wilson, who was once again GRATE. Having known him in a generally NON-ROCK way it's still a bit weird seeing him go on stage and TRANSFORM into THE Phil Wilson, especially when he is ROCKING OUT and dancing about the place. It was BRILLIANT, also brilliantly LOUD, but my favourite bit was when we went on stage with him at the end. "Unfortunately" Phil was using my amp, so I couldn't play guitar, so had the FANTASTIC opportunity to, basically, stand at the front and WATCH The Validators. I pretended to share the other vocal microphone with Emma, but really I was just stood thinking "Wow, this is REALLY good!" especially when everyone went into full-on Velvet Underground MODE on "In The Rain".
They sound good, The Validators, when playing with someone who can actually sing. NEVER TELL THEM I SAID SO.
Afterwards we got packed up, said our farewells, then me and Tom went over the road to join The Wilsons (featuring Pam who was BRAVELY out despite being Proper Poorly) for a last drink before heading home. HUGE WAVES of RELIEF flooded over me as my body realised it had all gone OK in the end AND I was now no longer In Charge, and I looked back, as I say, on that last little bit in particular and thought "Cor! That was BRILL!"
posted 2/5/2008 by MJ Hibbett
(click here for permanent link)
(0) comments
WARNING: "Hilarious" Joke At End
Over the past couple of months those of us who live in That London have been BLESSED with the run-up to The London Mayoral Election (feat. Those Other Elections We're Not Quite As Interested In) AKA Ken vs. Boris. It's all been rather jolly as it's involved MANY opportunites to express ALARM at the prospect that some people are not only going to vote for a Conservative, but a) seem to be OPENLY PLEASED WITH THEMSELVES about doing so instead of ASHAMED and b) FOR GOD'S SAKE! It's Boris Johnson! The serial adulterer, lying, massively corrupt, racist, hard right wing BLOODY IDIOT!!
Mr Charlie Brooker, who is GRATE, pretty much sums up my entire feelings on the matter
HERE
and, i think, bangs the nail soundly on the HEAD. The only upsides we can GLEAN from the ridiculous situation of having this wanker in charge of OUR CAPITAL CITY, NOT A TELLY SHOW is that at LEAST The Young People will get a taster of what Conservatives In Power are actually like. The long long spell of Labour has meant that there are now Youngsters who have no IDEA what Conservatives In Power actually MEANT, and thus go around saying "Yeah, Tony Blair is the most evil prime minister EVAH, nobody has evah been as evil or terrible as him and David Cameron seems like a laugh." I mean, I'm not particularly a fan of New Labour but GOODNESS ME at least Tony Blair never set out to DESTROY THE ENTIRE WORKING CLASS.
Not that i wish to influence anybody's Democratic Rights, of course. When The Cross On My Ballot Paper and I went to vote this morning we were talking about it all on the way in and then i CLAMMED UP as soon as we entered The Polling Room - you can't talk in THERE!!! People might hear you and be SWAYED! It's WRONG!
I LOVE voting - I get all EXCITED when I go in, and then have a PANIC when filling in the forms, thinking "EEK! this is really important! I MUSTN'T accidentally do it WRONG!" (and at least that's some source of hope - if you're enough of a fcukwit to want to vote for Boris then you may well have DIFFICULTY finding the polling station, let alone putting a pencil mark in the right place - and this obviously applies TRIPLE for yr Actual Fascist Party)
The best bit tho is putting yr vote in the box, then WALKING TALL out of the building, having DONE your Civic Duty. It is a very warm feeling of RESPONSIBILITY and Selfless Doing Your Bit. In fact, it's very much like giving blood.
Except, of course (WATCH OUT!), with giving blood (SATIRE ALERT!!) there's only one little prick, with voting there's a whole sheet of them!!!!!!!!
I wonder if that's enough HILARITY to get ME on the ballot paper next time?
posted 1/5/2008 by MJ Hibbett
(click here for permanent link)
(1) comments
Here At The WETA Workshop
Last night I FINALLY found a use for the hours and hours of time I spent a couple of years ago SLOGGING through the DVD Extras for Lord Of The Rings. Nowadays, when I get a boxset, i tend to just watch THE ACTUAL PROGRAMME that I wanted to watch, but when Lord Of The Rings came out i thought it was IMPORTANT to sit and watch EVERYTHING.
I gave up when it came time for the Commentaries, but everything else, i was THERE. And by golly, there was a LOT of it, tons and tons and tons of documentaries about filming techniques, modelling, CGI, forging swords, elven languages, THE LOT. At the time I kept thinking "Do i really need to watch this? Surely I could go outside into the sunshine instead?" but put such unworthy thoughts aside and PLOUGHED ON. And last night, FINALLY, there came a moment when I thought "Hang on! Some of that was useful!"
For LO! i was STORYBOARDING!
The GRATE IDEA for the NEXT video is going to involve all the Vlads ACTING in a STORY, and as it probably WON'T be being done at my house (and so any missed bits can't be redone there and then) I thought it was probably a good idea to do a bit of PREP and work out how it would go, to make sure we film everything. I started drawing it on a bit of paper, like a comic, but it got too complicated to work out what should go there so i cunningly PHOTOGRAPHED each individual frame, loaded them into the computer, and then stuck them into Sony Vegas in time to the rough version of the song!
It looked just like the Storyboard version of the film you get on the DVD extras! OK, not EXACTLY - it lacked ORCS for example, and the drawings weren't QUITE as details, or indeed GOOD, but it did look pretty cool, I thought, and FANTASTICALLY it made me think "But hang on, that won't work... and we'll need to do something else in this bit." JUST like what a proper DIRECTOR would do, properly using a proper storyboard for the proper reason!!
I was so pleased it was all I could do NOT to go out and recruit blacksmiths in order to set up a specialist silversmiths to make the buckles on our costumes!
posted 1/5/2008 by MJ Hibbett
(click here for permanent link)
(0) comments

An Artists Against Success Presentation