Blog
Gigs
Facts
Music
Shop
Links
The Last Working Day Of The Month
As you'll know if you're on the
mailing list
, I've just sent out the latest issue of
the newsletter
. It's a PARTICULARLY ripe and full edition this month with all SORT of stuff in it, and I recommend it to you unreservedely.
Crikey though, all this NEW MEDIA doesn't half take a lot of keeping up with - this month's editions has been emailed, uploaded, sent as a myspace bulletin, messaged on Facebook AND Twittered! In future I will just work out who i'm NOT sending it to and ask them not listen as I SHOUT it for the rest of the month, it will probably save time!
posted 30/6/2009 by MJ Hibbett
(click here for permanent link)
(0) comments
Cockfosters To Heathrow
Here's something rather lovely, it's the entire route of the Piccadilly Line on the London Underground, with a soundtrack by US.
Thanks, Fruity Film, that's lovely!
posted 29/6/2009 by MJ Hibbett
(click here for permanent link)
(0) comments
Home Is The Hero
Hello everybody, I'm back from my holidays - it was BRILLIANT. Myself and The Times On My Itinery had a Double UK Citybreak (OH YES) featuring Newcastle and Glasgow, both of which were FANTASTIC. We travelled between them in The First Class Carriage which (look away now, GHOST OF SWELLS) was GRATE. Man alive, that is THE way to travel - comfy, quiet and the only thing to disturb the relaxfulness is people giving you cups of tea. And biscuits - REALLY nice biscuits. It was something of a CONTRAST with flying Easyjet I can tell you.
Newcastle was a bit of a revelation - I've only been briefly before, but this time we both fell totally in love with it. On the first day, in roughly this order, we saw the: Open Top Bus Tour, Millenium Bridge, Sage Centre, Hancock Museum, Laing Gallery, Angel Of The North, and Baltic Museum. BEST was the Angel of The North, MOST SCANDALOUS was the Hancock, which we went to especially to see Sparkie The Budgie, famous talking BIRD formerly owned by one of Mrs E Pattison's relatives. He was still in the museum but - SHOCK - wasn't even LABELLED, he was just stuck in a large glass display case (NB he is very dead, don't worry) with a bunch of other NON-CELEBRITY birds, NONE of whom have had Michael Nyman write an opera about them (NB Sparkie HAS). I was disgusted!
Next day we went out to see Hadrian's Wall, which was I think the best thing of the whole holiday. We saw Housesteads fort at one end and Vindolanda at the other too, the latter being PARTICULARLY MIND BLOWING. I'll not go on about it too much, suffice to say it was pretty much THE MOST INCREDIBLE THING EVER. We spent the whole visit and much of the rest of the day just saying "AMAZING!" because it was... well, AMAZING. It's an incredibly well preserved Roman settlement where they got all those letters and postcards from - WIKI IT, i would recommend, it is FANTASTIC.
Meanwhile in Glasgow we did further sightseeing, particularly enjoying The People's Palace (LOVELY) and The West Brewery (DELICIOUS) before heading out to Mugdock Country Park, where we saw not one by TWO Castles and ALSO walked the length of The Khyber Pass. It looked very MUCH like the one in the Carry On film too, there was even a British Military Base along the way. On the Friday evening I played a gig too at Pinup nights - they'd advertised it as The Pinups Festival and had gone ALL OUT to make it so, with stalls, bunting, tents, a Meeting Point and Hay on the floor. It was GRATE!
My GIG bit felt a bit odd - the room was organised so that people STOOD in a central arena, seperated from the stage by a raised platform, walkway, IRON RAILINGS and a concrete post, so I felt that i was struggling to COMMUNICATE a bit as I did THIS:
It was OK, but MUCH more fun was afterwards as we sat and talked to The Brothers Urquhart, which was a GRATE LARF as ever, and then went to do my DJ set. This was IMMENSE fun, especially when Martin Plimpton came and helped and we did DANCING to GET THE FLOOR MOVING. I am proud to say we got COMPLAINTS for playing George Formby - this NEVER fails, the Godfather Of PUNK is still upsetting people!
And then we came home, and here we are - not exactly rested (as you can probably see, we did a LOT) but CERTAINLY funned up. And now: back to work! WHOO!
posted 28/6/2009 by MJ Hibbett
(click here for permanent link)
(1) comments
Out Of Office
There probably won't be any updates here for the next week or so, as I am off on HOLIDAY. Myself and The Itinerary Of My Trip are off on a JAUNT to look at pubs, Hadrian's Wall, some pubs, some open-top bus tours, Glasgow pubs and then do a GIG at Pin-Up Nights on Friday. I'll tell you all about it when I get back, tho if you're SUPER EAGER to find out what's going on there's always the
twitter
, which I shall doubtless be twitting at.
It'll be
newsletter
time when I get back, by which time we should have news of some
Dinosaur Planet
previews - it's getting frighteningly near SHOW TIME, I'm going to be learning up some WORDS while I'm away!
Right then, I'm off to a DRINK now, see you when I get back!
posted 20/6/2009 by MJ Hibbett
(click here for permanent link)
(0) comments
Happy Birthday To ME
I had a LOVELY Birthday Do last night - we all went to The Lamb, where I'd hired the upstairs room as used for
Totally Acoustic
and drank some BEER. We also ate some Unusual Food, as there seemed to be some CONFUSION in the kitchen which resulted in us getting SUGARY CHIPS.
They were actually quite TASTY.
There was also a bit of SINGING - I had a go at some songs from
Dinosaur Planet
(including a VERY FULL run through of 'For The Fate Of The Earth', which seemed to last AN HOUR), Mr G Gargan aka formerutopia and Ms C Tornbohm (with accompaniest) did a couple of songs, and then Dr N Brown did some of his MANY HITS. I particularly enjoyed his version of the old
Voon
classic "It's A Nice Thing", featuring Slightly Tipsy Backing Vocals by ME. There was a bit more singing later on too, when I had a go at all the covers I could remember (NB NOT MANY BY THAT POINT) and finished up with a DUET version of
Hey Hey 16K
featuring Mr T "The Tiger" McClure (who'd earlier BLESSED us with The Tiger's Roar) on Banjo-tuned Ukelele. Yes. I'm not quite sure HOW he did that, but it worked.
A lovely time was had by all, especially ME, although I felt ever so slightly headache-y this morning. Must have been the sugar-y chips.
posted 20/6/2009 by MJ Hibbett
(click here for permanent link)
(0) comments
Southend
A slight diversion from my usual journey Eastwards found me in SOUTHEND last night, to play at the Anti-folk night, as part of the Southend Fringe. When i got off the train I had a similar experience to the one I had in Cardiff when I walked down The Wrong Side Of The Tracks - I went turned slightly left and walked down to the sea front through what seemed like pretty Dodgy Areas that looked a bit run down, but when I came back along the next street along at the end of the evening it all looked MUCH more spruced up and tidy. Are towns and citys these days creating SUPER STREETS for outsider consumption and allowing others to go downhill? And if so, why do I keep getting it wrong?
Anyway, I arrived at the seafront to find a WIDE RANGE of Actual Proper Amusement Arcades, all flashing their lights and BLARING away so it was VERY difficult not to just GO IN and blow literally POUNDS in 2p pieces. But that way lies MADNESS and DEBT, so instead I went into Chinnery's, the venue for the gig.
It was BIG. PROPER Big - The Wedding Present played there recently and Chart Topper LA ROUX was playing there next week, and it was all very CLEAN and SHINEY and NOT the sort of place I'm used to playing. I said hello to everyone, had a pint, and then went to the GRUMPIEST CHIP SHOP EVER. "Have you got any curry sauce, please?" I asked with my best FRESH FACED AND EAGER YOUNG MAN face. "NO." said the women behind the fryers. "WE AIN'T." This despite the big sign saying "CURRY SAUCE!". "Oh dear. How about some mushy peas?" "PEAS?" She shouted from the other end of the shop (I was leaning through a window, as they'd put CHAIRS in the door to stop people entering the main shop. "Mushy peas please!" I called back. "HUH." "Thanks", I said, "And could I have a pickled egg too?" "WE AIN'T GOT NONE."
Maybe she was just grumpy about their Stock Control Issues, but they were VERY nice chips. Back to the venue and I had a quick chat with the bloke from Deferred Success, and band whose NAME I have admired for a while (they're on the Phoenix FM CD that I'm also on) but who turned out to be a) good when I saw the first ten minutes of their set late on b) nice chaps c) friends with the MIGHTY MEDIA HUB that is Miss Kat Kennedy, all round Good Egg and NIECE of Mrs E Pattison. The world of ROCK, it is a small ROCK!
The evening commenced, and soon I was watching The Tumbledryer Babies, OUR HOSTS, who played with TWO basses. I had my doubts about the wisdom of this but I was proved wrong as it worked really well, especially as the second (or lead?) BASS had loads of effects, and the overal sound sounded NOINGY. You know what I mean - NOINGY. Sort of RUBBERY and OUTER SPACE. It was GOOD!
After them was Charlotte Webster who played a VERY VERY IMPRESSIVE Electric Ukelele. NOT an electro-acoustic like my posh one, but a proper actual Electric Ukelele like as in an Electric Guitar. It was VERY NICE INDEED: WANT!
And then it was me, and this is what I did:
It was a short set as there were quite a few bands playing, but it seemed to go all right. There were about 20-30 people there, which usually would have felt like a LOT, but seemed a bit spaced out in such a HUGE room so I didn't feel BRAVE enough to do any Audience Participation. I had meant to do Boom Shake The Room, as the first duo on had done an NWA song, with FLUTE, but I was AFEARED of a SILENCE feeling EXTRA SILENT a) during the middle of that song b) in such a big room.
As I say, it all seemed to go OK, and I was able to catch 10 minutes of Deferred Success before it was time for goodbyes and a DART across town through the aforementioned Nicer Street to the train. I got off at Stratford and waited for a bus, which is where I was when the clocks passed MIDNIGHT and I became a 39 year old.

THIRTY NINE! Holy crap! I've just worked out that, as a 38 year old, I did SEVENTY EIGHT GIGS - I sincerely hope it's not QUITE that many during the next Hibbett Year, it's KNACKERING for a man of my age!

posted 19/6/2009 by MJ Hibbett
(click here for permanent link)
(1) comments


The Weekly News
An exciting part of ANY promotional campaign in the world of ROCK is whether or not you can get picked up for a feature in The Weeklies... and I'm happy to report that we have VERY MUCH SUCCEEDED with THIS article, to promote Regardez, Ecoutez Et Repetez: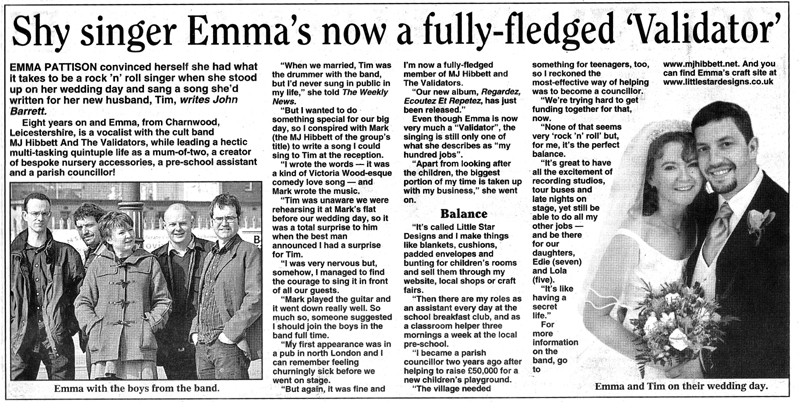 It's in this week's edition of The Weekly News, also known as The Newspaper Everybody's Nan Used To Get, and I'm happy to report it is almost EXACTLY the same as it was DECADES ago when I'd read it round my Nan's house. There's a bit more colour these days and there seems to be less in it about haunted houses, but it's PACKED with cartoons, puzzles, and stories like... well, like the one about us!

So take THAT, so-called The NME - you have been SCOOPED!

posted 18/6/2009 by MJ Hibbett
(click here for permanent link)
(2) comments


Reviews, and TIM SPEAKS
It's been a while since we've had a REVIEWS ROUND-UP, and as there's been a few more in I thought I'd SHARE, as follows:

Russell's Reviews
"A very fine album indeed" - thanks!

Adrian Denning
a whole LIST of bands who, of course, we are FAR too young to ever have heard of...

Is This Music?
"Hibbett's singing style - not really technically gifted " What the?!?

Whisperin' and Hollerin'
Tim saves Album!


One thing that stands out a LOT, in many of our reviews this time around and especially in these, is that everyone seems to think we deliberately made the album sound like OLD SKOOL INDIE. Personally I'm very happy to have the comparison - I guess that's what we ARE - but Producer Pattison seems somewhat confused about why this should happen. The Wedding Present, The Fall and ESPECIALLY Half Man Half Biscuit keep cropping up in comparisons - it's almost like that makes up most of his record collection!

And talking of The Most Important Punk In The Country, Mr Pattison speaks about his time in Prolapse over on A Layer Of Chips. It is a DELIGHTFUL READ from start to finish - especially the bit about Mercury Rev!

posted 17/6/2009 by MJ Hibbett
(click here for permanent link)
(1) comments


Gigadelica
I've just done a big update on the GIGS page and an even BIGGER one on the myspace page, as I'd forgotten to update that one for ages. They now include several rather exciting gigs, most exciting of all being the one I've just sorted out for Tuesday July 21st at The Wilmington Arms in That London. It's a co-headliner with all round good guy Mr Chris T-T! HOORAH!

My part of the evening will be the LAUNCH of Dinosaur Planet, which I am frantically learning even as we speak. It'll be the full show with a whole album's worth of brand new songs, ACTUAL JOKES, a properly worked out (mostly) story featuring spaceships, dinosaurs, car chases, massive battles, several SECRET THINGS, and a lengthy discourse on the virtues of using best practice in academic research. As far as I am able to tell, it is going to be GRATE!

Chris's half of the evening will be the debut of a new project he's working one - it's going to be 40 minutes of Improvised Piano Instrumentals! He's NEVER done this in front of an audience before, so it should be somewhat exciting - he may also be releasing an ALBUM of such items later in the year, and the stuff I've heard off it so far is GORGEOUS.

It'll be a fantastic evening, tho it does make me think - when I first knew Chris we were both, I think it's fair to say, fighting for the enduring legacy of Billy Bragg, and, by extension, PUNK. And now we're doing ROCK OPERA and PIANO INSTRUMENTALS. Is it PROG? Or is EVEN MORE PUNK? Come to the gig, you'll soon find out!

posted 16/6/2009 by MJ Hibbett
(click here for permanent link)
(1) comments


Birmingham
I had an UNREASONABLY PLEASANT journey to Birmingham on Saturday. For a start, the tube seemed to be WORKING. This may not sound UNREASONABLY PLEASANT to the vast majority of people who are not in London at weekends, but anyone who IS will know that usually the DRONE TO WORKSTATION FACILITATION DEVICE (as its SHADOWY MASTERS doubtless think of it) is being "improved" on weekends i.e. CLOSED.

I thus arrived at Marylebone Station in a FINE mood, fully prepared to enjoy its LOVELINESS. I know it sounds a strange way to describe a train station, but Marylebone really is FAB, it's like getting a train in a black and white film. A NICE black and white film. Chiltern trains are always fairly reliable, usually not too full, and cost LESS than 20 quid for a return to Brum - on National "Express" trains it costs about that much for a CUPPA.

It was a lovely sunny day as we rattled along, and I got to Snow Hill Station (the GRATEST joy of going on the Chilterns Train is that you DON'T go to New Street) full of the joys of public transport. My JOY was tempered slightly by OLD MAN RAGE as I strode out, walking through an area where feckless youths kept falling off their skateboards because THEIR TROUSERS WERE HITCHED JUST ABOVE THEIR IDIOTIC KNEES, and tempered further by the ominous sound of THUDDING BASS BINS as I got closer to Aston University campus, where I was staying.

Turns out it was Aston Students Union's annual big BASH to celebrate the end of term. Any Grumbly Old Man's Displeasure i was feeling was INSTANTLY dispelled when the (as usual, rather over-zealous) security guard told me the NAME of the event.

The Astonbury Festival. The Astonbury Festival.

THOROUGHLY re-delighted I made my way to Aston Business School, the Pretend "Executive Hotel" that the University's built, and was told I couldn't have any ROOM SERVICE as the BBC were filming the second series of "SURVIVORS" in part of the building. I didn't want room service, but DID want to have a look at them. Sadly I couldn't see them, so headed off to ROCK instead.

I got slightly lost on the way to the gig and found myself in Birmingham New Street Station - never pleasant even when you've spent months mentally preparing yourself, but a SHOCK when it comes out of the blue. I realised that Mr F A Machine was due to Detrain at any moment, and sure enough there he was, so we set off TOGETHER to find The Sunflower Lounge.

We arrived to find Tim's drum gear all laid out on the stage, with a flock of young people PICKING at it. It was very strange, it looked like some great animal being taken apart by GULLS. It was nice of them to help though, we agreed. "It's more than we usually do."

"It's more than you usually do", said Tim when we told him about it, as he and Emma returned from car parking. Soon The Tiger had arrived, we'd had a SWIFT sound check, and assuring Dunc The Promoter that we'd be back set off in search of CURRY with Emma's sister and brother-in-law.

The waiter in the curry house was a little ODD. You know how people in curry houses tend to be FRIENDLY, sometimes even MOCKING in a CHUMMY way? He was a little bit TOO close. He kept telling us how somebody had complained about his card machine breaking their card, then told us about a recent childbirth, and kept trying to recommend us CURRIES. Then there was THE BIRYANI INCIDENT - Tom's Biryani was cold, so he asked for it to be heated, but they LEFT it on the table "so you can see we're definitely getting you a new one", he said. About five times. Clearly there had been complaints.

We had a lovely time tho - we slipped EASILY and QUICKLY back into Tour Mode, where the jokes are plentiful and SLIGHTLY RUDE, but always DELIGHTFUL. My curry was DELICIOUS, and also just the right amount - you know when you feel like your eyeballs are going to BOGGLE out of your HEAD in an attempt to make room for all the FOOD you've just eaten? It wasn't like that, it was JUST right.

Back at The Sunflower Lounge we watched the first band, Moofish Catfish, who were on tour from Swedenn, and enjoyed them a Great Deal. They were sort of RIOT GRRL-ish, although that may just be the whole Me Being Old thing again. Also, dead good drumming! We missed the middle band due to ARGUING OVER SETLIST and so forth - although it was more the "so forth" aspect this time around, as Tim's setlist proposal was passed UNANIMOUSLY first time round. This has NEVER happened before!

Here's what it was:


We had a WHOLE LOT OF FUN. The Sunflower Lounge is a really nice little room, and if not HEAVING it did feel PLEASANTLY FULL, not just with the SEVERAL delightful pals who'd come (not least Dr A Farmer, seen Doing The Indie Kid at the back with some gusto) but also plenty of people i DIDN'T know - one such chap had a b3ta t-shirt so we did Hey Hey 16K ESPECIALLY. It made for a GRATE atmosphere.

We also played Quite Well too, i think - I certainly made LESS errors than EVER in Living Memory at a Vlads gig (one verse Being Happy Doesn't Make You Stupid backwards), and the sound felt BRILL. I also had took GRATE DELIGHT in speaking at some length on matters of the day, including The Foolish Fashions Of The Young, Birmingham City Centre ("it's a testament to how nice people in Birmingham are that they more than make up for their shit city centre", i said - it's also a testament to how nice they are that nobody thumped me!) and how important it will become that we DO a Fight For History come the day she dies.

There was also THE TIGER'S ROAR. I LOVE that bit!

Afterwards there was time for some CHAT and some BEER before The Vlads had to fly off variously into the night. I stuck around for a little bit but most people had cleared off pretty quickly, so made my way back across town to Aston Business School, where the Festival appeared to have finished.

It was a lovely night - can we do some more gigs like that please?

posted 15/6/2009 by MJ Hibbett
(click here for permanent link)
(0) comments


Glamourous London Lifestyles
Much to my surprise it was a COLOSSAL DELIGHT to be coming back into Central London this morning. I had SLUNK out of the house after two lovely days of Working From Home, made all the MORE lovely by sharing the Home WorkSpace with The Staples In My Stapler who had been beating the HECK out of her Laptop in the kitchen for the past 48 hours, despite the efforts of me and the cat to distract her. One of us kept climbing on the table, one of us kept making cups of tea and making REMARKS about Current News Stories: GUESS which was which?

Anyway, I would rather have continued in that ENVIRON to be honest, but I had a MISSION to complete: the purchase of a Birthday Present that I should have purchased a while ago. My TARGET was Liberty's, which I arrived outside at 9.58am to discover it doesn't actually open until 10am. THUS i now know that hanging around outside Liberty's waiting for it to open with Posh Ladies is MORE embarrassing than waiting outside The Post Office with the Old LAdies, but LESS embarrassing than hanging around outside a PUB, on boxing day, with members of your family who are banging on the door wanting to start drinking NOW.

It was quite glamorous really, especially when I strode back towards WORK via London's Fashionable Soho, where I saw not one but TWO celebrities! First of all I crossed paths with TV's Paul Whitehouse, who looked a bit shifty, almost as if he was aware of people LOOKING at him and thinking "Cor, that's Paul Whitehouse". I had only JUST finished thinking "Cor, that's Paul Whitehouse" when I got onto Oxford Street and saw, sitting in an EAT, EATing, TOM BAKER OFF OF DOCTOR WHO! Wow! Also: ZANG!

All this LONDON GLAMOUR reminded me of the Smoke, A London Peculiar, a magazine which I REALLY enjoy reading and have recently sent an ARTICLE in for consideration. I looked it up and am now ALL EXCITED to see that not only is the next issue out VERY SOON, but also that MY BIT is definitely IN it! HOORAH! I can't WAIT to buy it and PONCE AROUND, SHOWING OFF!

Now, must finish typing this - I'm sure there's a SALON just WAITING for me to be CHARMING in!

posted 12/6/2009 by MJ Hibbett
(click here for permanent link)
(0) comments


Summer Of ContentedNESS
Day TWO of The Tube Strike (HISTORY FACT for people of THE FUTURE - or, indeed, people of THE NOW who don't know/care - the RMT union called a strike which has drastically reduced the number of tube trains running today and yesterday) and I continue in my PLUCKY DETERMINATION not to be COWED by such things. The Blitz Spirit is running through my VEINS as i BRAVELY... er... stay at home.

And look! It's just gone 9am and I've ALREADY done some work! I am CAPTAIN PRODUCTIVITY! That's not to say that there hasn't been some non-work going on over the past couple of days although,of course. For instance, yesterday I had my first complete run through of Dinosaur Planet. Although a bit SHAKEY it seemed to work all right, and clocked in at a pretty much IDEAL 51ish minutes! HOORAH!

Talking of which, on Tuesday night me and Mr S Hewitt had a MEETING about going to Edinburgh, and came to MANY RESOLUTIONS. It all feels a bit TOO easy this time - we've got train tickets, a venue, somewhere to stay and are BOOKED into the programme, so all that's left to do now (apart from, you know, learn the songs) is to see about doing some PUBLICITY. I've written a first draft of the press release and am on the verge of booking a couple of PREVIEWS, but if anybody out there has any ideas for ways we could ALERT people to the existence of Dinosaur Planet then I would be very pleased to hear them!

Meanwhile I also wrote and recorded another song for an ADVERT - it's AGES since I've had one of these to do, so it was nice to get back in the GROOVE of it, tho as usual I doubt anything will come of it. It was a FUNKY tune, mind you.

And now it's back to WORK-style WORK. Nothing if not diligent!

posted 11/6/2009 by MJ Hibbett
(click here for permanent link)
(0) comments


Weekend ACTION
Once I got home from Cardiff on Saturday I had a happy couple of hours working on Dinosaur Planet. As detailed previously, I'd finished the songs and had a ROUGH DRAFT, but did not have it all a) in one DOCUMENT or b) CORRECT, so went through collating, correcting and FINESSING everything into one Word Document which I could print out and LOOK AT, giggling excitedly. The songs took about 35 minutes to sing all the way through, leaving me 20 minutes plus LEEWAY to do the talky between bits. I think it MAY just be ALL OK!

On Sunday I head SOUTH to attend and PLAY at a GARDEN PARTY! Well, it was a party IN a Garden but I think that still counts doesn't it? It was hosted by the journalist and broadcaster Mr Steve Lamacq, who provided me with a pile of BEER as a RIDER - he even printed out a sign saying "Mark's Rider - HANDS OFF" - and took me on a tour of his CD racks. That man has a LOT of CDs!

I'd been a bit nervous about going as i always AM when going into Social Situations. The thought of being amongst people who know each other BUT who I don't know always feels me with a NAMELESS DREAD that turns me back into a 14 year old TWERP, but I ended up having an absolutely BRILLIANT time - you know when you talk to Nice People about Interesting Subjects, especially Battlestar Galactica? It was like THAT!

I also did a MINI-GIG up in the ATTIC (moved inside due to WEATHER), and did THIS:

Boom Shake The Room


People had been SHEPHERDED up to the loft so I thought I'd best do it fairly SWIFTLY and HITS-BASED - I've been to DOs where someone does a musical TURN and after a while having to sit politely, smile and look interested starts to give you MUSCLE FATIGUE, so tried to keep it JOLLY. And I must say, i think it WORKED - everybody seemed to have a good time, there were LARFS, I managed to shoe-horn in the story about my ROCK BIOGRAPHY, there was a WHOLE LOT of joining in and I ended up having a GRATE time! HOORAH!

After that it was back down into the garden for some more BEER, some more chat, and ... er. some mor beer. I was thus slightly TIDDLY but also very happy INDEED when it was time to say my farewells and head NORTHWARD and for home. What a lovely way to spend an afternoon!

posted 8/6/2009 by MJ Hibbett
(click here for permanent link)
(0) comments


Cardiff
I went to CARDIFF on Friday - I have long wanted to go there to ROCK, as several analyses of The Database of ROCK had shown it to have by far the LARGEST concentration of people on the newsletter where I'd never actually played a GIG. ALSO I wanted to go and look at TORCHWOOD.

The first thing I did when I arrived was thus to STRIDE down to Cardiff Bay. There's a raised train track that goes all the way down the road on a sort of BRIDGE thing, so you can't see the other side. On the way down I walked past several run-down looking Estates, boarded shops, and YOUTHS, unable to see the other side. On the way back it was all Public Art, new businesses and HOTELS. Why, it was almost as if the first area I walked through was on THE WRONG SIDE OF THE TRACKS. AHA!

Cardiff Bay itself was Quite Nice, tho I was disappointed to find the big silver watery thing (aka THE RIFT) was mostly cordoned off so I couldn't... er... walk right round it and ... um... stand on the SECRET PAVING SLAB down to TORCHWOOD. It all looked QUITE nice but not as IMPRESSIVE as on telly... tho standing on the steps where Captain Jack said "AHA! I am THE FACE OF BOE! WHOOOO!" was quite exciting, and the view out to sea was pretty AMAZING.

On the way back to the hotel, as stated, I noticed LOTS of Public Art. Cardiff seems to have got some STATUE VOUCHERS for Christmas and blown the LOT, as you can't MOVE for them. Also, most of the city centre appeared to be being MENDED and I had to hop and leap over various cordons and plastic bollards to clamber my way to The Ibis where i was HORRIFIED to find my room was actually SLIGHTLY DIFFERENT to the usual Ibis room. Eventually I worked out that this was because I'd got a DISABLED room - it even had a fold down chair in the SHOWER - but still it was slightly disconcerting.

Off I went to The Buffalo Bar for the GIG, feeling a little guilty at arriving a bit later than the requested time, only to find that i was the FIRST to arrive. PHEW! I then went downstairs and sat with some PALS for a fine couple of hours of CHAT, also BEER. It was LOVELY!

Eventually tho it was time for the business of ROCK, so upstairs I went again and did THIS:


I got off to a nervous start, for TWO reasons: firstly, after having five gigs in a row with The Validators I found myself MISSING them somewhat, being suddenly thrown back into the world of SOLO ARTISTRY so suddenly. Secondly there was a large table of people right down the front who appeared to be FAAMILY of one of the other bands, and were chatting away happily and loudly when I came on stage and started introducing myself. I tried a NEW TECHNIQUE: WAVING at everybody until they waved back and said HELLO. Beautifully this seemed to do the trick without me having to act like a BELIGERENT GIT or anything - it was a POLITE way of reminding people that They Are Not Watching Television and that I Can Hear You As You Can Hear Me. CUNNING!

I got myself back on track after a couple of songs, after which everything seemed to go swimmingly, especially doing some properly SINGALONGING during Being Happy Doesn't Make You Stupid. It was NIIICE!

Gig done I then had a bit of a wander round having various DELIGHTFUL CHATS with the several DELIGHTFUL PEOPLE who had come along, including an EXTENDED TEAM RANT about how The Kids Today are RUBBISH. Sample RANT: "If you're so skint and in debt STOP BUYING EXPENSIVE COFFEE FROM COSTA COFFE AND TAKE A FLASK. In MY DAY we had Brown Label Teabags!" and so on and so forth.

This AGE RAGE was only INCREASED when I went back downstairs into the bar itself. I was already ALARMED by how very young most of the clientele were - lads so TINY they hadn't grown proper NECKS yet - but was HORRIFIED to find that they were all DAFT enough to be buying COCKTAILS.

I FCUKING HATE COCKTAILS IN PUBS! AAAAAAAAAAARRRRRRRGGGGGGGGHHHHH!!!!!!!!!!

Just because it takes HALF A FCUKING HOUR to buy ONE ROUND OF DRINKS doesn't mean it's in any way BETTER than JUST BUYING A PINT. For GOD'S SAKE, The Kids - JUST BUY A PINT! You're being MASSIVELY FLEECED - you know all that ICE they put into it? That doesn't COST anything, but they're charging you about A FIVER for it! And the fact that they make a big show of putting EVERY ingredient in one by one IS JUST TO RUB IT IN YOUR FACES that you are IDIOTS. What difference would it make if they PRE-MIXED the bloody things? NONE AT ALL, except they could do it a lot quicker and even YOU might realise what a MASSIVE CON it is to pay the best part of a TENNER for an enormous bucket of ice with the equivalent of A CHEAP DOUBLE WHISKY lobbed on top of it.

THE KIDS! WAKE UP! And also, JUST BUY A FCUKING PINT so i can get to the BLOODY BAR!

So yes, I got quite riled up and after twenty minutes queuing up behind some over-excited ten year olds GOGGLING IN AWE at someone charging them A POUND for a SINGLE SPRIG OF MINT and thinking they were SOPHISTICATED when actually they were JUST BLOODY MUGS i GAVE UP and had to go upstairs where the only choice was lager, but at least LAGER that you stood a chance of taking longer to DRINK than it took to BUY.

Happily by that time Misty's Big Adventure were on, who are ALWAYS good for cheering up - they had that blue-faced bloke in the suit covered in HANDS with them, he's GRATE!

It was thus a somewhat CALMER Hibbett than earlier who made his way back to An Unusual Ibis, extremely glad to have had the chance at last to play Cardiff and meet such a bunch of lovely people. Next time, though, I'm taking a hip flask!

posted 8/6/2009 by MJ Hibbett
(click here for permanent link)
(2) comments


Working From Home
I had my NEARLY Traditional (I'm trying to make it that way anyway) Working From Home day yesterday - it was MEGA BRILL. The fact that i DON'T have to schlep around getting ready and then spend 45 minutes GETTING to work means I am usually up and about and IN ACTION at an unreasonably early and thus had got my first load of laundry on the go, written some cards, packed up several CDs, been to the post office, done a big shop in Tesco and got home for a cup of tea BEFORE I usually get in to work. It was GRATE!

I also got a TON of work done - the presence of cups of tea, guitars, telly and Delicious Luncheons always seems to make me GET ON WITH IT a lot more (in order to move on to UTILISING said luxuries) than when they're not there, and this led me to a mid-afternoon finish, whereby I could undertake Other Matters. Amongst these were the planning for our HOLIDAY in Newcastle and Glasgow (STAYCATIONING!) later this month, and also some RESEARCH into our trip to STOCKHOLM (where I'm playing at the Cosy Den festival). This will AMAZE you but it turns out that not only are Ryanair HORRID, but they fly to airports A HUNDRED KILOMETRES from the city you think you're going to! What do you mean, everybody else knew that already? They'd swapped our flight times from do-able to RIDICULOUS (i.e. having to leave the house at 4am on the way there and even earlier on the way back) so we are going to get that CANCELLED and fly with someone NICE. HOOPLA!

But the BIG NEWS, as far as The Future Of ROCK is concerned at any rate, is that I have FINISHED Dinosaur Planet! FINISHED!

Well, all right, there may JUST POSSIBLY be some changes, additions and re-writes before we get to Edinburgh, but I am now in position in a COMPLETE first draft of it, with a full complement of SONGS. Last night I sat down to go through it all and ended up writing THREE new songs - two were, to be fair, REPRISES, but they're FULL ones with whole truckloads of new songs - and came up with entire new JOKES, RUNNING GAGS and managed to HONE the plot a bit so it makes even MORE sense.

I was RELIEVED, to say the least, to find that it does seem to hold together, and i THINK it will be quite AMUSIMG and maybe even EXCITING. It was certainly exciting for ME, anyway, to go from the ROCK EPIC that is "Fighting For The Fate Of The Earth" then into the TRIUMPHAL "A Little Bit (more)" just before the big finish.

For the last six months, every couple of weeks, I have realised with a START that I've paid quite a bit of money and BOOKED time off work to go and spend 10 days doing a ROCK OPERA which I hadn't actually finished WRITING, let alone shown to anybody. I don't think I've done enough YET to halt the PALPITATIONS and NERVOUS SWEATS, but I'm beginning to think that this KRAZY SCHEME might just work!

posted 4/6/2009 by MJ Hibbett
(click here for permanent link)
(0) comments


Day 5: Sheffield
Throughout this tour I was very careful to take the time to SAVOUR it. I often look back to previous tours and think "That was a LOVELY time" so thought I'd try a bit more enjoying it WHILE it was happening, rather than just worrying about stuff.

Our final day was one of the MOST enjoyable, and also one of the most like a HOLIDAY. Myself, Francis and The Tiger all got up and SHOWERED then Frankie made us all breakfast - BEAUTIFULLY he used the two Big Mugs for our teas, and ended up having to make himself TWO small cups to match us. We then HOPPED on a bus into town and had a good old fashioned WANDER round the shops.

I haven't done that for YEARS. We went and had a good LOOK ROUND Waterstones then SLOPED across town, stopping to look at where some NIGHTSPOTS of old were no longer there (not as many as have disappeared in Leicester, i bet, but still) and then on to Jumbo Records, where we did some SERIOUS BROWSING. Again, I've not done this for YEARS and had a LOVELY time. I bought the new Jeffrey Lewis Album (because I really love the singles) and "The Liberty Of Norton Folgate" (because every review said it was AMAAAZING) and also The Best Of The Temperance Seven. My Mum used to have a small pile of early 60's POP ANNUALS from her YOUTH, featuring the likes of Tommy Steele, Billy Fury etc etc but also always a band of, apparently, Crazy Loons called The Temperanace Seven. I always wandered what they actually SOUNDED like, and know i know: They sound GRATE.

Also in Jumbo we saw a display of R2 Magazines, so had a photograph taken with them, thereby completely destroying the COOL i had tried to create chatting LOFTILY about Jeffrey Lewis's live show with the Record Shop Boy. Oh well, I never WAS any good at that.

We had our lunch back in Waterstones' cafe then AMBLED back to The Packhorse, where we had some more BEER. I was extremely conscious of the fact that starting drinking again at this time on a normal Tuesday would be at LEAST frowned upon, and did a bit more SAVOURING.

Tim arrived, we loaded up the Van (we were by now an action packed yet LITHE Van Loading Machine) and set off to Emma's mum's... with a slight diversion to ZAM ZAM's, home of the BEST Onion Bhajis in BRITAIN. Frankie doubted Tim and I's claims... until he TASTED one. We ate them as a PICNIC in Roundhay Park, it was QUITE delightful.

After a cup of tea at Emma's Mum's we were once more On The Road and very soon in Sheffield. We were VERY pleased to find The Stock Room was open, so unloaded our GEAR and sped off for the long promised CURRY. I was a bit surprised to find that the place we went into had NO Vegetarian Main Dishes! Eh? Surely that's not right, is it? They DID however have an amply provided BIG BUFFET so we all went for THAT - it was only 6pm so we had it to ourselves, and of it we had a LOT.

We didn't get back to the venue until 7.30pm - we knew the soundman was due at 7pm, so i felt a bit bad about it but was RELIEVED to find that The Rocky Nest had taken the initiative and started soundchecking. THEY, however, looked like they'd been caught by the vicar with their pants down in the VESTRY, and LEAPT out of their skins when we walked in. They were all set up, all 38 of them, with drums, trumpets, glockenspiels didgeridoos etc etc miked up, but said, QUAVERING "Sorry! Do you want to do your soundcheck now?"

I don't know why they were so concerned - they kept apologising all night, when all they'd done is GET ON WITH IT while we were stuffing our faces. It was rather SWEET! They finished soundchecking, we did OUR bit (with ANOTHER lovely and GRATE soundman, who was concerned about PANNING the sound of the amps!) then went to the pub to bicker about setlists. Foolishly I'd told them that our friend Ellen had sent me a list of bird-related PUNS based on our song titles, and so Certain Validators decided to write the whole LIST out that way. "Dodo Moorhen Eke Lesser Spotted Grebe" was a good one, but after twenty minutes of this I had to make my exuses and FLEE.

I arrived back at the venue to find a whole HEAP of lovely people in attendance, watching a whole HEAP of loveliness in the form of The Pete Green Corporate Juggernauts (the PG CJs, as I am going to call them henceforth for EASE). The Rocky Nest came on next and CONFUSED me by being VERY different from when we played with them in Hull (i later found out that this was because they'd had about three major line-up changes isnce then) but PLEASED me by being brilliant - there was all SORTS of sounds being made, in a surprisingly TIGHT way, that was kind of FUNKY, but GOOD.

Then, with the grim inevitability of DOOM it was time for US to do our final set, and it was THUS:


Starting with It Only Works Because You're Here was a BRAVE EXPERIMENT but didn't, I think, really work. The rest of the set seemed to go down OK, tho it was a little embarrassing having to wait for Tim to PICK his way out to get off "stage" before we could officially go back on. The Stock Room is quite a POINTY venue RIGHT on a very sharp corner, so he was a bit wedged in. Usually when we do Easily Impressed in Sheffield Marky Velodrome will shout something "humorous" during the "OI HIBBETT" bit, but as he now resides on the other side of the planet I thought this would not be occurring. Little did I know he had DEPUTISED Dan from The Juggernaut to do it for him! Never have I been so TOUCHED to be called a "yer twat" before!

And then that was that - we packed up, had one last picture taken, and got moving Southwards. Frankie was dropped off first and then The Pattisons with huge piles of DRUMS, and it was LATE when The Tiger and I finally got back to Tiger Towers. There was WHISKY.

Next morning I was up early and, much too quickly, on a train back to London and Normal Life. It had all gone so quickly, but it had also been SO much fun. This was definitely my FAVOURITE tour - it was certainly the least hassle, best organised and most FUN, but was also a JOY to be IN, having looked forward to it for so long. All right, it wasn't the best attended - the people who DID come who lovely and a DELIGHT to play for, but it was noticeable that we weren't attracting many NEW people - but that does happen sometimes. There'll (hopefully!) be other gigs where crowds of The Curious come, and really it was nice to have so many nights in the company of people we knew and liked.

Which applied even MORE so to the people I spent MOST of the time with, The Validators. What a BRILLIANT bunch of people to spend five days drinking, farting, swearing, eating and occasionally playing songs with - let's go and do it again sometime SOON!

posted 2/6/2009 by MJ Hibbett
(click here for permanent link)
(1) comments


Day Four: Leeds
So where were we? Oh yes, ON THE ROAD. Monday morning saw Validators being put to DOMESTIC USE, mending hoses and transporting FERTILISER in The Van. I wonder if this happens when Morrissey tours? Maybe the whole thing was REALLY derailed because Keith The Guitarist is still queuing at Homebase?

I also took the opportunity to go online and find another shitty review on the teletext site. The nice thing about shitty reviews is they ALWAYS have major factual errors in them that allow me to think "that idiot doesn't know what he's talking about" and this one gets a clanger in in the first sentence - no, not calling me a "comedy singer" (although, SOD OFF), but saying it's our first album in six years. Do they not teach GOOGLE SKILLZ at online journalism college these days?

Anyway, with all that done and fond farewells said we headed NORTH, first for LEICESTER, where Tim and Emma got into The Pattison Wagon and the rest of us took the VAN for some TYRE INFLATION. We regrouped in Woodhouse Eaves where Tim's mum had made us a PROPER LUNCH. MAN it was GRATE - we had CAULIFLOWER CHEESE! I've not had that for YEARS, but even that did not prepare me for the JOY that was PROPER RICE PUDDING. Proper rice pudding! FANTASTIC! If The Libertines had been fed proper rice pudding on tour I'm sure a whole LOT of unpleasantness could have been avoided.

Many thank yous and a ukelele lesson for the junior Miss Pattison later we were back in the van and heading to LEEDS. There was plenty of time to spare so we all went to the APARTMENT that me, Frankie and The Tiger were staying in, and had a SHOP TRIP to get some BOOZE and breakfast items.

Next stop The Packhorse, where I was STUNNED to find Frankie ordering TETLEY BITTER. Tetley Bitter, as any committed pub drinker will tell you, is pretty much the absolute LAST RESORT, similar to John Smiths, when you can't face Lager and the Guiness looks dodgy, but here he was buying it by CHOICE. Turns out that, in Leeds, Tetley Bitter is LOVELY. Nowhere else, of course, but in Leeds it was GRATE.

We soundchecked and had some TEA which had been supplied by Lauren, the promoter - DELICIOUS then went for a WANDER. Frankie had been a student in Leeds, so we visited one of his old HAUNTS, and got back in time for the first band, The Bees Neice. They were GRATE - beautiful, FUNNY, touching songs played delicately on double bass, acoustic guitars, WINE GLASSES and a SAW. The SAW playing was especially fantastic, it was BEAUTIFUL and SO tuneful. We were AGOG.

Next up was The Pete Green Corporate Juggernaut, celebrating their first anniversary in ROCK. ALWAYS good to see them, and we'd be seeing them AGANE on this tour, and my only criticism of them is that Dan's bass guitar is actively ALARMING. It looks like something PRINCE might find SEXY - i know this may seem such a small point, but when a band is so DELIGHTFUL the small points are all there is to bring up.

And then it was US, and we did THIS:


I seem to recall there being quite a lot of CHAT during this gig, not least a discussion of how many NEPHEWS/NEICES there were available (Emma was showcasing a NEW NEICE, attending her first Validators gig) and the need not to EMBARRASS them. It was all very jolly anyway, and was followed up by BEER, also CHAT, before it was time for us to get some SECOND TEA in and head back to The Flat, where The Tour Whisky was indulged in. I seem to recall the conversation getting slightly MAUDLIN - obviously the thought of the tour being almost over was getting to us!

posted 2/6/2009 by MJ Hibbett
(click here for permanent link)
(4) comments


The Mercury Music Prize
Yesterday lunchtime i headed OUT WEST to Westbourne Park, home of (the offices of) The Mercury Prize. After a DELIGHTFUL stroll along the Grand Union Canal (ooh, it was a lovely day) and some BRANE STRESS trying to work out how to get into the building I was able to hand over 25 copies of the new album, a DVD of relevant vidoes, a PRESS PACK, an entry form and just under TWO HUNDRED QUID and thus secure our entrance into this year's competition.

"What on earth are you doing THAT for?" you may well ask. "Isn't this a ludicrous waste of CA$H, also CDs?" Well, it may be, but wasting money in the hope of GOOD TIMES has hardly been something to stop me before now and it's not like there is a CD shortage in my house. Also - you've got to have a go, haven't you?

Throughout the recording of the album we spoke of it as a CLEAR WINNER for various prizes, mostly The Mercury, and we JOKED about actually entering it. My curiousity was PICQUED and, once I found out how we COULD enter, a little BRANE BUG started buzzing saying "Why don't you? Eh? Go on! You never know!"

Clearly in this case you can have a PRETTY GOOD GUESS, but still - wouldn't it be AMAZING if we got nominated eh? For RADIOHEAD or somebody it'd be just another annoying engagement on the social calendar, but for us it'd be FANTASTIC - like when we did the Maida Vale Session or got in Rolling Stone, a proper EVENT - and i can assure you, dear reader, we would not only APPRECIATE it but very much MAKE THE MOST OF IT.

In fact - hey! Mercury Judges! In case you're GOOGLING us right now, let me make this SOLEMN PROMISE: if you put us on the Shortlist we will NOT let you down. We WILL turn up for every opportunity to SHOW OFF LIKE MAD. We WILL get as drunk as humanly possible at any and all award ceremonies, press junkets, TV appearances, coffee mornings etc etc and will speak CLEARLY, POLITELY and with SOME DEGREE OF WIT when asked to do so, rather than mumble self-consciously and adjust our haircuts. And, best of all, we will perform Do The Indie Kid at the awards ceremony itself. INCLUDING THE MUSIC OF THE FUTURE.

And if that's not worth 200 quid and a walk in the sunshine, then I don't know what is!

posted 2/6/2009 by MJ Hibbett
(click here for permanent link)
(1) comments




An Artists Against Success Presentation