Blog
Gigs
Facts
Music
Shop
Links
Theme From Dinosaur Planet
Ladies and gentlemen, boys and girls, today is a day for GRATE rejoicing! For LO! Our brand new single
Theme From Dinosaur Planet
is now available to download for FREE!!
Perhaps even MORE exciting is the fact that we've got a VIDEO for it, featuring artwork from the album by the very marvellous
Mr John Allison
. Look!
GORGEOUS, isn't it? You can download the single from the THRILLINGLY redesigned
Dinosaur Planet website
, which will be the new home for ALL Dinosaur Planet ACTION as it comes online. We've waited a long long time to be able to share this with you, and so we hope you enjoy it - there's a LOT more to come!
posted 31/10/2011 by MJ Hibbett
(click here for permanent link)
(2) comments
Moon Horse in Cardiff
So, with all the TUMULT of CD Manufacturing still ongoing, I met Steve at Paddington yesterday afternoon and set off for Cardiff to kick off the
Moon Horse
TOUR. I had two hours of a) negotiating recovery of the albums b) reading Caitlin Moran's book, which is GRATE. I don't necessarily agree with EVERYTHING she says, but GOSH she is funny saying it, and it's so INFORMATIVE - Festival Wees! I had no idea!
We also had a HALF in the Surprisingly Nice Upstairs Pub at the station, which helped CALM one down, and we arrived in Cardiff in good spirits. We managed to get slightly lost in the station itself, but soon found our way to the Ibis for the traditional pre-gig Hour Watching Whatever's On Telly Then. Sometimes I manage to watch an episode of The Simpsons when I'm NOT out doing gigs, but it feels WRONG!
Steve was in the next room to me. I closed the door of my room, stepped to my right, and Steve opened the door into THE EXACT SAME ROOM. Now, i KNOW that Ibis rooms are ALL the same - it's something I ENJOY about staying there - but this really freaked me out!
Anyway, we set off the venue, Gwdihw, and arrived less than 60 seconds later as it is, quite literally, just over the road. Mrs S Hodgkiss was already there and we were soon joined by Mr I Hodgkiss and the four of us set off round the corner for our traditional visit to Weatherspoons - NOTE i would not NORMALLY do this, but it IS just round the corner and you CAN have a proper TEA there. They'd just had a beer festival so it was all LEFTOVERS on tap, most of which were BLACK beers. I had a VERY nice pint of Porter, it was lovely!
We headed back to find the room gently filling, and our worries gently emerging. Yes, we'd had ONE practice this week, but we hadn't got round to doing our usual LINES practice on the train, and had since had some TASTY BEER. Would we be able to actually DO this thing, especially to people who, it appeared, had not necessarily come to see US?
As it turned out, YES, YES we COULD! I warned people beforehand that we'd had a BEER and, as usual, being slightly TWINKLY only seemed to ADD to the fun and, also as usual, I found myself having a Genuine LARF at several points as various occurences occurred. It was really REALLY good fun, and we staggered off stage WORN OUT but full of JOY.
It was just what was REQUIRED after a day of STRESS and we had a lovely little time chatting and having a BEER REWARD afterwards before taking the minute long HIKE back to the hotel. Things weren't QUITE as delightful a mere few hours later when we had to get up and get out for the 08.25 train, but apart from that it had been a SMASHING first outing for the tour, giving hope that the remaining
tour dates
will be JUST as much fun!
posted 28/10/2011 by MJ Hibbett
(click here for permanent link)
(0) comments
The Perils Of Being Your Own Record Company
Yesterday ought to have been a day of DELIGHT, for LO! the Dinosaur Planet albums were arriving!
I have been SO READY for this for MONTHS that it has caused me PHYSICAL PAIN. To alleviate this I tried to do as MUCH as possible to get things ready well before release day, and so my Home Office is FULL of pre-stamped pre-labelled envelopes with press releases and/or letters and/or notes, just waiting for a CD to be popped in before they go to the post box. I did wonder whether this might be tempting fate somewhat, but dismissed such superstitious foolishness.
Dally not with The Gods Of ROCK, my friends, for they shall surely SMITE you! The CDs arrived in the afternoon, by which time I had set off for Cardiff (full report to follow), so it was The Artwork On My Cover who opened the CD boxes... and rang me with the news that the first one out of the box looked a bit tatty... then rang back again a few minutes later to say they ALL lookd REALLY tatty - scuffed, pockmarked, scratched on the cover and generally poorly made. She sent me photographs of them and I had to agree. If it had been just one thing a bit wonky I wouldn't have minded, but they just looked CHEAP and POOR. We've spent SO LONG - so VERY long - working on this to make it sound as GRATE as we possibly could, and gone to the trouble of getting some AMAZING artwork done, that I wasn't going to fall at this final hurdle and go out looking half-arsed.
So it was that I learnt how to do all SORTS of things on my new phone, opening pictures, emailing and calling people various to arrange for them all to go BACK to the factory, and keeping The Vlads informed of what was going on. If you ever need to know how to work new technology I can heartily recommend a crisis on the train to Cardiff!
We'll deal with the DELIGHTS of the gig elsewhere, moving forward to today when I came home to look at the CDs for myself and find that YES, they definitely did NOT look acceptable. It's a really massive pain in the WOTSITS as it puts all sorts of things at risk. I'm hoping we can get NEW copies turned around SUPER FAST so we can keep to the original release date, but if not we'll have to postpone it, which means RE-DOING ALL the press releases, NOT having CDs for the Nottingham gig, and GROVELLING to our distributors. I really do not want to have to go through all that, but if it DOES happen I shall keep everyone fully informed!
In the meantime we will STILL be at least PARTLY opening the exciting new
Dinosaur Planet
website on Monday, to release our SUPER THRILLING new FREE download single, "Theme From Dinosaur Planet". It really is a thing of beauty, there's a video and EVERYTHING, i can't WAIT to show it off. Hopefully there'll be good news about the CDs to go with it too, fingers crossed!
posted 28/10/2011 by MJ Hibbett
(click here for permanent link)
(0) comments
Negotiations And Christmas
I spent a large part of yesterday emailing manufacturers, basically saying "PLEASE please PLEASE please PLEASE can you send my my CDs?" By early afternoon they had said they would come on Friday at SOME POINT - which is always ANNOYING. Surely delivery companies have a ROUGH idea what order they're going to deliver items in? Wouldn't it be better for them if they told people when they'd be there so that people would DEFINITELY be in, rather than having to try on two or three occasions until they randomly got it right?
I am aware that this is the ancient traditional cry of the Person Awaiting Delivery, and have no doubt that in a HUNDRED YEARS TIME people will be sat nervously by the airlock at 4.58pm, CURSING the Intergalactic DHL spaceship.
After FURTHER nagging it MIRACULOUSLY appeared that the albums had arrived EARLY and so would be arriving on THURSDAY! TODAY! You find me this morning ALERT to EVERY sound that ever occurs anywhere near my front door - I've made a DEAL with myself that I'll give in until 11am for them to arrive, then head to work. Me and Steve are playing CARDIFF tonight so if they DO come in time for me to take them that would be WONDERFUL, but I'm not EXPECTING it.
Anyway, once this news was in GLORY shone around and I found myself SUPERCHARGED with ROCK AND ROLL ENERGY, and so decided to CHANNEL this POWER into SONG. I thus sat down to work and finished off a song called 'Thank Goodness For Christmas' which I'd been PONDERING for the past 24 hours and not only did a demo of it, but also did a Christmas Cover Version TOO, both of which were sent off to The Validators. After initially thinking I wouldn't do a Christmas song at ALL this year I've ended up volunteering us for TWO Christmas projects. We're going to try and record everything in various homes over the next few weeks, and then I hope to get both songs mixed and added to the Christmas Selection Box over the yuletide period.
I must say 'Thank Goodness For Christmas' came out RATHER well - I'm not sure anything will ever bear
The Advent Calendar Of FACT
as my FAVOURITE self-written Christmas song, but like
I Got You What You Want For Christmas
it does come pretty close. I wonder what we'll do for a video though?
All that is for the future though - today we must sit QUIETLY and await the KNOCK which will end this long period of waiting and preparation and begin the ACTUAL RELEASE of the album! KER-ZANG!!
posted 27/10/2011 by MJ Hibbett
(click here for permanent link)
(0) comments
Back In The Moon Saddle
My thoughts were full of EDINBURGH yesterday lunchtime, as I stomped back to the office after lunch, remembering our ADVENTURES this year as I mentally prepared for a
Moon Horse
rehearsal after work. It therefore felt almost NATURAL to bump into Fran from The Cheshire Liberation Front (our PALS from Buffs Club) on Bedford Square. He works at the British Museum so it was always BOUND to happen, but it was DELIGHTFUL that it should happen on this of all days. "How's Moon Horse?" he asked, and I was able to report that Moon Horse was very much GALLOPING BACK.
For LO! We are off to CARDIFF on Thursday (back at Gwdihw on Guildford Crescent, doors 7.30ish entrance fee four quid, do come if you can!) so Steve and I, being the consumate amateurs what we are, thought it might be an idea to meet up and have a bit of an old PRACTICE.
It was STRANGE - we did ALL of our pre-Fringe rehearsals in the basement at my work, so you'd think being back there again would be natural, but every time we did ANYTHING I was mildly freaked out by the fact we WEREN'T at Buffs. When i went "off stage" it was towards our mini-kitchen, rather than the fire exit, and when I said "For at least the next 10 to 15 minutes" I looked up to see not a HUGE MIRROR and CLOCK but a FILING CABINET.
Also the lack of AUDIENCE made it all feel like it took FOREVER. It was all jolly good fun and there were LARFS to be had along the way, but GOODNESS it felt like a STRETCH when there were no CHUCKLES or GASPS coming back in our direction. I was pleased to find SO MUCH of it was still in our BRANES, tho mildly DISTRACTED by an IDEA I'd had that very morning about transferring the whole thing to a series of YouTube videos. "This bit'll be AMAZING if we film it!" i kept thinking, whilst forgetting I was meant to be SAYING something.
Satisfied with a show PRACTICED we changed our usual procedure and retired NOT to The Museum Tavern BUT to The Euston Tap, where we both enjoyed a few pints of MILD. We agreed that, if nothing else has been achieved from our theatrical exploits we can at least say it's made me start to enjoy MILD and Steve enjoy WHISKY. Clearly there has been a LOT else achieved, but even on its own that would be pretty darn GRATE!
posted 26/10/2011 by MJ Hibbett
(click here for permanent link)
(0) comments
Brighton Indiepop Weekender
I set off for the SEASIDE on Saturday, for Brighton where I was playing at the Bobby McGee's Indiepop Weekender. Aaah, Brighton! Many cities have stereotypes about them, but few STRIVE so hard to live up to them so quickly. I reckon there must be a CRACK TEAM somewhere in the city centre, monitoring new arrivals to ensure they have seen AT LEAST four ladies kissing each other within the first five minutes of arriving, noticed AT LEAST five PACKED Independent Coffee Shops within ten minutes, and if they manage to make it twenty yards beyond the railway statio without tripping over eighteen red faced purple haired crusties and their dogs then the entire TEAM has their QUICHE confiscated for the week.
It is lovely there tho, and having bumped into some pals on the way I arrived in fine fettle to find a VERY FULL pub watching Jimmy and El doing an acapella version of "Ask" in the corner. If there is a better definition of INDIEPOP than that then frankly I do not wish to be made aware of it.
The rest of the day was basically pretty BRILLIANT. I spent much of it sitting with Craig, Ian and Sharon at a TABLE ("Ooh!" we squeaked, "SEATS!") and/or yakking to various other delightful people who had turned up. After a couple of hours drinking it was my turn to get up on stage, so I SAUNTERED up and did THIS:
Boom Shake The Room

I must be honest: I had a bloody WHALE of a time. I've not done a full on SINGALONG set for AGES but thought that people might be sufficiently TIDDLY to GO for it, and indeed they did. It was LOVELY - my favourite bit was when I mentioned former Peterborough United/current Brighton & Hove Albion HERO Craig Mackall Smith in 'Boom Shake The Room' and it prompted a chorus of the song Brighton sing for him! HOORAH!
I THOROUGHLY enjoyed myself but there was more of ME to come as thirty minutes or so later i was back onstage, this time to sing
It Only Works Because You're Here
with A Little Orchestra. Before I began I remarked that this was like an episode of QUANTUM LEAP, where Sam has leapt into an Alternate Universe where ORCHESTRAS play in pubs... I thought this was quite clever, and it was only the next morning I realised that it's SLIDERS where they do that. Oops. Anyway, the song itself felt LOVELY, as usual - it's nice ENOUGH when you play with another BAND who are GOOD, as you can look around and see FELLOW ARTISTES and do Meaningful Glances of ROCK, but with this lot there were HUNDREDS of them (NB this may be an exaggeration) and it felt like being SURROUNDED by music. It was lovely!
The rest of the afternoon and evening passed by delightfully, with I think Candy Panic Attack being PARTICULARLY excellent, but soon it was time for me to STAGGER off into the night. I was confronted with that uncomfortable feeling, a few yards out of the pub front door, when one stops thinking "Everything is so lovely and beautiful and whoo" and you SUDDENLY REALISE "OH NO! i am DRUNK and have to spend the next 2-3 hours trying to get home!"
I made it back in the end though, FUELLED by a bit of "2 for 1" offer MADNESS in the M&S at the station which saw me through ANNOYANCE on The Drunk Train on the tube at midnight. Next time there is a meeting of Drunken Arseholes Of The World, could someone tell them that "HUR HUR! GIVE US A TUNE MATE! IS THAT A GUITAR?" has now officially been done to DEATH? Thanks!
But yes, even THAT for half an hour was a trifling nuisance compared to the ACE day out. Some people were going back again for MORE on Sunday, I think that might have DONE for me!
posted 24/10/2011 by MJ Hibbett
(click here for permanent link)
(0) comments
Validators Reunited
I set off for DERBY yesterday, and when I arrived at the station my BRANE thort "Ooh! A train to Derby! that means some Pret Porridge, a pre-booked posh seat and then a gentle stroll to the recording studio." "NO BRANE!" i said, "You are WRONG! Cast your mind back many moons to the distant days of two or more years ago. We're not going to do some mixing, we're off to a PRACTICE!" "AHA!" the BRANE replied. "So an open ticket then CHIPS and hopefully a pint in the Brunswick at the other end? FAIR ENOUGH!"
And so, always wanting to do right by my BRANE, that is exactly what DID happen when I arrived in Derby, then hopping into a taxi for Darley Abbey Lane rehearsal studio, where we were booked to have our first Validators' rehearsal for YEARS. When I eventually found the studio (it's been a long time and it was very very dark) I was relieved to find that it was EXACTLY THE SAME - not only as itself, but the same as studios FOREVER. Aah, is there anything as evocative of ROCK as the heady REEK of a rehearsal room? Or the ever-denied hope that all the amps will work properly?
It was good to be back, and it's actually a pretty good studio - everyone was dead nice and they'd even supplied a TERRIBLE BAND to play next door INCREDIBLY LOUDLY, just to make us feel at home. Joining in with this, the rest of The Validators applied The Law Of Inverse Distance to their arrival times (and I, happily, did my usual Being Slightly Grumpy about it, to return the favour) and soon we were all HOME, as if we had never been away. DELIGHTFUL!
As usual we'd pre-agreed a list of songs to try out, divided into three categories - songs from Dinosaur Planet, some old tracks we haven't played regularly for AGES and finally the Traditional Songs We Always Play. Thus, once the T-SHIRTS had been handed out and ADMIRED, we kicked off with One We Theoretically Know, and ROLLICKED through a version of
My Boss Was In An Indie Band Once
that was a little dusty, but still WORKING.
Then it was into Dinosaur Planet songs and a couple of RELICS from bygone days and over the next two and a half hours the OLD MAGIC was very much BACK IN ACTION, especially during the last hour when we re-did all the "new" songs we'd learnt that evening THEN did the Old Standbys, just to check they still worked. They TOTALLY DID - i especially enjoyed
Do The Indie Kid
during which i not only correctly guessed EXACTLY what Frankie would playing during The Music Of The Future, but also bore witness to his CHEEKY CHUCKLE beforehand when HE realised what he'd be playing too. If you saw MANI looking oddly confused, as if his MANTLE so recently regained was briefly SNATCHED from him, then you can blame Frankie.
It was bloody fantastic, and the stuff from the new album sounded ACE too. Wwe'd never ever played 'Theme From Dinosaur Planet' all the way through - the REGGAE BIT on the recorded version was done seperately - so we approached it with some trepidation, doing it NERVOUSLY the first time around but on the second attempt we all TELEPATHICALLY decided to BLOODY DO IT and STRODE into that section with some considerable WELLY. I reckon it's going to be AMAAAZING when we do it live!
And so it was a very happy band of Validators who retired to The Nice Pub Round The Corner, and it was here that the BEST part of the evening occurred. With The Vlads I always think of the gigs as just an excuse for us to get together and have a LARF, which was very much the case this time. The high point of the evening came when we spoke of The Traffic Light Story. When Tim used to come back from touring with Prolapse I would always ask him to tell me the Hilarious Tales Of The Road, and he would always have to admit that he had NONE. I would complain bitterly about this - not touring yet MYSELF at the time I felt that it was a wasted opportunity - until one time he rolled into the pub post-tour and said "AHA! This time i HAVE got a story for you!"
This was The Traffic Light story, which was SO RUBBISH that it has since become a BYWORD for... well, rubbish stories, amongst our CLOSE CIRCLE. I have always told it as, basically, the Prolapse Van not moving at traffic lights because they hadn't noticed they had changed. Frankie remembered it differently as well, and after some confusion Tim waded in, saying "It's SO MUCH better than that!"
It totally TOTALLY wasn't. I won't go into the details here, but suffice to say I have been WILDLY EXAGERRATING the HILARITY for over a DECADE. Tim's attempt to tell the TRUE story was THE FUNNIEST THING i have heard for a VERY LONG TIME INDEED. You know that thing that happens when you're little, and you laugh so hard and so long that your sides actually HURT? THAT is what happened to us all in the pub last night. I'm still laughing about it now!
It was, in summary, a BRILLIANT evening where our work was well done and preparations well made for our GLORIOUS RETURN to the Arena Of ROCK in Nottingham on November 5th. We're playing at The Chameleon that night - do come along if you can, it's bound to be BRILL and, if you're very lucky, someone might tell you The Traffic Light Story!
posted 21/10/2011 by MJ Hibbett
(click here for permanent link)
(0) comments
Efficient Stock Management Is The New Rock and Roll
You find me this afternoon a bit BOGGLED EYED because I have been up to my neck in ROCK ADMIN, most eye bogglingly that wonderful past time STICKING LABELS.
As anyone involved in small scale indie record promotion will know, this is the JOYFUL part of the RELEASE CYCLE where you sit down with four sheets of STICKY LABELS and 100 Jiffy Bags, trying to MARRY the two together whilst maintaining the SORT ORDER of the former so that when you come to do the letters and press releases that go with them you won't end up sending a letter to, say, XFM saying how GRATE you think Absolute Radio is. And vica versa.
I've done them all now and, when added to all the OTHER things I've been packing today, the STUDY looks rather exciting. There's a huge pile of envelopes ready packed with T-SHIRTS for cast members too, which has forced me to set up an entire STOCK MANAGEMENT system. One of the reasons we haven't had any t-shirts for sale for YEARS is because managing them was such a gigantic PAIN. I used to try and keep them in seperate carrier bags on a shelf, but was never sure how many I had or if there were some SPARE somewhere - at one point I had about three times more XL shirts than I needed because we'd left some at Tiger Towers after a gig - and trying to work out how many I needed whenever I re-ordered made me CRY TEARS OF AGONY.
This time, however, I have set up a homemade stock management TOOL on my computer AND made some lovely BOXES to keep the different sizes in. Ooh, it looks right lovely - I know the whole thing will probably COLLAPSE once we start flogging them at gigs but still, for now there is a feeling of deep satisfaction in knowing that everything is READY. It's this sort of thing that the likes of M.Jagger and B.Springsteen miss out on by having LACKEYS to do it all for them.
In other news the new Dinosaur Planet website is pretty much finished and later this week I'm getting the press releases printed out ready for the MASSIVE promotional mailing list. Everything is pretty much ready to LAUNCH - all I really need now is the ACTUAL ALBUMS THEMSELVES! NGG! Come on, this time next week, get here QUICKER!
posted 19/10/2011 by MJ Hibbett
(click here for permanent link)
(1) comments
Stone Roses Reforming: The Opinion The World Has Been Waiting For
As I type the world is waiting with baited breath to find out whether The Stone Roses will reform.
Well, I say "world", but I mean "British people of a certain vintage" and I say "baited breath" but I mean "vague interest and slight exctiement" and I say "whether" but I mean "for how many gigs". But still: whoo! Madchester Rave On coming atcha like it's 1989 Spike Island and pass the tie dye, LET'S 'AVE IT!
But behind the gentle creaking of joints as a nation's middle aged try to demonstrate The Monkey Dancer to an unbelieving youth there is a gentle rumble of DISCONTENT as various people are wheeled out to say the this is somehow WRONG. "Band's should not reform!" they say, "It destroys their artistic integrity and stamps on people's memories!"
To which I say "Well maybe, but then again who cares?" Surely the legacy of The Stone Roses belongs to THE STONE ROSES and not to those of us who bought their records? The comeback might be ROTTEN but, come on kids, is it possible for it - or ANYTHING - to be more rotten than their final gig? PA systems and wotnot have come on a LONG WAY since those days - it's not impossible that a reformed Roses, who have signed on SPECIFICALLY to play The Songs People Actually Want (i.e. the first album and maybe Love Spreads), might sound MUCH BETTER than they EVER did back in the day.
And it seems a bit MEAN to go round telling people you don't even KNOW that they're NOT ALLOWED to go out and earn a living doing the one thing they're best at. If someone makes a really nice CHAIR that we LOVE and use all the time, is it right to insist that they NEVER MAKE ANOTHER CHAIR EVER. "Oh no, you're just making more chairs for the MONEY, it's RUINED this chair and I shall never sit on it again" we might say, knowing full well that next week we'll be sitting on the chair and enjoying it just as much... and probably buying one of the new chairs ANYWAY in case this one breaks.
Most importantly of all tho, it might actually just be LOVELY. Nay sayers talk of memories, but HECK, what incites more MEMORIES than a big old REUNION? I saw The Sex Pistols around 1996 when people were saying much the same thing and no, it was not an act of punk revolution but it WAS a whole lot of fun and the crowds DID feature a lot of old punks who a) didn't get to see them the first time around because they lived in places they never went to or b) DID see them and were reliving the most exciting times of their lives. ALSO in the crowd was EVERYONE ELSE who was too young the first time around and were VERY VERY VERY EXCITED to hear all these songs done huge justice. It was ACE, and hey! The Sex Pistols do still seem to have been JUST as important in the 1970s as they always had been. That had not changed at all.
I'm not saying I'll go and SEE them, of course - not on purpose, anyway, tho if I accidentally happened to be at a FESTIVAL then it would be rude NOT to - but I think it'll be LOVELY, possibly for them too. I've done reformations of my old band VOON on a couple of occasions (neither of which dented the IMMENSE IMPORTANCE of that particular band to ROCK HISTORY) and it was lovely - i spent time with my old pals, met a lot of other people I hadn't seen for ages, and also remembered both the FUN we had AND the reasons we eventually stopped. It's a good way to appreciate your past without having to go back and repeat it.
And so I say "YES" Messrs Squire and Brown, "YES" to Reni and Mani, you go ahead and have a right rollicking old time making people happy. It'll be LOVELY.
And if you STILL think bands shouldn't reform, might I suggest you direct your IRE at Steps instead? Now THAT is a hideous nightmare beyond imaginging which must be STOPPED at ALL COSTS!
posted 18/10/2011 by MJ Hibbett
(click here for permanent link)
(1) comments
Button and Bow
Over the last couple of months myself and The Pictures In My Video have been delighting to regular updates about two characters called Button And Bow. They are MUSCOVY DUCKS who were found as EGGS abandoned by their mother in a stream in Devon after a flood, warmed up, hatched, and then RAISED by a pair of Concerned Citizens. Here's one of the earliest videos of them as they head back down to the stream for the first time:
I KNOW.
We've been thoroughly enjoying these regular updates from our friends Phil and Pam down in Buckfastleigh - Phil lets The Water In My River know whenever there's a new one, and they never fail to LIFT SPIRITS and cause an outbreak of COOING and AAAHs chez nous. It did strike me though the other day that there's something a bit bizarre about it all. Have a look at this one, for instance:
Quite apart from being LOVELY, you might notice that the music is a GRATE version of Donovans' "Colours" by Mr Phil Wilson, aka Phil From The June Brides, for LO! it is HE who is tending to these young birds. It suddenly struck me as KRAZY that once a week we've been getting updates from an International Legend Of Rock And Roll about his ducklings - it's like Morrissey sending us updates on his rescue piglet or something - and that more people don't know about it.
And so I thought I'd stick a few on here just to highlight how BRILLIANT the videos are - it's a treasure trove not only of CUTE DUCKLINGS but also CLASSIC INDIE POP, which I kind of think more people should be enjoying. I mean, look at this!
Wouldn't the world be a better place if ALL Legends Of Indie-Pop did this sort of thing? Can anyone honestly, hand on heart, say that they'd RATHER have The Stone Roses reform than have Mani soundtrack the progress of a gosling he'd personally reared from an egg? Well would they? EXACTLY. Think on, Other Legends Of Rock, THINK ON!
posted 17/10/2011 by MJ Hibbett
(click here for permanent link)
(1) comments
We Have T-Shirts!
Let the fashion world sing HOSANNA for LO! we have Dinosaur Planet T-SHIRTS!!
This was the very exciting scene mere MOMENTS ago in my office: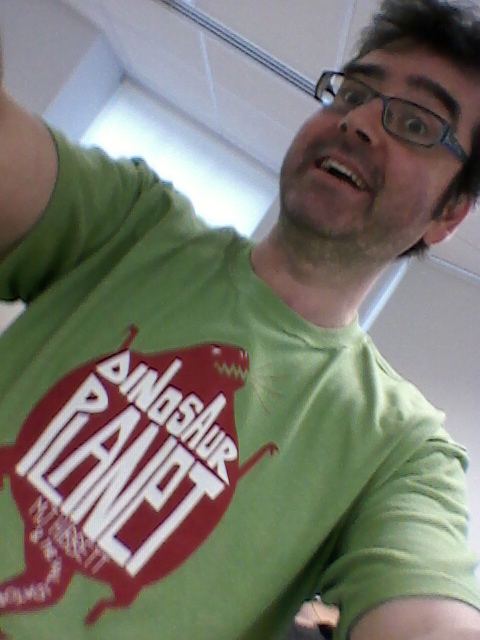 OOH they are RIGHT GORGEOUS! They're going to be available from October 31st along with the actual ALBUMS, direct from the new Dinosaur Planet website, which should also be LIVE that day. I think this might even be the first time anybody's SEEN the logo for the album - there is MORE, oh so much MORE artwork that'll you be seeing on LAUNCH DAY, and it's not long now! EEEE!!!
All we need now are the ACTUAL ALBUMS and we're ready to ROCK AND ROLL!
posted 13/10/2011 by MJ Hibbett
(click here for permanent link)
(0) comments
Address Checking
In amongst all the FUN of getting ready for 'Dinosaur Planet' to be UNLEASHED on the world (and GOODNESS ME but there has been a lot of fun - the new website, for instance, is a source of IMMENSE joy!) there are some jobs that are SO boring, SO annoying that they make me sometimes think maybe be legally obliged to give all your money to a massive corporation full of GITS isn't such a bad idea, so long as some ELSE had to check the addresses for the promotional mailouts.
For LO! that is what i am doing at the moment and MAN ALIVE is it BORING. BORING! I'm currently going through my old lists and LABORIOUSLY looking people up to see if they still EXIST and/or work at the places they used to and/or have the same address. There are moments of BEAUTY in all this - it's a nice excuse to email people I haven't spoken to in a while, for instance, and there is a MELANCHOLY DELIGHT in seeing names and fanzines from a decade ago pop up as possibles - but most of it is a TOTAL DRAG.
The worst is yet to come, however, when I have to go through the teeming mounds of the interweb and not only find NEW people to send it to, but also ADDRESSES for them. For something that sounds so easy it is BRANE-DESTROYINGLY hard. For starters, I'm not a HUGE reader of music reviews (i get the excellent Word Magazine and that pretty much SATES me) so don't really know who or what is OPINION FORMING at the moment, and certainly have no idea which of the above might be even vaguely interested in an album like ours. Even when i DO find someone I think might be worth a go at POSTAL ADDRESSES appear to be treated like SECRET RECIPES - good lord! You'd think all news and review websites would have a CONTACT ADDRESS pretty prominently displayed, but it is surprisingly difficult to find out WHERE TO SEND THE THINGS THEIR WEBSITE IS BASED ON.
And Radio Producers! RADIO PRODUCERS! Everyone always says "If you're sending review copies to radio, make sure to send it to the producer" but they are as hard to track down as THE ACTUAL YETI. Again, you'd think they might be PROUD of their work and perhaps even be LISTED somewhere, but it's like a flipping 1980's SPIES and COMPUTERS movie as I try to HACK INTO their systems to find a name and address. GNNNYAAARGHH!!!
So yes, it's all a bit annoying - SO annoying that last time around I EMPLOYED a PR company, an experience that somehow managed to become THE MOST ANNOYING THING EVER as they were, not to put too fine a point on it, a towering pile of shite. I hired them to get us mentions in national magazines and they were SO APPALLINGLY TERRIBLE that not only did they utterly and completely FAIL at this, but when I took matters into my own hands and DID get us a review they were so HAPLESS they almost got it CANCELLED.
The moral of the story is, therefore, that it's a dreary job but one you're better off doing yourself, and so to OFFSET all the grinding doom of it all I'm also doing a whole OTHER mailout to people I don't really know but like/admire JUST FOR FUN. I call it KARMA OFFSETTING (and yes, yes, I AM very pleased with calling it that) and top of the list is Mr JEFF WAYNE. The idea that Jeff Wayne himself could possibly hold a copy of our album in his hands fills me with such joy that I think I might just be able to get to the end of the ELEVEN PAGE LIST OF NAMES in one piece.
Also, I must say, a good old RANT doesn't half help too - thanks for listening, and if anyone out there has any good IDEAS (or even LISTS) of people I could send it to, do please bung us a comment, it's be very much appreciated!
posted 11/10/2011 by MJ Hibbett
(click here for permanent link)
(0) comments
Mr And Mrs Normal
Myself and The Tea In My Cuppa did something WEIRD and STRANGE this weekend: we behaved like A NORMAL COUPLE!
Everything started so ROCK USUAL - we went to see John Otway and his Big Band on Friday night and he was AMAZING. I have gone on about how GRATE Otway is enough times, but crikey, this was in our TOP FIVE times of ever seeing him (and I must have seen him getting on for 50 times now). It was the first time we'd seen him with The Big Band for AGES, which meant we got "Bunsen Burner" done proper, "Best Dream" and a setlist that FLIPPING ROCKED. The best bit tho, and the thing that moved me to ACTUAL TEARS, was just seeing one section where everyone in the band looked across the stage and GRINNED at each other. It was BLOODY LOVELY. Also, Otway explaining why he hadn't practiced his GYMNASTIC FEATS during the soundcheck: "What's the point of hurting yourself if nobody's watching?"
It was BEAUTIFUL and also EXCITING, also FUN. We seemed set up for a traditional ROCK weekend, but the things got BIZARRE on Saturday morning. I should have known something was AWRY when we had a LIE-IN, but still i unwittingly switched on the telly and not only SAW a Saturday Morning Cookery Programme but decided to DO ONE OF THE RECIPES!!!
We then WENT TO OUR LOCAL SHOPPING MALL (The Westfield in Stratford - it's new) wherein we went to the John Lewis cafe FOR LUNCH! Both of us! At the weekend! LIKE A NORMAL COUPLE!
Needless to say we then did A SPOT OF SHOPPING before coming homw where i DID make the Saturday Morning Cookery Show Programme Recipe (some big fat tomatoes cooked in a curry sort of sauce, it was LUSH) and, of course, watched Strictly Come Dancing. SIDEBAR: I was glad that Edwina Currie was rejected, but also slightly saddened as it would have made for some POINTED REMARKS if I did
The Fight For History
at gigs.
The next day things were much the same - it involved an AFTERNOON WALK - and even though we got back to ROCK USUAL later on with some VIDEO EDITING and PROMOTION DISCUSSION the whole experience felt very... well, NORMAL. It was actually really good fun - I can see why doing Normal Things is so popular! Over the horizon GIGS and ACTION is looming, but next weekend is looking free. Who knows? If things go well we might GO FOR BROKE and - SHOCK! - go to the pictures!!!!
posted 10/10/2011 by MJ Hibbett
(click here for permanent link)
(0) comments
A Sneak Preview
Despite all the IMPORANT IMPORTANCE of yesterday's
IMPORTANT STATEMENT
the work must go on in the Admin Offices of AAS. Since last we spoke I've set everything up to get us listed on iTunes, Spotify and so on, as well as starting to set things up with our
bandcamp
site so that you'll be able to stream individual songs.
The REWARDS of these endevours are already coming in for me - last night for instance I got home to find that the POSTCARDS had arrived! As previously stated these will be going out with all PURCHASES and BY HECK they look GORGEOUS! I think I would EXPLODE if I had to keep all this stuff secret for much longer, but luckily it is not long now until it can all be UNLEASHED.
And talking of UNLEASHING - we've done a "single mix" of the title track, which will be available as a free download in November, but you can get a preview of it RIGHT NOW! Over on
Dandelion Radio
you can hear it being played on Rocker's show, and it's also in the latest
Damnably Radio Podcast
. It's accompanied by some FINE MUSIC in both cases - happy listening!
posted 7/10/2011 by MJ Hibbett
(click here for permanent link)
(0) comments
Mr Record Company Bigshot
Today you find me acting like Mr Big Of Bigshot Records, ordering merchandise here, agreeing schedules there and... er... doing a little jig around the room as I've got the office to myself today.
Everything that's occurring is the result of AGES of NEGOTIATION and HASSLE, and it's a bit odd that it's all happening at once, but it IS jolly good fun so I'm not complaining. The first THRILL was to hear from The Stamp On My Envelope this morning that the POSTCARDS have arrived! HOORAH! These are delightful little items that I'll be sending out with all ORDERS for the new album (in the JIFFY bags which arrived yesterday - it's all HIGH OCTANE EXCITEMENT round our way!).
Meanwhile negotiations with our LOVELY distributors, Proper, have got to the point where we pretty much have a definite release date for Amazon and (in theory) shops, of November 14th. This is a couple of weeks earlier than expected, but if all goes well we WILL have the albums by then (touch wood) so they might as well be purchasable. When we first started doing this it seemed to MATTER about having CDs in the shops on a specific date to tie in with PUBLICITY but these days it seems like the best thing is to make it AVAILABLE and then see what happens. Feels good to me!
And now I'm homing in on a final order for the associated T-Shirts - we've pretty much agreed a COLOUR SCHEME that we all like, or at least can live with (people always slag off "t-shirt bands" but I tell you THIS: writing a song is A HECK OF A LOT easier than agreeing what colour t-shirts you want) and with any luck I'll have those started TODAY.
And then it's just a question of WAITING - I approved the artwork proofs for the album itself yesterday so THAT'S on the way, and so in about a fortnight's time I should be sat at home in HIGH PANIC waiting for Mr Postman to come a'knocking with them.
And then... well, then it's time to start sending stuff out! And finding out if other people like it all as much as WE do - YIKES!
posted 6/10/2011 by MJ Hibbett
(click here for permanent link)
(1) comments
Primal Scream: An Important Statement
MJ Hibbett & The Validators are totally disgusted that the lead singer out of Primal Scream, Bobby Gillespie, is washing his smalls while listening to our song ĎDo The Indie Kid'.
How inappropriate. Didnít he research the political history of our band?
Hasnít he listened to the words? Does he even remember what indie means? No. He is a member of Primal Scream; how could he?
MJ Hibbett & The Validators are totally opposed to the Primal Scream, Gillespie, Mani, the other one, him who was in another band etc. They are dreary old sods banging on about 'soul' and 'rock and roll' while ensuring that they go nowhere near any of these things*, taking the side of people who think they're too 'edgy' to like The Charlatans while putting out cock-awful records and continuing their attacks on young people, people with ears and those unlucky enough to catch sight of their photographs, in effect persecuting the human race for being able to comprehend their existence.
We would like to distance ourselves from this sick association.
Primal Scream are waging a war on people who enjoy fun, they are the enemy.
MJ Hibbett & The Validators.
UPDATE:
It has come to our attention that Bobby Gillespie is in fact washing his smalls while listening to 'Bobby Gillespie Is A Virgin' by Velodrome 2000. Our sincere apologies, and heartfelt sympathy, to those concerned.
* except for Mani who, to be honest, is ace.
posted 6/10/2011 by MJ Hibbett
(click here for permanent link)
(0) comments
The Future Of Politics
I emerged BLINKING out of SABBATICAL last night, heading out to leafy Bethnal Green to play at a Lampoon Apathy gig called "The Cuts Won't Work". I got a little bit lost on the way from the tube station to the Bethnal Green Working Men's Club but VERY HAPPILY I was able to use TECHNOLOGY to help me, for LO! I have a NEW PHONE!
My old phone is very much CONKING OUT and it's been sad over the past few weeks to look at something that was once the very peak of modernity stumbling along like a Trabant on the inside lane of the Autobahn, getting overtaken by tricycles. The NEW one is one of those SUPER MODERN ones (i.e. the sort of thing everyone else got about a year ago) with the SWISHY and the ZOOM and the MAP THING. Oh, the Map Thing! What a wonderful slice of THE FUTURE that is!
So anyway, I got to the gig on time - NAY, slightly early - and so got to spend a jolly hour playing with the above TECHNOBAUBLE before the show started. It was billed as a mix of comedy, music and speakers so I was a bit worried about having sufficient political material, but the first act SOOTHED my fears - The Behemoth, a rather SILLY also FUNNY sketch act who just got on with what they DID, which was something of a relief. The POLITICS came in the next chap, who spoke about his BOOK on countering POWER - it was very interesting BUT I was a bit surprised when he spent some time explaining to people what The Poll Tax was. Eh? But surely it was only on the NEWS the other week? Hasn't that just finished happening?
He then went on to mention it in the same breath as THE CHARTIST MOVEMENT. Hang on a minute there young man, kindly CEASE your attempt to place my political history into ANCIENT HISTORY! Suddenly I felt i had BETRAYED my kindly old telephone, who was just trying to do his job in the harsh modern world of the future. I was up next and, wanting to TALK about this sort of thing, rejigged my setlist and ended up doing THIS:
I think I might have GONE ON a bit, especially at the start CHASTISING the young people for their YOUTH. All week leading up to the gig I'd been saying to myself "DON'T say anything rude about Ed Milliband" as I knew a) the temptation would be ENORMOUS and b) there would be some nice Labour people there, and so of course I almost IMMEDIATELY pointed out that in 20 years time THESE young people would be surprised to find The Children Of The Future pointing and not understanding the politics of their day. I MAY have said "Ed Milliband! What were we thinking?" and ended up comparing him to SPANGLES.
No-one seemed to mind though, and we actually had a rather JOLLY time together - I hadn't been intending to do
It Only Works Because You're here
but it was all so pleasant I thought I might as well give it a go, and it seemed to go down all right. I also ended up CONFESSING to voting Lib Dem and DIDN'T get hauled off stage - THAT is how delightful it was.
The whole EVENING was deeply pleasant, also REASSURING - being in a room full of The Young People who are all really INVOLVED was BRILLIANT. People quite happily discussed themselves as ACTIVISTS and there was excited talk buzzing around the room all night about EVENTS and ACTIVITIES and THORTS. Also these weren't the kind of Political People i have met OH SO OFTEN who spend their entire lives sat around BICKERING and SPLITTING, but a new hopeful, oddly optimistic, bunch who are getting out and DOING stuff.
It all made me feel strangely PROUD and HAPPY and I headed off back into the night with a WARM GLOW about me. I hope in 20 years time some of this lot are IN CHARGE - I would very much like to SHOW OFF about having met them here!
posted 5/10/2011 by MJ Hibbett
(click here for permanent link)
(0) comments
Preparation And Revision
As you may have gathered it is ALL GO here at the moment, as the Artists Against Success MACHINE wakes from its temporary slumbers and begins to GRIND into action. Today the PROOFS of the album artwork have arrived (GORGEOUS), we've recieved confirmation that the POSTCARDS (which I'll be sending with orders) are on the way, DESIGNS for the T-SHIRTS are EVOLVING and - perhaps most thrilling of ALL - I've just ordered a MOUNTAIN of ENVELOPES, ready for sending it all out in!
But while all that ADMIN has been going on I've also had to return to work as an ARTISTE. It was lovely to have September OFF but today marks my return to LIVE WORK, with a spot at tonight's "The Cuts Won't Work" gig in Bethnal Green (details on
the gigs page
), and so I thought it was probably a good idea if I picked up the GUITAR again and checked that I could still PLAY it.
Turns out I can - well, at least as much as I ever could - but still I felt the ARM ACHE that is familiar to all those who lay down their AXE for a week or more. COR BLIMEY but playing guitar is HARD WORK - and singing HURTS! Still, i reckon I've worked out a SET I can play tonight - why not come along and see if I'm RIGHT eh?
Whilst working out what songs I'd do I felt a pang of GUILT - we're currently BICKERING about what songs to learn/re-learn for the forthcoming Validators gigs, and AS EVER we are divided into two factions: those who want to play LOADS OF NEW SONGS (most vocally Tim) and those who would prefer to stick to THE HITS (Me!). One of my main reasons for wanting to stick to the songs we already know is... well, we KNOW them! I always worry about forgetting words or not knowing songs well enough to do them JUSTICE, and am always aware that, if I don't FORCE myself to relearn stuff, I could happily do the same set FOREVER.
I sat down to feel a bit GUILTY about this... before realising that, HANG ON, if you came to see me more than three times this year there's a good chance you could have seen three ENTIRELY DIFFERENT, also LENGTHY sets - an hour of Dinosaur Planet, an hour of Moon Horse, and at least half an hour of The Other Stuff! Then I remembered that i wrote and recorded
A WHOLE OTHER ALBUM
during February Writing Month and didn't feel QUITE so bad about it.
And then I realised that, this time next month, I'll have to know ALL of Moon Horse again, MOST of Dinosaur Planet, SEVERAL ENTIRELY OTHER SONGS that we're bringing back into The Validators' set for Germany AND my usual songs, and felt just a little bit AFEARED. If my BRANE ends up EXPLODING over the next few weeks, the reason will be REVISION!
posted 4/10/2011 by MJ Hibbett
(click here for permanent link)
(1) comments
There's Nothing Like A Mailout
It was a funny old weekend this weekend - very BUSY, and also full of Family in various versions. All of it was moving (in very different ways!), some of it was sad, but all of it involved seeing lovely people in Delightful Settings.
It was all a bit knackering, physically AND emotionally, so it was nice to sit down on Sunday evening an RELAX with a good old fashioned MAILOUT. Aaah! They joys of doing a mailout! The address checking, the picking, the packing, the sticking of sticky labels and the writing of notes, I really DO rather enjoy it all. Which is handy really, as I've got a LOT of this to do once the 'Dinosaur Planet' albums arrive!
This particular mailout, however, was for the smashing people who have LEAPT in already to take advantage of our
Mega Bumper Sale
where, IN CASE I DIDN'T MENTION IT (hem hem) you can get
Forest Moon Of Enderby
for just three quid, or UPGRADE to get THREE CDs for six quid. What's that? I DID mention it? At length? And have even put it in a banner at the top of all the webpages? Oh yes, so i have!
I spent a very happy half hour sorting it all out, even updating The Database Of ROCK to enable it to print proper sticky labels, ooh, it fair took me days to the early days of my CAREER when I was an Administrative Assistant at Leicester General Hospital. By the end i was almost pining for a bit of Audio Typing!
And today the Admin GLEE continues as I SOURCE some envelopes - we're ordering the t-shirts soon, and as each cast member is getting one along with their ALBUMS I need some pretty big envelopes to put them into. I might even get myself some new sticky labels while I'm in Rymans too - EXCITEMENT!
Sometimes people express surprise at the fact that I'm so happy to do all this independently, rather than YEARNING for some Idiotic Record Company Corporation to come along and muck it all up and STEAL all my songs, but come on! If I was signed to EMI do you think I'd get to do my own Mailouts? Eh? Think on, Robbie Williams, think on!
posted 3/10/2011 by MJ Hibbett
(click here for permanent link)
(0) comments

An Artists Against Success Presentation