Blog
Gigs
Facts
Music
Shop
Links
A Month's Worth Of Album For One Week Only
As readers of
the newsletter
will know I have now FINISHED my
February Album Writing Month
album for this year - HOORAH! Say my neighbours!
It's called
Wonderful Wednesday
and is available to buy RIGHT NOW... but only for a week. I'm going to take orders for it until next Monday evening (5pm on Monday 7th, to be precise) after which i shall CLOSE up, ORDER as many as we need, and then that'll be that! It'll be available to DOWNLOAD, of course, later in the month but THAT version won't be in a snazzy numbered sleeve, and it certainly won't have a FREE BADGE! THIS one will!
The last song was done on Saturday morning, after I got an email asking me if I could go and play at a
Look Who's Saying Yes!
gig tonight, with various comedians - i am VERY EXCITED INDEED about the forthcoming referendum as I'm hoping, for once, it'll mean people WON'T FLEE when I start banging on about voting reform (it's INTERESTING! COME BACK!) so said YES PLEASE at extreme speed, and then sat to writing a SONG all about it. I'm now trying to LEARN it ready for tonight - it's called
I'm Saying Yes
and MY GOODNESS ME if THAT doesn't bring about lasting constitutional reform then I do not know what will.
So yes, all the recording is now done and I'm putting together a COVER (based on a PHOTOSHOOT with The Lens On My Camera which took place yesterday, featuring me in a SUIT) now. I'm RATHER chuffed with how it's all turned out I must say, there's some odd bits and bobs of stuff on it but also some dead good (according to ME anyway) Actual Songs. You can PREVIEW it over on
my FAWM page
and, if you like it, you can get a personally NUMBERED copy in a couple of weeks
very very easily
. And did I mentioned there'll be BADGES?
posted 28/2/2011 by MJ Hibbett
(click here for permanent link)
(0) comments
Festivals
It's that most wonderful time of the year - the time when, every gig I do, someone says "Are you playing Indietracks this year?" Or, every time I get an email from The Validators, they say "Are we playing Indietracks this year?" and, in both cases, i say "I don't know... but i REALLY hope so!"
It's lovely that people seem so CONCERNED - they do SEEM to be implying that they HOPE we are, in all cases - honest - and it's fantastic that it's become something that get's ASKED. Nobody, for instance, ever says "So, are you on the main stage at Glastonbury?" It doesn't help my NERVES about it tho - i DREAD the day when we DON'T get to play indietracks, not least because it'd turn one of my favourite weekends into the year into a weekend of MOPING AROUND LOOKING SAD - but I promise, as soon as I know i will be going on about it... possibly at LENGTH!
A Festival i know i definitely WILL be appearing at, however, is the currently ongoing
London Popfest
, with Mr S Hewitt and I now taking up our TRADITIONAL ROLE of QUIZMASTERS for the Sunday Pop Quiz. We've got four or five rounds worked out for this, including Steve's Traditional Proper Pop Pop Quiz , and I've developed a revolutionary NEW kind of Quiz Round - BRITPOP MIME. It'll all be taking place at The Lexington on Sunday from 1-2pm, and should be DELIGHTFUL!
posted 25/2/2011 by MJ Hibbett
(click here for permanent link)
(1) comments
Two Songs To Go
In all the EXCITEMENT of the conclusion of
Dinosaur Planet
you might be forgiven for thinking that I haven't been keeping up with
February Album Writing Month
.
Forgiven, but not correct! For LO! I am nearly finished, having today uploaded the twelfth, or PRE-PENULTIMATE, song of this year's batch. To a casual observer of
this year's songs
(all of which have streaming audio, should you wish to PREVIEW them) it might APPEAR that I have mostly been writing songs about the mundane aspects of my day, like some musical version of a Daily Mail reader's idea of what TWITTER might be like... and, to be fair, it might appear that way to a fairly commited observer too, as it's pretty much what it IS all about. There's some DELIGHTFUL stuff in there tho, I reckon (and i AM after all my own... well, kindest, critic), not least today's upload which features a GUITAR SOLO which I am particularly pleased with.
I'm now pretty certain i AM going to release the whole thing as a limited edition (i.e. even MORE limited than usual) CD, so watch out for the next edition of the
newsletter
for details about how to get your hands on it. In the meantime - two songs to go and five days to write them in! Let's ROCK!
posted 23/2/2011 by MJ Hibbett
(click here for permanent link)
(0) comments
Dinosaur Planet FINALE
And so it came to pass that Mr S Hewitt and I met at Kings Cross for one final trip to perform
Dinosaur Planet: THE MUSICAL
. And LO! getting to Nottingham was all fine - for reasons of Not Utterly Ludicrous Pricing we went via Grantham but otherwise it was without incident and we arrived at the Ibis in good time, to find that OUR USUAL SUITES were, as ever, awaiting us.
We were playing at Lee Rosy's, where one of the very FIRST Dinosaur Planet previews happened, tho in a very very VERY different shape to how it'd ended up. We said hello to Alex, the promoter, popped across the road for a couple of pints and then returned to find a gentle flow of delightful people coming in. I was a bit worried that some people who'd seen that first preview, of the story-telling SOLO version, wouldn't come along, thinking it was the same show, and this was borne out by the fact that there were only THREE people in who'd seen it before, and only ONE who'd been there then. Still, there was a good crowd of peeople ready for LARFS and, after we'd got our cups of tea and I'd had a bit of CAKE we went on to perform Dinosaur Planet for the very last time.
And it was BLOODY GRATE! Beforehand we'd been talking about which shows had been best, and I'd been worried in case this final one ended on a damp note, but it turned out to be one of the bestest, and certainly most FUN versions we've ever done. "Titting About" was at an all time high - having taken an inordinately long time for Grandad to answer his front door to Terry, and thus engendering a LOT of door knocking, I said "Sorry it took so long, I was having a POO." I'd been about to say "I was on the shitter" but realised there were some CHILDREN present - PHEW! This totally stupid thing to say made me LARF for the next TEN MINUTES and, indeed, is still making me LARF now - sorry everyone!
We also seemed to be really GOING for it throughout, as if we wanted to use up every last bit of it before we put it away for good. I'd thought I'd feel a bit sad and STRANGE throughout - expecting to think "This is the last time I'll sing this song/tell this joke" at every stage, but COMPLETELY didn't. Even though I now it IS the last gig we've got booked, and that we start practicing
Moon Horse
next week, it just felt like I was having a thoroughly enjoyable DASH through something I'd not be saying goodbye to yet. It was odd - perhaps my latent psychic powers are FINALLY kicking in, and seeing the Broadway Run yet to come? It is the only logical conclusion.
Post-show we nipped back over the road for a well-deserved celebratory drink, before wending our way back to our suites. Next morning we got up bright and early... to find our train had been CANCELLED. It's the first first time that's happened to me in YEARS, but I couldn't really keep ANNOYED about it as I was so BUOYANT after the lovely gig and, indeed, YEAR of gigs that we'd just done.
Thanks to everyone who came last night, and to ALL the nights and afternoons we've performed the show, and ESPECIALLY to Alex last night and everyone ELSE who's put us on. I think I speak for Steve as well as myself when I say that we really REALLY appreciate it, and we hope to see you in a month or two for...
MOOOOOON HORSE!
posted 22/2/2011 by MJ Hibbett
(click here for permanent link)
(0) comments
A Trip To Watford
I met with Mr S Hewitt at Euston on Saturday, ready to head out to WATFORD for the penultimate
Dinosaur Planet
show at Cha Cha Cha in Watford. We actually met at The Euston Tap... so got to Watford a bit later than planned!
The venue is just like a lovely old cafe in a PARK, because it IS a lovely old cafe in a park, fancy danned up a bit, but still recognisable. We got given food/drink vouchers so how some DELICIOUS Veg Curry, and I even experimented with WINE - yes, i know, DEAD sophisticated!
There were LOADS of people there, and once again I had a chat to some pals from LONG ago in the shape of Mr & Mrs Paul Sweetland, Paul being of similar vintage to Geordie Mark from in Leicester. It's nice bumping into old pals again like this, especially when they're LOVELY, and is in fact one of the main GRATE things about going On The Road. A tour date without old frends magically appearing is, to be honest, a tour date not living up to its full potential.
The GIG BIT itself went OK, tho we were a little thrown by people at the back talking - it was one of the biggest rooms we've played in so were having to up our volume a bit anyway, but I don't think they realised we could actually hear THEM as loud as we could hear ourselves, and it felt a bit rude to ask them to stop, as they WERE right at the back. Maybe when we get on the Moon Horse we'll invest in some of the HEAD MICROPHONES which Steve was on about - demonstrating, i must say, a SURPRISING knowledge of the world of West End Musical Theatre which i am sure will come in very handy when we make our SURELY INEVITABLE transfer there.
Afterwards there was CAKE and BEER and CHAT until one we were given a LIFT to the station - there's a sort of COLLECTIVE of people who run the night, which probably explains the niceness of the venue, the fact we got paid AND got fed AND watered, and that we got taken back to the station. It was like gigging on THE CONTINENT!
Things then got a bit less CHARMING, as we awaited our train. No station is at its best at midnight, just before the last train on a Saturday, and Watford was no different - tho i was amazed to find not just the odd smoker, BREAKING THE LAW, but pretty much EVERYBODY at it. Maybe it was a sponsored smoke? Our minds were taken off this by the sight of a LORRY on RAILS - it was BRILLIANT! It was a LORRY, but with its wheels raised and TRAIN WHEELS lowered so it could zoom along. It also had a big RAISED CAGE thing on the back, in which stood a bunch of guys, just chilling out in their hi-vis jackets, ready to rock.
Five minutes later ANOTHER one went by! It was AMAZING!
We got back to London DEAD late to find the Victoria Line running. TFL had advised me to go all the way to Walthamstow and get a BUS home... advice which i followed, only to find, after HALF AN HOUR WAITING, that my particular bus had MYSTERIOUSLY DISAPPEARED, forcing me to eventual give up and angrily STOMP over to a taxi rank and pay LOADS to do something i could have easily done thirty minutes beforehand! It certainly reminded me why i tend to stay over, rather than try and get back home from distant gigs, these days - Watford didn't seem far enough away, but i think it may now become the BENCHMARK: The Watford B&B Requirement Test!
posted 21/2/2011 by MJ Hibbett
(click here for permanent link)
(1) comments
Mixing Dinosaur Dialogue
As I was going to be in the lovely East Midlands for the day on Thursday I thought I'd use the time wisely and book a SESSION at The Snug in Derby to get on with mixing the dialogue for Dinosaur Planet: THE ALBUM. I was VERY excited about it... so excited, in fact, that I got there an hour early!
Once I'd realised this and been off for a bit of a wander Rich arrived and we headed in for a hard day's GRAFT. My foolish hope was to mix ALL the dialogue parts, do rough mixes of all the songs AND then have a first attempt at segueing it all together... this turned out to be a BIT of wishful thinking, as we spent most of the day JUST on the dialogue.
Crikey tho, WHAT a day of THRILLS this turned out to be - I'd been sent very rough mixes of everything a few weeks ago, but due to a funny FORMATTING issue with some of the sound files we'd used a lot of it had been missing - one particularly dramatic scene was so BEREFT of Actual Action that all I had was two minutes of light rain with a small cheer halfway through! THUS listening to it all AS IT WAS MEANT TO BE was TERRIFICALLY exciting, and with a few tweeks we managed to make everything EVEN MORE SO. There's some sections, especially near the start, where it's a bit slow - one part consisted of a telephone being picked up, dialled, and then ringing for about five seconds which, really, i doubt is what anybody listening to an album called "Dinosaur Planet" would hope to hear. Everything got a LOT more DYNAMIC as we tightened everything up, and we even got to add some MORE EXPLOSIONS! HOORAH!
The weird thing, as ever, was how easy it was to take it all VERY SERIOUSLY. We spent AGES, for instance, debating exactly what kind of reverb a talking Space Dinosaur would have. "He'd have a very large chest cavity, so LOGICALLY there should be a large echo, but sort of tube-like, perhaps?" I heard myself saying. Also "No, the space ship is landing with no intent of taking off again, so the pilot wouldn't be worried about landing it that gently. Let's put in MORE EXPLOSIONS!"
More thrills came when the doorbell occasionally rang - one time Rich said "It'll either be Robbie, or a man selling cakes." IT WAS A MAN SELLING CAKES - i thought he was joking! John Shuttleworth, or someone very like him, popped by to enquire about recording his Karaoke act too. Rich went to the Dentist, so Robbie came by, and for one STEAMY SESSION all THREE of us were bent over the desk (STEADY!), debating impact levels for space bazooka.
I even got to do a bit of recording - adding some Crowd Dinosaurs to one song, filling in a line we'd forgotten to record, and best of all reporting LIVE from the devastation of Peterborough, for a bit of background radio noise. I would often dream of the obliteration of my hometown as a teenager, little did I know my imaginings would come in handy for a ROCK ALBUM decades later!
We DID manage to get rough mixes of about 70% of the songs, and I'll be doing my OWN little segue attempt over the weekend, so's i can send it to cast members, but soon it was time to RACE OFF to the station... or, at least, The Brunswick, NEAR the station, where there was time for a cheeky pint with Mr F A Machine before I needed to hop on the train and head back to the Comedy Festival.
It was a busy busy, but wonderful, day's work - and the results sound BLOODY AMAZING!
posted 18/2/2011 by MJ Hibbett
(click here for permanent link)
(0) comments
The Leicester Comedy Festival
You find me today TIRED but EXTRAORDINARILY happy after a fantastic couple of days in Leicester. It was GRATE!
We were playing once again at The Criterion, which is an ACE pub anyway with a WIDE range of ALE on - tho this time around I drank MILD pretty much all the time. Yes! MILD! I am over forty!
As well as the BEER the other GRATE thing about playing at the Criterion is that you get a team of STUDENTS who do all the admin for you, also flyering, putting up posters and the DOOR. This year's lot were fantastic and a DELIGHT to have doing all the hard work for us. One of their number, Sam, even did the guest star spot for us both nights!
The shows themselves went DEAD well - we had about 30 in on the Wednesday, which is less than we've had before, but then we've always done weekend before - and a sellout on the Thursday, and everyone seem very well prepared to join us on our ROCK ODYSSEY. We still missed a couple of bits out on both nights, but it didn't seem to matter as we roared FULL TILT through the show. We've only got two more to do, it's going to be EXTREMELY sad to say goodbye to it all!
Perhaps the best thing of ALL was that we finished by 9pm, leaving a whole evening to loll around and have a bit of a chat. The Tiger was in attendance last night, Mr S McHaggis the night before, and i was BLESSED to be visited by two people i haven't seen for YEARS - Sorted Supremo Dave Dixey on Wednesday and Geordie Mark From Amphetamine Trash on Thursday. This was BLOODY BRILLIANT and led to MUCH delight and discussion - my favourite part of the whole deal was when Mark said "I sometimes think they're knocking down pubs in Leicester to stop me ever going back to play gigs in them."
I've got a song about that!
i replied - and couldn't help notice something: I HAVE played at The Rutland & Derby, but Mark never did. The Rutland & Derby is still standing. Does this mean it is all HIS fault, not mine?!?
Anyway, we had a FANTASTIC time - I knew we would, and have been looking forward to it for weeks, but it went by at SUPERSONIC speed! I was also impressed this year by the way the Comedy Festival seems to have passed a point where suddenly everyone knows about it and recognises it as a BIG DEAL. There were LOADS of other acts on at the same time as us (including that nice Danny Robins, who popped in to see us after his show), which felt different, and everywhere you walked around town it really FELT like something was going on. It's a bloody GRATE thing all round - let's hope they let us back next year for Moon Horse!
posted 18/2/2011 by MJ Hibbett
(click here for permanent link)
(0) comments
Bright Club
Before we get going, thanks LOADS to everyone who's commented in various areas about ideas for the FAWM album - it's much appreciated, and if anyone's got any more THORTS do let me know!
Right then, SO - I rolled up at The Wilmington Arms last night for BRIGHT CLUB, a regular night where, usually, members of staff at UCL give ten minute talks on subjects a) of their choosing b) relevant to the evening's theme in a sort-of comedy gig environment. It is a BRILLIANT idea, and last night the theme was "Revolution" for LO! the people giving the talks were not the usual academics but instead people who were regulars at the shows.
It was ACE - my joint second favourites were about Cognitive Behavioural Therapy and
Frederick 1st of the Holy Roman Empire
, both of which were FASCINATING, and other sections on Being A Professional Musician, Making Short Films were ALSO dead good. The BEST, of course, was one on The History Of IPA given by a certain recent GRADUATE of ROCK, who was doing his first SOLO GIG.
I was so proud! For LO! It was Mr S Hewitt who had been asked to do it a while ago and has been WORKSHOPPING it (in pubs) for the past few weeks. I was a bit WORRIED about the whole way he'd worked it out, as personally I'd've written it and LEARNED it, but it all completely worked and Steve came on - IN THE HEADLINE SLOT - and GRABBED the audience with ease, confidently strolling through his alloted time as if he were merely chatting at the bar. It was GRATE!
It was also lovely to see Nice People Various, including visitors from the USA, and also to just RELAX for once at a gig where I a) could sit down b) didn't have to do anything. It's a fantastic idea for a gig and a smashing night out - i intend to return!
posted 16/2/2011 by MJ Hibbett
(click here for permanent link)
(1) comments
What To Do With The February Album?
Work on
February Album Writing Month
continues APACE, with a new one called "Let's Network" nearly done and an IDEA for the next one fermenting nicely, all of which should put me RELAXINGLY ahead of schedule while we go off to Leicester tomorrow for the comedy festival.
I am, however, starting to worry about what i should DO with the album when it's finished. When I took part in FAWM a couple of years ago I ended up releasing all the songs on a VERY limited edition album called
All Around My House
. I made it available to pre-order over a single weekend and then made just enough to go round - doing more would, to be honest, have driven me MENTAL as I decided to package them all in hand made flipper-folder thingies, all of which took AGES to make. They looked very nice tho!
I'd assumed that I'd do the same thing this time, but now I'm wondering whether I shouldn't just make it a DOWNLOAD - now that I've got all of our albums up on
bandcamp
that would certainly be the easiest thing to do, and it would also mean that I can link all the songs directly to the soundfiles. Also, I'm not sure that all that many people WANT CDs any more, now that downloading has become THE THING.
On the other hand, a limited edition CD is SPECIAL and is a nice way to package up this month's songs... tho then I'm not sure if I could happily put them all up to download straight away. Hmm... I'm really not sure, does anyone have any THORTS about this? The options as I see them are:
Do a limited edition CD again, keep tracks off bandcamp until next year.
Put the songs up on bandcamp as soon as they're all done.
Do BOTH.
Do NEITHER, Leave it all on FAWM and get on with something else, like the Dinosaur Planet album or learning the words to Moon Horse, for instance.
Now I've written it all out i THINK I'm leaning towards Option 3, but any THORTS would be most appreciated!
posted 15/2/2011 by MJ Hibbett
(click here for permanent link)
(4) comments
A Sudden Moment Of Quiet
It was a strange and unusual weekend for me, as i STAYED AT HOME. THE WHOLE TIME.
This was not the initial plan - not only did we have things PLANNED, we also had OTHER things that we couldn't go to BECAUSE of the aforesaid PLANS, but at the last and penultimate minutes everything DIDN'T happen and I ended up at home for the WHOLE weekend for the first time in about four MONTHS.
It was LOVELY! I had a SMALL list of things to do, and DID them. I continued my
February Album Writing Month
activities with a couple more songs, for instance, which brought me up to HALFWAY slightly ahead of schedule - not ENOUGH ahead of schedule to be relaxing, what with the
Dinosaur Planet
dates in Leicester, Watford and Nottingham that are coming forth, but still on schedule, i think.
Talking of
Dinosaur Planet
, I also found a couple of hours to sit and listen INTENTLY to all the dialogue scenes, ready for some further tweaking on Thursday when I'm in the studio again. Most scenes need a little bit of tightening up (one scene is in for a HEAVY EDIT, as it turns out Two Men In An Office, Chatting sounds a bit BORING coming so close to the DESTRUCTION OF A CATHEDRAL CITY) but a couple of them are SO THERE that I had to listen to them again just to check HOW AMAZING they were. I'm HOPING that by the end of this week I'll have a complete (in components, tho not in final mix stage) version of THE LOT for the very first time. I am insuring my BRANE in case it gets BLOWN.
Meanwhile, in distant DERBY Mr V Vorton was sending me the latest version of our forthcoming DUET, "Brokeback Workbench", which we're working on for the
Geekpop Festival
. Over the course of Saturday I recorded my vocals, also GUITAR and BASS parts and by the end of the day he had FINISHED it, MIXED it and sent it over to the organisers. I know collaborating with people ONLINE is old news but CRUMBS it didn't half feel modern!
And all the time THIS was going on I was writing up my BRAND NEW IDEA - one which, i am convinced, is DEFINITELY the one which will allow me to FINALLY buy that mansion. Every other time I have said this I wasn't really sure, but this time i DEFINITELY AM. I'll tell you about it when it's ready, don't worry!
It wasn't all WORK WORK WORK tho, myself and The Trees In My Woods went for a LOVELY and EXTENSIVE walking through nearby Epping Forest, during which I told her about ALL of the above, as well as a few ideas for the future ALSO, which took up the entire two hours of our strolling. What a lucky woman she is! Surely NOTHING could be more romantical on Valentine's Day than listening to ME bang on about Various Projects for two hours, right?
So that was the weekend ... it doesn't seem like it was all that quiet now!
posted 14/2/2011 by MJ Hibbett
(click here for permanent link)
(0) comments
It's Not Like ROCK
Last year Mr J Kell and i put quite a bit of work into writing a screenplay of
Dinosaur Planet
RE-SHAPING it into a 50 minute animated film, like Wallace & Gromit or The Snowman or that sort of thing. We spent AGES working on it and by the time it was finished we were really rather pleased with it - it was packed with ACTION, also GAGS and also also MIND BLOWING TWISTS. It was GOOD!
But then we got a bit stuck - what on earth are you meant to DO with such things? After a while i realised that, as I went to Poly with One Of The UK's Leading Voiceover Artistes (NB he wasn't at the time, but is now) maybe I could ask HIM, and goodness bless him he replied with the name of a PRODUCER to send it to. So I did.
FAST FORWARD to this Tuesday, when I got a Voicemail message from her asking me to give her a ring - THIS was the Possibly Exciting phone call I mentioned yesterday, and as i ALSO mentioned it turned out to be not AS exciting as it could have been i.e. she didn't say "We wish to make this into an international hollywood movie, start buying yachts NOW!" However, she was very nice indeed about it, even apologising for taking a while to get back to me, gave some pointers on the sort of thing they're looking forward, and said she'd be happy to see anything else we did in that direction.
So no, it wasn't an OFFER, but goodness me it was the nicest rejection for anything like this I've ever had. INDEED it's one of the very few ACTUAL rejections i've had - usually in The World Of ROCK you send things off to people and NEVER EVER hear anything again. EVER! We did once get a standard rejection letter from Rough Trade (i think) about a million years ago when we sent out some
VOON
cassettes but otherwise nothing.
And this led me on to thinking about the many many differences between my old hometown of ROCK and the strange new land of comedy/theatre/MEDIA into which we are making early foraging parties into. I love ROCK in all its forms - and the other week, when I played the PopArt gig, i was OVERJOYED to be BACK amongst My People, it was ACE - but I'm very much struck by how much more POLITE the comedy/theatre/MEDIA scene is, and also less HIERACHICAL than ROCK. Perhaps I have a wonky view, but there does seem to be less REGULATIONS about who can talk to WHOM than in bands, and also less willingness just to SNUB people as unimportant.
That's not to say that ROCK is NASTY or anything - in many ways it's a lot more RELAXED than comedy etc, and a lot less focused on career structures. Hmmm... perhaps it's all because there IS a much more easily visible and accessible STRUCTURE to Comedy Careers (do open mic, get try-out spots, get actual gigs, meet other comedians, do the fringe, do proper spots, get on the radio, get on telly) than bands (form band, do one gig to loads of friends, do three gigs to nobody, split up).
I don't know - i think this needs a bit more thought to get it straight in my head! But anyway, the point I wish to make is that I'm thoroughly enjoying my AWAY DAYS in this strange new world... and if anybody KNOWS someone who might like to make a FILM about DINOSAURS and ROBOTS, do let me know!
posted 11/2/2011 by MJ Hibbett
(click here for permanent link)
(0) comments
West End Finale
I met with Mr S Hewitt at The Old Coffee House in LONDON'S WEST END on Tuesday night for the West Finale of
Dinosaur Planet
, feeling a bit NERVOUS. I'd had an Interesting Phone Call earlier on which MIGHT HAVE (but in the end, didn't) lead to something very exciting INDEED, and so THAT was on my mind, and also my little brother was paused, ready to catch the emergence of his daughter, Audrey Rickard Hibbett, who was to arrive later on, so i was worried THERE too.
Hello Audrey, by the way, if you ever GOOGLE yourself in the future - this is your Uncle Mark, worrying about you before you were even born... and then going to the PUB!
Anyway, we'd booked The Old Coffee House because it's one of the few pubs with a bookable upstairs rooms that was DEFINITELY in London's Fashionable West End, but it turns out to be a LOVELY pub. It's like one of those lovely pubs you have in Normal Cities with regular customers, a proper landlord, a good atmosphere where people break out into random conversations and a general mood of relaxed pleasantry BUT IN CENTRAL LONDON! It's like finding a decent chip shop in Trafalgar Square, WEIRD and yet very very nice indeed.
People gradually arrived - not a HUGE throng, and sadly not enough to allow us to legitimately call it a West End Sellout Show (we'll have to wait until
Moon Horse
fills The Palladium for that, I guess) but MORE then DELIGHTFUL enough - and it felt like doing our first couple of Edinburgh shows, with me and Steve stood at the door constantly looking to see if anyone else was coming. Once we were sure everybody who was coming had come, we BEGAN!
The first ten minutes or so (and intermittently throughout) were a bit shaky, on my part at least, probably due to the NERVES, but it soon calmed down and worked pretty well. We were VIDEOING it (in case we ever need to REVISIT it, and NOT AT ALL so we can look out ourselves, not at all) so I hope to be able to demonstrate this online in the near future! Kerry was our Special Guest and was rather excellent, and by the time we'd finished I found myself excited ALL OVER AGAIN by the victory - it's going to be hard work to say goodbye when this is done in a week or so!
Once the show was over, I returned to the "stage" to make a presentation - as discussed MANY times over the past year, Steve has been working with me doing his APPRENTICESHIP, and I thought we ought to mark the END of this part of his education, THUS: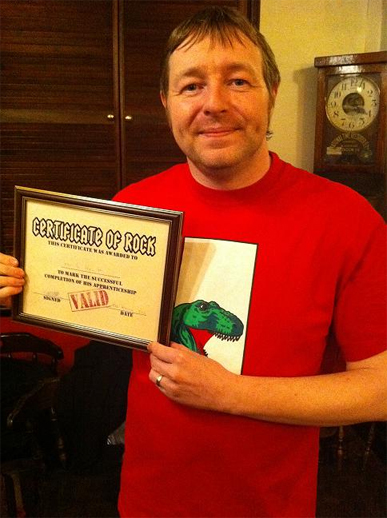 Congratulations to Steve - we look forward to your postgraduate work! Needless to say such an auspicious occasion needed some celebration... and that's why I couldn't write about it yesterday. Ow!
posted 10/2/2011 by MJ Hibbett
(click here for permanent link)
(1) comments
More FAWM
The report about last night's West End Finale for
Dinosaur Planet
will need to wait until tomorrow, as today I'm feeling a little... delicate. Which is probably all the report you need, really.
In the meantime, there's two MORE demoes up on my
FAWM page
,
A Difficult Age
, which I mentioned yesterday, and a brand new one called
Not Yet
, both of which came out rather nicely. Hope you like them!
posted 9/2/2011 by MJ Hibbett
(click here for permanent link)
(0) comments
FAWMing It Up Big Style
Last time I did
February Album Writing Month
I started off, as far as i remember, at HIGH SPEED and was WELL ahead of schedule right from the start. THIS time, however, I've had quite a bit on so have been a bit worried about slipping behind. I'm on TOUR next week and had rather hoped to be able to get quite far into the fourteen songs before that all started, and so the fact that I'd only got TWO songs done was giving me the FEAR a little.
HENCE yesterday I decided to take ACTION, and ended up writing TWO (2) songs! HOORAH! I've just written the NOTES for them, so rather than repeat myself (any more than I usually do), here is the FACT about the first one,
A Difficult Age
:
Yesterday morning (7th February 2011) i sat down at my desk at home, just before going to work, and thought "I'll have a go at something with C#m in it for February Album Writing Month", as I'd recently spoken of it an an EVENT as my favourite chord. The progression rolled out very easily, and it struck me as i did so that it sounded rather SMITHS-Y - had i at last discovered the secret of Sounding A Bit Like Johnny Marr?

ALAS it turns out the secret of Sounding A Bit Like Johnny Marr is to be REALLY GOOD AT PLAYING GUITAR, but it did make me think maybe I could have a go at some Morrissey-esque lyrics, and also slightly Moz-ish structure, not worrying too much about lots of different bits and singing it slightly differently in different places. I'm not sure I managed the second half, but i AM quite happy with the way it does a sort of ME-ified version OF Morrissey, being a bit WRY like him and DOMESTIC, but the domesticity of Peterborough in the early 1980s rather than Manchester in the 1950s.

It's all true about the cheese and salad cream sandwiches, by the way - i LOVE cheese and salad cream sandwiches, leave me alone in a building for five minutes and i will MAKE them!

That IS true - i LOVE them! Anyway, once I'd got the GERM of the song in my head I set off for work and then the SECOND song,
Touch Wood
emerged, as follows:
I was on my way to work when I saw a penny on the ground. I kept walking, but then thought "See a penny, pick it up, all day long you'll have good luck" and DID so.

Later, at work, I thought "I don't appear to be having especially good luck today" but then fell to considering that i MIGHT be, but didn't realise because it was busy fighting off BAD luck - like when you take a ZINC tablet and don't feel particularly ZINGY, but also don't actually catch a cold.

This very easily led to the first verse and also the second, then I got a bit STUCK trying to think of a THIRD proverb. i GOOGLED proverbs, rhymes, sayings and so forth, with AND without the first two included, until eventually I saw the FINAL verse and realised that it fit perfectly.

And that was pretty much it - I worked out a FAIRLY complicated (for me) but also FAMILIAR chord pattern, and we're done!

Well, we're DONE as far as writing it's concerned - i still need to finish RECORDING them both, but that's a job for another day. TOMORROW, to be precise, when I hope to ALSO do some work on the song I'm working on with
Vom Vorton
for
Geek Pop
and maybe write ANOTHER song.
February Album Writing Month - it's a lot of ACTION, but it's a LOT of FUN too!
posted 8/2/2011 by MJ Hibbett
(click here for permanent link)
(0) comments
A Weekend Of Pals
After so much GLITZ and GLAMOUR last week it was time for The Spangles On My Bangles and I to switch to another, actually yet more DELIGHTFUL form of outing this weekend as we went to see some PALS. On Friday night we headed to The Midlands (on the horrible, badly designed etc etc etc YOU KNOW THE DRILL BY NOW Virgin Train) to see our friends The Bates's, for a lovely couple of days that featured a trip to THE BEER MUSEUM.
To be honest I think I'd got myself a bit confused with BREWERY TRIPS and was picturing a RIGHT OLD PISS-UP, tho how I thought this was going to happen with four adults in a car with two small children i do not know. In fact we had a bit of an old wander round that most marvellous of amenities, A Museum Of One Things, where i ALMOST got my head around How Beer Is Made. I think it's SORT OF like making a cup of tea. Sort of. It was a GRATE museum, surprisingly let down by the thing you'd think would be its main strength: THE BAR. They had a LOT of beer on tap but very very very poor, MARDY, bar staff who took AGES to do ANYTHING. As we left there was a COACH LOAD of daytrippers who were queuing up to get their Free Samples. They're probably still there now.
My FAVOURITE bit, however, was The Edwardian Bar where they had a selection of old fashioned Bar Games which reminded me of having tea around my Nan and Grandad's house - they even had a wooden Solitaire Board with MARBLES on it, which i STILL have never managed to crack. IS Solitaire do-able? I am tempted to GOOGLE it, but fear that that may spoil the MAGIC.
On Sunday we split our forces and I headed off to Peterborough to a CHRISTENING. I haven't been to a christening for DECADES and so wasn't sure exactly how they worked, but luckily everyone else seemed to. It was in fact the christening of Mr P Myland AKA Mileage's FIRST BORN, and our mutual pal Mr M Guest was godfather. We've all known each other for 30 years so, to me, they look much the same as they did when messing around in school assembly, so it was STRANGE to see us all being Proper Respectable in CHURCH. Also quite funny!
One odd thing during the service tho - you know how some vicars try and be a bit CHUMMY and EXPLAIN things as they go? It's all very nice, that is, but always seems to throw up something ODD. This time the vicar said "Now, water - you can't get any more everyday and normal than water can you?" Good point vicar, i thought. "But when you're thirsty, only water will do, won't it?" He continued. Well, i thought, not really - there are various other liquids but, really, i suppose they do all CONTAIN or come from water, even fruit juice. All right, yes, I'll give you that one. Carry on. "And when you're asleep", he said. EH? where is this going, we wondered. "Only water will do the - throw water over somebody, and they'll definitely wake up. Only water will do."
It was all I could do to STOP myself raising a hand and informing him of the bright modern world of ALARM CLOCKS. The laundry bill at The Vicarage must be MASSIVE!
Afterwards we headed back to Chez Myland, which was ACE as we all wondered about chatting - my parents were also in attendance, so whilst me and Chris and Mileage discussed PEAT (we live in The Fens, it is a popular topic) my Mum bumped into someone she'd worked with BEFORE I WAS BORN. Later on myself, Mileage and Guesty ended up in THE UTILITY ROOM chatting about Items Various. "We're in The Utility Room at a Party" pointed out Mr Guest. HOW TIMES CHANGE/STAY THE SAME!
I also told Mileage's Dad about his starring role at the end of
The Gay Train
. "I don't remember saying that", he said. "I don't remember him saying it either", said Mileage. It's a good job I'm here TO remember it!
It was pretty much the best house party I've been to in YEARS (NB also probably the only one) and a lovely way to end an actually bloody brilliant weekend. PALS! I heartily recommend them!
posted 7/2/2011 by MJ Hibbett
(click here for permanent link)
(1) comments
The Waterboys - An Appointment With Mr Yeats
The giddy whirligig of life in That London continued in its GLAMOROUS WAY last night as The Appointments On My Calendar and I went off to The Barbican last night to see The Waterboys.
The Skin On My Bodhran is a BIG fan of Mr M Scott and The Waterboys so when she saw he'd be doing his new songs, where he'd put the poems of WB Yeats to music, in That London she SNAPPED UP tickets. The Barbican is NOT the nicest of places - if someone wanted to do a MILD yet ACCURATE satire of 60's architecture then they would probably just point at The Barbican and say "JOB DONE" for LO! it is grey and oppressive and INCREDIBLY EASY to get lost in. They've gone some way to solving the latter problem by putting signs EVERYWHERE, but there must still be people from the 1970's still struggling round its lesser known HighWalks, desperate to find a way out, surviving on Monster Munch alone.
Once inside the actual HALL, however, it was a different story, as the seating was LOVELY. You know that thing popular about 10 years ago where some cinemas had Luxury Seating? It was like THAT - nice and big and PLUMP, with EXCELLENT viewlines, I was most impressed!
The band came on and I was LESS impressed for the first few songs as they leapt STRAIGHT in and just PLAYED them without a word to any of us. It all felt disconnected to us, especially because the sound levels weren't quite right yet. As we discussed after, it's DAFT when bands do this - it isn't MYSTERIOUS or CHARISMATIC, it's just a bit annoying, and things picked up IMMENSELY when Mr Scott came to the front and said HELLO shortly afterwards. He explained what he was trying to do, what he was doing, and said thanks for coming to see basically a whole show of new material, and all of a sudden the atmosphere LIFTED and we were all ONSIDE and ready to go along with it. The next song was one of my FAVOURITES and for the next hour it all ROCKED along. There were ten musicians onstage, including a HORN SECTION, and it all sounded GRATE. I realised that one of the things that sets apart your Big Stadium Band from the rest of us is that in a really good Big Stadium Band EVERYONE is performing ALL THE TIME - even when wandering back on stage nearly all of the band were ROCKING OUT. The violinist made picking up his BOW into an ACT OF ROCK - it felt a bit CHEESY to start with, but then very quickly became ACE.
Quite a lot of the gig was like that actually - at some points I'd be a bit put off by ON-STAGE stuff, especially when Mike Scott was giving it the BIG STADIUM MOVES. "Who does he think he is?" I thought to myself, "He's acting like some big 80's Rock Star! Oh. Right. Fair enough." I'm used to seeing indie bands in small spaces, so seeing a Proper Stadium Band at SUCH close quarters took a bit of getting used to, but by heck once i did it WORKED. There was a small part of my REBELLING even at the end, when they did a long instrumental section gradually building up the sound with soloes for every player, but GOODNESS ME when he did a DANCING COMPETITION with The Keyboard player it would have to be a STONY HEART INDEED that did not break into a SILLY GRIN, and when Mike Scott did a PROPER MASSIVE GUITAR SOLO... crikey!
Best of all, after all THAT (this is during the SECOND ENCORE, by the way) he said "We're going to do one more song". "Oh yeah!" I thought, JOKING TO MYSELF after having watched 90 minutes of ALL WB Yeats material, "Is it going to be The Hit?" I was being INWARDLY SARCASTIC, but BLOW ME DOWN if they didn't launch into "The Whole Of The Moon", and make it AMAZING! The only weird thing was they had a HUGE circular screen above them, which had been used variously and brilliantly throughout to show accompanying images, but DIDN'T use it this time as a gigantic Whole Of The Moon.
It was the ONLY and TINY thing not completely RIGHT about the ending, which was IMMENSE, and when they showed WB Yeats himself on the screen as they left it was VERY moving. It cleary meant a LOT to Mr Scott to undertake such a thing, and you couldn't help but be impressed that he'd not only WRITTEN so much material but had gone to such lengths to present it properly. The fact that it ended up being a BLOODY GRATE night out was much appreciated too!
posted 4/2/2011 by MJ Hibbett
(click here for permanent link)
(1) comments
Busy Times In The Studio
It's all been rather HECTIC these past few days in my Home Studio, as LOADS of things have been going on.
I've already mentioned
Monster Island
, which I did for
The Pop For Kids Project
but SIMULTANEOUS with that I've been recording songs for
The Geek Pop Festival
, which is happening next month. Yesterday I finished off the THIRD and FINAL of my solo songs and got it sent off - there's still my DUET with Vom Vorton to get done, but I wanted to get the BULK finished off before i go off doing all these
GIGS
over the next few weeks and, indeed, get going on
February Album Writing Month
.
For LO! FAWM has BEGUN! I got to the start of this month with NO IDEA WHATSOEVER what I was going to do - I had a couple of vague ideas about HOW I might record it, but yesterday morning got BONKED by a Good Idea that didn't really fit in with ANY even VAGUELY preconcieved ideas, so just DID it. In fact i did TWO songs, which are now up there ready for listening to on
my FAWM page
, they're called
I'm Completely Up To Date
and
Wonderful Wednesday
and are rather light, fluffy and tasty, i think. Have a listen and see what you think - that's 2 down, 12 still to go!
posted 3/2/2011 by MJ Hibbett
(click here for permanent link)
(0) comments
A Day Of Coincidences
Little did I know, I was YEARNED pathetically at a TWEET yesterday that it would be the beginning of a STRANGE day of COINCIDENCE.
The tweet in question was twitted by Mr Robin Ince, asking Gosh Comics the following question: "I'm putting on a big comic inspired show & thought you'd know, who are your tip top musician customers that might be interested".
Hmm... who, i wonder, shops at Gosh regularly, is a musician, and would be interested in playing a show inspired by comics? WHO? Who might actually have, i don't know, maybe
written a song ABOUT going to Gosh and buying some comics
? WHO MIGHT THAT BE?!?
So i sat ALL MORNING, GLARING at Twitter, thinking "Come on Gosh! REPLY! With MY NAME!" All day I GLARED at twitter, until suddenly in the late afternoon TWITS started coming through saying I was being played on Steve Lamacq! ZOINKS! Annoyingly the BBC iPlayer thing hadn't been working all afternoon, so couldn't tune in and instead had to gradually GLEAN information. I was very surprised to find he was playing
The Fight For History
- had she DIED or something? Gradually it turned out that someone had CHOSEN the song - in fact, the same person who wrote
this rather lovely and thoughtful article about it
. AHA! That makes sense - she was doing the Music Profiler feature on the show, where a caller lists certain songs they like and someone tried to work out their personality based ONLY on the songs.
And who DOES the Music Profiler feature? Why, it was Robin Ince! SPOOOKY eh?
Rather brilliantly he seemed PLEASED to here my song (i listened again this morning - just to check, you understand) and recommended Mr G Osborne as someone ELSE the listener might like. I could not agree more!
It was all jolly exciting, but also a bit SPOOKY. What are the chances of Robin Ince LOOMING across my world like that TWICE in the same day? I headed off to The Betsy Trotwood to see John Otway, MUSING on this, only to see Tjinder from Cornershop AGANE, this time sat outside the pub. I managed NOT to fall over this time, but still, it was RUM!
NOT so RUM was what happened for the rest of the evening, as The Slides In My Powerpoint Presentation joined me to see Otway deliver The Otway Lecturer, all about his... well, his Exciting Life In ROCK, really. It was BRILLIANT - most of the stories we knew anyway, but he told them in such a lovely, funny, touching and INSPIRING way we just sat and LARFED and CHEERED and shared the memories of some of the EXPLOITS that we in the audience had also been a tiny part in. He was FANTASTIC - i hope he decided to go off and TOUR The Lecturer or something, EVERYONE should see it!
posted 2/2/2011 by MJ Hibbett
(click here for permanent link)
(1) comments
The Pop For Kids Project
On Friday I got an email that said:
I'm trying to enthuse my favourite bands and singers (in other words: you) to record one or more new pop songs with an audience in mind of children from, let's say, 0 to 10 years old. This could be anything from a quick home recording in your own style of a traditional favourite (for example 'Pop! goes the weasel', 'Mary had a little lamb', 'The ants go marching', et cetera) to professionally recorded newly written originals with child-appropriate lyrics (something that has not released elsewhere before). The Pop! For Kids Project will take the form of a website where all contributions will be posted as an individual blog entry with free MP3s and some info about the recording artist.
How could I resist? I was ESPECIALLY eager to do something kid-friendly after discovering, to my horror, that
Dinosaur Planet
ISN'T the Under-5s thrillathon that i thought it might be. Kids aren't that interested in the value of good academic research - who knew?
SO, i set down to think about what to write - i DIDN'T want to do anything EDUCATIONAL, that much i knew. It was my first instinct to DO SO, but then thought "Hang on, I wouldn't like it if all pop songs were trying to teach ME how to spell, or cross the road, or use cutlery or whatever, SCREW THAT!" and so went directly to the SECOND thing kids songs are all about i.e. MONSTERS. I was trying to think of something a bit like Puff The Magic Dragon, and ended up coming up with the lyrics to the song i DID write,
Monster Island
.
All right, i guess there IS a BIT of EDUCATION in there SLIGHTLY MAYBE PERHAPS but that wasn't on purpose, it just HAPPENED. Hey, i guess in a way we ARE all monsters, right? Or maybe the message is "The world would be a better place if we could all shoot lazer beams from our eyes"? I know it is something i have often thought myself. OFTEN.
Anyway, I sat to recording it and rather foolishly tried to make it sound like THE SMITHS. My reasoning was, again "I wouldn't like it if all pop songs were played to ME in an acoustic style, like a TEACHER was forcing me to attend her Folk Club or something, SCREW THAT!" and so spent a happy afternoon JANGLING AWAY. Unfortunately the results were a bit crap so, once again, I ended up recanting slightly and doing it all on an acoustic guitar, drum machine, ukelele and BASS.
And actually, it sounded PRETTY DARN GROOVY.
That's what i reckon anyway, you can judge for yourself by skipping over to the
Pop For Kids Project
where I am
the second entry
. Dennis, who's running it, has a whole HEAP of people lined up to do it, i shall certainly be listening out for whatever comes next, it's a GRATE idea!
posted 1/2/2011 by MJ Hibbett
(click here for permanent link)
(1) comments

An Artists Against Success Presentation