Blog
Gigs
Facts
Music
Shop
Links
Recording The Show
Last night I set off for Frosty Tottenham with ALL the props for
Total Hero Team
. I was VERY pleased to find it STILL all fitted in The Big Blue Bag, even after I'd bought a proper case for my UKELELE. Next year, touring will be PEASY!
I was off to Mr S Hewitt's house where we were due to RECORD the latest version of the show for LEARNING purposes. This was a SIGNIFICANTLY revised script from the one we did last week at the readthrough - one of the songs had been completely dropped, there was a new REPRISE of another, and TWO (2) entirely NEW songs! There was also new characters, new PLOT POINTS and a completely revised first third with everything in a different order. I was EXCITED to see how it would work.
It worked pretty darn well - as far as I can tell it makes more sense, there's definite Plot and Character Development (that course is paying off after all!) and MORE JOKES. I'm STILL a bit worried about whether we'll be ready for the string of LONDON PREVIEWS in January, but was CALMED somewhat by the fact that we'd booked this recording in early. Originally we were going to wait for another THREE WEEKS before doing this, so now we've got an nice chunk of extra learning time. Whether we USE it or not is, of course, another matter.
Here's those preview dates, by the way, if you fancy coming and watching us STRUGGLE with lines:
Monday 7 January - Etcetera Theatre, Camden (entry is five quid BUT we're giving a free album to everyone who comes!)

Sunday 20 January - The Lexington, Pentonville Road (free afternoon show, probably about 1.30ish)

Tuesday 29 January - The Green Dragon, Croydon (at Freedom Of Expression, also free!)

And then after THAT we head up to Leicester for the Comedy Festival. EEK!

Having finished our practice we then moved on to the SERIOUS BUSINESS of titting about with HATS. We're planning to commission a POSTER for this one and thought it might be a good idea to send the Hoped For ARTIST some illustrations of how the superheroes might look. The IDEA is that our pictures will be RUBBISH COSPLAY versions of the costumes, which they can then reverse-engineer to make into GLORIOUS ILLUSTRATIONS. We'll see how that goes!

It was an extremely productive evening all round, and made me feel a LOT happier about how this show is going to go. Let's hope this happiness lasts through the GRIND of learning the lines!

posted 30/11/2012 by MJ Hibbett
(click here for permanent link)
(0) comments


Business Matters
It's been back to the post office for me these past couple of days, as I've been taking in PARCELS for all the lovely people taking advantage of the Dinosaur Planet HALF PRICE SALE!

It feels like AGES since I last had big batches of CDs/t-shirts/CHRISTMAS CARDS to send off, and I was reminded how brilliant it is to think that soon people all over the WORLD would be opening parcels containing Dinosaur Planet GOODNESS. Nobody ever gets RICH through Mail Order (INDEED with postage, packaging, and the cost of making them, some of these packages are going out at a LOSS!!) but it's one of my favourite parts of the whole Independent ARTISTE business.

Another JOYFUL aspect of this sale is that it's CLEARING OUT quite a few boxes - at time of writing we have only ONE set of the gorgeous Dinosaur Planet Christmas Cards and we've totally sold out of ALL kids sizes, and small and medium sized adult t-shirts.

What I'm saying, basically, is please PANIC BUY IMMEDIATELY!

There's tons of albums left (and will be for the next CENTURY i expect) but that doesn't mean you shouldn't LEAP IN and buy one - they're only half price until Christmas and they're dead good, honest!

posted 27/11/2012 by MJ Hibbett
(click here for permanent link)
(0) comments


Dinosaur Planet: HALF PRICE SALE
Bargain hunters of the world unite, for from today until Christmas Dinosaur Planet is available for HALF PRICE - as indeed are T-SHIRTS and even Dinosaur Planet COMBO DEALS!!

What can have caused this KRAZY MADNESS? click here or simply READ ON for the press release explaining the whole thing!

---
Battle For The Spirit Of 'War Of The Worlds'
MJ Hibbett & The Validators re-release sci-fi concept album 'Dinosaur Planet'
at half price to fight back against new version of Jeff Wayne's 'War Of The Worlds'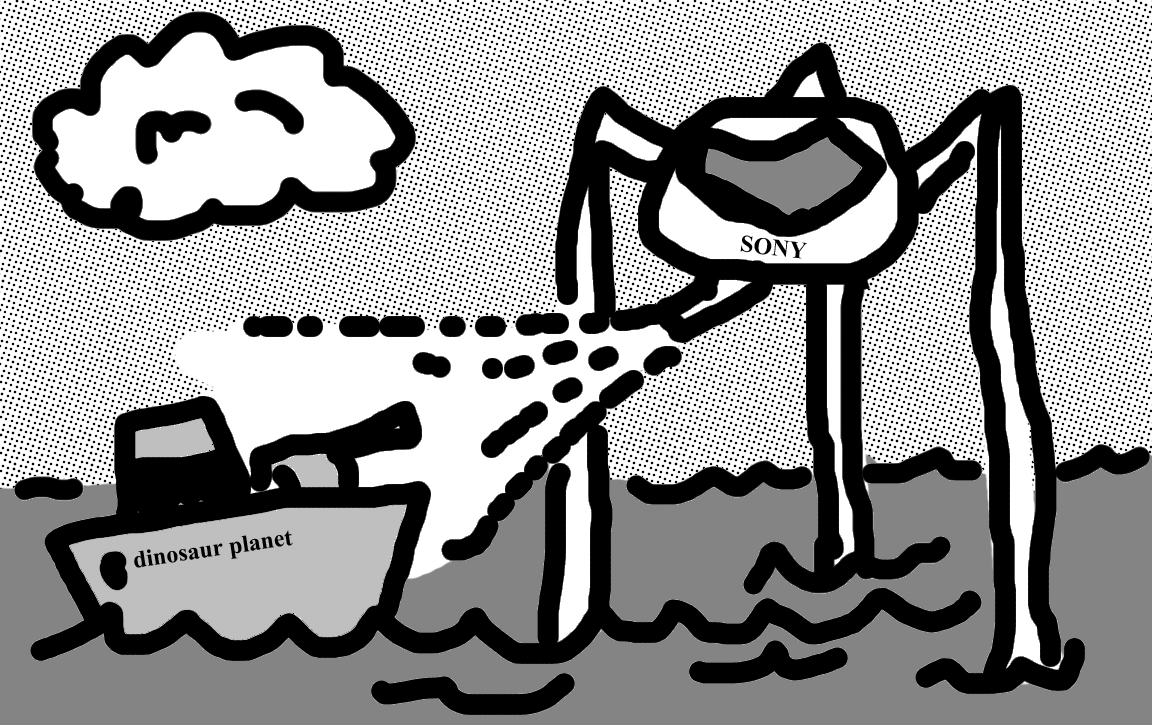 (artist's impression)



No one would have believed, in the early years of the twenty first century, that a concept album by MJ Hibbett & The Validators called 'Dinosaur Planet' would be hailed by some as the successor to Jeff Wayne's classic 'War Of The Worlds'.

No one could have dreamed that, across the gulf of the record industry, minds immeasurably wealthier than our own regarded this 'Dinosaur Planet' with envious eyes, and slowly and surely, they drew their plans against it.

On the twenty sixth of November a huge mass of luminous gas will erupt from Sony Records and speed towards Earth. It's called 'Jeff Wayne's Musical Version Of The War Of The Worlds - The New Generation', starring Gary Barlow, Jess Stone, and That Bloke Out Of Kaiser Chiefs.

If mankind succumbs to this album MJ Hibbett & The Validators have a plan to start a new life for science fiction rock operas somewhere that Sony will never find them - underground. Lead singer MJ Hibbett says "We've taken a look around us, at the world we've come to know. It doesn't seem to be much more than a crazy circus show."

But maybe from this madness something beautiful will grow. In order to combat the invasion 'Dinosaur Planet' is being re-released on the band's own website at half price "Can't you just see it?" says MJ. "The album starting all over again - a second chance. We'll even offer t-shirts for half price too! Nothing can stop men like us."

Any other survivors wishing to join the band's brave new world can do so by visiting http://www.dinosaurplanet.co.uk where half-price albums and t-shirts will be for sale from 26 November until Christmas - or until the entire board of Sony Records catch a cold and keel over, whichever comes first

posted 26/11/2012 by MJ Hibbett
(click here for permanent link)
(0) comments


The Readthrough
Mr S Hewitt and I gathered in a central London location last night for the first ever public showing of Total Hero Team. We had about 12 people coming who were going to listen to us and then, hopefully, tell us what they thought.

Steve and I went into the main PERFORMANCE ROOM shortly before our audience, in order to get the props out ... and also, MARVEL at them. Steve hadn't seen ANY of them really, so there was much JOY, especially at Fufu The Future Kitten: STAR!

Just after half past seven we sat down and DID IT. It seemed to go OK - some of the costumes (especially the BIG WIGS of Woman-Droid and Smart Alex) were a bit hard to work with, and I could FEEL some parts working better than others, and i DID spill Steve's pint at one point, but otherwise it worked out OK. We both needed a WEE after all that excitement, so I called an INTERVAL, after which I hoped people might be able to give us a few ideas.

I'd been a bit worried that everyone would sit quietly for five minutes, saying "Er... it was quite good?" and not much else. I WAS ENTIRELY WRONG. People got into GROUPS and started DEBATING it IMMEDIATELY, so by the time we were ready to start they were GAGGING to REMARK. This part of the evening went on for NINETY MINUTES as points were DEBATED, questions ASKED and ASPECTS were DISCUSSED - it was utterly brilliant!

Big things that came out of it all was the need to make the start clearer, to increase some of the EMOTIONAL LINKS between characters and the addition of various POINTERS to time periods. Actually, there were loads and loads of things people came up with - sometimes simple questions ("Is Cheedle Hume IN Lancashire?" Turns out is isn't!) and sometimes HUGE suggestions as to how to make things make sense.

It was all a bit EXHAUSTING but IMMENSELY enjoyable, especially as I got to check out Specific Issues e.g. whether everyone understood the TIME PARADOX bit, or liked certain GAGS. This morning I've typed it all out into a HUGE sheet of Things To Remedy, which I'll be toiling through over the coming week or two.

It's VERY exciting - and indeed WAS last night, to the extent that I ended up sitting in the pub until Quite Late BEING excited about it, with the lovely pals who had come along to help. It was GRATE!

posted 21/11/2012 by MJ Hibbett
(click here for permanent link)
(3) comments


It's In The Bag
Tonight is READTHROUGH night for Total Hero Team, so I came into work this morning with [very nearly] all the PROPS. In previous years carting the PROPS around has been a NIGHTMARE - I especially remember the first year, doing My Exciting Life In ROCK when I had to lug a bloody EASEL around with me everywhere, and of course the ROBOT HEADS from Dinosaur Planet were a RIGHT pain - but this year's batch all fit rather easily into a Large Blue Bag - INCLUDING the ukelele! I am EXTREMELY pleased about this!

I'm also a bit NERVOUS - I've been working on this show for MONTHS, through NINE versions, but in all that time only Mr S Hewitt has ever READ/HEARD it. Yes, The Lines In My Script, The Landlady and my NEIGHBOURS have heard bits of the songs, but only Steve has any idea what HAPPENS in it.

WHAT IF IT'S RUBBISH?!?

I mean, I'm _pretty_ sure it won't be - I'm happy with ALL the songs and there's some decent JOKES, i think - but what if I'm wrong? I am having TERRIFYING VISIONS of me and Steve GRINDING through the script to absolute SILENCE this evening. Again, I'm pretty sure that won't happen (if nothing else some of the WIGS are funny), but still. It's a bit weird to realise the whole thing is about to LEAP out into the world where people can SEE it.

These FEARS haven't stopped us getting GOING on further performances though. As you can see from the GIGS pages we've now got FIVE shows booked (including one in an Actual Swanky Theatre) and are in the process of applying for the Bath, Bristol and, of course, Edinburgh Fringe Festivals.

So i do HOPE, after all this effort, it's actually ALL RIGHT, but whatever happens I know one thing: it's going to be a LOT easier to carry around with us if all the props fit so nicely into a single bag!

posted 20/11/2012 by MJ Hibbett
(click here for permanent link)
(2) comments


Back To Brighton
It feels like AGES since i was last away from home for a gig (FACT POINT: it's about 3 months, since i last played in Sheffield) and, to be honest, I've quite liked the Being At Home. STILL, on Sunday I had a lovely evening in prospect with The Lovely Brothers and so I set off in good spirits, using my STUDENT RAILCARD (HA!) to get me inexpensively to Brighton, where I was soon sat in my ENORMOUS hotel room (thanks laterooms!) having my TEA. LIFE ON THE ROAD!

I strolled back into town to The Komedia, where the GIG was occurring. It's also a Proper Comedy Venue and I ended up following in a QUEUE of people who were going to the Proper Comedy NIGHT next door. It felt a bit ODD - i knew I wasn't going to have to play for a Comedy Audience (who, as I have OCCASIONALLY MENTIONED over the years, I never do very well with), but it still FRIT me up a bit.

Things become CALMER when I got into our room to discover The Lovely Brothers onstage soundchecking a GRATE new song. Aaah, The Lovely Brothers! EVERY time I go to see them I always seem to be surprised by just how ACE they are, it's like I FORGET a week after I see them!

I did my soundcheck and popped round the corner for an Quiet Pint and to read a BRECHT PLAY that I've got to do a presentation about at SCHOOL next week. Well, if you're going to go to Brighton you might as well sit and read BRECHT hadn't you? I'm sure the local council has a Brighton Stereotype Compliance Officer, and if so they're doing an EXCELLENT job - every time I go there EVERY Brighton Stereotype is displayed within minutes of leaving the station. "Oh look, someone in drag drinking expensive coffee while a moustachioed ukulele player swerves his unicycle to avoid a DRUGS FITE - thank you Compliance Officer!"

My duty done I came back to find Ben Lovely Brothers a bit WORRIED. The PROGRAMME had said the show was starting at 7.30pm, and quite a few people had turned up - would I mind going on a bit early, at half eight? I didn't mind at all, and so this is what I did:

Boom Shake The Room


I don't know why, but i ALWAYS find Brighton audiences REALLY HARD WORK. Don't get me wrong, I had a BRILLIANT time (I really did - I kept thinking "Oh i DO like doing gigs, I've missed this!") but I always feel like I've WORKED when I play Brighton. People are very happy to clap and react DELIGHTFULLY to decent gags, but you don't get any LEEWAY and Offhand Remarks are often rewarded with GLARES rather than Kindly Smiles.

It was GRATE fun though, and I especially enjoyed doing Quality Of Life Enhancement Device, which has migrated into the solo set having done surprisingly well in the Vlads set - it did the same here too! LESS successful was the joining in during "Boom Shake The Room", but that's all right - it's not the first time that that's happened, and it all worked out rather JOLLY in the end.

As indeed did the rest of the night, part of which was spent chatting to PALS, also CHUMS, and much of which was spent watching The Lovely Brothers, who were FANTASTIC! The two new songs played were INCREDIBLE, the stage banter was HILARIOUS, and the ACTION was ASTOUNDING - the show ended with them inadvertently DESTROYING most of the stage, with monitors going flying, microphone stands all over the room, and the stage itself falling apart like melting icebergs.

My FAVOURITE part was when Ben stormed into the audience, seeing how far he could get round while his extra long orange guitar lead rolled out behind him. He got right round the room and back to the stage, at which point the whole audience picked up the lead and gently fed it back to him, like a very polite bright orange mexican wave snaking across their heads. It was GORGEOUS!

A gorgeous night all round, in fact, and I wobbled gently back to the CAVERNOUS hotel room full of the joys of gigs. Next stop: BERLIN!

posted 19/11/2012 by MJ Hibbett
(click here for permanent link)
(1) comments


The First Big Meeting
On Tuesday night I met with Mr S Hewitt for our Official First Big Proper Meeting about Total Hero Team. We HAVE had a couple of practices already, but there were a number of ITEMS that needed SORTING, and as some of them applied to our forthcoming READTHROUGH next week it seemed a sensible time to have a Proper Discussion about it all.

Also: Steve was off to Birmingham that evening so it was a good excuse to go to The Euston Tap.

We've had a few of these meetings over the years, so were able to CRACK ON pretty efficiently. INDEED some of the work had been done prior to the meeting - we've been gently discussing costumes/HATS for a couple of months now, and there'd been some TAT SHOP expeditions for a few of the props already, but on Tuesday afternoon we not only AGREED which ones to get, but GOT them. I've already had a few deliveries, the HIGHLIGHT being FuFu The Future Kitten, who is going to be AMAZING!

The only prop we HAVEN'T bought yet, in fact, was the costume for Steve's lead character. We discussed it quite a bit, and went into the THEATRICALITY of it all (i.e. it has to be SOMETHING, as the RULE of these shows is that each character IS their proper. LECTURE NOTES ARE AVAILABLE) but couldn't think of anything - Steve is, even now, PONDERING the matter.

Everything else was pretty PEASY - we agreed to go with the same Base Costume as last time (NB short sleeved shirts) and to try out some ideas for the STAGE SET (oh yes!) at the warm-up gigs. We've got a couple of festivals we're going to try for (and a couple we're NOT), and came up with a long list of places to visit between February and August i.e. between Leicester and Edinburgh festivals. Edinburgh ESPECIALLY is going to be fun (AGANE) - we had a delightful BREAK from Stern Seriousness when we agreed to definitely try and get the same flat as last time, and ended up RHAPSODISING about the nearby pubs, ESPECIALLY The Blue Blazer. Aaaah, The Blue Blazer! Good times!

The biggest discussions were about REHEARSALS (diaries were checked, many dates were written) and ARTWORK - should we HAVE artwork this time, or should we stick with photographs? Many OPTIONS were discussed, and ACTION POINTS were raised. More FACT to come on this one when we have some!

So yes, it was a most EXCELLENT meeting which promises much DELIGHT to come in the future. As I always say, NOT going to Edinburgh this year worked out lovely, and NOT having a show to do right now has made life an AWFUL lot easier, but I'm VERY MUCH looking forward to getting back again in 2013. It's going to be GRATE!

posted 16/11/2012 by MJ Hibbett
(click here for permanent link)
(0) comments


Swankius Maximus
On Monday night I had one of the most LONDON experiences I have ever had since moving here.

The evening began, as usual for Mondays, with SCHOOL. We had a GRATE talk from Tim Crouch whose play "I, Malvolio" i went to see last week. He was PACKED with IDEAS and THORTS and when he spoke about "The Author", a play of his I'd a) read b) got a bit ANNOYED about, I was totally persuaded and ENLIGHTENED about it. It was ACE!

Meanwhile, I'd been invited to go to a BOOK LAUNCH that same evening, for Grand Thieves And Tomb Raiders, the EXCELLENT (NB i have just started reading it) book about the history of the British Computing industry. One of the chapters is called "We Bought It To Help With Your Homework", and I get a NAMECHECK in the Acknowledgements section - it's VERY exciting! The DO was near Charing Cross, which was going to take me about 45 minutes to get to on tube and bus, so I decided to get a TAXI. I got one just outside SCHOOL and, a couple of minutes in, realised what was happening.

"I've just left a talk with an AUTHOR to get a TAXI across TOWN to a BOOK LAUNCH" I thought. "LONDON!"

The do itself was lovely - there were computing-based CAKES, a load of delightful people (including Mr S Hewitt) and CHAT. During this CHAT a small group of us somehow managed to appear RIDICULOUSLY GEEKY at an event about COMPUTERS - first by discussing Dr Who and then - THEN! - by having an animated discussion about PDF and RTF coding languages. However, my favourite bit was when someone asked to have their photograph taken with ME - i do love going to retro-computing ESQUE events, it's like a day-trip into fame!

It was all a bit exhausting, especially as I'd also gone to GIVE BLOOD (I know, i know, i am a SAINT) earlier on and had been feeling WEAK, but had BRAVELY STRUGGLED ON. After ten years living here I'm glad that it's not always quite THIS London (e.g. i also saw BILL NIGHY at lunchtime: LONDON!) but it's very pleasant indeed to occasionally have days that totally ARE!

posted 15/11/2012 by MJ Hibbett
(click here for permanent link)
(0) comments


Second Practice
On Sunday afternoon Mr S Hewitt and I reconvened in Bally Studios for our SECOND practice for Total Hero Team.

The primary purpose of these two rehearsals was to get us READY for the readthrough next week - we're going to read out the show in front of a tiny audience, so we thought we ought to make sure we both knew the SONGS first, and also to be able to give it a decent GO. A secondary purpose, however, was to check the SCRIPT worked. Last week I'd come away a little BOTHERED - there were quite a few points that just didn't WORK, and my ever-present misgivings that it might NOT BE AMAZING (which I always have for every show) were slightly louder than normal.

I'd been over the script A LOT in the week between practices, and had made quite a few changes, though nothing HUGE: some tweaks to dialogue, a bit of ACCENTUATION of some ROMANTIC SUBPLOT(hem hem, wait and see), the reintroduction of SPLASH PAGES (ibid), a couple of complete CUTS and a whole new song. It was all BITS, but CRIKEY! it didn't half make a difference! Maybe it was also the fact that we knew it a bit more this time, but it felt MUCH better, like it was moving towards it's actual SHAPE.

After we'd run through the whole thing (now clocking in around 50 minutes, which is IDEAL) we sat and had a DISCUSSION, during which a few more change ideas arose. Steve suggested a RADICAL ALTERATION to one song SO RADICAL that I think I may have to politely DENY it (changing the ending to one of my FAVOURITE songs - not just from the show, but what i have EVER writ!) but my FAVOURITE part was when we discussed the aforementioned ROMANTIC SUBPLOT. As we went through I'd written "SUBTEXT!" next to a particular line. Just as we got to that bit Steve said "AHA! Yes, for this line I think we need to look at the SUBTEXT!" HA! We are SO theatrical DARLING!

So yes, it was two hours EXCELLENTLY spent and I left feeling MUCH more confident about the future of the show. It's nice to think that the thing we're going to be spending the next YEAR on might actually be all right!

posted 13/11/2012 by MJ Hibbett
(click here for permanent link)
(1) comments


Party Like It's 1986
Myself and The Notes In My Chord had a right proper Eighties Weekend this weekend - but the GOOD bits of the eighties, you know, those bits that never seem to get into documentaries.

We started off in a Proper Pub like I remember from my earliest drinking days in that decade. It was The Stag's Head in Fitzrovia, an ELUSIVE pub which it is almost impossible to go to on purpose, only by ACCIDENT whilst looking for somewhere else. We had a pub to aim for but couldn't find it, and then The Stag's Head LOOMED out of the darkness, filled as usual with nice beer, friendly barstaff, a Proper Landlord, and a bunch of REGULARS having Actual Chats And LARFS. It was lovely!

Then we headed up to the road to 229, just in time to get a HUG from the star of that night's show, Mr Phil Wilson. For LO! It was indeed Original Heroes Of Actual Indie The June Brides who we had gone to see, and BY GOLLY they were amazing. I never saw them Back In The Day but have seen them (in both Official June Brides and earlier Phil Wilson Big Band incarnations) MANY times in recent years, and they just seem to get better and better, especially since re-using their proper name. It was a BIG sound, a glorious confident RACKET of tunes and joy, and the WHOLE audience was a) DANCING b) SINGING ALONG right from the very start.

It was bloody fantastic - as ever, it feels a bit odd seeing our pal Phil being AN ROCK STAR but he does it so WELL that we soon forgot and were DANCING, it was ACE! Afterwards we BARGED into the dressing room for a second hug, and pledged to see them all again in a few weeks in BERLIN. I can't wait!

And then on Saturday we had a different kind of eighties nostalgia, when we went to "News From Nowhere", our local CLUB which organises monthly talks by Notable Types. You remember all those campaigners and activists from the eighties, who were always organising things and marching and STANDING UP for THE GOOD SIDE? They all seem to be organising monthly talks by Notable Types now, as they were all there! It was lovely - it always feel like we're part of something GOOD just by being there, and the talk itself was INSPIRING. A local teacher was talking about some of the Political/Historical Activities he's got involved with over the years with his classes - it was all very moving, but the best bit was when this year's kids got up and were a) entirely normal b) ENGAGED c) GRATE! I'd sort of thought they might be the Studious Types who always do this sort of thing (i.e. like I was) but they were a total MIX of kids, all CHATTING and TEXTING but also POLITE and happy to DISCUSS stuff and CONFIDENT enough to give their opinions AND listen to other people.

It was AMAZING, also HEARTENING - and the evening was topped off with us winning THE RAFFLE! HA! That's one thing that NEVER happened in the eighties!

posted 12/11/2012 by MJ Hibbett
(click here for permanent link)
(2) comments


Studio Absence
Sorry for the drop in frequency of BLOGS this week, life has been EVER SO busy with all kinds of various STUFF. Some of these i am Not Talking About On The Internet (but do PLEASE ask if you see me in a pub, it would be nice to VENT!) and some of them are just WORK STUFF, which has suddenly LEAPT UP like a frozen toad, thawing after a long winter, to... er... make me stay late-ish doing TOAD ADMIN.

Also, of course: SCHOOL WORK has been going on, and being a LOT of fun. We had a class cancelled on Monday but instead of Just Not Going a bunch of us had PUB CLUB, where we did our usual thing in class of reading and commenting on people's scripts, but did it in the PUB instead. It's a lot easier to a) GIVE b) TAKE constructive criticism when you've got a BEER on the go, it was ACE!

But aside from all that The Work Of ROCK rumbles on, and so on Tuesday night The Validators returned to Snug Studio to finish off recording our Christmas song, "The Flashing Santa". Strings and multiple--Emmas were added, along with my bass and vocal parts (recorded at home) and the extra special GUEST VOCAL supplied by Mr Colin Smitten (recorded in THE USA!). Amazingly this keeps us on track to release it ready for CHRISTMAS!

While we wait for the final mix to be mixed I'm also gearing up for the VIDEO, which will hopefully feature some rather marvellous photographs by Mr Will Stone. It's all going to be coming out about a third of the way through ADVENT, being added (AS IS TRADITION) to the Christmas Selection Box. If all goes to plan we'll also be adding a Rather Special version of a Christmas Carol too, tho we haven't even STARTED that one yet.

And on top of all that: BICKERING has officially begun for the setlist for our trip to GERMANY next month! It is, in fact, ALL GO!

posted 8/11/2012 by MJ Hibbett
(click here for permanent link)
(0) comments


Total Hero Team Begins
I set off for distant TOTTENHAM on Sunday afternoon, there to commence rehearsals for next year's show, Total Hero Team.

We were booked in to practice at some new (to us) rehearsal rooms, Bally Studios. I'd found out about them a while ago when I did a gig organised by one of the people who run it, but to be honest had mostly been persuaded to BOOK it by this incredibly exhaustive list of directions. Anybody KEEN enough to go to THAT much effort is bound to be pretty good, right?

I followed these directions to the letter, bumping in to Mr S Hewitt on the way, and we arrived exactly as directed... to find the door to the office shut. I rang the phone number on the door, but just as I was speaking to the nice chap on the other end his co-owner, Francesca, arrived. We were ten minutes early, she'd arrived five minutes early. We were all EFFICIENT!

Things got even better when we went round to our room - outside their were BEATLES posters, inside was a marvellous DREAM of a rehearsal room. It was CLEAN! It didn't STINK! It was full of NEW GEAR! There were photographs of MOTOWN LEGENDS on the wall, and FAIRY LIGHTS! There was even a comfy chair and CLEAN RUG on the floor. Just as we were MARVELLING at how NICE it was, we were offered a cup of TEA!!!!!!

If you've never been in a rehearsal room before you may be thinking "What is the fuss about? Isn't this normal for professional rehearsal studios?" NO. NO IT VERY MUCH ISN'T.

Once we'd calmed down we got going, first trying out the songs on their own, and then going for a FULL RUN THROUGH. As ever on these occasions I found my feelings MIXED. Some of it worked really really well and I got EXCITED - there's some CRACKING songs in this one, also some GAGS, and the way it comes together at the end - OH! It's GOOD! However, there were quite a few bits which I thought could do with tightening up or just CUTTING (I finally decided that the whole "bucket speech" section feat. Captain Cashbucket and Princess PintPot has to go, despite being one of my FAVOURITE parts) and Steve requested a re-jig on a couple of bits which, it turns out, DID need a re-jig. I also found myself PANICKING: "Oh no!" I would panic, "This is all a bit hesitant, we're not singing it right and/or getting the full potential from the GAGS!" As usual I would have to remind myself that this WAS the first time we'd ever done this particular script together and so, just maybe, we might not be QUITE as adept at it as we were at the end of year long runs of the other shows!

Despite my general PANIC, however, it did all seem to work pretty well. We're having another practice next week before we have the first READTHROUGH, after which there'll be MORE re-writes and, thinking back to previous times at this point, that usually generates a LOT of excellent changes. I think, INTELLECTUALLY at least, it's all going to be FINE, but EMOTIONALLY I find it all a bit worrying. I'll be very relieved when it's finalised, LEARNT, and we're on to show 20 or something!

And so we BEGIN, with high hopes and PANIC - IT WAS EVER THUS!

posted 5/11/2012 by MJ Hibbett
(click here for permanent link)
(0) comments


Martha
After all the THEATRICALS of recent time I was very excited on Saturday to find myself heading for a gig - AFTER I'd had me tea!! I felt like some kind of crazy youngster from the Britpop years, heading for a gig AFTER having my tea AT HOME - it was like living in Leicester all over again!

For LO! I was heading to the Betsy Trotwood for a GIG... although, mostly i was going to see Mr R Kirkham, who was down for the evening - Ray rang me last week when he was ALSO down London way. I'd not been able to go and see him as I was in Croydon, but did think "I haven't seen Ray for AGES... and i AM free next week! HOOPLA!"

I arrived to find the downstairs room, as ever, RAMMED. After my recent experiences of SEATS in THEATRES it all felt a bit Inconvenient, Sweaty and Unpleasant. "This is a silly place to put gigs on, it's far too small" i HARRUMPHED to myself as i went back up to the bar.

Clearly a BEER was needed, and it seemed to work is magic as I had a much nicer time when I went back down again for Hummousexual - I remembered this time that if you don't just STAND IN THE DOOR like a twit and go INSIDE the room then there's usually plenty of space, and I thoroughly enjoyed myself. They started off a bit nervous and stumbling through the songs, like what bands USED to be like, but by the end they were ROCKING OUT. It was good!

RAY arrived halfway through, so when next i went to the bar I thought "I'll get Ray a drink. Hang on though - he is very GOOD about drinking Vegan Beers, what IS there here?" I knew STRONGBOW worked, but couldn't see it. PANIC! Amazingly tho, the girl next to me said to the barmanm at the peak of my panic, "Can I have a Vegan Peroni please?" Apparently Peroni is Vegan! I never knew that!!

Then it was time for Martha, who were UTTERLY BRILLIANT. I'd seen them before supporting Allo Darlin' and thought they were all right, but this time they were STUNNING, like a cross between Kenickie and The Undertones. Yes. THAT GOOD! There were tunes, REMARKS, choruses, people punching the air, a room full of DANCING, and me at the back thinking "Wow! ANOTHER amazing Objectively Good band from the Indiepop scene! How is this all happening?!?"

BRIEF EXPLANATION: by "Objectively Good" i mean a band like the aforesaid Allo Darlin' or Standard Fare, who you can plonk anyone in favour of and say "LOOK! No explanation necessary: this lot are ACE!" I compare this to indiepop bands of the past, who i have LOVED but would, I think, need a bit of introduction first e.g. The Deirdres were one of my favourite bands EVER but I could always understand why some people Didn't Really Get It. See also Brian & The Teenagers, The Frightened Prisoners Of The Kraken, most of the bands at Indietracks etc etc etc.

Nowadays though there seem to be all these bands who are ABLE and EPT - I don't always LIKE it (there's some of the current crop who don't seem like "ours" at all, some of whom even sing IN AMERICAN ACCENTS) but I'm constantly surprised there are so many of them. Look at the MARVELLOUS This Many Boyfriends, for instance - I've been listening to their album pretty much non-stop this week, and I'm starting to think that maybe they have been REHEARSING and PRACTING GUITARS when people of MY generation would have instead been DRINKING BEER and swearing at each other.

I do slightly hanker for the old days of CACK-HANDED GUITARS and FALLING OVER, not least because they were areas of expertise in which I could compete, but it is nice to see bands ROCK OUT nowadays. At one point the band Martha actually BROKE DOWN the song and then - GET THIS - built it back up with a PROPER GUITAR SOLO! In the nicest possible way, Airport Gurl could never have managed that IN A MILLION YEARS!

I then ended up talking to some young people about Young People's Issues and thinking "Crikey, being a Young Person doesn't half sound stressful!" and thus ended up wandering off into the night happy to be in LATE YOUTH (quiet at the back!) and yet still lucky enough to be able to enjoy a whole new generation of DEAD GOOD BANDS. Gigs! They're awfully good fun!

posted 1/11/2012 by MJ Hibbett
(click here for permanent link)
(0) comments




An Artists Against Success Presentation