Blog
Gigs
Facts
Music
Shop
Links
A Little Bit Of Help
I've just this minute UNLEASHED our brand new video, 'A Little Bit', on the world. Here it is!
LOVELY, isn't it? To explain how it came to be made, here's the press release:
A Little Bit Of Help

When MJ Hibbett & The Validators needed a video for their new free download single 'A Little Bit' (released today) they asked their fans to give them a little bit of help.

The song is about people coming together to do little bits of research which, when added together, make huge changes to the way we live. The band decided to take this philosophy on board for the video, and sent out a call for help to their mailing list. People from all over the world took a line each of the song and interpreted it however they liked.

'Everyone really went to town with costumes and ideas' says lead singer MJ Hibbett. 'We could never have come up with so much variety or imagination if we'd done the video ourselves, and it just goes to show how much can be achieved when lots of people all contribute a little bit.'

The single is taken from MJ Hibbett & The Validators' new album 'Dinosaur Planet', in which an invasion of Earth by Space Dinosaurs is thwarted by good, evidence-based, academic research. It's a science fiction rock opera concept album, which has been called 'an indie War Of The Worlds' by CMU Daily, 'Jeff Wayne's new competition' by SFX and 'the greatest story (about space-faring dinosaurs) ever told (in a rock opera)' by Comics Alliance. 'You have to admire their nerve', said David Hepworth in Word Magazine.

Both the free single download and video can be found at http://www.mjhibbett.co.uk/alittlebit.
The free download mentioned is right HERE:
A Little Bit by MJ Hibbett & The Validators
Hope you like it and, as ever, any tweets, mentions or reviews would be MOST appreciated!
posted 28/2/2012 by MJ Hibbett
(click here for permanent link)
(0) comments
Quiz Masters
It was an early start for me on Sunday morning, as I was due at The Lexington for lunchtime, where tradition DICTATES that Mr S Hewitt and I were to co-host the Popfest Popquiz. It's usually dead easy to get to The Lexington from my house, but TfL had decided to close off all TRANES from Leytonstone, so it took TWICE as long to get there as usual. I didn't mind too much tho, it was a LOVELY day and I was listening to the new First Aid Kit album as I travelled, which is ACE.
I arrived at The Lexington to find Mr J Jervis and Rocker in residency, so excitedly told them all about the ADVENTURES IN SCI-FI that had been going on, and then expounded on my new THEORY: The Geekier The Website That Features Your Album, The More Sales Will Accrue. I was quite pleased with this theory, and quoted SALES FIGURES, only for Jerv to say "Or maybe, in a music magazine, it's got LOADS of album reviews, so nobody much notices, but on a sci-fi website an album will really stand out as it's probably the only one."
Well, yes, that would also explain it.
Mr S Hewitt soon arrived and we gathered ourselves to deal out the QUIZ which we had spent a LOT of time working on - last year I'd felt that my rounds had not been as good as years before, so we put EFFORT into it, and I must say I think it rather paid off. We kicked off with a General Indie before Steve's traditional Proper Pop round and ended the first half with a Peel Sessions round, where I read out a YEAR and some song names, and asked people to guess the band that recorded them in session.
Over the interval we asked people to do the Pictures round - Jerv had suggested getting photographs of members of popfest bands as CHILDREN, and we read out a list of all the BANDS featured so people could match them up. It was, I think, RATHER GOOD, tho even BETTER was to come. I did my RHYMES round, which featured POEMS giving clues to different indie bands, and we finished with Steve's TRIUMPHANT Intros Round, which was a selection of songs ALL of which began with the "Be My Baby" drum beat. He's been GIGGLING about it all week, and it worked AMAZINGLY, especially at the end when he did them all in quick succession. It sounded like a MEGA MIX!
I've put all the questions up on this page of the
Anorak forum
, if you'd like to have a go. Answers later in the week!
It all seemed to go down pretty well, and we had a HUGE pile of Goodie Bags to give away at the weekend, filled with those "special" items that all record companies seem to have plenty of to give away... I managed to clear a goodly pile of old CDs out, and Trev Oddbox and Sean Fortuna Pop! gave even more, it was ACE!
The rest of the day was a flood of BANDS and PALS and general goodtimes. My highlights were THREEFOLD:
Firstly, we went to Indian Veg for lunch. It was BRILL, as ever. Secondly I got to see Haiku Salut for the first time and was MOST impressed - I'd been a bit worried that the lack of vocals would make it BORING, but it was INTERESTING throughout and also FUN. There was still a healthy slice of GIG EXCITEMENT and JOY that used to be such a big part of The Deirdres, and the tunes were GRATE!
And the third and final highlight was getting to see The Just Joans again, who were AMAZING. I always think of them as being about TWELVE (I first saw them a LONG time ago) and a bit ramshackle, but GOODNESS ME they were ACTUALLY FUNKY last night - huge tunes, brilliant playing AND singing, and yet still retaining CHARM and ENJOYMENT in the between song chat. I really was AMAZED by just how good it was, one of the best gigs I've been too for YEARS. I thus RUSHED round to Jerv afterwards to try and BUY and album, only to find they didn't have any to sell. CURSES!
And so RENAISSANCE WEEK ended and I wobbled out and hopped into a TAXI home, full of the joys of INDIEPOP. I'd had an EXCELLENT time on BOTH my nights at London Popfest - goodness knows how those who went all FOUR nights were feeling the next day tho, I was KNACKERED!
posted 28/2/2012 by MJ Hibbett
(click here for permanent link)
(0) comments
Adventures In Sci-Fi
Ages ago, when I FINALLY got the finished copies of
Dinosaur Planet
back from the manufacturers, I sent out a batch of copies in a Karma Offsetting Exercies i.e. I sent some to people I don't really know but LIKE and/or ADMIRE to make up for the huge mound of copies I was having to send out to JOURNALISTS who probably would (and, mostly, DID) ignore it completely.
One of these was the mighty Mr Chris Sims, whose Invincible Superblog I have been reading for AGES and whose current work in
Comics Alliance
i PARTICULARLy enjoy. He writes about comics, and likes the same sort of things I tend to go for i.e. the EXCITINGLY AWESOME, the GRATE, and the PROPER. I thought he might enjoy
Dinosaur Planet
for these same reasons, and by GOLLY it turns out I was right, as at the end of last week
a mighty RAVE of a review
appeared on their website, calling it "the greatest story (about space-faring dinosaurs) ever told (in a rock opera)". HOORAH!
Later on in the day the excitement grew FURTHER when a quick bout of GOOGLING revealed that we had been listed in
TV Tropes
. For those who don't know, TV Tropes is an EXCELLENT website that lists all the TROPES (or themes, ideas, CLICHES) that appear in all manner of media. It's the sort of place you can start looking at one lunchtime and suddenly find your whole afternoon disappearing and you dig deeper into the FASCINATING, but also DELIGHTFULLY WRITTEN, analysis, so I was HONOURED to find us appearing there, especially when
the article
is so well researched, picking up all sorts of things that I've always hope people would pick up on. It made me VERY happy!
And then on SUNDAY i noticed a sudden upsurge in sales on our
bandcamp page
as well and views for our
Theme from Dinosaur Planet
video. MORE googling showed, to my enormous GLEE, that we had been featured on
io9.com
one of THE big Sci-fi webpages. Over the past couple of weeks I've been looking at them to see who, if anyone, might be interested in a copy of the album, so was DELIGHTED to find someone had picked it up of their own VOLITION.
Since then I've noticed it popping up in various other places, and I've even been asked to do an interview about the album for ANOTHER sci-fi website! It's all VERY exciting and feels like
Dinosaur Planet
is starting to get OUT to people in the wider world who might ENJOY it. This is, to my mind, a VERY good thing INDEED!!
posted 27/2/2012 by MJ Hibbett
(click here for permanent link)
(0) comments
Popfest
As I rode up the elevators at Kentish Town last night, heading for the first night of Popfest, I felt my stomach DROP. "Oh blimey", my INNER CORE was saying, "Are we really back at The Bull & Gate?"
For LO! I very much was - every time I've played there for the past DECADE I've thought, WISTFULLY, "This'll probably be the last time I play here" and then found myself DRAGGED BACK. I still associate it in my aforementioned inner core with Monday night "showcase" gigs, playing to an empty room before anybody has turned up, drinking horrendous beer and feeling AWFUL the next day, so you can imagine my surprise, then, to find that it has all been rather SPRUCED UP. It still looks pretty much the same, and you still have to go through the LOO to get to soundcheck, but there was an air of RENEWED VIGOUR about the place symbolised, for me at least, by the fact that they were now serving DOOM BAR! Someone said they thought it'd been taken over by Club Fandango and that it was back on the up again, but for me the main thing was DOOM BAR!
I found and hugged Mr J Jervis (always the first thing to do at ANY festival), dropped my gear off and then strolled up the road to The Southampton Arms, which was JUST as nice as everyone has been telling me it is, where I met Mr S Hewitt and indiepoppers SUNDRY for a delightful beer and chat. I got back to the Bull & Gate to find that the Doom Bar was NICE, did a soundcheck, and then sat around waiting for things to get going.
I sat in the pub for what felt like ages, thinking "where IS everybody? Is NOBODY going to come?" and felt a wave of FLASHBACKS to all those empty rooms in the past. Then I thought "Hang on, I'm in the pub bit. Everyone'll have gone in the venue entrance won't they?" and LO! I went into the main bit and there were LOADS of friendly faces! HOORAH!
So it was a rather BUSY room that saw me take to the stage and Officially Open The Popfest with the cardboard scissors I made yesterday, "cutting" a carefully DOCTORED ribbon... which took a little while to be persuaded to cut. It wasn't exactly the HUGE piece of THEATRE I'd hoped for, but I think it did the job, and I went on to do THIS:
Boom Shake The Room

It all went surprisingly well - I'm so USED to doing THEMED sets that I kept thinking "Hang on, this bears no relation to the song that went before" and being ALARMED that whole songs would go by without ASIDES, or STEVE joining in, or LARFS, so was surprised when each song got applauded at the end. Also ODD was doing "the hits" - the only time I've done non-themed gigs lately has been at Totally Acoustic, where I try to do new or UNUSUAL stuff as much as possible, so it felt like CHEATING to be doing
Do The Indie Kid
... although also GRATE to find that people knew the WORDS to a lot of them and were FULLY prepared to join in!
It was a WHOLE LOT OF FUN, and the evening carried on very much in that vein, with some CHAT, some BEER, and some EXCELLENT bands. It was, as I'm sure 1,000,000% of all attendees are duty bound to say at some point, Like A Mini-Indietracks, In A Pub, as the main joy was seeing so many friends again, all in one place, and as I strode out into the night, the rather SMASHING sounds of Cats On Fire still ringing in my mind, it felt rather like coming home!
posted 24/2/2012 by MJ Hibbett
(click here for permanent link)
(0) comments
Making And Doing
Halfway through Rennaisance Week saw no let up in the activity yesterday, as I spent much of my day TOILING away on the video for "A Little Bit". I'd got all of the clips in and so just needed to film a little bit of ME before joining it all together... and then re-doing it... and then re-re-doing it, and so on. It looks GORGEOUS, but every time I look at it I spot a tiny bit that needs changing, or a PERFORMANCE that is slightly out of sync with the music track. This last bit is especially prevalent as the final sequence features twenty five seperate clips all playing along at the same time, and every time i minutely alter ONE of them it seems to send TWO others out!
I've got a proper DAY OFF tomorrow for a) a LIE-IN after tonight's POPFEST excitement and b) a concerted effort to finish it off, so we should be ready WELL in time for the offical launch next Wednesday 29th. I can't WAIT to show it off, it really is a thing of beauty!
Talking of Popfest I also managed to squeeze in a PRACTICE - for the first time in AGES I'm doing a Normal Gig, which means i can do the songs I'd "normally" do at normal gigs... the only problem is remembering what that actually MEANS! I went through some
Dinosaur Planet
songs and a few of the "hits", so it should be fun.
I'm really looking forward to it, tho AM becoming a bit confused. I was PLANNING my set yesterday while involved in various wavelets of post-Bright Club messages of congratulation and thanks between various people, and ALSO a few more from The Event, which suddenly feels like a LONG time ago. And on top of all that, people have started to get geared up for the Leicester Popfest, which is happening NEXT month!!
It was all rather a lot of my poor old BRANE to cope with, but luckily I had a couple of DELIGHTFUL tasks to take my mind off it - compiling photographs for the PICTURE ROUND or the Pop Quiz on Sunday (starts about 1pm in The Lexington, it's going to be ACE!) and making myself a special PROP for the start of my set tonight. There was tin foil, pritt-stick, cardboard cut-outs and ALL SORTS going on and the results are rather WONDERFUL - I'm on at 7.45pm, so get there early if you want to see what I'm on about. It will almost definitely probably be worth your while!
posted 23/2/2012 by MJ Hibbett
(click here for permanent link)
(0) comments
Bright Club
I had one of the most terrifying lunchtimes of my LIFE yesterday, when I went to the Rehearsal for Bright Club. Four of us - organiser Dr Steve Cross and three speakers - gathered in a small room at UCL to run through our talks. I've played to fewer people and occasionally MORE people, but rarely have I been so FRIGHTENED doing a BIT before - I was even scared AFTERWARDS when I went back to work, which NEVER usually happens!
It had all gone fine though - BETTER than fine actually, as George and Cat, the other two attendees had been ACE. I thought I'd be OK just because I was doing a bit I'd done before but expected everyone else to be all nerves and bits of paper and mumbling, but they were GRATE - structure! confidence! PROPER JOKES - the lot!
After work I strolled over to the Wilmington and met Mr & Mrs Hewitt, who were IMPRESSED by my DILIGENCE in alternating between BEER and Diet Coke. Normally I wouldn't bother, but having seen how good the others had been I didn't want to mess up. Also of course there was the INEVITABLE CONFRONTATION that was due to happen with Simon Price, who was also playing and with whom I had a bit of an INTERNET SPAT with a while ago.
I have to admit I had been WORRIED about this - i hate RUDENESS and CONFRONTATION and get heart palpitations at the mere IDEA of it - but as it was all was WELL. I went downstairs to find him going through his SET, which was overrunning. He looked so worried about it I wanted to HUG him which, I feel, would probably not have been the right sort of thing to do, and it's hard to be ANGRY or AFEARED about someone you've thought that of.
So, the evening kicked off and BLOW ME if it wasn't excellent from start to finish. Mr Tim Chipping kicked off and RIGHT AWAY was excellent - confident, ready to GO, it was amazing, and things carried on that way with EVERYONE being brilliant. Simon Price was, again, oddly loveable and VERY funny and if you'd just wandered in without knowing what was going on I very much doubt you'd've realised it WASN'T an actual comedy night. Cat and George, who I'd practiced with were GRATE again, and suddenly it was MY turn.
It went FINE - there were LARFS in most places I'd hoped and finishing with a song turned out to be a VERY good idea (it was the story about my BOOK deal, so I sang
I Did A Gig In New York
) as my PUNCHLINE a) didn't really work and b) then got waylaid by someone saying "Are you talking about Stuart Evers?" which I very much WAS.
Then after me Mr D Barnett came on and STOLE THE SHOW. He'd been emailing pretty much everyone beforehand with WORRIES and FEAR but STOMPED all over the stage and was HILARIOUS. I stood watching him feeling oddly PROUD of The World Of ROCK. Here we all were from different PARTS of it, with different very attitudes to how it should be done, yet we'd answered the challenge and made it a GRATE night out. "Well done, People Of Music," I thought, BEAMING around me at the throng.
Afterwards, I saw Steve Cross again and told him what a BEAUTIFUL thing it was that he was doing, taking people from other walks of life and giving them the opportunity to DO something as special as this. It's an amazing night, I'd highly recommend a visit if you have the chance.
The night ended with me talking to Mr Elis James, the compere, about the Gorky's back catalogue and the fact that we both sort of knew Sweet Baboo, which seemed fitting for an evening when everyone turned out to know nearly everyone else, one way or another, and I set off into the night PROUD of my chosen profession. Well done, ROCK, well done!
posted 22/2/2012 by MJ Hibbett
(click here for permanent link)
(0) comments
Preparations
After the excitement of The Event on Sunday, Monday was very much a day of sitting quietly, THINKING, and getting some PREP done, as Rennaissance Week continues APACE. I've spent much of the past 24 hours strolling the streets mumbling to myself, getting ready for my spot at Bright Club tonight when I'll be doing 8 minutes (APPROX) of STAND UP.
I'm quite SANGUINE about it, which may be rather foolish - I'm basically doing one of the stories from 'My Exciting Life In ROCK' cut down a little bit, which ought to be fine. The only POSSIBLE danger is that I'm not on until near the end, so FEAR and BEER may have got the better of my by then.
Meanwhile I'm simultaneously getting ready for OTHER events. As is TRADITIONAL Steve and I will be doing the London Popfest POPQUIZ on Sunday afternoon at The Lexington, and we have both been GIGGLING away on CLEVER rounds. I've got one involving ROUNDS, but Steve's Secret Clever Round is, I think, going to TOP it.
And all the while, in the background to this, I'm working on the VIDEO for our next free download single, "A Little Bit" which will be released on February 29th. Last night Mr FA Machine sent me the FINAL bit of video (well, apart from one more bit I need to do myself) and I've started to make the penultimate version. It looks BLOODY MARVELLOUS I must say, there's a huge variety of contributions from people all over the planet and put together it is a thing of WONDER. I will, of course, be plugging it in the Super Special LEAP YEAR edition of the newsletter next week, and I'm also going to send out the usual press releases to see if I can get any BLOGS to cover it. I do hope they do, it's looking LOVELY.
I've also got a GIG to do on Thursday for Popfest, a TOUR to book for April, and a whole lot of other Dinosaur Planet related FUTURE PUBLICITY SCHEMES to work on - the album newsfeed may have run DRY for now, but rest assured, there will be a HECKLOAD more to come!
posted 21/2/2012 by MJ Hibbett
(click here for permanent link)
(0) comments
The Event
With
Moon Horse
only just STABLED it seemed odd to be contemplating taking Mr Squish out on the road again, but that is exactly what happened on Sunday as part of what THE KIDS (i.e. me, and possibly Steve) will be calling RENNAISSANCE WEEK.
Rennaissance Week is the week of GIGS VARIOUS, for LO! on Tuesday I'm doing STAND-UP at Bright Club (
tickets still available
), on Thursday I'm doing an Actual Normal Gig at London Popfest (
tickets still available
), on Sunday me and Steve are doing the Popfest Popquiz (tickets not required) and it was all kicked off yesterday by the pair of us performing an abbreviated version of
Dinosaur Planet
as part of
The Event
.
If I get to next Monday and can still remember the words to
Hey Hey 16K
I'll think I've done very well indeed!
Ever the PROFESSIONALS Steve and I met round at his house on Saturday afternoon for an ACTUAL PRACTICE. We had SLIDES for this version of the show - partly because cutting the story down to 20 minutes meant there were some chunks of the narrative we didn't have time to explain any other way, partly because we thought it might be funny - so would have needed to practice those ANYWAY, even if we HAD done the show itself at any point over the past twelve months! The first run through was a bit shakey, but the second was MUCH better, and we felt ready to ROCK. Between the two we found time to rifle through the DRESSING UP BOX... er... I mean, utilise some of the serious theatrical props we have accrued, to film some bits for the "A Little Bit" video. Geoffrey Livingstone and Tiddy MAY be making a special guest appearance!
Come Sunday afternoon we arrived at The Albany for The Event itself, organised by Ms L Johnston. She'd put out GOODIE BAGS for everyone and we added download codes for
Dinosaur Planet
to each one, as well as free CD copies of
Forest Moon Of Enderby
. Leila said "That's so generous!" but HONESTY compelled me to point out that i have about 700 spare copies of them at home and had JUMPED FOR JOY when I realised I could get rid of a few!
The day itself began with Leila doing an OVERVIEW, then a talk about an old Nuclear Bunker that had been turned into a tourist attraction. It was FASCINATING, and also depressing and oddly NOSTALGIC at the same time. Several speakers spoke about the fact that the eighties WASN'T a decade of glamour and glitz, but rather a time when everybody was
convinced there would be a nuclear war
, and how STRANGE it is that people don't seem to want to mention it. I nodded vigorously as my stomach clenched with the old familiar DREAD... but also lightened with a weird NOSTALGIA for those days. Later on someone would show clips from old Protect And Survive videos, and when the bit came up about leaning DOORS against the wall to form a shelter I felt like I was watching a charming old clip about MAGPIE, whilst simultaneously fearing for my LIFE.
That was still to come, as after the first talk we were suddenly announced as on NEXT, so we LEAPT up and flew into action, me getting the guitar, Steve getting the SLIDES ready and TALKING. We then got going and i THINK it went pretty well. As ever springing this sort of thing on an unsuspecting crowd some people CLEARLY didn't think much to it (or were concentrating VERY hard), some people were clearly going "Oh my word! THIS IS AMAZING!" but most people were laughing along and seemed to be enjoying it, even when we went a bit wrong and/or forgot what was supposed to come next. I had a MASSIVE blank at one point - I could just about remember what happened next on the album, and was pretty sure I knew what to do for the stage show, but what on earth were we doing TODAY? It was all a bit confusing but we backed each other up and got through - INDEED, it demonstrated to me just how far we had come, the pair of us, doing this DOUBLE ACT thing, in that we could tell when the other was getting WONKY and just LEAP in.
Two things that TOTALLY worked though were 1) The Slides, if we ever do something like this again we'll DEFINITELY be using them and 2) The Ending, especially Mr Squish. It was good to share a stage with him again!
The rest of the day was FASCINATING. The highlights were the previously mentioned talk about Protect And Survive MONTHLY - the ACTUAL REAL MAGAZINE that was a family guide to the nuclear holocaust - a lecture on what to think about in order to SURVIVE (you need to make sure you're not too hot, too cold, too thirsty, too hungry, too ill or INJURED) and a description of a group called INFORM who keep tabs on cult/religious groups predicting the end of the world.
I came away from it all feeling slightly depressed (the end of society as we know it does get a bit much after a while!) but also INVIGORATED and EXCITED. It really was incredibly interesting, and all the way through I could hear the voice of my internal Crops In My Sustainable Field (you know what I mean - surely everyone in a Long Term Relationship carries a mini version of their LIFE PARTNER around in their HEAD with them, saying the things they WOULD say if they were there? Right?) talking to me, saying "Ooh, isn't it lovely to see people out and about thinking about things and setting up groups just with the intention of discovering Interesting Things?" I totally agreed with her, it was GRATE!
So GRATE indeed that when I got home I spent nearly an HOUR with the ACTUAL Tins Of Beans In My Emergency Food Stock and The Landlady telling them a [slightly garbled] version of EVERYTHING I'd just been told. "Too hot, too cold, too thirsty, too hungry, too ill or injured!" I repeated excitedly. It was the best end of the world EVER!
posted 20/2/2012 by MJ Hibbett
(click here for permanent link)
(2) comments
Hello Librarians!
This morning I got a MARVELLOUS email from Mr D Nicholls pointing out that
Dinosaur Planet
is featured in the current edition of CILIP Update, the official magazine of
the Chartered Institute of Library and Information Professionals
. Here's our page in full - click for bigger!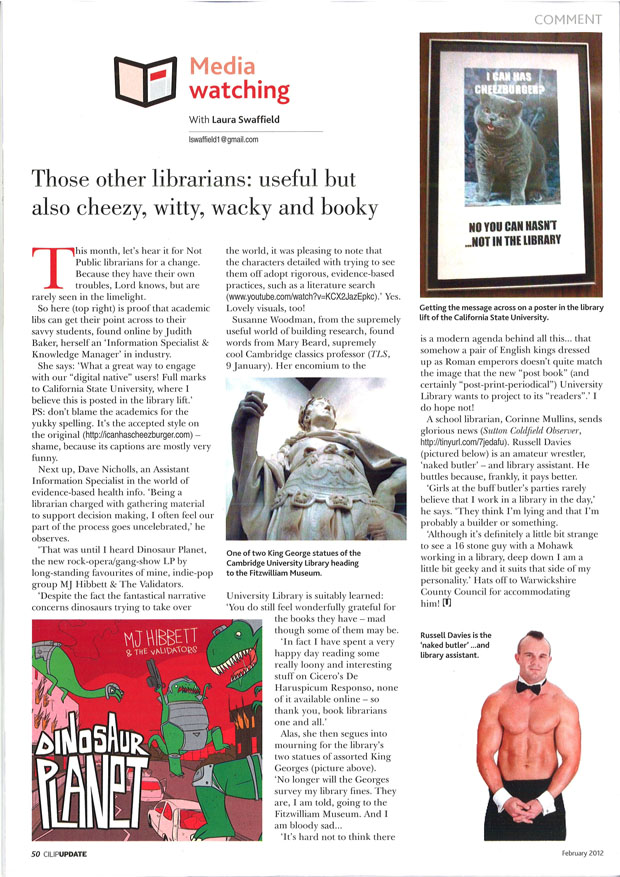 Part of yesterday morning's GLUMS was due to the (percieved by me) lack of HUGE MEDIA COVERAGE for the album, so this was a LOVELY surprise. It's an honour to be featured by such an AUGUST institution, and I hope the album's message of a world saved by proper academic research methods RESONATES with all their readers!
posted 17/2/2012 by MJ Hibbett
(click here for permanent link)
(1) comments
A Mind Opening Open Day
For the first time in AGES I had my traditional Wonderful Wednesday working from home actually ON Wednesday this week, as things at work have quietened down a bit after a HECTIC (ish) month of ACTION. It was DELIGHTFUL, except for the FACT that I STILL had to head off into town after the working day was over to attend an OPEN DAY.
As mentioned a little while ago, I'm thinking about maybe doing an MA in playwriting or similar, and during my initial researches I'd seen a REALLY good course on offer at City University, doing a mixture of Playwriting, Screenwriting and TELLY. It all sounded terribly exciting, but was only really offered part-time, and as the whole idea of doing an MA was to have a PROJECT for when I lost my job I regretfully put it to one side.
HOWEVER, things have changed around a bit now so i MIGHT NOT be out of work QUITE so soon, and so part-time study is back on the agenda. THUS I booked myself in for their open day, and so found myself going in the opposite direction to everyone else on the Central Line on Wednesday evening, wondering what I would find what I got there. I was distinctly UNIMPRESSED the LAST time I'd spent ages on a train going to a University Open Day, would this one be any different?
As soon as I arrived I knew that it would, for LO! when I arrived at the College Building I saw a simple A4 sheet sellotaped to the front door saying "OPEN DAY". ALREADY they were miles ahead of the last lot, and when I asked at reception where I should go they pointed behind me, where there were two students sat behind a large CLEARLY MARKED table, taking people's names.
My name was on the list and they directed me down a corridor where i was OVERJOYED to see, every six feet or so, a CLEAR SIGN with an ARROW on it pointing me in the right direction! It might seem like an overreaction to some, to place such importance on this sort of thing, but if I'm going to be paying thousands of pounds to an organisation, and trusting with a huge chunk of my FUTURE WELLBEING for a year or two, I'd rather do that with someone who can be DEMONSTRABLY BOTHERED to spend five minutes putting up signs rather than someone who... well, who doesn't even turn up!
I found the CLEARLY MARKED room where things were happening, within which was a large group of excited looking potential students. Around the walls were tables, each with an academic behind it with their name and course written in large letters on yet more sheets of A4 paper. Closest to me was a man reading a NOVEL who, I was pleased to discover, was in charge of "Creative Writing (Novels)" and next to him was the chap in charge of "Playwriting and that". The seat before him was free so I sat down and we had a CHAT.
Ten minutes later we were finished. I looked around for a moment and realised that that was ALL I'd come from, so headed off to get the tube home again, with my ENTIRE BRANE going "KERZANG!"
I was SO EXCITED - right from the start this course had looked good, and everything I'd hoped it might be was CONFIRMED. It's exactly the sort of thing I'm after - a chance to TRY other things and be MADE to write stuff, with added OPPORTUNITIES to get INTO doing That Sort Of Thing along the way. It also felt like the right kind of ATMOSPHERE - he seemed unfussed when I told him my TRANSCRIPT would be a "BROAD" musical comedy (NB Moon Horse) and said they were LOOKING for people who wanted to do Commercial, West End type of stuff, which is EXACTLY what i want to have a go at. The idea of doing CHALLENGING THEATRE, as proposed by that other place earlier in the month, makes me want to FLEE, but this seemed like a chance to have a go at INTERESTING, FUN stuff that PEOPLE ACTUALLY WANT TO SEE!
The only potential problem (well, apart from them reading my stuff and saying "NO", obviously) is that it would be two nights a week. That WOULD be quite a commitment, and it lead to some Serious Thoughts. When I got home I looked at a couple old diaries to see what I was doing in previous Septembers (i.e. when the course would start this year), and pretty much ALL of my going out was recording/mixing sessions and Dinosaur Planet/Moon Horse gigs, NEITHER of which I'm going to be doing this year.
It's certainly DO-ABLE - it'd probably mean doing LESS other gigs too but, to be honest, it's not like a huge number of people are exactly BEGGING me to do them at the moment anyway, and if I just end up doing the occasional Vlads gigs for a while then, well, I don't think the world will end.
These last thoughts led me to a small spot of GLOOM on the way to work yesterday morning. To distract myself I started to think about ANOTHER bit of writing I need to do - for another place I'm thinking of applying to I have to write a couple of short stories, something which I've not done for YEARS, but as the IDEA for one of them started to fill itself in I found myself walking quicker, GRINNING, and quite forgetting the SELF-PITY. I got all EXCITED about the prospect of MAKING STUFF UP again and found the MOPE was entirely gone.
I think this is a Krazy Plan that just might work!
posted 17/2/2012 by MJ Hibbett
(click here for permanent link)
(0) comments
Passing The Winning Post
I said farewell (for now) to my Usual Suite at the Ibis on Sunday, collected Steve from his room two doors down, and we set off for Nottingham for the FINAL (well, about from the inevitable Broadway run obviously) show for
Moon Horse
.
I must admit I'd been a bit worried about whether anyone would turn up, so was EXCITED to get a text message from Mr A Hale (Promoter) on the way there saying "There's 8 people here already and I don't know ANY of them!" When we arrived we found there were LOADS of people there, it looked like this was going to ROCK!
The afternoon kicked off with Hannibale Hamster AKA Mr Hale himself, featuring a RANGE of exciting instruments and delightful songs. Steve and I gravitated towards the back of the room and assumed our natural position on THE DOOR for this bit - it always seems The Right Thing To Do - before getting up and going down the front for INTERNET PHENOMENON Vom Vorton. He's got tens of THOUSANDS of hits now for
Stop The Match There's A Cat On The Pitch
, and we would later discuss What To Do When One Has An Interweb HIT. In the meantime I enjoyed the whole of his GRATE set - I've not seen him for AGES!
And then it was time for the final show which, to be honest, felt IN NO WAY AT ALL like a final show. I was waiting for my BRANE or BODY to go "This is the last time you'll ever perform this song" but at no point did it happen - that Broadway Run must be written in the STARS!
It was an EXCELLENT way to finish off, although I did worry at the beginning that some people might not be enjoying it. We had Super Fan Josh (age 4) down the front, who'd apparently got VERY excited about it, but appeared to be CRYING with his face HIDDEN. Ten minutes in I realised he was just SHY and was watching us via a MIRROR - phew! There were also some people I didn't know AT ALL and so, as usual, got worried in case we got another WALKOUT during the Thatcher bit, but that passed off fine. PHEW!
The show ended with LARFS and the fact that we'd featured our new QVC SECTION (i.e. telling people there was a CD to sell) we once more shifted some CDs and even a t-shirt. HOORAH!
The afternoon ended with a couple of pints and a BITE round the corner in what turned out to be a GORGEOUS former music hall - surely the perfect place for final Moon Horse drinks - and then Steve and I said our farewells and trekked off to catch the train home.
And that was that... except it doesn't feel like it at ALL. Next weekend me and Steve are back on
Dinosaur Planet
, doing an abbreviated version at
The Event
and then we'll be putting out a PODCAST version of Moon Horse in the next couple of months, but that's all we've got booked. Steve's doing THE OLYMPICS this summer and then we do have plans for a NEW SHOW this time next year, but I can't shake the feeling - OR PERHAPS HOPE - that there'll be more Moon Horse to come. It was such a lovely show to do, I just don't want it to end!
posted 16/2/2012 by MJ Hibbett
(click here for permanent link)
(2) comments
The Call Of The Road
Doing those last few
Moon Horse
gigs reminded me how much i LIKE going out ON THE ROAD - the glamour of the Ibis! The luxury of the train! The delight of BEER!
And also of course the people you meet, the ROCK ACTION you get to indulge in, and the general GOOD TIMES involved, and it made me think "I would quite like to go out and do that AGAIN soon, and this time just do some NORMAL GIGS!" I've got all kinds of Strange and Unusual PERFORMANCES coming up over the next couple of weeks but, actually, it might be quite nice just to go our and play SONGS. And hey! I have, after all, got a
new album
out so it might be fun to go and PLAY some of it to people!
And so the call goes out: does anyone fancy putting me ON? I'm specifically looking for some dates in the week commencing Monday 16 April. I've got Mr Gavin Osborn and Mr Frankie Machine a bit involved too, and they'd BOTH be up for doing some of the dates (depending on where and when) if possible, soit is QUITE A PACKAGE! My email's mjhibbett [AT] gmail [DOT] com , if you fancy it do get in touch!
I always quite fancy doing some FESTIVALS or ALL-DAYERS with The Vlads too - we've got the Leicester Indiepop All-Dayer next month and then "Nuts In May" in... well, in May, but we'd love to do a couple more.
So come on, WORLD OF ROCK, gis a gig! Go on! GIS IT!
posted 15/2/2012 by MJ Hibbett
(click here for permanent link)
(0) comments
Living Out Of A Hotel
Saturday dawned in lovely Leicester to find me UPSET by a TWIT - for LO! Peterborough owner Darragh MacAnthony was giving the dread news that the match with West Ham was POSTPONED due to a frozen pitch. Normally I wouldn't mind, but I'd got tickets and a BIG PLAN to meet up with The Family to go to this one, and suddenly found myself with a whole AFTERNOON On The Road with not much to do.
I know the traditional route in these situations is to SCORE DRUGS and PARTY ON, but I wasn't really in the mood for that so instead went to the PICTURES to see "Chronicle", which was ACE. It was in the swanky new cinema in the Highcross Centre, which is so big i got CONFUSED and ended up getting told off for queue jumping. I wasn't, honest, i was just LOST!
On the way back to CHEZ IBIS I had a right good old WANDER round the city centre, which was EXCELLENT fun tho also rather tinged with sadness as I passed SO MANY scenes of GOOD TIMES past in buildings which are NOT THERE anymore. I know i tend to BANG ON about this whenever Leicester is mentioned, but that's because it's SO COMMON.
Later in the day I headed out again to the pub, bumping into Ms M Miller on the way and ending up enjoying NANDO'S with her and Steve in... well, in Nando's. I got told off AGANE for queue jumping in here, when I thought we were being led to a table when actually the lady was just going to WIPE one. Leicester! I'm not a queue jumper, honest!
Duly FED we arrived at The Criterion to find it was BUSY... and got BUSIER throughout the course of the evening. A bunch of PALS arrived so we went into the GIG room... and loads of people followed us. LOADS of people - so many in fact that we SOLD OUT! "We're turning people away!" said our lovely Student door staff. It was BRILLIANT!
And, rather happily, the show itself went REALLY WELL. Man, there were LARFS in places there had hardly EVER been LARFS before, it was fantastic! I've read Richard Herring saying that playing HUGE gigs are MUCH easier than small ones because people are really UP for laughing. Goodness me, if the reaction we got from 60 people in a small pub side room is anything to go by I think playing a THEATRE would make me EXPLODE with JOY, let alone The Wembley.
It was a WHOLE LOT OF FUN! One of the best ones ever, and I was VERY glad I'd taped it, as I think it'll be forming the basis of nearly ALL the forthcoming series of podcasts.
The rest of the evening featured, if anything, even MORE LARFS, as we sat with Mr T "Tiger" McClure, Mr C Lawson and later Mr M Whitaker and talked about... well, it was an idea for an ARENA SHOW and/or FILM that probably wouldn't be quite as funny written down in the cold light of day, but was making me HOOT with laughter for the next 24 hours. It had a kitten in it, also a monkey, and we'll leave it there.
The Criterion shut at eleven and people went for BUSES, leaving me and Steve to snatch a quick NIGHT CAP back at The Pub before heading home to the Ibis. An EXCELLENT day of touring was complete!
posted 14/2/2012 by MJ Hibbett
(click here for permanent link)
(1) comments
The Start Of The Final Furlong
I had a slight feeling of melancholy on Friday when I arrived at St Pancras on Friday. This was partly because I knew we were heading off for the final run of
Moon Horse
shows - a show which I'm really going to miss - and partly, it must be said, because of the lingering hangover from the night before's
Totally Acoustic
.
Mostly though I was EXCITED - yes, this was the last batch of shows, but what an ACE way to go out! Playing the Leicester Comedy Festival is one of my FAVOURITE gigs as it's always MAXIMUM GOOD TIMES, and by the time we got to this fair city and checked into The Ibis (we had, of course, Our Usual Suites) I was ready to ROCK!
Rolling up at The Criterion felt like coming home again, and I was reminded one again what a FRIENDLY place Leicester is when someone waved us over to share his table. The pub was full but, he said "I'm off soon so you might as well get a seat". We met this year's batch of students too who, as ever, were LOVELY. One of the MANY brilliant things about playing the Criterion is that you get a band of STUDENTS to help you out as part of their course, so all me and Steve have to do is LOLL about, which we did to the best of our (CONSIDERABLE) abilities.
There was a brief break in the LOLLING for - AHA! - some LOLS, when we did a brief interview for Demon FM, the student radio station, during which Steve tried to give sensible answers and i SHOWED OFF. The longer we do this the more we turn into Little & Large...
And soon it was SHOWTIME, and we had a a) FUN b) EXHAUSTING hour. There's a little stage in The Criterion now, so we went FULL PELT for the dancing section, and the audience was WELL UP FOR LARFS, which made the whole thing a DELIGHT to do. We went a bit wrong 2/3 of the way through with forgetting some of CHUNKS of a couple of songs but we do have quite a lot of EXPERIENCE of that now, so got through fine, and I must say THOROUGHLY enjoyed ourselves!
After a bit of chatting we found ourselves with some time to spare and so decided to sammple a couple of OTHER Leicester pubs and so ended up revisiting The Swan & Rushes (where I was slightly FREAKED to find the chap who used to run the much-missed Pump & Tap now behind the bar) and the NEW place The Pub, where we each had a different AMAZING beer.
It was a GORGEOUS first night in Leicester - a beautiful city!
posted 13/2/2012 by MJ Hibbett
(click here for permanent link)
(0) comments
An Intimate Affair
When I got to the King & Queen last night for
Totally Acoustic
the place was HEAVING with people, all having a lovely time and making a RIGHT old DIN. I had not heard the like of it for ages! Upstairs all was rather more TRANQUIL, and I discovered that Mr S Hewitt had already got there and set out ALL the tables.
We had a sit down and a brief run through of the abbreviated version of
Dinosaur Planet
that we're going to be doing at
The Event
next week. We'd managed to CONDENSE it down to 20 minutes and it all seemed to work... except that there's going to be a LOT of characters suddenly appearing for no reason during
For The Fate Of The Earth
!
Our acts for the evening, Jim'll's Brain and Jimmy McGee soon arrived, as did... well, THREE other people! It was VERY COLD out, also SNOWING, which might explain it, and I consoled myself with the thought that the podcast is getting HUNDREDS of downloads these days as I delved into THIS brief set:
I was more nervous doing THIS lot to six people than I had been for a LONG time, partly I guess because it was nearly all stuff that was OFF PISTE for my usual set. It seemed to work out OK though - I tried a New Arrangement for
The Stores Of Not To Be
as I'm thinking of RECORDING it for A THING, and
Mental Judo
seemed VERY apt!
Next up was the MIGHTY Jim'll's Brain. The crowd was gently growing now, reaching double figures during his set, but it should be NOTED that when I took the following picture of him about to go on there were still only the SIX of us: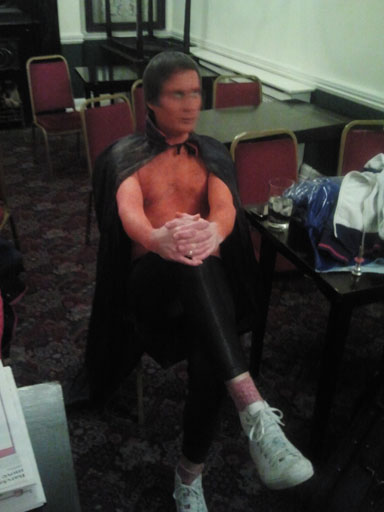 Ladies and Gentlemen: A TRUE STAR. He went on in this vein for his entire MAGNIFICENT set, not only doing several songs I'd not heard before,but also painted a COLOUR I hadn't seen him before - and how many acts can you say THAT about?
And finally another all round entertainer, Jimmy from The Bobby McGees. At various points during the night I'd had my usual YOYO THORTS about Totally Acoustic, BOUNCING as I often do between thinking "Maybe I'll just stop doing these soon" and "This is the BEST GIG EVER! MORE!". All thoughts swung to the latter when Jimmy was on, ESPECIALLY when he got me and Jim'll up with him to dance the Charleston. It turns out that dancing the Charleston is a) GRATE b) PEASY!
So a lovely evening ending up being had by all, and though the podcast won't be able to feature the VISUAL EXCITEMENT of either Jim'll's HUE or Jimmy's DANCE SPECTACULAR I do hope it'll be able to display a little bit of the JOY of such an intimate evening!
posted 10/2/2012 by MJ Hibbett
(click here for permanent link)
(0) comments
All Over The Media
Monday's EXCITEMENT about being in
Word Magazine
was pretty much DOUBLED yesterday as I wandered into nearby newsagent to find that there were now TWO magazines on the racks with a review of
Dinosaur Planet
in them, for LO! this month's edition of
SFX Magazine
was out!
Now, obviously I knew the review would be in there as I'd seen it
online
, but seeing it in actual paper was MUCH more exciting. I mean, I know i am WONT to go on about how the glorious future of ALL MEDIA is a online democracy of Actual People talking about things they've Actually Bought, but COR, there's something about being IN the Old Fashioned Print Media that sends a THRILL coursing through the old veins. Here it is!

It's also a reinforcement of something i KNEW to be true but was having a hard time hanging on to - when you put out an album it DOESN'T all happen in the first 24 hours of release! Things DO take a bit of time to get rolling, and though it would have been NICE to have been on BBC Breakfast on the dot of 9am Release Day and STRADDLING the playlists like a Pop Colossus, sometimes it takes a bit longer for things to get EMBEDDED. Especially when that thing is a 50 minute long continuous science fiction rock opera concept album.
I expect that's why the
NME
haven't done a review yet, they're probably in a meeting RIGHT NOW comparing notes, saying "I've only listened to it 17 times, I'm not sure I've got all the nuances yet." Yes, i BET that's it!
posted 9/2/2012 by MJ Hibbett
(click here for permanent link)
(0) comments
Video Good Times
When I came up with the idea for the
A Little Bit Video PLAN
last week i was slightly AFEARED about how it would work. Would people, I wonder, be BOTHERED to do it? And if they did, would they GET the idea, or would it all go horribly wrong, to the extent that I would EITHER have to put something rubbish together OR just try and pretend it had never happened?
As it turns out, I need not have worried, for LO! I already have about two thirds of the clips in and it's looking AMAZING. Every day my inbox has recieved several nuggets of DELIGHT as people all over the world lend me their time and CREATIVITY to film a line of the song. We've got costumes and models and ACTING and all sorts of things going on - it's going to look WONDERFUL!
We do still have a COUPLE of spaces left, and it would be LOVELY to get them filmed, as if we don't I'm going to have to do some CHEZ NOUS and/or LEAN on some people, but either way it looks like it's going to be completed pretty much ON TIME. I'm thinking I might Officially Release it at the end of the month, with the next newsletter, to give it a big BOOST.
While we wait for that to get done, however, there is ANOTHER video I would like to draw your attention to. Like most midly soppy UK interweb users I spent much of Monday night going "Aaaah! Watch it AGANE!" as we looked at the YouTube footage of
The Anfield Cat
. Poor old The Americans - so much money spent on Madonna at Superbowl, yet we got TEN TIMES the GLAMOUR and JOY from a stray moggy in Liverpool!
It was a DELIGHTFUL moment which put me in mind of the Half Man Half Biscuit song
Even Men With Steel Hearts Love To See A Dog On The Pitch
because, as the song says, "It generates a warmth around the ground that augurs well for mankind". INDEED IT DOES.
I thus spent much of yesterday HUMMING the tune to myself... until THIS appeared in my TWITSTREAM:
It's an Anfield Cat HOMAGE by long-term COLLEAGUE in ROCK Mr
Vom Vorton
, which he's done as part of
February Album Writing Month
. Quite apart from being an ACE song I think it's EXACTLY what FAWM should be about - taking something that's happening there and then and RUNNING with it to make something DELIGHTFUL, at HIGH SPEED, that you probably wouldn't normally bother with. It's kind of like FOLK MUSIC or REPORTAGE, while remaining FUN. I recommend it to you HIGHLY!
posted 8/2/2012 by MJ Hibbett
(click here for permanent link)
(1) comments
In The Word Magazine
Yesterday one of those wonderful things happened that you think only happen in DREAMS. Something so special, so wondrous, that even to consider the possibility it might happen is to JINX it forever.
For LO! Over the weekend there was a LEAK in the roof of our new offices and we got emails telling us to stay at home on Monday! HOSANNA and GLORY BE!
Things could have changed completely later in the day, when the postman came, bringing with him this month's
Word Magazine
. Now, i LOVE Word Magazine, it is the ONLY music magazine I ever both to even LOOK at these days (yes, even when I'm in Smiths at the station and I've got 20 minutes until my train - then i look at SFX!), and I have very happily subscribed for YEARS. I like the way it is ACCEPTING of being a ... slightly more MATURE music lover, but without spending TOO much time getting on the one hand overly GRUMPY or on the other going "Oh, the modern pop, I understand it and am down with THE KIDS." It does do BOTH these on occasion, obviously, but is always LEAVENED OUT by HUMOUR and JOY. It's good!
However, I was DREADING this month's copy arriving, for LO! I had sent them REVIEW COPIES of
Dinosaur Planet
and so was GIRDING myself for disappointment. THIS part of the Album Cycle is HORRID for DISAPPOINTMENT, as you spend the whole month (or longer) leafing through magazines in the forlorn hope of a review. Many is the time I have thought when reading alphabetically arranged reviews "Maybe... maybe they've put us under 'V' for Validators?" knowing full well that this has NEVER happened.
So you can imagine my GLEE when I flicked through, pre-GLOOMED, and almost immediately saw the album cover SMILING back at us out of the page! Here's what I saw:
My GLEE was almost immediately replaced by FEAR: this could actually be WORSE! Not appearing in magazines is something I have spent almost my entire LIFE doing, on a day to day basis, but what if Mr D Hepworth was HORRID about it? I read TREPIDATIOUSLY, only to find that ... well, he didn't say "It is the most best album EVER!" but I think it's pretty good, and am indeed ALREADY using "You have to admire their nerve" as a PULL QUOTE. It's brilliant to think that fellow subscribers are already seeing it, and that NON-SUBSCRIBERS will have it tomorrow, especially with that nice slab of ARTWORK at the top of the page.
It really rather cheered me up, as the Promotional Campaign has felt a little SLOW of late, with a variety of places that I thought might cover it not having done so yet. I'm going to MAIL them tomorrow, i reckon, and say "Look! We're in THE WORD! and also SFX! Pull your finger out and put us in YOUR periodical/blog/radio playlist too!"
I bet that TOTALLY works - when I win PR Campaign of the YEAR 2012 you will know when the good times got going: RIGHT HERE!
posted 7/2/2012 by MJ Hibbett
(click here for permanent link)
(0) comments
Sheffield In The Snow
I met with Mr S Hewitt on Saturday lunchtime and together we ZOOMED off to Sheffield, where Mr P Green had booked us to perform
Moon Horse
. On the way we discussed prospects for the NEXT show, agreeing a long LIST of items that should feature (e.g. "a monster", "a sword fight", "bonnets") and a few things that WOULDN'T ("questioning the dramaturgy", "blatant sexism"). It sounds like it's going to be AMAAAZING!
As we reached Derby it began to SNOW and we wondered how this would IMPINGE on our travel arrangements. The answer was "not at all, really". Well, apart from later in the day when we STRODE MANFULLY through a BLIZZARD, marching from The Ibis (where, of course, we had Our Usual Suites) to The Rutland Arms, where we found Mr M Wainwright and Mr D Hartley waiting for us. More and more BRAVE SOULS made it through the weather, and so we went upstairs to commence the evening's EXCITEMENT, with Markie Plays Girl Pop.
This was the aforementioned Mr Wainwright singing a bunch of songs written and/or performed by women, and it was ACE, very rapidly turning into a RIGHT OLD SINGALONG. "Will You Still Love Me Tomorrow" was ESPECIALLY good fun, and the joining in soon developed into pretty much a CONVERSATION between songs between Mark and The Audience.
When it was time for me and Steve to start the conversation TRIED to continue... but there's enough going on in the show ANYWAY so we had to politely BUT FIRMLY not get involved, and soon everyone was EMBROILED in the ongoing story anyway. We FROLICKED through it at what I thought was a rapid pace, but ended up taking longer than usual due to JOLLITY and we got it about 95% CORRECT i think, which is a HIGH SCORE in anybody's book!
There followed a lot of LURKING and YAKKING after that, so it was a VERY GOOD JOB that we'd factored in a LIE-IN for the next day. We were still up before NOON though, and headed off to The Fat CaT for LUNCH. We got there a bit earlier, so visited ("looked through the windows of") a nearby museum, before heading back to the pub for a DELICIOUS Sunday Lunch and some ADMIRING of the Actual Fat Cat who lives there. We also did more BUSINESS, working out how to do an ABBREVIATED version of
Dinosaur Planet
, which we'll be performing at
The Event
in a couple of weeks.
The rest of the afteroon featured a gentle stroll back to the station via a couple of PUBS - the high point, for me, being an AMAZING pint of Barnsely Bitter in The Kelham Island Tavern. MAN ALIVE but it was GOOD! These activities led to us both having GENTLE NAPS on the way back, arriving home suitably refreshed and GEARED UP for NEXT weekend, when we have the FINAL performances of
Moon Horse
in Leicester and Nottingham.
It's WEIRD to think that there will soon come a time when we're NOT doing
Moon Horse
anymore, it's been HUGELY enjoyable to do, but HEY! The NEXT show sounds like it's going to be even BETTER!
posted 6/2/2012 by MJ Hibbett
(click here for permanent link)
(0) comments
Singalongadinosaur
Unusually for me I seem to have managed NOT to make a ginormous fuss about something I've done that I think is rather good. What the HECK is wrong with me?!?!
So let's rectify that - for LO! I have done a
songbook
AND a
full script
for the ENTIRE
Dinosaur Planet
album!
The
script
is meant to look like the editions of Shakespeare we used to have when I was in school - because, let's face it, if Shakespeare was around today he'd TOTALLY be writing rock operas about Space Dinosaurs, right? Wouldn't he though, in a very real sense? It's got THE LOT in in so hey! Why not invite friends and families around for a fondue or something and read it out together? FUN!
The one I'm MOST proud of though is the
songbook
, ESPECIALLY the introduction by Captain Keith. I know it's wrong and I wrote it but it STILL makes me laugh, and the bit about "if ye need any more [chords] ye be doing it wrong!" is pretty much my MOTTO FOR LIFE. It's got chord diagrams and EVERYTHING, as well as some pictures from the recording process, and I'd really really like to think that some YOUNG PERSON somewhere will one day learn to play the GUITAR through learning those songs.
Then they would be as good at GUITAR as what I am! Imagine THAT!
Both these resources are FREE also, in case you were worried - I was originally going to put them on the actual CDs as EXTRAS, but thought they might reach a few more people this way. Go on, have a look, they're lovely!
posted 3/2/2012 by MJ Hibbett
(click here for permanent link)
(0) comments
A World Of THORTS
NOTE FROM THE FUTURE: Today (25 Jan 2013) i linked to this blog by mistake - today's blog is RIGHT HERE! Sorry!
The World Of Hibbett is one of TUMULT at the moment - behind all the Dinosaur Planet Promotion Action (which isn't exactly garnering HUGE results this week, but it took 3 years to MAKE, so it might take more than a fortnight to PLUG!) there has been REAL LIFE STUFF going on with the possibility of my job ENDING.
I was out with The Feet In My Shoes the other weekend for a WALK talking about this, and we got on to talking about the time, half a lifetime ago, when I got accepted onto a course to do an MA in Playwriting, but couldn't afford to do it. "Why don't you go back and do it NOW?" she said, and after some discussion I realised she was RIGHT. i COULD go and do an MA!
SO it was that I investigated the matter online, contacted some Universities (with decidedly MIXED results) and booked on to an OPEN DAY, which took place yesterday afternoon. By the time i ARRIVED at this distant outpost of academia I wasn't sure whether this COURSE was right for me, or indeed this COLLEGE, but thought I'd have a look.
Things didn't get off to a particularly good start, as I arrived at the designated building to find NO SIGNAGE WHATSOEVER. I've run Open Days MYSELF in the past, and the LEAST you do is put a sign up on the door saying "OPEN DAY HERE" or something, and preferably signs INSIDE with ARROWS on showing prospective students where to report. Eventually I found a School Office with a sign on it saying "This Office Is Closed For A Meeting". I knocked. There was one person inside who seemed SURPRISED to see me, but DID turn out to be the person with the REGISTER.
A Postgrad student arrived to show us round the campus - she, I and another chap who'd turned up waited ten minutes to see if anyone else arrived, then went off for a TOUR. It was all very interesting and nice... except for the fact that I wouldn't actually be BASED at that campus! As part of the tour we went to one of the THEATRES and met the TECHNICIANS working on something BACKSTAGE. As soon as we went round the back i KNEW that I didn't want to do JUST playwriting after all. The other courses I'm looking at combine playwriting with SCREENWRITING and RADIO and stuff, which seems MUCH more fun - just LOOKING at all the paraphenalia and HOOPLA involved with The Theatre reminded me of all the times I've come up against PROPER THEATRE ARRANGEMENTS over the past few years, and how ANNOYING i've found it all!
My thoughts were only UNDERLINED when we got to a GROUP MEETING later on. There were various lecturers and course leaders there who seemed very KEEN on their courses and happy to talk about them... except for the bloke running MY course, who hadn't bothered to turn up. NOT A GOOD SIGN. They also talked about DRAMATURGY, a new word to me which seems to mean Developing Dramatic PIECES, and how everything would be INTEGRATED, working with ACTORS and DANCERS and DIRECTORS to DEVELOP pieces.
All the way through this DREAD was rising. What i LOVE about doing GIGS and the sort of LARKS that Steve and I have been creating is that we do them OURSELVESand perform them to HUMAN PEOPLE who turn up to experience some FUN. I want to do something that is, in theory at least, COMMERICAL - that doesn't need theory or "research" or Theatrical Context to back it up, but instead does what it does because it's GOOD. Suddenly memories of applying for ARTS GRANTS arose, and GRIM VISIONS appeared of having to hang around getting APPROVAL from OUTSIDE BODIES.
I managed not to FLEE... at least not right away, but I DID end up running away early, as I had a MEETING to get to. Thus a couple of trains later I found myself back in The Wilmington, with some other ROCK VETERANS, getting a BRIEFING about our appearance at Bright Club in a couple of weeks. This is the event where they usually get ACADEMICS to get up and do short spots of stand-up comedy. This month it's MUSICIANS, but Mr S Cross still gave us the same briefing as he gives Academics. It was all good stuff, althought when he told us "don't have more than two pints before you go on, best not to have any" I could see everyone else was thinking "I DON'T THINK SO", but we all nodded politely!
It was REASSURING to be back amongst My Own Kind, especially as one of them was the marvellous Mr David Barnett, but on the way home it made me question EVERYTHING. What DO i want to do next? If work things change and I ended up being able to STAY in my job, would that actually be the RIGHT thing to do? Or could I maybe combine everything and do an MA part-time? Or should I just stay as I am and keep gently rolling along in ROCK? Is the "slow start" for album publicity a gentle nudge from THE GODS OF ROCK saying I should try MORE to get it going, or a hint that I should stop worrying about it?
Gentle reader: I really don't know!! I think the wisest course of action may be to see how the next month of ALMOST CONSTANT GIGGING goes and see how I feel about it all in March, but please take this as a warning: if during this Time Of Touring you happen to see me, please be gentle with me and WATCH OUT, for LO! I may end up GOING ON ABOUT IT!
posted 2/2/2012 by MJ Hibbett
(click here for permanent link)
(0) comments

An Artists Against Success Presentation