Blog
Gigs
Facts
Music
Shop
Links
A Surprise At The Job Centre
I'm not sure if I've mentioned it before, but i REALLY like living here in The Olympical Village, as it is ACE. On Monday night, for instance, we went for an evening stroll and got to a) nosey round the shop units, where've they've just put up vague signs saying roughly what they're going to eventually BE e.g. "Under Offer - Cafe" b) Wander (accidentally) around the "Year Of The Bus"
sculpture trail
and c) stroll beside the canals looking at the lovely lighting displays and the new fountains. It was pretty bloody GRATE!
On Tuesday morning, however, I was expecting a somewhat different experience, as I had an appointment at the JOB CENTRE to see a CAREERS ADVISOR. When I went in to sign on on Friday my ADVISOR said "I don't know if it'll be much help for you, but it's worth a try" and I really was NOT expecting much - I'm pretty sure HOLLYWOOD PRODUCERS don't advertise for their latest blockbusters in the Job Centre - but I thought it only POLITE to go and see.
When I arrived there was a small crowd of people outside, who I assumed were having a FAG. I walked to the door, pushed it, and nothing happened. Looking through I saw nobody was inside. A man behind me laughed "What did you think we were all doing out here?" so I said "I thought you were having a fag!" "All of us?" "Well, it CAN be quite stressful" and then we had a bit of an old CHAT. I was basically still NETWORKING from last week.
My appointment was for 10am, and I was relieved when the doors opened at 10 on the DOT. Some people in the queue said they'd been waiting for ages, but nobody inside seemed flustered, so maybe it was a training session? I went in and, as before, it was a bit of a SCRUM as there's no receptionist of any kind. I suppose this is meant to make it feel more OPEN, but it just means that everyone has to crowd round a G4S person who, to put it mildly, does not appear to have been trained for Customer Relations.
Eventually I got upstairs and to the desk of my Careers Advisor, Debbie. She asked why I'd been sent to her and I told her, as reported above, that my Signing On Person said there probably wasn't much she could tell me but we'd try anyway. I told her I was hoping to do screenwriting and KAPOW! She was OFF!
We got onto the Careers Advice website and suddenly there were OPPORTUNITIES! LINKS! IDEAS! ACTUAL ADVICE! I was completely stunned - I thought I was going to spend 10 minutes saying "No, a scriptwriter, not an underwriter" or "No, I don't want to do Data Entry" but she TOTALLY knew her stuff. Apparently she'd worked round Hackney and Dalston so had met a TONNE of unemployed actors, writers, cameramen, sound guys etc etc. "I did used to think I should write some of my stories down" she said. I thought she might as well, she clearly has a VAST contacts list!
The most reassuring bit was when we looked at the Government advice for becoming a screenwriter and it said the best thing to do was to enter competitions and do lots of networking. "You want to be in Hackney drinking in the wine bars" she said. I wanted her to put it in writing so it could list it on my BACK TO WORK PLAN - "This weeks activities: WINE" - but she thought maybe that wouldn't look so good. SHAME.
I was absolutely astonished by the whole thing. As I told her at the end (I didn't really want to leave, as we were having a RIGHT old laugh, but she had someone else waiting), I'd expected the whole experience to be pointless but it had been brilliant. "I'm sure you'll make it" she said as we shook hands and I came away full of ideas and HOPE that this could all work out.
It was all A BIT FLIPPING WEIRD. Perhaps I went in the wrong door and saw the HOLLYWOOD LIFE GURU instead?
posted 30/10/2014 by MJ Hibbett
(click here for permanent link)
(0) comments
London Screenwriters' Festival Day Three
After all the excitement of the previous two days I was expecting day THREE of the
London Screenwriters' Festival
to be a bit more low key, and I must admit I didn't go in with QUITE the GUSTO for chatting to people as I had done the day before. It was all the fault of the festival really, as I was so KEEN to get on with WRITING stuff I was less in the mood for hearing about it!
The first talk was another slightly dreary one where someone spent 90 minutes doing, basically, a ten minute talk on how to identify the "theme" of a story. We did get to watch a big chunk of the film "Philomena" though, it looked really good!
There was a huge gap for LUNCH, during which I met Mr Donald Eke and had a chat, then went off to see a discussion between David Reynolds (again) and Steve La Rue, a Producer who worked on BUffy (amongst many other things). As with the previous David Reynolds talk there wasn't a VAST amount of solid info, but it was a very interesting look into how HOLLYWOOD works with a TONNE of gags from both of them. They were so DELIGHTFUL to listen to I could have sat there all day!
My final planned stop was a talk about writing sitcoms, featuring the hilariously dour John Lloyd, who did Spitting Image, Blackadder, Not The Nine O'Clock News. Other people were full of various opinions, but he seems to think that everything wrong with television - and perhaps the UNIVERSE - is due to iniquitous TV Commissioners. I know he has a BIT of a point, but CRIKEY he doesn't half go on about it! It was a good session though, and afterwards I RAN round with Mr James Huntrods to make sure we got a seat for the Script Chat, at the end of which one person collected up BUSINESS CARDS in order to form a mailing list of Supportive Sitcom Writing Colleagues. We were networking without even having a beer in our hands: RADICAL!
At this point I considered going home, but poked my head around the door of the FINAL David Reynolds session of the weekend and saw a seat, so sat on it. He'd been doing a "script to screen" talk about "Finding Nemo" - basically a live DVD commentary - which I'd missed, but did get to hear about half an hour of more CHAT and more GAGS. It was, once again, ACE!
As I turned to leave I saw Mr Ged Parsons sat behind me so we had a right old chat about IDEAS that went on until we were asked to sit down for the Closing Remarks. This was... um... a bit different. The organiser of the whole event seems to view himself as a bit of a Motivational Speaker, and did a whole ACT where he was SHOUTING about how FUCKING AWESOME it all was and how he was nearly in tears about how INSPIRING it had all been. It felt a bit weird for me, as I totally WAS inspired by the whole thing and it HAD been brilliant, but having someone shout at me about it like I was at a sales conference was almost taking away from it. Part of the experience was an extremely lengthy slide show of pictures taken during the weekend (including one shot of the back of my head, featuring my Weird Ears!) over a neverending LANDFILL INDIE song about how we've started a bonfire or something. It was SO AWFUL that it became funny, and then they did a bit where you had to turn to the person next to you and COMMIT to something you FEARED. Me and my neighbour chatted about how uncomfortably this whole bit was, but how brilliant the weekend had been, and I suspect that conversation was going on a LOT!
It all ended with everyone who'd worked there or spoken, and not managed to HIDE, getting dragged on stage for a long long long clapping along to a song session. It was a WEIRD way to end it all, made even more weird by the fact that when I got out I (and lots of other people) were amazed to find that the BAR had been closed down! At 6:30pm? At an event for WRITERS?!?
Still, the odd ending aside it had been a pretty bloody brilliant weekend. I'd met lots of lovely people, heard some inspiring talks, and got a whole lot of LEADS and HOT TIPS about what to do next. I'll definitely be going next year!
posted 29/10/2014 by MJ Hibbett
(click here for permanent link)
(0) comments
London Screenwriters' Festival Day Two
The second day of the
London Screenwriters' Festival
started a bit late for me, as I spent the morning MENTALLY PREPARING. I was booked on to do the
Pitchfest
in the afternoon, and as there weren't any talks I was hugely interested in I thought my time might be better spent practicing for it.
I eventually arrived at the festival just before 2pm, in time for a talk about "getting your first gig in radio" that was Quite Good as it was chaired by Mr Paul Bassett-Davies who kept a FIRM HAND on there being too much "sorry" and "this may not be right", and it also featured Mr Danny Robins, who was very good. At the end I heard a couple of people talking about writing science fiction, so i joined the heck in with them, and we all swapped cards. Networking is PEASY!
We went round the corner for the "Script Chat" section, which was an extra bit in a smaller room, but i didn't get there in time for a seat so didn't stick around for long. Instead I wandered round to the room where the Pitchfest was happening. There didn't seem to be anyone there so I went and got a coffee, and it was only when I came back that I realised that the queue was round the corner!
I LEAPT in and spent the next half hour chatting to some of the other people waiting. This was a really nice way to CALM DOWN, as I was feeling a bit TERRIFIED. The Pitchfest is a 90 minute session where you queue up to get five minutes with your chosen Pitchees - a producer, commissioner, agent or whoever - to PITCH your idea, a bit like speed dating. There were meant to be 35 pitchers and 13 people to pitch to, but when we got in it turned out that although all the pitchers had turned up only 7 of the pitchEES had! This was a bit upsetting for lots of people, including me, as it was mostly TV people who hadn't come. I had three ideas ready and a HITLIST of people to talk about them to, but ended up concentrating almost entirely on my film idea, "Alpha Male". The nice thing about this one is that it's a "High Concept" story with a VERY high concept (ask me in a pub, I'll tell you!) which made it good fun to tell people about. The only downside is it is by far the least worked out of my ideas, so if someone asked for a script it would mean a busy few days (at least!) getting it ready to send!
I only got to pitch "Storm House", my main idea (i.e. the one that I wrote for the MA, which has a completely completed script, bible, treatments and all sorts) to one person, who wasn't interested at ALL, which was a bit disappointing, and there was nobody there to do my sitcom, but still, one person DID ask for a script for "Alpha Male", a few others took one-pagers about it, and EVERYBODY looked a bit stunned and said "That IS an original idea", so I was very happy!
After all that I definitely need a BEER, and ended up not going to any more talks at all, spending my time Effectively Networking (drinking). Mr Phil O'Shea, head of the aforementioned MA, was there and introduced me to some other graduates from other years, who were ace, and I ended up talking to LOADS of people. I realised that you can say things like "Can I network with you?" or "Let's do business cards!" and people tend to be PLEASED that someone else has said it so you can get it all out of the way then carry on CHATTING. Basically, if you swap a business card then you are doing Professional Business and NOT just drinking. Definitely.
By the time I'd wandered around a bit I was slightly tiddly but VERY happy with how it had all gone. I'd pitched and I'd networked - I felt like a Hollywood BIGSHOT!
posted 28/10/2014 by MJ Hibbett
(click here for permanent link)
(0) comments
London Screenwriters' Festival Day One
This weekend has been looming LARGE on my Personal Mental Horizon for months now because it was the weekend of the
London Screenwriters' Festival
. It was an exciting event to look forward to, and I'd been using it as a PLANNING MILESTONE for various PROJECTS - for instance, I was booked onto the Pitchfest session, so in the weeks leading up to it I was beavering away on TREATMENTS and PITCHES for three different ideas. I was also WORRYING about it as I was going to be spending three days on my own, possibly having to NETWORK, which is not exactly my favourite activity.
The festival officially ran Friday to Saturday, but there was an extra pre-opening night on Thursday for "Networking Drinks". I thought it might be good to GO to this so that a) I could pick up my PASS and thus wouldn't have to queue next morning b) I could work out how to get there and c) I was in town anyway. I got there super early, got my pass, MOOCHED about, then got a BEER and mooched a bit more. It was all a bit frightening to be honest - one of those occasions where everybody else seemed to be in GROUPS, chatting and LARFING, while I was just skulking round like Gollum with a Lanyard. I finished my beer and scurried home.
I was up EARLY next morning as I had to go and SiGN ON at 8:30am. The security guard didn't turn up to let me IN until 8:35am, which was a bit annoying but the rest of the meeting was DELIGHTFUL, as I explained what a pitching session was and my nice Signing On Lady wished me luck with it. I bet Quentin Tarantino didn't get this sort of support!
I hopped on the tube and ZOOMED off to the festival, where i was booked in for a SCRIPT LAB at 10:30am - the timing of all this had been one of the big sources of WORRY leading up to the event, and so one of the big reasons for going in for my pass the night before. The LAB was a morning with four other people and Mr Ged Parsons, one of the main writers on "Have I Got News For You". It was GRATE - he was FULL of information, stories, and most of all VERY VERY IN-DEPTH advice on how to write GAGS. We'd sent in some one-liners, and he did a PAGE on each one, explaining what to cut, what to change, and how to change the placing of WORDS to make the jokes better. It was ACE, and also a BRILLIANT way to get an instant GROUP together of people to talk to for the rest of the weekend.
I spent most of the rest of the day going to TALKS. Two of them were by British people and two by Americans and GOOD GOLLY there wasn't half a cultural difference. The British people were all "Is this all right? Sorry! Oh, I've missed a bit. This could be entirely wrong of course" while the Americans were much more "Here is how you do it." The British way is all well and good (and goodness knows I do it myself enough) but it does get a bit ANNOYING after a while when what you really want is some FACTS. There were some British FACTS, but they were mostly "look at writersroom" and "Send stuff to Newsjack", which is fair enough advice but is hardly REVELATORY.
The American's, however, were ACE. I went to an INCREDIBLE talk by Lee Jessup called "How To Make It In Hollywood Without Moving There" where she talked through a whole heap of ACTUAL THINGS YOU COULD DO to further your Hollywood Career (she's a Hollywood Career Coach) in an engaging, well-rehearsed, confident way that made you think "Hey! This sounds actually possible!" I'd gone because I wanted to see if there was anything I could do with the "Big Bang Theory" and "New Girl" spec scripts I'd written for the Nickelodeon competition, and was getting VERY excited when she kept saying "Of course you don't have to MOVE to Hollywood to sell scripts there..." right up until she said "... unless you want to write TV, of course." Ah.
Still, it was INSPIRING and full of TIPS which i'm still working my way through days later. Later I went to see David Reynolds, who wrote "Finding Nemo" and "Toy Story 3" among others, and was BRILLIANT. There wasn't a whole heap of information, but he was SO interesting and FUNNY, that I ended up seeing him THREE times over the weekend.
The evening ended with some ACTUAL NETWORKING. I bumped into Ged Parsons and some of the rest of my LAB group and just CHATTED. It turns out that Networking is a piece of PEE in this sort of environment - earlier in the day, while queueing for a particularly WET talk (where a couple of blokes who deal with lottery funding took an hour to say "fill in the forms correctly") the chap next to me said "Hello, how are you finding it so far?" and we had a CHAT and then continued to do so throughout the weekend. I was so surprised by how easy this was that I ended up doing it myself over the next couple of days, and by Sunday was happily saying hello to all SORTS of people as we crossed paths around the buildings. It was lovely!
It was thus a happy - and RELIEVED - Hibbett who wobbled off home. The official first day was done, but tomorrow there would be PITCHING!
posted 27/10/2014 by MJ Hibbett
(click here for permanent link)
(0) comments
His Exciting Life In Rock
I was back in London Town last night for a SOCIAL ENGAGEMENT, meeting The Hewitts for drinks, dinner and a show. POSH eh?
The show was "I Formed A Band", a one-man show starring Mr E Argos telling some of the stories of his life in ROCK. A number of people had commented to me that this was similar sounding to
My Exciting Life In ROCK
and OF COURSE they are right - I, after all, INVENTED biographical storytelling!
When we got to the Hen & Chickens where the show was happening we met a LOT of chums who had come to see him, many of whom turned out to be IN the stories. The show itself was GRATE - he is an extremely personable young man and has a lovely WAY about him, so the 45 minutes FLEW by. As Steve said later, it was basically a slightly longer than usual INTRO to the song "Formed A Band", as he was telling the story of how he got to the point of singing that song for the first time. It was really well done, almost as if he has some experience in talking to audiences!
It wasn't perfect but CRIKEY for a first ever show it was pretty bloody GRATE. I don't know if there's plans for him to take it to Edinburgh but I hope he does - the more ROCK people there are up there the pleasanter it is!
posted 23/10/2014 by MJ Hibbett
(click here for permanent link)
(0) comments
Writing A Thing
I am up to my EYEBALLS in the ADMIN at the moment, and a lot of it is to do with the
London Screenwriters' Festival
that I'm off to at the end of the week. It's a big three day event of talks and workshops and all sorts of things, and as it was Quite Expensive I feel that I should really make the most of it. To this end I've got a place on a comedy workshop on the Friday and a pitching session on Saturday, which means I need to do a lot of PREP - preparing "one-pagers" (a single page to sell a script) for the THREE things I've got on the go at the moment, working out which sessions I should/could go to, rejigging the CV, and working out and rehearsing my PITCHES.
On top of that there's the usual background admin which seems to be the main part of this Attempting To Be A Freelance Writer thing i.e. checking what jobs/opportunities/schemes/competitions are going on and then spending ages applying for them. I've also got various bits of ROCK admin to do, concerning our Christmas song, the new album stuff, the tour with Mr G Osborn in December, Totally Acoustic bookings and so on. It's all for FUN STUFF obviously, but it gets to the point where I feel like I'm doing ALL admin with none of the actual Writing Things that is meant to be at the heart of it all.
THUS I thought maybe I should sit down and start writing a new thing. So i did! One of the things I'm planning to PITCH at the weekend is a story called "Alpha Male", my HIGH CONCEPT sci-fi thriller. I've got all manner of background info, character studies, world building, backstory, loglines, taglines, treatments and A POSTER for it, but I haven't actually got a SCRIPT at all, so I sat down and started typing it. And guess what? It was a WHOLE HEAP of fun!
I'd forgotten quite how MCUH fun it can be, to be honest. Over the past few months I have done a TONNE of The Writing, but it's mostly been sketches, or re-writes, or applications, or indeed this here blog. Sitting down to write something NEW that was entirely MADE UP was brilliant fun. So much fun in fact that I'm going to keep doing it today, and tomorrow, and then on until it's finished.
At which point it'll be time to re-write it, pitch it, send it off for competitions etc etc but in the meantime: FUN AHOY!
posted 22/10/2014 by MJ Hibbett
(click here for permanent link)
(1) comments
Mr Ransome's Birthday
I was back in Sheffield on Saturday, to perform at Mr D Ransome's 40th Birthday party. It was GRATE to be back although when I first arrived at the Ibis (where I hoped to find My Usual Suite available) I did worry that things might go awry. The hotel was FULL and had run out of KEYCARDS, so I had to be escorted to my room, with a promise of a key when I got back ("he's gone to Chesterfield to get some", I was told - so that's where they keep them!). As I quickly unpacked and set off out again I worried that if it was full it might be ROWDY, but happily (spoilers) when I got back it was nothing of the sort. Indeed, me stumbling about bumping into things was probably as KRAZY as it got!
As I came out of the hotel I saw a tram coming, so RAN for it, which meant that when I was deposited at the University stop a few minutes later I was still a bit sweaty and out of breath. I soon calmed down when I entered the pub and was greeted by a whole heap of lovely chums, with whom I sat down for a good old chat. Ah, Sheffield, how I have missed you!
The next bit of the evening whizzed by in a whirl of beers and yacking, interrupted only by a quick soundcheck. The soundman for the evening was, shall we say, Something Of A Character, and if forced to guess his favourite kind of music I think the safest answer would be "Not this type". He certainly didn't look overjoyed when I was on anyway, during which time i done THIS:
Happily for me everyone else did seem to enjoy it, and I had a LOVELY time. It felt like ages since I'd last done a proper normal GIG style gig and I rather indulged myself by sharing a lot of OPINIONS and THORTS. It turned out to be a good idea to do a load of new songs, as lots of people there had seen me MANY times and so had heard my usual repertoire a LOT, and it also meant that a) I could do
I Want To Find Out How It Ends
, which Mr K Foster had requested and b) during
In The North Stand
I realised that I was doing a song about my Grandad in the city that he'd come from. It was fun!
Talking of that song, I think it is now pretty much a SHOE-IN for the album, as I was approached by SEVERAL gentleman of a certain throughout the rest of the evening, each confessing to a BIT OF AN OLD CRY during the song. Brilliantly, one of the aforesaid chaps told me that he'd ALSO been taken to the football aged 7, just after HIS parents' divorce, by a Grandad who came from Yorkshire!
Next on the bill were Horowitz and, having seen them several times, I thought it wisest to go and stand at the back of the room so as not to be entirely deafened by their SONIC NOISE TERROR. However, the "characterful" soundman had made them turn everything down, so you could hear all the words. There were quite a few of us stood at the back for the same reasons as me, and we all agreed how WEIRD it was to be able to hear what they were playing AND what they were saying, and also how GOOD it was.
Finally we had The Thyme Machine, the band featuring Kriss Foster (and friend), who'd gone down a STORM at Indietracks this year. I'd seen Kriss and Mr Ferris several times but never in the full band line-up, but I thought it would probably be pretty great. I was NOT WRONG - it was an AMAZING show full of GRATE songs, hilarious inbetween bits, and SHEER SHOWMANSHIP. A whole room of people stood with looks of GLEE on their faces, it was brilliant!
Once they'd finished my BRANE suggested that I should maybe go home now. At the start of the evening I'd thought it would be a good idea to see if I could have a pint of ALL of the beers that were available on the pumps. This would have been fine in a normal pub, but at The University Arms they had about twice as many as usual, so I was a bit tiddly! I thus said farewell to my chums and staggered out, hopping onto a passing tram and then, as mentioned earlier, pretty much passing out when I got in.
It was a LOVELY night out, and I'm already looking forward to going back there, hopefully in early December for the tour with Mr Gavin Osborn. Details to follow!
posted 20/10/2014 by MJ Hibbett
(click here for permanent link)
(1) comments
Dracula Untold
Thursday has become my Day In Town over the past few weeks as that's when I usually go and have lunch and a chat with Mr J Dredge then wander around doing other STUFF. This week, after an extremely productive discussion, I went for a haircut and then to the comic shop. I was then going to see Ms E Morgan for another chat and also CUPPA, but she'd had to cancel due to being poorly, so I found myself at a bit of a loose end. I was due to meet Mr C Lawson for PINTS later on (it is a busy, arduous schedule!) so I decided to go to the pictures.
I thus ended up at the Odeon on Tottenham Court Road, where the film "Dracula Untold" was about to start. I'd seen the chap who plays Dracula on Graham Norton last week and, though it didn't look like it was a particularly brilliant film I thought it might be fun, and certainly better than the Hugh Grant romcom that was my alternate option. I got myself some popcorn and a BEER (I do like it when they let you have BEER at the pictures. BEER!) and settled in to watch it.
Here is my short review: the special effects are GRATE but the rest of it is UTTERLY SILLY.
Here is my slightly longer review: I liked the way they'd tried to think of a proper SECRET ORIGIN for Dracula, but GOODNESS ME it was SO PREDICTABLE I almost wondered if i'd seen it before. When Charles Dance (SPOILERS) says "Ooh, you'll have super-powers for three days, right, but if you drink any blood you'll get stuck like that forever!" they might as well have had a big sign flashing saying "WELL THAT WON'T HAPPEN WILL IT? WHY WOULD HE DO THAT EH?" before cutting to a picture of his wife and child with an ARROW pointing at them saying "Surely his wife, child and country would have to be at stake and THAT'S UNLIKELY RIGHT?"
Shortly after that he turns into a swarm of bats which is PRETTY COOL, but then it gets stupider and stupider. His enemies, The Horrid Turks, realise they're fighting a vampire so decide to fight ONLY AT NIGHT because that's definitely the most sensible thing to do. Dracula goes out and kills hundreds of them all in one go (in a Really Cool Bit, featuring more swarms of bats and a Dead Good Camera Thing where you see the battle reflected on a sword, it's smashing) so they decide the main thing stopping them is being SCARED of what they SEE, so the army starts marching round BLINDFOLD. "You cannot be scared of what you can't see!" says Boss Baddy, incorrectly. Maybe it takes them until nightfall to get to Castle Dracula because they keep going the wrong way and/or falling over things?
Anyway, some more silly things happen, also lots of cool effects, then the STUPIDEST THING OF ALL occurs when his wife says "Hey! Only 1 minute before you're doomed forever, so I think the best thing to do in this situation is to drink my blood and then be a horrible monster" and this leads to a whole heap of EVEN MORE SILLY things happening which, frankly, if Dracula is half the Prince, strategist, leader and GOOD GUY he has been built up to be he would not have done as he would have spent 0.0001 seconds thinking about it first. "Oh I know, I'll transform all my mates into HIDEOUS EVIL MONSTERS, that definitely won't go wrong."
It is IDIOTIC but, as I say, does look good and is amiable enough. There's also a bit at the end that is LIKE the ending of Battlestar Galactica but this time DOESN'T ruin what has gone before because a) what has gone before was just DAFT and b) even a tiny baby could have predicted that it was going to happen. It's meant to be a lead-in to the SEQUEL i guess, though I would be AMAZED if it happened.
If it did though I would, OBVS, totally go and see it!
posted 17/10/2014 by MJ Hibbett
(click here for permanent link)
(0) comments
Band Practice
I was back on the train to Leicester yet AGANE last night, heading off for another band practice. Once in town I hopped into a taxi in order to get to The Foresters Arms for my traditional pre-practice pint. This time I was joined by Mr T Pattison, who told me several marvellous tales of his current life as an International Jet Setter. Apparently, these days when he gets on a plane they already know his drinks order: GLAMOUR!
We nipped over to Stayfree where we were soon joined by Mr FA Machine. I'd already had a call from Mr T "The Tiger" McClure telling me he'd be a few minutes late, and I said "Don't worry - Frankie and Tim will still be talking about The Fall for the first ten minutes." Tom arrived 15 minutes into our timeslot, to find that that is EXACTLY what was going on!
Once we were all sorted and settled (Mrs E Pattison being absent once again, almost as if she doesn't LOVE being trapped in a sweaty, mouldy room full of loud noises and men breaking wind) we got down to BUSINESS, with the aforesaid business being ROCK. We spent about 45 minutes working on
That Guy
again - as reported previously, there's LOTS of different parts to it, one of which we changed a bit, so it took a while to get right, but once we did it sounded ACE. We then had a few goes through
Easy Christmas
, which ended in some discussion about PRODUCTION. We're hoping to get it fully recorded and mixed next month, so that it can be added to
Christmas Selection Box
, but I'm keen to retain focus on the keyword "Easy" in the title. With this in mind Tim offered to recruit his daughters to record the video for us. It's certainly easier than me doing it!
We then ROCKED through most of the other current "new album" songs -
We Did It Anyway
,
(You Make Me Feel) Soft Rock
(twice, as the first time was distinctly lacking in VIM), and
Burn It Down And Start Again
with it's slightly confusingly simple New Middle Bit. We didn't bother doing
20 Things To Do Before You're 30
as we KNOW that one, so had some time left to do something ELSE.
A few days previously Tim had reported that he'd had his iPod on SHUFFLE and
Hibbett's Superstore
had come on. He claimed not to have heard it before (which SURELY is impossible as I always thought he listened to nothing BUT my extensive solo OUVRE) and to have liked it, so the rest of the Validators had "reaquainted" themselves with it too, in case we had time to try it out.
We did, so we did, and it sounded really really good! "You need to do some words then", said Frankie once we'd finished, and I realised that I already HAD some. Last week, during one of my regular ODYSSEYS around London town, I'd gone to have a look at the
Leaping Hare in Bradgate Circle
, in order to get some INSPIRATION for entering a competition. The idea of the competition was to write a MONOLOGUE for a statue (there were four to choose from, and this one looked the easiest to get to, also most fun) and I was duly inspired to write a POEM, called
Leaping Hare In Broadgate
. I still had the words in my NOTEBOOK which was with me and so I had a go at saying them along with the music, and it TOTALLY WORKED. Weirdly, I sort of knew it would, as The Gods Of ROCK had clearly decided it would all come together like this. When we'd finished The Validators ASKED me to read it out so they could hear the words (this happens RARELY!) and they all seemed in favour, so that's a surprise EXTRA song to add to the much mooted Album Of Hits.
As we packed away we talked about possible titles and what other songs might be available - it feels like it's going to be Quite Good - and with that all done Tom gave me a lift to the station, stopping off over the road for a PINT and chat in The Hind. It was a delightful end to a really rather marvellous evening of ROCK!
posted 15/10/2014 by MJ Hibbett
(click here for permanent link)
(0) comments
Totally Problematic
It was
Totally Acoustic
last Thursday night. Usually these evenings flit by in a BREEZE of EASE, but this time there was a succession of ISSUES!
There's already been a bit of a hiccup in the afternoon, when it turned out that Vinnie from The Mini-Skips wouldn't be able to come. This was a right shame, but Markie was still coming so I thought we'd be OK. The proper trouble began when I got to the pub... and almost nobody else did!
I'd had a long day in town beforehand, seeing a couple of PALS, going to look at some STUFF, and generally mooching around, and thus had arrived at The King & Queen a bit earlier than usual, so to start with I thought it just FELT as if I'd been there for ages without anyone else arriving. However, once it got to 7pm with only about five of us there, including NO acts, I started to worry!
I contacted our other act, Chris and Charlie, who said they were nearly there, and managed to email Vinnie, who'd heard from Mark that he was a couple of miles away. Mr S Hewitt and The Time Of My Appointment rolled up, then some more audience, and finally the acts so that by 8pm everybody was finally there and we could start. PHEW!
I went on first and did TWO (2) songs what I'd never done live before, as you can see from the below setlist:
Given that I'd been in the pub since just after 5pm i was AMAZED by the fact that I got all three songs almost entirely right, missing out just one word ("Autumn") in the second song. I did note that none of them were necessarily the TOP HITS of my live set, but then that's partly the point of doing new stuff, I guess, to see what IS!
Next up was Winston Echo/Anguish Sandwich/Chris And Charlie doing a work in progress version of "Jurassic Park: The Musical". Apparently they'd started this five years ago, written three songs, then some other person had done ANOTHER indie-related musical concerning Dinosaurs. Can't think what that could have been. However, they had recenty dug it all up (paleontology gag!) and decided to continue the WORK, writing another song with more to follow. It was dead good - I'd thought it was just going to be some songs, but it was like a proper sung through musical, with lots of PARTS and TALKING and all sorts!
We then had a break before Markie Mini-Skips came on and did some GRATE songs, largely, it turned out, written by women who'd since died, but also including whatever of their own songs he was able to do solo. My favourite was one called "Bristol" which I'd hoped to put into the podast but, ANNOYINGLY, when I got home I discovered one final problem - my four-track had filled up, so I'd only got his first song recorded!! Hopefully I'll be able to get some more material off him to put into the podcast, but it was a bit sad as his actual set had been ACE!
At the time I didn't realise this had happened, otherwise I would have re-recordes some songs there and then, so instead we indulged in my FAVOURITE, and least problematic, aspect of Totally Acoustic: another beer and a CHAT. It was lovely!
posted 13/10/2014 by MJ Hibbett
(click here for permanent link)
(0) comments
Lost City Writers
On Wednesday night I was at the Old Red Lion pub in Angel for a MEETING with a bunch of chums formerly off the MA. A load of us wanted to keep meeting up, so we got together to work out how we were going to arrange it, and what we were going to do when we did so.
It was a DEAD good meeting. Once we'd all got settled we agreed various things, including moving to a different venue (it was nice, but a bit NOISY there), planning some SHOWS, and sharing INFO. The best bit, I thought, was when we went round the whole group and each said what we'd been up to with The Writing. Pretty much everyone said "I've not really done anything" then REELED off a list of stuff and finished with "Oh right, maybe I have." It was lovely to know that everyone was DOING stuff and indeed GETTING somewhere, and it was also super-handy to find out about OTHER stuff that was going on that the rest of us could get into.
Mr A Dawson took Proper Minutes so we've got various Action Points to be getting on with, and a whole heap of possibilities to look forward. This could have been just an excuse to get together and have some beers and a NATTER - which would have been fine with me - but it looks like it could be a way of getting exciting stuff DONE!
posted 10/10/2014 by MJ Hibbett
(click here for permanent link)
(0) comments
Remix Morning
I had a big list of things to get on with on Tuesday, so of course when I saw a tweet about
Go Go Penguin offering parts of one of their tracks for a remix competition
I thought "I certainly shan't be spending half the day messing around with THAT for heaven's sake!"
And then, obviously, did, and had a LOVELY time doing it too. I took a very icy, stern, JAZZY dance song and... well, made it a bit more INDIE, with some acoustic guitars, casio keyboards, and a big bouncy bass. Also I noticed that they hadn't put the title of the song in it anywhere, so sorted that out for them. Here's what I did:
You can hear all the other entries as they come in
on their soundcloud page
, and I expect most of them will be more in the vein of what the organisers were probably after i.e. Grown-Up Dance Music, rather than someone LARKING about, but still it was a very pleasant way to spend the morning. It was certainly more pleasant than the afternoon, which heavily featured THE DENTIST!
posted 8/10/2014 by MJ Hibbett
(click here for permanent link)
(3) comments
The First Readthrough
On Sunday we had a little GATHERING at CHEZ NOUS, when The Hewitts came round to help us eat a pile of CRUDITES, drink a load of BOOZE, and also have the first readthrough of next year's show, "Hey Hey 16K".
I must admit I was rather worried about how it was going to go. The only person who's SEEN the script or even HEARD the songs is Steve, as not even The Hits In My Back Catalogue has heard it. Mr Hewitt had said it was all OK, but what if it wasn't? What if THE WIVES said "No, this is rubbish, you need to start again"? What if, when saying it all out loud in front of other people for the first time, I realised it was BORING? And on top of all that, is IS A Bit Different to all the other shows - what if everyone RECOILED?
With all this in mind we sat round the kitchen table, scripts to hand, and DONE it. It seemed to go OK - the Ada Lovelace RAP SECTION (oh yes) seemed to take quite a while, and I got confused in a few places where songs I've done a MILLION times suddenly START with a different BIT but otherwise it was fine, especially the section called "Dad Jokes" which Steve and i LARFED our way through, though if the audience at home was anything to go by I think that that may be dividing future audiences along gender lines.
Once it was all done and everyone had ABLUTED I asked for reactions. Everyone said they liked it! There were some queries about the NATURE of the show (e.g. we probably need to signpost it more right at the start that it ISN'T going to be a history of home computers or an hour long version of the main song) and some surprise that it actually IS different from the other shows (not least because you can understand what's going on for most of it!), but the general reaction was GOOD. As you'll (hopefully) see if you (hopefully) come to a performance, it's a LOT more PERSONAL this time and a LOT less about superheroes/robots/dinosaurs, although it DOES have the usual amount of - possibly even more - TITTING ABOUT. And time travel, obvs.
It's also much shorter than previous shows. This version was 40 minutes long which, when you add in LARFS and deduct NERVES is probably how long it'll be in performance, though there IS a Tap Dance Section (honest) which might take a while, and I'm hoping to do a MEDLEY at the end too, so it should all work out at the right length. Anwyay, it's much nicer to run SHORT than LONG on things like this, as you can mess around a bit more and people can get off to their next show/the bar sooner too.
So it was all a bit of a RELIEF, though it has led to another slight worry. We spent MONTHS working on the script for
Total Hero Team
, moving things around, cutting scenes, changing characters, so I'd taken that onboard as part of the PROCESS. With this in mind I'd timetabled all of next WEEK to do the second draft - if it's going to be this straightforward, I'm going to have to find something else to do!
posted 7/10/2014 by MJ Hibbett
(click here for permanent link)
(3) comments
Sitcom Workshop
A few months ago I signed up an Associate Member of The Writers' Guild, which is basically the union for UK wrtiers. It's all jolly good and you get a delightful newletter each week, but it doesn't have Continuing Professional Development. This is something that the Points In My Score DOES have in her Sort-Of-Union, The Chartered Institute Of Public Relations. Every year she has to tot up all the learning she has done via events and courses, to make sure she's got enough to maintain her Chartered status. The reason I'd like that for MY Sort-Of-Union is that I reckon I would pass it PEASY!
For LO! i went to yet ANOTHER event on Saturday, this time a sitcom workshop at the Chisenhale Gallery, which was part of a weekend-long series of events round this way commemorating the centenary of Joan Littlewood's birth by creating "Fun Palaces." There were all sorts of things going on, and when I got an email about THIS one, the night before, I thought "Why not?" so WENT.
The way I went was via the 339 bus, which goes RIGHT past our flat but which I have only ever previously used as a means to get to and from Leytonstone. Going the other way was DEAD interesting, as we went through the Olympic Park and then on into Tower Hamlets/Bow/Roman Road/Hackney (it was a confusingly wriggly route) through a whole lot of Industrial Estates. Everyone's always (rightly) saying how expensive property is in London, yet here was a vast area covered with hundreds of the big SHEDS that fill industrial estates all over the country. "How dreary" i MUSED to myself, "that they're the same wherever you go," then realised it was EVER THUS, and that all of the remaining Victorian factories ALSO look pretty much identical. Maybe in a 100 years time Future Hipsters will be living in artfully converted corrugated iron warehouses?
Anyway, I eventually got to the gallery where I almost immediately bumped into Ms E Harwood, also from off of my course. As I have said previously, one of the biggest BONUSES of doing that MA is that you're never alone at an EVENT! we were called in to a small room with about 20 other attendees and one very very nervous speaker, who soon introduced himself as Lucien Young, one of the writers of Siblings. I took an almost instant DISLIKE to him when he revealed that he had been a member of The C***bridge F***lights, but then I re-warmed to him as the day went on and he got a) slightly less terrified b) more and more excited by sitcoms. He was a delight to listen to, as he talked at length about how to define sitcoms, what makes them work, and especially the differences between American and UK sitcoms. He didn't say anything in particular that I'd not heard before, but he did put it together in interesting ways and raise Thought Provoking Ideas. And also he c) mentioned 'Cheers' and 'Frasier' a lot, which always makes me happy. It actually reminded me of seeing Statisticians at Statistics Conferences. They'd always look really pleased to listen to people droning on and on about The Most Boring Thing Ever (i.e. Statistics) because they really liked it, and that's how i always feel listening to people talk about sitcoms. It feels a bit NAUGHTY to be taking it all so seriously, as they're Just Sitcoms and, according to THE MAN, don't deserve cultural critiques, but i LOVE it!
It was all dead good, especially at the end when the whole room did Group Work and created a vague idea for a show based on a cruise ship. It was only to demonstrate how sitcom creation works, but ideas and characters were soon FLYING about the room, so that it was disappointing to have to stop. It was a lovely couple of hours thinking about GRATE things - I still wish I could've got some CAREER POINTS for it though!
posted 6/10/2014 by MJ Hibbett
(click here for permanent link)
(0) comments
Live At The BBC
On Wednesday night I went to BBC Broadcasting House to see a recording of this week's edition of Newsjack. It's always very exciting going there because, well, it's BBC Broadcasting House isn't it? It's one of those places, like The House Of Commons or All Of New York, that you see on the telly SO MUCH that you can't believe it's actually real even when you're right in front of it or, indeed, INSIDE it.
It was even more exciting this time because in the cafe they had THE TARDIS and also A DALEK. I was there with Ms E Morgan who suggested that it might not be a real dalek, but I reckon that it definitely was a real dalek i.e. a REAL DALEK, not one they use for filming in Doctor Who but an ACTUAL DALEK. It might not have been, but I kept my distance just in case. They also had one of the chairs from "The Voice", which always looks dead flashy in the trailers (I don't watch the show my dears of course, I am too busy watching BBC4 documentaries or something) but looked incredibly old fashioned in real life, especially the big clunky spaces for cup holders in each arm. Do they use cup holders in the show? Wouldn't their tea splash all over them when they spin round? As I say, I don't know, as I'm usually listening to whatever it is they have on Radio 3 instead.
We swapped some IDEAS and that and soon got called in. As ever with this sort of thing we got talked at by the producers and then Romesh the host came on a chivvied us along/told us off a bit. The cast this week was ACE - Terry Mynott was in it, who i thought was GRATE in The Mimic, but the BEST person in the whole thing was Morgana Robinson, who was VERY funny. The whole thing was full of LARFS - I have said it before but it is ODD that when you go to SEE a radio or TV show recording you always end up LARFING like a LOON throughout, HOOTING with glee at things that, when you see/hear them at home later are not really very funny at all. Whatever, I had a WHALE of a time, and almost forgot to listen out for any of the GAGS and SKETCHES that Mr J Dredge and I had sent in earlier in the week. We didn't get any in at all this week, but due to all the aforesaid LARFS I didn't really mind. We do, however, need to buckle down and send some more in this week - it's a good show, I want us to be part of it!
posted 3/10/2014 by MJ Hibbett
(click here for permanent link)
(0) comments
Cultural Impact
I was having one last look at twitter before going to bed on Monday night when THIS popped up in my notifications: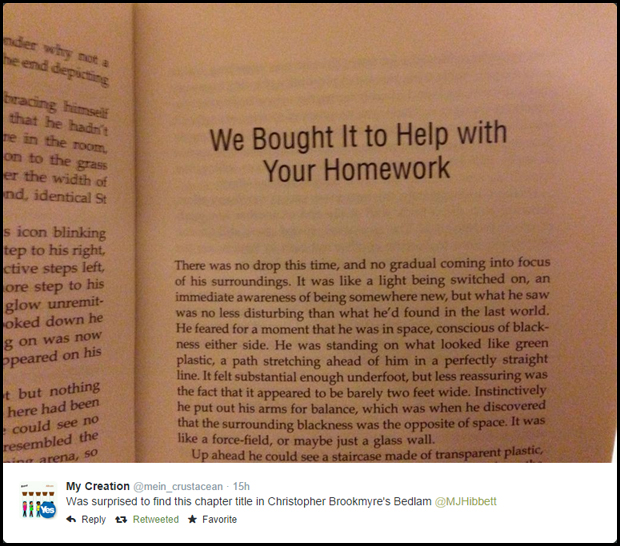 Gosh! Had a big proper famous author REALLY used a quote from one of my songs as a chapter heading? "We Bought It To Help With Your Homework" is one of the choruses for
Hey Hey 16K
but, I thought, maybe it's also a common phrase elsewhere too? I'd heard of Christopher Brookmyre but didn't know much about him, so looked him up on wikipedia and found that he was born very much at the right time to know the song (i.e. he's two years older than me and thus would have been in the PRIME SPOT for ZX Spectrum nostalgia when the song came out). Looking a little bit further I found an interview with him talking about his favourite old games, including Jet Set Willy, and ALSO discovered that the book "Bedlam" is partly about computer games.
The whole thing was confirmed when I went and looked a bit more on twitter and saw THIS exchange: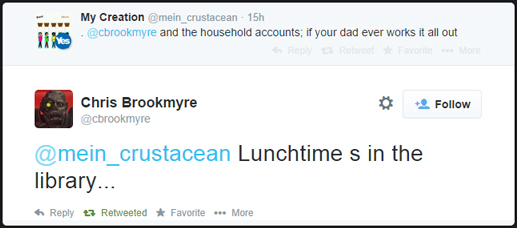 I think that makes it official!
I know it's not really a HUGE DEAL, but it does make me EXTREMELY HAPPY to know that a song I wrote 300,000 years ago still means something to people, and has slipped gently into a tiny corner of popular culture. I mean, I realise it's not quite
Swedish Scientists Hiding Bob Dylan Lyrics in Scholarly Articles
but it's still rather lovely. I guess this means I'd better buy the book now doesn't it? Authors take note! You can increase sales by at LEAST (also possibly at MOST) one copy simply by sticking one of my song titles in!
posted 1/10/2014 by MJ Hibbett
(click here for permanent link)
(0) comments

An Artists Against Success Presentation