Blog
Gigs
Facts
Music
Shop
Links
Showcase
I've just got back from the (exciting, recently opened, new) post box down the road, where I was posting some INVITES. Next month (June 25th, to be exact) we're having the Showcase Evening for my MA. There's going to be 14 excerpts from our final scripts, and the idea is that we invite Industry Types along to see it and EITHER offer us huge wads of CA$H, contracts and GLOBAL FAME... OR say "that was very nice well done everybody" and drink some FREE WINE. Either is fine.
The only difficulty I'm finding with this is that I don't KNOW many people who work in the TV industry. In fact I know TWO, both of whom have invites in the post. The rest are a) some people I've hassled in the past who have been nice enough to reply b) the producers of Newsjack c) the producers of some shows I like. I think that's the general idea, but it does strike me that there MIGHT be people reading this who either ARE linked to the world of TV (or radio or theatre or film or games or comics) and would like to come along or who KNOW someone similar. I know SOME people read this blog but I don't know WHO, so if you're now thinking "I would be up for FREE BOOZE and/or know somebody else who might" then do please
let me know
otherwise there's going to be loads of FREE BOOZE leftover at the end of the evening and... well, actually, that wouldn't be all bad would it? Every cloud!
posted 29/5/2014 by MJ Hibbett
(click here for permanent link)
(0) comments
The Closed Shop, Sheffield
On Sunday I took a break from the GRUELLING RIGOURS of travelling to do gigs with Gav and Grace by... er... travelling to do a gig! This time i was heading to wonderful SHEFFIELD to play at a weekender organised by Mr D Hartley at
The Closed Shop
. The pub had been awared Pub Of The Month by Sheffield CAMRA and asked Dan to arrange a weekend of Acoustic Sets to celebrate. When he'd first asked me I thought I might be booked for going to WEMBLEY, but as Leyton Orient kindly decided to make the trip in place of Posh i was free to head North instead.
I'd been a bit worried about the journey there, as it involved a Rail Replacement Bus. When I first started gigging around the country it felt like I was having to take one of these every bloody week, but I've not been on one for YEARS and, actually, it was FINE. I got the train to Doncaster, then walked out of the station onto a bus which was ALL RIGHT, left early (it was full) and then arrived in Sheffield early AND slightly closer to the Ibis than the train station. It was FINE!
After checking in to My Usual Suite and a quick WASH I went in search of a taxi. The bus station taxi rank had no taxis, nor any sign that it ever WOULD have, so I popped to the railway station instead and was soon up in a bit of Sheffield I'd never visited before. It was lovely, like something off the TELLY, and inside the pub was full of PALS, also a BEER FESTIVAL. I was quite CAREFUL with the BEER, having a pint of Diet Coke to OFFSET it at one point and also taking BREAKS from drinking all together... well, I did before I went on anyway!
First up was Mr Alexander Chrisopher Hale, playing my old guitar. We were all crowded into the back room, squidged in around a pool table, but Alex handled it WELL, including a dead good NEW song. After him it was Mugshots Of Criminals, featuring Dan's DAD as lead singer, doing Americana style covers (mostly). It was dead good, and I admired Dan for putting his Dad on - I'd always be too worried if my Dad played, in case anyone dared not to like it!
More and more chums rolled up, and there was more chat, including a discussion on how ACE John Lewis is. ROCK! Mr Pete Green was next and was fab as ever. It was during his set that the THEME of the day was detected - everybody was doing at least one new song and FINISHING with a cover. I took note!
The original plan for the day had been to have everything outside, with a BARBECUE, but the threat of RAIN had made the pub decide to move the gig bit inside. The barbecue was still going - i had a delicious Falafel Burger from it - and around this point in the day a consensus was reached that it would probably be worth the risk to move out into the beer garden. This turned out VERY well, as a large crowd had gathered for Robberie, who were GRATE and ALSO complied with the new song + pop cover RULE.
Then it was my turn, and I took to the "stage" ("gazebo") and did THIS:
It was a lot of FUN, but also a lot of WORK! I was surrounded by Very Small Children running about throughout the set, and also had to keep a wary eye out for CHAT - occasionally during Robberie some people had chatted a bit loudly, probably unaware of their volume due to BEER, so I announced that chatting was NOT ALLOWED while i was on. I thought it was a bit STERN, but it seemed to work! I also did quite a lot of BELLOWING, to get across to everyone, and was very happily surprised to find my voice coped with it FINE. Usually when I do this I get HOARSE halfway through, but it seems that TOURING has toughened me up a bit! I finished with a cover, as was the rule (and inadvertently came close to LOSING the audience and being AWFUL - I delivered the "hello cutie" line in "Boom Shake The Room" to a very cute toddler who was passing by at the time... then realised that the rest of that bit was INCREDIBLY INAPPROPRIATE for delivery to a child, and had to talk my way out of it), then was very pleased to be dragged back for an ENCORE. I gave people a choice of songs and they CHOSE the one with "extreme audience participation" in, so had no qualms about DEMANDING that everyone got up and danced!
After that there was gentle migration back into the pub for the beer festival and some Conversation, which covered diverse Adult Topics, also some DAFTNESS. There was a young man in the pub who seemed Oddly Familiar, and it was later confirmed (definitely "confirmed"!) that it was Harry Styles From One Direction! It seemed WEIRD that he'd be there, but I guess quite sensible - if you're Harry Styles From One Direction then an old man's BEERY PUB is probably the last place you'll get recognised and hassled!
There was a BAGATELLE tournament, more chat, more beer, and then suddenly it was 10pm and me and Dan were the only ones left, doing a Pub Quiz. I blame the 7% STOUT! I found myself just a bit too tipsy to see it through to the end, so thanked Mr Hartley and then STAGGERED down to the bus stop, and got the bus back to town and to bed. It had been a BRILLIANT day - the perfect holiday from touring!
posted 28/5/2014 by MJ Hibbett
(click here for permanent link)
(2) comments
Tour Diary 4: Bath
Last Friday saw a monumental moment in the relationshop of The Trains On My Tracks and I, for LO! we got to use a TWO TOGETHER railcard for the first time! It was Quite Exciting and would have been even more so if anybody had actually checked it!
We MADE the train with time to spare - I'd spent a WEEK panicking about it - and were soon in Bath, where we strolled to our hotel. We were in the Holiday Inn Express this time, and NOTED with interest the large Indian Restaurant over the road. A quick change then we hopped into a taxi and zoomed out the The Rondo Theatre, where I was DELIGHTED to see that they'd printed out some of our tour posters and stuck them in the window - nobody else has been brave enough to do this before!
Inside we met Mr G Osborn and Mr J Hare, who'd be joining Gav on piano later on and, after a quick soundcheck, we decamped to the lovely pub down the road. I was very keen to visit it as last time I played with Gav in Bath we'd gone there and I'd had the best pint of London Pride I've had in my LIFE, it was DELICIOUS. I am happy to report that it still was, and we celebrated by having an HILARIOUS and lengthy chat about Diverse Subjects, including the value and use of microwaves, the miracle of induction cookers, and CREEPY HORROR. I laughed a LOT!
Back at the venue Ms G Petrie arrived after ANOTHER heinous car journey - she'd taken over four HOURS to get there from Leicester, which was bad enough but she'd be heading back after the gig to FLY to a family holiday at 4am next day. She was going to NEED a holiday after all that!
People were gently trickling in and I asked the nice soundman what time I was on. He looked surprised - it clearly said 8pm on the tickets, so that was when I was starting! I'd been a bit worried about whether the audience would all BE there by then, but as we got to SHOWTIME they all turned up, and it was thus to a healthy sized crowd that I did THIS:
It felt like quite hard work, not because of the crowd, who were lovely, but because i couldn't SEE anybody - I'm so used to playing in lit rooms that the traditional STAGE set-up feels a bit weird, though it was fun going "Whoooooooo!" when the lights first went down, then coming out like a Variety Star! My nervousness did lead to a LOT of REMARKS and chat though, which was excellent fun, for me at least.
After me Gav and John were MARVELLOUS, especially when they did "You Were Invincible", which he'd not done on the tour before then. Also Grace did some DELIGHTFUL and UNEXPECTED harmonies on the end bit of "Closing Montage", before going on to do a GRATE set herself, featuring a song called "The Distance" which a) I'd not heard before b) was BRILL. Gav and I sat together clucking like a pair of mother hens throughout the set, taking it in term to nudge each other and say "I like this one!"
By the time we'd all finished, packed up, and said our cheerios we'd JUST missed last orders, so there were final hugs and then The Number On My Card and i HOPPED into a taxi and back to our hotel. We'd not had any tea so decided to go for a CURRY over the road at
The Mint Room
. Initially we were told they'd stopped serving, but the waiter took pity on us and we got to go in and have a GORGEOUS meal. Having mentioned them in
That Guy
I thought I ought to have a DOSA, and was glad I did as it was GORGEOUS.
Usually on this tour I've returned to the hotel and gone to bed, without even a Dirty Pizza, let alone an ACTUAL CURRY, but with The Bourbon In My BOttle there for the ride things got even MORE Rock & Roll, as we sat in the Hotel Bar and drank us some JACK DANIELS! It was a full-on aftershow!
Next day all vague plans to go to either the Spa Baths or the American Museum were turned down in favour of a lie-in, a hotel breakfast and a trip to ANOTHER great Bath Pub,
The Crystal Palace
. They'd had a refurb since our last visit, but it wasn't HUGELY different, and a great place to have (basically) BREAKFAST BEERS! Life on the road, it gets a little bit KRAZY sometimes!
posted 27/5/2014 by MJ Hibbett
(click here for permanent link)
(0) comments
Let The Right One In
On Tuesday night I went to the THEATRE to see an ACTUAL PLAY. It's AGES since I've done this - I mean, I went to see "Jeeves and Wooster" a little while ago, but I thought of that more like a musical, probably because it was FUN. I usually associate Actual Plays with HOMEWORK, to be honest, but this turned out to be DEAD GOOD.
The trip was instigated by Mrs M Hewitt, so I met with her, Mr S Hewitt and Mr P Baran for pre-theatre drinks just after 6 o'clock. The night before The News In My Bulletin and I had been discussing our enjoyment of Clive Myrie's presentation style on BBC News, and I commented that he always seems like the sort of chap who would a) drink a glass of wine in a pub and b) not care what anybody thought of him for doing so, and with this in mind I decided to start on the wine EARLY. I do like having a glass of wine at The Theatre, it requires less LOO breaks and makes the whole experience more FUN.
The play was "Let The Right One In", the first to be staged at the Apollo Theatre since the roof caved in on the audience a while ago. We were a little disturbed to find what appeared to be PLASTER on the floor in the bar, but that MAY have been STAGECRAFT of some sort as the play itself featured quite a lot of SNOW on the stage. The roof stayed up throughout anyway, so that was a relief.
The play itself was GRATE - not least because we got UPGRADED from the upper circle into the very nice comfy seats in the stalls. It's an adaptation of the Swedish book/film from a while back, and the adaptation was done by Jack Thorne, who did The Fades (which was excellent). It was set in the 80s and, as he'd transferred the setting to Glasgow, it felt a bit like a long lost Bill Forsyth movie - "Gregory's Vampire". Maybe that's just me. I really enjoyed it, it was spooky and oddly funny and very charming all round.
It was a lovely night all round really - maybe this "theatre" thing isn't so bad after all?
posted 22/5/2014 by MJ Hibbett
(click here for permanent link)
(0) comments
Tour Diary 3: Bristol
I was up EARLY on day 3 of the tour, as B&Bs tend to want you checked out a lot sooner than Hotels. On the plus side, they do also give you the second "B" of the B&B, which in this case was a MASSIVE, also DELICIOUS, veggie breakfast. I WADDLED downhill to the station, full of GRUB, and ended up getting an earlier train that expected. I then (after getting SLIGHTLY but not irretrievably lost) found my hotel in Bristol a bit nearer to the station a bit quicker than I thought, so ended up in the lobby of the Ibis asking to check-in at 11:45am. "Check-in isn't until noon" said the lady, a little sharply. "Oh, " I replied, looking equally Slightly Stern, "I can wait then!" I think we both then felt a little self-conscious, and there was much apologising and jolliness on both sides as she searched and found me a room that was ready a bit early. PHEW!
After some loafing about I headed down the road (getting slightly lost again - Bristol is BIG, also slightly confusing) to the Showcase Cinema, where I watched "Godzilla". About 90 minutes into it I realised that i was BORED - this surprised me, as GIANT MONSTERS FIGHTING is something I am usually very happy to watch, but somehow they had made it DULL. They did that thing where you only see glimpses of the MONSTERS, which is fine except that the people they concentrated on instead were RUBBISH. It was a bit like "Man Of Steel" in a way, as they presented you with the US Army and expected you to applaud them just for being the US Army. The lead character was IN NO WAY A MAVERICK, and it felt like you were meant to cheer for blind obedience, also a bunch of big necked men shouting "SIR! YES SIR!" a lot. I did not enjoy it.
What i DID enjoy however was a stroll in the sunshine through Bristol to Millenium Square where I met Gav. We had a beer in the sun outside an Indian Restaurant (Kingfisher is an EXCELLENT holiday beer!) and then walked to The Grain Barge, which reminded me a LOT of Charters in Peterborough. This was a good thing!
We soundchecked, got fed AGAIN, had a free beer AGAIN and then greeted various CHUMS as they rolled up. As with all previous gigs I worried beforehand about how it would go, but it went LOVELY. Gav kicked off, FINALLY doing "Sweet Bedford" after me asking for it every gig, and announcing the arrival of Grace, who'd DASHED back from playing at a wedding in Gloucester, by saying "Here's Grace Petrie, who's come here straight from a wedding." It sounded like he'd said "
her
wedding", and she was CONGRATULATED by several people!
Then it was ME, and I did THIS:
Different songs AGANE here, including the debut of
That Guy
which went down DEAD well. One of the many lovely things about this tour has been doing NEW songs and having them go down WELL. I'm really rather looking forward to doing the album! Also, people did the "la la la la" bit in the middle of
Boom Shake The Room
and it was so delightful I had to stop and get them to do it again!
Then Grace went on and once again was MARVELLOUS, winning over the whole room - there was talk of rotating the running order as the tour went along, but I think both Gav and I favour Grace closing, neither of us really like the idea of following her!
Then, after some more BEER and CHAT and HUGS, that was that - stage one of the tour was OVER. I returned to the Ibis VERY happy with how it had gone so far and looking forward to the rest of it. Next stop BATH on the 23rd,
do come if you can!
.
posted 21/5/2014 by MJ Hibbett
(click here for permanent link)
(0) comments
Tour Diary 2: Exeter
On day two of the Hibbett/Osborn/Petrie tour I had a bit of a lie-in. ROCK! I then walked down the road to the Ibis Budget, where Grace had been staying. We hopped into the PETRIE-MOBILE and... then had to go back inside to get another ticket for the car park, as the original had disappeared, and THEN roared off onto the road. There then followed two hours during which I think it was fair to say that the world was comprehensively put to rights, and LO! there was much agreeing about THINGS. It's AGES since I've been on a car journey, it was FUN!
We arrived in the Funky Shops area of Exeter, and were astonished to find that the tattoo parlour had an "I'm Voting UKIP" poster in the window. What has the world come to when Tattoo Parlours, for heaven's sake, are voting UKIP? I fully expect to see FLORISTS calling for ANARCHY any day now!
We lunched once more in Weatherspoons (if we do another tour i may see if i can get Weatherspoons to sponsor us) then split up once more, Grace going to a hotel and me this time to a B&B. It was very nice, very friendly, and very very very much smaller than my accomodation the night before, featuring about 20% as much Mattress Space as previously.
After a while I got a text from Gav and mooched into town for coffee before AMBLING round the corner to The Cavern, where the gig was happening, and where we were soon joined by Grace. Before deciding on "Two Men And A Little Lady" as the TITLE for the tour we'd also considered "Grace Has Two Dads", as that was what we imagined it might end up being like. We imagined CORRECTLY - Gav brought everyone presents, and I told Grace off for not eating tomatoes. THESE WERE OUR ROLES.
We had a SPLENDID tea, including Pizza and the best coleslaw I have EVER eaten (which I also insisted everyone tried, or else they wouldn't be allowed to get down from the table and do their gig) AND we got free beer too. I was very conscious of the fact that Gav and Grace are used to slightly more Professional touring styles than me, and i must say i LIKED their way of doing things. We got fed AND paid AND given free beer at every gig! It was ACE!
Soon it was show-time - Pippa the promoter had booked THREE other acts to play, which I thought might be a bit much but turned out to be a GOOD IDEA as they brought PEOPLE! I was on second, which I was also a little wary of, but it turned out to be FINE. As ever, if you're on near the middle it means that most of the people who intend to come have got there, and most people who have come are there still, so I had a very enjoyable time doing THIS:
I practiced a PILE of songs the week before these gigs, so was quite keen to do some different stuff, which seemed to work out pretty well, with
20 Things To Do Before You're 30
doing well again. There were two more local acts then Grace (who did a GRATE song called "Inspector Morse" with a GIGANTIC chorus) and Gav (who did a lovely old/new to me one called "Soundtrack", also "Closing MOntage" which stuck in my head for the next 24 hours).
It ended up being a beautiful evening, even though I must admit i did have some Slightly Melancholy ISH Thorts halfway through, wondering if this would be the last time I ever did a tour like this, and if maybe that would be a good thing? I've had a taste for the high life of FREE PIZZA on this tour, I don't know if I could go back to paying for it!
posted 20/5/2014 by MJ Hibbett
(click here for permanent link)
(0) comments
Tour Diary 1: Cardiff
Last Wednesday was auspicious for many reasons - it was the 40th Birthday of Mr S Hewitt, my final day officially at work, and also the start of my tour with Gavin Osborn and Grace Petrie. AND it was dead sunny - who could ask for more?
Well, i COULD have asked to have been back in My Usual Suite at the Cardiff Ibis, but for some reason (I _think_ cost) I'd booked into the Mercure, which turned out to be MILES away and VERY difficult to get to on foot. Thus at 5pm I officially finished 22 years of non-stop employment by standing by the side of a busy motorway, desperately trying to get me, my guitar and my wheely suitcase to the other side. It wasn't how I envisaged it happening, but I guess it's not a bad way to kick off your mid-life crisis!
My room was GIGANTIC, with TWO (2) king sized beds, but I didn't have time to bounce around on them as I had to get back into town to "The Welsh Club", as everyone called it, where I met Gavin, had HUGZ and a CHAT and then did the first Solo Soundcheck i've done in AGES. It felt WEIRD - I'm so used to doing everything Totally Acoustically these days, plugging in has become ALIEN to me!
We moved tables and chairs around to form a CAFE STYLE layout then popped round the corner to see Mr and Mrs Hodgkiss for BEER, and got back to the venue just in time to see Grace, who'd battled her way in VALIANTLY through heavy traffic. After more hugs and another quick soundcheck the three of us went over the road to eat HUGE piles of GRUB in Weatherspoons, which meant that when we got back to the venue i felt a BIT FULL as I went on stage and did THIS:
Despite the BLOATING it went pretty well, I think. I thought i ought to do
Work's All Right (if it's a proper job)
to mark the occasion of the END of the period of working which that song celebrated, and I was very glad I did because later on somebody thanked me for playing it, as it was his FAVOURITE. I also went WRONG during
We Did It Anyway
, but nobody seemed to mind/notice, and once again
20 Things To Do Before You're 30
seemed to go down BEST.
Then it was Gavin and Grace who were both AMAZING. *SPOILER ALERT* - they would continue to be like this for all the nights of this TOUR LEG. I particularly enjoyed two songs that I'd not heard before - Gav's one about sharing a bath, and Grace's about causing a flood. They're very different performers but both a JOY to watch - you feel SAFE in their presence, confident that they know what they're doing like Old School SHOWBIZ, yet also full of IDEAS and THORTS. It was brilliant!
Afterwards Gav and I stood nervously to one side of the HUGE QUEUE of people who wanted to talk to Grace and buy CDs - this also would continue to happen, and I felt IMMENSELY and possibly UNDESERVEDLY proud of her. Grace played with us LOADS years and years ago, and to see her become this TITAN of ROCK and POLITICS and yet stay lovely and also FUNNY between the songs, it does a middle-aged pillock's heart good to see it!
With that all done we said farewell to Gav, who was heading home, then me and Grace went for a couple more drinks round the corner with Mr C Evans, before heading into a taxi to go to our hotels, which turned out to be close by. It had been a DELIGHTFUL start to the tour!
posted 19/5/2014 by MJ Hibbett
(click here for permanent link)
(0) comments
On Tour Auto-Reply
There will now be a PAUSE in blogs for a few days as I am on the ROAD, touring with Mr G Osborn and Ms G Petrie. Here's the full list for this TRANCHE of ROCK:
Wednesday 14 May 2014
Clwb Ifor Bach
11 Womanby Street, Cardiff CF10 1BR
phone 029 2023 0429
Thursday 15 May 2014
Cavern Club
84 Queen St, Exeter EX4 3RP
phone 01392 495370
Friday 16 May 2014
Grain Barge
Mardyke Wharf, Hotwell Rd, Bristol BS8 4RU
phone
If you happen to be in the vicinity of any of these it would be a DELIGHT to see you there, and if not there's a whole heap more to come, which you can see over on the
gigs page
.
Right! Time to finish packing and get out there - see you on THE ROAD!
posted 14/5/2014 by MJ Hibbett
(click here for permanent link)
(0) comments
Unbeaten (so far) In Play-Offs
I was up EARLY (especially for a Saturday) on Saturday to head off on a train AGANE, as I had tickets with Mr C M Smith to go and see Peterborough United play in the first round of their League One play-off semi-final against Leyton Orient. I hadn't expeceted to be catching a train QUITE this early as I hadn't realised that the kick-off was at 12:15, but I guess I can't complain as I wouldn't be the only one making this journey. After all, Leyton is about three minutes from my HOUSE, so a whole heap of their away support would be doing it too!
I didn't notice ANY Leyton supporters on the Javelin to Kings Cross (though you hardly ever see ANYONE coming through our neighbourhood from Leyton - all those years of Olympics construction appear to have given Leyton people the idea that YOU CAN NEVER PASS through this way) and there were only a few on the train. Maybe the hard-core went up earlier, or maybe there were a lot of coaches?
I met my MUM in the pub - she was meant to be dropping Chris off, but he'd decided HE was going to park the car, so Mum came instead and we got Mildly Excited about having a beer before noon. Holiday beers! As ALWAYS happens when I'm Peterborough with my dear mother we met someone she knows, who said "Is this your husband?" I KNEW I should have shaved before going! Chris rolled up in a PANIC about getting there in time, and the two of us HOT FOOTED it over to London Road, arriving with ten minutes to spare, so as ever we got to watch the pre-match BIT and say "What on earth is that Rabbit all about?" NB there's always a big rabbit character who comes on with the team. I have no idea why - Mr Posh is a GIVEN, they seem very keen on Ms Posh being there, and I actually quite like MATTRESS MAN who comes on at half-time, but I am CONFUSED by the rabbit.
Anyway, the game itself was a bit rubbish - it was very very windy and one entire end of the ground is pretty much open where they're building a new stand, so the ball got blown ALL OVER the place. It took them AGES to realise this as everyone kept HOOFING the ball and then looked confused when it didn't go where they thought it would. It was not the SILKY play I have become used to with Posh this season hem hem and they were VERY LUCKY to get away with a draw.
Still, I hope they win tonight at Leyton - we ARE unbeaten in play-offs, and it would be nice to be able to go to WEMBLEY again. I was very excited on the last day of the season when it turned out they'd be playing Leyton because, as previously stated, it's just round the corner from my house, so ANNOYED when ALL of the Away Tickets sold out before The General Public (me) had a chance to get them. I shall just have to try and listen out of the window and hope for another final!
posted 13/5/2014 by MJ Hibbett
(click here for permanent link)
(1) comments
A Trip Down Memory A-Road
I had a lengthy, varied, and slightly MIND BLOWING day on Friday, which began with a MEETING. This was my usual Friday Lunchtime Meeting with Mr John Dredge (whose
podcast series
is, by the way, GRATE!) where, as usual, we came up with IDEAS and also LARFS. I then popped to the comic shop before HIKING back across town to St Pancras, where I was due to head to LEICESTER.
The main reason for going back there so soon was to attend the 40th Birthday celebrations of Mr T "The Tiger" McClure, but as I was going to be arriving with about six hours to spare I had a chance to meander through that fair city and do some other stuff. The first thing I did was go and have a pint of Everards Tiger in The Globe, which was lovely. I sat drinking this delicious beer and thought back to 1989, which must be at LEAST four or five years ago by now, when I first went in there for a TUTORIAL with a college lecturer and Mr Brian Tagg. I felt TERRIBLY grown-up, sat there with Brian talking about ESSAYS, it was one of the few times that the actual COURSE bit of being at Leicester Poly lived up to my expectations of Academia!
Next I went to the PICTURES to see "Noah". I chose it mostly because it was the only film showing that fitted with my timescale which I had any interest at all in seeing, which was lucky because I LOVED it. The basic idea is that it's a post-apocalyptic sci-fi/Lord Of The Rings style re-telling of the Noah story where they take the whole thing a) literally b) VERY SERIOUSLY, and it was TOTALLY NUTS. I sat enjoying it IMMENSELY thinking "this is bonkers, also ace!" There wasn't a HUGE amount of JEOPARDY about it because, well, we all know how it works out, but it was FUN and also INTERESTING - I did quite a lot of Looking Up on Wikipedia afterwards to see where all the different bits had come from!
With a spare hour or so still left I decided to go for a WANDER, and found myself stomping up King Richards Road towards my old flat. I had done this route many times back in my Leicester days, often profoundly DRUNKENED after having gone DANCING, so my feet knew the way, leaving my BRANE free to marvel at what had changed and what hadn't. I was delighted to see the sign on the bridge, saying "King Richard's bones were buried near here" was still in place, with a new sign next to it gently saying they weren't. I was surprised by all the HUGE new buildings along the way, but MORE shocked by how much there was still there that I'd never bothered to go and look at. These days I'm forever nipping down side-streets to see what's there, but in all the years I lived in my flat on Kirby Road i NEVER went and had a look down ANY of the side-streets that seemed now to be so interesting.
I DID however go into Sam's Newsagents nearly every day, and was overjoyed to find that it was exactly the same, right down to Sam himself, who STILL seemed terrified of customers. I also popped up and had a look at the flat, which seemed the SAME except that the Church next door was closed. It was Quite Emotional, and Weird, especially when I walked back past where the Pump & Tap had been and found a HUGE Tesco nearby and a GINORMOUS Leisure Centre plonked RIGHT where the pub had been. They looked like CGI extras that had been done on the cheap and stuck there hoping that nobody would notice.
My mind was REELING from all that when, a couple of minutes later, I heard a voice say "I know that face!" and LO! it was Jakki from my BA course, who I don't think I'd seen since we graduated. It was BRILLIANT to see her - she mentioned seeing a couple of other people, including Brian who I'd just been thinking of in the Globe, and we had a DELIGHTFUL natter. I walked away, STAGGERING, only to bump into Mr G Gilchrist for another quick catch-up.
After all that i definitely needed a BEER, and ended up having SEVERAL in the company of Tom and a group of his various PALS, many of which I had heard about over the years and was glad to finally meet in person. It was thus a slightly shell-shocked, slightly boozy, but very happy Hibbett who finally tottered off and onto the last train home. It had been a LOT of Leicester!
posted 12/5/2014 by MJ Hibbett
(click here for permanent link)
(0) comments
Across North London With A Computer
I felt like one of those haircutted comedians in their thirties yesterday, the ones who suddenly decide to take up a ludicrous yet somehow whimsical and occasionally moving challenge just for the heck of it and not, definitely not, because they have a book deal. Except that my challenge was mostly annoying, and didn't have a book deal.
For LO! I was due to go back to our old house in Leytonstone, pick up our old computer, and take it to
Computeraid
in Arnos Grove where it would be used for Good Causes abroad. When we moved I took the computer BEFORE that to be recylced, leaving the other for The Landlady to use, but it turned out to just be in the way, HENCE my journey.
It started off in the way it would continue (i.e. ANNOYINGLY) when I decided to have one last check that all the old accounts and details had been taken off, and I remembered ONE of the reasons I had decided to get a new computer - this one was BALL ACHINGLY SLOW. My swanky new laptop what I am typing on even now STARTS within a few seconds, but this one was of the old "You make a cup of tea while I sort myself out" school, and everything took AGES. Thus when it was finally done I unplugged it with some GLEE and fetched the SHOLLEY to put it in for transport.
Then I remembered the SECOND reason I got a laptop - the old computer was MASSIVE! It didn't fit any which way round in the sholley, so I filled that up with the monitor (which did JUST fit) and the bits and bobs, put the TOWER in a HUGE shopping bag in case of rain, balanced it on top of the now closed sholley, and tottered out into the street.
I got to Leytonstone High Road Station, which I have used HUNDREDS, possibly THOUSANDS, of times, and was amazed to see it had changed - it's got ticket barriers! It's all quite nicely done, and as I admired it a TRANE pulled in. The station is one of those that is basically a railway bridge with a platform, so there was no way I would get up there in time to catch it, so Oystered my way through and then LUGGED the Sholley and computer all the way up, doing each flight of stairs as a STAGE, running backwards and forwards in relays.
I was faced with even MORE stairs when I got to Blackhorse Road and HILARIOUSLY thought to myself "Cuh! All these years helping people with pushchairs, where are the people with pushchairs helping me NOW eh?" When I got into the station I was HORRIFIED to see that they STILL hadn't finished repairing the escalators, so I had to go all the way DOWN with everything. Doing it in relay was UNAPPEALING so I carried the tower in its bag one hand and the sholley in the other. It was BLOODY HEAVY but actually a bit easier than the relay. At this point a Nice Lady did offer to help, which I politely declined as I was BALANCED, and we all stepped daintily down, following some VERY SLOW TODDLERS.
There were YET MORE stairs when I changed at Finsbury Park and YET MORE again at Arnos Grove. As on other occasions I thought how daft it is for the tube to TRUMPET wheelchair accesible stations here and there when the overwhelming majority are IMPOSSIBLE. There's no point being able to get ON at a station if you can't actually get OFF anywhere, though having said that the WORST part of the experience was all the inconsiderate arseholes who barge on board when you're trying to struggle off with piles of GEAR or CUT YOU UP just as you've managed to get in a position to move. The fact that people IN wheelchairs or WITH pushchairs DON'T constantly go kill crazy and mow down commuters in a hail of machine gun bullets is, I think, a testament to the human spirit.
Things were MUCH easier after that - I remembered the route to the offices from last time, and the people there were LOVELY and HAPPY to see me. I practically SKIPPED home, light of heart and almost LIFTED by having merely a dainty sholley to transport. I tell you what though, I am INCREDIBLY glad that next time I do this I'll be doing it with a laptop!
posted 8/5/2014 by MJ Hibbett
(click here for permanent link)
(0) comments
The Gav And Grace Tour
Later this month I am off on TOUR with two rather wonderful singer-songwriters and CHUMS, Grace Petrie and Gavin Osborn. We are going to be visiting a whole lot of places I've never been to before and I think it's going to be rather a lot of FUN. I mean, just look at the POSTER!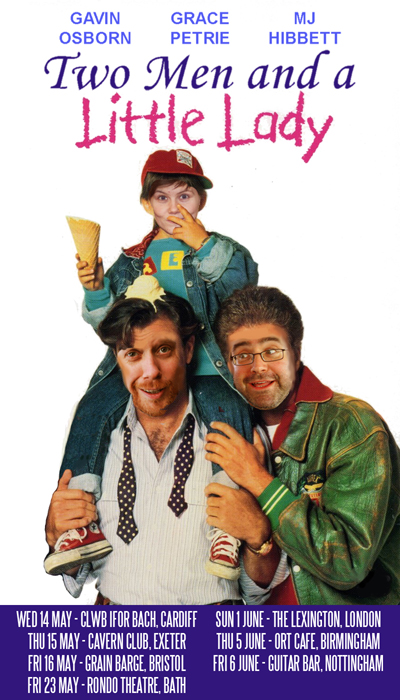 You can find further details of dates, times, places and tickets over on
my gigs page
. Do come along if you can - it's going to be GRATE!
posted 7/5/2014 by MJ Hibbett
(click here for permanent link)
(1) comments
Handmade Festival
We gathered together in LEICESTER on Friday, for The Validators to play our second gig of the year on Grace Petrie's stage at The Handmade Festival.
I rolled into town early and got myself settled into my usual suite at The Ibis. I was enjoying a particularly fine episode of Celebrity 15 To One when I got a text from Mr FA Machine informing me that he'd arrived in town EARLY ("unprecedented" as his message, correctly, stated) so I got myself together and we met up for a couple of VERY convivial pints in The Criterion. The call came through from The Tiger saying he was at the venue so we went over and met him, shortly followed by the arrival of The Pattisons. We were complete!
Also in attendance was Mr M Abbott, late of Skint & Demoralised and thus a former INTERNATIONAL TOUR BUDDY of ours. Drinks were had - we'd been given a HUGE pile of Free Drinks Tokens, but you could only get Cider, Coke or STELLA on them. We decided to all drink STELLA - it seemed like a good idea at the time, but it would be MUCH LESS SO next morning!
Things were running a bit late so we popped out to get some tea - Leicester City Centre is oddly DEVOID of convenient yet speedy food outlets, so for the first time in YEARS i found myself in MacDonalds. It took AGES to get served - I seem to recall this being the case every other time I've been in there - but it didn't really matter as the band who'd been soundchecking when we left were STILL soundchecking when we got back. I'd seen on the schedule that they'd been listed as having an hour long soundcheck for a half hour gig and thought it was a mistake - it probably was, but they seemed to have taken in literally!
We thus only had a couple of minutes to soundcheck before Matt came on and did a half hour of poetry. It was MARVELLOUS - i wouldn't dare stand up and just do WORDS at people for half an hour, but he had POISE and WORDS and RHYTHM and was all round GRATE. Oh man, some of the INTERNAL RHYMES were bloody brilliant, he was ACE!
Then it was us and we were A Bit Less Ace as the sound was VERY Crash Bang Wallop - the soundman was lovely, so maybe we require grumpy sods like the guy in York? It wasn't really his fault, he'd only had time to plug us in, but it did knock our confidence a bit as we did THIS:
Note the debut of
Burn It Down And Start Again
there! It was all FINE, just a bit disappointing really, especially after our ROCKINGNESS in York a couple of weeks ago. Still, the main thing was that we were TOGETHER again, so went downstairs to enjoy some more FREE BOOZE, and also to take part in a vitally important ceremony: the presentation of the AAS Football Trophy! This had been won by Mr M Whitaker in the 2012/2013 season but we'd not got around to doing the presentation, and as this season ENDS very soon it seemed like it might be a good idea to get it DONE. He was duly impressed by the HANDSOMENESS of his award!
With all these procedures completed we went back upstairs to watch Grace and her band who were, in the words of Mr Abbott, "sheer quality". Great songs, beautifully played and with CLASSY presentation, it was just ACE. I am on TOUR with her, in her solo incarnation, in a few weeks, it's going to be BRILL!
The evening then devolved into further BEER and CHAT and general GOOD TIMES before I found myself STAGGERING back to the Ibis, WAY past my bedtime, full of the joys of ROCK, of PALS, and also a lingering idea that I might not be very well in the morning. I was right on ALL counts!
posted 6/5/2014 by MJ Hibbett
(click here for permanent link)
(0) comments
A New Song!
Now that I'm at home pretty much every day I'm trying to do a lot of WRITING. Some of this is for my course, some is for stuff like Newsjack, and some is working stuff up for competitions - I'm giving myself until September to See What I Can Do before I start thinking about having to get another proper job, so I'm determined to do as much of this as possible so that if nothing else, I get myself a nice big pile of STUFF done that I can use in future.
I finished one BIG thing yesterday - the first draft of a spec script for "New Girl" that may very well never ever be seen by anybody. I entered a competition at Nickleodeon a couple of month ago, where you had to send in a script for one of a short list of American TV shows. I chose "The Big Bang Theory" because i LIKE it, and had a very jolly couple of months working on an episode, doing a script I was quite pleased with in the end. The final prize is to go and work (paid!) for them for six months, and the next stage of the process is around August when, if you've got through to the next round, they ring up and ask you to send in ANOTHER script for ANOTHER show. I'd really like to do this, and as you only get a day or so from the phone call to sending in the new script I thought it might be wise to get a head start. As it turned out I was right - it's taken me MUCH longer to get to that stage this time, and what I've come up with is in a MUCH ropier state than the first one!
Still, the first draft is DONE so I'm going to leave it for a few weeks ago and do some other things. This is SUCH a relief after WEEKS of slogging away at it, and this relief ERUPTED this morning when I sat down and done wrote a whole new song. It's been on the boil for a while - i woke up with the RIFF for the verse going round my head at the weekend, thought of chorus a day or so later, and then realised I'd made some notes for the subject in one of my old ideas books, which I went and dug out.
So, it was all in the air, but I'd forgotten how EASY it can be to sit down with a guitar and get a song WRITTEN. I sat down and thought up a first verse, found myself going STRAIGHT into a BRIDGE, and then for the next couple of hours paced around the flat with a GUITAR round my neck saying "Hmm - but what rhymes with Balti?" It was a) fun b) PEASY, especially when I remembered that you don't necessarily have to make EVERY line rhyme.
Just before lunch it was finished, so I got the four track out, recorded a quick demo, and sent it out to the Validators. Within 20 minutes Mr F A Machine had replied suggesting we START with the chorus, and there we go - SONG DONE! It's called "That Guy" and joins the short but exciting list of Songs To Learn For The Next Album. Songs: they are a LOT quicker to write than speculative sitcoms!
posted 1/5/2014 by MJ Hibbett
(click here for permanent link)
(0) comments

An Artists Against Success Presentation