Blog
Gigs
Facts
Music
Shop
Links
MarkHibbett.com
Today I'm very excited to announce that I'm adding yet ANOTHER domain to my vast portfolio of Domain Names Basically There To Help Me Show Off With:
www.markhibbett.com
!
Ever since I started on THE WRITING I've been sending interested (or more usually uninterested) parties all to the same web address,
www.mjhibbett.co.uk
and indeed using it on BUSINESS CARDS too. To start with this was fine, but ever since THE WRITING has been An Actual Business it's become clear that I should really have a seperate website to deal with all of that sort of stuff. As The Words On My Page has pointed out, if I email someone to say "Hello i am ab sensible person who you should employ to write a screenplay" it doesn't really help if I send them to a webpage all about GIGS and ROCK and LARKING ABOUT.
To be honest though the main thing that made me set the new page up was the prospect of some DATABASE DESIGN. I love doing database design and get THRILLZ at the thought of complicated SQL queries (NB this is not sarcasm, sadly) so when I realised I could do a whole HEAP of the above if I made a new website I LEAPT at the chance. I spent ages drawing diagrams for how I was going to create a system to keep
my writing CV
up to date, more time complaining to my old web providers that their site crashed every time I changed something (EXTREMELY annoying), yet further time moving everything over to Mr T Eveleigh's server, and then finally JOYOUS EPOCHS testing, re-testing and then just mucking about with it.
When I'd done all this the aforesaid Lines In My Code said "Couldn't you have just copied it from the original Word file?" Well, yes, i COULD, but it wouldn't have been half as much fun!
At the moment the main item of interest IS the CV - the rest is a brief bio, links to films and a differently formatted version of this here blog, but in the future I'm hoping to get some downloads up there too. Do
have a look and see what you think
and HEY - if you're a bigshot Hollywood Producer, CALL ME!
posted 30/4/2015 by MJ Hibbett
(click here for permanent link)
(0) comments
The Ghost Of John Bonham
I was back in Derby on Monday afternoon to start recordings of the second half of the next Validators' album. I rolled up in town at about 4.30pm with plenty of time to spare so popped round the corner for a cheeky half before arriving at the studio to find that I'd STILL got there before Mr R Collins and Mr T Pattison had even BEGUN the drum soundchecking. Rookie error!
Mr FA Machine showed much more experience and skill by arriving JUST after Tim and Rich had finished setting things up, and by just after 6pm the three of us were ready to WORK. Around this time I received a text from Mr T "The Tiger" McClure to say he was just heading off from Leicester. I PANICKED in case we got everything DONE before he arrived (because that was ENTIRELY likely to happen) so asked which songs he didn't know so well, so we could prioritise THOSE. It's this kind of efficient production management that has made us the well-oiled ROCK machine that we are today!
OBVIOUSLY I needn't have worried, as we spent about half an hour getting levels right and then reacquainting ourselves with
History's Re-Written
. Tim complained that he'd only played some of these songs three times which is a) not entirely true (we'd done practices so it would be at LEAST three before we'd even arrived - what's he on about?) but anyway b) a lot more times than we ever played some of the songs on
Say It With Words
and
This Is Not A Library
, and they turned out PERFECT, right?
As we worked through the song we put a STOPPING section into the third verse - we've been quite good at NOT putting stops into ALL of the songs this time around, as we do usually have a tendency so to do, but hey! that just makes it part of our Trademark Sound, right? It sounded pretty good anyway, and we got the basic track recorded just as Tom arrived. He came in with a bag of CHIPS which smelled DELICIOUS, so the rest of us popped to the shops to get OUR tea while he ate his and got the violin set up.
I gave up on the 5:2 diet after approx 10 weeks due to it making me MISERABLE, but Tim is still at it so while Frankie and i bought BEER and QUICHE Tim had to settle for Low Calorie Soup. As you can imagine, no further mention of this would be made during the session, at all.
Once we were back we got down to WORK and did
Can We Be Friends
,
In The North Stand
and
Get Over It
. As usual we worked through several versions of each song until we'd got a good one, and were joined throughout by a MYSTERIOUS PRESENCE. Whenever Tim would do the CLICKS for the intro we'd hear a ghostly SNARE DRUM. Rich insisted this was because Tim was leaning too close to a microphone that had been set up to trigger samples, but the more obvious reason is that THE GHOST OF JOHN BONHAM was joining in with us!
The songs went pretty well, even
Get Over It
which Certain Members Of The Band are less keen on than others. "More showbiz!" I called through from the control room (where I was singing and playing my bits), and by the end we had a PRETTY DARN SHOWBIZ version done. It's ALL stops and fills and things going crash bang wallop - goodness only knows how we're going to get the vocal overdubs done in time with everything else. Maybe that'll make it even MORE showbiz if we don't?
The above Certain Member was flagging a bit so while he went and heated up his SOUP The Tiger took the opportunity to nip in and do some FIXES on his parts for
Get Over It
and
In The North Stand
. The plan this time is to do a LOT less overdubbing - not only no orchestras, dinosaurs, choirs of children or EXPLOSIONS, but also not much in the way of extra instruments either. There'll be a couple of bits and pieces but nothing like on previous albums, which meant that, for instance, once Tom had fixed his violin part he was DONE! I know this isn't exactly unusual for bands, but for us it is a bit of a SHOCK after the previous two album's application of the kitchen sink, kitchen fifteen guitars and kitchen EUPHONIUM onto everything. I've already done all my guitar and vocals for the first half of the songs, so all that's left is for Emma to finish of a couple and they too are DONE. It's so simple, it feels like cheating!
Anyway, there was one song left to do -
The Future Is Amazing
- which we rattled off in a few takes, and that was us finished. There had been talk of re-recording
I Want To Find Out How It Ends
to make it sound similar to the rest of the tracks - we haven't got the original files anymore and thought the finished version might be a bit "shiny" and overdubbed", but I had a listen on the way up and it was FINE, so we didn't bother.
All that was left was to hug our goodbyes, and then for me, Tim and Frankie to nip to the pub (Tom was driving to TAUNTON next morning, so thought he'd best not stay out late). We went to Frankie's local, where they brought us out some COMPLIMENTARY SAMOSAS. They were proper crunchy East Midlands samosas too, like what you don't get in That London, and they were DELICIOUS - Tim took a spare one home with him to have when his fasting day was over!
Another pint, MORE free samosas, and soon I was heading back to my bed at Machine Mansions. As I say, it felt WEIRD to have come so far so quickly with recording the album - another three or so sessions for overdubs and we're DONE - but it's sounding DEAD good. I confidently predict we'll have it finished by the end of this year, which means it'll probably be out in 2018!
posted 29/4/2015 by MJ Hibbett
(click here for permanent link)
(0) comments
The London Premiere
Myself and Mr S Hewitt gathered in London's Angel District Of London on Sunday afternoon for the LONDON PREMIERE of
Hey Hey 16K
. Before we started a couple of people said "You seem very calm" and indeed I was - after all, we had done this show HUNDREDS of times hadn't we? Hadn't we?
Before kick-off we grabbed hold of Mr J Jervis and made him come over the road with us for a PHOTO SESSION. We've been using the same set of pictures (
taken for Moon Horse
) for YEARS so I thought it might be a good idea to get some new ones done this time around, so we stood against a white wall over the road while Jerv snapped away. He did a GRATE job, as it turns out, if these don't get us in the paper nothing will - you can see for yourself in the shiny new "PRESS" section of
Hey Hey 16K site
.
That done we went back to The Lexington, gathered up the Quite Large crowd of chums and interested parties, and went up to do the show. The FACT that we started rehearsals SO long ago and did the Leicester gigs all the way back in February always makes me feel like this show has been on the go for MONTHS, hence my general calmness, so it was only once we got going that I realised that we REALLY HADN'T done it in front of people many times. Nerves were variously in evidence and we got all sorts of bits slightly wrong, but luckily a) we'd warned everybody in advance that this would happen b) if nothing else we're used to it and, most importantly c) it was a lovely audience who seemed willing to forgive us.
The STRANGEST thing, for me, about doing this show live is that there are big sections of NO LARFS and I have to remind myself that this is FINE, for LO! these sections are THE DRAMA and/or THE EMOTIONAL CORE. People seemed to enjoy it though, as I ascertained through slightly needily going round and ASKING everyone. Well, it WAS a preview, so harvesting "notes" is part of the general idea, right?
With that done we settled down for a chat and a well-earned PINT before it was time for me to toddle off. We're
out on the road again
next month in Nottingham and York, then we REALLY get going with a whole heap of gigs in July before - YIKES - we're off to Edinburgh! This is finally, actually, happening!
posted 28/4/2015 by MJ Hibbett
(click here for permanent link)
(0) comments
Morrissey Goes Mexican
On Saturday night myself and The Chilli In My Burrito went to London's Barbican Centre to see a show called "Morrissey Goes Mexican". We'd seen it advertised as a Mexican Mariachi band performing the music of Morrissey and The Smiths, which seemed like it might be a lot of fun!
Clearly we weren't then only ones to think so as the show was a sellout. When we arrived we found that it was a mix of middle-aged Smiths fans (you know, THOSE guys), younger people dressed up in semi-fancy dress, and a few Actual Mexican people. We got a drink, waved to Mr J Jervis and cohort who'd also come, and then took our seats for the show.
You get LOVELY seats at The Barbican, comfy and nice and wide, and we'd booked early so we were right near the front on the second row, and thus could watch the roadies fiddling with DI boxes from up close. Someone a bit further back was clearly A Bit Over-Excited and/or had never been to a gig before, as every time (EVERY time) one of the roadies came on he let out a YELP!
After that was all done the lights dimmed and two men came out and picked up their instruments - one a small guitar, one a MASSIVE guitar which, if you closed one eye, made it look like he was an ELF with a ukulele - and proceeded to speak entirely in Spanish between two INCREDIBLY long Very Authentic sounding songs that went on for five minutes EACH. It was, to be honest, INTERMINABLE - at first I squinted with my ears trying to work out what they were singing ("Is this Jeane"?) and then a great worry descended over me and, i feel, the entire audience. Was this IT? Had we been LURED into an ART or - even worse - FOLK MUSIC project of some sort? We'd come for fun, were we going to get CULTURE instead?
Luckily for us, after ten minutes, the rest of the band came on, picked up ROCK instruments, said "Hello" and launched into a fairly faithful version of "Last Of The Gang To Die". PHEW! What followed was a whole heap of HITS, heavily biased towards "Bona Drag" (which we had revised thoroughly, well done us!) all sung in SPANISH and with a slight hint of Being A Bit Mexican. A few songs into this section I suddenly thought "HANG ON - we're listening to a covers band! This is CLEARLY a bunch of Mexican chancers who said to each other 'HAHA! Let's see if anyone in England will pay money to hear us do Smiths songs!'", sort of like YEARS ago when London Bands used to RAKE in audiences with double tribute bands (most famously "GABBA" - Abba songs done in the style of The Ramones). As I thought this I looked up and saw that this is EXACTLY what had happened, and warmed to them IMMENSELY. Each of the band was clearly thinking "CRIKEY!" (or the Mexican equivalent) "Look at us, we're in flipping London playing the flipping Barbican!"
With all that settled in my mind I had a GRATE time. Some of it was distinctly odd - a big rock stadium version of "Everyday Is Like Sunday" with the lady singer BELTING it out like she was on The X Factor, striding from side to side of the stage was particularly RUM, and the mid-encore decision to do "La Bamba" left much of us BEMUSED - but it was also ACE. There was a big screen behind them showing animations, and The Lyrics In My Songsheet suggested that it could have been put to better use showing us the lyrics - several times they said "Sing along!" but we all had to reply "We can't! We know the English words but are not sufficiently adept at Spanish to translate!" (mostly in apologetic facial gestures, but I think they go the idea) but other than that it was a LOT of fun.
Now, does anyone know if there might be a market in the Oahu Barbican for a set of slightly tatty indie versions of Hawaiin Folk Songs? It would be ART!
posted 27/4/2015 by MJ Hibbett
(click here for permanent link)
(1) comments
More Meetings
I had a lovely day on Thursday doing some proper WRITERLY stuff i.e. not actually doing much writing but a lot of sitting around in cafes talking to people and/or reading books.
For LO! I was In Town for the afternoon, first of all meeting Mr J Dredge for our regular weekly CHAT. We covered a wide range of topics, including a new Character Idea that made us both LARF, and also secured a date to start filming our next THING. This one's going to be a WEB SERIES and will, I hope, be Quite Good.
After that I went and got a HAIRCUT ("A bit less mad Professor" I agreed with my STYLIST) and then wandered around town for a bit. It was a lovely day so I went and sat in Soho Square for a bit to read my book. The other week I finally got my hands on a copy of Steve Lamacq's "Going Deaf For A Living" biography. I'd wanted it for YEARS but it always seemed to cost about thirty quid, so when I spotted one online for Significantly Less i SNAPPED it up. It's dead good and very Steve Lamacq-ily funny, but also the fact that it came out about 15 years ago means it has a NOSTALGIC GLOW to it. Aaah! The days of Radio One being ALL RIGHT!
Around 4pm I headed over to my FAVOURITE PUB, The King & Queen, for my final appointment of the day, with Mr M Tiller. Matt came to the
readthrough of The Department
a few weeks ago and offered to get together for a PITCH AND PINT session. He works in TELLY so I was eager for his WISDOM - I reckon I've got time to do one more Big Script Project before going to Edinburgh but have THREE ideas, so I PITCHED each of them at him to see which he thought was the best to go for i.e. which was most COMMERICAL. He listened to my ideas (tentatively titled "The Utopians", "Mum & Dad" and "Mick's Comics") and LARFED in the right places for all of them, but suggested that "Mum & Dad" was the one to go for, though possibly with a different title. We then went through the same for three ideas that John and I are thinking of working on next and again, after Correctly Placed LARFS, he gave some Excellent Tips.
It was lovely and, I guess, a Proper Meeting, though due to the good times and also BEER involved it didn't really feel like a meeting at all. As ever with people I've known in ROCK for a while it's always a TREAT to be able to sit down and have a bit of an old chat WITHOUT one or both of you having to dash off after ten minutes to play a GIG and it was a SPECIAL TREAT to be able to do this in the aforesaid lovely pub where I pretty much ALWAYS have to go and do a gig instead of sitting around chatting.
It was a DELIGHTFUL end to a DELIGHTFUL afternoon - who says The Writing is hard work?
posted 24/4/2015 by MJ Hibbett
(click here for permanent link)
(0) comments
A Thought Shower
I was back in London's Angel area of London last night for a BRANE STORMING session or, as I believe the current terminology would have it, a THORT SHOWER.
This was all in aid of the new show that Mr A Dawson, Producer of the SELLOUT "Sexy Seven" show, is putting on during The Camden Fringe this year. We've got
The Hen And Chickens
booked for 26-30 August for "London Calling" which will hopefully feature new stuff by about eight of us, and so we had gathered to talk about what we were actually going to DO.
When I arrived I found that Alex had gone to town with the Synergetic Creativity Processing Enabling, not only putting up sheets of paper and laying out coloured pens but also providing SWEETS! It was jolly exciting, and we were soon into the full swing of... well, having a bit of a natter really, but after THAT we got down to business with IDEAS.
I'm a great believer in The Big Idea MANIFESTING itself of its own volition i.e. The Big Idea can take care of itself and will appear unto you given time, rather than you having to bash it out first of all. To be honest I have mostly come to this approach via album titles, as the final album title is NEVER the one you spend three hours arguing about in the pub (or six months discussing on email), it's ALWAYS the one that pops into someone's head when they're not expecting it, and then everyone says "Oh yeah, of course that's it." THUS I argued strongly (bossily) against deciding the theme of the show first, suggesting that we read out what we'd GOT and then see what it all SAID to us.
Amazingly this seemed to WORK. Most of us had got snippets/sketches/SCENES to read out and/or discuss and as we did so, and Alex wrote them on his big sheets of paper, The Big Idea appeared before us on the wall - basically a theme of old vs new, or the constant cycle of CHANGE in London, how that works and what it means. SORT OF.
It all felt very good and there was a TONNE of ideas for us to take away and work up into Actual STUFF for the next meeting, allowing a small group of us to relocate to the PUB for the traditional "That was good wasn't it?" discussion and the even more traditional "oh go on then, just the one more" recital that always follows a good evening. Obviously there's a way to go before the show's written, let alone cast, rehearsed and performed, but I reckon it's going to be GRATE!
posted 23/4/2015 by MJ Hibbett
(click here for permanent link)
(0) comments
The Most Money Ever
Sometimes after gigs people come up to me and ask "Do you make a living doing this?" Sometimes they say it with barely suppressed disbelief, but sometimes they seem to think it is actually possible, so I do my best to disabuse them of the notion calmly without, if at all possible, SCREECHING with laughter and then bursting into tears.
For LO! I very much don't - in fact most things I do tend to LOSE money. Yes, incredible as it may seem, not enough people a) come to gigs b) buy my records to recoup the EXTREMELY MODEST expenses they involve i.e. my visits to the Ibis, rail travel, and essential nutrients hem hem BEER. However, every now and again something comes along which DOES pay out more than I or we have put into it, and when this happens it is a time for great celebration. Examples of this have been That Time We Played A Wedding, That Time I Wrote A Song For A Viral Advert Thing and, of course, That Time We Recorded The Soundtrack For An Online Sitcom. These have never ever been life changing sums of money but it's sometimes been WEEKEND changing money and is all the more enjoyed for that! This week however we have received more money than EVER BEFORE. Again, it's not going to involve moving house, but it's definitely a BANK HOLIDAY WEEKEND changing amount of CA$H and it's for something we had pretty much NOTHING to do with.
Several years ago The Fighting Cocks released a song called "Hang Up The Moon" which featured a tiny sample of the instrumental version of
Dino At The Sands
from the end of
WE VALIDATE!
. Being a decent sort Charlie From The Fighting Cocks gave an eighth of the publishing of the song to ME - he didn't have to, but he seemed determined to do it and I was very grateful for the 18p or so that I subsequently got for it via the PRS.
However, some time later the song got picked up by a credit card company to maybe be used in one of their adverts. Sums of CA$H were spoken of, lots of negotiations were gone into, a Major Hollywood star was brought in to do the voiceover, a video was made and mixed... and then at the very last minute the advertising agency picked a different song. So near!
A little while after THAT, however, someone noticed that the version of the advert with The Fighting Cocks' song on it had been put onto the interweb. I guess someone just uploaded the wrong file, but nonetheless there it was online, and NEGOTIATIONS were re-entered, ending up with the various publishers of the song getting some Compensatory CA$H.
We got the aforesaid EIGTH of it, which I completely forgot about until this week when John The Publisher sent it on to me along with this year's PRS money, and LO! great joy did spread around - joy which was IN NO WAY DIMINISHED, indeed probably INCREASED when I remembered that this share of an eighth of the total wasn't all for me and that I had to ... I mean, was lucky enough to be ABLE to share it with The Validators.
I couldn't really complain about sharing it out though - after all, this was money for a sample which doesn't appear on the part of the track that was used, in an advert which was never really shown, which I had done absolutely nothing towards making happen! Even more to the point, there's a weekend coming up which will definitely benefit, when The Validators are all together in Congelton for Going Up The Country in June. When that occurs we shall definitely be raising a pint to The Fighting Cocks. Who knows, maybe even a pint of CHAMPAGNE!*
(* or probably Cava. It wasn't that much!)
posted 21/4/2015 by MJ Hibbett
(click here for permanent link)
(0) comments
Stand Up Put Up
A few weeks ago I did a stand-up gig (
as reported previously
) which was VIDEOED for posterity. I got the video a couple of weeks ago and haven't been brave enough to have a look at it yet as I fear that what I remember as CHUCKLES and LARFS may actually, in the cold hard light of an MP4, turn out to be coughs and uncomfortable shuffling.
So I thought I might as well put it online so that you, gentle reader, can have a look at it for me, THUS:
I think the main thing putting me off watching it is the cameraman's unusual choice to film it all in the old 4:3 aspect ratio and then stretch it out to WIDESCREEN. That IS what he's done isn't it? It's the only explanation.
posted 16/4/2015 by MJ Hibbett
(click here for permanent link)
(1) comments
Share Your Toys Launch
I was back in London Town on Sunday afternoon for a VERY auspicious occasion: the launch party for Mr Gavin Osborn's
Share Your Toys
album. I was VERY excited as it was a reunion with not only Gav but also our other touring partner Ms G Petrie, all hosted by Isy Suttie From Off The Telly, and it had SOLD OUT!
Unfortunately the dawning realisation that I was about to play to OVER A HUNDRED PEOPLE all in one go made me SICK with FEAR, so I spent much of the early part of the evening PANICKING and walking around nervously when I would much rather have been chatting to the aforesaid chums and indeed the ORGANISERS of the evening, Vinnie and Markie of My Little Owl. However, one upside of the pacing around was that I spotted someone upstairs who i thought was Her Who Wrote Those Two Episodes Of Banana (Charlie Covell, i later googled). I only watched the first half of her first episode (the one about the transgender woman getting internet stalked) because it was TOO UPSETTING but I LOVED the second one about the woman with a TONNE of neuroses who, for instance, has to have three goes to get out of the house NB just like I tend to. I worried about it for ages then decided TO HECK WITH IT and went over to say hello and that I loved her show. It turned out that a) she was coming in to the gig b) I'd previously forced a copy of 'Dinosaur Planet' onto the friend she'd come with and c) Grace had ALREADY gone up to her and said "Ooh it's you, can I have a picture please"?
By this time Mr S Hewitt had arrived with his supply of HUGZ, which was handy, and as we moved towards showtime I started to feel a bit better, helped by the aforesaid HUGZ, some BEER, Wise Words from THE LABEL, and also a bit of jumping up and down. Also, the fact that Issy, hosting the evening, was HILARIOUS cheered me RIGHT up and I LEAPT onto the stage full of beans and did THIS:
I had a LOVELY time! It was a Comedy Audience so they were very willing to LARF (which made for quite a lot of CHAT from me) and also ready to CLAP, which was brilliant to play for. I also managed to get ALL of the songs right, which was pretty bloody amazing. Four songs in I thought "Wow! I haven't made any mistakes at ALL yet! OH NO. That means I now INEVITABLY WILL" - I mentioned this to Steve after and he said "Yes, that's roughly when I thought that too." In fact the only FLUFF was during
It Only Works Because You're here
when the traditional tour-buddies "LA LA LA" sounded out and I got confused with DELIGHT, as I always seem to, but I think that counts as CHARMING rather than an actual error.
Issy then introduced Grace, who was BRILL. As is my wont I stood at the back and felt IMMENSE PRIDE. As ever I know it's nothing to do with me how GRATE she is, but STILL. I've seen her many times now and always MARVEL at her immense stage presence, but this time I also had a SMALL CRY when she did a new song about her niece. CRUMBS. It was dead good!
After a break we were back for the second half, which was Gav + BAND. Beforehand he'd been saying how relieved he was to have finally recorded all the songs, as he's been doing some of them live for ages, which was GRATE for me because it meant I could sing along with pretty much THE LOT. My favourite one at the moment is "In Another Lifetime" which he did last and was BRILLO!
Alas I could not stick around for encores as I wanted to dash home, to where The Germs In My Contagion was lying in bed still POORLY. I went round and HUGGED as many people as I could find before FLEEING out of the door - in the process leaving behind a batch of MERCH which, happily, Steve was kind enough to pick up for me.
Next morning my twitter and facebook feeds were full of people talking about what a lovely evening it had been. It's always a sure sign of a beautiful event, when people talk about it as a way of keeping it all going just a little bit longer. It's testament to the My Little Owl team for organising such a brilliant gig and of course to the sheer MAGNIFICENCE of Mr Osborn for making such a GRATE album. Go and
have a listen
, you won't regret it!
posted 15/4/2015 by MJ Hibbett
(click here for permanent link)
(0) comments
The Museum Of Computing History
Saturday found me undertaking a FLYING visit to Cambridge to do a short set at
The Centre For Computing History
before a screening of the film
Bedrooms To Billions
.
I've been playing gigs for well over a quarter of a century, so you'd think I might have realised by now that when people say "Soundcheck at 6pm" they don't actually mean "The soundcheck will happen ONLY and EXACTLY at 6pm and if you're not there THE SHOW IS OFF", but it seems not for LO! I RACED through the backstreets of Cambridge (noticing, as ever, that people in Cambridge are MAD for putting posters in their windows - they bloody love it!), practically RAN through an industrial estate, and found a surprised Aidy From The British IBM clearly NOT expecting me to be there at 5:59pm!
We went and looked at the classroom I'd be playing in, decided I really wouldn't need a PA, then had a tour of the museum. COR! It was BRILLIANT! They had a TONNE of old computers, many of which were ON and ready for playing, similarly enabled arcade machines (including a proper table Asteroids machine which was BRILL), the original artwork for the ZX Spectrum manual cover, a wall of tapes, and then THIS: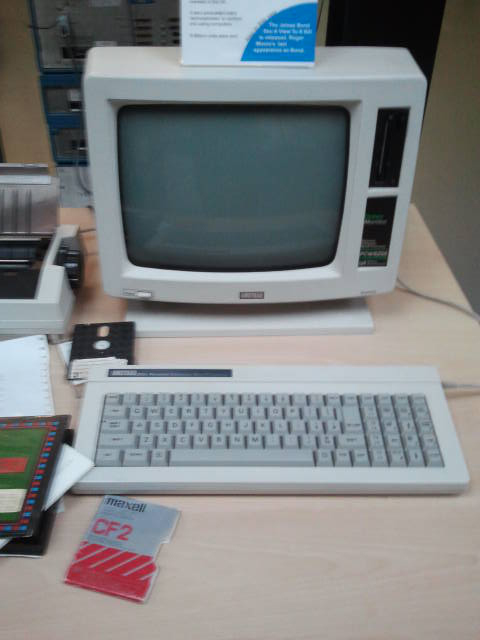 That may not look particularly exciting to the neutral observer, but it made me suddenly WELL UP with emotion, as it's the Amstrad word processor that I got for my 18th birthday (NB not THE machine, obvs, but the same model) and which went with me through my Polytechnic career. All of my first attempts at COMEDY RITING were done on it, and also a few essays (NB NOT MANY). I stood and stared at it for AGES... then went and spent half an hour playing DIG DUG in the main room.
By then it was getting close to SHOWTIME. I was very very aware of my train times home and was eager to get things moving, so ended up following Aidy around the building as he rounded people up, him being polite and me saying "Come on! this is happening! NO ESCAPE!" We herded approx 35 people into the main classroom, turned the lights on, and then I did THIS:
Some of these songs were performed as "single versions" i.e. my BRANE was nervous and so I missed bits out! The reason for the NERVES was because this was, after all, a screening of a FILM so I got the impression that none of the people trapped in the room had actually come to see ME and, indeed, most of them hadn't realised I'd be inflicting myself upon them before they could watch the film! Also, when I've played these sort of gigs before,
Hey Hey 16K
has gone down well while other, Less-About-ZX-Spectrum, songs have done markedly LESS well. I thought that if I explained all this before I started it might help, and the audience seemed to go along with it, although it was fun to look out and see the range of expressions from DELIGHTED to CONFUSED, from POLITE to MILDLY IMPATIENT. They were all very nice about it though, and several of them definitely appeared to like it!
As soon as I'd finished I packed up, pausing only to be greeted by another former Peterbrugian who, it turned out, used to live near All-Saints Church Hall (as mentioned in
The Peterborough All-Saints Wide Game Team (group B)
). I very very rarely meet ANYONE from Peterborough (apart from OBVS when I go there) so this was rather lovely, though I didn't have long to chat as I had to thank Aidy and then RUSH for the station. I hot footed it back through the poster-augmented side streets, over a rather bouncy pedestrian/bicycle bridge (which made me seasick whenever a cyclist passed me) and arrived at the station SWEATY but on time.
ALAS my train wasn't, so I had 15 minutes waiting during which I MUSED upon the gig. It definitely fitted into the category of "Gigs Other People In Bands Don't Seem To Do" and in some ways I can see why, but then again it was a very pleasant gig in front of people who otherwise I'd probably not have met, I DID get to meet a fellow Peterborough escapee, DID see my old computer and, VITALLY, got on the high score table of Asteroids! Other People In Bands should do MORE of these sort of gigs, they're smashing!!
posted 14/4/2015 by MJ Hibbett
(click here for permanent link)
(1) comments
A Moving Experience
It's a very special day for the website today as, after many years with my old service providers, we are MOVING. Best of all, we are going INDIE!
It's all come about because Fastwebhost, who I was with until very recently, became RUBBISH. It's a terrible shame as, when I first signed up with them (when they were called eHostPros) they were ACE - everything was super reliable and the help was GRATE. However, once they changed name things went rapidly downhill and the site was forever crashing, especially when I tried to update any of the pages. I spent a couple of weeks FUMING and lying in bed at night GLARING at the ceiling with thoughts of SERVER RAGE before realising that I could just MOVE.
Thus I asked online for TIPS and received a) lots of helpful advice b) a TONNE of automated spam from webserver companies and c) the offer of space with
Eveleigh Information Systems
AKA the server of Mr T Eveleigh, longstanding chum, promoter and Totally Acoustic Super Sub! We got ourselves sorted out and, after a fortnight of altering CODE (i.e. stuff that i FUDGED about 5 years ago and which needed doing) we have today set the wheels in motion to shift mjhibbett.co.uk, .com and .net all over here!
It's all TERRIBLY exciting - the .com and .net move has already gone through and with any luck .co.uk will follow within the next 24 hours (the background on the new server is, temporarily, a slightly brighter shade of red), bringing with it all my various other sites. It's all a bit nerve-wracking to be honest, but once it's all gone through we can look forward to uninterrupted service and maybe even some NEW STUFF! Also, of course, getting back to regular blogging - I've got a couple of ACE gigs to tell you about once we get going!
posted 13/4/2015 by MJ Hibbett
(click here for permanent link)
(0) comments
A Rye Look
Last weekend The Days Off In My Bank Holiday decided to have some TIME OFF i.e. not just do loads of JOBS at home but actually relax a bit. In order to help this cunning scheme along we decided to go on a DAY TRIP and, as it was only an hour and ten minutes away via the Javelin we thought we might go and have a look at RYE.
Short version: it was all right. Slightly longer version: it felt like the sort of place that should have an enormous cathedral or Fascinating Legend and allied Museum but it didn't. The cobbled streets and pretty houses were all very nice, but it felt like there should have been something around which they were all prettily gathered. On the plus side, this meant that we could walk around the Nine Point Plan of Rye (an EXCELLENT document provided by the Tourist Information Centre), stopping for relevant a) historic towers and b) historic pubs as necessary and STILL be all done in a couple of hours.
As we were so far ahead of schedule The Points Of Interest On My Tourist Map suggested we go to Camber Sands. She'd spotted it on the map and we'd got a bus timetable at the aforesaid Tourist Info so off we went, ploughing through the Fenland-ish landscape (apart from the hills, obvs) until we drew up outside an oddly familiarly building. For LO! It was PONTINS, site off the Bowlie Weekender what I went to approx 300,000 years ago, looking EXACTLY the same as it had done back then! We couldn't go in, of course, so we did something I manifestly failed to do all those years ago i.e. go to the BEACH!
Ooh, it was lovely - huge sand dunes then a beautiful open beach full of people and dogs and fresh air. We strode along, we bounced up and down dunes, and generally had a Healthy and Pleasant time. To make the whole thing a pretty perfect day out we got the bus back to Rye and only had a short wait for our train, speeding us home. If you're ever thinking of a trip that way I'd highly recommend going to Camber, and maybe Rye if they manage to build a Cathedral between now and then!
posted 10/4/2015 by MJ Hibbett
(click here for permanent link)
(1) comments
A Quiet Night In
Last Thursday was the latest edition of Totally Acoustic, this time featuring Mr P Buckley Hill and Mr J Osborne. I'd thought it might be a bit quiet, as a) it was the night before the Easter Bank Holiday and b) people would probably be at home watching The Leaders Debate on telly... and I was quite right!
The acts both arrived nice and early, just after I'd got the seats set out (Steve wasn't even there, THAT'S how quiet it was, so I had to do the tables and chairs myself! Shocking!) and by 7:30pm we'd got just sufficient audience to outnumber performaners! We kicked off, and had a thoroughly pleasant time. I did a few songs and then the legend that is PBH got up and did his anti-pre-penultimate gig. Foolishly I thought this meant he had two more to go before retirement, but maybe it's three? Anyway, he played the room as if it was PACKED and we responded accordingly. Even the chap who I think is the father of the owner (and maybe the previous owner?) of the pub who usually sits downstairs came in to watch, which felt like a HUGE honour, and he enjoyed PBH hugely!
After the break John Osborne did a set of his brilliant poems. It was ACE. I feel I should give more REVIEW than that, but that pretty much says it all - it was moving and funny and charming and, well, ACE. The only way I felt it could have been improved would have been if a young GTR TOTING lad with a funny haircut and 10 tonnes of JANGLE had rolled up and asked him to join his Manchester based indie band. In the 1980s. With gladioli.
After that everyone went downstairs for a PINT - it was a shame more people hadn't been there to enjoy the show but it did mean that the whole audience could join the performers around a table for a BEER and a YACK before heading out once more into the night. The next show's on May 7th, and hopefully we'll have a bigger crowd - I don't think anything political's on the telly that night, is there?
posted 8/4/2015 by MJ Hibbett
(click here for permanent link)
(0) comments
The Easter Bunny
It's almost that most wonderful time of the year - Easter! The Christmas for Grown-Ups, when the Spring Santa comes round and gives all the good ladies and gentlemen what they most wished for i.e. a couple of extra days off work, some chocolate and maybe a film. Hoorah!
To celebrate the season myself and Mr J Dredge have done another one of our films, which you can see below. It's called "The Easter Bunny" and it features ACTING!
posted 1/4/2015 by MJ Hibbett
(click here for permanent link)
(0) comments

An Artists Against Success Presentation