Blog
Gigs
Facts
Music
Shop
Links
Knees x 2
One of the FRUITS of my meeting with Mr J Dredge was the decision to consider re-un-de-writing part of our History-based webseries. We've had a couple of goes of filming it already -
back in May
we went to Hampstead Heath to film some Outside Scenes but couldn't get the sound right, so
a few weeks later
we tried again with a re-written INSIDE version. It all looked fine but we decided to have one more go to get it PERFECT, and it was while sorting through some WIRES as props for
London Calling
that I realised that I had an Actual Microphone which we might be able to use to get outside sound WORKING.
It's a KRAZY scheme - using a microphone to record sound?!?! - so we agreed that I'd try it out first to see if it worked before we went round re-doing stuff again.
Now, I could, obviously, just stand outside and say "This is a test to see if it works" but then again I could ALSO make a whole video thing instead, couldn't I? I spent about 0.02 seconds wondering WOT to do then remembered I had a small POEM called "You Need Knees" what I had written for the aforesaid 'London Calling' (
tickets still available!
) but didn't get used. It was my FAVOURITE thing I'd done so I thought "HA! Its time has come!"
So it was that yesterday afternoon I stepped out into The Olympic Village (it's where I live, OK? I wish people would stop going on about it) carrying a bag of camera and audio gear, dressed in my WEDDING CLOTHES... and short trousers. I felt like a bit of a pillock so had asked The Sole Of My Shoes to come along with me a) for moral support and b) because she's really good at camera FRAMING and all that. At one point I confessed to feeling a bit daft, but she told me not to worry. "We're in East London - they'll all be dressing like that next week."
We then spent a delightful 15 minutes filming before scuttling home to see what it looked like. The first bunch of shots looked GRATE, altho something seemed awry with the recording as it appeared to have picked up a lot of BICKERING. Where on earth did that come from?
The next piece of film however contained a final section which went like this:
VOICE: (off camera) It's not recording.
IDIOT: (in shorts) I thought it was?
VOICE: No, it's not.
IDIOT: Hang on, let me have a look
(he moves behind camera)
IDIOT: Oh yeah, you're right there. Here -
FX: CLUNK!
And that was all there was! So, a couple of hours later, we went BACK out and did the whole thing AGANE! This time we just left everything recording throughout and WHISKED through it, allowing me to come home and spend a happy hour or so editing together things like THIS: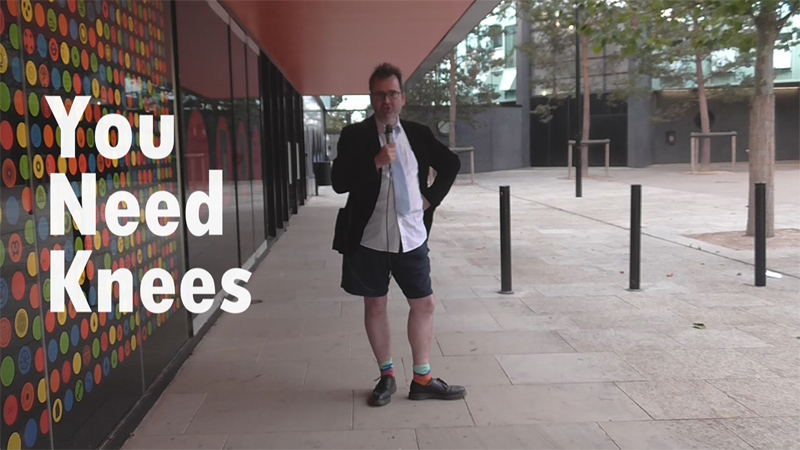 STEADY LADIES! ALSO GENTLEMEN!
The final video is slightly ODD I must admit, but I do rather like it. It may end up just as a test or it may come out as part of the forthcoming series of FILMS that John and I are going to do, but whatever happens, we will always have the KNEES. Because, after all, You! Need! Knees!
posted 28/8/2015 by MJ Hibbett
(click here for permanent link)
(0) comments
The Tech Rehearsal
After three long days basically sat in bed I emerged from the flat on Wednesday and headed into town. My first taste of The Outside World was a bit strange - had it ALWAYS been this wet? I'm pretty sure I hadn't lived underwater before being poorly, had I?
My first port of call was a meeting with Mr J Dredge which was, as ever, EXCELLENT and full of schemes and LARFS. I'd intended to then go for a bit of a wander round comic shops and so forth but still felt a bit FEEBLE so instead had a) a cup of tea in Pret nearby then b) a COKE in a pub in Islington (where I forgot the golden rule of buying soft drinks in pubs i.e. say "no ice!" or you're basically paying DOUBLE) before heading to The Hen & Chickens for the TECH REHEARSAL of
London Calling
, the SHOW what my Writers' Group (oh yes) have done.
To be honest I am pretty much RIDDLED with guilt about this show. A LOT of work has been going on by my lot over the past few weeks while I was SWANNING ABOUT up in Scotland and then THIS week, when I'd hoped to at least show my face and CARRY things a bit, I have been almost entirely in BED. Thus I was very grateful to have an ALLEN KEY thrust into my hand almost as soon as I arrived and be able to start putting together Bar Stools and then, when that was done, get a screwdriver and GO AT at a very very delapidated ironing board and try to make it stand up again. It felt good to be DOING something, though I was also very glad that I'd brought a clean shirt with me as I got a RIGHT old sweat on!
There then followed the Tech Rehearsal itself. This is when they go through the show with the technician, sorting out all the lighting cues, sound cues, and PROPS. I have just come from a fortnight of shows where the cues are as follows: "1) LIGHTS ON 2) LIGHTS OFF (OPTIONAL)" so I was stunned by how much was going on. It was DAZZLING, to be honest, a right proper use of all the Theatrical Elements for a fully fledged THING. Also there were GAGS and DANCING and all sorts, it looked brilliant!
Afterwards everyone else looked a bit worried and/or unsure, almost as if they'd spent several weeks working on it rather having just rolled up to go "OOH! LIGHTS!" I tried to say that it ALWAYS feels like this, that the tech run IS just a tech run, that it always feels like everything's going to fall apart just before you start and that, within five hours everything would feel BRILLIANT but, like saying "Don't worry!" to someone who is worried, it never really helps.
So instead of doing too much of that I said my farewells and headed home. I did have a ticket for that evening's show but I was EXTREMELY aware that I was by no means at full health and that I had more performances of
Hey Hey 16K
to get through at the weekend, so thought that going home was the wisest course of action. I'm going to see the final night on Sunday, so hopefully I will be at PEAK FITNESS by then!
Tickets for both shows, by the way, are VERY MUCH available. "London Calling" is on at The Hen & Chickens every night at 7:30pm until Sunday 30 August and you can
buy tickets HERE
. "Hey Hey 16K", meanwhile is on at The Camden Head at 6:30pm on Friday 28 and Saturday 29 August and you can
buy tickets here
. Two shows on in London town at the same time? This must be how Andrew Lloyd Webber feels!
posted 27/8/2015 by MJ Hibbett
(click here for permanent link)
(0) comments
Meanwhile In San Marino
Since getting back from Edinburgh I have spent most of my time being POORLY. It wasn't exactly how I'd envisioned my glorious return but at least it happened AFTER we'd done the shows, and allowed me to spend ALL of my time in the flat!
As ever, when you've been away for a couple of weeks, I returned to find there had been CHANGES, notably a series of PLAQUES which have gone up in the entrance hallways of all the blocks of flats in The Olympic Village (i.e. where I live but you probably wouldn't know that as I don't like to go on about it). These plaques list the teams that STAYED in the buildings when they WERE the actual Athlete's Village, which is BRILLIANT. One of the first questions people ask when you tell them - I mean, when you are reluctantly forced to reveal - that you live here is "Ooh! Who lived in your flat?" but nobody has ever officially told us before. I don't know why - clearly they know, and it's not like it's a security risk, but it's taken nearly two years of gentle prodding from residents for them to reveal who was in what building.
Finding out who was in which FLAT, however, is still a "secret", although some of us had already done DETECTIVE WORK. There's loads and loads of photographs of the village during the games and if you're prepared to sit and go through THE LOT (e.g. if you had, say, a job when you first moved in that, technically, had run out of things to do months before) you could eventually track down a picture of your flat and, if you were lucky, it would have a FLAG draped over the balcony. Our flat DID and, after a bit more in-depth research (looking at wikipedia) we worked out that some athletes from San Marino had been here.
This was very much CONFIRMED by the plaque so a few days ago I did a bit more research (googling) and discovered that, in all likelihood, it wasn't just *some* of the athletes from San Marino that stayed here, it was THE ENTIRE NATIONAL TEAM!! There were obly four of them - Clelia Tini (100m freestyle swimming), Alessandra Perilli (tap shooting), Martina Pretelli (100m sprint) and Emanuele Guidi (individual archery). Two even more exciting realisations come from this - firstly that we NEARLY had a medallist in the flat (Mr Guidi came 4th in the archery final) and secondly, and more importantly, Ms Pretelli MUST be the person who wore her spikes inside the flat one day and caused the damage to the floor in our hallway that is logged in our inventory!
We were both VERY excited to discover this - it finally puts faces to the vague idea of "athletes" who were here before us and, of course, gives us someone to blame if our landlords discover any more discrepancies next time they visit. "Yes, I know there are Blu Tac marks all over the wall, it must be those Sammarinese again!"
posted 26/8/2015 by MJ Hibbett
(click here for permanent link)
(0) comments
The Final Furlong
Friday morning began with a choice. On the one hand, I was taking part in the biggest arts festival in europe with literally hundreds of performances to choose from and all I had to do was leave the house to find them. On the other hand, the Horror Channel were showing Tom Baker's last two episodes of Doctor Who, and it *does* feature Tegan, who we mention quite a bit in
Hey Hey 16K
.
It was thus quite late in the afternoon when I eventually strode out into daylight and stomped once more to our venue, where I found Steve stood outside talking to what would turn out to be all three of our audience! It's been really weird this time how much audience levels have fluctuated, but I must admit I quite enjoy playing to small crowds (it is, after all, mostly what I'm used to), especially when they're as nice as this particular trio were.
After a post-show pint I scuttled home again to drop off gear before returning to meet Steve and Ms A King in The Blue Blazer - how had it taken me over TWO WEEKS to make it to the Blue Blazer?!? Here we were joined for more PINTS by Mr F Wadsworth and a FINE old time was had by all until Steve and I decided to decamp for our traditional Indie Disco trip. This time we bestowed our DANCING SKILLZ on
Citrus
which was EXACTLY what an indie night should be: a sticky black box containing music and beer! We DARNCED and had some BEER but by 2am I felt SATED, and left Mr Hewitt to his BOOGYING.
Saturday got off to quite a SLOW start, possibly due to the antics of the night before, but once we were both mostly mobile Steve and I spent a jolly hour or so buzzing round the flat TIDYING things. The main part of this was putting TONNES of flyers that we'd collected over the preceeding fortnight in a bag with the TONNES of flyers we'd still got left for OUR show and then lugging the LOT down to the recycling place. It is a Fringe Tradition!
By the time we'd done all that it was nearly show time, so we mooched into town to be faced with our biggest audience yet, PACKED with friendly faces. It was GRATE fun, even if we DID have to stop a couple of times to ask a bunch of old regulars stood at the bar to keep their voices down, but it was a LOVELY way to finish the run. Afterwards we went to Bannermans with said array of chums for a MARVELOUS couple of hours of CHAT and LARFS before heading over to Summerhall, where we had our final pair of tickets booked .
It was TIPPING it down with rain as we strode over, and we considered ourselves VERY lucky that the weather had held out this long - it's been the sunniest Fringe I've ever been to, I reckon. Some years it's LOBBED it down with water every day, but this time I almost got sunburnt! We dashed through the precipitation to see Josie Long and Grace Petrie do their "Alternative Reality Tour" show in a Big Yurt, and it was ACE. We were sat behind Owen Jones AND Mark Steel, it was like being at the centre of THE COUNTER CULTURE!
HUGS and back to the flat and then, all too few hours later, we were getting up EARLY to get our taxi to the station and HOME. The journey back was one of TWO parts - the first HORRIBLE as the air conditioning was broken and the carriage was HOT and STINKY, the second DELIGHTFUL as we moved to another, cool and fragrant, one.
Then suddenly we were back in London and it was DONE! We hugged our goodbyes and went home again, with (I think) a very succesful Fringe behind us. I'll leave the full analyses until after
this weekend's shows in Camden
but I think, overall, it's been the best one we've done, certainly in terms of audience and definitely in terms of everyone understanding the plot - unlike every other year, NOBODY has asked me to explain it this time!
posted 25/8/2015 by MJ Hibbett
(click here for permanent link)
(0) comments
Getting About A Bit
Wednesday morning found Steve and I rising at an UNGODLY hour so we could leave the house at 11:45am to catch a bus. That's basically still night-time, right? We were headed for Leith to do an interview for Shore Radio and, on the way, were reminded once again that people round here are NICE. The man in front of us had overheard us saying what stop we needed, so a couple of minutes before we got there he turned round and alerted us that it was the next stop. He then got slightly embarrassed and moved away.
The station had sent us some BRILLIANT directions, ending with "It's behind the Dockers' Social Club, top floor" which indeed is where it was. We stood and listened to the interviewees before us - some EXTREMELY posh and confident young men who DELIGHTED us - and then went in for a HUGELY enjoyable 15 minutes of chat. I knew it was going to be fun when Mr Ewan Spence, host, came out to greet us wearing an old
Need To Know
t-shirt, and my suspicions were confirmed when he asked about a) the Blinovitch Limitation Effect and b) what REALLY happens when you get to the end of Jetpac. It was GRATE, and you can listen for yourself on
the Edinburgh Fringe podcast site
.
With that done I headed home as I had some more WRIIITING to do, and also some GOOGLING of "Hey Hey 16K" (last 24 hours). I've been doing this every day to monitor our MEDIA PRESENCE - usually nothing much comes up, so I was surprised/delighted to find that we'd had a review in
Broadway Baby
. The first time I read it I was ENRAGED - there totally ARE 20 things in
20 Things To Do Before You're 30
and how can anyone not be aware of what D:Ream sound like?!? They were played all the time in 1997 and that's... oh. Right. However, on re-reading it I realised it's quite nice - though I doubt that will stop Steve and I RAILING against the "not 20 things" accusation!
The above mentioned RAILING was part of a very enjoyable show that evening, which was followed by some very enjoyable drinks and then a trip to Sweet Grassmarket, where I discovered that The International Hotel (which that particular venue lives in) is an OASIS of CALM. I met with Mr F Wadsworth to go and see "Matt Abbot Is Skint And Demoralised", and it was EXCELLENT - funny and moving and all round GRATE!
On Thursday morning I went to see MORE Spoken Word as I finally managed to get out of bed in time to see John Osbourne's show. It also was funny and moving and all round GRATE, so much so that I done bought a BOOK. It's funny, I seem to have enjoyed spoken word MUCH more than anything else this Fringe - perhaps that is something to think about for... THE FUTURE!
I'd been joined by Steve for the show, fresh from dropping Mrs Hewitt off at the station, and after walking into town we briefly divided forces - him to go flyering, me to pop to the comic shop and then to fail to make it in time to see a show about Ada Lovelace. We regrouped in the Pleasance Courtyard, where I queued up to see "Bat-Fan" and he flyered the queue of people waiting to see "Bat-Fan", using the fact that I'd bought a ticket as evidence that it would be suitable viewing for others who'd done the same - this seemed to work, as I'm sure I recognised people from the queue later on at our show!
"Bat-Fan" itself was BRILLIANT - full of SONGS and JOKES and above all ENTIRELY ACCURATE with regards to Batman history. I was really impressed, it was one of the most fun things I'd seen all fortnight.
I zoomed home again for GEAR and then STOMPED back to town for show time, and WHAT a show it was. We had probably our biggest audience of the whole run so far and they LARFED throughout - even at things that nobody had laughed at before! It was HUGELY enjoyable, and Steve and I celebrated by staying in the venue and watching "Anecdotes In The UK", the show after us. We'd been chatting to Steffan and Phil, the two stand-ups who were in it, every day when we finished, and they seemed so nice that we ought to give them a go. I'm glad we did, as it was GRATE - they were both really funny and engaging, it was ACE!
Thus it was that, after a quick visit to the Bow Bar, I returned to the flat very happy indeed - I'd done a good show, SEEN three brilliant shows, and only had three sleeps to go until I could head home to my own bed. WINZ!
posted 21/8/2015 by MJ Hibbett
(click here for permanent link)
(0) comments
Still Here!
It feels like FOREVER since I was last at home, but the Edinburgh Fringe just keeps on going. Over the past few days I have done the following things:
On Sunday I walked out of a YURT after 20 minutes of a show I wasn't enjoying. It's difficult to leave a Yurt surreptitiouslly at the best of times, but even more so when you have a large bag, a guitar, and a sparkly pink Hula Hoop. Our show was lovely, and then I dashed down the road to take part in Stand Up Tragedy. I did my best to fit the bill by, basically, during my usual intros to songs and fitting the word "tragedy" in whenever I could - I think it went OK but you can judge for yourself by listening to the podcast, THUS:
After that I collected The Ends Of My Bookends from another show and we went off to meet The Parents for A Tribute To The Music Of Simon & Garfunkel. This was NOT, as the chaps involved made abundantly clear, a tribute act with wigs etc, but rather two blokes doing EXTEMELY lovely versions of Simon & Garfunkel songs. After a day of dashing about in a very very busy Edinburgh it was just what the ROCK doctor ordered.
Next day we went to have a look at The Scottish Parliament - The Parents had been the day before and reported that it was GRATE, and they were right. It's no wonder all those SNP MPs have been rebelling against the strictures of Westminster, the Scottish version is MUCH better. It almost looks like a place people might debate and CHANGE things efficiently. They've got computers and EVERYTHING!
Suitably inspired we went for a walk up Arthur's Seat and, as ever, MARVELLED at the fact that Edinburgh has a RUDDY GREAT MOUNTAIN in the middle of it!
After celebrating this fact at Hendersons "Fringe Pop-Up" veggie cafe (LOVELY) we went home then I headed out again to do our show. It was a GRATE crowd, and Steve noticed that quite a few people had LANYARDS on and some had even been before. We agreed that this DEFINITELY meant that we were TOTALLY being judged for the PERRIER award. It's the only possible explanation!
I rounded off a DELIGHTFUL day by meeting The Hits In My Canon at the Cafe Royal, from whence we went to The Voodoo Rooms to REVEL in the GLORY of Mr John Otway. There were NEW BITS of the set - AMAZING SCENES! We recovered back in Cafe Royal with my delightful nephew Felix and also The Hewitts. Towards the end of the evening I felt QUITE SQUIDDLY, I can only assume it was the MOUNTAIN AIR going to my head!
On Tuesday my SISTER was in town along with my brother-in-law and FOUR entire NEPHEWS. The Members Of My Clan and I had a LOVELY meet-up with them before we had to head off to put the aforesaid Seats In My Carriage on a TRAIN, for LO! her time in Edinburgh had drawn to a close.
As she sped South I stomped back to the flat through mizzling rain that pretty much matched my mood i.e. a bit GLUM, but then I realised that this meant that I too would soon be heading home. I got back to the flat, picked up my bags, and headed straight out again to do the show.
We have PRIDED ourselves on always having double figures for our audience, and this time we continued that tradition... sort of. Here's a picture of our entire audience:
This is Jack and Leia! They didn't know each other before they turned up, but we all become PALS by the end of a (i thought rather good) show - they even sat together to share the lyrics sheet! It could have been a bit miserable but they were a GRATE audience and made it a DELIGHT to perform. HOORAH!
My next appointment was down the road at Canon's Gait, where I was taking part in "Chris Coltrane Tries To Learn How To Pronounce The Word Squirrel." I'm not QUITE sure even now what was going on, but basically I ended up HULA HOOPING for 60 seconds and then, apparently, breaking all the rules of the show by saying "Squirrel" out loud and pronouncing it correctly. At the end Mark Thomas came on, said hello, then left the stage - it was that sort of evening!
Still saddened by my solo status I popped into M&S for some COMFORT FOOD, then came home to do MORE WORK - including writing a JINGLE about the Olympics for
London Calling
, catching up on some ADMIN, and doing a laundry load. The glamour of Fringe life, it never ends!
posted 20/8/2015 by MJ Hibbett
(click here for permanent link)
(0) comments
The Big Bang (part two)
In amongst all this dashing about seeing shows and being IN shows I've also been doing some actual WORK of a WRITING kind. My laptop's set up in the living room so that, as well as writing these blogs of deathless prose, I can also work on some bits and pieces for the forthcoming run of
London Calling
.
This is a new show written by ME and several chums from the Lost City Writers group (who did 'The Sexy Seven' back in February) featuring various shorts, sketches and even SONGS, all based around the story of a London radio station. Amazingly, we've got Charles Savage, a right proper Director with years of experience, to direct it for us, and he's trying to USE the writers actively, getting us to go to rehearsals and write stuff on the spot. It's all very exciting, apart from the fact that I'm several hundred miles away, but I'm trying to keep up with various assignments, like writing "jingles" for parts between sketches. I'm very much looking forward to seeing how it's all going when I get back next week, and if you'd like to see for yourself you could always come along and SEE it - it's on at The Hen & Chickens in London town from Wednesday 26 to Sunday 30 August, and
tickets are very much available!
.
While all that's been going on I've also had some OTHER exciting Writing News, as I've got to the semi-finals of the
Scriptapalooza TV competition
with a spec script for 'The Big Bang Theory'. I'm especially chuffed because last year I entered a different script and got into the quarter-finals - as Mr P Baran has pointed out, all I need to do is enter a few more times and by 2017 I'll have WON it - who can argue with THAT?
posted 19/8/2015 by MJ Hibbett
(click here for permanent link)
(0) comments
Shoes Day
Saturday was a day of SHOES, and not just because there was a lot of STOMPING about. It began with seeing "Card Ninja", a show where a man threw cards around. It was GRATE - he did all sorts of SKILLZ and also GAGS, it made me think EVEN LESS of comedians who just try and talk to the audience and then make remarks. Comedians! Learn some SKILLZ!
Next we went to see a comedian who ... well, did that, but was FINE. He was on in Cowgatehead, scene of MANY ructions and disputes between different Free Fringe organisations. It was actually a pretty good place to use for shows, but CRIKEY somebody really needs to sort out some SIGNAGE. It was full of people wandering around without a CLUE as to where they were. Also, someone put their SHOES on my coat, i was MIFFED!
Edinburgh, by the way was PACKED with people - it's almost as if it was a Saturday when it wasn't raining, as EVERYONE was out and about on the streets. This meant the shows we'd seen were really full, though in both cases The Bums On My Seats and I managed to LUCK OUT and find two seats together when everyone else was crowding round the back. HA!
Other, sensible, people with shows on would be PLEASED at the idea of there being loads of people round looking for shows to see, but I was PANICKING, convinced we'd get a room full of rowdy stag dos and/or people just chatting loudly expecting Stand Up rather than our ART. As it turned out we did end up having a LOT of people in, including PARENTS and... it was lovely! I'd worried that some people sat at the front had put their shoes up on stage, like they were CLAIMING it, but it turned out that they were just RELAXING and DELIGHTFUL, which is pretty much how the show went too. Hoorah!
That done we went our various ways, with The Money In My Bucket and I going to see a show called "ONEymoon", about a woman marrying herself. It was all right - you could have done most of it in a ten minute sketch, but there WAS a tap dancing finale (SHOES) and there was an AMAZING bit where she got some guy out of the audience hem hem and asked him to be the Celebrant. Who was this YOUNG man who seemed to be perfectly happy on stage? I cannot say but I predict MORE shows for him in future, possibly at 6:15pm for the rest of this week.
After all that we regrouped EN MASSE back at The Albanach, where we seem to be going most every night at the moment, for slightly more PINTZ than expected. It feels very MUCH like we're on the downhill slope of the Fringe now, and it's all the more fun for it!
posted 19/8/2015 by MJ Hibbett
(click here for permanent link)
(2) comments
We Got A Review!
Friday at The Fringe started well, for LO! we got a REVIEW!
Obviously we care LITTLE for such things etc etc etc but it was nice to
see someone enjoying it
, especially as they got so much RIGHT about it. "Jukebox Musical" - IT'S A FAIR COP. Having said that, I did think it was funny that the Ada Lovelace bit, which she suspects was "shoe-horned in " is one of the few bits that actually wasn't!
The day continued GLAMOROUSLY with us and the Hewitts watching "Yes Prime Minister" and only JUST managing to drag ourselves away before a double bill of "Allo Allo" could detain us further. The Shows On My Schedule and I set off in TIPPING RAIN so got a TAXI to see David Tsonos (who was good) and Rob Auton (who was BRILLIANT) before heading to The Albanach where we met The Hewitts - who'd've ever guessed any of us would be there? Again?
With our other halves going to see another show Steve and I headed off to do OURS, and it was GRATE again, although one incident does stand out: nearly every day, before the show starts, an AMBULANCE goes past with siren blaring. Every day I think "If that happens during the show I have something ACE to say!" On Friday it DID happen, just as we were finishing a song, so I paused... and then STEVE said "He won't sell many ice creams going at that speed." I was FURIOUS!
There were more pals amongst us, and said pals regrouped in The Albanach later with MY PARENTS for a very delightful evening of LARKS and DRINKS which went on for the whole rest of the night. Who needs SHOWS when you've got CHUMS eh?
posted 18/8/2015 by MJ Hibbett
(click here for permanent link)
(0) comments
Halfway There
You find me typing this blog aware that I am HALFWAY THROUGH the Fringe! This seems incredible - surely we have only just got here? How can this ever end? Don't I just LIVE here?
Things have been very busy since last we communicated. On Wednesday we saw a whole heap of shows, with Chris Coltrane being the best, and did a Quiet Show again ourselves where people didn't laugh out loud much BUT clapped LOUDLY throughout and were very enthusiastic afterwards. As per, the fact that I can't see the audience's faces makes me PANIC and think they must be HATING it, I must try and remember that they DON'T!
Afterwards we went to Bannermans where TWO things happened. Firstly, as I entered, a lady saw my Prolapse t-shirt and said "UGH! Prolapse?!? Oh, is that a band name?" and smiled, pleased that that was sorted out. Then in the pub a member of barstaff got very excited to see my HOOP and we exchanged HOOPING thoughts. It was lovely!
After that I collected The Shows On My List, went to see a show that reminded me a LOT of the showcase we did after the stand-up comedy course (in good AND bad ways), then collected Steve and went for a curry at Red Fort. HOORAH!
Next day began with Steve and I heading into town bright and early to see Robin Ince, who was JOLLY good, full of FUN and DELIGHT. I then collected The Meals On My Menu from her breakfast and we went to see two excellent shows at Fingers Piano Bar - "She Wouldn't Dance With Another" and "Shit Girlfriend". They were GRATE!
At this point the aforesaid Wines On My Winelist and I split, her to go and see 2.75 other shows (0.75 of a show was one she didn't like and so left!) while I met with Steve to do our show to a HUGE audience. There were LOADS of people and there would have been even more if not for THE LAW: as I stood outside SMILING at people to make them come in (top flyering tip - this works!) about TWENTY people came in at once! Ten of them then LEFT about 15 seconds later as they had under-18s with them. Curse you, The Man!
The show was fab, helped along by us using the SONG SHEETS for the first time for SINGALONG action. It was also full of chums, not least the recently arrived Mrs S Hewitt, and a bunch of us went to Bannermans for our traditional BEERZ. It's a good tradition! However, by the time that had been done and I'd collected The Chums In My Gang from her last show i was KNACKERED, so we wended our way home for TEA. All this showbiz, it's EXHAUSTING!
posted 17/8/2015 by MJ Hibbett
(click here for permanent link)
(2) comments
What A Difference A Show Makes
For the first few days of The Fringe I must admit I was feeling slightly LOW, missing home and facing the MOUNTAIN of the two weeks still to go with DREAD. As it turns out, this was all less to do with my sensitivity and more to do with my COLOSSAL EGO.
For LO! Monday's show was a) PACKED with people b) GRATE fun and c) cheered me RIGHT up! We've had lovely audiences all the way but on Monday there were a lot more of them, which it turns out makes a difference, and also nobody came in at the start in a stag do or chatting, so I felt COMFY from the off. It was ENORMOUS fun and then afterwards I found myself fully full of the joys of Fringe. "This IS fun!" I kept thinking "How sad that we're only doing two weeks."
As I say: EGO. Steve and I celebrated with drinks with chums and then a fancy tea, before he went off for SHOWS and I went home for ADMIN and also TIDYING, for we had GUESTS incoming!
Next day I was up bright and early to head into town to see
Rhinoceros
by Mr H Carr at the ungodly hour of 2pm. Harry was one of the people caught up in the mix-up about the Cowgate Head venue and so his venue had been shifted down the other end of the Royal Mile to the New Waverley Arches. When I arrived they were still putting everything together, with temporary toilets, an incomplete bar and the general air of a building site. It'll be a GRATE venue once it's finished mind you!
I think I ALARMED Harry when I arrived, as it meant he had audience. I nipped out to the loo and found two ladies looking slightly lost. "Will there BE a show if there's only two of us?" they asked. "I'm coming, so there'll be THREE of us!" I replied, so we went in and made sure he did it. It was a good job too as, while he hid behind the curtain for the intro a family of FOUR came in, making us a CROWD.
The first few moments of the show itself were TERRIFYING as I thought "OH NO! He wants us to DO stuff!" but then we all got into the swing and had an EXTREMELY jolly time, running around the room, calling out for our mates and, in the end, playing a board game to decide the fate of Rhinos. SPOILERS: it doesn't necessarily end well.
That done Harry and I nipped for a quick drink, I got a replacement STRING for one I'd broken in all the rock and roll of the day before, and returned to Sneaky Pete's for SHOWTIME. It was another MOST delightful show, with yet another lovely crowd. This time a large portion of the audience was a family ranging from teens to (I think) grandparents, which was ACE as they all laughed at certain parts with different EXPERIENCE, and then laughed again as they appreciated the rest of the family enjoying it too.
It was FAB! We packed up and then I RACED over to the train station to collect The Audience In My Room, who had arrived from That London. I had planned a Sensible Evening of unpacking, regrouping and home dining - clearly I had been away from home too long as what OF COURSE actually happened was that we went to the Albanach and STAYED there DRINKING and eating CHIPS. Our nephew Mr F Wadsworth came along after a while and we finished the evening with WHISKY. Hoorah!
As I type this I find myself actually feeling a bit sad that I'm already a third of the way through - SHOWBIZ!
posted 13/8/2015 by MJ Hibbett
(click here for permanent link)
(0) comments
Day Two
Our second day got off to a gentle start, with us finally getting ourselves into town about 2pm. We tried a new method of travel this time - just getting the bus HALFWAY, as far as the end of Princess Street. This left us with a way to walk but did at least cut out the HALF HOUR of sitting in traffic as we crawled through town, so seemed to work out.
Our first appointment was to see "Gamer Gamer", a show where comedians talk about video gaming. It was a lot of fun, although I did feel INNER RAGE when one of the comedians slagged off Sonic The Hedgehog for having crap graphics - kids today, they don't know they're born! We (by which I mean Steve) DID however get to do some highly effective flyering outside after!
That done we went and sat in the PUB for a bit (watching some football, it was nice) before heading over to Sneaky Pete's for show TWO. This one was a LOT less nervy, helped by having a pile of CHUMS in again and also by standing on the correct SIDES. Delightfully, Steve pointed out that he'd seen one of our other attendees earlier on and thought "Target audience!" but hadn't been able to flyer him in time, so was overjoyed to see he'd come ANYWAY.
Indeed, this young man was half of TWO young men who asked us to do an INTERVIEW afterwards, which Steve and I duly did in an ALLEY beside the venue - so PUNK! I also did a quick version of
20 Things To Do Before You're 30
for them. I think it's going to be on Broadway Baby, but I'm not entirely sure.
That done it was back to Bannermans where we joined Ms J Gilroy, Mr J Osbourne, Mr K Foster and Mr T Diffenthal, the previously mentione CHUMS. Steve and Jenny went off for more shows, then the rest of us went for NOODLES, where we were joined by Mr R Auton. It was odd sitting down to tea with two people who did my favourite show of 2013 and also two people whose shows are VERY MUCH on my list to go and see this time, but it was all MOST pleasant.
I guess I could have carried on CAROUSING but once we'd dined I decided to head home - it's been a LOT of Fringe so far and I had laundry, dishwashing, admin and of course BLOGGING to do. As I type this it's just gone midnight and we're almost into Day Three - only 13 shows to go!
posted 12/8/2015 by MJ Hibbett
(click here for permanent link)
(0) comments
Showtime!
Saturday began EARLY for me and Steve, as we had to be in town by noon-ish to queue up for Meet The Media. This is a KRAZY thing at the Fringe where various media outlets send representatives down so that hundreds of fringe people can ask them to come and see their shows. It's like a cross between a freshers' fayre and an extremely unbalanced speed dating night, with MILLIONS of people waiting for a chance to spend two minutes with someone who might ask someone else to think about maybe reviewing them.
When we rolled up the queue went out of the building, round the corner and up to the NEXT corner, and by the time we started moving half an hour later it was round the EVEN NEXT corner behind us. We spent the intervening time meeting various nice people, and also listening to the very excited Improv Troupe in front of us telling each other TALES of IMPROV. It was "delightful".
Eventually we all shuffled into the PACKED main hall and Steve and I split our resources, taking a queue each. After another half an hour or so we'd tried to persuade Broadway Baby (Steve) and Fringe Review to come and see us. Steve then lined up to talk to The List, while I LUCKED OUT and found a queue for Fest which had only just begun as their representatives hadn't arrived yet. Again, there were many nice people and also Excited Improv Troupes and also also a LOT of BRIDES. Every time you turned round there'd be a BRIDE going by - male brides, old brides, dusty brides and brides wearing carrier bags for headdresses. Maybe it is a THING? Or maybe wedding dresses are cheap in charity shops?
Another noticeable thing was that there were pretty much NO comedians - I guess this is because they're more likely to have SOLD OUT ... I mean, more likely to have been organised enough to hire publicists to do this sort of thing for them, so they can spend more time putting GEL in their hair. It was quite nice to be part of the other side of the Fringe, where everything was more THEATRE and ARTS. And, as I say, Improv troupes.
Once I'd done my BEST with FEST I found Steve still MILES behind in his queue. The List were taking it SLOW, talking to people for ten minutes at a time rather than the usual TWO. I held Steve's place so he could nip over to the Scotsgay queue (well, you never know - we ARE doing a musical) and another half hour later we were finally at the front for our 2 minutes (we kept it quick!) After that: PINTS.
Who knows if there was any point to all of it? We had not time to worry about such things as, after that much needed PINT, we had BUSINESS to attend to. Steve went flyering and I went back to distant Stockbridge to get our PROPS, for LO! it was SHOWTIME! Once fully laden with bag of props, hula hoop and guitar I decided to try getting a BUS back to town, and crikey it took a LONG time - I guess you don't appreciate how much Oyster cards speed up bus travel until you've sat in the same spot for five minutes waiting for fellow travellers to count out their change.
Still, I got to Sneaky Pete's in time to find Steve ready and waiting. The show before us finished so we went in to say hello to the staff, got ourselves set up, and prepare for SHOW.
SHOW! It went FINE - we were both a bit nervy during the start, partly because there was a Well Behaved But Mildly Chatty STAG DO in, but mostly because we were stood on the WRONG SIDE of each other. I've no idea how that happened, but we struggled through and, by the time we got to the second half, had a nice time. It felt good to be DOING it at last - it seemed like we'd been in Edinburgh for YEARS so it was GRATE to finally be DOING what we'd come there to DO!
A pile of PALS had come to see us too, which was lovely, so together we went round the corner for PINTS, soon joined by my NEPHEW Felix, who found that he and his pal had been adopted by ALL and thus had MORE PINTS pushed upon them. After a few of THOSE we all said our farewells and headed home... with Steve and I popping in for a CURRY on the way. It was GOOD!
So that was the show BEGUN - finally! It's happening!
posted 11/8/2015 by MJ Hibbett
(click here for permanent link)
(0) comments
We\'re Here!
After approx 3,000,000 years of planning, worrying and paying for stuff, Thursday morning FINALLY found me and Mr S Hewitt leaving London for the Edinburgh Fringe. We'd been AFEARED that it would all go wrong before it even began due to the Tube strike that was occurring, but as it turned out we both got to St Pancras PEASY. Every time there's a tube strike lots of lefty people say "Stop complaining, I got to work easily" and I always wonder whether that's helping The Cause. Surely if everyone says it's FINE without a tube system then Dark Forces might suggest we don't actually NEED the drivers so much?
ANYWAY we got onto our train and spent the next several hours enjoying the best that Actual Weekday First Class train travel (booked in JANUARY!) could throw at us. SOMEBODY in our party took full advantage of the free booze and drank basically a whole bottle of white wine. I am not pointing any fingers, but let's just say that all THREE of Steve looked pretty guilty to me.
Once arrived we staggered off the train and nipped into The Halfway House for the traditional "We're here!" pint then got a taxi over to Stockbridge, where our accomodation was waiting for us. The flat we've got is NICE, although for some reason the owners have plastered every available surface with pictures of themselves. Everywhere you look, there they are, looking glamorous on beaches or posed in wedding photographs or smouldering with babies. It's a bit odd.
Once settled in we strode into town to meet Dr A Thomson who had very kindly received our FLYERS for us. We then proceeded to enjoy a few drinks (including the traditional "We're Here!" trip to The Pleasance Courtyard) before getting a taxi home, followed by a swift trip out to see what the pub round the corner was like. It was nice!
The next day was meant to be Setting Up Day, when we go to the venue and, well, set it up. However, our venue
Sneaky Pete's
IS a venue i.e. that's what it does all year round, rather than being a cave/yurt/garage that has been specially converted, so we were not required and instead went out in search of CULTURE.
The first thing we did was go to WAITROSE round the corner, which was LOVELY - I even got my free cup of coffee and felt RIGHT at home. The first actual SHOW we saw though was The Dawn Chorus by Sad Faces. I've been to see Sad Faces EVERY time I've been Fringing because they are ACE and this show was no exception. BUOYED UP by this we went wandering (i.e. Steve did some flyering and I went to the pub) before splitting up - Steve to go and see Tom Parry, me to go and see Newsrevue. It's a topical sketch REVUE for which I have written things in the past, though there wasn't anything by me in this one (I think there MAY be a gag of mine in the Available Sketches for the run, but I'm not quite sure). It was much as it had been when I'd been to see it last year - a very old school Actual REVUE with a Professor At The Piano, pop songs with rewritten lyrics, voiceover gags during the blackouts and a lot of Tomfoolery. The audience (who made me feel very young!) LAPPED it up!
Steve and I regrouped at the Free Fringe BIG MEETING. This is where we get told what to do, and then you wander about the room saying "Ooh! Hello!" to people you know from previous occasions - for us this included the delightful Mr C Coltrane and the marvellous Mr D Munro. It was lovely!
Happy with that we popped to The Bow Bar where we met a VERY jolly Edinburgh Lady who was keen to embroil us in helping a couple of Mexican ladies find their way around ("Look it up on your phone!" she demanded of me). It was ACE - Edinburgh people may be FLEECING the rest of us out of MILLIONS in rent, but they are very nice to to talk to in pubs!
Finally we ended the day with another GRATE tradition: going to see The Scottish Falsetto Sock Puppet Theatre Company which, as ever, was HILARIOUS. We came out full of the joys of FRINGE, joys which were only slightly dimmed by the fact that there were NO (no) taxis to be had in all of central Edinburgh. It was a LONG walk home, but we made it eventually, ready for a BIG day to follow. For lo! not only would we be Meeting The Media, but it would also be SHOWTIME!
posted 10/8/2015 by MJ Hibbett
(click here for permanent link)
(1) comments
What Day Is It?
One of the most ONEROUS tasks of any visit to the Edinburgh Fringe is Knowing What Day It Is. This may seem foolish, but after a week of constant BEER and CURRY and SHOWING OFF it all gets a little bit confusing, so Steve and I agreed that it should be a proper JOB for someone. Obviously it's a BIG job so we further agreed that the responsibility should alternate from year to year, and this time it is MY job.
It's Tuesday.
Phew! To be honest it's been quite easy so far as I am VERY aware of precisely how close it's getting to Actually Going To Edinburgh. Tomorrow (which will be Wednesday - appreciate my SKILLZ!) is general packing and panicking today, and then on Thursday we meet at St Pancras and, after MONTHS of preparation,
Hey Hey 16K
heads NORTH! It hardly seems possible that this time next week we'll be in full swing, with shows behind us and more ahead, favourite pubs visited, PALS bumped into in the street, our Edinburgh flat gotten used to, and (most likely) missing home already.
These last few days before heading off always feel a bit CHRISTMASSY, in that I'm pretty sure I've got everything ready but have a still small voice at the back of my head whispering "PANIC! PANIC!" General excitement is helped along by all the people on my twitter feed heading off already, tweeting pictures of the view from the TRANE. It's also very much like the day before the last day at WORK, in that I've pretty much finished everything I need to do before I go, and am scraping around for odd jobs before I begin my holiday of BOOZE.
I'm taking my laptop with me this time and I'm hoping to be BLOGGING a bit, but if you'd really like to know what's going on the best way to find out would be to come. Go on, pop to Scotland, it'll be lovely - and if you do, come and say hello. I know some GRATE pubs!
posted 4/8/2015 by MJ Hibbett
(click here for permanent link)
(0) comments

An Artists Against Success Presentation