Blog
Gigs
Facts
Music
Shop
Links
6 And Tickets
Yesterday I spent several hours booking TRANES and ACCOMODATION for this summer's spree of
GIGS
. This is something I used to do ALL the time but haven't had to for AGES, and I had forgotten how FRUSTRATING it can be.
"This won't take a minute" I thought as I sat down. "I'll just book myself into the IBIS all over the place then take advantage of the extremely reasonable price of train tickets when booked in advance. What could be simpler?" Poor foolish me, I had forgotten the AGONY of trying to book at hotel for less than a MILLION QUID at weekends, and also how INSANE and COMPLICATED train travel can be, where one train to LEEDS can cost twice as much as a complete round trip from London to Birmingham, across to Peterborough and then back home again.
Eventually I managed to book ALL accomodation and MOST legs of my various journeys, with only our trip to GRIMSBY for
Festival 8
and to LEICESTER for our
gig with Po!
needing tickets on the day. Thrillingly I may be buying a TENT for my trip to
The Towersey Festival
... though I do have a couple of months to talk myself out of it.
This is all part of the promotional campaign for
Still Valid
which was yesterday in full on PANIC mode. Still NOBODY had said whether they liked it or not and I was starting to wonder whether anybody ever WOULD. As I've said before, we've spent YEARS working on the album and there's a little voice in my head that keeps saying "Maybe it was all but for NAUGHT? Will anybody even CARE let alone buy/review/play it?"
THREE CHEERS then for the ever wonderful Mr Steve Lamacq who played
Can We Be Friends?
on his
6Music show
yesterday afternoon. We're about an hour into it, and the song sounds GRATE - I always worry that our stuff will sound WEIRD and/or QUIET next to "proper" songs, but it was LOUD and full of The Wall of Emmas, Mr FA Machine jangling away and SO forth.
It was a HUGE relief all round, and put me in just the right mood to get on with all the envelope stuffing I've got lined up for the next couple of weeks! PHEW!
posted 31/5/2016 by MJ Hibbett
(click here for permanent link)
(1) comments
How To Be An Indie Legend
Yesterday saw the Grand Promotional Campaign for
Still Valid
reach another important milestone as I sent the first actual proper REVIEW copies out. I've sent some to various chums, but this lot were the first ones a) going to people I don't know AND/OR b) including a press release, which makes it OFFICIAL!
That press release took quite a bit of WORK to write, as I had a couple of goes at it (the first one being deemed "a bit boring" by our Internal Comms Team i.e. The Facts On My Document), the Validators checked it, and then the aforesaid Comms Team checked it AGANE. The end result was Quite Good I thought - here's what it said:
Indie legends MJ Hibbett & The Validators are back with a new album 'Still Valid', which lead singer MJ Hibbett describes as "A Greatest Hits of what we've been up to for the past four years!"

Opening track '20 Things To Do Before You're 30' - a raucous rant about enjoying yourself whatever age you are - first appeared in 'Hey Hey 16K', a rock opera MJ took to last year's Edinburgh Fringe and recently released on DVD, while album closer 'We Did It Anyway' first appeared in 2013's touring show 'Moon Horse VS The Mars Men Of Jupiter'.

Two songs were written to help drummer Tim Pattison get ready for his gigs supporting Mogwai with his old band, Prolapse. "Their songs are much longer and faster than ours," says bass player Frankie Machine, "so we did some jams during practices to help him get match-fit, and they turned into 'Burn It Down And Start Again' and '(You Make Me Feel) Soft Rock'."

'Can We Be Friends?' is about two people meeting at the long-running Hibbettfest event in Kingswinford in 2014. "There was a big crowd that year to see MJ be presented with his own tribute album, which the festival organiser Ray Kirkham had put together in secret" explains violinist Tom McClure. "It featured people like Chris T-T and Gavin Osborn covering his songs - the only person who didn't know about it was MJ himself!"

Every song tells a story. 'Hills And Hollows' was written in a failed attempt to become Poet Laureate Of Peterborough. 'I Want To Find Out How It Ends' was commissioned as the theme tune to online sitcom 'A Brief History Of Time Travel'. 'In The North Stand' was made for a football-themed album also featuring Josie Long and Ballboy, which - like Michael Platini's presidency of FIFA - seemed like a good idea at the time but never actually happened.

This is MJ Hibbett & The Validators' sixth studio album. Since forming in 1999 they have performed live on Radio One, had a Record Of The Year in Rolling Stone, an Album Of The Day on 6Music, released one of the first ever viral videos, and toured the UK and Europe. They've done all this independently from record labels - writing, producing, designing and releasing all of their albums themselves. "If we could get access to a pressing plant we'd probably make our own CDs too!" says singer Emma Pattison.

'Still Valid' will be released on iTunes, Amazon and all digital download services on Monday 4 July 2016, with a limited edition CD version available exclusively from the band via their website, www.mjhibbett.co.uk.
Note the use of the phrase "Indie Legends" right at the start - I have found over the years that if you repeat this enough times people actually start to repeat it and, eventually, believe it to be real. It's the same trick the Tories always play at elections, referendums etc but NOT EVIL. In fact, it 's probably the Universe's way of achieving KARMIC BALANCE. You might not think that's true right now, but give me a couple of years and a few more press releases and hopefully everyone will think it's FACT!
posted 27/5/2016 by MJ Hibbett
(click here for permanent link)
(0) comments
Tuesday Night Is Friday Night Is Music Night Night
Last night The Members Of My Audience and I found ourselves in HACKNEY, queuing up outside The Hackney Empire to get in to see the recording of "Friday Night Is Music Night". The aforesaid Ballots In My Box had seen the tickets online, thought "That sounds like fun", and put us into the DRAW for possible tickets, and thus we find ourselves in East London of an evening in a MASSIVE long line of Radio 2 Listeners.
Of late there has been some suggestion that Radio 2 has changed its audience, attracting groovy hipsters and taste makers. That did not seem to be the case last night - we were almost definitely the youngest people there and CERTAINLY the most able-bodied. There were a LOT of crutches clattering when we eventually started moving for the entrance!
Once inside it was LOVELY. The Hackney Empire is a right proper old theatre with right proper seats and a right proper bar. Often going to the bar at gigs is a HORRIBLE experience fraught with queue jumping, aggression and crappy drinks, but here it was MUCH more civilised. Happy chat between customers abounded, service was friendly, and they even had a range of LOCALLY SOURCED ELB beers available!
We've been to quite a few radio recordings so are used to some faffing about but once this got going it STAYED going. Mr Ken Bruce came on, the entire audience went "Ooh! It's Ken Bruce!", he was DELIGHTFUL at us, and then the ORCHESTRA played a metric TONNE of Instrumental Pop Hits from down the years i.e. hit songs that already WERE instrumentals, rather than instrumental versions of songs. THUS we got "Stranger On The Shore", "Telstar" and a LOT of TV Theme Tunes and film instrumentals. My favourite one was "Van Der Valk" which is one of those tunes that KEEP popping into my head, so it was nice to hear it out in the open!
It was all very RELAXING, also INTRIGUING as we watched the Orchestra at work. I always think that the thing people enjoy MOST about live performance is when you see several human beings acting in synchronicity, whether it's a BAND hitting a GROOVE, two middle-aged men trying to tap dance (hem hem) or about 40 people scraping, blowing and thumping things simultaneously to make a MIGHTY SOUND. How it all works so well is a mystery to me though - there was ONE mistake that we spotted on the GUITAR (which they did a short PATCH for at the end) and there was one another patch recorded to cover, we thought, excessive air conditioning, but otherwise it all seemed to go without a hitch. When we've been to see comedians and suchlike there's always LOADS of re-takes and fluffs to cover, you'd think 50 people going AT IT for 90 minutes would need more corrections than a few comedians TALKING for 30, but apparently not!
The whole thing was BRILLIANT, also WELL sophisticated - there was even an interval - and Ken Bruce was everything you could hope Ken Bruce would be. Apparently our show will be broadcast on September 23rd, and I'm looking forward to tuning in. We were sat at one end, quite near the GUITARS, so some things got blotted out entirely. The percussionists seemed to be VERY busy all night, for instance, I'm hoping the recorded version will let me know what they were up to!
posted 25/5/2016 by MJ Hibbett
(click here for permanent link)
(0) comments
Fauna And Flora Mallorca
We had a LOVELY time last week in Mallorca - it's something like the 10th (or 11th) (or 12th?) time we've been, and though many things remained the same this time there seemed to be an ABUNDANCE of WILDLIFE.
The first example of this came before we'd even left the UK. While waiting for the plane at Gatwick we noticed a group of five MEN enter the departure lounge, causing a WARP in the space-time continuum as they sat together. It was that thing where everybody suddenly notices a change in the atmosphere - nobody was aggressive or unpleasant, but the sudden increase in Forced Laughter and Remarks made everyone look up and NOTE them. "It's just some blokes off on holiday", I thought. "Some of them have grey hair, they won't be lairy."
Our plane was late boarding as, apparently, there'd been some baggage trouble at Naples or something, and as we sat down the Captain announced we'd missed our flight window, so MIGHT be waiting over an hour. BOO! I didn't want to be spending that long on a plane ANYWAY, least of all with a group of LADS who, while still not aggressive, were getting LOUDER. The Jackal Call laugh of the least important LAD (you know the sound, it's always there) was starting to get VERY annoying!
A few minutes later the Captain came back and told us he'd arranged another flight path and we could take off after all. HOORAH! We taxied round... and kept taxiing... and kept taxiing, and just when I was wondering if maybe we were heading to HEATHROW or something he came on again and told us that we were heading back to the terminal so that some people who had done something ILLEGAL could be taken off the plane! Everybody looked around wondering who it was, and pretty much everybody looked at the aforesaid group of blokes. They didn't seem too bothered though, so it remained a mystery until we got to the terminal, steps were attached, and THE POLICE entered the plane!
The police!
It turned out it WAS that group of blokes, who it seemed had been necking BOOZE they'd bought in the airport. The stewardess had asked them to stop, they hadn't, and so they got kicked off! At first it seemed maybe a bit harsh, but then the Captain came out again and explained that they were taking a firm line on This Sort Of Thing - when they'd previously given people the benefit of the doubt situations had invariably ESCALATED, with assaults, arrests, and forced landings. He apologised for the delay and we APPLAUDED!
The rest of our journey was incident free. When we got to Mallorca we'd ordered a TAXI to take us to Port de Pollenca where we stay - usually we get a BUS and then another BUS but this time we thought we'd try out the taxi, and it was ACE! It was one of the nicest car rides I've EVER had - super spacious, super speedy, and he played Frank Sinatra's Greatest Hits all the way there!
When we got to our usual place we found they'd given us Our Usual Room - it's not ALWAYS the room we get, but we always ask for it! - which, despite having been painted WHITE and getting some fresh furniture, was pretty much the same as it always was. It's got a view of a POND from which we could watch a fascinating character who came to be known as The Contemplative Duck.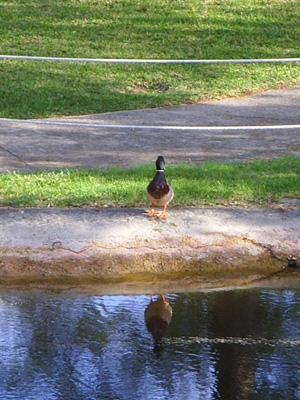 The Contemplative Duck
He seemed to spend most of his time sitting by the side of the pond, gazing out, contemplating the universe. Sometimes people would walk past and he'd gently ease himself into the water, float to the centre, and wait until the coast was clear, just sitting quietly and thinking. Once or twice a female duck would come and be Significantly Busier, but mostly it was just him, contemplating. He was an inspiration to us all.
Also of note were the TERRAPINS. For years we'd sit on the balcony of our apartment looking at people standing on a small bridge, looking at something in the ponds. "What ARE they looking at?" we'd wonder, and then LAST year we found an answer: there was a TERRAPIN!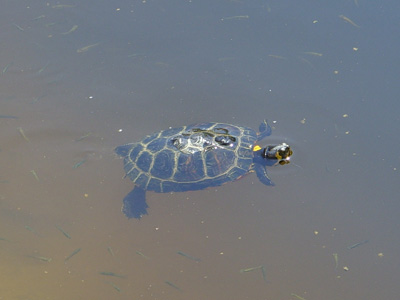 Terrapins!
This year there were at LEAST three of them - that's how many we saw together anyway - it was BRILLIANT! Sometimes you could see them from our flat, BASKING on the other side of the pond from The Contemplative Duck. If you were REALLY lucky you could see two of them together with THIS character: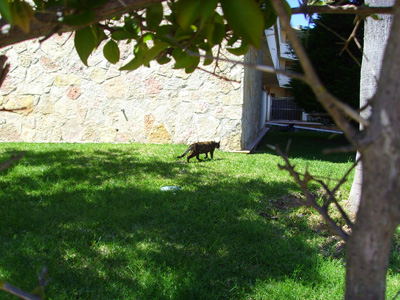 Meow Meow The Cat
"Meow Meow" was so-named because of the RACKET he made. If you couldn't hear him you could usually see him. There were a few cats around, also this DOG who wondered about with the air of an INSPECTOR, doing his rounds, checking everything was in order.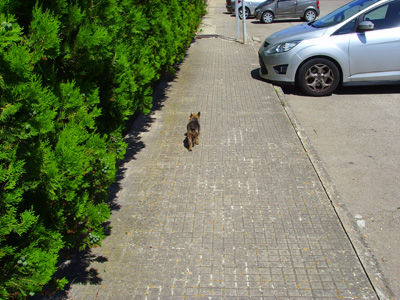 Out and about there were yet MORE creatures. We saw a
HOOPOE
(which looked like a small child had drawn a bird and it had come to life), a whole HEAP of FISH (which at one point SURROUNDED me so I had to FLEE from the SEA) and a whole field of FLUFFY GOATS, thus: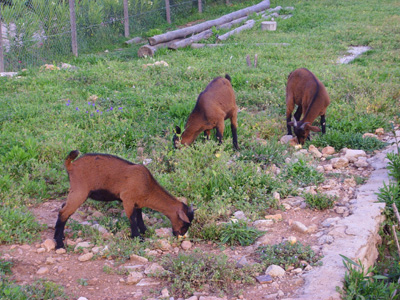 Fluffy goats
With all that going on we didn't really have time for much else, apart from eating LOCALLY SOURCED FOOD such as
coca
, cakes, beer, paprika crisps and BISCUITS, and lounging around generally. It was bloody brilliant - roll on next year!
posted 24/5/2016 by MJ Hibbett
(click here for permanent link)
(1) comments
Martin Fry In A Caravan Park
You find me today back at work after a DELIGHTFUL week in Majorca (which I shall tell you about in GRATE detail another time), sorting through various emails and also gearing up for the
Still Valid
promotional campaign, which began this morning as I posted the first few promo CDs out. There's a TONNE more that will be heading for the postbox over the next couple of weeks as very slowly this THING what we have been toiling over for three or four years gently reveals itself to the universe.
It's all very exciting, but also SCARY: what if we go to all this effort and nobody actually cares? Whilst on holiday we read The Times most day (it was the Least Awful UK Newspaper available) and one day I read a really interesting
interview with Martin Fry out of ABC
. In it he talks about the way that his fame DIPPED, as he stopped doing proper gigs and found himself singing along to backing tapes at holiday camps, then gradually worked his way back to doing new material at the Albert Hall via a string of nostalgia tours. It was REALLY interesting (as pointed out by The Words In My Article, this is not surprising as it turned out to have been written by All Round Marvellous Mr Mark Ellen) as this version of The ROCK Life Cycle is fairly new. In olden times bands would usually burn out after a few years then die poor, or sometimes get drug addled and reappear as if from nowhere decades later. Martin Fry and others like him seem to have done it differently, never giving up on performing, managing to work through the lean years while they wait for their core audience to grow up, marry, have kids, and then find themselves 20 to 30 years later once again looking for gigs to go to.
Apart from, as I say, being a fascinating read in and of itself it also made me wonder about my own, somewhat less auspicious career in ROCK. I've noticed over the past few years that gig offers have MASSIVELY declined - largely,I think, because I've stopped ASKING, but once you stop asking other people stop asking YOU - and there hasn't exactly been a MAD RUSH of people intrigued at the very IDEA of the new album. What if we're at the point now where, on our own scale, we go from Mega Domes to Caravan Parks? This is slightly worrying as playing Caravan parks would be something of a step UP for us - what would the equivalent be? Busking? Shouting out of the window?
This is probably all NERVES that come as part and parcel of the EXCITEMENT of finally having physical copies of the album - hopefully in a couple of months we will be sharing cocktails with David Bowie on Top Of The Pops (note to self: it's been a while, maybe check yr pop cultural references are up to date) then heading off for a Peel Session. Whatever happens, I can't WAIT for people to actual HEAR what we've done. I listened to it for the first time in over a week on the way into work this morning, and it sounds BLOODY GRATE!
posted 23/5/2016 by MJ Hibbett
(click here for permanent link)
(0) comments
Album Waiting Day
Wednesday found me doing something I haven't done for AGES - waiting for my ALBUM to arrive.
A few years ago, when I seemed to be releasing a CD every few months, this was something NORMAL and USUAL but it's YEARS since we last put an album out so I had to search my BRANE for some idea as to what the experience would be like. A quick skip along memory lane suggested it would be AWFUL, but then again when I waited in for the
Hey Hey 16K
DVD last month it seemed to go all right, so maybe it would be fine?
As it happened the only thing that went wrong was ME. The first SEVEN HOURS of waiting passed fairly calmly - I had a tracking number, it said "Out For Delivery" on the UPS site, the delivery window was wide open, all was well. It was only when we neared 5pm that PANIC started to set in - what if it had been delivered to the Management Office of our flats, when parcels sometimes go and they don't TELL you? What if it was being delayed until tomorrow, when I wouldn't be in to sign for it? What if they'd already been but our INTERCOM was broken AGANE? PANIC! I emailed the LOVELY people at Key who suggested ringing UPS themselves and, after getting VERY ANNOYED with a ROBOT, I spoke to someone who a) sounded American b) told me it was still on the way. PHEW!
And then, a few minutes later, as if by MAGIC, there was a ring on my buzzer and a UPS chap heading up in the lift. Within seconds I had taken possession of two boxes, containing 500 copies of THIS: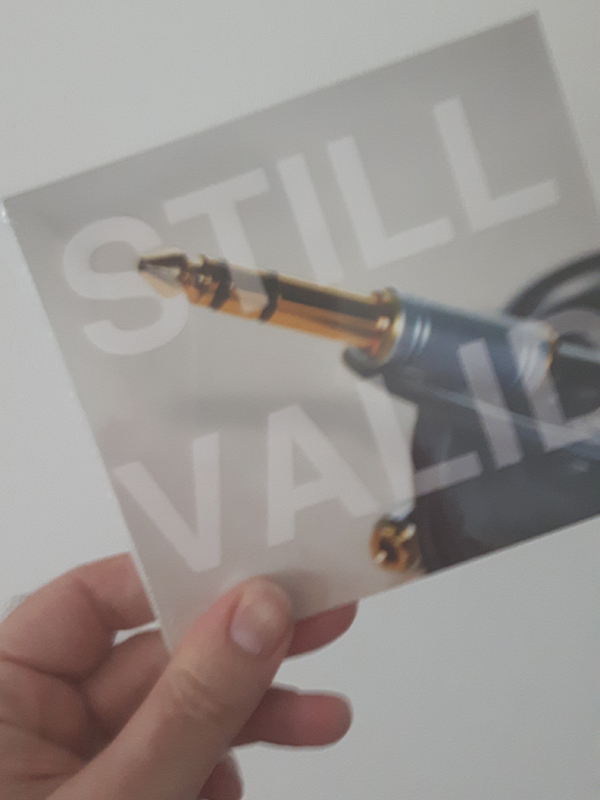 Looks GRATE doesn't it? And guess what? It SOUNDS bloody AMAZING too - during the long years of making and mixing to it I've listened almost entirely on headphones, so hearing it on an Actual CD on an Actual CD Player was one of the very few times I've heard it in THE AIR. As realisation dawned that a) the CDs worked b) they sounded WONDERFUL, it became the most enjoyable listen to it EVER!
As you can probably tell I am QUITE EXCITED now - it won't actually be OUT until the start of July, but I'll be posting review copies out in a week or so and they'll probably be available at GIGS too. I can't wait for people to hear it, it's BLOODY GRATE!!
posted 12/5/2016 by MJ Hibbett
(click here for permanent link)
(0) comments
Super Sunday
I had a LOVELY day on Sunday, made up of two DELIGHTFUL halves.
In the morning The Sun In My Sky and I, and also approx 95% of all people living in East Village, decided it would be a good idea to go out for a walk in the sunshine. SPOILERS: it WAS! It felt like being in The Mediterranean or something, we were warmed right through. We saw GOSLINGS being fluffy, a whole new BIT of the Olympic Park (they've opened some new Retail Units near the canal
), and roughly 10,000,000,000 small children enjoying the fountains. We ALSO went and used our monthly free tea and coffee vouchers in John Lewis - guys, if you think a My Waitrose Card and free newspapers is a good as it gets, get yourself a John Lewis Card too and LIVE the Partners Dream with FREE CAKE!

The second half of the day involved me ZOOMING into central London and arriving outside The King & Queen at 3:55pm to find Mr G Osborn and various other lovely people waiting to be let in, for LO! it was the day of our DVD launch! Hoorah! I'd been worried about ANYBODY turning up and, if they did, whether they'd HEED our warning about it starting at 4:15pm, so seeing such a sizeable group there EARLY was a GRATE relief.

When the doors opened we stormed inside to set up the tables and for me to be asked The Question That Everybody Asks Me At This Time Of Year i.e. "Are you playing Indietracks?" I get asked this SO OFTEN (5 times this week alone!) that I'm thinking of getting a t-shirt made that says "I don't think so, I haven't heard" - it would save time! This conversation did however CEMENT my desire to go on the Saturday, from what I've heard it's going to be an AMAZING day for Bands I Know And/Or Like!

Steve arrived, we got our beers, and at 4:15pm precisely Gav took to the stage and was ACE. He bookended his set with Songs I Know and did some BRAND NEW stuff in the middle. My favourite was a song called "I Don't Know Enough About That", about not being sufficiently informed about Important Matters to comment. I nodded STRONGLY.

And then it was time for me and Steve to do the FINAL - no, honestly last, pretty much definitely this time, accept for the West End run - performance of Hey Hey 16K. We hadn't performed it for three months so I'd suggested a REHEARSAL but Steve had said no, suggesting that we didn't really NEED one and anyway it would be more fun to muck around as the audience would feature a lot of CHUMS. He was CORRECT, as it was a LOT of fun, although with surprisingly little mistakes. I mean, SOME mistakes, obviously, but not that many!

With that done we all went downstairs for some lovely sunny PINTS in my favourite pub before hometime. Doing gigs at 4pm is BRILLIANT, you get to have a lovely leisurely time in the pub and STILL get home in time for tea - it was SUPER!

posted 9/5/2016 by MJ Hibbett
(click here for permanent link)
(0) comments


Legends Of Spring Time
An amazing site greeted me as I stepped out of Goodge Street last night - sunshine! Actual proper Spring weather for the first time this whole flipping year, it felt like winter had FINALLY buggered off and GOOD TIMES were heading our way!

This feeeling of delight was probably partly to do with the fact that I was on my way to The King & Queen for Totally Acoustic. When I arrived I found TWO more aspects of summer waiting for me. Firstly, there was plenty of space inside the pub - usually it is RAMMED on a Thursday, but this time everyone was outside whooping it up, which made for a much more pleasant environment within. Secondly, terrifyingly, they were serving COCKTAILS! Happily they were doing it in a very King & Queen way i.e. instead of doing them one by one so it would take HOURS for anybody to get served they had made one massive BARREL of Mojito to dip into as required. Very sensible!

I got the tables set up and then very soon my regulars and the ACTS arrived, also quite a lot of audience. In fact so MANY people came (some from AFAR) that at one point there was a QUEUE forming outside to get in!

Everyone got sat down and we kicked off with ME, doing 20 Things To Do Before You're 30, The Girl Who... and, as my tribute to Victoria Wood, The Ballad Of Freda And Barry. It all seemed to go all right - I'd mentioned before starting that there are a LOT of words in 'Freda And Barry', so everyone seemed prepared for me getting some of them wrong!

After that I introduced Patron Saint Of Totally Acoustic Mr Pete Green, although he had to wait to start for a couple of minutes while everyone passed chairs over their heads to get more people sat down, orchestrated by Mr S Hewitt and Mr K Top Of The Pops. Once he was able to get going he was a one-man VARIETY SHOW, doing acapella songs, ukelele numbers, POEMS, and even a couple of wistful indie HITS! He was great, also RELAXING - he knows what he's doing, does Pete, and he played the room EXPERTLY!

Next up were The Popguns, who I must confess I had little prior knowledge of but who impressed THE SOCKS off of me. They were ace - lovely songs BRILLIANTLY done. Actually Being Able To Sing is a bit of a rarity at gigs I go to, so to hear such ACE songs sung so well was a bit of a treat. I enjoyed it so much I bought a CD - no higher recommendation!

And then we finished with The Catenary Wires who I HAVE seen before and, as ever, thought were GRATE. Perhaps it was an ERROR to introduce them with the story of how we used to sing "Shallow" at my friend Mr S Wilkinson approx 300 years ago because it was on a mixtape his GURLFRIEND had given him (it was next to "Enter Sandman", I seem to recall) but they didn't seem to mind and went on to be FAB throughout.

It was, it must be said, one HECK of a night which resulted in a MIGHTY whip round for the acts. We've had a right good run of shows just lately, with all the INDIE LEGENDS we've had on. It looks like the NEXT show might feature ME doing a full set though, so maybe that run is about to end!

posted 6/5/2016 by MJ Hibbett
(click here for permanent link)
(0) comments


Bank Holiday Superheroes
For some reason I spent much of Bank Holiday Monday cursed with LETHARGY. I can't think how that can have happened - I had been FULL of beans the night before while drinking BEER in The Brixton Windmill. How is it possible for things to change so quickly?

THUS it seemed like a good idea to go and sit in a large room with several hundred other people and watch superheroes punching lumps out of each other VERY LOUDLY and so that is what I did, heading to my local MULTIPLEX to go and see "Captain America: Civil War." Here is my review: "It was jolly good and had JOKES in it and SPIDER-MAN!!" I liked it a great deal, not least for its best ever Stan Lee cameo, and also because it had SPIDER-MAN in it, being SPIDER-MAN. SPIDER-MAN!

Later that evening I put the telly on to see how the Spurs VS Chelsea match was going - for the benefit of people in the FUTURE (people of the present having had no choice BUT to know EVERYTHING about it), this was the game which COULD have decided the Football Premiership for this season. If Spurs DIDN'T win then Leicester City would be CHAMPIONS and everyone would jump up and down and get excited and possibly be a bit soppy about how much they love Leicester, love Claudio Ranieri and also think maybe it shows that you CAN beat the people with all the money every now again. Or something.

Anyway, by half-time it was 2-0 to Spurs and it seemed that everyone would have to wait ANOTHER week until it was all decided so we turned over and watched some Sunday Evening Family Drama ("The Durrells", which does exactly what you'd want a Sunday Evening Family Drama to do, whether it's a Sunday or not). When it had finished we put the news back on and WOT?!? WOT was HAPPENING?? It seemed that Chelsea had scored twice, the game had been drawn, and LEICESTER CITY were CHAMPIONS!!!

I couldn't believe it - all season the nation had been waiting for the FAIRYTALE to have a GAME OF THRONES ending. Surely THE MAN would crush the plucky midlands team of rejects and Nice Guys? Surely THE TORIES would somehow explode Leicester and stomp on that lovely city's hopes and dreams? Surely the Evil Cabal who own football would say "No no, you've had your fun, but it's time for the Oligarchs to win again now". And yet here we were - thanks to CHELSEA of all horrible teams!

The only downside to the whole thing is that I am now CONVINCED that a) England will win the Euros and b) every player in the squad will turn out to be a rough diamond given a second chance who secretly invests in windfarms, is vegetarian, and enjoys feminist science-fiction. I've a feeling something could go wrong with that prediction, but I'm not quite sure what so for now let me just say HOORAY for Leicester - team AND city!

posted 5/5/2016 by MJ Hibbett
(click here for permanent link)
(0) comments


Bluebells And Brixton
I do love a Bank Holiday, it's LIKE a normal holiday except it doesn't come out of your Annual Leave Allowance, so you can just tit around without feeling bad about it, and LOADS of other people are off, so you have company while you do so!

Myself and The Dates In My Diary made the most of it this May Day weekend, starting with a day out in glamorous LEYTONSTONE! We went for a stroll in scenic Wanstead Park, where we USED to go a-strolling often when we lived round there but which I haven't been to for a couple of years. It was lovely to be back, especially when the bluebells were out. I don't think I've ever seen quite so many being quite so VIVID - we must have turned up JUST at Peak Bluebell! We then went for a PINT in the Red Lion (which is ACE!), SOURCED some Products in the big Tesco (including VEGAN SALAD CREAM, answer to many prayers!) and then went home and saw this year's first batch of DUCKLINGS in our local pond. I think it may actually be SPRING!

On Sunday we went to The Holborn Whippet to say happy birthday to Mrs M Hewitt and then I zoomed off to distant Brixton where I was due to play at The Walpurgis Nacht Festival, organised by Mr G Gargan. Lazarus Clamp were also playing, which meant Mr T "The Tiger" McClure was there, a fact we celebrated with Chips And Curry Sauce, as is traditional!

As it neared SHOWTIME the FACT of my forthcoming appearance began to weigh heavy upon me, and I realised that I was in a room full of people who'd come to see LOUD ROCK of an UNORTHODOX style, which is not exactly what I do, especially when playing solo. I was also very aware that, with the best will in the world, the Brixton Windmill is NOT the easiest place to play - the sound on stage is BRILL but the pub seems designed to encourage SHOUTED CONVERSATIONS at all times and to remove any SIGHTLINES. "This might be hard work" I thought, as i went on stage and did THIS:



As it turns out, it WAS hard work but work hard is what I did - as you can see from this FOOTAGE:





It was all fine though, and I was followed by Lazarus Clamp who were BRILLIANT - in recent years they have seemed to get better every time I see them, and they were ACE to start with!

There was then a delightful time for CHAT and more bands and, by about 9pm I was thinking it was probably time to go, at which point I bumped into Mr A Farmer AKA Doc from Bearos who said "No, stay and see Otoboke Beaver, they are worth seeing!" So I did, and he was right - they were AMAZING! It was like a cross between RIOT GRRL and POST ROCK, with very very fast very very loud very very ANGULAR structures and entirely EXCITING noises at 1,000,000 miles an hour. The whole room stood AGOG - nobody seemed to know what was going on, but everybody was enjoying it!

My faith in ROCK once more renewed I headed off into the Brixton night, heading EAST for a whole extra day of FUN, to be discussed NEXT time!

posted 4/5/2016 by MJ Hibbett
(click here for permanent link)
(0) comments


Come And Be In A Video!
As part of the preparations for our NEW ALBUM I have been aquainting myself with the Modern Media Landscape where Things,it seems, have very much Changed. Where once you had to send an album and press release to newspapers/magazines three months before release and then do loads of gigs, now it appears that you have to "stream" lots of "content" to "blogs" and "premiere" "exclusives" before your album "drops".

Yes daddio, I AM available for consultancy purposes - send me a FAX.

As long-term chums will know we are not AVERSE to a bit of futuristic media interaction - some would say we were PIONEERS of the viral video, I couldn't possibly comment - and so we have been laying PLANS for STUFF to do. One of these SCHEMES is to do some VIDEOS and the first off these is going to be for 20 Things To Do Before You're 30... and we'd like your help to make it, please.

We'd like to make a CROWD SOURCED video, with each LINE in the verses represented by a very short clip. You can see examples of this in the video for our song A Little Bit, where people took a line, interpeted it however they thought best, sent it in and the I edited it together. We'd like to do the same again, so if that sounds APPEALING to you, all you need to do is read the words, choose a line, then go to this spreadsheet and put your email address next to the line you'd like to do* - if your first choice is gone you can put yourself down as "understudy" or just choose another.

Once that's sorted out all that remains is to FILM your clip (about 2 to 4 seconds should work, though I can edit it at my end if needs be), send it to me at mjhibbett2 gmail com then sit back and wait for the ACCLAIM! Closing date is Sunday 5 June and there's further details here - I hope it sounds like fun, I reckon it's going to be GRATE!


* I know a couple of people had trouble accessing the spreadsheet at first - I've UPDATED the settings now, so if it didn't work for you before please try again!

posted 3/5/2016 by MJ Hibbett
(click here for permanent link)
(1) comments




An Artists Against Success Presentation