Blog
Gigs
Facts
Music
Shop
Links
Back On Set
Regular readers may recall my
appeal for help
making a video for
20 Things To Do Before You're 30
. We got a lot of GRATE clips sent to us, but there were still a few GAPS which needed filling, so last night I met with Mr S Hewitt and Mr W Pilkington in central London to see what we could do about it.
We met at Russell Square and headed up the road to
The "Laundrette" Launderette
to film the line about... well, going to Launderettes. This took approximately 20 seconds to do so we retired to the nearby Lord John Russell pub for a well earned PINT and then to film another four lines. This took over two minutes to do, which was EXHAUSTING, so decided to go inside and sit in the warm for a bit, also for some more PINTS.
It was all rather delightful I must say - quite apart from anything else it was MARVELLOUS to be sat in a pub which such charming fellows discussing Vital Issues Of The Day, especially at a time when there are so MANY Vital Issues to be discussed. I'm beginning to think that we need to STAY in the pub full-time in order to prevent the entire country collapsing about itself - this is, I feel, pretty much the only SENSIBLE policy anybody's suggested all week!
posted 30/6/2016 by MJ Hibbett
(click here for permanent link)
(1) comments
Comics Crossroads
I got up at an HORRENDOUS hour on Sunday in order to be in Canterbury at 10am for a CONFERENCE. That's right, I AM dedicated to my ART and my ART is COMICS, for LO! I was attending "Comics Crossroads", and all day symposium covering VARIOUS aspects of comics studies.
When I got to Canterbury I thought I knew the way to The University Of Kent as The Students In My Study Group and I had passed through it a while ago when we did The Crab & Winkle Way walk. We got a bit LOST that time though, so I was not entirely confident I'd get there, but my worries disappeared when I spotted someone who looked very much like he was going to the same place as me, so I followed him. Turns out he totally WAS!
The University Of Kent is one of those PROPER University campuses (aka Former Polytechnic campuses) built in the 1960s/1970s, where the whole place is miles from anywhere in a FIELD with loads of small buildings and, for some reason, hexagons. The event was happening in an actual THEATRE that looked EXACTLY the same as the one we went to in Bedford earlier on in the year to see 'Captain Wonderful', I guess maybe there was a DESIGN going round that everyone just used?
Anyway, the day itself did my HEAD in as it was FULL to BURSTING with IDEAS and TERMINOLOGY and THEORIES that I never even knew existed, let alone had thought about. My supervisor, Professor R Sabin, apologised for the lack of SUPERHERO stuff in the day (as that's what I'll be doing when I start my PhD in October) but I didn't mind at all. It was GRATE to be exposed to the world of CULTURAL STUDIES and so forth. I learnt about linguistics, philosophy, art history and ALL sorts, it felt like getting a GROUNDING in a whole new world, into which I shall be dropping SUPERHEROES later in the year.
At about 6pm I STAGGERED out of the building, mind REELING with THORTS and set off for the railway station. Imagine my DELIGHT when I saw, just ahead of me, the same person I'd followed there in the morning. Turns out following him BACK worked as well!
posted 28/6/2016 by MJ Hibbett
(click here for permanent link)
(0) comments
The Media Onslaught Commences
Apart from GOGGLING at the telly trying to work out what on earth was going to happen NEXT, I spent most of Saturday packing up CDs for newsletter subscribers who'd taken advantage of the EARLY ORDER OFFER. They've now ALL gone in the post so should start to arrive through letterboxes TOMORROW!
I've also unleashed
PRE-ORDERS
for people who aren't on the mailing list. If that's you, or you know someone who might like to buy an album,
you can get pre-ordered
NOW and I'll have it in the post first next Monday morning.
For LO! official release day is but a WEEK away and it has been heralded by a whole HEAP of stuff happening, mostly to do with
20 Things To Do Before You're 30
. The mp3, what was
premiered on Louder Than War
is now FREE and WILD for ANYONE to listen to ANYWHERE via
our soundcloud page
. It was also recommended by long-term ADVOCATES CMU in their
CMU Approved
column, featured on the excellent
The Breakdown radio show
(using the Radio Edit!) and appears on the FREE download album from
Towersey Festival
featuring LOADS of artistes playing this year (inclduing Mr G Osborn). Basically, if you want to hear '20 Things Before You're 30' then you totally can!
And as if THAT wasn't enough you can also hearing me banging on AT LENGTH about the album, STAGECRAFT, how to get people to call you an Indie Legend and many, many, MANY, many more topics on the
Desert Isolation Discs
podcast. This is that thing I did a few weeks ago where I met Mr A Lawson after work, and features a TONNE of EXCELLENT music by other people chosen by ME!
It's all rather EXCITING I must admit - we've spent so long CRAFTING this album in quiet seclusion, it's nice to think people will soon be LISTENING to it!
posted 27/6/2016 by MJ Hibbett
(click here for permanent link)
(0) comments
It's Out
I haven't said much about the Referendum here because a) this is a source of amazing ROCK content, not ASTOUNDING political analysis and also b) goodness knows there were enough people going on about it. I was hoping today would be "GOOD that's that over with let's never discuss it again" DAY but instead it seems to be "AAAAAAAAAAAAAAAAAAAAAAAAAAARRRRRRRRRRGGGGGGGGGGGHH!!! WHAAAAAT?" day instead.
Normally in these sort of situations I would spring straight to OPTIMISM but this morning I thought I'd make an exception. "TOMORROW I'll look on the bright side", I thought, "today I will just stare blankly at computer screens, shaking my head and resisting the urge to throw chairs through windows/set fire to national landmarks".
With that in mind I did consider changing my ORIGINAL plan for the day, which was to email everybody on the newsletter subscription list with the offer of buying our new album EARLY. "Nobody will want to think about ROCK today" I said to myself. "It would be stupid to even MENTION it."
HOWEVER after further thought I realised that I had PROMISED to UNLEASH the album today, and maybe some people WOULD be up for a cheering purchase, so I sent out the email, not expecting anything to happen. How wrong I was! For LO! my inbox gently filled with a steady stream of people making the purchase and, as this is a mailing list I've had on the go for over a DECADE, nearly all of the names were very familiar to me. Some were people I'd met (often) in real life, others were names and addresses I've written out MANY times over the years, and it was truly lovely to see them again. I gave out actual miniature WHOOPS when familiar names appeared, it was bloody GRATE!
The next task will be to pack them all up and get them into the post, which shall be my grand task tomorrow. If you've ordered one already thank you VERY much for doing so - it's cheered me RIGHT up - and if you're not on the mailing list then FEAR NOT, your time will come a week on Monday, the fourth of July!
posted 24/6/2016 by MJ Hibbett
(click here for permanent link)
(0) comments
Louder Than War Premiere
When I started to think about the Publicity Campaign for the new album I asked several wise heads what was the best way to do PLUGGING nowadays. I was aware that things might have changed in the four years since we last released an album so thought I'd best check - do Melody Maker prefer cassettes in brown jiffy bags or white?
It turns out things have changed A LOT, with pretty much everybody saying that these days you have PREMIERES and EXCLUSIVES of tracks and videos, rather than reviews like in the distant past. With this in mind I asked around a few people to try and rustle something up and the marvellous Mr G Gargan said he would see about getting us something in
Louder Than War
. And LO! he has only gone and done it!
THUS I am very happy to say that the song
20 Things To Do Before You're 30
, the LEAD TRACK from our exciting new album
Still Valid
is now available to stream EXCLUSIVELY on
Louder Than War
!
Go and hsve a listen - if you like it then rest assured there is a LOT more like it to come. Release day is July 4th - put it in yr diaries!
posted 23/6/2016 by MJ Hibbett
(click here for permanent link)
(0) comments
The Hockey
There is a big international tournament of team sport going on that the whole WORLD is enjoying at the moment - I speak of course of
The Hockey Champions Trophy 2016
! Whoo!
Yes all right maybe there is ANOTHER international tournament of team sport occurring at the moment and MAYBE I am diligently filling in my Radio Times wallchart every night, but that one isn't happening ten minutes away from my front door at the Lee Valley Hockey and Tennis Centre. The hockey very much IS!
The Curve Of My Hockey Stick had got us tickets a while ago and I must admit that, as we set off last night, I was kind of wishing we could have stayed at home and watched the FOOTBALL on TELLY. These doubts, however, soon began to dissolve when we arrived to find that it was like a tiny bit of the OLYMPICS brought back to life. This was partly because the only other time i've watched hockey was when we WENT to the Olympics, but it was also because of the atmosphere - lots of people wandering around, some looking puzzled, others VERY excited about seeing THEIR sport, lots of temporary structures holding exhibitions, shops and cafes, and everywhere you looked volunteers EAGER to help out. It was lovely!
After a quick wander round and an even quicker look in The Museum Of Hockey we found our way into the stadium just as the New Zealand National Anthem was playing. I thought this was HANDY as it meant we could edge along to our seats, but The Words In My Song suggested we go and sit on one of the bank of empty seats in the other direction instead, so we found ourselves with GRATE seats right in the middle of the stand just in time for the British anthem to boom out.
For LO! we were there to watch Great Britain play New Zealand and it was, all in all, jolly good fun. We weren't quite sure what was going on for large portions of it, but things moved so quickly that it didn't really matter and by the end we were both shouting "GO ON!" whenever one of our "girls" got close. It was, in fact, very much like going to watch Posh, not least because we were sat almost EXACTLY where Mr P Myland has his season ticket! There were also long periods of The Mind Wandering, occasional bursts of SHOUTING, and also people nearby making REMARKS to each other under the impression that they were Wise Commentators.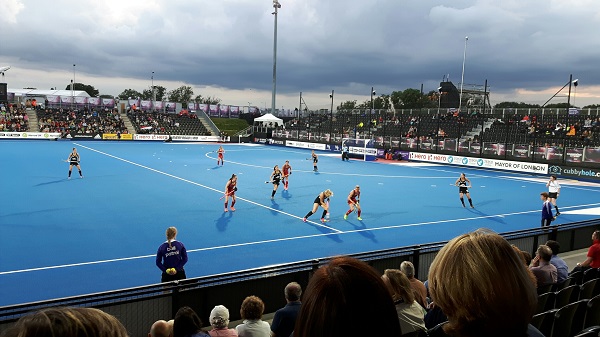 The differences were a) everyone was quite a bit posher than at football and b) it was a LOT slicker. Whenever somebody got BOOKED they played "Trouble" by Shampoo LOUDLY through the PA system (which did not give it the air of a Serious Offence), other music played at appropriate (and occasionally inappropriate) moments, and CAMERAMEN kept running onto the Actual Pitch to film things. We agreed it was sort of like how you'd imagine American Football being, except on a slightly smaller, and more English, scale.
It was all GRATE fun, even though GB lost 1-0. "They have the same problem as England" remarked The Pundits In My Panel. "Lots of pressure but they can't score." She wasn't wrong!
posted 22/6/2016 by MJ Hibbett
(click here for permanent link)
(0) comments
Durham Ox Singers Unleashed
For years and years I have been BANGING ON about how
The Durham Ox Singers
are the GRATE Undiscovered Art Project of the 20th Century. "Is this because you was in them?" people ask me and of course the answer is NO, hem hem, I would think that even if they were nothing to do with me, honest.
For those UNLUCKY enough never to have heard my CORRECT argument about this, The Durham Ox Singers were a group of six people who were all regulars in The Durham Ox pub in Leicester, run by Mr D Dixey and thus de facto HQ of Sorted Records and meeting place of much of the Leicester Indie Scene of that time. Me and Dave were starting a regular gig night called LollopaLeicester (good name!) and wanted to have a regular THING every month to make it more than just... well, a regular gig night. After much thought and a LOT of Bass Beer we came up with the idea of an acapella group performing hits of the Avant Garde... because you would really, wouldn't you?
Anyway, one thing led to another, we persuaded a bunch of people in the pub one night (half from bands, half not) to have a go and it all went SO well that Dave suggested we record a SINGLE, so we did, with our acapella version of
Revolution #9
as the lead track. It is, frankly, AMAZING, and when I listen to it now I am ASTOUNDED that I was ever involved in something SO BRILLIANT. We did a few more gigs (including a QUITE ODD appearance at a folk festival where we were told in no uncertain terms that ENOUGH was ENOUGH) and then did a whole ALBUM with Mr A Jenkins at Cordelia Studios. This album was called
Mute Nostril Agony
and featured our entire live set (including another version of 'Revolution #9') and BEST OF ALL a pretty darn exciting version of John Cage's 4'33".
And there the story might have ended - LollopaLeicester came to an end, we stopped doing gigs and, as far as I'm aware, nobody ever bought the album so the only copies belonged to the band. Until, that is, a couple of weeks ago when Dave got in touch again to say that he'd found a way to release the album DIGITALLY (and quite cheaply). After some discussion I provided a new version of the album cover (the original had Tom Baker on it and Dave was worried about getting clearance) and LO! a few days ago word came through that it was LIVE, on
Amazon
,
iTunes
,
Spotify
and, I guess, ALL other digital download sites!
Let's all take a delightful moment to allow that to settle in. On Spotify there is now an acapella version of John Cage's 4'33" recorded by six twits in Leicester for LARKS. MARVELLOUS. This is a "Deluxe Reissue" too, so as well as the original album you get ALL of the single AND some remixes too!
I heartily recommend a LISTEN to it as it is GRATE, and I look forward to it finally receiving the PLAUDITS from the Avant Garde Community what it has so long deserved!
posted 21/6/2016 by MJ Hibbett
(click here for permanent link)
(1) comments
New Look
Keen eyed observers of this website will have noticed that we have a whole NEW LOOK today! This has come in for two reasons - firstly obviously BRANDING, what with the new album coming out soon*, and secondly in order to make it easier to use the site on a TELEPHONE. I know that the majority of my regular visitors are probably viewing this on an Amstrad PCW plugged into the wall, but apparently these days THE KIDS are looking at the interweb on their mobile phones so I thought I ought to at least make an effort.
Also - FULL DISCLOSURE - I've often found it really difficult to get to the
gigs page
when I'm on the way to a venue but can't remember the address!
I hope you like it - I know it's not quite as COLOURFUL as the longstanding
Dinosaur Planet
inspired scheme, but hopefully it will prove to be a bit more useable!
* talking of which, I'm thinking that we might make the album available to
newsletter subscribers
a little bit earlier than originally planned. Watch your INBOX on Friday 24th chums!
posted 20/6/2016 by MJ Hibbett
(click here for permanent link)
(0) comments
What A Day
Apologies for the lack of UPDATES here just lately - ROCK stuff has been occurring but it's been almost entirely ADMIN e.g. posting things, sending emails, getting ready for a website update etc etc etc. Yesterday, however, was basically a WEEK'S worth of THRILLZ all rammed into one day!
It kicked off with a DELIGHTFUL morning highly reminiscent of my life about a year ago, when I was off work and cavorting around. I went first to Gosh Comics, where I bumped into Mr R Johnston of
Bleeding Cool
, there to film a FILM, and had a right old chat with him about all sorts, including the PhD which I'm starting in October. He said he might be able to help me contact some of the Marvel Bullpen from the 70s, which would be EXTREMELY helpful!
After a chat with Mr N Metcalfe and a TRIM of my Pull List I set off for The BBC Secret Window, that hallowed and SECRET place where you can hand over all your CD packages for DJs without having to spend CA$H on postage. It's moved since my last visit and now you have to BUZZ a doorbell to be allowed inside and then scan all your packages through an X-RAY machine before they'll accept them. I had a LOT so it took a while, but then it was DONE - all CDs have now been either handed over or POSTED to radio DJs, so be ALERT for possible radio play over the coming days!
I wandered happily through Fitzrovia to my next appointment - lunch with Mr J Dredge. It was lovely wandering through that part of town. I'm working mostly in Hammersmith and White City at the moment and, with the best will in the world, it is not QUITE as nice! John and I had a good old chat about a stand-up character what he is working on at the moment, which I am sort of helping to script edit, and we discussed a) high falutin' ideas b) GAGS for a DELIGHTFUL hour.
That done I headed home to watch the England VS Wales game which was mostly boring for the first half and mostly NOT boring for the second. However, while that was going on I started to see the news coming in from Birstall about the murder of Jo Cox. Everybody's had a lot to say on this and I don't think my opinions on it will make much difference, it just felt horribly horribly depressing.
I thus set off for my gig that night at The Croydon Comedy Festival REALLY not in the mood for it. I arrived to find Mr T Eveleigh setting up in much the same way. We talked about how we could make the evening work, as just doing a normal gig didn't feel right. I was happy to pass responsibility for deciding onto others, choosing instead to go for a PINT with Mr S Hewitt and various CHUMS who had arrived. We sat out the back and talked about The Football, which was just what we all needed - chatting and laughing about something that doesn't really matter AT ALL in the face of events which DO, but which feel out of our control.
THUS by the time SHOW time rolled around the mood was back in place. It kicked off with Ms J Lockyer who was GRATE - featuring new songs! - and then ME, doing this:
I must say I REALLY enjoyed myself. It feels like AGES since i last did an actual gig and I've not done any practicing or anything, so was PLEASED and SURPRISED by how easy it was to get back into it. I also found myself talking even MORE than usual - like everybody else, the events of the day had made me feel VULNERABLE and so I found myself speaking in depth about the stories behind the songs i.e. not my usual pre-song PATTER, but actual FEELINGS. Goodness!
Next up was Ms G Petrie who was, of course, ASTONISHING. Every time I play with her I am surprised anew by how AMAZING she is - I was very very glad I had been on before her, and did not envy final act Mr G Osborne who had to follow her although, OF COURSE, he managed it perfectly. It was BRILLIANT being back with my TOURING BUDDIES - we're next playing together at the
Towersey Festival
and I for one CANNOT WAIT!
The only downside of all this FUN was that, by the time it had all finished, it was 11:30pm and i was in South Norwood i.e. a LONG LONG way from home. Luckily Jenny VERY kindly gave Steve and I a lift to East Croydon so we could catch trains into London Actual, and I managed to get back to The Olympical Village just after 1am. It's been AGES since I was last out that late, but it had been worth it - what a day!
posted 17/6/2016 by MJ Hibbett
(click here for permanent link)
(0) comments
Croydon Will Not Fall
Wednesday evening last week saw me wending my post-work way to Croydon, where I was due to appear on the
Joyzine Radio Show
on
Croydon Radio
.
I was delayed on the way by LIGHTNING hitting various train tracks and thus slowing the rest of the network down, so it was a very flustered and sweaty Hibbett who RAN into St Matthews Yard (where the station's based) as the church clock was finishing off its chiming of the hour. Luckily Mr P Maps had started the show with a record, so I was able to slip into the interviewee's chair as if nothing had happened.
Things kicked off well with some chat and some records. He'd asked me to choose three of my tracks to play and three of other people's, so I went for songs by Frankie Machine, Gavin Osborn and Robberie. I'd thought I ought to pick a Chris T-T one, as his (EXCELLENT) new album
9 Green Songs
has just come out, but then I realised that he'd been on the show HIMSELF a week or two ago, so the people of Croydon were already TT-aware!
Ten minutes in Paul looked CONCERNED. "We may have a problem", he said. Apparently sometimes the broadcast from the studio doesn't work, so the station automatically broadcasts something else instead. He assured me that all was well - most of their listeners come from the podcast, which is recorded separately - so we carried on as we were. We had more chat, played more records, I did live versions of
Can We Be Friends
and
It Only Works Because You're Here
, and soon our hour was up, broadcast or not!
Next morning I got an email from Croydon Radio to say that the podcast was online, and I discovered that we HADN'T been broadcast live as the playlist was the Emergency one that had been put out instead. However the podcast very much WAS the one we'd recorded, and Paul has since corrected the playlist so you can now enjoy it in ALL its glory by
listening to it online
.
I think it came out quite well, despite the LIGHTNING and other mishaps - even if my bits aren't much cop, the other records are GRATE!
posted 13/6/2016 by MJ Hibbett
(click here for permanent link)
(0) comments
Chat The Wizards
The PROMOTIONAL TREADMILL for
Still Valid
continued to ROLL on Tuesday night as I sat down to do a SKYPE interview with
Trust The Wizards
for their podcast.
I had been right looking forward to this as they are LEARNED types but was not expecting the GRILLING wot I got - cor! Some of the questions were DEAD hard, they right taxed my BRANE. My favourite bit was when Mr C Bounds asked about the STRUCTURE of my songs. He'd noticed that some of them start off with an idea, expand upon it, challenge itself in the middle and then have a TWIST at the end. "Some of them" he said. "ALL of them!" I thought. RUMBLED!! I was actually DELIGHTED to talk about this because it is something I have thought about a LOT and do deliberately, but I don't think I've ever had the chance to discuss AUDIBLY!
All the questions invoked LENGTHY answers due to being so INTERESTING but this did in turn lead to problems, as he'd only downloaded the free version of the Skype Recording Software which only did 5 minutes at a time! THUS I had to go back and re-answer a couple of bits, so if, when the podcast is released, it sounds like I am really struggling NOT to say "As I said a minute ago" in various sections, that's because i AM!!
It was GRATE tho, and should be out at the start of next month. My only disappointment with the entire experience was that he was approx 212 miles away so we couldn't go for a pint after. He'd asked me so many questions I felt a bit rude not having asked any back!
posted 10/6/2016 by MJ Hibbett
(click here for permanent link)
(1) comments
Gigs Are Still Good
As regular readers of all this will know I am currently GEARING UP for the release of the new Validators album
Still Valid
, which involves reaquainting myself with all SORTS of things I haven't done for ages like dealing with manufacturers, registering songs for PRS, getting together mailing lists and so on and so forth. With all that happening I thought I might as well go the whole hog and do another ROCK-related thing that I used to do ALL the time but haven't for ages: go to an actual GIG!
So it was that I found myself in The George Tavern last Friday night with Mr S Hewitt, there to see David Leach and The Thyme Machine. It was WEIRD being back at a PROPER gig - apart from
Totally Acoustic
most of my gig-going in recent years has EITHER been at The O2 OR to All-Dayers. I can't remember that last time I just went to A VENUE to see a regular SHOW, but it doesn't seem to have changed. AT ALL. The SPACE was still slightly too spacious, the LOO was still covered in Graffiti and the BEER was... well, the beer got a lot nicer after Steve sent the first one back!
We'd arrived just in time to see David Leach, who was a PRO as ever. He eschewed the PA system which as usual meant some battling with talkers which he did CALMLY and FIRMLY. "Lads!" he said, "we can hear you! Take it outside!" I've seen him approx 1,000,000 times so knew most of the words to most of the songs but was DELIGHTED with the new ones, especially the cover version (I can't remember what it was of - clearly that first beer wasn't putting me off!) which turned into a song ABOUT cover versions on ukeleles. It was ACE!
We went outside for a chat to chums various where, I seem to recall, I knocked over a TABLE. "That's how I roll" I said, and it was only when I got home that I realised I'd just left it there. Apologies to all concerned - there is a LINE between ROCK AND ROLL ANIMAL and RUDE and I fear I may have crossed it.
We popped back in the see the last couple of songs by the next band, Suggested Friends, who were GOOD but when did bands all get so ABLE? Back in my day a band as young as them would have broken all their strings, forgotten the words, fallen over the drum kit, never ended a song at the same time and rarely had all four members playing the same tune. Are they teaching COMPETENCE in sixth form or something? Also their last song (according to Steve, who checked on his phone) heavily referenced Harry Potter. This seems to happen a LOT nowadays but I guess it is the same as band's of MY generation referencing Star Wars.
Finally The Thyme Machine came on and were UTTERLY AMAZING. I think I've only seen them once, at Mr D Ransome's birthday, and remembered them being INCREDIBLE so was happy to find my memory was CORRECT. Mr K Foster, lead singer, has a GRATE manner on stage, calm yet in command, sort of innocent but confident, a bit like Frank Sidebottom but a Frank Sidebottom that you wouldn't mind living next to. ANYWAY he was him and the band were ENORMOUS. They had an (i estimate) 12 year old AXE HERO and, occasionally, an actual real PIANO which sounded BRILL. At one point Kriss asked the whole audience to hold hands and dance in a circle, so we DID, such was his PRESENCE.
It was one of those times when you remember WHAT it is about gigs that you love so much. I staggered out into the night afterwards SO full of joy that even the fact that the 339 bus wasn't due for over 30 minutes (according to TfL) did not dim my happiness. I went and got a CAB, setting off just in time to see the 339 leave my bus stop! It didn't matter - this was a BRILLIANT night. HOORAH!
posted 8/6/2016 by MJ Hibbett
(click here for permanent link)
(0) comments
A Very Special TA
We gathered for a Very Special Episode of
Totally Acoustic
last Thursday, as one of the three musical guest acts was ME! I haven't done a full set at TA for AGES so was a bit worried that we'd be losing a third of our potential audience and also VERY worried because of what I was planning to do. I thought it would be a good idea to do all 10 tracks from
Still Valid
in order. Well, I thought it would be a good idea three weeks beforehand, now it was about to happen I was distinctly less convinced!
The first of my worries soon disappeared as a lovely bunch of people rolled up and we kicked off with the JAZZ STYLINGS of Paul & Cathy Tornbohm. When I did the
Desert Isolation Discs
podcast the other day Mr A Lawson asked me whether I have any particular thoughts or plans when I put the line-ups together for Totally Acoustic, and I answered "No", for LO! what I like most about the arrangement of acts is that they're generally done entirely randomly, so you end up getting acts SLUNG together who would never normally play in the same room. It was similar this evening as Paul and Cathy's world of JAZZ and SOPHISTICATION met our world of NOT JAZZ or SOPHISTICATION. I think the meeting went well!
Then it was my turn and I THINK it went OK. The nice thing about doing THIS album in order (not that I've ever done any others this way) is that they're ALL pretty good songs, I reckon, that seem to work In The Live Environment. The WEIRD thing is that the order you have songs on an album is NOT necessarily the order you'd do them live, especially starting with
20 Things To Do Before You're 30
! ALSO weird was being host AND an act - luckily Mr S Hewitt was on hand at the end to do the bit where I usually come on and BACK announce the act!
You can hear what I mean for yourself by listening to
the podcast
, which I've just put online. If you do you will also hear the SUBLIME sounds of Robberie who played last and were ACE. I really like Robberie - not only are their songs GRATE (and VERY catchy - we have BOTH been singing them around the house all weekend), but the GIGS feel as if some old friends have strode on stage and started performing. I always get the impression that if there was an EMERGENCY during the show they would take care of it, no fuss!
They have an album out right now, which you can
buy direct from them
. I heartily recommend you do, it is GRATE!
posted 7/6/2016 by MJ Hibbett
(click here for permanent link)
(0) comments
Poised For Postage
In the run-up to the release of the past couple of albums I've had some Promotional Postcards made. When I first did them, for
Regardez, Ecoutez Et Repetez
, the plan was to post them out to DJs and so forth to tell them the album was on the way, but that didn't really happen did to STAMP COSTS. Instead I used them for writing NOTES when people bought CDs, which was SUPER handy - I always like to put a NOTE in when somebody buys something, but used to have to get a scrap of paper to do it on. Now I looked SLICK... or would have done, if I hadn't accidentally done the postcard THE WRONG SIZE i.e. twice as big as they should have been, so ended up having to cut them in two to fit into jiffy bags!
So when
Dinosaur Planet
came along I was VERY careful to get them the RIGHT size. They looked lovely, and I used them for sending out promo AND purchased copies. I got LOADS done so, over the following years, was able to use them for all sort of other things too. I'd like to say this was an exercise in cross-promotion, highlighting a past release while promoting future ones but actually I did it because I LIKED them so much.
Eventually I'd used them all up and so wondered whether I should do MORE for
Still Valid
. I had a couple of thoughts about a design but it never looked very exciting - the cover image looks AMAZING and BIG on the CDs, but on the postcard it just looked like more of the same. I spent ages puzzling over it until eventually realising that I could use the INSIDE of the CD instead! The image therein is a thing of GRATE beauty and interest and it didn't take long to get it designed, off to the lovely people at Saxoprint, and a week or so later back in my flat looking like THIS: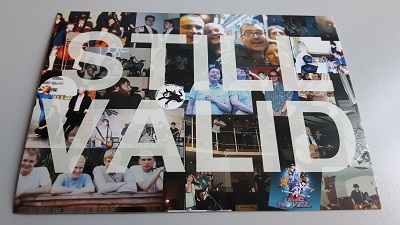 NICE isn't it? As I say, these'll be going out with all copies of the album bought online, OFFICIALLY from July 4 but also SECRETLY for
newsletter subscribers
a few days earlier. Only a few weeks to go now, it's going to be GRATE!
posted 2/6/2016 by MJ Hibbett
(click here for permanent link)
(1) comments
Forced To Talk About Myself
You always hear actors MOANING about having to do interviews as if it is somehow ARDUOUS. I don't know what they're complaining about - all right, I don't LIKE banging on about myself as anybody who knows we will tell you (and as this non-ME-mentioning blog is surely PROOF), but when it's with the right person it can even be FUN!
For instance, last night I met with Mr A Lawson in The Old Mitre, a LOVELY pub just off Chancery Lane which we'd picked as a (hopefully) QUIET place to do an interview for his podcast
Desert Isolation Discs
. I wandered around the pub's various rooms until I found one that looked PERFECT - "The Bishops Room" upstairs. As I stepped through I was disappointed to find that someone else was already there, but it turned out to be Alex so all was well! PHEW!
He got his laptop set up, bought me a pint (doing interviews is GRATE!) and then we kicked off with a LENGTHY chat. The idea of the podcast is that you choose the eight records and one luxury item that you'd want to have with you if you were stranded in the desert. JUST the desert, not an island - any similarity to any other programmes is pretty much definitely coincidental.
I'd had a good old THINK about the records I'd chosen, including discussing the issue with The Songs On My Playlist the night before. I wanted to make sure I'd not missed anything IMPORTANT, so she GUESSED what artistes I'd picked and got FIVE of them straight away, so clearly a) I had picked the right ones and b) she is an excellent judge of my musical tastes, POSSIBLY because of all these years of me BANGING ON about the same things!
Before we began Alex asked if I had any particular STORIES about the songs I'd chosen. I was AGHAST - they ALL had stories! I'd picked particular songs to try and tell a TALE of My Exciting Life In ROCK and I had a BLOODY LOVELY time TELLING them. Again, those familiar with me will know how I HATE to give opinions or tell stories, but with a little prompting I found I was able to YACK for about an HOUR!
We had a lovely time, and afterwards celebrated with a CHAT and further PINT. I've known Alex from when I used to do lots of gigs in Sheffield - I think he was doing the student radio station the first time we met, and he has done VERY well since then. He is one of a group of people that I think of as TEENAGE fanzine types who appear to have become High Powered Journalists while I wasn't looking - he claims to be Business News Editor at a national newspaper, but how can that be? He's only 19!
Anyway, I had a DELIGHTFUL time and was rather pleased with the range of songs what I chose. The room DID get a bit fuller as we went along but I think we TALKED louder to counter it, so hopefully it will all be clear enough when it comes out. Obviously the only thing I hate more than talking about myself is LISTENING to myself talking about myself, but I think I will make an exception for this one!
posted 1/6/2016 by MJ Hibbett
(click here for permanent link)
(1) comments

An Artists Against Success Presentation