Blog
Gigs
Facts
Music
Shop
Links
Postage And Packing
After experiencing the heady thrills of TOURING the weekend before, THIS weekend found me exploring the little-discussed DARK SIDE of the Rock Experience: ADMIN.
For LO! every tour has to be organised, every new release requires manufacture, and every setlist has to be negotiated, and so it was that I spent some highly enjoyable quality time on topics such as: sorting out the finances from the Germany gig; dealing with
the utter cock-up
that the PRS made of our recent payments (they have us about TEN TIMES too much... and then, just when we'd got all excited, asked for it back!); preparing for Saturday's
20th Anniversary Celebration Gig
and, most excitingly of all, making final preparations for the launch of
20 Golden GRATES
!
This latter exercise featured the development of two mailings lists one for Media Types and another for Associated Individuals. The Media Types list was quite easy really, as these days most people prefer DOWNLOADS to Actual Physical Product, so it was just a case of generating some bandcamp codes and sending them out, alongside a Press Release which had previously been thoroughly vetted by Internal Comms AKA The Quote Marks Around My Quote. My promo list gets shorter and shorter each time I do it, as every time I send stuff out at least one person on my ANCIENT list of Media Types leaves for pastures more sensible. I guess one day I should look at some NEW people to send things to?
The Associated Individuals task seemed more difficult at first, as I had to find postal addresses for everyone involved one way or another with the production of the cassette. As it is a GRATEST HITS this means pretty much EVERYONE who's been involved with our recorded history, notably in this case
The Durham Ox Singers
, who appeared on much of our early material. When The DO's (as their FANS called them, no, honest) were gigging this would have involved a lot of telephone calls to try and find everybody, but luckily for me we now live in THE FUTURE where everyone is on Facebook pretty much all of the time, so it just took a couple of Instant Messages to get it all sorted out.
All relevant envelopes were thus packed, and then posted first thing this morning. The next step was to UNLEASH
this month's newsletter
, which contains instructions for SUBSCRIBERS on how to order
20 Golden GRATES
. This went out earlier today, so now I'm sitting waiting to see if anybody actually wants to BUY it. I do hope so - there'll be a LOT of cassettes for me to shove under the bed if not!
posted 30/4/2018 by MJ Hibbett
(click here for permanent link)
(0) comments
Croydon From A New Angle
I have been to Croydon many MANY times over the years, always via either London Bridge or Victoria, so you can imagine how EXCITED I was last night when I went a DIFFERENT way! VERY excited, that's how much!
I went from the Thameslink station at St Pancras, which always feels like a TOP SECRET station because it's hidden away beneath all of the others and is MYSTERIOUSLY rarely mentioned by TfL JourneyPlanner. Getting this train was GRATE as it was Not Horrifically Busy like the others normally are, and also QUICK.
I thus arrived at The Spreadeagle in Croydon full of joy, and was soon forced close to BURSTING by seeing not only Mr T Eveleigh, host and promoter, but also my co-performers Mr G Osborn and Ms J Lockyer. We had a chat, a soundcheck, and before you know it the doors were open. An Actual Audience came in, including a rather HUGE number of Totally Acoustic regulars, which was LOVELY, especially as The Strings On My Guitar had come along too and was thus DELIGHTED to see everyone!
Gav kicked off and as usual was GRATE, doing a huge HEAP of brand new songs. He does not fall back on his hits, Mr Osborn, creating NEW ones instead, which is something that I always feel a) should be applauded but also b) SHAMED by. However, this time I had come prepared, and when it was my turn to go on I unleashed the following BARRAGE of new songs, HITS, and dusty old items from the back of the cupboard:
I was a bit afeared beforehand of doing all of these NOT GUARANTEED BANGERS, but I'm proud to say I stuck to my guns and it seemed to go OK. It's always a bit odd playing non-funny songs after supposed-to-be-funny songs, especially when the crowd have come expecting something at least vaguely comedic. Some audience members get PERPLEXED, worry that they must have missed something, and laugh at entirely random sentences, but I think it went all right. I was VERY pleased to debut
Someone Else's Turn
and DELIGHTED to find that
Two Nights, One Pub
has the makings of a HIT.
After me Jenny came on and did THREE ACTS, including two CHARACTERS. The first bit was especially GRATE as she did a bit with an American Actress character (KIND OF) who reminded me of Elaine Stritch (NB have looked her up just now and that is a Very Apt Comparison). The best thing about this particular bit was that it allowed Jenny to be Quite Rude, but also to clearly LARF at the fact she was getting away with it!
It was rather a marvellous evening, and LOVELY to see the above mentioned CHUMS, in audience and on stage, again. Even the stroll back to East Croydon station was full of pleasure - we'd been tipped off that Black Mirror were filming round the corner, and had built a realistic 1980s Wimpy Bar, Chelsea Girl, and best of all WH SMITHS in the shopping centre. We went and had a look, much to the bemusement of a teenager who was, I think, meant to be guarding it but had no idea why all these Grown-Ups were staring through the windows with such glee!
posted 27/4/2018 by MJ Hibbett
(click here for permanent link)
(1) comments
Cologne Popfest
Over the weekend The Validators travelled to Cologne to play at The Cologne Popfest. It was BLOODY GRATE.
Most of us - myself, Tom and Frankie, along with Ian and Paul from Frankie's old band The Almanacs - rolled up on Friday lunchtime. They'd all come on the Eurostar while I'd FLOWN, which meant that we'd all had to get up quite early to be there, so once we'd met up outside Cologne Cathedral (which is GINORMOUS) we decided to head to the hotel, where we all had SHOWERS before meeting up and heading back into the centre of town.
Frankie had been before so knew how things WORKED. He took us to a bar in a square where we sat ourselves down in the GLORIOUS sunshine. A waiter saw us and said "FUNF?" to which we replied "FUNF!" and then a couple of minutes later he returned with five very small (200ml) beers for us. Whenever we'd finished, or were near finishing, he'd just bring us more! It was GRATE - it meant that ordering was peasy, you could drink almost PRECISELY as much as you wanted, and the beer was always cold and fresh! ALSO it felt like we were drinking LOADS of beer and thus being DEAD COOL, but were actually being almost sensible. WINZ!
We went to another bar after a while, then another for something to eat, then another really nice Indoors Place where we got a BOOTH to ourselves. It was a lovely sunny day which we filled with VERY intellectual discussions. Normally when The Validators gather we do OF COURSE have Political Discussions and that, and definitely don't sitting around taking the piss out of each other, remembering Gigs We Have Done, or just catching up. Paul and Ian being there though seemed to take us to a whole other LEVEL, and there was LENGTHY discussion of politics and especially MEN'S ISSUES. It was really good!
The evening ended with us going to The Blue Shell, venue for the next day's GIG. I had high hopes of getting there in time to see some bands (as there had been three on that evening) but all the HIGHBROW CHAT meant it was gone 11pm when we arrived. We were reunited with a whole HEAP of pals, including Marcel and the various organisers (who seemed happy with how it was going) and Katharina and Martin (AKA our legendary promoter and all round good guy for gigs in Dresden and Berlin). It was flipping DELIGHTFUL!
The Validators have a WHATSAPP group now, because we are SO MODERN, which meant that we were all fully in touch on our travels. On Friday The Pattisons had kept us up to date with their lunch and gardening while the rest of us were crossing the continent, and on Saturday I awoke to find a whole HEAP of news from them as they struggled to make it via RY*N*IR. Astoundingly, RY*N*IR were difficult and unreliable - who'd've guessed?!?
Just before 2pm all of The Validators were fully ASSEMBLED, and we set off to the venue for soundcheck. We'd been a bit worried about INSTRUMENTS as we hadn't taken any with us, but, just as promised, the organisers had sourced us a whole load of GEAR to use. Over the day they proved themselves to have done absolutely EVERYTHING they said they would, paid us PRECISELY what was agreed, did ALL the Merch Sales for us, and OVERWHELMED us with food and drink. There were drinks and food backstage, our wrist bands gave us access to FREE BEER all day, and on top of that we got given VOUCHERS "for when you start want to doing shots" (NB "when", they said, not "if"!). It was brilliant - it is a cliche for British bands to play abroad and then HARP ON about how well they have been treated, but the difference between the general standard HERE and over there is astounding. I often wonder how European bands feel when they come and play in the UK!
We did our soundcheck, which sounded FAB, and then waited to see if anyone would come. It was a lovely warm day again (Friday had apparently been the hottest April day in Cologne EVER!) so I expected people to stay outside and enjoy the weather, and we were on FIRST, so at about 3:50pm I was not surprised to find the room sparesely populated. However, by the time we took to the stage, bang on 4:00pm, it was RAMMED!
What followed was a FABULOUS gig, containing the following:
It was, by general Validator consent, one of the best gigs EVER. Highlights included the audience waving EU flags (which the Pattisons had made especially) during
Can We Be Friends?
, SPARKLERS being held aloft in
We Did It Anyway
, and Marcel and chum coming onstage to sing a German verse of
Have A Drink With Us (Drink Doch Eine Met)
, THUS:
It was all quite emotional really, and also Surprisingy Well Received. The audience seemed to clap for AGES after every song, and I had to just start talking over them so that we'd have time to do the whole set! When we came off I was pleased to see we'd only gone over our time by a couple of minutes, but then PERPLEXED by the fact that they were STILL clapping. We couldn't go on and do an encore, I thought - surely everyone knew that, it was an all-dayer - but they KEPT ON CLAPPING! Eventually we DID go on and do an encore, although as we didn't have much time we cut a verse of
Do The Indie Kid
out on purpose, and certainly not accidentally. It was FAB!
The rest of the day was also pretty wonderful. We especially enjoyed The Popinjays, and especially especially when they came outside afterwards and we all had a LENGTHY chat in the sunshine together. It does seem weird to me sometimes when we standing around chatting to bands we used to read about in the NME as if it was Totally Normal, but it does very much seem like the ones who are still out and about these days are all dead nice!
Another thing I have noticed over the past couple of years is that Indie events now tend to include a BREAK in the middle so that everybody can go and eat and get their second wind. It's almost as if Indie events that I go to are predominantly attended by middle-aged people who know their own and others' limits! We went to get a curry, but when we found that our chosen restaurant was full we went to a PERSIAN restaurant instead. It turned out to be a) quite MEATY but also b) very nice for what Veggie stuff it DID have. We all particularly enjoyed the raw onions and MINT - it simultaneously freshened and de-freshened your breath!
Back at the gig there was more yacking, more bands, and more GOOD TIMES. Someone told me that he'd been DJing our version of 'Drink Doch Eine Met' locally and people were going KRAZY for it (in a good way - I checked). Other people had other lovely things to say, and everyone lived up to the Cologne reputation for being friendly, including the people who didn't COME from Cologne!
Emma and Tom went back to the hotel first, with Emma taking someone's jacket by mistake, so when Tim and I headed back later we took one of the organisers with us to collect it, which was EXTREMELY handy of them. I went to bed full of the joys of ROCK, amazed that we get to play fantastic events like this, and hopeful that our subtle hints* that we'd like to be asked back again sometime (*telling all of the organisers repeatedly) would pay off. Cologne Popfest was GRATE!
posted 24/4/2018 by MJ Hibbett
(click here for permanent link)
(0) comments
The Gang Who Broke The Bank At Stratford Westfield
On Saturday night the Dealer Of My Cards and I went for a SOPHISTICATED early evening out at THE CASINO. We had got a voucher through the door, you see, offering us a free drink and a free SNACK, so not being ones to turn our noses up at such things we thought we'd give it a go.
The Casino is located in the big shopping centre which we can see from our house, but we have never been in before because, well, why would we? A pal had said it was really nice, so the vouchers were the small PROD required to make us go. I must admit to being a little trepidatious - would they even let us IN to a swanky place like that? Would someone say "Hang on, you don't even know how to play POKER, GET OUT!"? Or would we get sucked into a spiral of iniquity and end up selling our shoes to pay for one more go on the Penny Falls?
We need not have worried. The doorman smiled upon us and we were whisked up the escalators to a HUGE room which was a mixture of all the wild guesses I had made as to what it might be like. There were LOADS of fruit machines, so it looked a bit like a seaside amusement arcade (though there were no HANDLES to pull), and there were grumpy-looking people slumped in front of them still wearing their coats, so it looked a bit like the corner of a massive BOOKIE'S. But then there were also Blackjack tables and a whole ROOM full of people playing Poker, so it was also like somewhere JAMES BOND might go.
We wandered around and had a JOLLY nice time. We got our free drink and snack, plus more drinks, and sat down for a go at the fruit machines. Being devil may care types we decided to allocate ourselves an entire FIVER each, to spend how'ere we wished, but to my astonishment some people were spending that on a single go! A bloke sat next to us SLUMPED down looking fed up and put a TWENTY POUND NOTE into the fruit machine! Why would you do that? The Pictures On My Dial was playing for 10p then 20p then 33p a time, which seemed like the very HEIGHT of lavish living, but this guy was paying ACTUAL POUNDS at a time! MADNESS!
We were just there to enjoy ourselves but amazingly The Coins In My Slot got on a WINNING STREAK and reached the point where her initial £5.00 stake had given her back £9.37! We GOGGLED at this fortune, but like the cool cat she is she decided to pause why she was ahead and CA$H OUT with her MASSIVE WINNINGS. We then went to look for another machine for me to lose my fiver on. I don't understand Poker or any of that sort of thing, but when we were little we DID have a toy roulette wheel (why did we have a toy roulette wheel?!? Surely that must have come from an errant aunt/uncle somewhere? Or a jumble sale?) so I had a VAGUE idea of the mechanics, and decided to give it a go.
I am a SENSIBLE person and I KNOW that games like this are entirely skill-free, but still as soon as I started I was CONVINCED I was doing TACTICS, especially when I was winning. I had The Numbers On My Table beside me and I have to admit I DID feel like J.Bond with Glamorous Femme Fatale beside me - if it had been a REAL Roulette table rather than a screen I would DEFINITELY have asked her to place some chips for me, it would have been DEAD SAUVE!
After some ups and downs I got down to £4.50 and decided to have one last go, scattering 25p bets across the different numbers. "It's just a bit of fun," I thought, "then we can go home." But then BLOW ME one of my numbers WON and suddenly my pot was worth NINE POUNDS!
I cashed out at this point too and we SWANNED over the the CA$H desk to collect our ENORMOUS winnings. We both agreed that the cashier looked VERY impressed with us - we'd changed a tenner into two fives with him earlier, which he remembered (I assume because he doesn't usually meet such big spenders?) and initially he was complimenting us on coming back for £9.37, little realising that we also had MY payout still to come, and thus were in ACTUAL PROFIT!
I almost expected SECURITY to stop us as we left, like they do in the films when HUSTLERS use a SYSTEM to bankrupt the Casino, but I imagine they must have been busy elsewhere, so instead we strode out with our WINNINGS, utterly flipping DELIGHTED with ourselves. I probably WON'T be giving it all up to become a professional gambler JUST yet, but COR it was fun for an afternoon!
posted 17/4/2018 by MJ Hibbett
(click here for permanent link)
(0) comments
Monet Go-Round
On Friday evening after work I met with The Canvas In My Frame outside the National Gallery, where we had tickets to see the
Monet and Architecture
exhibition. Here is my review: it was dead good, but REALLY busy!
Getting in was quite good fun, as we had to stride through various other galleries studiously NOT looking from side to side (you get distracted that way) and then we met a member of staff who seemed to be being played by Julie Walters as Mrs Overall. We'd printed out tickets out so they could be scanned by one of those cool machines, but she wanted to TEAR the corners of each of them (despite being printed on a single sheet together), and then she checked her watch to make sure we were in the right window of entry (they do it by time) despite the fact that she wasn't actually WEARING one!
Once in we picked up tiny BOOKLETS which had all of the descriptions of the paintings on then. This was a BRILLIANT innovation as it meant that they didn't have to put the descriptions next to the actual paintings, and thus you didn't get the usual thing of everybody queuing up to READ them and blocking the pictures. Instead you could read the notes beforehand and then SWOOP in when there was a gap in the ever-moving crowds to get right close up. The only disadvantage was that, these being Monets, they often looked better from a little way away. The TRIALS of the ART LOVER eh?
The books were FAB except for TWO (2) things. Firstly they didn't have the actual PICTURES in (I guess so that you still had to buy postcards at the end if you wanted to have a KEEPSAKE) and secondly the numbering was wonky. We reckoned they must have printed all the books and then the CURATOR decided to move pictures around, which was a bit confusing but not SO bad because, as stated previously, you were diving in wherever you got the chance anyway. Other than that it was ACE - more of these exhibitions should have them, ESPECIALLY when they're charging over twenty quid for a ticket!
The actual PAINTINGS were GRATE, OBVS, and there were LOADS of them. It got a bit overwhelming after a while - usually when one HAPPENS across a Monet in an Art Gallery (as one occasionally do) one thinks "OOH a MONET, I've heard of him!" but here there was about EIGHTY of them, one after the other. They'd done it by PLACE, mostly, so you got to see several different paintings of the same area, which meant that sometimes it felt like you were looking at a painted version of Google Street View. The BEST, according to ME, was the room that had his some of his paintings of Rouen Cathedral and the Houses Of Parliament all together. I'd not realised before that he did loads of canvases at the same time, but it did make sense - apparently he'd do a BIT of one painting at a certain time of day, then switch to the next one when the light changed, and so on, so they'd all be basically the same composition but showing the change in light. The most DRAMATIC was the three versions of Parliament they had next to each other, with STRIKINGLY different lighting. The guidebook said that Contemporary Reviewers talked of them being MUSICAL, and you could certainly feel a RHYTHM to them, also, for some reason, BRASS.
With the mobile crowds and the booklets we all seemed to RACE round at high speed, which to be honest is how I LIKE to do my galleries, and we were out the other side in less than 90 minutes, which meant we had plenty of time to nip round to TIBITS for tea. It was a GRATE bit of THE ART, and a DELIGHTFUL way to kick off a weekend!
posted 16/4/2018 by MJ Hibbett
(click here for permanent link)
(0) comments
Made To Be Tape
When I got home on Tuesday there was a THRILLING ITEM waiting for me in our letterbox - a PROOF copy of
20 Golden GRATES
on CASSETTE!
When I opened the packaging it looked RUDDY BRILLIANT, although it wasn't QUITE as exciting as I was expecting largely because it looked EXACTLY like I thought it would after spending HOURS designing it. I suppose that that's a good thing, and I'm pretty sure that it will remain THRILLING when other people look at it, for truly, it is an item of GRATE beauty.
I mentioned that I'd received the proof copy on the twitter and a couple of people seemed surprised that it was real, as they'd thought I was only JOKING about releasing an album on cassette. In order to put everybody's mind at rest, therefore, I provide below photographic evidence that it is definitely a REAL THING, and that it is GORGEOUS!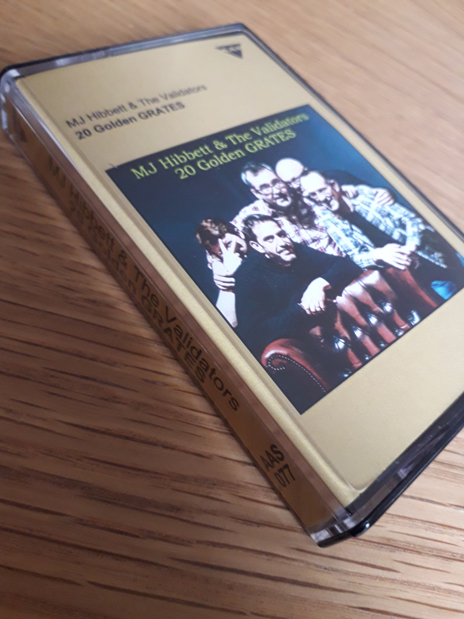 Once I'd finished GAZING in DELIGHT I then had the ARDUOUS task of checking that the actual audio was OK. To do this I dug out my USB Cassette player (the same one I used to
digitise The Council
) and discovered that I could put batteries in it and, to all intents and purposes, transform it into a WALKMAN!! Going through all the motions of using a tape player again felt deeply comforting, especially with all the firm CLUNKS and WHIRS of putting the tape in and pressing "PLAY", but the best bit was the sound itself. It was ACE - I've loved the way that music sounds on cassette, it sounds SMUSHED like all the best bits have been turned up and made more EXCITING. Apparently this is because of compression or something, but personally I prefer "smushed".
And goodness me, SMUSHING didn't half work for our stuff, it sounded AMAZING! As I listened I thought "We have been doing it wrong for two whole decades - we should ALWAYS release our music on cassette!" Perhaps it is because so much of my FORMATIVE musical years were conducted on TAPE (with all those
other bands
and for
my early solo stuff
) but it felt as if I had come home at last to the format that I was MEANT to use.
I had some slight trepidation at first, as the music did sound a bit rough/wonky/loud, but then as the tape moved on it all got SMOOTHER and I realised that that was just what we sounded like! The more recent, (very slightly) more POLISHED material actually sounded BETTER, as the SMUSHING made, for instance,
It Only Works Because You're Here
sound SUPER LUSH. It made me wonder whether I could maybe one day re-release
Dinosaur Planet
this way. Surely being played in a CAR on a CASSETTE is what it was MADE for!
(NB NO I must NOT release
Dinosaur Planet
on cassette - hardly anybody wanted it on a format that you could actually USE, I am NOT going to put it out on one you can't!)
It was a highly enjoyable experience which reminded me, as if I needed reminding, that COR! we don't half have some good songs! Reassured by the quality of the PROOF I have now PAID for the main run, which will hopefully be arriving in a couple of weeks. It'll be released at the end of the month, first for
newsletter subscribers
and then for everyone else - there won't be many though, so if you want one, you'll need to get in quick!
posted 12/4/2018 by MJ Hibbett
(click here for permanent link)
(1) comments
Inducted Again
There was a time, long ago, when I didn't change employers very often. I worked for Leicester University for about 11 years then made a massive leap to London and worked for Birkbeck for 13, but then after that I worked (not very successfully!) for myself for about 18 months, then had a year at Imperial, then another 18ish months at UCL, and NOW I'm at UAL!
The downside of all this chopping and changing means that I have to keep on LEARNING how things work, but the UPSIDE of it is that at least I'm USED to it now! When I started here I knew that I'd be meeting lots of new people, would have to do various online training for fire safety and so forth, and that I would, at some point, be officially WELCOMED to the University.
That welcoming happened this very week - astoundingly quickly, as I've only been here a couple of weeks and it usually takes MONTHS to get round to - with me spending a Surprisingly Enjoyable morning in High Holborn alongside about 30 other new and new-ish starters. I say "Surprisingly Enjoyable" because usually these things are DEADLY DULL but, as I am finding out a LOT at the moment, being at an Arts Institution means they do things a bit differently. For instance, we had a talk from a Vice Chancellor who merrily ran off script to make Political Remarks in an Actually Entertaining Way, and then one from a Former Student who talked about his BAND more than anything else. We also got to use VOTING PADS like off Who Wants To Be A Millionaire to work out which colleges everyone came from, and then we did ... A GROUP EXERCISE!
I can sense many of you RECOILING at the idea of Group Exercises, and rightly so as they are so often merely exercises in GROUP PAIN, but UAL seems to have a habit of making them quite good fun. When I began my PhD, also at UAL, I had to do a whole
WEEK of induction
, and though some of it was a bit pointless the exercises were often dead good. For the exercise THIS time they got us to create SOMETHING to express one of the University's OBJECTIVES. We got "Transformative Education" which made someone say "ROBOTS!" (it wasn't even me!) so I spent a happy hour making THIS: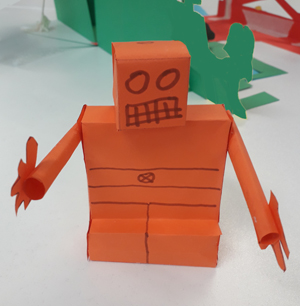 I am fairly sure that it had not much at ALL to do with UAL policy,but it was a lot of fun and I SUSPECT that the point of the exercise was to get everybody working together and - hey! - ENGAGING. If that's the case then it definitely worked, especially at the end when we all went round the room looking at what the other groups had made. I am pretty sure that SOME of the creations will be getting Arts Council Funding!
In case it's not obvious, this new job feels like it's going PRETTY WELL so far. I may have to give up on INDUCTIONS for a while!
posted 11/4/2018 by MJ Hibbett
(click here for permanent link)
(0) comments
A Slice Of Edinburgh In Angel
One of the GRATE things about my Exciting New Job is the amazing SUPER COMMUTE what I do every day on the High Speed Javelin Train. One day last week I timed the journey from my actual desk to my actual flat at actually TWENTY ONE MINUTES, which is the shortest commute I have ever had in my LIFE. When I lived in Leicester my shortest walk to work was 23 minutes (I timed it MANY times) so this is something of a personal triumph!
This was especially handy last night as it meant I could go home after work and have a legitimately useful amount of time to do stuff before heading BACK into town with The Punchline Of My Joke to go and see Mr Nat Metcalfe do a preview of his new Edinburgh show. He was on at 9:15pm at The Bill Murray, sandwiched between two big sellout shows, which we ESCHEWED because they were too commercial and also, obviously, because they'd sold out. Instead we got to enjoy the pub itself. I've been in before but usually when it's rammed, so being there when it felt like a normal, very nice, pub was DELIGHTFUL. They had St Mungo's lager on too, which is RUDDY DELICIOUS. My favourite aspect of this section of the evening, however, was hearing a particularly LOUD burst of laughter from the other room, thinking "That'll be the end of the set!" and getting to the bar before the final applause and mass evacuation of the venue. HA! It's a LIFE SKILL!
We then went in for Nat's show, which was ACE. Some of it was familiar from other times we've seen him over the past couple of years andthere was also a TONNE of new stuff, including a story that bordered on the SAUCY. The thing I like most about his shows, I think, is that as soon as he starts you know you're in safe hands - he has what I believe is known as An Engaging Stage Presence which makes you sure that whatever comes next, you're going to ENJOY it. We did!
After the show we bumped into Mr Dec Munro, one of the people who runs the pub and an all-round good guy who me and Steve got to know approximately 1,000,000 years ago when we did
Moon Horse
at the Edinburgh Fringe, and who notably stepped in to sort us out on
the day that Total Hero Team lost its venue
. We agreed how GRATE Nat's show had been, also that the pub was really nice, and then shared recommendations for TELLY.
Drinking Scottish lager, seeing a good show, and then bumping into someone lovely - it was all the best bits of Edinburgh really, all it needed adding was The Hewitts and a curry and it would have been perfect!
posted 10/4/2018 by MJ Hibbett
(click here for permanent link)
(0) comments
A Trip To Milton Keynes
Friday night found me and The Petals On My Rose headed off for a Romantic Mini-Away Break in that most storied of romantic towns, Milton Keynes. Who says we don't know how to live it up?
Milton Keynes is an ODD place. I know people always say this, but I was not prepared for quite how accurate the description was. For starters, when we got to the railway station there was an approximately 35 minute walk to the town itself... and when we got to the town centre we found that it wasn't actually there. The whole place felt like an out of town industrial estate, except that it was IN town!
Aspects of it felt EXTREMELY familiar to me. Peterborough was designated as a New Town just after Milton Keynes, and so the way that the roads, pavements and cycleways were laid out was EERILY FAMILIAR. The next day when we took a BUS I found it hard to shake the feeling that we were on the way to EITHER Sainsburys in Bretton (where my Mum did her shopping) OR Peterborough Crematorium, as we zoomed along empty looking roads punctuated by roundabouts that had to have NAMES so that you knew where you were. At least Peterborough has an actual centre in it, Milton Keynes didn't seem to have anything. It was STRANGE!
The natives seemed friendly though, especially on the aforesaid BUS as everyone who got on seemed to know somebody who was already there. It was like an ongoing social club!
The bus was taking us to Bletchley Park, which is somewhere that has been on our LIST for YEARS, and was GRATE. Right from the start I found myself deeply MOVED by it all - the fact that all the work that went on there was a) so important but b) kept utterly secret for nearly thirty years meant that lots of the people who work there died without anyone knowing what they'd done. It also seemed to be something of a Pilgrimage Site for... well, for my lot really. Everywhere you went there were people who very obviously worked in computers, explaining things to each other. It was PACKED with us!
I have read SEVERAL of
Ben MacIntrye's
history books, specifically the ones about SPIES in World War Two (NB these are AMAZING books) so I knew a bit about some of the work done at Bletchely, and had a hazy idea that Alan Turing began inventing computers there, but learnt A LOT about it all during the four or five hours we spent wandering from hut to hut, LOOKING at things. As I say, it was very busy, but we quickly got into the rhythm of the place, so that we ended up seeing the same fifteen or so people everywhere we went.
My only criticism of the site is that the texts had a) repetitions b) gaps all over the place. I am now very aware INDEED of the fact that Eisenhower wrote a letter to Bletchley Park to tell them how much he appreciated them, as it was mentioned in nearly every hut, but I'm not exactly sure WHAT Colossus was as it was vaguely alluded to a couple of times but never actually explained. As The Text Of My Message said, they could do with a COMMS person to go round and sort it out for them!
Other than that it was FAB and definitely worth a visit, especially if you are a Compute Type - it's where it all began!
posted 9/4/2018 by MJ Hibbett
(click here for permanent link)
(3) comments
Revisiting The Council
Sorry for the lack of blog posts lately - it's partly because of me starting a new job, but also because most of the ROCK stuff I'm doing is ADMIN, and it's the sort of admin that I have to keep quiet about for the moment.
However, one thing I CAN talk about is some DIGITISING what I did over the weekend. Our esteemed drummer Mr T Pattison is reaching a Significant Birthday later this year, and to celebrate he is having a DO (christened "Pattisonisphere" by Mr FA Machine) where he's getting loads of his old bands to get up and do a couple of songs. The Validators are HEADLINING and the ONLY reason for that is that we are the BEST and not because Tim has the best chance of playing a full set with us when DRUNK than any of the other, significantly FASTER, bands he has played with. That's definitely the reason.
One of the bands playing is
The Council
, a short-lived grouping of me, Tim and Dr Kneel of
Voon
fame. A few days ago we were discussing what songs we should do for the gig, and I remembered that Tim had asked a while ago if I had mp3 copies of any of it. I didn't, but DID have a USB tape player that I could plug into my computer so, over Easter, I settled in for some digitising.
BLIMEY. What I heard was a bit of a shock. "It'll basically be like Voon," I thought to myself, "but slightly faster and with drums." Friends, it was NOT like Voon at ALL - Voon had DELIGHTFUL songs that were fun to play and listen to, whereas The Council were VERY ANGRY INDEED. About EVERYTHING!
Reading the
brief history of the group
I was reminded that there were plenty of fun gigs, but you would not guess it from the recorded output which seems to be very concerned with how WRONG everybody else is about EVERYTHING. As ever, Dr Kneel's songs are much better, whereas most of mine are just SHOUTING about things, in a weird voice that sounds like I've got a cold and/or have been hit on the head with a brick.
We have selected our "hit"
Dirty Old Man
(it got put on a
compilation CD
!) and Dr Kneel's excellent "Malignant Work" for the gig, and now we face the terrifying prospect of learning to play them. I played BASS back in those days and I played it RUDDY FAST - I am considering joining a gym again, just to get my BICEPS ready!
posted 4/4/2018 by MJ Hibbett
(click here for permanent link)
(1) comments

An Artists Against Success Presentation