Blog
Gigs
Facts
Music
Shop
Links
The Validators At The Roundhouse
Friday afternoon saw me heading back to the Midlands, for LO! The Validators were playing their first gig of the year, and we were playing THE ROUNDHOUSE!
All right, it was the Derby Roundhouse rather than the slightly more famous London one, but still, it was Quite A Big Deal for us. We were booked to play at the Derby Winter Beer Festival, a gig which I was understandably rather excited about playing - I have BEEN to many beer festivals, but actually PLAYING one has long been a dream!
I thus got checked into my nearby hotel (I suspected I would not be wanting to do any travelling after this particular gig!) and then went to meet Mr FA Machine outside the station before heading over the bridge to the Roundhouse, where we found a GIGANTIC queue. Luckily Frankie knew what he was up to, and we found a Security Guard who waved us through the VIP entrance. Top Beer Festival Tip: it's much easier to persuade people you are "In The Band" when you have a guitar to wave at them.
We had a drink and a wander around, and I must admit I started to feel a bit nervous, as there were LOADS of people around. The people themselves looked, to quote Tim later, "like a Fall gig" (who'd've thought?) but I was a bit trepidatious about how they'd react to us bellowing at them. I was thus quite relieved when we found our stage, in a marquee attached to the main building, where people could CHOOSE to visit or not.
The rest of The Validators arrived in The Tigermobile, and Emma foolishly asked for my advice on How Beer Festivals Work - I was VERY happy to give it! We then went back to the stage area and met the other band. Tim had been in contact with their drummer, and it turned out that they had a LOT in common. Look, for instance, at this delightful picture of the two of them!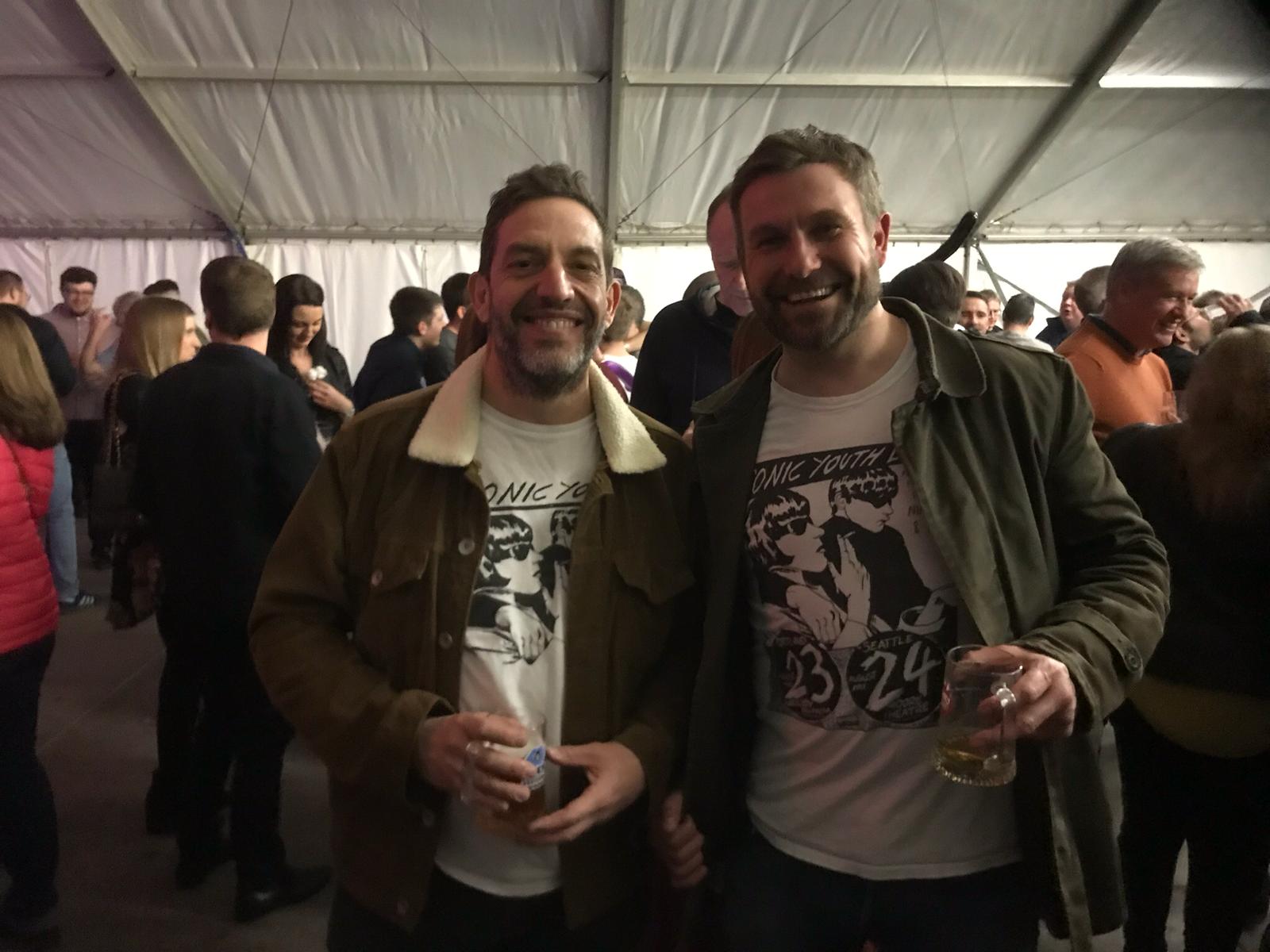 Kevin, their drummer, had ALSO been in a Band You Read About In The Melody Maker back in the day - Adorable! Tim INSISTED that he had not been the first to mention being in a band before, and of COURSE we all believed him, and it was a delight to see the two of them together. Also, should Tim ever be kidnapped mid-tour, we know where to get an almost identical replacement!
We did our soundcheck (which sounded LOUD), bumped into various PALS, and then wended our way back to the stage to do THIS:
It was A BIT OF A WEIRD ONE! It was a set of HITS, The sound was GRATE, and we sounded, if I may so so, PRETTY FLIPPING GOOD with shockingly few errors, and the audience down the front BOTH liked it, but everybody else in the marquee pretty much ignored the whole thing! It felt STRANGE - we'd BLAST through a song VERY loudly and then the aforesaid two chums at the front would clap... and that would be about it! I am a VETERAN of beer festivals and very aware of the fact that people are there for the BEER and not the acts, but it did feel odd to be on the other side of things!
Still, it was good fun, and what followed was MORE good fun as we staggered around in various combinations of Validators trying out all sorts of BEERS and having a bit of a yack. We also watched the other band, who were a (really good) indie covers band, doing a broad selection of songs that went down A LOT better than ours had! I think their lead singer must have been a bit of a Liam Gallagher fan though, as surely there is no other reason to cover a Liam Gallagher solo single? Other than that though I doff my ROCK hat to them, for LO! they got the whole tent going in a way we certainly did not!
Eventually time was called and we were forced to depart, thus concluding what turns out to have been our first gig in Derby in FOURTEEN YEARS! Fear not, Derby, you will not have so long to wait for our return, as we're hoping to be back in May... for another Beer Festival!
posted 25/2/2019 by MJ Hibbett
(click here for permanent link)
(0) comments
The Tour Hits Leicester
I had the afternoon off work on Wednesday, in order to head to my old stomping ground of Leicester to perform once again at The Leicester Comedy Festival. This time I was doing a show with Mr M Tiller, as part of our 'No Headliner' tour, rather than the more usual Mr S Hewitt, but just like Steve Matt was at the station early, and our ensuing journey went off without a hitch. We got to Leicester about two hours earlier than we needed to be for the show, due to tickets pricing, so we went to a nearby cafe, where Matt spent the two hours doing some work on his modern laptop, and I spent the two hours on the phone to My Literary Agent. Crumbs, it was a LONG conversation - we had spoken for an HOUR the night before about the next batch of changes to THE BOOK and overnight I had had a Good Old Think and come up with some IDEAS what we talked through at some extreme length. He is DEAD excited about the whole thing, hence the LONG discussions which, hopefully, will make the finished MASTERPIECE even better than what it is already. HARD TO IMAGINE I KNOW.
While I was talking NOVELS and Matt was typing TV PITCHES two Comedians (including one Off The Telly) came in for a cuppa too. It was SO GLAMOROUS!
With our work done we headed over to the Globe for a VERY MUCH needed pint, pausing only for a Vegan Sausage Roll from Greggs on the way (my first, it was good!). We were soon joined in the pub by Mr C Fisher, Mr T McClure, Jan from the Plymouth Argyle Supports Club (London Branch) (AGANE!) and then various delightful audience members. The only thing we DIDN'T have was a representative of the Cookie Club who we were doing the gig for. It turned out that the person they'd arranged to do the door for us hadn't turned up, but they IMMEDIATELY sent someone else running round the corner to sort it all out, which was GRATE, and meant the show was able to go on!
Matt went first this time, with an ACTUAL FRENCH TEACHER (it turned out) doing 'Henri'! He also did his song about his family being Tories, which was a) GRATE but also b) meant I had to take MY song about people being Tories out of the setlist, and do THIS instead:
I also tried to do
Chips And Cheese, Pint Of Wine
but drew a complete BLANK on the words. Other than that it all went pretty well, and I was especially pleased to get all the way through
Hibbett's Golden Rules Of Beer
as I'm planning to do that at the Validators gig at the Derby Beer Festival tonight!
We packed up, thanked the audience, and nipped downstairs for some more BOOZE, and I was once again reminded that the BEST thing about touring like this is that I get to see various PALS around the country. It was LOVELY, but all too soon it was time to head back to the station, where we saw the same two comedians ALSO waiting for their train back to That London. It's handy being able to do a gig like this without staying over, but it didn't half feel like a long journey home!
And so ended the first section of TOUR - next is a string of gigs where I'll be staying OVERNIGHT in different cities! PREPARE FOR MAYHEM!
posted 22/2/2019 by MJ Hibbett
(click here for permanent link)
(0) comments
Walthamstow Wetlands
Over the weekend myself and The Ducks On My Pond went to
Walthmstow Wetlands
for a stomp around. It's what used to be (and partly still is) the reservoirs that you go through the middle of on the GOBLIN line after Blackhorse Road, but it's been spruced up with a visitor centre and signage to make it into A Thing You Can Go To rather than A Thing You Go Through. They've done a nice job of it too!
Getting there was easy, on the secret train that goes twice an hour from Stratford to Tottenham Hale i.e. the same train I used to get when me and Steve used to practice at
Bally
. The short walk to the wetlands involves crossing the border into Waltham Forest, which was one of those ABRUPT changes where it stops being Tottenham and becomes almost LEAFY.
The Wetlands itself is a bit like that too - there's trees and lakes and WATERFOWL so you could almost be in the countryside, but then if you look to the horizon you can see that it's surrounded by tower blocks and clumps of SKYSCRAPERS off in the distance. It also reminded me of The Olympic Park, where I live but don't like to go on about it, as a man-made place inching towards wildlife but with constant reminders that you were in a city. We were on the lookout for BIRDS - we didn't spot any Kingfishers or similar, but DID see a LOT of DUCKS. I like ducks, so this was fine with me!
We may not have seen any rare plumage, but we did get to do a bit of CELEBRITY SPOTTING - I'm pretty sure we saw that bloke who was in 'Scrotal Recall'/'Lovesick' and also the start and end of 'Sex Education' (you would know him if you saw him). I did the traditional DOUBLE TAKE which he noticed, then we both did Polite Casual Pretending Not To Notice It Had Happened, which felt very sophisticated.
It was a great visit, but crikey, we was KNACKERED when we got home, there is a LOT of reservoir to walk around!
posted 19/2/2019 by MJ Hibbett
(click here for permanent link)
(0) comments
Taking The Tour To Camberwell
On Sunday night I packed up my gig gear (guitar, MERCH, clean t-shirt) and headed out to CAMBERWELL, for the second night of the No Headliner Tour with Mr Matt Tiller.
We were playing at The Joiner's Arms, one of those venues that I've HEARD about for years but never actually been in. It was dead nice! The front of the pub is A London Pub (i.e. it has one of those MASSIVE bar areas in the middle that London Pubs seem to love) and the back room is, well, a back room, with a stage area and a pool table. I knew we were in safe hands, venue-wise, when someone came out before the gig started and put a cover on the pool table so nobody could use it while the gig went on - sometimes in the past I've done gigs at pubs that almost seem to resent the fact it's happening, and determinedly maintain things like the pool table or juekbox, but the Joiner's very clearly LIKED having gigs on, and did it very well.
Matt was already there when I arrived, and after some table shuffling and a brief, yet perfectly executed, soundcheck we were ready for people to arrive. Amazingly, LOADS of them did, including various Cresswells, Greens, Gilroys and Sarlls, and also my little brother! It was a GRATE turnout, full of friendly faces, and it almost felt like an imposition for me to go on and shout at them. ALAS that was what I was there for, so after a fulsome introduction from Matt I went on and did THIS:
I REALLY enjoyed it. As previously stated I am setting out on this tour with the INTENT to do lots of different songs, so this time I did an almost entirely different set from what i did in Croydon last week. I've got a big list of ALL the songs I've been practicing, with ones I've already done marked, so in a way it does make it easier to PICK the setlist, though it feels a bit weird not to have access to all of the GUARANTEED BANGERS that I'd usually fall back on. The main thing is that it forces me to do more than just the old Uberset, and give some of the NEW songs more of a chance - as you can see from the above there were a LOT of them this time, including the world debut of
An Office Ballad
!
There was a BEER interlude then it was my turn to go on and introduce Matt, who was of course FAB. I'm really enjoying playing with Matt on these gigs, I think our styles are COMPLIMENTARY yet Sufficiently Different to make for a Good Evening Out. I'm ESPECIALLY enjoying the 'Henri The Lorry Driver' song, which is a wonderfully different world of delight every time - last night he got a GENUINE (very drunk) FRENCHMAN to join him and it was HILARIOUS!
After the gig there was time for chat and also some MERCH SALES, which is something I very much enjoyed, before fond farewells and then a LENGTHY journey home featuring an entirely kaput Jubilee Line. Apart from that though it had been a BLOODY GRATE night - it turns out that touring is ACE, come and see us
on the other dates
and I'll prove it to you!
posted 18/2/2019 by MJ Hibbett
(click here for permanent link)
(0) comments
Stage Times Furore
Yesterday there was an article in one of the
tawdry free tabloids
saying that The 100 Club were going to stop publishing stage times. This caused an ONLINE FURORE with sensible people pointing out the 300,000,000 very good reasons why this was stupid, some Perfectly Nice People saying "It's to make you see the support band" and 17 wazzocks saying "It's about the music maaaan."
The 100 Club claimed that the reason they were doing it was to force people to come early and see the support bands because, hey, they could be the next big band, yeah? Obviously this is a load of bollocks, as the only reason they want people there early (as casually mentioned in a
follow-up on the BBC
) is so that you're forced to spend more money at the bar while you wait. "If people come here and see another band we are going to make a bit more money but it's not going to pay the rent on Oxford Street," he says. No, I imagine you make that money from hiring out the venue, what with that being YOUR BUSINESS and everything. Also, if venues like The 100 Club were ACTUALLY PLEASANT places to be in, and sold beer that DIDN'T turn you inside out the next morning, then people WOULD spend more time in there, rather than going to one of the MANY much much nicer around Oxford Street (who I imagine also pay rent) before heading down to see the band they had ACTUALLY PAID FOR. As The Beer In My Glass remarked when we discussed this, if the venue did things like telling you ACCURATE times when you went there you'd have a much nicer time and so would be MORE likely to go AGANE and spend MORE money too!
I'm all for going and seeing the support band, having been a support band for the VAST majority of my gigs, but if you are the ARTISTE you specifically DO NOT want an audience of people who explicitly DO NOT WANT TO BE THERE. These are the absolute WORST people to try and play for - they will refuse to listen and talk LOUDLY all through your set, spoiling it for anyone who actually DOES want to see you, and will on occasion get on stage and try to PHYSICALLY REMOVE you so that their mates can come on and, invariably, play an hour of "blues funk with an indie twist", generally while wearing HATS.
What you need is a set-up like they used to have at the Bull & Gate, back in the 1890s when I used to play there. That had an ACTUAL PUB which you could sit in and chat, undisturbed by whatever dreadful nonsense you were sharing the bill with, a dedicated GIG ROOM without a bar or toilets which was JUST for seeing bands in, and between the two a sort of halfway house with a BAR and some seats where you could hear the bands and, if you were curious, pop in to see them. This meant that punters could CHOOSE to go and look at someone they'd not seen before, rather than be forced to SHOUT over them, and once they were in it was up to the BAND to try and KEEP them there.
It all comes down, I reckon, to who you think that gigs are FOR. I have been a gig-goer, a promoter and, of course, an International Rock Star, and in all those guises it has been clear to me that a gig is for THE BLOODY AUDIENCE. They're the ones who've come out to be entertained and have often PAID for the privilege. It's the JOB of the promoter to persuade them to come (by doing things like TELLING THEM WHEN IT'S HAPPENING), and of the band to ENTERTAIN them when they get there to such an extent that they a) want to come again and b) buy your MERCH. Oh and, of course, c) GET THEIR MINDS BLOWN BY HOW AWESOME YOU ARE.
Sadly, many many bands what I have experienced over the years think the gig is for THEM. These are the ones who have all the costumes and pre-worked BANTER who get upset if it doesn't go exactly how they imagined, or the ones who do not even LOOK at the audience, let alone speak, and then complain that they didn't clap enough. These sort of bands or acts would be MUCH happier if they stayed in the rehearsal room, and to be honest so would the rest of us!
In conclusion, then, I would say that it IS worth going to see support bands - they're usually crap because ALL bands are usually crap, but occasionally one isn't - but GOOD LORD if you have bothered to turn up then, as long as you don't spoil it for other people by e.g. standing at the front and talking loudly all the bloody way through the gig, you are free to come and go as you PLEASE. Any band, or promoter, that thinks otherwise does not deserve an audience in the first place!
posted 13/2/2019 by MJ Hibbett
(click here for permanent link)
(0) comments
The Tour Begins!
On Thursday night last week the 'No Headliner' tour began, as all major international ROCK tours should, in Croydon. EXECUTIVE SUMMARY: it went pretty well!
I took the exciting new(ish) Thameslink route there, which goes DIRECTLY from underneath St Pancras and is DEAD handy. It's also not hugely busy, partly because TfL seems to be keeping SCHTUM about it. When I tried routeplanner it told me all sorts of long ways round to get from where I work to East Croydon, but the national rail planner had no such problems. I wonder if that's on purpose, to stop to many people using it? I ended up coming back that way too, on a train that was going all the way to PETERBOROUGH! THRILLZ!!
The gig was at the
Urban XChange Bar
, which I'd not been to before, so I diligently researched it and found that a) I had to leave through the SIDE entrance of East Croydon Station (i.e. on PURPOSE rather than ACCIDENTALLY as I have before) and then b) go through Croydon's Hotel District. I wasn't aware that Croydon HAD a Hotel District, but it does make a lot of sense, location-wise, and sure enough it turned out to be a district full of HOTELS. It was also a bit confusing, with me ending up back near the main entrance of the station before I eventually found my way back to the correct venue, wherein I found Mr M Tiller and Mr T Eveleigh, ready to get things going.
The venue is part of a HOTEL (see above re. District) which meant I could order my TEA directly from the Hotel Restaurant next door, which felt quite fancy. I continued my experiments drinking BEER again rather than Lager too, which again worked dead well as, SCIENCE shows, I do not get quite as DOOLALLY drinking Session Ales as I do drinking LAGER BEER.
Various delightful people rolled up, not least Mr B Parker who I'd not seen for AGES, and soon it was time for the SHOW to begin, with Big Tim doing the introductions and local ARTISTE Mr D Sears on first. Dave mentioned several times in his set that the audience was "quiet" during the songs, as if it was something he wasn't used to - he is one of them FOLK musicians, so maybe people at those sort of gigs CHAT throughout? I always remember being confused seeing folk music played in a pub with the singer apparently unbothered by people YACKING, so maybe that's how it works?
Next up was Matt who OBVS was GRATE - he did some fab NEW songs including a dead good one about being CLUMSY, but my favourite bit of his set was when he did the French Lorry Driver one. This is where he gets someone on stage to "translate" his French story, and starts with him asking for someone who can speak French to come on stage. The first volunteer was eating a pizza, so couldn't spare the time, and nobody else wanted to do it until a chap at the back decided to help him out. He'd shouted things out a couple of times already and practically strutted on stage, so I wondered whether he was one of those people who want to mess things up and/or be difficult, but he was actually BRILLIANT! He read the whole thing out properly, except for one line which he DID A JOKE with, and was all round MARVELLOUS. I love it when that sort of thing happens, it was An Theatrical Moment!
Then it was my turn to go on, and this is what I did:
It seemed to go all right - it was a bit difficult to tell because the stage lights were quite bright, so the only people I could see were the members of The Plymouth Argyle Supporters Association (London Branch) who'd come to see Matt. They looked happy, so I took that as a good sign!
I must admit I was a bit nervous as this was my first gig of the year, and my first actual full-length PUB-based solo gig since
I last played in Croydon
, nearly ten months ago! This meant there were a couple of ERRORS (notably getting the verses mixed up and occasionally re-written during
Being Happy Doesn't Make You Stupid
) and I think I rushed through the CHAT a bit (although nobody seemed to complain - just being polite, I expect), but otherwise if felt GOOD. I very much enjoyed singing
Mental Judo
, and was ESPECIALLY proud of myself for doing
You're A Tory Now
, which I had only actually finished writing the day before!
It was a GRATE first date of the tour, and hopefully a sign to ME that doing new songs is FINE. I have a list of about 38 potential HITS to bring out over this string of dates, and hopefully I will try and DO most of them, rather than what I usually do i.e. chicken out and do the same UBERSET on every date! If you're in London, Leicester, Sheffield, Bristol, Manchester or ENVIRONS then do please come along to one of
the tour dates
and see how I get on!
posted 11/2/2019 by MJ Hibbett
(click here for permanent link)
(0) comments
Confirmation
As mentioned last time, I'm currently going through the process of 'Confirmation' for my PhD. This sort of thing apparently works differently at different universities, but at UAL it's basically the bit where I have to prove that what I'm doing is sensible, and that they should definitely let me do it as a PhD. This seems a bit over the top to me - is there anything MORE suitable for research than Doctor Doom between 1961 and 1987?!? - but I am HUMOURING them.
As part of this process you have to present an ASPECT of your research in front of your PEERS, so on Monday this week I rolled up at an all day SYMPOSIUM to do exactly that. I'd taken the day off work to do it, so it felt a bit of a let down to still turn up AT work on my day off (NB I work at UAL too), at the same time I usually get in, and then just go to a different room. Also, I know the people who RUN these events, as they only sit a few desks back from me (and excitingly have Access Databases which I know how to fix)!
Once it got going it was not entirely the same as my day job, as there were a lot more POWERPOINT presentations than in a usual day. There's a HUGE range of research topics being done at UAL, and so some of the talks were VERY interesting and some of them were Somewhat Less So (to me anyway), but I was constantly Mildly Distracted by the fact that I was on LAST, and so had to wait until the VERY END to do my bit.
When it was eventually my turn I went up and did a version of the paper I gave last November at the
Transitions Conference
, all about Doctor Doom's appearances in 'Not Brand Echh', Marvel's rip-off of 'Mad'. I made a few changes, like explaining the idea of the PhD a bit at the start, and cutting out some of the more esoteric gags (I guess not everybody finds J Michael Straczynski's run on 'Amazing Spider-Man' INHERENTLY AMUSING), but otherwise it was pretty similar and, actually, good fun to be doing it again.
Afterwards there was a panel discussion and, JUST like last time, everybody else got piercing questions about their research and MY first question was 'Who would win out of Magneto and Doctor Doom?' I don't know why, but pretty much EVERY time I do a comics presentation, no matter how HIGH FALUTIN' the event, people ask this sort of question. Luckily I knew the answer ("It's always Doom, except if he fights Squirrel Girl"), but the other questions were a bit trickier, notably when somebody asked me what the contribution to knowledge was and I went OFF ON ONE a bit about how studying comics is PRECISELY as viable as studying films or books.
Everyone seemed to think it went well, although my supervisor did warn about being TOO FUNNY (a constant trial!) as it gave people from Other (SNOOTIER) Fields an excuse to dismiss Comics Studies as Not Serious and Not Important. My initial response, which I expressed at the time, was "Screw Those Guys", but I guess that doesn't really work if you're trying to get Art Historians to give you funding.
Hang on a minute, is that what I never got funding for the PhD?!? WHY must I be so CONSTANTLY HILARIOUS?!? It's not fair!
posted 7/2/2019 by MJ Hibbett
(click here for permanent link)
(0) comments
Pulse Pounding Publications
Those of you who are regular readers of
Marvel Age Doom
, my ongoing blog where I read through every appearance of Doctor Doom in Marvel Comics between 1961 and 1987, will already be aware of the EXCITING NEWS that I have had my first comics studies academic paper published. Those of you who are not regular readers, give it a go - it's basically the same as this blog, except that the main character is from Latveria instead of Peterborough!
The paper is called 'In Search of Doom: Tracking a Wandering Character Through Data' and it's in a journal called
IMAGE: The Journal of Interdisciplinary Image Science
which you can read for FREE
online
. It's all about how I used databases to put together the ENORMOUS list of comics I'm reading and will, I feel, be fairly interesting to anyone who reads this who is ALSO interested in comics AND/OR computing. I mean, I know that most of you are SPORTS STARS, SUPERMODELS and ASTRONAUTS, but I guess there might be somebody out there who falls into the former categories?
I'm really chuffed to have got this out there. It's based on the paper I did when I
went to Tuebingen last year
, and it was HEAVILY helped along by Lukas Wilde, the chap who ran the conference. He was EXTREMELY concerned about it all being CORRECT, and as a result I reckon it has come out PRETTY GOOD, so much so that I'm going to be re-using the article as part of my PhD Confirmation process, which is currently ongoing. More on that, next time!
posted 6/2/2019 by MJ Hibbett
(click here for permanent link)
(0) comments
A Band Meeting
It was CHRISTMAS in Leicester on Saturday night - I know this because when I checked into the Premier Inn that afternoon the receptionist said they'd got quite a lot of Christmas parties staying. She then asked what I was in town for.
"A Christmas party!" I replied. For LO! It was time for that that most FESTIVE annual event, the Validators' Christmas Curry! Last year's was in Leicester and it was SO nice that we decided to have it there again, and so it was that I dropped off my bags, popped back to the station to collect Mr FA Machine, and then walked over to The Ale Waggon for pre-dinner BEERS, and also a BAND MEETING.
It was, as ever, flipping LOVELY to get everyone together again, and also incredibly EFFICIENT. We discussed many issues pertaining to the year ahead, not least a decision have a go at recording a new EP. As Tim said, we can't be in the 2019 Dandelion Radio Festive 50 if we don't actually release anything!
It was also a chance for me to experiment with drinking ACTUAL BEER again. For the past year or so I've been trying to reduce YEAST intake by drinking LAGER instead, but it doesn't seem to have achieved all that much, so I thought I'd trial a return to ALE. It was a trial I very much enjoyed taking part in!
With all business concluded we strolled round to Kayal for our curry, which was ACE. At first I was a little disappointed that the portions actually fitted on our plates, but later on when I did NOT have eyes BULGING with food I was grateful. It was dead nice!
We discussed the usual topics that all insane rock and roll bands do - writing wills, the works of JK Jerome, wellbeing practices etc etc - and had a flipping DELIGHTFUL time all round. Normally I'd come away from these events sad that we wouldn't be seeing each other again, but happily we're playing at the Derby Winter Beer Festival in a couple of weeks. We don't know what time we're playing or anything, but I'm pretty sure I'll have a chance to try ALE again!
posted 5/2/2019 by MJ Hibbett
(click here for permanent link)
(0) comments
Culture In Camberwell
Sometimes I think I should hire this blog out to Time Out or The Face or something, as it is basically a CULTURAL DIARY full of HIGHBROW ARTS. For instance, today's missive is all about an ART SHOW what I went to on Wednesday night, in distant Camberwell.
I was there to see some Performance Art featuring The Artist Tom Smith (AKA my baby brother, leave him alone, he's only little), taking place at the South London Gallery, which happens to be right next door to the Camberwell College Of Art where I sometimes have to go with WORK. I thus knew how to get there and arrived a good half hour before showtime, which mean I had plenty of time to sit in the cafe and have a nice, but VERY expensive, cup of coffee, and a nice, but INCREDIBLY expensive Small Can Of Lager. £4.50 for a coke-sized can of lager?!? I've lived in London a long time, but even I had cause to raise an eyebrow!
The show itself was GRATE, although it was a bit weird a) seeing things that Thomas had TALKED about in the pub for the past year appear before mine eyes and especially b) hearing him tell stories about his youth that I KNEW to be untrue. It was all I could do to restrain myself from jumping up and shouting "You never had a Lazer Disc player! NOTHING IS REAL!" There was also a dead good bit which he'd TOLD me about where (spoilers) everything seemed to go wrong, which was done SO convincingly that I thought it actually had!
Anyway, it was dead good and it was called
Messages From Friends
and it was dead good and if you go be nice to him because HE IS ONLY SEVEN.
After his bit there was a BREAK, during which I discovered that certain ROCK skills are very much transferable to ART i.e. as SOON as the lights go down for the interval you need to DASH to the bar otherwise there'll be a MASSIVE queue. How I chortled at the poor fools queuing up five minutes later, as I sipped another can of LUDICROUSLY priced lager!
posted 1/2/2019 by MJ Hibbett
(click here for permanent link)
(0) comments

An Artists Against Success Presentation