Blog
Gigs
Facts
Music
Shop
Links
An Actual Night Out At An Actual Gig
My life has been a giddy social whirl of late, with up to THREE trips out A WEEK, often involving pubs! A few years ago this would have counted as par for the course, even QUIET, but now that I have got used to sitting on the sofa with The Tea In My Mug watching TELLY it has all been a bit of a SHOCK!
For instance, I went out for PIES and PINTS with Mr Matt Tiller on Wednesday night and then, NOT TWENTY FOUR HOURS LATER went out AGANE on Thursday to a GIG. A GIG! What was I thinking?
Actually, what I was thinking was "This is dead good", as I was off to see Alex and the Christopher Hale Band with Simon Love & The Old Romantics at Paper Dress. It took me a while to get there, however, as I had blithely thought to myself "Paper Dress is near Hackney Station" and got off at Hackney WICK, only to realise that I should have got off the train five minutes earlier at Hackney CENTRAL. I went back, caught the next train, and was in good time to find Alex and everybody in the PUB down the road. PHEW!
When we got back to the actual venue I was pleasantly surprised by how REALLY NICE it was. I've seen in gig listings that Paper Dress have been doing gigs for a while, and had imagined it as a smelly corner in an old clothes shop, but actually it was LOVELY, with a downstairs BAR area and an upstairs with a stage and proper PA system, and also a very jovial LANDLORD stood behind another BAR! It was GRATE!
I've not seen Alex play for AGES, nor at any point with the current band, who were ACE - notably the drummer, who I was astonished to find was very much in the Tim Pattison STYLE. You don't get to see these majestic creatures very often, and I MARVELLED at the way he WALLOPED his kit with a mixture of FURY and DETACHED SADNESS, dropping his head to concentrate during the (rare!) moments when he WASN'T hitting things, and even doing Classic Pattison Fills and also STOPS. I took photographs to inform The Band, but I wish I'd got a video of him in action!
The whole set was FAB, in fact, especially as it meant Alex was FREED to roam about and do proper frontman stuff. This was then followed by ANOTHER excellent set, by Simon Love and co - Simon has been ROCKING AROUND in groups in the same scene as me for AGES but I have very rarely seen him and/or them play live, which is a terrible shame because they were GRATE. My favourite member of the band in THIS set was his trumpet player who a) made it sound a bit like The Boo Radleys and b) DANCED DETERMINEDLY. It was ACE!
It all reminded me of the good bits of when I used to do this all the time, although when I looked around me it felt odd to realise I didn't actually KNOW anybody else there... until, to my DELIGHT, The Cresswells turned up! HOORAH!
It was, all together, rather brilliant, though I must admit that the way I felt the following morning was not quite as filled with nostalgic joy!
posted 30/8/2019 by MJ Hibbett
(click here for permanent link)
(0) comments
Nice Shirts
I recently embarked upon a reappraisal of my SHIRTS, brought about by the realisation that most of the shirts I wore on a daily basis were OLD and a bit TATTY. I thus went through my wardrobe and THREW OUT all and any that were no longer fit for purpose, and set to getting some new ones.
The last time I did this was about three years ago when I returned to the workplace after my (WONDERFUL) year OFF. On that occasion myself and The Pattern Of My Fabric went to Fat Face and Marks & Spencers and selected a whole bunch of perfectly reasonable WOrk Shirts (NB for my sort of work, so basically what other people would call Casual Shirts, mostly CHECKED) which saw me through the years that followed. It was all fairly painless and, I thought, would be again. I thought INCORRECTLY!
Maybe it is the time of year, but I could find NO reasonable Work Shirts AT ALL. We live next door to Westfield in Stratford which is RAMMED FULL of clothes shops, ALL of which I schlepped around, unable to find ANYTHING reasonable. There were plenty of EXPENSIVE shirts, and MILLIONS of cheapo shirts in "SLIM FIT", but precisely NO standard Work/Casual Shirts for a gentleman of my girth and status. "WHat is going ON?" I thought. "WHere are the SHIRTS?!?"
It is a situation which the aforementioned Buttons In My Buttonholes has referred to as "Try To Buy", where one does one's BEST to go round traditional high street-style stores to buy something, but is FOILED at every turn, and thus, as in this case, turns to THE INTERWEB. We didn't find any Standard Work Shirts here EITHER, but we DID find a whole HEAP of Reasonably Priced and NICE Shirts and, after all the HASSLES of going round the shops I fell upon them in relief and bought LOADS.
So it was that I suddenly found myself in possession of approx EIGHT new shirts, ALL of which were DEAD NICE. This sounds good, but it was actually a bit difficult to get my head round - I'm used to having Standard Work Shirts that I wear in the day, and then 2-3 NICE Shirts which are reserved for Going Out In, and the two very rarely interact. NOW, when I open my wardrobe of a morning ALL I see are Nice Shirts, and I feel a bit guilty putting them on. Shouldn't I be saving this for a trip to the PUB or something?
I did wonder if this was all in my head, but it seems not - since I started wearing Nice Shirts I have been COMPLEMENTED on them THREE times, which is precisely THREE times more than I have ever been complemented on a shirt in my LIFE. It is Quite Unsettling for someone who has spent his entire life so far being mostly UNNOTICED clothes-wise to suddenly be OBJECTIFIED in this way. It's nice of people to say, but it FREAKS me out a bit!
So what I'm saying is, if you see me out and about, do not be ALARMED if you see me in a dead swanky bit of clobber. I'm probably not on my way to an Awards Ceremony or Wedding Reception, this is all I've got!
posted 29/8/2019 by MJ Hibbett
(click here for permanent link)
(0) comments
Three Years In
This week I received an email from the fine folks at Transport For London, telling me that my Student Tube Pass was about to run out. I was already GIRDING myself from the annual month of renewing various Student cards that happens when a new term starts in September, but this was something slightly different. The email told me that Student Tube Passes only last for three years, as that's how long an undergraduate degree usually takes, but they'd be sending me a new one automatically as they knew my course lasted longer.
Once I'd got over my AMAZEMENT and DELIGHT that something like this was set up to work so smoothly, without the need for 17 forms, 38 signatures and a photocopy of my passport, I was suddenly struck by the FACT that I have now been doing my PhD for THREE YEARS, which is longer even than I spent on my BA(hons) from Leicester Polytechnic. Crikey! It feels like only a few months ago since I first set sail on the sea of Unique Contributions To Knowledge, while in contrast my first degree - Combined Arts (English & Politics) for which I recieved The Gentleman's Degree i.e. a 2:2 - looms LARGE in my memory as taking FOREVER. During that time I played in at least three bands, directed two plays, wrote a musical, learned to play bass guitar, took three seperate productions to the Edinburgh Fringe, discovered BEER, set up and compered a comedy club, ran the student drama club, found out what happens when you drink a pint of WINE, contributed to the college newspaper, did two stand-up comedy sets and made friendships that are still with me now. Since starting my PhD I have mostly watched American sitcoms.
Of course, I have ALSO done several TONNES of Actual Work for the PhD, whereas for my first degree I worked out precisely how many lectures I needed to turn up to to avoid getting told off (40%, apparently) and then stuck religiously to that number. Also the fact that I DID all that other stuff while doing my first degree might just possibly explain why I was LUCKY to get the grade I did, although of course ANY degree from Leicester Polytechnic, especially an HONS degree, remains the passport to riches that it always was.
It still surprised me though, not least because it means I am well over halfway through it all now. I'm doing a part-time PhD so, in theory, I'll be handing it in in September of the Space Year 2021. That seems an awfully long way away, until I think of all I've got to DO between now and then, at which point it doesn't seem long at all!
In fact, I should really be getting on with it right now. Or maybe I'll go to the kitchen and see if Neil's got the kettle on, then check under the sofa to see if there's enough change to get me into the Poly Bop on Friday. After THAT, I'll definitely do some work!
posted 23/8/2019 by MJ Hibbett
(click here for permanent link)
(0) comments
A Whole New Season
On Saturday morning I was off out again on the East Coast Mainline, this time heading to Peterborough. I was there to meet Mr P Myland and his associates for my first trip to London Road of the footballing year, with Posh playing Ipswich. I read beforehgand that they were bringing 4,000 supporters with them, most of whome seemed to be getting off the train next to mine, and later on there were MILLIONS (approx) of them marching down Long Causeway, singing away. It was Quite Exciting!
On the way my phone was buzzing with Whatsapp messages as the meeting place changed from The Brewery Tap to The Ostrich (AKA Bogarts) to The Bumblebee as each place filled up with Ipswich supporters, which worked out nicely for me as The Bumblebee is LOVELY. We loafed around there for a while and I was amazed to find that this group of chaps now contains ONE person who commentates for BBC Radio Cambridgeshire and another who is part of the team looking for a new ground. It was like being in the Peterborough United ILLUMINATI!
Mileage had moved his season ticket so we were sitting together, right down near the front in seats which a) had a GRATE view b) were in very easy range for shouting at the Linesman but c) had clearly been installed at a time when the height of the average Fenlander was about 4'11". My poor old KNEES are STILL hurting, especially from when the rather LARGE gentleman in front of me would sit back SATISFIED after making a pronouncement upon the game. OW!
The actual FOOTBALL seemed, to me, to be much the same as ever, although there were some THRILLS from the goalie who DROPPED the ball in the first half to let in a ridiculous goal but then saved a PENALTY in the second half, forcing approx 6,000 Peterborians to suddenly decide they had liked him all along. It ended up 2-2, with Ipswich scoring an equaliser in the very last minute of extra time. As I say, pretty much the usual sort of thing.
There was time for one last pint and then I was heading home, but I would be returning - in two weeks time in fact, when we play Sunderland. Mr Myland assures me that this time we'll have seats designed with modern knees in mind!
posted 21/8/2019 by MJ Hibbett
(click here for permanent link)
(0) comments
48 Hours In Edinburgh
I went to Edinburgh again last week, this time with Mr S Hewitt to experience a 48 Fringe SPECTACULAR!
We met up just before 8am at Kings Cross station and had a DELIGHTFUL trip up on the train, furnished with BREAKFAST and HOT DRINKS in our luxurious carriage - as OLD HANDS we had of course booked First Class, and as luck would have it we managed to nab The Best Seats In The Carriage i.e. one of the two doubler seats right in the middle where there's an extra big GAP so loads of room. It was ACE!
As we arrived into Edinburgh I felt, as usual, TERRIFIED with NERVES. "No, BODY", I said to myself, "I know Steve is here but that doesn't mean you're doing a show. BE NOT AFEARED!" I was so nervous that I was forced - FORCED - to go with Steve to The Halfway House for our traditional Just Off The Train Pint. It was extremely helpful!
We had a bit of a wander round (including a visit to The Cold Town Bar which was VERY nice) before we split up for our first shows. I went to see my nephew Mr O Grant in "A Chorus Line: High School Version" which I was expecting to be like a school play but OH MY GOODNESS it REALLY wasn't! The whole thing was SUPER PROFESSIONAL, the LIGHTS and the SOUND and the COSTUMES were all top notch, and CRIKEY but those kids could sing! PROPERLY too - Oliver was, of course, the BEST, but there was a LOT of dancing and singing all round. It was ace!
ALSO I was the only person in the audience aged between 16 and approx 70 - there were a lot of very proud Grandparents in the room, and they had every right to be!
Steve and I regrouped in The Bow Bar and then went to check into our HOTEL - or rather, Student Halls. I was expecting it to be like Halls in OLDEN TIMES e.g. a BROWN room with a SINK in the corner, but it was actually Quite Nice. I suppose Halls have to be like that nowadays as they spend about 25% of the year pretending to be hotels. It was also very quiet, almost as if it was full of grown-ups going OUT to do things, rather than KIDS staying in and having parties etc.
I'd intended to go and see the Basil Brush show next, but I read a review that said it wasn't very good so, rather than spoil my impressions of a childhood HERO (who is looking very good for his age etc etc) we went to see "Awww Snap - Marvelus" which was two grown men titting about for an hour with cheap props being silly about superheroes. It was a KRAZY IDEA but, for some reason, we rather liked it!
Memories become slightly hazy at this point but I think it was somewhere around here that we ended up in The Royal Oak AKA The Folk Pub. It is a tiny little place and when we barged in it was FULL of people, with about six musicians ranged around the edges, taking AGES to tune up for their last song. We put money in the JAR which had time to go round the whole pub while they were faffing, and then the singer gave a speech about how it was 50 years since the start of The Troubles and how this was Important (she self-described as a "Millenial" and most of the others looked the same age) so they were going to do a song all about it. "OHO!" thought Steve and I. "Get ready for an ANGRY song about the iniquities of British Rule with SWEARS and possible IRA mentions!"
And then they played "Zombie" by The Cranberries. This was the MOST HILARIOUS part of our entire trip and we had to go outside to a) laugh b) swear. Then a man who looked like he'd been squashed in a car compactor turned up and played The Border Pipes and it was ACE!
My final show for the day was "The Scottish Falsetto Sock Puppet Theatre Company" who, as ever, were BRILL, but as I staggered off home Steve headed off to see some WRESTLING-based shows. He loves that sort of thing!
We began our second day with John Osbourne's "You're In A Bad Way" which was a GRATE and very MOVING storytelling show. It ended with him playing "The Lesson Of The Smiths" on his iPod which i THINK may be because he'd seen us watching, but could possibly now be part of every show. I would support it if so! Next we split up, with Steve going for more wrestling and me watching "If You're Feeling Sinister: A Play With Music" which was a bit ODD. I, like pretty much everybody else there by the looks of them, had gone because I love the album, but there wasn't actually much of it IN the play and what there was was very short and oddly detached from the story, which for some reason was about a robbery of a painting. The play itself was a bit rubbish, in fact, and fairly pointless but GOLLY the DIRECTION and especially the ACTING was AMAZING. Both actors were INCREDIBLE and they way it was all put together was BRILLIANT, it's just that the material was a bit crap. ALSO, vitally, they didn't do "Judy And The Dream Of Horses" AT ALL!!!!
I then went to see Tom Parry who was BRILLO, especially in the face of some, let's say "boisterous", older people who clearly thought they were co-starring in the show. He dealt with it very well and was EXTREMELY funny throughout. I then went and found Steve, who was with Tamsyn and Jo from Northampton, had a beer, and then we went to see Josie Long doing her new show up at The Stand. She also was very good - it's almost as if only going to see people you've seen before is a way of ensuring you see stuff you're going to like when you're on a time limit.
And talking of people I'd seen before, my final show of the trip - after dropping into The City Cafe to do a pub quiz and to get Steve his tea - was Steve Lamacq's "Going Deaf For A Living" which has come on A LOT since the last time we saw it - it was GRATE then, but this time it was super tight, full of LOADS more gags, a lot less audience participation, and felt like a Proper Show all round. It was ACE!
After the show I sat in the Teviot Lounge upstairs for a little while and had a moment of PROFOUND NOSTALGIA as I realised I was sitting at the same window that I'd sat at 29 years ago on the final night of my first ever trip to The Fringe. A LOT has changed since then, but the building is still pretty much the same and the motivating forces of the Fringe - BEER and LARKS - are unaltered.
Next morning I was heading back alone, accompanied by a carriage full of various VERY POSH LADIES, mostly in their sixties, who talked Very Loudly And Confidently all the way back. I tell you what, if anybody ever suggests that a private education encourages intelligence, get them to travel First Class on a long journey and MARVEL at the fact that Posh People are utterly incapable of understanding how seat numbers work!
I got home TIRED but full of GOOD TIMES, and also very pleased to discover that it's possible to enjoy The Fringe without having to spend a fortnight, and several thousand pounds, doing your own show! Hoorah!
posted 20/8/2019 by MJ Hibbett
(click here for permanent link)
(0) comments
The Review Show: The Boys, I Am Mother, Get Out and Blinded By The Light
I love the IDEA of watching films, especially now that I have Netflix and Amazon a.k.a. ALL THE TELLY, but I always think that I don't have the time, especially now that they are regularly about two hours long. HOWEVER I am also conscious of the fact that I tend to watch at LEAST two episodes of Whatever Show I'm Bingeing At The Moment and, in the case of "The Boys", three and a bit until I am unable to stay awake any longer.
"The Boys", by the way, is BLOODY BRILLIANT - what a world we live in, where TELLY has caught up with COMICS so much that it can not only do the Dark Commentary On The Genre that comics did in the 1990s, but do it WELL to such an extent that you just take for granted all the special effects that, only a few years ago, would have been beyond them. ALSO I am very pleased that I simply didn't bother reading any of The Cool Comics of the past 20 years or so, as it means that I get to watch "The Boys", "Umbrella Academy", "Preacher" and "The Walking Dead" without a CLUE what's going to happen!
ANYWAY, the point of this was to say that I basically DO watch nearly a film's worth of telly most days, so thought I'd have a go at watching some. ALSO The Clips In My Trailer was away on Friday night, so I had to do SOMETHING to take my mind off the existential loneliness. HENCE I sat down and watched "I Am Mother" on the Netflix. Here is my review: It was Quite Good. I'm pretty sure it could have been half an hour shorter, and there were several times when I thought "Hang on, why are you doing THAT?" but it passed very pleasantly, also Quite Excitingly.
The second film I watched, the next day, was "Get Out" and that was BLOODY BRILLIANT. I spent the first half thinking "EEK this is TOO TENSE, I can't watch any more!" and then the next quarter going "You WHAT? ARGH!" and then the final bit basically applauding how EXCELLENT it was. It reminded my of "Back To The Future" in a lot of ways (NB I may be the only person to think this) because of the SCRIPT which was, not to mince words, EXQUISITE. Every single AMAZING TWIST was very carefully, very cleverly set up in such a way that you never saw it coming but, when you did, your brain went "Hang one, how did that... OH YEAH!" There's a reveal towards the very very end about why some characters act the way they did that made me want to IMMEDIATELY watch the whole thing all over again. It was AMAAAAAZING!
And then on Sunday I went to the Actual Pictures to watch "Blinded By The Light" as we'd seen it on The Film Review on the news channel and it looked good. Review: IT WAS! It was very obviously directed by the same person who did "Bend It Like Beckham" and there were LOADS of places where they were clearly doing something Just Because It Was Cool rather than for narrative purposes, and lots of the supporting characters were JUST supporting characters, but the main plot was EXTREMELY MOVING - almost as if the story of a boy growing up in a nowhere town in the 80s who wanted to be a writer had some sort of RESONANCE to me, who can say? ALSO for the first time in my life it made me understand why so many people I know LOVE Bruce Springsteen so much. He's sort of like an American Billy Bragg isn't he? I have bought the soundtrack album anyway, so will give it a go - I hear he does a version of our song "Glory Days", so he can't be all bad.
In summary then: FILMS! they range from quite good to AMAZING, and therefore are worth a go every own and again!
posted 12/8/2019 by MJ Hibbett
(click here for permanent link)
(1) comments
Plinthsmania
Today I am very happy to say that
The Plinthsmania EP
by John Dredge & The Plinths (feat. ME!) is available to stream, listen to and, partially at least, WATCH!
This is the set of songs that we recorded
AGES ago
with Mr A Brook in Surry (who I saw last week) and features a whole bunch of songs what I wrote with Mr J Dredge. The lead track is called
Idiots Run The World
and there is a rather MARVELOUS video to go with it, THUS:
If ever a song was released at precisely the correct time, socio-politically, I believe it is THIS one!
posted 6/8/2019 by MJ Hibbett
(click here for permanent link)
(0) comments
Annual Art Day
On Sunday The Picture In My Frame and I embarked on our Big Annual ART DAY, where we go into London Town and look at a load of ART. We don't JUST do this once a year of course - we are dead sophisticated - but this is the day when we always go to two or more SPECIFIC Art Events in the same day.
The first of these was
The Serpentine Pavilion
at The Serpentine Gallery, what we go to every year. This time we took a rather circuitous four-stage route of trains and tubes to get there which took a while but allowed us to almost entirely miss out the stinky Central Line, and then walked through the park to the gallery via a LOT of parrots. It's always good to go and see the pavilion because it is not only a Unique and Interesting Installation, but it is also one guaranteed to have BEER on sale within it, and so we sat on a bench with a drink admiring this year's presentation, which is basically as SLATE ROOF without a building beneath it. It was DEAD GOOD.
We then went into the gallery to look at the
Faith Ringgold exhibition
, which was quite good but didn't move me as much as I wanted to. It was quite similar to the Victoria Crowe exhibition in this and one other way - I think I preferred the earlier stuff. You can put the indie kid in an art gallery, but you can't stop him being indie!
We then HIKED across London for about 50 minutes until we reached Trafalgar Square, where we we nipped into The National Portrait Gallery for a well deserved sandwich and another BEER. We were also there to make our usual visit to see the
BP Portrait Awards
, which has varied a LOT over time, with some years (like last year) being DEAD GOOD and others being a bit bland/disappointing/GLOOMY. This year's fell quite neatly into the bland category, with an awful lot of those pictures where you have to look in REALLY close to see it's a painting rather than a photograph. It's all very clever, but I don't see the point, especially when it's a perfect replica of a not very good photograph. Why not just put a frame around the photo? Having said that, The Eye Of My Beholder did like
Eden (Protection)
which looked AMAZING. I think I may also have been put off by the caption to
Ninety Years
which said that the subject's "facial expression and hands serve as a metaphor for her life." NO THEY DON'T. Faces and hands can be reflections, or expressions, or even the RESULT of a life, but they are not flipping metaphors!
There was to be MUCH more of this sort of stuff - "Art Bollocks" as we in the trade call it, don't you know - when we got to our final stop, but happily it was more than made up for by some BRILLIANT exhibits. For LO! we got on the tube again and headed to Regents Park for the
Frieze Sculpture park
, which was BLOODY GRATE. Our favourites included a replica of a toy car scaled up to actual car-size, some GIGANTIC numbers and, my favourite, "Superhero Cog Woman #1" by LR Vandy.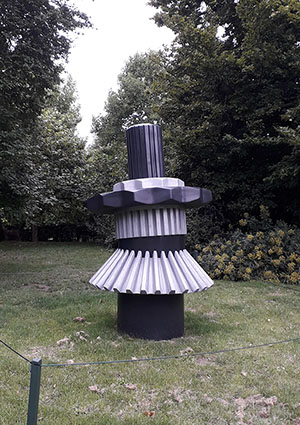 There were LOADS of GRATE sculptures which were being enjoyed by some very happy people out for a stroll around them. There was also some NONSENSE, including a sculpture that was described as circular "like the sun, the moon, the earth, the eye, the mother's breast, or the galaxy." I am PRETTY SURE that those last two are not actual circles, chaps.
Despite that it was a BRILLIANT way to end a THOROUGHLY enjoyable day wandering around drinking beer and looking at THE ART. I would highly recommend it, and can't wait for next year!
posted 5/8/2019 by MJ Hibbett
(click here for permanent link)
(0) comments
Rocking All Over The World (Surrey branch)
I had a lovely day yesterday, as I was in distant SURREY, doing some recording with Mr A Brook at
The Brook Recording Studio
. Andy used to have a studio on Denmark Street where, many years ago, I used to pop in at lunchtimes to record DEMOES, and since then I have taken every opportunity to visit his new place, notably recently with The Plinths. On this occasion however I was there to record my vocal and guitar bits for the HITS that
The Validators recorded in Derby last month
, and I was RIGHT looking forward to it!
I'd taken the day off work for the SESSION and spent a large part of my morning on TRANES. It took nearly two HOURS to get down to Wallington where Andy has his studio, including DELAYS, but when I got there I found he had already loaded up the STEMS what I had sent him the night before and he was SO READY TO ROCK that I barely had time to put my bag and guitar down before I was shepherded into the Vocal Booth. This is one of the SEVERAL reasons I like recording with Andy - he is SUPER KEEN to GET ON WITH IT, so we always get LOADS done!
Once in the vocal booth (i.e. cupboard) I was surprised to see a TELLY on the wall which acted as a VIDEO RELAY so I could see Andy at his desk and he, terrifyingly, could see ME! This is obviously useful when you're doing this sort of thing, but I must admit I have become used to the comforting SECRECY of doing vocals inside a cupboard where nobody can see you. When I'm doing The Vocals I have a tendency to wrap my arms and hands up in knots, pull faces, and DANCE AROUND, but I quickly realised that I am surely not the only person to do this, and that if you're a studio engineer you probably see a lot worse, so relaxed into my usual Ian Curtis/Strictly Come Dancing/Drunken Octupus CAVORTING.
Doing the LOT took about 90 minutes, with me generally doing one complete take straight through and then doing a second take with stops whenever I went wrong followed by PATCHING UP to get it sounding decent. It's another great thing about going and doing this in a studio with someone who is Very Patient - if I'd been on my own I would have done one take of each song and then RAN AWAY!
With that all done we moved onto THE GUITAR, which was HORRIBLE. I am not the world's greatest singer but at least I can BELLOW and call it some kind of STYLISTIC CHOICE, but my guitar playing is entirely irredeemable, and it sounds even WORSE when it is EXPOSED as the sole FOCUS of an activity. We did get everything done in the end but it was PAINFUL, especially when my inability to play the chord B minor reared its ugly head (as it so often does) and we ended up recording those bits as their own special overdubs. The only bright spots in the whole terrifying experience were when Andy assured me that the reason my guitar kept going out of time with the rest of the band was that THEY - not me, THEY - were going wonky. I must remember to get this down in writing next time I'm there.
The SCARIEST bit though came when I attempted to begin two entirely NEW recordings, of
Cheer Up Love
and
It's Hard To Be Hopeful
. My initial idea was just to DO them, with a click track to HELP THE OTHERS LATER, but instead I ended up trying to JUST do the guitar parts, which didn't work at all as I kept getting lost. Instead I recorded a GUIDE vocal and guitar first, which went ALL OVER THE PLACE on both occasions as I was thinking about approx 17 different things at the same time. We then did GUITAR for each, by which time my fingertips were in AGONY from all the playing, so by the time I FINALLY went back into the vocal both I was in A Bit Of A State, with heart RACING. Happily the singing was a nice way to CALM DOWN and feel better, and it sounded PRETTY DARN GOOD in the end.
With that done there was time to sit and have a bit of a natter while Andy sorted out the STEMS what we'd recorded ready for export. It turns out that he has been recording STATUS QUO, and that Francis Rossi, unsurprisingly, has a LOT of stories to tell!
With that done we shook hands and I set off for my train, full of JOY at how it had all gone, and it was only when I got to Norwood Junction that I realised I had left my flipping guitar behind in the studio! Even this hassle, which will probably involved EITHER meeting Andy in town sometime or heading back down to Wallington, did nothing to take the shine of things, as it had been a BRILLIANT day adding extra HIT-MATERIAL to a whole set of HITS!
posted 2/8/2019 by MJ Hibbett
(click here for permanent link)
(0) comments

An Artists Against Success Presentation