Blog
Gigs
Facts
Music
Shop
Links
Totally Acoustic Returned!
When I arrived at The King & Queen last night for the first Totally Acoustic in AGES, it was as if nothing had changed. The pub was pleasantly full with people having a nice Thursday evening, the marvellous staff were being marvellous behind the bar, and Mr S Hewitt was already there, sat with a pint, reading his phone. However, when he and I went upstairs we smelt the tell-tale aroma of fresh paint, and there were NEW CHAIRS too! Was this a sign that things would be... different?
No. It wasn't. Everything ran just as it always does, as both Dr H McCookerybook and Mr J Osborne arrived in good time, along with a selection of regulars and other audience members, so when it was time to start we had a pretty much PERFECT size of audience. THUS I went on to lead everybody through the theme song before doing THIS:
This was the LIVE DEBUT for
It's Hard To Be Hopeful
, which seemed to go down all right - I was relieved that it did, as it's Quite Different to my normal sort of thing but also, I reckon, Quite Good! I must admit that I did also intend to do
I'm Doing The Ironing
but got halfway through the first verse and forgot the words!
After that display of Professionalism and Shouting, Helen McCookerybook came on next and was GRATE. Watching her play was actually INSPIRING - you see people make such a fuss about finger picking, but she was doing beautiful melodies that sounded simple and delightful, until you looked at the ACTION that was going on with her hands. It was also fantastic to have a Genuine Punk Rock Legend playing who was doing songs that were not only NEW but also ACE, especially the one about trillionaires going to live on Mars!
The break followed after which, as is traditional, I had to be reminded to do the whip round, and then John Osborne came on to do some POEMS. I say "poems" but the way he delivers them is more like Storytelling, I guess. It is BEGUILING and also ENTHRALLING, and features line after line that is packed with IDEAS and LOVE that popped back into our heads on the way home.
It was uniformly BRILLO, in fact, and afterwards we fell into CHAT and BEER and genuine good times. I was really REALLY pleased to have TA back, and now can't WAIT for the next one in November, which will feature Robberie, Ruth from PO!, and a guest spot by The Plinths. It will, I feel, be one HECK of a night!
posted 27/9/2019 by MJ Hibbett
(click here for permanent link)
(0) comments
A Pavilion South Of The River
After heading North for a day out on Saturday, on Sunday I headed SOUTH, this time in the company of The Days In My Week, to have a look around DULWICH. The aforementioned Doors In My Room had been handed a "What's On In Dulwich" booklet after an event a while ago, so we thought we'd have a look!
The first thing I discovered about Dulwich is that it is in SOUTH London, and thus much less easy to get to than anywhere in NORTH London. The original TfL Journey Planner-supplied plan was to get the Jubilee Line to Canada Water, an Overground to Peckham Rye, and then a Southern train to North Dulwich. It seemed simple enough but this turned out to be the NAIVE HOPES of a long-term North Londoner such as I, who expected these trains to a) TURN UP and b) OCCUR REGULARLY. When we got to Canada Water it gave us a SIXTEEN MINUTE wait for our next train which then got CANCELLED. I am, of course, aware that everybody OUTSIDE London is now going "Oh you are lucky to have trains, we have to wait three weeks for a broken wheelbarrow to get anywhere" and this is TRUE, but in my defense I had to stand on a smelly platform 18 miles beneath Canada Water trying to get enough signal on my phone to persuade TfL Journey Planner to give me a reasonable alternative route. Luckily The Stops On My Route looked at the map and pointed out that we could just go a couple more stops to London Bridge and get the Southern train directly from there. This was MUCH easier, also QUICKER than the original route, and it was only then that I remembered that Journey Planner is not the innocent route planner it pretends to be, but a devious MANIPULATOR that is forever trying to stop people going through Zone 1 and/or through busy stations. NAUGHTY Journey Planner!
Our handmade artisanal route was MUCH better, and we arrived in North Dulwich safe and sound ready to be WOWED by Dulwich Village, which a handy online guide had told us was "like a rural village in the middle of London". Obviously it wasn't in the middle of London AT ALL, but it was nothing like a rural village either - as my travelling companion suggested, it was more like the outskirts of Leicester, but I suppose "like Groby but near Peckham" isn't quite as sexy.
Our first port of call was
Dulwich Picture Gallery
, which I had promoted at home as having a big exhibition about REMBRANDT. Technically it DOES have one, but it turns out not to start for a couple of weeks - in my defence their website was, like most Arts websites, a bit confusing. It didn't really matter though as we didn't actually go INSIDE the gallery, instead having a good look at their
PAVILION
(which was on its last day). I do like a pavilion, and this one was not only COLOURFUL but also had a GANTRY halfway up that you could wander round which was full of tiny children making dinosaur noises, and thus ACE.
We then crossed the road and did a circumnavigation of Dulwich Park. The guide promised us "adorable dogs" which it definitely had a lot of, but surely missed a trick by not describing it as "like Central Park in Peterborough, but a bit bigger and near Peckham." It was dead nice and featured even more tiny children making dinosaur noises, especially outside the cafe where 17,000 toddlers took it in turns to be frightened of, and then harrass, an extremely dignified dog.
After that we crossed back over the road, took a shortcut through the gallery grounds again, and then hopped into Belair Park which, weirdly, did not remind us of ANY part of The Midlands. It was still pretty good though, especially an AMAZING Rose Garden which - ARF! - I had not - ROFLS! - promised anybody. We had a quick look inside the Manor House there too, although when we opened the doors we heard high pitched squealing, so assumed it had been booked for a function. As we left a young man came out and told us that it was a bridal shower, but that the building would be open as a restaurant next month. At first we thought he was just undertaking some excellent customer service, but later realised that he probably just wanted to get away from the Bridal Shower for a bit!
With that done we went to West Dulwich to wait for about 20 minutes for our next train, then got on a Thameslink back to St Pancras where we were reunited with the very fast, very regular, very handy high speed service home to Stratford International. It had been a lovely day out, but gor blimey guv'nor, it was good to be back in North London again!
posted 25/9/2019 by MJ Hibbett
(click here for permanent link)
(1) comments
A Day Out In Doncaster
I was up bright and early on Saturday for an exciting day trip to DONCASTER. DONCASTER! A place where many have passed through, several have changed, but few have actual BEEN! Speaking as someone from Peterborough I must say that this, of course, is a perfectly reasonable state of affairs for any British population centre, and it was AS a person from Peterborough that I was going there for LO! I was off for my first Away game of the season!
The train from London to Doncaster passes, as so many do, through Peterborough, and thus I was able to meet Mr P Myland and many other Posh fans on the train. We got into Doncaster Actual just before midday and, after a brief wander and a couple of phone calls, found a large contingent of fellow Peterborians in a Weatherspoon's pub. I don't LIKE going in Weatherspoon's because a) it is basically funding Brexit b) the beer is usually on the turn and c) the pubs themselves are like drinking in a waiting room of DESPAIR, and this one was very much in this vein, so I was relieved when we toddled off down the road to the MUCH nicer
Doncaster Brewery Tap
. It was FULL of blue shirts, also lovely beer, also a UKELELE band who, by the time we had to leave, had the whole room singing "Delilah". Well, I say they had the whole room singing - I'm not entirely sure they WANTED everyone to join in, but they did!
UPDATE:
I forgot to mention this in the first draft, but at some point during our wanderings round Doncaster a man came up to us and said "You going to the football? What team?" when we answered "Peterborough" he said "Aha! Adrian Durham!" For those who don't know, Mr A Durham is a radio presenter on TalkSport. He is also, perhaps more imporantly, a fellow alumni of Deacon's School in Peterborough and was in the year above me and Mr Myland at school (and in several school plays at the same time as me also). Crikey, if you had told me then that a stranger would know Peterborough because of Adrian Durham I would not have believed you - John Ringrose or Jason Blood, certainly, but Adrian?
Anyway, after some deliberate confusion at the mini-cab company over the road (involving everyone claiming to be called "Paul" - it seemed funny at the time) we were driven the 15,000 miles across Doncaster, out of Doncaster, and then across several time zones to get to The Keepmoat Stadium which is basically on the other side of the planet, in an industrial estate. Inside it was Actually All Right, like a cross between Pride Park in Derby and Kingsmeadow in Wimbledon i.e. modern but diddy. As we stood around near the bar before kick off I witnessed lots more Fenland faces coming in, spotting people they knew, looking delighted and striding over to shake hands. There were smiles all around me, lots of singing, and a genuinely happy atmosphere of people doing something they enjoyed with people they liked. It was lovely!
The happy atmosphere dissipated somewhat with the actual game, which was TERRIBLE. On the plus side, it was a gloriously sunny day, although that meant the Away end spent the next nearly two hours squinting under the shade of their hands, but that was about as good as it got. The Posh twitter account posted a picture where, if you zoom in, you can see me smiling and applauding something. I think maybe it was taken as the players came on at the start!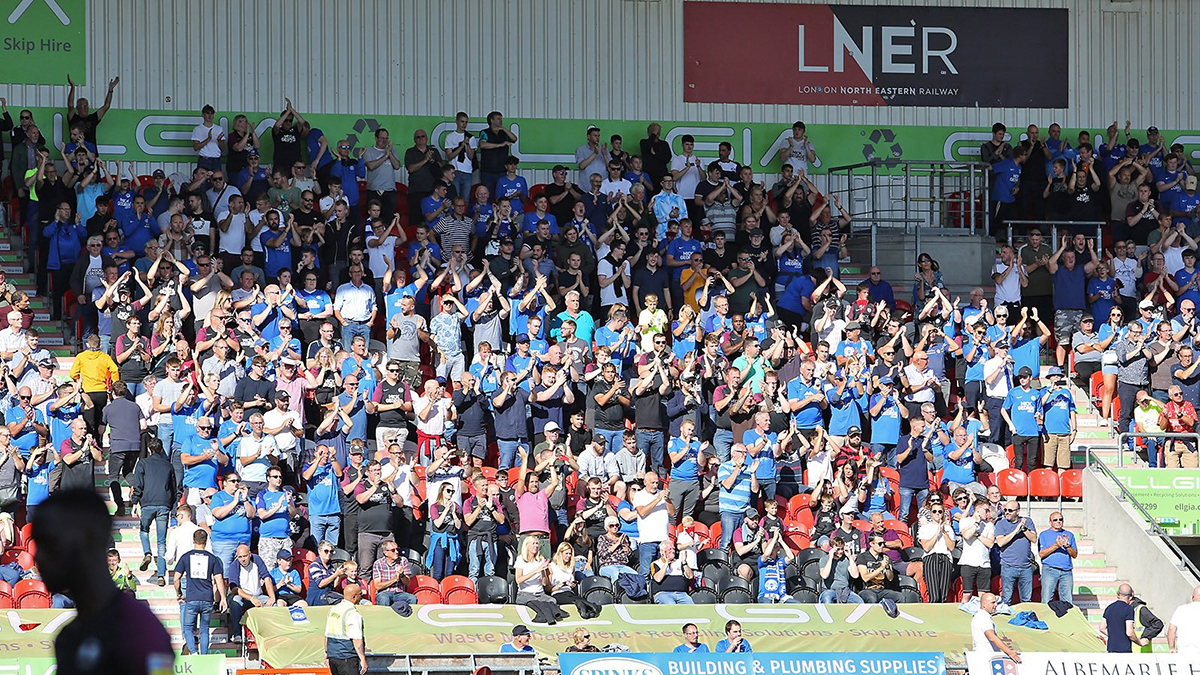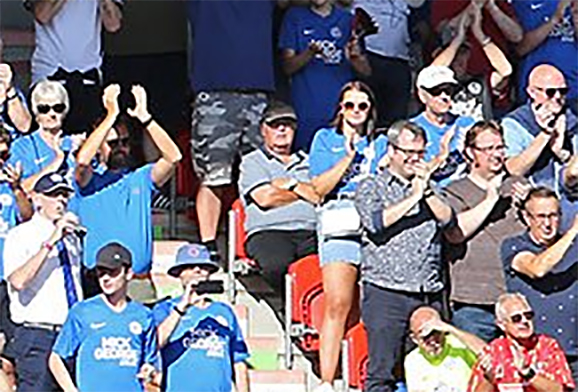 It was a somewhat deflated group of East Midlanders who made their way back into town, on what turned out to be an EXTRAORDINARILY long trek back. It took us about an HOUR, although there was a break for CHIPS about three quarters of the way back. After a visit to The Leopard the day ended with Mr Myland and I being THWARTED in our attempts to visit
The Draughtsman
on Platform 3 of the station (which I'd visited before with Mr M Tiller) due to it being shut. DENIED AGAIN!
We were joined on the train home by other Posh fans, but also fans of Norwich and Fulham, who were heading home after their own away games. As people went back and forth through the carriages I saw various different fans stopping to chat, to see how each other had done and commiserate accordingly. In these dark times of national division, seeing drunk people gently mock each other on a train was bloody lovely!
posted 24/9/2019 by MJ Hibbett
(click here for permanent link)
(0) comments
Feeling A Bit Of A Perforation
For the past few Wednesdays I have been going to my local Sports Injury Clinic after work to have some ACUPUNCTURE done. It only opened fairly recently and we got a FLYER in our letterbox about it, so after some deliberation with The Mail In My Pigeonhole I decided to give it a go to see if it would sort my PSORIASIS out. Psoriasis is a SKIN THING that I've had for YEARS and have tried MANY different ways to cure, from Chinese Medicine to Pestering The NHS, with none of them ever really getting rid of it for good. My most recent trip to a Skin Specialist at our local hospital was as dispiriting as ever - basically a man shrugging his shoulders and giving me some STEROID CREAM to plaster over it - so I thought I'd try NEEDLES instead.
A lot of my first appointment in the clinic was taken up with a CHAT, during which the (very jolly) practitioner told me that one of the "side effects" would be a lessening of anxiety. This is CONSIDERABLY more appealing than the side effects of steroid cream (thinning skin) or Chinese medicine (horrible taste and smell) and I certainly did feel less anxious afterwards... until about 11pm, at which point our washing machine stopped working!
The machine felt better in the morning, and so did I, and so I've continued going and I THINK it's working. It's hard to tell because Psorisais - or "scabby elbow syndrome" to give it its technical name - comes and goes, but it's definitely not getting worse, and I also THINK the experience is calming my BRANE down a bit. The weird thing about it all though is that it's a LOT less SPIRITUAL than I thought it would be. The practitioner is, as I say, a jolly chap who has not mentioned CHI or CHAKRA once yet, which is a bit disappointing. I wish he WOULD, rather than the occasional attempts to make it sound "scientific". In my experience Alternative Practitioners ALWAYS try and make it sound Scientifc but I wish they wouldn't as as they almost always get it WRONG. Tell me it's AURAS or something, Alternative Practitioners, and I'll be happy!
It's also very much NOT spiritual when the actual NEEDLES go in. I thought this was going to be all INCENSE and ZEN but actually it is some bloke sticking a bunch of bloody NEEDLES into you. I can't always feel ALL of them, but some I flipping well can, especially ones in my HAND that I can flipping SEE. There's also some that go in the Upper Leg which, weirdly, always make me EXTREMELY CONSCIOUS of the existence of the MUSCLES in my body - usually I wonder around feeling like a Floating Entity, unconnected to tawdry physical existence, but when that needle goes in my thigh suddenly I am aware that I am a mass of MUSCLES and BONES that are all working together.
I think I'd prefer the INCENSE to be honest, and maybe some chanting, but so far it seems to be working, and NEITHER of us have made a "Bit of a Prick" joke yet, so I reckon I'll keep going!
posted 23/9/2019 by MJ Hibbett
(click here for permanent link)
(2) comments
A Nosey Around
On Tuesday night myself and The Rooms In My Building went to another one of the "Your Neighbourhood Talks" events over at
Here East
, the COLOSSAL building over on the other side of the Olympic Park (where we live, have I mentioned?) which used to be The Media Centre during the Olympics (which happened here, where I live). We have been to several of these events, partly because it is vital to be an active member of ONE'S COMMUNITY, and also because it is a great way to have a good old nosey around in places you otherwise wouldn't be allowed into.
Getting to Here East is also a good excuse for a stomp across the PARK, which is always a DELIGHT, and we arrived just in time to snaffle the last remains of the BUFFET which they always supply. Last time we went, when it was over at the POOL, we WOLFED down about 17 metric tonnes of sandwiches, but this time we were there a bit later and were disgusted to find that SOMEBODY ELSE had eaten them, leaving us with only a few cakes. The nerve of some people!
The main "marketplace" for the event was inside
Plexal
, which is one of these co-working areas that are so funky at the moment. I've been to a few of these for WORK purposes and found them to be Quite Swanky and usually full of FREE, DELICIOUS, posh coffee, but this one was something else altogether. They had basically built a LEGO CITY inside a huge futuristic WAREHOUSE, with STREET LIGHTS down the middle and a GRASS area. It was actually quite nice - in such a HUGE space some of the mini-offices were bound to be away from the Actual Windows, so having it in a street like this meant they could have windows INSIDE, looking onto people passing by. The only disadvantage, according to me, would be that you'd probably still need to do some WORK while you were there. For all the fancy trimmings and cool fixtures, I did see quite a lot of fed-up looking IT GUYS scattered around, still glaring at screens at 7.30pm.
The MAIN thing we were there for tho was the TOUR around the UCL ROBOTICS LAB. I was slightly disappointed that this did not involve ACTUAL KILLER ROBOTS, but apart from that it was Quite Interesting. They have built a lecture theatre that is also a classroom, several meeting areas, a viewing platform and a BLACK BOX for Performance Testing, which we roamed around pointing at Innovations. There was also a Mechanical Engineering area which was doing its best to look MODERN but was still very much like the Mechanical Engineering areas I saw at Leicester Poly 17,000 years ago when I would visit Dr N Brown there during our student days i.e. FULL of SOLDERING IRONS. They even had a synthesizer there that someone was repairing!
It was also EERILY QUIET there - the students had not yet returned, and you could FEEL the staff GIRDING themselves for their arrival. I know the feeling - at my own workplace we are currently enjoying the golden period when the STAFF are all in but the STUDENTS have yet to come and mess the place up, which is very inconsiderate. Universities are for STAFF and, very occasionally, concerned local citizens who want to have a nosey around!
posted 20/9/2019 by MJ Hibbett
(click here for permanent link)
(0) comments
Dullness Denied
I was unable to attend the second day of the Stanley Kubrik symposium on Saturday as I had tickets to go to an equally prestigious cultural event: Peterborough United playing Rochdale.
I met Mr P Myland and Mr C Dowsett just before noon at
The Bumble Inn
, a DELIGHTFUL micro-pub which I seem to be forming a HABIT of being in. We had a couple of beers and then wandered through town to
Charters AKA The Boat Place
, site of MANY pints drunk by me over several decades, MARVELLING on the way about the lack of Away Supporters. On my last two visits, to see Posh play Ipswich and then Sunderland, town had been FULL of them, but we didn't see ANY Rochdale fans until we got to Charters, and then only a few. It turned out only 216 had made the journey, a low total proportionally matched by less than 6 thousand for Posh.
I guess the low turnout was because nobody was expecting much, which to be fair included ME. I was sure that after the fantastic game last time this one would be RUBBISH but, as with so many of my predictions, both sporting and political, I was entirely WRONG. It was BLOODY GRATE! The first goal, from Mr I Toney, was a right mess, as he more or less walked the ball, and the opposition keeper, into the net with him, but after that it was ZUT ALORS for BEAUTIFUL Actual Football featuring SKILLS the like of which I cannot BEAR to even DREAM of getting used to. It was meant to be a DULL DRAW or PROBABLY HOME LOSS but there were CHIPS and SHOTS and PASSES the like of which I would expect to see Gary Linekar talking about, not Colin Murray!
It ended with Posh winning SIX-NIL! SIX! NIL! I still find it hard to believe, but as we staggered out, DRUNK of ENTERTAINMENT, it was with the sure and certain knowledge that the NEXT home game would see us get walloped. That is my DEFINITE PREDICTION - honest!
posted 19/9/2019 by MJ Hibbett
(click here for permanent link)
(0) comments
Designing Worlds With S Kubrick
I went to a SYMPOSIUM last week, and this time it was part of WORK rather than for COMICS SCHOOL!
For LO! UAL was one of the organisers of
Kubrick: Designing Worlds
, a two-day event all about, well, Stanley Kubrick. I must admit I didn't know much about him, going in - I've watched "2001" OBVS, seen a bit of "A Clockwork Orange" DECADES ago (on a dodgy 19th generation VHS) and went to the pictures to watch "AI", but that's about it, I thus thought I ought to do a bit of revision beforehand, so watched "The Shining" over a couple of nights, which was a very ODD experience as it turns out I have already SEEN approx 30% of the film ALREADY in various clips and ALLUSIONS. I was also glad that I'd started my revision early because CRUMBS it is a LONG old film - at some point in the late 1980s I think someone somewhere must have realised you don't actually HAVE to show characters walking ALL THE WAY from one scene to another EVERY SINGLE TIME, because films like "The Shining" seem to do that A LOT.
I wondered if I should watch any other films, but this turned out to be UNNECESSARY as the day was mostly about "The Shining", "2001", "A Clockwork Orange" and "AI"! WINZ! There was in fact an ENTIRE SESSION all about "AI", during which everyone seemed to agree with ME i.e. that it was dead good and all those idiots at the time who went "Ooh it's so SCHMALTZY and SPIELBERG" were WRONG. This session featured the BEST BIT of the whole day too, when Chris Baker talked about how he'd done the Storyboards. It was DEAD INTERESTING and also really nice to hear someone talking with a proper Midlands accent - as ever with these things, there were quite a lot of Posh People talking during the rest of the day!
They KEYNOTE was good too - I was expecting an IN-DEPTH ANALYSIS of the film "The Shining" but what we got was a MASSIVELY trainspottery look at where each bit of the film was shot and how it all actually WORKED within the studio complex, featuring spectactularly ANNOTATED aerial shots of Borehamwood. I speak as someone who has PORED over intensely detailed articles which try to work out precisely where photographs of the Beatles had been shot, so I was entirely prepared for other people to be just as KRAZY about their own obsessions, and this guy very much was. It was FAB!
The whole day, in fact, was dead good, and it had the added bonus of featuring "The Head Of Invention", which features in MY NOVEL, sitting outside. It was only after spending a few hours there that I realised that, unlike in the aforesaid BOOK, The Design Museum is NOT next to the Thames. It turns out that, in the time since I first wrote it, The Design Museum has MOVED. I feel a RE-WRITE coming on!
posted 18/9/2019 by MJ Hibbett
(click here for permanent link)
(0) comments
Totally Acoustic Returns
Today I am EXTREMELY happy to announce that
Totally Acoustic
is BACK!
For those unaware, this is the regular night I have done for YEARS where acts are invited to come and play in the top room of a pub without any kind of PA or amplifiers - totally acoustically, in fact. I also RECORD the proceedings and unleash an edited
PODCAST
shortly afterwards. These
PODCASTS
are very much still available to download, and provide a pretty GRATE catalogue of some of the GIANTS of indiepop over the past decade or so. And also, ME.
The last regular gig was a couple of years ago, when we had
an all-dayer to celebrate our tenth anniversary
after which I let it lay FALLOW for a while so that I could concentrate on doing my PhD. There've been a couple of one-offs since then, but I think now I'm ready to bring it back on a regular, albeit probably bi-monthly, schedule. I have, to be honest, missed it!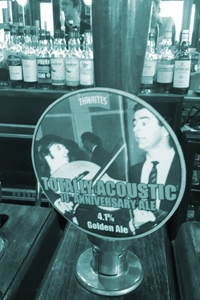 The original idea for this one was to have Mr Matt Tiller play as part of hs
Slightly Wonky Love Songs Tour
, but when we couldn't work out a date that fitted a) Matt's rigorous touring schedule b) the pub's diary I decided, with Matt's agreement, to just go ahead and do it ANYWAY. My excuse is that the pub said they were looking forward to having us back, and I couldn't upset them after that could I?
THUS the first night of the grand return is on Thursday September 26th when, as ever, "Doors" will be 7pm and the first act (ME) will go on not long after 7.30pm. It all gets better after that though, as we'll have two GRATE performers who have each graced us once before -
John Osborne
and
Helen McCookerybook
!
I have also had confirmation that Mr S Hewitt will also be in attendance, in his usual seat, so it is BOUND to be a good one - come along if you can, and if not, there'll be a podcast!
posted 5/9/2019 by MJ Hibbett
(click here for permanent link)
(0) comments
Actually Good Football
On Saturday I went to The Football again, to see Peterborough United play Sunderland, and it was ACTUALLY GOOD!
To be clear to those who follow Premiership teams, or watch it on telly, "Actually Good" in this context means "UTTERLY AMAZING", for LO! it was not the usual mix of cock-ups, missed passes, falling over and occasional flashes of proper football like what you usually get, it was... well, ACTUALLY GOOD! Posh looked like an ACTUAL TEAM! They passed to each other! They scored THREE (3) properly - PROPERLY - good goals. It was like nothing else I have ever seen at London Road - I've seen them win at home before (not often, but I have) and I've seen them play well away from home (notably Wembley hem hem) but to see them do so at their home ground, against one of the teams tipped to win the league, was astonishing.
I wasn't the only one to think so either - all around me, my fellow Peterborians jumped up and down and hugged each other in unalloyed GLEE when our third goal - our THIRD! - went in as a result of astonishingly good ACTUAL FOOTBALL. The streets around the ground afterwards, so often full of frowns and grumbling, glowed with GRINS as disbelieving Poshies staggered out, their BRANES struggling to grasp the fact that what they'd seen hadn't needed excuses, or hopes for improvement. It had been ACTUALLY GOOD!
It was also lovely because Mr P Myland had got us seats in The Family Stand, which OOH LA LA was quite swanky and like a modern football stand, with seats you could actually sit in, toilets that worked and Ample Space for shops rather than one tiny cupboard. "It was built in the 1990s" he pointed out, not in 1932 when people were shorter due to malnutrition and had less health expectations. I was MOST impressed!
I had such a lovely time that I have committed myself to going AGANE in a couple of weeks, when a lifetime's experience tells me that we will be roundly trounced by Rochdale and it'll rain. Still, we shall always have Sunderland!
posted 2/9/2019 by MJ Hibbett
(click here for permanent link)
(0) comments

An Artists Against Success Presentation