Blog
Gigs
Facts
Music
Shop
Links
Gigs Of The Past - Live At The Bull And Gate
Today's gig of the past was a GRATE one at The Bull & Gate on 29 January 2005 which we, especially ME, enjoyed a LOT, as you can probably tell from the rather excitable
blog what I wrote the day after
. As I said last time, these videos come from the brief time when we were on the "up", getting radio play and doing gigs regularly enough to generate an ongoing AUDIENCE - this one comes from 2005, a year in which I did 47 gigs with and without the Validators, and was the start of a HECTIC decade or so when I did over 50 gigs every YEAR!
The main thing I remembered about this gig was the fact that we'd bought a DVD of it - I played The Bull & Gate loads of times, and had previously had the lighting guy tell me he could do us a proper live video for 85 quid, which seemed a LOT. However, for this one we had an audience large enough for us to actually get PAID (possibly the only time this ever happened for these sort of Bull & Gate gigs) so went for it, and I'm very glad we did! Maybe the audience size was due to the fact that we made a FLYER?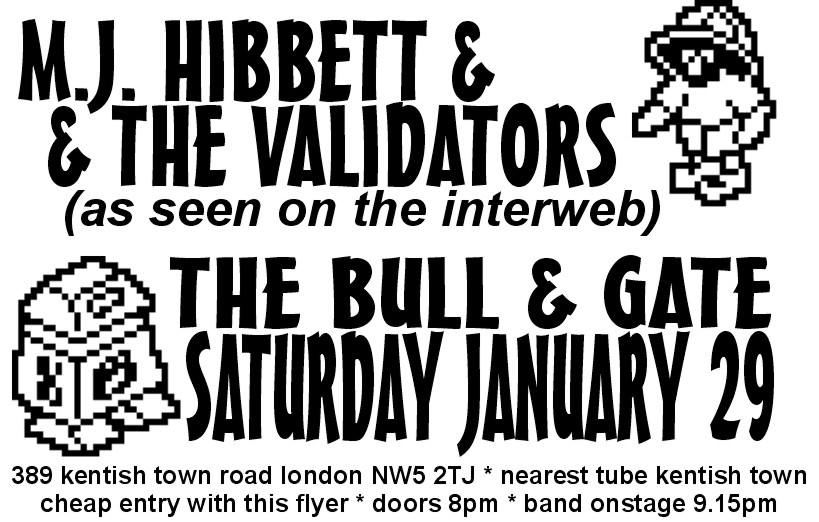 It was a wonderful night, and it's brilliant to have a recording of us playing live where it doesn't sound as Crash Bang Wallop as it usually does - we sound pretty good! There's another Validators gig to come later, but before then I'm afraid you'll have to put up with a couple of solo gigs that sound somewhat lo-fi!
posted 28/4/2021 by MJ Hibbett
(click here for permanent link)
(0) comments
Gigs Of The Past - Back To Hull
The other day I was having a look through one of my Drawers Of CDs And DVDs, specifically one of the ones where I keep stuff related to me and The Validators. These are relics of a fairly specific window in time when recording stopped being tapes, videos and DATS, but before it all went properly digital and online, so the stuff in there includes various rough mixes of things we recorded in the 2000s, our Actual Radio One Session (it's got the logo on it and everything!), and a few DVDs of gigs. I've often thought I should probably DO something with the latter and, inspired by the recent work of Sorted Supremo Dave Dixey in putting some of HIS
mighty archive online
, I thought I'd have a go myself.
THUS I dug out my USB CD/DVD drive, which thankfully still worked, and after various attempts finally worked out how to transfer the contents of a DVD to something you could upload to YouTube. It was really hard to get it working, but once I'd got it sorted it was PEASY so I did THE LOT! That means that over the next couple of weeks I'll be SHARING them with you. As I say, they're all from a fairly narrow window of time, between 2004 and 2008, but there's some fun stuff in there.
So, the first item is an almost complete recording of
our gig at the Hull Adelphi in May 2004
, recorded by the always marvellouos Mr Eddy Bewsher:
It was a FANTASTIC night - according to
the original blog about it
there were 150 people there to see us, which seems entirely unfeasible now, and was quite amazing then too. Rather wonderfully this era of DVDs also covers our very brief POMP when we were on the radio a bit, so there are audiences! We even got an ENCORE - it's not included on the video, which is probably for the best as it featured me forcing The Validators to play "I Can See Clearly Now" despite us never ever having playing it before. It still comes up in setlist conversations as An Act Never To Be Repeated!
Next time we've got a gig that we enjoyed SO MUCH that we paid ACTUAL MONEY for the video recording!
posted 26/4/2021 by MJ Hibbett
(click here for permanent link)
(0) comments
Transitions
On Saturday Mr FA Machine and I were booked to present our paper
The Swingin' Sound Of Sixties Marvel
at the
Transitions Conference
. This is a GRATE comics studies conference that I have attended and indeed PRESENTED at several times over the years, which focuses on Emerging Researcher i.e. generally people doing MAs or PhDs. It's always interesting so it was a HUGE shame that last year's version got cancelled due to The Current Situation, and thus also a DELIGHT when it was rescheduled as an online version this year.
I must admit I was really NERVOUS before our bit. As with the
Ramones gig from a few weeks ago
this was slightly DAFT as, again, the whole thing had been pre-recorded, so I knew full well that the presentation itself would be fine. I was more worried about the fact that Frankie and I were sandwiched between two papers that looked MUCH more "serious" than ours (i.e. were about Issues and not mostly two people singing). I always RAIL against people who think that something can't be Inportant AND Enjoyable, but it is something that is contained within mine own PSYCHE, as even though I KNEW that our presentation was entirely Academically VALID I was still worried that it might seem LIGHTWEIGHT. I was also hugely on INTERNAL ALERT about us being two Standard Middle-Aged White Men at a conference featuring a DIVERSE group of almost entirely much younger researchers. Again, I look ASKANCE at people who complain about Political Correctness and Wokeness, but there was still a part of me AFEARED that one or both of us would be CANCELLED!
Obviously this turned out to be as daft as it sounds, as the other presentations AND presenters were GRATE and EXTREMELY welcoming to two old twits with their singing. Riziki Millanzi gave a talk on the 'Angry Black Woman' stereotype in DC's "Far Sector" and Dina AlAwadhi talked about the "Occidental gaze" in the MCU, which made me want to a) read "Far Sector" IMMEDIATELY and b) watch all those films again. Brilliantly, once we got into the Q&A session it turned out that all of the other presenters AND the chair were MASSIVE COMICS FANS, and LO! there was a gleeful combination of ACTUAL PROPER ACADEMIC THORT and Getting Excited About GRATE COMICS. It was ace - there is definitely an older generation of Comics Types who actively try to be avoid being seen as FANS in case it makea them look Less Serious, so it is always lovely to see The Younger Generation of Comics Studies people not being worried about this AT ALL.
In amongst all of this delight there were many Serious THORTS proposed, with the chair and us four presenters even managing to find some THEMES that linked all the papers. The only shame of it was that we WEREN'T in the same room together in real life, and so the traditional WINE RECEPTION/NATTER was not available. Hopefully next year!
(PS I'm not sure if we're MEANT to UNLEASH our papers, but for now you can find ours
on Vimeo
!)
posted 12/4/2021 by MJ Hibbett
(click here for permanent link)
(0) comments
Twitching With Dredge
Yesterday evening I took part in an very jolly edition of
The John Dredge Lo-Fi Show
. This is a half hour of almost daily CHAT that John does over on Twitch, and he'd asked me on to have a CHAT and also to do a Fantastic Four quiz. I was DELIGHTED to do so, and had a lovely half an hour yacking away to him while gently forgetting that there might actually be people listening.
The QUIZ questions what I did were as follows:
1. Which one of these characters has never been a member of The Fantastic Four?
Spider-man

The Beast

Ghost Rider

HERBIE

Ice Man

She Hulk

2. What BBC TV show was homaged in Stan Lee and Jack Kirby's classic "The Power And The Pride" storyline?

Doctor Who

The Likely Lads

The Prisoner

Quatermass

Crossroads

Dad's Army

3. There have been four Fantastic Four movies, none of which have been fantastic. Which actor more famous now as another superhero played the Human Torch in two of them?

Michael Crawford - Condorman

Chris Evans - Captain America

Nicholas Hammond - Spider-man

Tobey Maguire - Spider-man

Chris Hemsworth - Thor

Graeme Garden - Bananaman

I realise now that I should have done FOUR questions and had FOUR possible answers for each one, but I was having too much fun coming up with the possibilities to stop. You can find out the answers by listening to John's show, where you'll also hear a TANTALISTING TEASE of me discussing a brand new song I've been writing about the AGILE Management Methodology. THRILLZ!!

posted 7/4/2021 by MJ Hibbett
(click here for permanent link)
(0) comments


Superhero Lists And Quizzes
As part of the ongoing promotional campaign for The Swingin' Sounds Of Sixties Marvel (still VERY much available!) I wrote an ARTICLE for Joyzine where I listed the next 10 Marvel comics characters that should be added to the Marvel Cinemtatic Universe. The idea was suggested to me by Paul from Joyzine, and it was a GRATE idea, not least because it is something I MUSE upon at least once a day when I have a moment to myself, and thus it did not take an awful lot of effort to generate!

I'd actually like to write a few more things like this, especially now that The PhD is reaching its final stages, with the current plan being to submit it in September. I'm especially conscious of the fact that there's a Fantastic Four film coming in a few years, and that in all likelihood Doctor Doom will be popping up somewhere before then, so I'd like my name to be there when MEDIA TYPES google "Doctor Doom expert" when they want someone to come on telly/the internet/whatever to explain it. I've been meaning to write some PITCHES for ages, but haven't quite got round to it yet, so if anybody happens to spot any of the aforesaid MEDIA TYPES stumbling around saying "But is Latveria a real country or not?" do please point them in my direction won't you?

One PRESTIGE MEDIA VENUE that I WILL be involving myself in is The Young Person's TWITCH thing, as I will be appearing on it later today as guest on John Dredge Lo-Fi Show. I have prepared a FANTASTIC FOUR QUIZ especially for the occasion, so fingers crossed WALT DISNEY is listening in!

posted 6/4/2021 by MJ Hibbett
(click here for permanent link)
(0) comments


More Sorted
Last month I was surprised and delighted to be told that volume one of the Sorted "Anthology"series had been UNLEASHED on an unsuspecting world via the wonders of digital music. I was even more surprised and delighted a couple of days ago to find that the "volume one" bit was NOT a joke, as volume TWO was similarly UNLEASHED on Spotify, Amazon and all other digital purveyors.

This one's called Cardboard Cutout Sundown and includes a bunch of yet MORE bands what I was involved with during the heady days of the mid-90s, including The K-Stars. This was an EXCELLENT band to be in for me as, for a change, I was Just The Bass Player, so all I had to do was turn up for gigs and practices while Mr M Jones organised everything. The K-Stars were very much a band of two halfs, being a bit rubbish to start with but then going into Archway Studios one day and, while I'd popped out for some chips, suddenly becoming GRATE!

There's also more from Voon, with the nearest we ever got to An Actual Single, a song by The Fabians that I don't think I play on, and then a whole bunch of other EXCELLENT stuff. I would particularly highlight the final track, the FPV version of "Shark Fishing In America" which was done by Dr N Brown, also of Voon. Neil's stuff is ALL OVER both of these albums, in LOADS of the bands, but I think this is the only one that is just HIM, and it is AMAZING!

It's lovely to have these tracks in the world again, and I hope there's going to be more. Whilst adding all of this info to the The Database Of ROCK I looked at what I'd written LONG ago about Every Pillow Is Tethered Like A Rock, a cassette companion to the Ashtray Heart CD which was only available by going into the Durham Ox and buying 10 different malt whiskies (there were cards that you got stamped!). According to my NOTES, the old Sorted website from 1997 said "The tape consists of 14 exclusive tracks, none of which will be re-issued until the Sorted Records 8CD "Hits and rarities" box set planned for the year 2010." Back then this seemed like a suitably ludicrous future date when something as unthinkable as a "hits and rarities" box set might be released - little did we know it would actually happen one day, but take eleven years longer than predicted!

posted 5/4/2021 by MJ Hibbett
(click here for permanent link)
(0) comments


The Swingin' Sound Of Sixties Marvel
Today I am ruddy DELIGHTED to announce the release of a new EP by myself and Mr FA Machine entitled "The Swingin' Sound Of Sixties Marvel". Look, here it is now!





As mentioned last time, this is a bunch of cover versions of supehero theme tunes which Frankie and I recorded for a presentation we're giving next week at the Transitions Conference. We'll be talking about how these songs encapsulate the way that Marvel comics worked back at the very start of The Marvel Age, including a couple of comparisons with other superhero theme tunes.

We've also put together a BANGER-LADEN Spotify playlist with containing about three hours of Superhero songs - have a listen!

We had a thoroughly jolly time putting it all together, so I hope you, dear reader, get a similar amount of delight from it!

posted 2/4/2021 by MJ Hibbett
(click here for permanent link)
(0) comments




An Artists Against Success Presentation