Blog
Gigs
Facts
Music
Shop
Links
Blog
Rainham Kent
On Saturday afternoon I travelled to Rainham in Kent to do a GIG! An ACTUAL GIG!
It had been set up by the fine people of Careful Now Promotions, who had arranged a bill featuring two musical acts (including me) and four poets. I must admit I was expecting it to get cancelled, especially with Everything Going On, and especially especially when they emailed to say they had "lost three poets overnight". It felt like one of those Saturday afternoon war films, with the pilot desperately trying to fly the plane when it keeps losing engines. "We're down to our last poet Captain, the gig can't make it!" "DAMMIT man, the gig HAS to make it!"
It DID make it, and (SPOILERS) I was very glad that it did! I have been excited about this gig for AGES, not just because, as stated previously, it was an ACTUAL GIG, but also because it meant that I would FINALLY be able to go to a gig DIRECTLY on the HIGH SPEED line from St Pancras to Kent. I don't like to talk about it much, but I do live in THE OLYMPICS and thus my local station is Stratford International on that line, so I have LONGED for an opportunity for ROCK and was DELIGHTED to finally have the chance so to do. It was dead quick, but also felt WEIRD waiting for a train on the southbound, "wrong", platform!
I had booked myself into the local Premier Inn - not to be confused, as I was several times, with the Premier Inn in Rainham ESSEX, which is a totally different one - which was LOVELY as ever, and thus it was a CLEAN and refreshed Hibbett who strolled down to The Oast House to find the Careful Now team eating some CHIPS. They smelt lovely (the chips - I did not sniff the promoters but I am sure they also smelt lovely), so once I'd done my soundcheck I headed over to Greg's Plaice across the road (PROPER name for a chippy) and had perhaps the LARGEST portion of chips I have ever had in my life. They just kept shovelling chips into the bag! They were DELICIOUS, but I had to LEAVE half of them, it was deeply upsetting!!
Back at the venue a small but delightful audience arrived and reclined on SOFAs as the evening kicked off with the first poet - I must admit I'm not sure which of the four listed she was but she was very good, and even did some LIMERICKS which I feel should very much be encouraged amongst ALL poets. Next it was Bob Collins who did a string of excellently FOOTNOTED songs from various Medway bands he'd been in, accompanied by a LOVELY 12-string guitar. It felt like an Illustrated Talk! He finished his set with a cover which he introduced as "A Christmas song that isn't about Christmas, from 1983." "HANG ON", I thought, I'm pretty sure this was the answer to a CHRISTMAS QUIZ question the other day". "It doesn't feature guitars at all," he said. "BLIMEY!" I continued inwardly, "He's going to do it! He's doing Grandma we love you!!"
It was "Only You" obviously, but still, I think "Grandma We Love You" is there for reappraisal. Anyway, then it was me and I did THIS:
It all seemed to go OK - I was a bit nervous, so made lots of mistakes, and felt weird using a microphone, but I REALLY enjoyed the talking in between bits. I can sing songs at home, but I can't MAKE HILARIOUS COMMENTS to an audience, and that's my favourite bit! As you can see, there were a couple of songs I've never done live before, which I managed NOT to chicken out of doing, although I did rehearse a few more Christmas songs that I DID step back from. I also intended to do "Hey Hey 16K" but, examining the audience, I wasn't sure whether anyone would really be bothered with it. It's a GRATE song to do if people ARE invested in the subject matter, but if they've never heard it and/or aren't really interested in home computers from 40 years ago then it tends to be nearly 4 minutes of me shouting at Visibly Perplexed People. However, rather than GUESS whether it would work I decided to ASK, which worked very well indeed (and I'll have a chance to do it next year anyway when I play at the JUST ANNOUNCED
Spectrum 40
event).
By the end I was having a WHALE of a time, and wished I'd practiced a few more songs so I could have felt confident in carrying on, especially some of the QUIETER ones which seem to work best in these settings. It was probably best to end when I did though - everybody seemed happy with how it had gone, and hopefully I'll be able to go back next year with The Validators.
Basically, I had a lovely time showing off to some lovely people, and so after another drink and a bit of a chat it was a very happy Hibbett who staggered off into the night, still full of chips. Gigs are GRATE aren't they?
posted 20/12/2021 by MJ Hibbett
(click here for permanent link)
(3) comments
Eternals
Last night I met with Mr S Carter to go and see "Eternals". I have seen the vast majority of the Marvel films with Steve and was quite excited to be doing so again, despite having read some fairly mediocre reviews of it. Lots of these claimed that "The Marvel bubble has finally burst!" which is pretty much what traditional film reviewers have been saying since "Iron Man 2", so I went in with an Open and also a Hopeful mind.
I got the first inkling that something might be amiss when we got to the MASSIVE Leicester Square Odeon and had to walk through a maze of corridors to get to screen number five. I didn't realise there WERE other screens, and this one turned out to be basically someone's living room with a big telly and a few (LUXURIOUS) chairs. Surely a Marvel movie would usually still be on a big screen a couple of weeks after it came out?
We settled in and the film began... and then kept on beginning for about 90 minutes. Flipping heck, I understand that "Getting The Band Back Together" is a THING, but it doesn't usually take up the vast majority of the film and it's also meant to make you somehow give a toss about the actual band. The whole thing was weirdly BORING, with lots and lots of very bland characters standing around impassively explaining things to each other, and then occassionally all getting in a line for no apparent reason to stand still and Be Looked At. To be fair, The Eternals being a bunch of pretty dull characters who say Important Sounding Things over and over to each other is VERY faithful to the source material, but it didn't half get dull quickly. It was highly noticeable that little lights kept flashing on around the tiny cinema as everyone kept checking their phones to see how much longer it had to go!
To be clear, I'm not complaining about the film Trying Something Different (which is A Good Thing) or attempting to deal with Characters rather than Constant Action, it's just that they made such a dreary mess of it all. There was SO MANY scenes of characters sitting around Telling Each Other Things, and so very little of any of them Actually Being Interesting. This made the traditional Marvel Scenes, like when they're sitting around drinking beer and bickering, feel totally out of place. Apart from Kingo and his "valet" I didn't really care enough about any of them enough (or at all) to enjoy it.
Also, the flipping plot made approximately ZERO sense. What on earth were The Deviants all about? And why did they team up with (A CHARACTER) later on? Were we meant to care about them, or were they just baddies? Why were THE MASSIVE SPACE GODS so very boring? And how many times did Previously Unmentioned Cosmic Powers really need to appear out of nowhere? And most importantly, why were school children having a lesson in the Natural History Museum?
In discussion afterwards Steve made an EXCELLENT comparison to "Guardians Of The Galaxy". That was ALSO a deep dive into Marvel characters that nobody outside of comics really knew beforehand. It ALSO spent time bringing a large group of characters together, and it ALSO was a pretty big swerve from what Marvel films had been before. The big difference with THAT film however is that the characters were Actually Interesting and Different From Each Other, so the bits with them just hanging around together were ENJOYABLE and you CARED about what happened to them. I AUDIBLY GROANED when the bit at the end came up with "Eternals Will Return..."
Happily, with this and "The Inhumans" I think that's IT for adaptations of Ponderous Super-Powered Families Drawn By Jack Kirby (for Marvel anyway, we've still got the threat of New Gods). Hopefully with that out of the way they can finally give us the "Devil Dinosaur" movie we all deserve!
posted 23/11/2021 by MJ Hibbett
(click here for permanent link)
(0) comments
Farewell To Indietracks
After my long lay-off from blogging I wasn't expecting to be writing three blogs in such close succession, but then I wasn't expecting to see
yesterday's announcement that Indietracks is calling it a day
.
It was really sad news, but it wasn't a huge surprise. Getting our Indietracks application in has been part of The ROCK Year for The Validators ever since the festival started, closely followed by the months of waiting to see if we'd get in and then dismay/jubiliation according to the results. I've spent the past few weeks checking their site every couple of days to see if they'd put the call out yet, and was beginning to suspect that something might be different this time.
I can fully understand why the Indietracks Team would see this as a time to bring it to a close, especially after two years off. It must have been an ENORMOUS amount of work and it's been an incredible run of festivals so it's good to go out while you're ahead, but CRIKEY it's sad to think that we'll never get to go there again. Indietracks was the one and only festival where we felt like ROCK STARS - it was the one place where pretty much everybody who gave a monkey's about MJ Hibbett & The Validators would all be in the same place together, and we could play a proper big stage show like what you see on telly. It was the centre of The Validators' ROCK year - the argument about what our walk-on music could be for next time started pretty much as soon as we'd come off-stage!
It was also the only place where I felt like we truly fitted in as a band. We were never part of any scene when we started, and have been around so long that we've out-lived most of the bands we've played with, but when Indietracks came along, and especially when it included bands like Allo' Darlin', Standard Fare, The Smittens, The Just Joans, The Pete Green Corporate Juggernaut and all the others, it felt like a group we could be part of. To me that scene will always be "Indietracks Bands" because that's where I got to see them, on stage but especially in-person before and afterwards, and it was wonderful to feel accepted, like we were a part of it all rather than our usual position of That Band Who Were On Before The Band We Came To See.
That's probably why it's the home for some of my favourite memories of Actually Doing Gigs. As anyone who's ever seen me live, and especially anyone who came to see
My Exciting Life In ROCK
, will know, my favourite bits of ROCK have tended to be the stuff AROUND the gigs - the stupid adventures getting there, the crazy people talked to afterwards, or the ludicrous mishaps that happened during. All of those things happened at Indietracks too, but we also got to play some proper Actual Amazing Gigs. With The Validators we had the time on the main stage when we
got everyone to tweet "happiness" at the same time
, inventing Friday nights with
the full band version of My Exciting Life In ROCK
, the day we played to the
the biggest crowd we ever had
(and two very bored Pattison daughters), and all the post-show hours in the Merch Tent when lovely people came along to Actually Buy Stuff. Then there was the year when
me and Emma sang with A Little Orchestra
, or the time I had to
force my way into the train carriage to do my own gig
because it was so full.
Best of all though, for me personally, was in
2011 when I played in The Merch Tent
. I was really nervous beforehand, and was even more so when I arrived to find that the tent was packed out with people. Gigs in The Merch Tent are Totally Acoustic, and there's all sorts of noise going on from the festival around it, so I had no idea how I was going to make myself heard in what I assumed was a crowded tent full of people chatting and buying records. I was feeling a bit sorry for myself, especially when it proved to be difficult to get in due to the mass of people, as I prepared myself for a miserable set, shouting in a corner to people who didn't want to hear - I've done this many times in my illustrious career, but it didn't seem fair to be doing it at Indietracks!
As I pushed my way through I said to somebody "It's very busy!". "Yes," he said, "It's rammed because MJ Hibbett's going to play."
I could have cried then and it still makes me well up now. That was Indietracks - a place where a band like us, and people like us, and people not like us at all, could all come together and actually BE the International Rock Stars we are in our heads, if only for a weekend. It's sad that it's gone, but it's wonderful that it was ever there at all. Thanks Indietracks, you were the best!
posted 16/11/2021 by MJ Hibbett
(click here for permanent link)
(2) comments
Is It Too Soon For Christmas?
As promised last week, today we have some Jane and John news, and it is this: today we're releasing
Is It Too Soon For Christmas?
as a single!
The song originally came out last year on
A Very Cherry Christmas E​.​P. 2020
, but due to Covid it was only released on Bandcamp. We still love the song, and feel that the question it asks remains relevant, so - with Cherryade Records' permission - we decided to release it ourselves on streaming services for this year. You can get it on
Spotify
,
Amazon
, or pretty much anywhere that does that sort of thing!
We've also got a Teaser Video (i.e. it's just a BIT of the song, not the whole thing!) which you can see BELOW:
As ever, likes, mentions, retweets and so forth are all very much appreciated, whether you think the answer is "Yes" or, correctly, "No it is definitely not too soon, bring me a mince pie immediately"!
posted 15/11/2021 by MJ Hibbett
(click here for permanent link)
(0) comments
The End Of Doom
Cor, it's quiet round here isn't it? Apologies for the lack of updates lately, this has mostly been because there hasn't been anything new, ROCK-WISE, to report, although this will change next week as there's a Jane and John release heading your way!
Other than that though, as stated
last time
I have mostly been working on TWO (2) projects, one of which remains Annoyingly Secret (in that it's annoying because I can't show off about it yet). The other is of course my PhD, which has very much entered its final furlong. Last month I submitted the FINAL draft, which means that it's now with the examiners ready for my VIVA on December 10th, when they will question me about it to see if it really is a Unique Contribution To Knowledge. The outcome of that will either be that they accept it straight away (which is apparently unlikely), request amendments (minor or major, which take 1-6 months depending) or just tell me not to be so silly. Hopefully it'll be somewhere in the middle!
Alongside that my
Marvel Age Doom blog
is ALSO coming to an end. A couple of months ago I posted a blog about
the last comic in my long list of Doctor Doom comics
, and since then I've been hoovering up stuff I missed along the way, such as
the Doctor Doom novel
, and finally doing some Lessons Learnt. The very last one of these is coming out tomorrow, and then that's pretty much IT! After FOUR YEARS I will have officially read and cogitated upon every official Doctor Doom appearance in narrative texts with cover dates between November 1961 and October 1987 - and if you think THAT sentence has a lot of caveats, you should read the PhD!
At the moment this is all Quite Exciting. I started this process over six years ago, and since then there has been a LOT of work, so I'm really really looking forward to it all being over so I can do some other things, but I know I'll also miss it. Since
stopping Tutorials
I've often found myself thinking "That's interesting, wait until I tell Roger and Ian about ... oh." I'm sure there'll be a lot more of that to come, but my great hope is that by Christmas it'll all be either DONE or very nearly done.
After that I'm hoping to get a few PUBLICATIONS out of it, and there will of course be the traditional process of telling people that off course they don't have to call me Doctor Hibbett and hoping that they do. For now though, plain old Mr Hibbett has quite a lot of revision to get on with!
posted 11/11/2021 by MJ Hibbett
(click here for permanent link)
(0) comments
The Beginning Of The End
I had a bit of an Emotional Milestone yesterday, as one of my Big Two Projects* moved ever closer to its glorious end.
For LO! I had what turned out to be my VERY LAST EVER Phd Supervisory Meeting. This is where I get together with my two PhD supervisors to talk through where the thesis is at, get feedback, and plan what to do next. Yesterday's meeting was the 38th one we've had over the past five years, but by the end of it we agreed that we would meet NO MORE, for LO! (again) the thesis had got to the point where I only needed to make a few adjustments and could the SUBMIT it. Crikey!
This is not the end of the whole thing, just yet, but it is certainly the BEGINNING of the end. Once I've made the changes and submitted it we have to give the examiners about six weeks to READ the whole thing (it's currently around 100,000 words long and some of the words themselves are also very long) before we have a VIVA. Some people see this as a terrifying ordeal in which World Experts QUIZ you, trying to catch you out on MISTAKES, but personally I'm really looking forward to it, as I am envisaging it as three people who HAVE to listen to me DRONING ON about Doctor Doom and Transmedia for AT LEAST an hour without asking me to stop! Even better, we are having a MOCK Viva before then, when a whole other three people have to listen to me go on about it - what could possibly be more fun?
The VIVA decides whether I get a PhD or not (or whether I do, but have to make yet more changes first), but if they say YES one way or the other all I need to do is hand in a final version and I can ponce around saying "DOCTOR Hibbett actually, not that I like to go on about it" etc etc for the rest of my born days. I'm looking forward to it, OBVS, but I'm also going to miss the sesssions with my DELIGHTFUL supervisors. It really has been an awful lot of fun!
(* the other Big Project is a Secret Thing which I REALLY hope I can also start showing off about by the end of the year. Be assured, as soon as I CAN, I very much WILL!)
posted 23/9/2021 by MJ Hibbett
(click here for permanent link)
(3) comments
It Made A Generation Who Can Code
Last night, when the news broke that Sir Clive Sinclair had died, people started talking about it online, and an awful lot of them quoted bits of
Hey Hey 16K
. This was as ever an HONOUR - I obviously didn't have anything to do with the ZX Spectrum or the subsequent wave of UK BRANES going on to develop our current computing industry, and I don't really have that much to do with the Retro Gaming types or the various museums, but it was still nice to know that I had made a tiny contribution to the historical record of it all, even if it was only to express how many of us remember the era. It was still a bit odd though when Dominik Diamond (off the telly!) mentioned it!
Back when I wrote the song it felt like nobody ever talked about the influence that the ZX Spectrum had on us all, and on the country, and even though that's changed a bit since then it was still a bit weird to watch the news later that night and see as much time given to the C5 as to the home computers. I guess a grainy clip of people looking vaguely silly on a C5 makes for better telly than a teenager hunched over a tiny keyboard playing "Manic Miner", but it seemed like a wasted opportunity to really celebrate the fact that Sir Clive Sinclair's inventions changed the way the entire country looked at computers. SO many people of my generation owe much of the way their lives turned out to the DIY spirit of the Spectrum, whether that's just getting a start in coding or grasping the idea that you COULD create things yourself and get them out into the world. If we hadn't had the Spectrum we'd all have grown up with BORING BBC Micros, genuinely using it to do homework or solve math puzzles, rather than creating our own stupid games and, occasionally, being able to make a living out of it.
What I'm trying to say is basically what the song says, I guess - we all owe a huge debt of gratitude to a PUNK ROCK GENIUS who gave so many of us our start in DIY culture, as well as the ability to make a living in computing too. Thanks very much, Sir Clive!
posted 17/9/2021 by MJ Hibbett
(click here for permanent link)
(4) comments
The Sheffield Pop Weekender
On Sunday lunchtime I got on the train to Sheffield to go and play my first actual proper solo gig for about TWO AND A HALF FLIPPING YEARS! I've done a couple of Validators gigs, and various online things plus some other bits and bobs, but this was the first time I'd done a gig NOT being promoted by me since way back in
March 2019
when I did the "No Headliner" tour with Mr M Tiller! CRUMBS!
I was thus a little nervous about the whole thing, and thus
had been Actually Practicing
but this did not entirely assuage THE FEAR. It also didn't help that travelling is still a bit SCARY, but I was mightily calmed by the realisation that changing at Doncaster meant I had time to pop into
The Draughtsman
on Platform One for a delicious half. The last time I was there was, I think, on that tour with Matt too, and it was still GRATE!
I was met at the station by The Landlady, who lives up that way now, and we had lunch and a right old chat before she walked me to my hotel. I am very much out of practice at this and had booked the wrong Premier Inn, which meant it was about a half hour walk a little while later when I headed off the Shakespeare. For LO! it was there that I was gigging, as the HEADLINE ACT (!) of
The Sheffield Pop Weekender
, organised by the delightful people of Macho Music Is Stupid.
I arrived to find that even COVID could not kill off the core tenets of all-dayers i.e. they must always run about 45-60 minutes late. In this case it was happening because they'd had to find a new soundman at short notice, but if that hadn't occurred I'm sure The Gods Of ROCK would have arranged something else. This did sadly mean that my grand plan to not have too much to drink before GIG O'CLOCK did not exactly pan out as planned, but it did also mean that I got to catch all of the other bands in the Evening Session of the all-dayer and more importantly to spend time with all of the LOVELY PALS who were there. To be honest, the best bit of these gigs is often the PALS, and this is especially so in Sheffield where there are so many of them available, all of whom are ACE.
Eventually it was my turn to go on, and I went and did THIS:
It turns out that all that practicing actually paid off, as I remembered VERY NEARLY all of the words and most of the chords, even after a few beers! I also managed to not say quite ALL of the "brilliant things to say" I had spent the preceding hours thinking up. I did say A LOT, but there was an awful lot more REMARKS I had that I managed to curtail. It's been two and a half years, I have clearly been saving it all up!
With the gig ROCKED all that remained was to have another beer with the aforesaid pals and then wander off into the streets of Sheffield for the walk home. It was bloody GRATE to be back again in ROCK like this, I just hope it's not another two and a half years before I get to do it again!
posted 31/8/2021 by MJ Hibbett
(click here for permanent link)
(3) comments
The Suicide Squad
I had a most unusual day on Saturday, in that I did lots of stuff out and about without any pre-booking. I didn't even have to download an APP!
For LO! I was heading into town to meet my chum Mr S Wilkinson so see "The Suicide Squad". I have seen MANY films over the past year or so, but this time we were going to do so in a special building which was like a really big living room with smaller sofas and a MASSIVE telly, where lots of people you didn't know could pop in. A "cinema" they called it - it did sound vaguely familiar somehow, so I thought I might as well give it a go.
On the way I met Mr S Love to hand over some unused 7" single mailers - he has a NEW SINGLE available and is posting them out, and I had a big pile of old mailers that have been a REMINDER OF FAILURE ever since we released
Do The Indie Kid
in 2008 and discovered not many people actually wanted to buy it. It was a relief to finally be rid of them!
With that done I went to meet my Cinema Chum in a PUB. I have BEEN in pubs over The Pandemic but it's often been a right old kerfuffle booking tables and ordering beer via computer, but here we found we could get drinks by simply walking to the bar in an analogue fashion and verbally asking. It was a KRAZY PLAN but it seemed to work!
The cineme we'd selected was The Odeon on Tottenham Court Road, where I have seen LOADS of superhero films over the years. Part of the reason for this is that I used to work very close to it, but the bigger reason is that it is almost always DESERTED, and this time was no exception. When we arrived there was a clutch of STAFF standing around the doorway - at first I thought they were there to check our vaccine credentials or something, but actually they were just lurking about because there were so few customers. A Nice Young Man offered to help me use the ticket machine, which made Simon FLY into action and do it for both of us at high speed, and then we wandered into the cinema itself, where there were about EIGHT other people. Perfect!
The film itself was GRATE. It was very much in The Guardians Of The Galaxy mode, where they accept the extremely ridiculous nature of Superhero Movies and a) lean into it b) use it to tell a heartfelt story that isn't afraid to have jokes at the same time as FEELZ. It was somewhat more VIOLENT and SPLATTERY than the Guardians films, but apart from that was Quite Similar. My favourite part was just sitting there thinking "I appear to be watching a film where Starro - BLOODY STARRO - is defeated by a character very very similar to Squirrel Girl."
Afterwards we went to ANOTHER pub where apps were not required, making the long-awaited return to The King & Queen. It was lovely to be there, but CRUMBS I had forgotten how LOUD pubs can be. The telly was on for the Rugby and there was quite a few people in there CHATTING, and it is a LONG time since my poor old ears have had to deal with all that, so after a pint we went round the corner and sat outside The Stag's Head, which was also DELIGHTFUL.
It was a lovely way to spend an afternoon, especially experiencing this weird hint of a Possible Future that isn't all that dissimilar to the Pre-Event Past. It was brilliant!
posted 10/8/2021 by MJ Hibbett
(click here for permanent link)
(0) comments
New Approaches To Gig Preperation
This week I have been getting ready for my forthcoming gig at
The Sheffield Pop Weekender
by PRACTICING!
"But this is hardly news is it?", you may say. To which I would reply - have you read this blog before? It is not exactly NEWSNIGHT.
"No no," you might continue, "the blog is full of earth-shatteringly vital content, what I mean is that surely you always practice before gigs, what with your consummate professionalism and that."
My response here would be to say thank you very much but - and hold onto your hats because this may ASTONISH you - in the past I have often not practiced at ALL before gigs. Yes, that's right, all of those delightful moments where I appeared to have forgotten the words, or the chords, or indeed what I'd actually come into the room to do, were NOT carefully rehearsed "bits", but actual genuine mistakes!
Usually these are of course DELIGHTFUL and All Part Of The Fun, but it did strike me that it's now been
OVER TWO YEARS
since I last did a full-length solo gig in front of actual people, so I might be a bit RUSTY. In the intervening time there have however been a few Validators gigs, for which I ALWAYS practice, if only to avoid The Vlads saying "you did Hey Hey 16K wrong AGANE" too many times, and this does seem to have WORKED - the last time we played I actually got it right (that song anyway) all the way through!
THUS I thought it might be a good idea to Actual Practice Some Songs in order to get myself back into the GROOVE. Initial efforts were extremely annoying, as it turned out I really didn't know the words, or the chords, to loads of songs, and had to keep stopping to look stuff up on my phone (the main reason why
the full list of songs
exists, to be honest!) which wasn't particularly handy. In order to SOLVE this problem I made myself a SONGBOOK containing about 30 of my songs with words AND chords, featuring mainly news songs and older ones that I don't do all that often (I left most of THE HITS out because even I can just about work those ones out). This was a flipping BRILLIANT idea, as it meant that when I practice I have a whole MENU of songs to choose from, rather than just going through the same small batch, making it a LOT more fun. It also means I've REALLY got into some songs I've never played much on my own, especially
We Can Start Having Fun
which I am currently playing every day. It is GRATE!
The only problem with this approach is that there are SO MANY SONGS (about 30 in The Songbook plus 20ish that I should in theory know off by heart anyway) that CHOOSING was going to be a problem. That was until I saw the below DELIGHTFUL tweet:
Oy! Hibbett! Cult hero @MJHibbett headlines the #SheffPop21 Sunday at @ShakespearesShf! His glass-half-full tunes about computers, dinosaurs, pubs, payday, getting old and love in the IT community will leave you feeling better about the world. Listen at https://t.co/5KZbsHWXcN 6/ pic.twitter.com/mQlUuExW8G

— Macho Music is Stupid (@MMIS_Sheffield) July 28, 2021
Apart from being very nice and flattering, this ALSO pretty clearly specifies SIX of my older songs that I should play in my set, which saves me a LOT of worrying about it. PHEW! I am thus now rotating through various of those songs, other Ones I Should Really Know, the various NEW ones I've got at the moment AND also some of the (even more than my songs usually are) OBSCURE ones what I haven't played for a while. It is frankly a JOY and I would heartilty recommend Actually Practicing A Bit to anyone!
The only trouble is that once I've DONE this gig, I haven't got any others booked, and don't really know what to do about it. It is a LONG LONG LONG time since the glory days when people used to email me regularly to ask if I'd like to play their gigs, and also MILLENIA since I knew any promoters who were still putting gigs on. What does one DO to get a gig nowadays anyway? Do you just EMAIL people still, or is there something else? And who is putting gigs ON? I realise there have been NO GIGS for ages too, so is anyone getting back into it? And if so, would anyone fancy putting ME on sometime? If nothing else, I will have PRACTICED!
posted 5/8/2021 by MJ Hibbett
(click here for permanent link)
(0) comments
Who Here's Lost?
Last night I went out - out out, properly out, on public transport and EVERYTHING - to see a SHOW!
It was Ben Moor's "Who Here's Lost?" at the Hen & Chickens in Islington, which meant I got the Overground there from Stratford. I was somewhat trepidatious about this beforehand, but it turned out to be Utterly Fine. There were quite a few people without masks on, but I made my way through and found a section where everybody was masked, and as the journey went along the few people who came into our bit also had masks on, almost as if they were following the smell of hand sanitiser!
I met Steve in the Brewhouse, over the road from Hen & Chickens, which was also a DELIGHT. I have massively altered my view on table service in pubs now, ACCEPTING it fully even though I do wish someone would invent One App To Rule Them All rather than having to spend the first five minutes of every pub trip either downloading something new or slowly typing your details into a webpage. Come on, Internet Boffins, get inventing, it could make you MILLIONS!
We then entered the Hen & Chickens to find The Zaltzman-Austwicks also there for the show. This was a DELIGHT - I had forgotten how nice it is to just bump into people you know, and we had a very similar experience aftewards when it turned out Mr N Metcalfe was also there. They were all humans that we knew but hadn't made lenghty arrangements to meet, it was wonderful!
The show itself was, as ever with Ben's shows, completely brilliant. As per, the only criticism is that there is JUST TOO MUCH of it, and you're constantly trying to stop laughing to make sure you don't miss what's coming next - this is why it is so GRATE that he always sells
a BOOK of the show
, so you can catch up afterwards. It's just all so RICH, with every sentence FINELY HEWN and full of THORT and IDEAS and also LARFS. It's six years since he did the first preview of bits of this show (
at Totally Acoustic!
) and you could see the amount of work, also LOVE, what had gone into it. I liked it a LOT!
Afterwards Steve took me to a really nice pub called The Lamb, which as with all the venues we'd visited had got proper Social Distancing and other Covid Arrangements in place. There was a FOLK GROUP sitting at one end of the room twiddly diddling away, and me and Steve at the other drinking some delcious beer and basically Putting The World To Rights.
It was, in short, a BRILLIANT night out that reminded me what was so much fun about it all those years ago when we used to do it all the time!
posted 28/7/2021 by MJ Hibbett
(click here for permanent link)
(0) comments
Acurrate Factually Inaccurate
On Monday evening I found myself travelling across London, nervously eyeing my fellow passengers, convinced I was coming down with The Lurgy due to a dodgy stomach, headache and shortness of breath. Every few minutes I realised that what this actually was was The Fear, that distantly recalled symptom of Being About To Do A Gig that I had almost forgotten about, but then I DID forget about it and panic for another ten minutes before realising once again. It was tiring!
For LO! The Fear was back because I was doing a GIG, and this time without The Validators or indeed any SONGS for LO! (again) I was performing at
Factually Inaccurate Stand-Up
, a "lecturer based stand-up comedy" evening. I had initially mis-read the name as "Factually ACCURATE Stand-up" and so part of the reason I was getting NERVES was that my TALK was 100% completely accurate (as all my talks and indeed songs always are) and was hoping I had not once again Horribly Misjudged The Situation.
These fears were somewhat assuaged when I arrived to find the organiser Mr J Walsh, who informed me that everybody had a very different idea of The Brief and thus the accuracy was more of a SPECTRUM than requirement. Phew! James went off to do Comedy Admin while I had an EXCELLENT discussion with his friend Ash about The Beatles, before James returned with news that the projector wasn't working. This was like a BAT SIGNAL to me, so I went upstairs and had a very pleasant 15 minutes in the company of various Young People pressing buttons and googling things until we finally got it to work - for some reason whoever used it last had set it up to be a MIRROR IMAGE, so everything looked like it was written in Russian. Why on earth would you want THAT as a setting, Epson?
My experience of pubs etc In These Covid Times has been pretty much uniformly positive, and this one was no exception, with check-ins, table ordering (which I must admit I'm getting used to now), many many hand wash dispensors and social distancing, including upstairs where the gig was. This basically meant setting the room up in THE CABARET STYLE i.e. with tables to take up space where chairs might go, which I always enjoy. This reduced capacity, plus of course the excellent array of artistes, meant that the evening sold out! HOORAH!
The evening kicked off with James compering (excellently) then doing a CHARACTER who talked about Modern Archeology vs Modernist Archeology. As ever when people do this sort of thing it felt perilously close to REALITY. The comedy version of pretentious/increbibly niche Academia is A LOT closer to the real thing than I think OUTSIDERS realise! After that it was ME (to be discussed ANON), then a chap did some CLOWING (NB not the red nose kind, but the Fancy Kind that I remember discussing with Mr H Carr when I did ny MA) which was dead good, followed by a break and then a very funny talk on Pettiness by Ms V Leyton. As with so many things, being back in a black-walled room drinking beer listening to comedy felt very familiar very quickly, and it was a shame I had to LEAVE at that point to get my train.
My bit went pretty well I think. It was all about Periodising The Marvel Aga, and was basically a version of a presentation I've given at various conferences (including one coming at the end of this week) but with added swearing e.g. I don't usually refer to Post-Modernism as "a load of old wank" as I did this time, although it is heavily implied. THUS I knew from the start that quite a lot of it didn't actually have jokes, so spelt this out at the beginning and BARRELLED along taking the LARFS as Added Bonuses rather than Vital Milestones. I seem to end up doing a stand-up set every four or five years, and on past occassions I have been put off by (amongst other things) the CRUSHING DOOM of a joke not landing properly. Clearly the answer is not to worry about LARFS at ALL and just HECTOR an audience, much like doing an Academic Talk. THUS, for the first time in many years, I was not completely put off the idea of Stand-Up. Who knows, I may do it again next in LESS than four years this time!
posted 13/7/2021 by MJ Hibbett
(click here for permanent link)
(0) comments
Boing Boing
A few weeks ago we UNLEASHED the latest Jane and John single,
Here At Last / Boing Boing
, and the occassion was marked by the release of the video for
Here At Last
. We're following that up with the video for the OTHER side of the single,
Boing Boing
, which you can see right HERE:
The song is all about the ups and downs of life, and the video is a combination of lyrics video, newspaper headlines, sports clips and especially BOUNCING BADGERS, which were a particular DELIGHT to edit together. It's out now to coincide with Wimbledon, so if you or anyone you know happens to be in charge of television coverage, do consider the idea of using it for a MONTAGE of players' various fortunes, we think it would work rather nicely!
posted 29/6/2021 by MJ Hibbett
(click here for permanent link)
(0) comments
We Did A Gig!
On Saturday morning I packed my bags, and also my guitar, and set out to do an in-person, on purpose, GIG for the first time in SEVENTEEN MONTHS!
As with most things, the weirdest thing about this return to a post-covid activity was how it DIDN'T feel as weird as expected, although it DID feel a lot more anxious than I recall, as I went round and round in circles CHECKING everything approx 1,000,000 times before I left the house to make sure there wasn't a VITAL ASPECT that I'd forgotten. SPOILERS: there wasn't!
The gig was in Derby, and I was accompanied there by Mr S Hewitt, who like me was taking his first trip NORTH of the M25 for AGES. We met at Euston and travelled to TAMWORTH and changed there, due to this being both cheaper and quicker than the usually direct train from St Pancras. We got to the Premier Inn and after a bit of kerfuffle checking in (Premier Inn had sent multiple emails and even RUNG to advise/check on things, and this had mightily discombobulated the lady checking in before us) we were all sorted and off to THE PUB to meet The Validators.
The pub was The Furnace, where
we played just over two years ago
at another weekend beer festival. This time they had taken MASSIVE precautions to comply with regulations, including table service, advice on masks, and especially laminated sheets telling people THE RULES, including not singing along and not getting up to dance!
Frankie and Tom were already there, and the Pattisons arrived soon afterwards, and initially it was a bit OVERWHELMING. Travelling up with Steve had been fine because a) he is obviously a DELIGHT and b) there is only ONE of him, which is the number of people I've generally interacted with at any one time for the past year and a half. The Validators are similarly delightful but there are FOUR of them, so it took me a while to get used to it, but it was BLOODY LOVELY to see them again. It felt like no time at all since we'd all been together, but also it felt like FOREVER!
We got set up, did some IMMENSE BICKERING as per over setlists, said hello to whole HOSTS of lovely people who came to see us, and then did THIS:
The setlist was not that different to what we played
last time
, which was sort of on purpose, as we've only actually PLAYED together ONCE since then, back in
July 2019
, so it made sense to do songs that we (theoretically) knew. Actually, we did pretty well, especially as the last time we played
The Fair Play Trophy (again)
as a band was about SEVENTEEN YEARS ago! I was especially proud of myself for remembering ALL of the words to
Hey Hey 16K
in the right order, which was a rare triumph!
We had a lovely time doing the gig, and then a similarly lovely time afterwards as we sat around in the Beer Garden for several hours drinking some EXCELLENT beer. I had a pint of Best Bitter, which I haven't had for AGES and it was LOVELY. Proper Brown Beer!! We also thoroughly enjoyed the band after us - Frankie pointed out that
we'd seen them before in BERLIN
and this led to some MARVELOUS Rock And Roll Chat with them. "Are you sure it was in Berlin, not Hamburg?" etc etc. ROCK!
With all that done we went for a CURRY, during which the traditional Heated Political Debate took place, also much NATTER, then Tom got a taxi to the station while the rest of us went for just one last beer, which turned out to be KOLSCH(-style) which seemed awfully fitting. More YACKING, and then we all said our goodbyes. It had been a BRILLIANT evening!
It was a somewhat subdued me and Steve who met for breakfast next morning - mysteriously, neither of us had slept well and were feeling Slightly Unwell - and sampled the Premier Inn's radical solution to a breakfast buffet in times of Covid i.e. you order what you want and they bring it to you. It was MUCH needed after such rock and roll excess - I used to do gigs like this ALL THE TIME, sometimes on consecutive evenings, it is a wonder I have got to the age I have looking so fresh and wholesome!
The trains home were all fine and that was that, GIG DONE. To summarise: it was BLOODY GRATE to be back, can we do it again sometime please?
posted 28/6/2021 by MJ Hibbett
(click here for permanent link)
(0) comments
Gubba Lookalike
If you've been following
the Jane and John Twitter feed
(and if you haven't, please do!) you will be aware that we are at FULL STEAM AHEAD on the promotional campaign for our new double A-side single
Here At Last / Boing Boing
.
Here At Last
is all about the joy of getting together with people again to watch long-awaited sporting events, so as the Euros have now arrived we've been tweeting away like mad. Thus, this week we hit on a rather cunning WHEEZE to tie tweets into individual games by giving out FACTS that end with "Here At Last" somehow. For instance, the first of the week said "Scotland have never beaten the Czech Republic in the Euros - could their time be... Here At Last? " and then
a link to the video
.
Good eh? The only slight drawback, which wasn't really much of a drawback at all, was that it meant I had to spend several hours looking up all of these FACTs online. I now have IMMENSE respect for professional sports commentators who must have to sit and work out HUNDREDS of these for each game, so they can drop them casually in as they go along. Sometimes it seems like they're just reeling FACTs off rather than watching the game, but now I know how much WORK goes into it I don't blame them!
We've got the FACTs planned out for the rest of this week, so I'll need to get on with the rest of them soon, but in the meantime look out for FASCINATING information. For instance, how many times have England and Scotland played each other, and who's ahead on wins?
Find out on Friday!
posted 15/6/2021 by MJ Hibbett
(click here for permanent link)
(0) comments
Here At Last is here! At last!
Today is the RELEASE DAY for the latest single from Jane and John and I am QUITE excited about it. I always get excited on Release Day, and always give myself a stern talking to about it. "Nothing ever happens on Release Day," I tell myself. "You rarely get radio play on the day itself, and any Exciting Things tend to happen a few days later." I always nod obediently to myself at this point and then, as soon as I'm not looking, go and get ALL EXCITED again.
The single is a DOUBLE A-SIDE called
Here At Last / Boing Boing
and you can get it on ALL streaming services (e.g.
Spotify
,
Amazon,
iTunes
) or direct from us via
our Bandcamp page
. It's a SPORTS-THEMED EP, with
Here At Last
being about how GRATE it is to finally be able to get together for events like the Euros and the Olympics, while
Boing Boing
uses TENNIS as a METAPHOR for LIFE. They are both ACE!
Both songs will have videos as well, with the one for
Boing Boing
being UNLEASHED a little bit closer to the start of Wimbledon. The one for
Here At Last
, however, is available right NOW, right HERE:
As ever, any shares, likes, mentions, or good old-fashioned usages in major TV coverage of international sporting competitions are very much appreciated. Both these songs have been a long time in the making, so I'm mostly just happy that they're finally OUT there for people to listen to - I hope you like them!
posted 7/6/2021 by MJ Hibbett
(click here for permanent link)
(0) comments
Jane and John are BACK
Those who follow the
Jane and John Twitter account
(i.e. all the GROOVY people) will already be aware that we a) are BACK and b) have a new single out next week!
The single is a double A-side featuring two GRATE new tracks - "Here At Last" and "Boing Boing". They're both sport-themed, with "Here At Last" being about events like the Euros and the Olympics FINALLY happening and us being able to celebrate them with PALS, whereas "Boing Boing" is a deep philosophical THORT-PIECE tied into a cunning tennis metaphor that has a chorus involving the phrase "Boing Boing" a LOT.
They are both BRILLO, and I'm really really looking forward to people actually getting to HEAR them next week. We have spent literally MONTHS working on them, HONING each track to be as FAB as we can make it, and I feel that the levels of FAB we have reached are HIGH. You can judge for yourself on Monday 7 June when it comes out, but in the meantime do check that there
Jane and John Twitter account
for more details and a big COVER REVEAL tomorrow!
posted 1/6/2021 by MJ Hibbett
(click here for permanent link)
(0) comments
Dylan THORTS
It was Bob Dylan's 80th birthday last week, and there was so much HOO-HA about it that I thought I should probably have a listen to him again. As anyone who has ever spoken to me during the period November to January will know, I listen to Bob Dylan A LOT, specifically his (AMAZING) Christmas Album, but it's AGES since I listened to much else, so as a special BIRTHDAY TRIBUTE I have spent much of the past few days doing exactly that.
I started off with "Highway 61 Revisited", which is of course UTTERLY BRILLIANT. It's one of those records where you forget just HOW brilliant it is, until you put it on and find yourself GURNING ALONG as you shout the lyrics, and also dance about a bit. Similarly "Bringing It All Back Home" was HUGE amounts of fun - this is definitely a record that I remember being more Boring Dylan than Fun Dylan, but it turned out to be MUCH more the latter.
Next on the list was "Freewheelin'" which I remembered CORRECTLY as being a bit dreary, and was if anything even more so that I recalled. With that in mind I decided to AVOID the other Boring Dylan records and go straight to "Blonde On Blonde" which remains one of the MOST GRATE records ever made. COR BLIMEY, it's exciting just LISTENING to it, I can hardly imagine what it must have been like to have been in the actual room when that ALMIGHTY RACKET was going on. Apparently B Dylan kept trying to recreate that sound over the decades that followed and I am not surprised as it is THE BEST SOUND EVER. I love the fact that you can HEAR them having a brilliant time, and realising that they were making an astonishing sound even while they were doing it. Ooh, I want to go back and put it on again now!
I then briefly got a bit stuck - I do OWN various other B Dylan records (mostly from previous occasions when I've listened to the three GRATE ones above and thought "I need MORE!") but they've never really stuck. I did think about asking for recommendations, but luckily various PALS did that without asking, and I got three MORE to have a listen to.
I've had a go at "Blood On The Tracks" in the past and never really got into it, as it sounds a bit SEDATE, and the first time around it did so again. HOWEVER, as several people had mentioned it as their favourite I thought I'd better give it a couple more goes and in doing so finally GOT IT, to the extent that I have had "Idiot Wind" going round my head for two days. Next was "The Basement Tapes", which sounds a BIT like "Blonde On Blonde" in terms of LARKS/Crash Bang Wallop but not quite as good, and also the version I had appeared to have had all of the HITS removed and replaced by The Band doing some of their own stuff. It improved MARKEDLY once I started just SKIPPING The Band songs, but I think what I need is one of them Spotify Playlists which does that for me and adds in "Mighty Quinn" and so forth.
While discussing all this on The Social Media I mentioned that The Basement Tapes is a sort of proto-Travelling Wilburys which a) is an excellent point if I do say so myself but b) uncovered a terrible truth, that one of my oldest friends has apparently NEVER LISTENED TO THE TRAVELING WILBURYS! I partly blame myself, but also I must lay some blame on The Government - my understanding was that, after the success of giving every parent in the country a copy of "Bob Marley Legend" in the mid-1980s the government then issued everybody with copies of "Brothers In Arms", "Gracelands" and "Traveling Wilburys Vol.1" but perhaps certain Peterborough postcodes were omitted from this scheme? It is a historical injustice that must be rectified!
Anyway, FINALLY I had a listen to "Oh Mercy" which I think of as one of his most recent albums, but turns out to have been released approx 300,000 years ago. For some reason I BOUGHT this when it came out, despite never having listened to any Bob Dylan records before, and I can't for the life of me work out why. The following year I would get a load of Dylan TAPES off of Dr N Brown, who was responsible for MUCH WIDENING of my MUSICAL BRANE, but this was before then so I've no idea what was going on. Anyway, listening to it now I was surprised by how many HITS there were on it, and how enjoyable it is - yes, a lot of the songs are him going "Oh I am extremely fed up and, apparently, a bit tired" but it sounds LOVELY.
And there my DYLAN ODYSSEY ended, for now at least. I suppose I should really go and listen to that new album he put out last year, which I bought, listened to once, and then put McCartney III back on instead... or maybe I should go and look for that playlist instead? Either way, I think this whole experience has proven two (2) important FACTS: 1) Bob Dylan is DEAD GOOD 2) Reviewing music is PEASY!
posted 31/5/2021 by MJ Hibbett
(click here for permanent link)
(0) comments
Live In Session
Last time here I UNLEASHED
a video of a song what I wrote during, and about, the early chunk of Lockdown
. That was the only song I wrote ABOUT The Current Situation, but it's not the only song I wrote DURING it. I've had two BATCHES of songwriting in fact, on right at the very start of All This, and then another about six weeks ago, where there was a DELUGE of songs, some of which I believe are Quite Good!
These have now been DEMOED and sent to The Validators, so hopefully some of them will be available on our next release (which going by our usual speedy standards will be sometime in the 22nd century!) but in the meantime you can hear ONE of these songs on a SESSION what I recorded for Mr S McHugh on his Regalnet Radio show, HERE:
The new song's called "Why Do Bad Things Happen To Good People?" and, like most of the new songs, is based on my THORTS while at home for the past year. There's also a couple of older songs PLUS my own version of
Our Year
by Jane And John, which is slightly more SHOUTY than the original!
posted 24/5/2021 by MJ Hibbett
(click here for permanent link)
(0) comments
Rocking Out But Quietly
While going through the ARCHIVES of my unlisted videos on YouTube I found a couple of other, non-gig, ITEMS that have never properly seen the light of day, including THIS from March last year:
It's called "Rocking Out But Quietly" and, as you can probably gather from the title and lyrics, it was recorded right at the start of the very first lockdown, when everyone thought saying "see you on the other side" meant in a few weeks, rather than over a year. It was written for a THING in The World Of Showbiz and, as usual with THINGS in The World Of Showbiz, it was all a bit DISCONCERTING.
It all began when a very nice person of my acquaintance forwarded my details to some other people who were putting together an online show to "help people through lockdown" (there was a lot of this sort of thing back then!) and wanted to include a song ABOUT it all. As ever with these forays into The World Of Showbiz it was all very exciting at the start, with phone calls back and forth about what sort of song they wanted, me offering various ideas, and much jollity on the phone. For some reason people in The World Of Showbiz always want to talk on the phone and call you "mate" all the time - it's NOTICEABLE, and I fear I may even have joined in after a while!
And then, as happens so often with The World Of Showbiz, all communication suddenly stopped completely. I emailed a couple of times to see what waas going on, but there was no response at all, no phone calls, nothing. The next I knew about it was some weeks later when I saw the THING being advertised, with a bunch of people who were more well-known people than ME in it - ny guess, based on previous experience, is that somebody better known than me (of which there are many!) came along with a song instead, and so I was dropped.
I've come to realise that this is seen as Normal in The World Of Showbiz, that there's so many people trying to "make it" that anyone who has any kind of showcase can just drop anyone completely without having to feel bad about it, and this is just accepted. It must be horrible for actors especially, who go through this every day - it does of course happen in ROCK, but much less often, as a) you're not trying out for stuff every day and b) people are generally nicer! I try not to get TOO annoyed about it, but it's still WEIRD when it actually happens.
ANYWAY, by the time The Thing had happened and I was sure that the song wasn't being used the general MOMENT for Songs About Early Lockdown had passed, so it languished in my ARCHIVE... until now! I hope you enjoy it and who knows, maybe now we WILL get to the other side in a few weeks!
posted 20/5/2021 by MJ Hibbett
(click here for permanent link)
(0) comments
Gigs Of The Past - Hey Hey 16K
Following on from the video of 'Moon Horse' last time, today I've got another me (and Steve) show for you -
Hey Hey 16K
!
This show is, of course, VERY MUCH AVAILABLE as
an actual properly filmed DVD available directly from Go Faster Stripe
, and I would urge - URGE - you to buy it from there as I still feel terrible about the fact that the lovely Mr Chris Evans (not that one) spent proper money putting it all together and has, I suspect, nothing much more than boxes and boxes of unsold DVDs to show for it.
That recording is Quite Good, and includes several DVD extras, whereas the video I'm showing today is not particularly brilliant, but does feature some singing along from the audience!
It filmed on the second night of our (two night) run at The Camden Comedy Festival in 2015. The night before we had had pretty much a FULL HOUSE, honest, no really we totally did, so it was a shame we didn't film that one too, but this was a GRATE night as well. It's funny with 'Hey Hey 16K', after doing LOADS of shows I'd finally realised that making everything A Bit Complicated just made it... well, A Bit Complicated, and so for THIS show I tried to write it with a single narrative that people could actually understand. Previously people had got a bit confused DESPITE the FACT that Steve and I are both obviously GRATE actors who can definitely do lots of different voices and create entirely different characters in a split second, so this one's got less different characters in it and a clearer story, which leaves room (it turns out) for some more JOKES, also a DANCE ROUTINE and some CIRCUS SKILLS!
It all turned out pretty niftily, or at least I think so anyway. Have a look and see for yourself, and if you like it please assuage some of my guilt and get a copy of
the proper version
- there are definitely plenty of copies left!
posted 17/5/2021 by MJ Hibbett
(click here for permanent link)
(0) comments
Gigs Of The Past - Moon Horse!
The whole idea of doing these 'Gigs Of The Past' came from finding a bunch of DVDs in one of my drawers, and realising that the world - and HUMAN HISTORY - needed to have access to these vital documents.
There must be LOADS of DVDs like this gathering dust in the cupboards and lofts of the world, possibly stacked on top of the VIDEOTAPES that came before them. Nowadays of course we would simply take these historical records direct from our phones and whack them on The Social Medias, but back at the start of the decade this was not quite so straightforward. We still tended to be filming on Actual Cameras, broadband speeds were a lot slower so it took AGES to upload things, and (possibly as a result) the conventional wisdom was that you shouldn't put anything too LONG online, as nobody would ever watch it all.
That might explain why some of the NEXT batch of Gigs Of The Past have not really seen the light of day until now, as they are Quite Long. Take for instance today's UNLEASHMENT: a full-length recording of me and Steve performing
Moon Horse VS The Mars Men Of Jupiter
back in 2011.
The gig took place at The Lexington on a Sunday afternoon, which I THINK means it must have been part of
The Hangover Lounge
, a DELIGHTFUL Sunday Afternoon THING which was all the rage back in the heady days of Actually Going To Pubs. It doesn't say so in
the original blog
about it, but I'm pretty sure we did some of the other shows there too. For some reason, my memories of this particular Sunday Afternoon In The Pub are slightly hazy, despite the fact that it was my BIRTHDAY. What can it possibly mean?!?
I do remember being quite NERVOUS beforehand, as it was one of the very first performances of the show, but I also remember it being lovely. Pretty much EVERY performance of 'Moon Horse' was a DELIGHT - it may not have been the easiest of our shows to follow for audience but it was a whole heap of FUN for US, and it had some of my very favourite characters in it, especially Tiddy The Tin Man and The Mars Men Of Jupiter. Also, looking at the video now, I am impressed by how PROPER the Performance Space looks. The show took place upstairs at the Lexington, but NOT on the stage, as it might appear. We performed on the venue floor, sideways on to the stage but in front of a wall with a MASSIVE curtain, so it looks like we are in an actual FRINGE venue of some kind.
It was a lovely afternoon and a show filled with EXCELLENT memories. The only problem with watching it all again, I now realise, is that it has LODGED the theme tune back in my BRANE. Apologies in advance if it does the same for you now!
posted 12/5/2021 by MJ Hibbett
(click here for permanent link)
(0) comments
Gigs Of The Past - Inventing Friday Night
Today we've got the final blast from the past in this brief series of recently unearthed historical documents what I found in a drawer... although not the end of Gigs Of The Past!
This time we've got the full-band Validators performance of
My Exciting Life In ROCK
where I told all the usual stories, at sometimes slightly unusual length, and then The Validators ROCKED it (acoustically) in a tent.
The tent involved was pitched at the Midlands Railway in Butterley, for LO! this all happened at the wonderful
Indietracks Festival
on Friday 25 July 2008, where it was filmed by Mr Michael Prince. Until this point the festival had happened on the Saturday and Sunday, but as people were generally turning up on the Friday night anyway they decided to have a go at putting something on the Friday night too, and asked us to INAUGRATE it for them. Since then all sorts of famous people have performed on the Friday, BUT WE WERE FIRST!
My memories of the evening were that a) it took some WORK to keep it all thing going, as we were only partly amplified and TENTS don't tend to be terrific for acoustics b) I very much enjoyed doing a gig barefoot, and also c) Miss E and Miss L Pattison basically upstaged me the whole way through. What I DIDN'T remember however was that, according to
the original blog
, this was the very first time we ever did THE TIGER'S ROAR! It was so NEW that we didn't even know that was it's name at the time, but over the years it has come to be a HIGHPOINT of our entire show!
I hope these old videos are of interest - I've really enjoyed looking at them, even if it's made me feel a bit knackered just THINKING about how many gigs we did back then, and if anybody has any other videos lying around, do let me know. As I say, this is the end of the gigs I've digitised from DVDs found in a drawer, but while uploading them I found a whole load of OTHER gigs that I uploaded years ago but never showed off, so we'll be carrying on with some of those next time!
posted 10/5/2021 by MJ Hibbett
(click here for permanent link)
(0) comments
Gigs Of The Past - The Red House
Today we're leaping forward three years to one of my busiest years in ROCK, when I did a LUDICROUS 72 gigs over the course of the year. Yes yes, I know, B Dylan, B Springsteen et al have probably done many more than that per year in the past, but B Dylan, B Springsteen et al didn't also have full-time jobs did they?
One of the reasons for the huge number of gigs during this and the following years was that, as well as TOURING THE NATION on a weekly basis, I was also doing the first of the Me And Steve Fringe shows -
My Exciting Life In ROCK!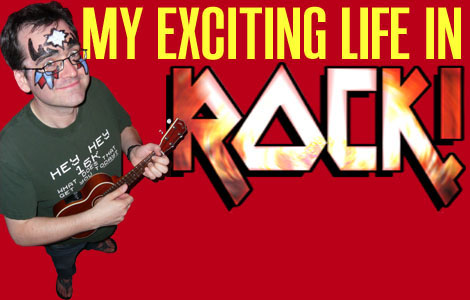 This was the show based on Steve's suggestion that I do "all of the good stories" and "all of the good songs", so that is basically what it was! Today's video was filmed on 7 July 2008 at The Red House, Sheffield by Mr Michael Prince, and it was meant to be a warm-up for our week-long run at the Edinburgh Fringe the following month. However, when I rolled up I found that it was actually a normal multi-band show and I only had a half hour slot, so did an ABBREVIATED version, as you can see here:
As it says on
the original blog about it
, I had a LOVELY evening as I so often do in Sheffield, with a whole heap of delightful pals, and that's probably why I staggered off into the night afterwards and got completely lost. I distinctly remember walking along dark streets thinking "Something familiar will crop up soon" and it never doing so, and being IMMENSELY relieved when I was able to flag down a taxi, especially when I realised I'd been going in entirely the opposite direction to where my actual hotel was!
There's just one more video to go in this short series, ALSO filmed by Michael, so do join me next time for a remembrance of the time we invented a whole NIGHT at a festival!
posted 6/5/2021 by MJ Hibbett
(click here for permanent link)
(0) comments
Gigs Of The Past - Malcfest
Today's gig nominally took place in Catford in September 2005, but in my heart it happened in Lewisham. For LO! this was Malcfest, an event run by Mr Malcolm Gayner who was a huge part of (what I always thought of as) The Kooba Scene, based around
the pioneering internet radio station
and gigs at The Fox & Firkin in Lewisham. There was a whole heap of wonderful bands who gigged there and got played on Kooba, and all SORTS of larks and hijinks emerged from it. It was a huge part of my life back then, and introduced me to a truckload of DELIGHTFUL people.
So, even though this took place in the back yard of Malcolm's house in Catford I always think of it as Lewisham - have a look and see what part of South London it strikes you as:
The first thing you might notice, apart from my hairiness and bright t-shirt, is that my voice sounds like it's being piped in from miles away. The reason for this is that Malcolm had a MASSIVE PA system which everythig was being played in from, and he took the audio recording from that. The PA system was in the front room of the house with all the doors shut, so you could vaguely hear it outside but not much. I think the idea was that some people were in the front room GROOVING (NB bands supplying GROOVE were playing later) but there was also some idea that by shutting the doors it made everything louder without upsetting the neighbours too much. I didn't understand it at the time and I don't really now! I do remember it being a fun afternoon though - I have always enjoyed a back yard gig, especially when there is Performers' Beer provided, and I think there was a barbecue too.
This gig was near the start of my decade of constant gigging, around the point when I'd developed an "Uberset" of songs which I knew I could play anywhere and usually get a good reaction from the extremely varied types of crowds I was playing to - nowadays we would call this a set of "Guaranteed Bangers". The only "problem" I had with this was that these songs came from all over the place within my OUVRE, so when people asked to buy a CD at the end of the show (as they sometimes did) it was difficult to recommend something, and the recorded versions of the songs would be very different to those they'd just seen me do solo.
Thinking back, this was a nice problem to have, and what I should have done was just give away extra CDs or something. What I DID do however was record the entire set on the appropriately titled
The Uberset
album. I originally intended to record it totally live at this gig, which is why I mention it, but as you can see from the video I very quickly made far too many mistakes, probably due to being nervous about recording it, so gave up on that idea and just had a nice time instead, returning a few weeks later to record the actual album.
It was a lovely, if rather busy, time, though I wish I hadn't been quite so enthusiastic about pressing copies of this album - I've still got bloody loads of copies left!
posted 4/5/2021 by MJ Hibbett
(click here for permanent link)
(0) comments
---