Blog
Gigs
Facts
Music
Shop
Links
Blog
Joyzine Addendum
After all the excitement of doing an actual GIG for the 20th Anniversary of JOYZINE, I forgot to mention that they have also unleashed a compilation album called
20 Years Of Joy: Volume 1
to mark the occasion, available on
Bandcamp
.
As you may have GLEANED from the title, this is the first of SEVERAL such compilations which I believe will be released over the course of the year (four altogether I think). The one what I'm on features a HOST of excellent acts like Scaramanga Six, Burning Hell, Piney Gir, and Deux Furieuses (as watched on Sunday) alongside the traditional Many Many More.
My track is a cover version of
What A Wonderful World
(AKA That Louis Armstrong Song, You Know, It's In James Bond). The remit for the compilation was that all the songs should be something to do with JOY and, after a while trying to think up a new song I eventually realised that this was my opportunity to COVER one what I've been piddling about with for literally DECADES. I have a big folder full of SONGS copied from Songbooks over the years, a large number of which were written down in the last century whilst visitng my dad in Cornwall - he has LOADS of these songbooks, so I would sit in his spare room trying out all these other songs, and one of my all-time favourites was the aforementiond "What A Wonderful World". It took me quite a lot of figuring out and transposing to get it into a format that I could actually PLAY, after which I have spent many many years strumming it in the privacy of my own home in a fairly gentle, cautiously sung version.
I've never played it LIVE because I don't have the confidence in either my singing OR guitar playing to do it, but thought that I would probably be able to get it pretty much right if I too several goes at recording it. Friends, I have to report that I was INCORRECT and even with modern Jiggery Pokery I was unable to get it taped in anything LIKE a publically acceptable way.
CHASTISED I decided to have a go at using the MAGIC OF MIDI to do something else, and over the course of a couple of days it MUTATED from a gentle strum through a beautiful classic to something that sounded as if SKYNET was taking a break after OBLITERATING HUMANITY and was all of a sudden wondering if that had been entirely the right thing to do. This was, of course, also taking place in a universe where SKYNET has a noticeable East Midlands accent, and I guess that would mean that the TERMINATORS would have been similar recast. "Oi'll Be Back ME DUCK" possibly?
Anyway, I think it turned out all right and even if it didn't there is a whole HEAP of other GRATE stuff on the album, so why not
give it a listen
and then also PURCHASE it? GO ON!
posted 23/8/2023 by MJ Hibbett
(click here for permanent link)
(0) comments
Music Recommendations Requested
Last year I put out a REQUEST on The Socials asking for recommendations of new music to listen to. I did this because I fancied refreshing my WALKMAN but could not be bothered to go out and look for anything myself, but it turned out to be a GRATE idea as my PALS came up with a TONNE of really good music for me to have a listen to.
They came up with NINETY TWO different acts to listen to, in fact, which I then spent several happy months trawling through, and I found some BRILLIANT stuff in there. My absolute favourites were THE BETHS - I have now bought ALL their albums and even been to SEE them, and am now wishing they would hurry up and get back from World Tour so they can record some MORE. I also flipping LOVED Lonely Tourist, Pip Blom and Lande Hekt, and have respectively tried to book a gig with, bought more albums by, and been to SEE (supporting The Beths) each of them SINCE. I also liked Bas Jan, Dream Wife, Holiday Ghosts and Sad13 too - it was a BOUNTIFUL crop.
Of the other EIGHTY-ISH acts I enjoyed lots of them, thought "Oh yes, I can see why you like that" for some, but actively DISLIKED only a few. I will not, of course, NAME NAMES for any of these because I am dead polite, but I think it can be summed up with me not liking a) anything that sounds like folk music or b) Men Angrily Shouting Over A Drum Machine. There was quite a LOT of the latter - if I wanted to listen to that I could make my own at home!
It was a GRATE SUCCESS all round, and I find myself in the same situation again i.e. I'd like to listen to some new stuff I like but cannot be bothered to go and look for it myself. SO, with that in mind - what's a) NEW b) GOOD that c) I would probably like?
Looking at the LAST batch I think it's pretty clear the general sort of stuff I like i.e. largely the JINGLE, also the JANGLE, some GOOD WORDS, PROPER CHORUSES, and NOT BEING FOLK MUSIC. If anybody can think of anything that EITHER fulfils the above criteria OR is something DIFFERENT but is STILL NOT FOLK MUSIC and does not feature Men Shouting Angrily Over A Drum Machine then I would very much like to hear about it please, either in the comments below or over on
The Socials
. FACT me up kids!
posted 22/8/2023 by MJ Hibbett
(click here for permanent link)
(0) comments
Joyzine At 20
On Saturday I headed off to distant NEW CROSS, where I was due to play at the 20th birthday celebrations for
Joyzine
. Joyzine has been a constant source of, well, JOY, in my ROCKING LIFE for all of those two decades, through gigs, reviews, mentions, the radio show, and ALL SORTS, so I was utterly delighted to have been asked to go and play.
I arrived to find Paul From Joyzine looking surprisingly NOT TERRIFIED for a man who was organising not one but TWO consecutive all-dayers. He took me through to look at The Garden Stage where I'd be playing, which turned out to be very much an actual GARDEN, and then I was garlanded with a wrist band which entitled me to a 50% discount on EVERYTHING. I fully support this sort of action on the part of venues, and every time I bought a beer it felt like it WAS about twenty years ago, price-wise!
While venturing to the bar I bumped into the wonderful Mr Dave Green and we fell into discussion about topics various, as is our wont, in the garden. After a while I had to tear myself away to do a quick soundcheck, and I was VERY pleased to be able to debut
A Song For The Soundcheck
, which I had finished writing the day before EXPRESSLY for this purpose. It was GRATE!
We then waited a few minutes for people to come out to the back, and then after an intro from Paul I launched into my set, THUS:
As you can see, it was very much a HITS SET, which was a WISE choice because as far as I could gather approx 90% of the audience had never ever seen me before. It's been a while (nearly a year in fact) since I've done a NORMAL gig of this sort so I had to remember how it's supposed to work, and I think it went all right. The nice thing about playing for people who are hearing the songs for the first time is that they (hopefully) LARF in specific places, and I always think "Oh yeah, that IS quite a good bit". I BABBLED ON a bit due to nervousnessness but otherwise it was a LOT of fun. Gigs are GRATE!
After that Dave and I wandered into the main room and watched
Deux Furieuses
, who were BRILLIANT. It was JUST guitar and drums but CRIKEY, what guitars and drums they were! It was VERY LOUD and VERY EXCITING and we both felt that they were AMAZING!
After that it was time for me to head off, so I said farewell to Dave and anybody else I could find and then headed off back to East London. That was a LOT of fun to do, does anybody ELSE have an anniversary coming up I can do??
posted 21/8/2023 by MJ Hibbett
(click here for permanent link)
(0) comments
Doom Described
I had some DELIGHTFUL comics news this week - my article
Image Quotation of Past Events to Enforce Storyworld Continuity in John Byrne's Fantastic Four
has been published in
the current issue of 'Closure'
. 'Closure' is a German open access academic journal about comics, and this particular issue features papers based on the 2021
Comfor
conference that I attended.
I'm really happy that my paper's out there as it is about something that I think it is DEAD INTERESTING. It looks at three issues of John Byrne's run on "The Fantastic Four" during the 1980s when he tried very hard to make himself the one true successor to Stan Lee and Jack Kirby. One of the ways he did this was by using "Image quotation" (basically copying previous panels as part of flashbacks) to enforce the idea that he was the only person who could decide what was or wasn't "true" for that set of characters. I found it REALLY FASCINATING, and hopefully some of that comes across in the article.
I'm also happy because of the COMPANY I'm keeping - the ComFor lot are a RIGHT bunch of SUPERBRANES, so I'm delighted to have SNUCK IN amongst them. Now I'm off to have a proper READ of what they all said!
posted 15/8/2023 by MJ Hibbett
(click here for permanent link)
(4) comments
Hibbettfest Datafest
To mark the successful completion of HIBBETTFEST I thought I'd use the information that resides within The Database Of ROCK to generate some FACTS about the history of the festival that many people have hailed as "The best festival to ever recur in Ray's Mum's Back Garden".
So, the first thing to say is that there have been 14 Hibbettfests overall since 2004. Fallow years occurred in 2006, 2015 and 2019 for reasons that I can't remember, and from 2020 to 2022 for Global Crisis Reasons.
Hibbettfests are defined here as events occurring in Ray's Mum's Back Garden. There was an earlier proto-Hibbettfest which took place in Winchester on 10 August 2003 in Ray's Back Garden, but although this was arranged by Ray's Mum (as a surprise birthday celebration for Ray) it was not until it reached its official venue the following year that Hibbettfests as we know them today properly began.
The median date for gigs to happen was 28 July, while the mean date is 25 July. As the graph below shows, Hibbettfest has occurred at different times over the years, although most often in August.
Over the fourteen Hibbettfests I have performed 73 different songs. The table below shows all of those performed 3 or more times.
Comparing this to
the overall list from the first one thousand gigs
we can see that the major surprises are the high placing for
(You Make Me Feel) Soft Rock
and the non-appearance of
Hey Hey 16K
. I'm pretty sure that's because I have long realised that its appeal is severely limited amongst audiences that are 50% small babies and dogs. Maybe that's why
Dinosaurs Talk Like Pirates
appears so often - thinking about it, I reckon that's a HIT in the canine and/or infant communities!
Moving on, Hibbettfest is, of course, not just about me. I mean, it's NAMED after me and everything but there have been various other people who've played. This all began in 2008, with the arrival Pete Green as the first guest artiste, and since then several more people have shared the stage/patio. Key amongs them was Ray himself who has compered almost all of them, as well as providing the buffet. No statistics are available for how much I have eaten from said buffet, but a rough approximation would be A LOT.
Apart from Ray, the people who have joined me on the patio the most times are Mr Steve Hewitt and Tom 'The Tiger' McClure, at four times each, including 2023. Mr Tim Pattison has played three times, Frankie Machine and Alexander Christopher Hale twice, and there have been one-time only appearances from Chris T-T, Daniel and Norbert Dentrassangle, Emma Pattison, Gavin Osborn. Jasmine Allen Estate, Matt Tiller, Shelley from Finance, Dunc Vernon and the aforementioned Pete Green.
If we compare these names to the list of
People I Have ROCKED With
during the first one thousand gigs, we can see that Steve tops both, but that Tom has clambered boldly over Tim and Frankie to get to joint first position. After that we can see that the list of people who've shared a patio with me is not all that different to those who've done the same on a more conventional "stage".
To summarise then, the actual content of Hibbettfest gigs did not vary all that much from gigs overall - it had a fairly standard setlists of BANGERS, with the usual glittering array of ROCK STARS joining me on stage. The difference, then, was in the venue itself. Sadly I have never recorded DELIGHTFULNESS of promoters or EXCELLENCE of Estate Managers, but if I had then the various Kirkhams would have been charttoppers. Similarly I have never recorded excellence of RIDER because a) I don't usually get one and b) none would ever have compared to that received at Hibbettfest. Truly, it has been a wonderful thing, and I salute it in the best possible way - through FACTS!
posted 14/8/2023 by MJ Hibbett
(click here for permanent link)
(1) comments
Hibbettfest Completed!
On Saturday I headed to distant DUDLEY to attend the final iterarion of HIBBETTFEST, that grand tradition what has occurred on the patio of
Ray's Mum's Back Garden
these many years.
I was joined by Mr S Hewitt at Marylebone station, who kept me up to date with The Football by listening to it on his phone and occasionally going "OOH!" and "YES!" It was like a live action TELETEXT. We then met with Mr FA Machine at Birmingham Moor Street and together we travelled to Cradley Heath, where Ray's Day picked us up for the final leg to the festival site.
We arrived to find a whole HEAP of lovely people, not least Ray, his Mum, tonnes of old pals, and performers in the shape of Mr T 'The Tiger' McClure, Mr G Williams aka Jasmine Allen Estate and Mrs SJ Newman aka Shelley From Finance. Shelley had originally been coming as part of Alex And The Christopher Hale Band but Alex was POORLY and so she STEPPED UP!
There had been some worries beforehand about the weather but, apart from a few spots of rain mid-afternoon it was lovely, and we had a DELIGHTFUL time standing around yacking surrounded by a new batch of BABIES and slightly less new batch of DOGS.
After an hour or so of this it was time to get going, with Gareth doing some (I think) NEW MATERIAL, as well as some HITS. Ray then opened the BUFFET, which was both MASSIVE and BRILLIANT, and once we were all suitably STUFFED it was then time for Shelley to ROCK the patio, which she very much DID. At this point the CAKES were brought out and we ate MORE food. It was GRATE!
Also, at some point during all this (there was so much FOOD going on it was hard to concentrate) there were GIFTS. Myself and Ray were presented with CUSHIONS by the Kirkham Estate, which was lovely, and EVERYONE got given a Hibbettfest Tote Bag which Ray had made himself. It was, as ever, LIKE a normal festival, but MUCH BETTER!
After all that excitement Steve and I got up and did a MEDLEY of songs from Dinosaur Planet. It was the same arrangement that we did at
GIG ONE THOUSAND
and, as then, I did wonder what on earth someone would make of it all who'd never seen the show. It was a LOT of fun though, especially watching Steve trying to change SONG SHEETS with dinosaur puppets on both hands!
I was then joined by Franke and Tom, and we took our turn to ROCK through a bunch of hits, THUS:
Steve joined us for the last one, and then after all THAT we did an encore of
Boom Shake The Room
joined by Gareth, Shelley, and extra special guest Mr Dunc Vernon, which was a WHOLE HEAP of good times!
It was, in short, BLOODY BRILLIANT and a wonderful send off for this most wonderful series of gigs. The party broke up not long after that, with a hearty slice of us heading off via MAGIC BUS or TIGERMOBILE to The Wellington for BEER, as is tradition. The last train home was PAINFULLY early so me, Steve and Rob had to leave quite quickly, but apart from that it had been an all round GRATE day. Thanks everybody for coming, it was ACE!
posted 13/8/2023 by MJ Hibbett
(click here for permanent link)
(0) comments
All Goals Achieved
Today I am DELIGHTED to herald the UNLEASHMENT of a brand new compilation album from
Artists Against Success
- the fantastic
All Goals Achieved
!
This is a compilation album, put together by my Mighty Colleague Mr FA Machine, celebrating TWENTY FIVE (25) YEARS of Artists Against Success. It is called "All Goals Achieved" because we set out to DEFY THE MAN, and we have very much DONE SO.
Frankie's original idea was to try and get in touch with as many of the old AAS acts as possible and ask them if they'd like to contribute a track. When we discussed it we hoped a few of them would do so, but in the end EVERY SINGLE ONE OF THEM sent us something. Two of our other initial goals were Not To Be Total Wankers and Not To Rip People Off and we very much hope that the FACT that everyone's still talking to us illustrates that we have also achieved this one!
I know I am biased, but there really are some CRACKING tracks on there, including lots and lots of BRAND NEW material. Lots of it was recorded ESPECIALLY for us, and there are MULTIPLE bands who have done their first recording in YEARS as a result. We are Very Pleased about this!
There's also loads of ME in the tracklist - I would argue that this is only right, as there has been loads of ME in
the back catalogue
- including stuff from Voon, Jane and John, The Validators, me and Steve and EVEN MORE. "Plenty Of Hibbett" is perhaps the best way to describe it.
Best of all - even better than there being loads of ME - is the FACT that the whole thing is FREE. Yes, that's right - FREE! You can get it on Spotify and all those sorts of places, but if you go to
the Artists Against Success Bandcamp page
you can get THE LOT for absolutely NOTHING!
"But MJ and Frankie," you might say, "surely that can't be right? Isn't the whole point of The Corrupt Music Business to make as much money as possible, generally by FLEECING THE KIDS? Won't these actions upset - perhaps even be seen as DEFYING - THE MAN?"
EXACTLY!
posted 28/7/2023 by MJ Hibbett
(click here for permanent link)
(0) comments
Hibbettfest Returns!
Now that I've finished turning Comics Studies LITERALLY ON ITS HEAD it's time to give some attention to the Krazy World Of Rock And Roll, TO WHIT getting a bit more organised about HIBBETTFEST 2023.
As you can see on
the gigs page
I have updated the details slightly - it already said that the EXTRAVAGANZA would be taking place in Kingswinford on Saturday 12 August, but now it ALSO says that the ACTS will be beginning at about 2pm, and that those ACTS will be
Jasmine Allen Estate
,
Alexander Christopher Hale
, and then ME featuring a) Mr S Hewitt and b) about 50% of The Validators. NOT shown on the listings is the FACT that after that we'll all get in a big taxi and head into town for BEER, as is tradition.
It's always a GRATE day and if you'd like to come you are very welcome. HOWEVER, it really really IS in Ray's Mum's back garden - over the years many people have assumed this is a KRAZY VENUE NAME, but it is NOT - so I can't really broadcast the address here on this extremely public forum, so if you fancy a trip to Kingswinford email at mjhibbett (AT) hotmail (DOT) com and I'll give you the details. It is basically like a RAVE!
And yes, I am PRETTY SURE that the sophisticated AI overminds what we have these days would be able to crack the COMPLEX CODE that I have used for my email address there, but anything we can do to foil SKYNET for now is worth having a go at!
posted 12/7/2023 by MJ Hibbett
(click here for permanent link)
(1) comments
IGNCC 2023
Last week I spent most of my time either travelling TO/FROM or IN the delightful Cambridgeshire city of CAMBRIDGE. For LO! it was that time of year again for the mightiest BRANES in Comics Studies gather together for the
International Graphic Novels And Comics Conference
!
Every other year this is was a joint conference with the International Bande Dessinée Society, and as this WAS one of those years it meant that we had a whole WEEK of presentations. On other such occasions when I've been to these I've stayed in a hotel, but this time it seemed a bit daft when it's only in Cambridge so I decided to COMMUTE. This was SENSIBLE when I made my decision, but that was before the overtime bans on the railways were announce, which severely restricted what trains I could get. THUS I ended up getting up at SIX IN THE MORNING (yes, that is a REAL TIME) on several days to SCHLEP all the way there on the SLOW train from Liverpool Street. That particular train was also the one used by 17 MILLION CHILDREN going to school in Bishops Stortford, which is not QUITE the ideal travelling companion for someone who has got up as early as what I had - especially on FRIDAY when I had been to the pub the night before!
My travel mood was not enhanced on the first morning when I tried to work out where to go, found a MAP in the programme and got a TAXI all the way across to the other side of Cambridge... only to (eventually) discover that it was just the venue for a RECEPTION later on, and that the ACTUAL conference was happening all the way back near where I'd started from, requiring ANOTHER taxi.
Still, once I was actually THERE I had a bloody GRATE time. The fact that've been so many times meant that there were LOADS of friendly faces and I must say ALSO rather lot of BRILLIANT talks. I think my favourite one was a keynote by Milo Ira and Cameron Carley called "Two-Spirit illustration: Sequential art for connection and resilience". Partly this was because of the subject matter, which was about "two-spirit" as a way to LOOK at types of identity, sitting alongside indigeneous approaches to AUTISM (which felt HIGHLY relevant to my interests), but also because they were BRILLIANT at presenting. They were so CONFIDENT but also LOVABLE, and they did a whole thing about the need to call people IN rather than calling them OUT. It's the sort of thing that SOUNDS like The Daily Mail are going to complain about it, but in a room full of Worried Academics it was PROFOUNDLY MOVING. They did a bit before the questions where they said "Don't worry if you get some terminology wrong" and you could feel the GRATITUDE of the whole room. I must admit I got a bit teary in some bits, and there was a big queue afterwards of people wanting to tell them how ace they were.
On Tuesday I CHAIRED a panel on "Comics, caring and parent wellbeing" which felt WEIRDLY like a step back in time, as part of it was done by a PATIENT group collaborating with a HEALTH ACADEMIC, which reminded me of many conferences what I'd been to in my previous life in Health Expectancy. TERRIFYINGLY there weren't many questions at the end, so I had to do most of them as CHAIR - I think it worked out OK, but I didn't half have to concentrate!
My favourite day though was THURSDAY because that was the day I did MY talk, entitled "Why Aren't We Talking About The Beano?" It was all about the FACT that Comics Studies almost NEVER talks about the Beano (e.g. only 0.5% of ALL presentations at IGNCC over the past 10 years have even MENTIONED it, and that's including mine that day!) and looking at reasons why that might be. Partly, I argued, it's because we feel we have to spend more time looking at "Posh Comics" i.e. nice, safe, SERIOUS comics that won't frighten Vice Chancellors or cause THE MEDIA to say "They're spending money reading The Beano!" I wasn't saying we should NEVER look at "Posh Comics" though, and didn't want to single out a particular TEXT for criticism, so made my OWN Posh Comic to show what I meant. Here it is!
Beforehand I had had VISIONS of my INCENDIARY REMARKS inciting a complete upheaval of the field and me being carried out on shoulders as we set off to tear down THE ESTABLISHMENT. It didn't QUITE go like that, but everyone did LARF at my jokes, and I was VERY RELIEVED INDEED that people seemed to agree with me, ESPECIALLY some of the Pioneers Of Comics Studies who were in attendance. PHEW!
The only real downside to all this was at the end of the day when I had SEVERAL pints of BEER to celebrate and ended up sat in a (very nice) pub telling various COLLEAGUES that "I AM AN INTERNATIONAL ROCK STAR". I mean, it's true, OBVS, but I think it might have been better if I hadn't said it QUITE so many times.
Other than that it was a LOVELY week with much THORT and IDEAS and even PLANS for exciting future projects. I'm VERY much looking forward to next year already, but this time I think I'll a) stay in a hotel again and b) try NOT to have quite so much beer on an empty stomach!
posted 9/7/2023 by MJ Hibbett
(click here for permanent link)
(0) comments
Pop At The Lock
There blog has fallen quiet again recently, not due to lack of ACTION, but due to a lack of RELEVANT ACTION. I could quite happily spend MANY days discussing HR Policy in Universities or the relative merits of peer review when applying for research funding, but I fear these may not be of universal interest.
Or maybe they would - I spent Saturday at a HIGHLY relevant Indie Extravaganza where similar such topics were widely discussed, so who knows? The event was "Pop At The Lock", the WONDERFUL popfest in Middlewich Cheshire what me and The Validators performed at last year. This time I was playing solo on the Acoustic Stage (which WAS a stage this year) so The Validators were sadly not around, but a whole heap of other people very much were. FOR LO! as various amongst us agreed, this was as close to INDIETRACKS as we can currently get and it was THRONGING with lovely pals. Also, as hinted at earlier, it turns out that many of them have PROGRESSED in their CAREERS and become DEAD GROWN-UP, often surpassing EVEN my own exploits in that direction, so there were multiple chats around topics such as REF, Open Access Policy, GP retention, public health policy and so on. It was actually PRETTY BLOODY GRATE, and also rather wonderful to see how everybody was doing.
And there were BANDS too, most of whom I had seen MANY times and ENJOYED enormously. I had NOT seen The Proctors before, and they were pretty excellent, and I also thoroughly enjoyed EVERYONE. If forced to choose I's say my favourite on the main stage was The Popguns, and ALL my fellow acoustic-stage performers were ACE. I think my favourite bit there though was the LUSTY singalong to "Dreaming" by Allo Darlin as part of Marky and Toniie's Indiepop Singalong. My throat was still hurting next day!
Actually, quite a LOT of me was still hurting the next day, which is surprising because I definitely got my 5 a day from the vegan curry stand and also took in PLENTY of fluids. Perhaps even... too many fluids?
Anyway, it was a LOVELY day out in the company of LOVELY people, and I would like to heartily thank the organisers for inviting me along again. Hopefully see you there next year!
posted 2/7/2023 by MJ Hibbett
(click here for permanent link)
(0) comments
The Beths
Last night I went to an ACTUAL GIG featuring not one but TWO bands I really like. Executive Summary: it was GRATE.
The headline act were
The Beths
, who I first heard of about a year ago when I asked on Facebook for recommendations of Good Bands to listen to. The Beths were mentioned more than anyone else and I quickly realised why - basically, if they were any more up my alley they would be round the back, in the yard, and using the outdoor toilet. It's indie music with big old tunes and choruses with Excellent Lyrics, which is very much what I like. I have since bought and loved all three of their albums, so was Very Excited to get to see them as most bands I like are EITHER long finished OR playing to 7 people in a pub OR a million years old and on their 900th record, so seeing a band in their POMP was a rare treat.
Another of my favourite recommendations on that list was
Lande Hekt
. It took me a while to get into her album, but then when i did I REALLY DID, so I was BLOODY DELIGHTED when I found out she was the support act. THUS I booked tickets, HARANGUED Mr M Sutton to be my gig buddy for the evening, waited about three months, and then it was HO! for The Electric in Brixton!
My excitement was such that we actually got there a bit early, before the support had even started, but that did allow us to nab an EXCELLENT spot, just behind what I thought was The Disabled Area. It turned out to also be The VIP Area, which meant there were a few twits doing Ironic Exaggerated Dancing and Making Sure Everyone Knew They Were There, but it was still quite sparse so it was like being on a RAISED PLINTH with a GRATE view.
The Beths are from New Zealand, and there was a NOTABLE and HEFTY Kiwi presence - it turns out there are still LOADS of them in London, and they are still VERY FRIENDLY INDEED. It was one of the nicest gig audiences I've been in for ages - I accidentally knocked into several people on the way to and from the loo and they were all so pleasant about it it was difficult not to bump into more of them.
Lande Hekt came on and was DEAD GOOD. I had done HEAVY REVISION beforehand which consisted of listening to her album again and again, but hadn't realised she had released several other EPs and SINGLES too. THUS there was lots I didn't know, and I realised that, for me, I really like it when I DO know all the songs - I have had lengthy debates about this sort of thing with Certain Percussionists I Know who have very much the opposite view, but for me I like to have 1 (one) new song and loads of HITS. In this case, there were ALSO loads of hits, which was BRILLO, and I am now going to head to Bandcamp to get the other stuff too!
Talking of sets with 1 (one) new song and loads of HITS... that is EXACTLY what The Beths came on and did, and it was AMAZING. COR! They have SO MANY HITS that it was only when I got home that I realised they HADN'T done "Happy Unhappy" which is one of my FAVOURITES. Still, there were TONNES of others, with nearly every song greeted with LOUD HOORAHS within 2 seconds of the intro starting. It felt like an alternate universe where The Beths were one of the biggest bands in the planet doing a low-key greatest hits set in preparation for Glastonbury or something, and to be perfectly honest that is a universe that I would very much like to live in.
It was bloody fantastic, and reminded me why going to gigs is so very excellent. The only disappointment is that I've now probably got AGES to wait - possibly even YEARS - before they put another album out!
posted 26/5/2023 by MJ Hibbett
(click here for permanent link)
(2) comments
Return To Dinosaur Planet
Alongside all of the OTHER stuff going on there is another SECRET PROJECT what I have been working on now for LITERALLY YEARS that has been secret because... um... well, now I think of it, I'm not entirely sure! It is still very much ONGOING so - SPOILERS - this blog does not end with me saying "And that is why I am leaving my job and going to live in the Cayman Islands for tax purposes" or anything, but I thought it might be nice to FINALLY explain what I've been doing.
So, a few years ago I self-published a BOOK called "Storm House", which some lovely people were kind enough to BUY with CA$H. Before that the book had originally been with an agent, with plans to sell it to Normal Publishers, but JUST when I was about to sign a contract with them (i.e. about a day away from so doing) that agent went on maternity leave and the agency decided not to go ahead with taking me on. This was NO FUN AT ALL and QUITE DISAPPOINTING to say the very least so I decided to release it myself. That was GRATE fun, but after a while I thought it might be worth another go trying to get it published in Actual Book Shops. With this in mind I got myself a copy of
The Writers And Artists Yearbook
and started going through the lists of agents again.
To cut a very very very very long story short, after many rejections and unanswered emails I eventually got through to someone who liked it and I got myself signed up with a LITERARY AGENCY - a real proper one too! I then spent a couple of YEARS re-writing "Storm House" several times to make it into a Proper Kids' Book, and then another YEAR or so seeing if we could sell it. I am sad to report that we DID NOT sell it, so all in all it was probably a good thing that I put it out myself!
HOWEVER, his was not the end, for during COVID TIMES I sat myself down and wrote ANOTHER book, and LO! this one was an adaptation of
Dinosaur Planet
, because why wouldn't it be? However, rather than do a straight adaptation of the original I took onboard the (MANY) INSIGHTS gained from the re-writes to the first book and set out from the start to make it suitable for kids. This involved making the CHARACTERS into children, so that now Terry is about 10 and his COUSIN (not his Grandad) is the one who has all the theories about dinosaurs. More than this, however, a whole NEW character emerged with a whole NEW story who links together loads of the original bits of plot and adds in several GRATE new bits, and also JOKES. For example, there's a bit I particularly love involving a dancing competition on a roundabout near New England. It is, I think, JOLLY GOOD.
It has been an ENJOYABLE but also STRENUOUS experince, which is by no means over. The book was finished last year and then MY AGENT (I really like saying "MY AGENT" and I must admit that the ability to say that more often in public is a big part of the rationale for finally blogging about all this!) sent it out to publishers. They then sent back very nice rejection letters, some of which included WISE THORTS, and one in particular generated some VERY good ideas which me and MY AGENT (it's cool isn't it?) discussed at length.
The upshot of all THAT is that I then did ANOTHER massive re-write which made it all a lot shorter and funnier, which I sent over to MY AGENT a couple of weeks ago. Since then I have been working on an OVERVIEW of the SERIES - yes, the SERIES - which is destined to go off with the main book when it gets sent out again. I do not mind telling you that doing this has been some of the BEST FUN of the whole (incredibly lengthy) process, as I get to sit around thinking "Oh yes of course, in Book Four they can go to COSMIC PETERBOROUGH" or "AHA! So THAT is when The Space Poo reveal what they really are!" and so on and so forth.
It does feel nice to say (or type) this out loud at last! It has, as I say, been a VERY LONG PROCESS with lots of twists and turns and also lots of me wanting to give up entirely, but at this point I'm feeling more hopeful than I have in a long time that it might actually GET somewhere. I am really keen to UNLEASH some of this new stuff onto people, and though I cannot do so as yet I'm hoping to be able to at least TELL you about it in a bit more detail soon!
posted 18/5/2023 by MJ Hibbett
(click here for permanent link)
(0) comments
Football is GRATE!
On Friday night I headed home after a couple of days of being GROWN UP and also PROFESSIONAL to watch a FOOTBALL MATCH of high importance. For LO! after a long season of Generally Not Being Quite As Good As One Might Have Hoped, Peterborough United had jammily made it into the play-offs!
I have had a proper SEASON TICKET this season so have watched a LOT of games live, but sadly I could not do so this time (despite having BOUGHT a ticket) because of the combination of WORK STUFF (as mentioned yesterday) finishing too late and mostly THE RAIL STRIKES, so I could neither get THERE nor get BACK. As it happened it was probably for the best, as I was UTTERLY KNACKERED after all that ACTUAL WORK and would likely have collapsed on the train there and ended up in Newcastle or something.
So it was that we gathered on the sofa instead, with a Now TV One Day Sports Package to watch the mighty Posh take on Sheffield Wednesday. I must admit I was expecting a somewhat gruelling contest with Posh trying to defend against a team who Had Scored Lots More Points Than Us. What I was NOT expecting was a BLOODY BRILLIANT game full of GOALS! It was incredible, everything seemed to go our way to a LUDICROUS degree and this bunch of players who SOME PEOPLE have been quite RUDE about on a regular basis (not me, of course, I respect their professionality) were actually DEAD GOOD. It was AMAZING!
I did miss BEING there, but it was also pretty good being at home with the relevant ACCOMPANIMENT and also easy access to the fridge and GRUB, although I did miss out on the third of the four goals because I'd gone to the chippy!
It was 4-0 to us in the end, with another leg to go later this week at Sheffield. I am now full of HOPE that this means we are off to WEMBERLEY, where we are UNBEATEN, and then going up up up into The Championship. When that happens I will be DELIGHTED, and anybody who says I have ever felt otherwise is talking nonsense. Last time we were in the Championship (i.e. LAST season) it was a constant source of joy and I for one did not moan AT ALL about us constantly being beaten by teams who were better than us (i.e. all of them). I fully expect NEXT season to be completely different and to see us battling for promotion into the Premier League. NOTHING CAN GO WRONG!
posted 15/5/2023 by MJ Hibbett
(click here for permanent link)
(3) comments
A Model Professional
Last week was SUPER BUSY with some distinctly NON-ROCK escapades.
On Wednesday I went up to Manchester to attend
Figshare Fest
, the annual get together of European users of the research data repository system
Figshare
. As I am Important Manager of the
UAL Research Data Repository
I was there to REPRESENT us.
The event itself was actually happening on the Thursday, but it had an early start so I headed up the day before and THUS got to relive a bit of LIFE ON THE ROAD. It's several years since I used to be Arriving At A Premier Inn At About 6pm at least once a week, back when I was doing 50+ gigs a year, and doing it again like this was weirdly NOT quite as exciting or fun as I remembered. I did get to go out and about - first for some Vegan Junk Food (vegan junk food is the JUNKIEST of all junk foods, it was ACE) and then a DELICIOUS pint of Atlantis Pale Ale at
North Taproom
, which was all GRATE, but then I had to go back and sit on my own in a ROOM at the end of it all, which was less so.
Figfest itself, however, was DEAD GOOD. After four or five years of DOING this job I know a couple of people to say hello to at these events now, and was VERY BRAVE and spoke to a few more, including one EXCELLENT chap who told me all about
DMP Online
. The nice thing about an event like this is that it is a SAFE SPACE where you CAN get over-excited about an online system that helps your researchers to put together Data Management Plans for research bids, but I realise that out in the wider world this is perhaps NOT quite as thrilling, so will say no more about it... but it was DEAD EXCITING!
The talks were also DEAD GOOD for much the same reasons, including one from Edge Hill about generating ARTS research profiles that made me want to jump up and shout "HECK YES!", although I managed not to. We also got some FREE SOCKS too, which is a Conference Freebie that I think more events organisers should look into.
It was a good day, and even MASSIVE DELAYS to trains heading home was not enough to dim my enthusiasm for what had gone before, especially because I plonked myself in Avanti Standard Premium and didn't get charged for it. HA! Take THAT, Doctor Beeching!
Then on FRIDAY I went to a WORK THING all about "Continuous Improvement". Continuous Improvement, as far as I can make out, is all about improving, but continuously. The benefit of this - and you may want to take notes here - is that things get better, and keep doing so. I know this is a lot to take in.
To be blunt, it was NOT QUITE AS ENGAGING as the previous day, but I was PROUD of myself because at no point did I THROW A WOBBLER or STORM OUT or MAKE POINTED REMARKS (well, not much of the last one anyway) and spent much of the day thinking to myself "Come on, you're here now, you might as well do it" so that I did ENGAGE with the TASKS. The best bit was making a big Lego model for one of those tasks where you do that, and when they asked our group to describe ours I got to say "We have REJECTED your BOURGEOIS NOTIONS of colour co-ordination". It's good fun sometimes, working in an Art College.
I also popped over to TATE BRITAIN, where I was v excited to see a) an installation made up of tonnes of RICE where you could see the paw prints of a MOUSE what had run over it and b) that the Turner Gallery is open again. I do love a bit of Turner, and I stood briefly in it going "COR!"
However, the big excitement of the day was yet to come, for LO! there was FOOTBALL ahead!!
posted 14/5/2023 by MJ Hibbett
(click here for permanent link)
(0) comments
The Book Of Doom (and Dennis)
While all this ROCK preparation has been going on I have also been toiling away on some other projects, notably the EN-BOOK-IFICATION of my PhD thesis.
Last year I put together a PROPOSAL what I sent off to a Grown-Up Academic Publisher and, after some to-ing, fro-ing and REVIEWING, it got ACCEPTED. Since then I have been working hard on turning the thesis into an Actual Book that people could Actually Read, and I tell you this: it has not been EASY.
For a start, a PhD thesis is a very different proposition to an Actual Book, as the thesis tends to include all sorts of stuff that no normal reader wants to know, like huge showing off about your methodological research, how you came round to deciding to do the research you're doing, what the failed attempts were, and ESPECIALLY a long, long list of all the things that this specific thesis ISN'T.
This last bit did my head in at the time. It's recommended so that when you have your VIVA you can say "AHA! The reason I did not do the thing you think I should have done is explicitly written in the thesis itself!" and it has to be said that it proved to be quite useful when the time came, but it was a DELIGHT to be able to go through and take it all OUT again. Similarly there was a whole section about how I periodised The Marvel Age which a) is GRATE but b) is a whole other thing and c) is being published elsewhere (hopefully) so doesn't need to go in.
I thought this was all going to be fairly peasy, but it turned out to be anything but. Going through the thesis I discovered that making it into a book about the IDEAS rather than the CHRONOLOGY of doing it meant that I had to do a complete re-structure to make it make any sense at all. I also found that there was TONNES of repitition which needed to be sorted out, and also (WHISPER IT) some MISTAKES that needed to be corrected.
It took flipping AGES, but even THAT was not the biggest job. For LO! the aforesaid reviewers had all suggested that doing the whole thing about Doctor Doom wasn't enough. It was all well and good using him as the case study for my Unified Catalogue Of Transmedia Character Componenents, they said, but they wanted me to do it on some other characters too to show that it wasn't just a Doctor Doom Assessor. This meant, in effect, doing the WHOLE PROJECT all over again!
All right it wasn't quite that drastic - the Catalogue was all worked out so I didn't need to do THAT again, but I did need to identify a CORPUS and SAMPLE of texts, read all the texts, get the information out of them, ANALYSE it all, and then write about it. After much THORT I eventually decided to analyse a (much smaller) bunch of texts about DENNIS THE MENACE!
"Ah!" you might say, "but WHICH Dennis The Menace eh?" This is an excellent question, and the answer is BOTH! For those who don't know, there are two entirely different characters, both called Dennis The Menace, with one appearing in newspaper strips in the USA and the other in The Beano in the UK. In what everybody calls "Comics' greatest coincidence" (because it is) BOTH these characters were first published on THE VERY SAME DAY in 1951, entirely independently of each other, and have carried on ever since. It is WEIRD, but also TRUE!
I thought it might be a good test to carry out an analysis of them to see what the Catalogue could come up with. THUS I put together a sample of texts featuring both characters throughout their history and used my CATALOGUE to see what was the same about them (SPOILERS: mostly the name), what was different (pretty much everything else) and what these differences could tell us about the cultures they came from (A LOT). It turned out to be a GRATE thing to do full of FASCINATING stuff which I very much look forward to unleashing upon a waiting world at some point soon-ish (soon in academic terms anyway, a while away in normal human terms!).
At the moment I'm waiting for some comments to come back before I go through and do a final draft and then - OH JOY - I have the pleasure of Sorting Out The References And Formatting. This is something I used to do for my old boss at Birkbeck, and it was clear that he handed it over to me because it is A MASSIVE PAIN. Still, I'm hoping to get it all done in the next few weeks and then it is HO! for Peer Review! I'm sure that will be FINE!
posted 3/5/2023 by MJ Hibbett
(click here for permanent link)
(0) comments
A Silver Jubilee Of ROCK
Yesterday I promised you news of EXCITING FUTURE ACTION from the
Artists Against Success Bandcamp site
and today I intend to fulfill that mighty promise in FULL. For LO! We are working on a NEW COMPILATION ALBUM! Well, I say "we", it is mostly Mr FA Machine doing the hard work, but a) I am doing some fancying around and b) it is my blog, so WE it is.
Frankie suggested doing this in order to celebrate TWENTY FIVE GLORIOUS YEARS of Artists Against Success - a Silver Jubilee of ROCK, if you will - reaching all the way back to the distant days of our very first single
Clubbing In The Week/Only Everything
featuring Sienna and ME, way back in 1998.
Since then we've put out several compilations (also available on
our Bandcamp site
) and also many OTHER OUTPUTS by many many excellent OTHER BANDS, some of whom do not even feature either of us, and so the idea is to do a NEW one featuring ALL of the bands we've EVER put out - or at least as many of them as we can actually get hold of. THUS over the past few weeks we've been contacting AAS ALUMNI to ask for a track - old or new, released or unreleased, under the same name or new - that we can put together and UNLEASH upon the world in a few weeks time.
So far it has been going REALLY WELL, with a TONNE of HOT TRACKS already received. It is going to be a GRATE package when it is complete, covering a VAST RANGE of different types of ROCK. It's also going to feature some new stuff from ME and various ASSOCIATES, but I shall tell you about that another time. For now, ready your thrill receptors for a JOLT of ROCK later this month!
posted 2/5/2023 by MJ Hibbett
(click here for permanent link)
(0) comments
Return Of The Blog
It's been quiet around here - ALMOST TOO QUIET - for a while, and that is because a) there's been all sorts going on but b) not much of it has been anything for the blog. HOWEVER! And very much HOWEVER MORE! That is all about to CHANGE.
For LO! Mr F A Machine has been hard at work building up the
Artists Against Success bandcamp site
, which features a METRIC TONNE of archival material from the days when the label was ACTING like a label and putting out all sorts of stuff, rather than just albums by ME. This includes some of our GRATE compilations, including
Now That's What I Call Valid
(the first EVER online compilation album - someone tell Norris McWhirter), our fifth anniversary BEST OF
No Sales: No Sellout
, and even
I Preferred The Earlier Stuff (A Uk​-​Indie List Compilation)
, the TAPE compilation that PRE-DATES and indeed FORETOLD AAS itself!
I was going to say "And Best Of All - IT'S ALL FREE!" because it IS - if anyone wants to pay CA$H we'll find a charity to give it to, but you in no way have to - but then I realised that there is MUCH MORE to the site than just that. For starters, it is doing important work unleashing albums that NEVER CAME OUT IN THE FIRST PLACE. This particularly applies to
Where Were You When Diana Died?
the INCREDIBLY long-awaited album from Sienna that was meant to come out in 2006 but... um... didn't!
Frankie has been toiling away in the archives and has put together an EXCELLENT 21 song selection which covers the band's entire recording career and it is ACE. INDEED, he has done such a thorough job on ANTHOLOGISING that there was nothing left to use for the NEXT thing we've got coming out on the label.
What's that? "What next thing?" you ask? AHA! Yes, there is MORE to come from AAS, and I shall tell you about that... NEXT TIME!
posted 2/5/2023 by MJ Hibbett
(click here for permanent link)
(1) comments
A Year Of Unearthly Beauty
It was roughly a YEAR ago that
I first unveiled my until then SECRETIVE INTENT to record a SOLO ALBUM
, tentatively (and boringly) called "Back To The Office". A few months later I UNLEASHED the definitively (and much better... er... ly) titled
The Unearthly Beauty Of MJ Hibbett
, and since then I have been embarking upon a course of releasing a video for every single song therein.
Earlier this week that mighty project was COMPLETE, with
the unleashment of 'People Who Stand In The Door'
, but that was not quite the end. For LO! over recent weeks I have been working on an AMAZING PLAN to forge all of these videos together into a single entity - a VISUAL ALBUM, if you will - containing ALL the songs, in the correct order, like a MOVIE.
And today I can reveal
The Unearthly Beauty Of MJ Hibbett: THE MOVIE
to the world - HERE:
As you'll see, it's MOSTLY the original videos, edited to fit together more nicely, but there's also some EXTRA bits, notably a less travel-sickness-inducing version of
Someone Else's Turn
and a rather SNAZZY title sequence that I must confess I am quite pleased with.
I'm not sure that anyone else is ever going to watch the whole thing all the way through, but I do really like the FACT that it EXISTS, and I especially like the FACT that it is DONE. Doing a whole album AND a VISUAL ALBUM has been quite a lot of work over the course of the year, but now that it's all finished I've got an exciting new question to answer: what shall I do NEXT?!?
posted 30/3/2023 by MJ Hibbett
(click here for permanent link)
(0) comments
People Who Stand In The Door
Today I am DELIGHTED to unleash the latest, and indeed FINAL, video from my album
The Unearthly Beauty Of MJ Hibbett
-
People Who Stand In The Door
. Look, it's just here!
The subject matter is, as you can probably gather, something of a BUGBEAR of mine, especially as I have spent my working career in UNIVERSITIES where there appears to be a compulsory module about standing OR OFTEN SITTING DOWN ON THE FLOOR in front of all possible doorways, with extra credits for looking digsusted with anybody trying to use the door way in its old-fashioned manner rather than seeking to play with convention and disrupt the mainstream by GETTING IN THE BLOODY WAY.
The video was put together based on suggestions from various chums on Twitter and Facebook, who suggested a LENGTHY list of images that could be used. I couldn't get them ALL in, but I think I got most. Thanks VERY much to everybody who helped out there, if they hadn't I'd probably still be trying to put it together now!
The fact that this is the final video means that my grand plan to do a video for the whole album is now completed... or NEARLY. For LO! there is an extra step to this which involves putting it all together into one complete VISUAL ALBUM or indeed MOVIE which will be released into an unsuspecting world on FRIDAY this week. First details about it will be available in
the newsletter
, so do
sign up
if you want to be the first HEP CAT on your block to know all about it!
posted 27/3/2023 by MJ Hibbett
(click here for permanent link)
(1) comments
Stick To The Agenda
Another week, another video, as we move INEXORABLY towards the end of the month when I shall be unleashing "The Unearthly Beauty Of MJ Hibbett: THE MOVIE" upon the world!
There'll be more exciting information about that nearer the time, but for today let us focus our fascination on this latest video what I have done, this time for
Stick To The Agenda
:
Like MANY of the songs from
The Unearthly Beauty Of MJ Hibbett
, this is very much based upon my WORKING LIFE and something I have had to SILENTLY RAIL AGAINST for about THIRTY YEARS (i.e. since I was two years old). It is ALWAYS the people who complain about how busy they are in MEETINGS that cause those very same meetings to be ten times as long as they NEED to be by waffling on endlessly throughout them. These specific people are not, however, solely to blame for the issue - if other people (who have the power to do so - so not me!) pulled them up on it and ENFORCED the agenda it wouldn't happen, but everyone is either a) scared b) too polite or c) waiting for THEIR turn for a monologue.
THUS I hope this song will become an instructive part of modern management training, helping people to run more PRODUCTIVE meetings and enabling The Hard Working British Worker to get out of meetings earlier so they can go and play outside... I mean, increase productivity at their workstations. Really, I should be getting a GRANT for this sort of public service!
posted 18/3/2023 by MJ Hibbett
(click here for permanent link)
(0) comments
Superhero Scholarship
A few weeks ago I went to a meeting alongside my esteemed colleagues from
CoRH!!
, UAL's Comics Research Hub. This is a grouping for all those of us who are doing reseaerch in comics, with a core (CoRH!!) bunch of us who do things like running
the online conference in 2020
and then various other associated TYPES who are ALLIED. It is basically an official way of saying "The UAL-ish Comics People", but with more exclamation marks.
We had been ASSEMBLED in order to meet with someone from the University's external communications team, who wanted to look at ways to get publicity for what we do. This was pretty flipping exciting because, with the best will in the world, academics tend NOT to be very good at doing this - they ARE quite good at saying "why is nobody interested in my amazing research?" but NOT so adept at actually TELLING PEOPLE ABOUT IT. THUS someone from Comms actively WANTING to help spread the word about our mighty activities was pretty GRATE.
We had a very jolly meeting with lots of IDEAS, including one by ME to try and get some action going for ME around the future of Marvel movies and the possibility of Doctor Doom FINALLY turning up in the new Ant Man. Sadly that did not occur but then a little while later there was an announcement that James Gunn woud be taking over the management of the DC Cinematic Universe. "I have lots of opinions about this," I thought, "which are VERY CORRECT. Surely it is my duty to share them with the wider world?"
THUS I contacted Alex From Comms and we worked up a THORT PIECE about it. Sadly The Mainstream Media were not hugely interested so instead Alex decided to go FREE RANGE and put it up on the University website, under the exciting title
Superhero scholar Dr Mark Hibbett predicts the future of the DC Comics Universe following new slate of films
.
I was pretty chuffed with this, not least because it says "DR Mark Hibbett" which is always a bit thrilling. Also, I'd forgotten that there's quite a good bit about the utter bollocks that is "superhero fatigue" that I'd enjoyed writing and also enjoyed re-reading! The only downsides to the article are a) when I shared it on The Socials several people pointed out that James Gunn does look a bit like me in a
Black (all right, white) Hair And Glasses Brigade
sort of way and b) technically I am a SUPERVILLAIN scholar, although I guess Doctor Doom would probably disagree.
Anyway, it was BRILLIANT to have something like this to show off about, and it has prepped the engines for the glorious day when Doctor Doom FINALLY gets into a film and I can make my bid for being on telly. I read earlier today that this now might now be happening until 2027, at which point I will probably look a lot MORE like James Gunn, at least in terms of hair colour!
posted 16/3/2023 by MJ Hibbett
(click here for permanent link)
(0) comments
The Future Of Dance
Today I am absolutely flipping DELIGHTED to unveil the video for
Ode On A Blue Bag
, featuring as it does an interpretive dance performance by myself and Mr S Hewitt that is surely destined to blow the SOCKS off the interpretive dance establishment. See for yourself HERE:
That sound you hear is the DANCE EMERGENCY klaxons going off at Ballet Rambert, Sadlers Wells AND SO FORTH, alerting them to a mighty disturbance in THE DANCE FORCE.
It may amaze you to discover that our performance was almost entirely improvised - we agreed on the bit with the bag being taken away, but otherwise we just DONE it. While editing it I was particularly delighted by the way we are clearly a) taking it Very Seriously and b) bringing our own backgrounds into play, me with my recent excursions into TAI CHI (i.e. that is pretty much what I was unwittingly doing throughout) and Steve with his ACTUAL THEATRE DEGREE. It just goes to show what we COULD have been doing for all those years at various Fringes if we hadn't been held back by having to play INSTRUMENTS. If/when me (and Steve) ever take to the boards again I think there is a definite argument for hiring an ORCHESTRA so that we can be fully free to express our BODIES!
posted 13/3/2023 by MJ Hibbett
(click here for permanent link)
(0) comments
Carrying The Message To The Kids (Oh Yes)
Many years ago, back in the distant depths of the previous century, the name "Artists Against Success" first came into being to describe a series of GIG NIGHTS at The Magazine pub in Leicester. It then rose again to become a CONCEPTUAL record label, used by various people to make it look like we were "signed artistes" (I'd like to say we were SUBVERTING the very idea of such things, but mostly it was in order to make us look COOL), and not long after that transmuted into an ACTUAL record label, beginning with the release of the
Clubbing In The Week/Only Everything
split single with Sienna in 1998.
The label went from strength to mighty strength over the next eight years or so, with a whole HOST of fantastic releases from a wide variety of GRATE acts, before then going A Bit Quiet in order to concentrate on one particular artiste (hem hem). Those early years of ACTION were bloody brilliant fun, with regular BOARD MEETINGS where myself, Mr Whitaker and Mr FA Machine would get together in the pub once a month to plot future endevours (fully minuted of course), including new ARTISTES, Annual General Meetings (featuring the mandatory singing of The Company Song) and a surprisingly large number of label COMPILATIONS.
We also had a pretty massive WEBSITE, containing all of the above DOCUMENTATION, but in recent years this has been replaced by a SHALL WE SAY
more "streamlined" site
which has largely been used by ME as a way to keep track of what the next CATALOGUE NUMBER should be.
That has all changed this week, however, as I am delighted to point out that Frankie has put together
an AMAZING new BANDCAMP site
, containing ALL of those early compilation albums which you can now download FOR FREE (or at a PAY WHAT YOU LIKE price if you prefer). That includes the world's first EVER mp3 download compilation
Now That's What I Call Valid
, our FANTASTIC Christmas compilaton
Kung Fu Santa With A Christmas Punchbag
, as well as some ACTUAL ALBUMS by the AAS artists Dr Coca Cola McDonalds and Lazer Guided!
Most excitingly for ME, however, is that it ALSO includes the RE-ISSUE of an artefact that PRE-DATES Artists Against Success -
I Preferred The Earlier Stuff (A Uk​-​Indie List Compilation)
. As the title suggests, this was a compilation TAPE put together by members of the UK-Indie mailing list. It was MASTERMINDED by Frankie back in 1998, bringing together tracks from the various people on the list. You can read about how it came to be in Frankie's EXCELLENT
sleevenotes
, and of course listen to the tracks too, but the key point of it for ME was that this marked the first time EVER that Frankie had ever heard any of my recorded output. I sent him very early versions of
I Come From The Fens
and
Billy Jones Is Dead
and this was the start of OVER A QUARTER CENTURY (so far) of MUSIC MAGICKERY what has continued up to and including this week's release of the
It's Hard To Be Hopeful (Bass, Hope & Clarity Mix)
single!
I am told that there is MORE to come, including an album that was assigned a catalogue number nearly 20 years ago but never actually came out, but for now I HIGHLY recommend DOWNLOADING some of these albums - you can stream them online OBVS, but the downloads include a METRIC TONNE of additional material which Frankie has lovingly pieced together, including several VIDEOS of The Company Song being sang by a HOARDE of artistes. It is a thing of GRATE beauty, and I commend it to you!
posted 1/3/2023 by MJ Hibbett
(click here for permanent link)
(0) comments
Comics And Agency
I was sitting at home the other day, diligently going about my work, when the doorbell rang. I wasn't expecting anything and assumed it was a wrong number, so was SURPRISED when the postie on the intercom said it was for ME. As he made his way upstairs to the flat I tried to work out what on earth it could be, and it was only when he handed it over and I saw that it had come from GERMANY that I realised what it was.
For LO! it was my ACTUAL COPY of the ACTUAL BOOK
Comics And Agency
what I wrote a CHAPTER of and which came out
back in November
. I'd be told that my copy would take a while to turn up and so it had dropped to the back of my BRANE, which made it all the more exciting to open the package and find THIS beautiful item within: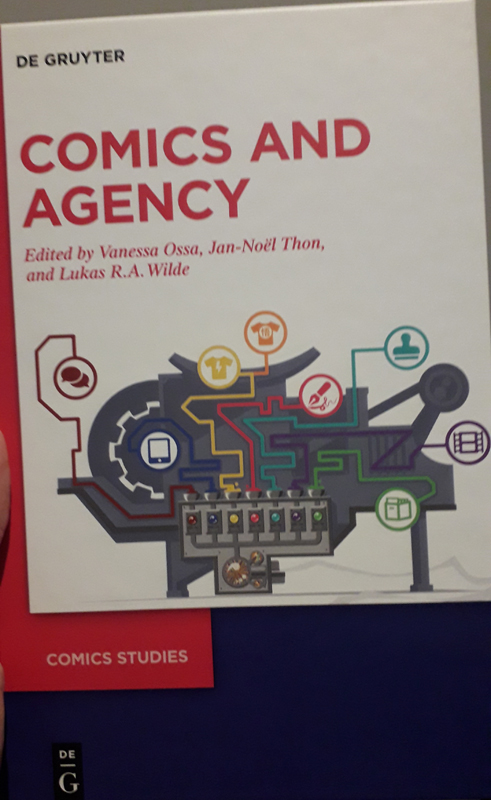 Yes, as I'm sure everyone has noticed, that IS an Ultimate Nullifier that has been worked into the cover design, something which gives a clue to the general EXCELLENCE within. I was already excited about it, but having an actual real copy of it in my hand made it seem much more REAL, so that when I flipped through the pages I was THRILLED all over again to see the PROPER GROWN-UP NAMES of ACTUAL RESEARCHERS in it along with me.
If you'd like to read it then you can do so immediately as it's available to download FOR FREE from
the De Gruyter website
as OPEN ACCESS. I would heartily recommend doing so as there are some MIGHTY BRANES involved with some MASSIVE THORTS, and also a sizeable chunk of me explaining some of my analysis of the authors of Doctor Doom comics. IN AN ACTUAL BOOK!
posted 28/2/2023 by MJ Hibbett
(click here for permanent link)
(1) comments
It's Hard To Be Hopeful (Bass, Hope and Clarity Mix)
Today I am UNLEASHING the fourth and final single from
The Unearthly Beauty Of MJ Hibbett
- a brand new remix of
It's Hard To Be Hopeful
by our very own Frankie Machine which he has called the "Bass, Hope & Clarity Mix", for reasons which should become clear when you hear it. It is, not put too fine a point on it, BLOODY GRATE!
It's available on all the usual streaming services - for instance
Spotify
,
Amazon
and
iTunes
- and I've also done a VIDEO for it which you can witness BELOW:
The only place we're NOT currently putting it out is on
Bandcamp
, as there are PLANS for a REMIX EP to come in the near-ish future. Otherwise you should be able to get it pretty much EVERYWHERE, and if you do I very much hope you LIKE it!
posted 27/2/2023 by MJ Hibbett
(click here for permanent link)
(0) comments

An Artists Against Success Presentation