Blog
Gigs
Facts
Music
Shop
Links
Blog: Hello Librarians!
This morning I got a MARVELLOUS email from Mr D Nicholls pointing out that
Dinosaur Planet
is featured in the current edition of CILIP Update, the official magazine of
the Chartered Institute of Library and Information Professionals
. Here's our page in full - click for bigger!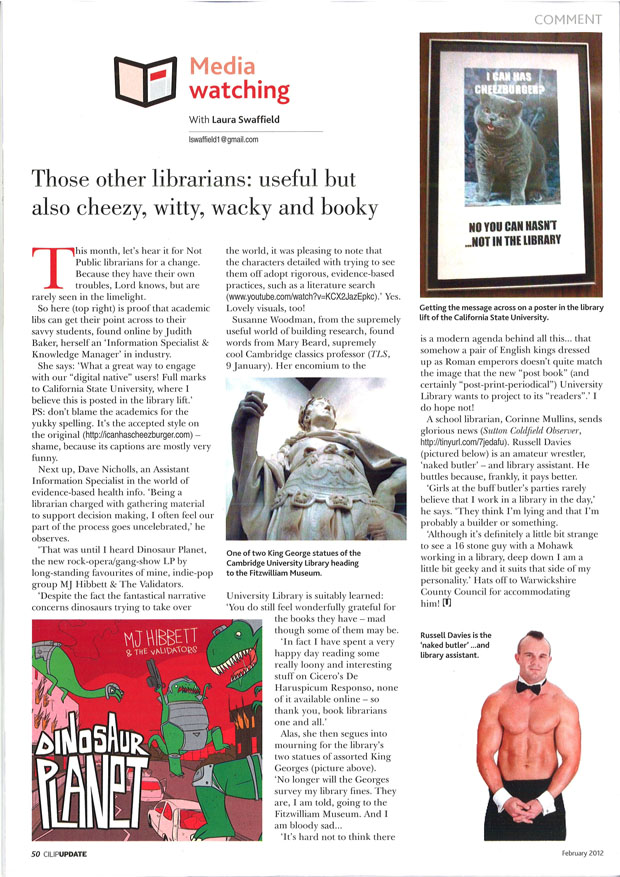 Part of yesterday morning's GLUMS was due to the (percieved by me) lack of HUGE MEDIA COVERAGE for the album, so this was a LOVELY surprise. It's an honour to be featured by such an AUGUST institution, and I hope the album's message of a world saved by proper academic research methods RESONATES with all their readers!
posted 17/2/2012 by MJ Hibbett
Comments:
Not just a full cover shot, but also a nice picture of you there too bottom right.
posted 17/2/2012 by Pete

An Artists Against Success Presentation