Blog
Gigs
Facts
Music
Shop
Links
Blog: Hibbettfest 2014
I spent a LOT of Saturday travelling, and it was all worth it, for LO! it was Hibbettfest!
Most of the travelling was spent on Chiltern Trains, who have this KRAZY IDEA that they can run a rail service charging REASONABLE PRICES for tickets. Madness! After an extremely pleasant trip to Birmingham I met Mr Chris T-T at Moor Street station, having both got off the same train, and we then got the train to Cradley Heath, where Mr K Kirkham picked us up.
We arrived at the Hibbettfest Site (i.e. Ray's Mum and Dad's house) to find everything ready to ROCK - Ray had done a HUGE table full of GRUB, there was BEER, lots of lovely people, and the sun was out. The sun didn't stay out all day, but everything else continued as above - more and more lovely people arrived, more and more beer and grub was consumed (the highlight of which was Chris being astonished/delighted when he was told that ALL the food was vegan) and a HIGH OLD TIME was had by one and all.
We had THREE acts on this time around, the first being Mr A Hale, who played my old guitar, dealt with WASPS, and interacted with the hordes of children to delightful effect. My favourite part of his set was his MEDLEY of his former hits, which he started off with a Beatles song, "because all medleys should start with a Beatles song".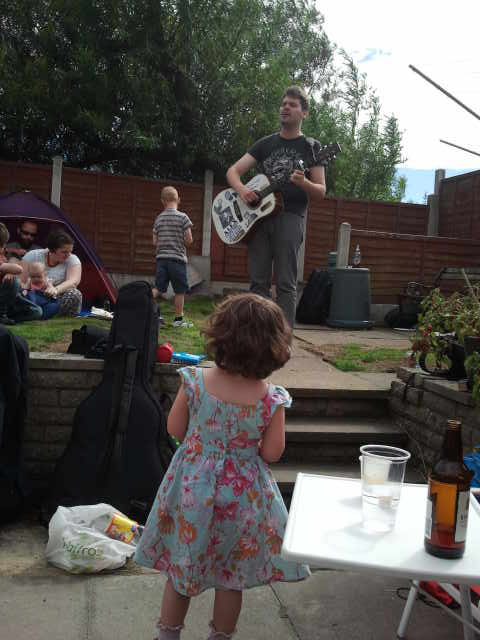 Chris T-T was next, and it was marvellous to watch him work the patio as if it was a big sweaty rock venue, kicking off with an acapella AA Milne song and then thoroughly charming the assemblage with his wonderful songs. I felt rather privileged to see it!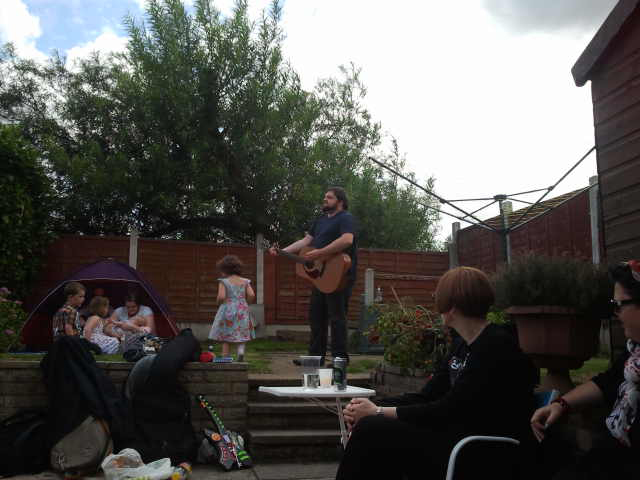 Ray was on EMCEE duties throughout, and gave me a BIG intro before I took to the paving, along with Mr T "The Tiger" McClure, and done THIS:
I had an ENORMOUS amount of fun, inside for the first couple of songs (it rained a bit) and then back outside for the res. I especially enjoyed doing REMARKS with Tom and, even more especially, getting Mr L Pearson (i.e. Ray's nephew) to do a GUITAR SOLO on his toy guitar during
(You Make Me Feel) Soft Rock
- it's what the song was missing! Here is a picture of events as they occurred, courtesy of Ms H Hall's facebook:
All that was left to do was for Ray to demonstrate almost Kitson-esque levels of compering by managing to HECKLE HIMSELF for several moments... and then to wrap up with a big thanks to everyone - it should, of course, be BIG THANKS to Ray himself for organising such a lovely day out. This was something like the NINTH of these events, and they seem to get more DELIGHTFUL each time, also BUSIER, partly because more people come and partly because those who do keep making NEW people!
After more chat and polishing off food (especially the AMAZING homemade Jaffa cake) everyone piled into vehicles and headed into town. Me, Chris and Tom were in the TIGERMOBILE and we dropped Chris off for his train before heading to the traditional Hibbettfest after party venue, The Wellington, where we were greeted by this rather marvellous site: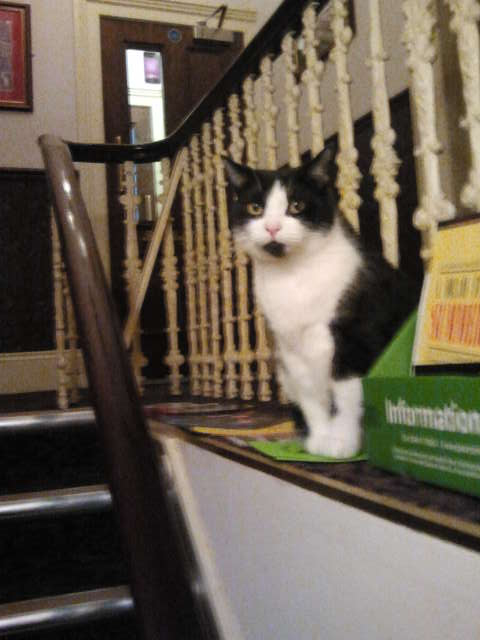 It's a dead nice pub which, on this occasion, was full of dead nice people, and it was quite a WRENCH to have to TEAR myself away to get the train home. I was KNACKERED all day the next day, but as previously stated, it was worth it!
posted 11/8/2014 by MJ Hibbett
Comments:
When you played Moseley a couple of months ago, someone (I think it was Ray) invited me. I'm sorry I couldn't make it I couldn't make it
posted 11/8/2014 by Steve
Sorry. Curse this modern technology (That lets me post this from a pub in the middle of nowhere)
posted 11/8/2014 by Steve

An Artists Against Success Presentation