Blog
Gigs
Facts
Music
Shop
Links
Blog: (Still) Defying The Man And All His Machinations
After the BUILDING BUSTING excitement of the night before, Saturday morning found me feeling headache-y, poorly in the stomach, and oddly fatigued - I guess I must have caught a BUG in the pub (etc etc). I decided the best way to sort myself out would be to have a nice big breakfast, so set off round Leicester city centre in search of such a thing.
"I'm not just going to go to Weatherspoons", I said to myself, and thus spent an unproductive twenty minutes failing to find ANYWHERE open for breakfast foods... except for the Weatherspoons. Resigned to my fate I went in and, actually, had some decent grub, though I WAS slightly OFFENDED when the young lady bringing my breakfast over said "Large vegetarian?" That's a bit personal isn't it?
Duly FED I headed over to the station where I met Mr M Whitaker, erstwhile AAS Board Member, who was coming with me to meet the THIRD corner of the AAS Board Triangle, Mr F A Machine, in Derby for the Winter Beer Festival. Mat had come to the gig the night before and I'd a) told him I was off the the Derby Beer Festival next day to meet Frankie then b) asked/INSISTED he come along. He did!
The Beer Festival was taking place at the Derby Roundhouse, just by the back door of the train station, which was VERY handy. As we rolled up I got a text from Frankie saying that the Beer Bus had been delayed. I thought he was JOKING, referring to a LIFT he was getting or something, but then the ACTUAL Beer Bus arrived! It was a shuttle service from town with BEER as the destination, FULL of middle-aged CAMRA-looking gentlemen. Frankie came running off to meet us, eager to get into the festival before everyone else disembarked, but was halted by the glorious, unexpected, sight of Mr WHitaker waiting for him. We shared a three-way HUG and headed in.
The Beer Festival was GRATE, and very similar to all the other Beer Festivals I've been to i.e. free for CAMRA members, you could hire or buy glasses (although quite a LOT of people seemed ot have brought their own with them) and there was LOADS of beer within. The big differences this time were that they ONLY had half pint glasses, and it was CIRCULAR, so that it was very easy to lose your bearings. That's my excuse anyway.
What followed were several hours of IMMENSE pleasure, as you can see here: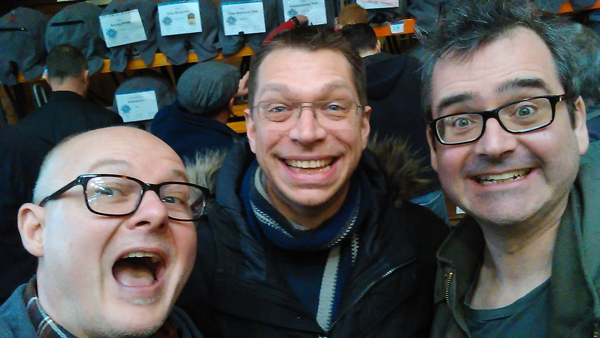 The three of us yacked away and tried OVER SEVERAL different kinds of beer. Mat had never been to a festival before, but he soon got the hang of it, and I must say the circular layout made it VERY easy to do the traditional Start At One End And Wander Round. We paid a trip to the Shiny Brewery Stand, featuring young Jimmy Machine proudly selling his wares, and tried some Lime And Chilli Chocolate. PRO-TIP: if offered some Lime And Chilli Chocolate, don't try it, it's disgusting!
Soon it was nearly 3pm and time for us to toddle over to catch our train. This was perfect timing, as we had had JUST enough to remain Lightly Squiddly but still MORE than sober enough to do trains properly. It had been a LOVELY afternoon, but if you heard a TITANIC GROAN echoing around the land on Saturday afternoon, you now know what it was - it was THE MAN, breathing a sigh of RELIEF that we had concluded our meeting. Rest easy for now, THE MAN, but one day The Board Of AAS will reunite again!
posted 22/2/2017 by MJ Hibbett
Comments:
---