Blog
Gigs
Facts
Music
Shop
Links
Compilations: 393 Alex Fans *Might* Be Wrong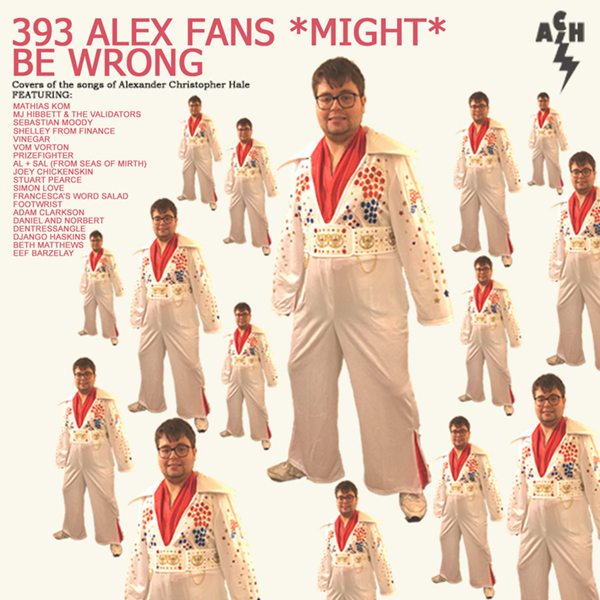 Compilation of covers to celebrate Alex's 10 glorious years in showbiz!
You can get it online here:
Bandcamp
Alex says: "For my 30th birthday, my wonderful wife Lucy arranged a cover compilation of my songs by a whole host of my friends. And, after a year and a half, and a handful more submissions, here it is - just in time to mark the ten year anniversary of my exciting and self-serving career in music!
This compilation was assembled by Lucy-Kate Handcock Hale, with some later input from her husband (who wishes to remain anonymous out of modesty).
Tracks:
The Failed Soviet State of My Heart - Mathias Kom
The Lighthouse Keeper's Song - MJ Hibbett & The Validators
O, Cowardly King of the Canary Islands! - Sebastian Moody
The Warmth Thru the Walls - Shelley From Finance
1-2-3-4 - Vinegar
Vampire - Vom Vorton
Fast Forward - Prizefighter
Whale of a Tale! - Al + Sal (of Seas of Mirth)
Roll With The Blast - Joey Chickenskin
The Failing Soviet State of My Heart - Stuart Pearce
Last Man Standing - Simon Love
O, Cowardly King of the Canary Islands! - Francesca's Word Salad
I Can't Promise You Forever - Alexander Christopher Hale
Seasonal Affection Disorder #2 - Footwrist
Theme From Poirot's Boys - Adam Clarkson
Carry Your Good Name - Daniel and Norbert Dentressangle
The Failed Soviet State of My Heart - Django Haskins
Song For a Satellite Town - Beth Matthews
A Song is For Life and Not Just For Christmas - Eef Barzelay


An Artists Against Success Presentation