Blog
Gigs
Facts
Music
Shop
Links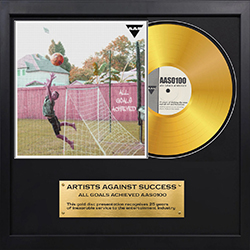 Artists Against Success are BACK with a new compilation album which celebrates a quarter of a century of defying THE MAN and all his machinations.
You can get it online here:
Bandcamp
Amazon
"All Goals Achieved" has 25 songs, most of which are exclusive to the compilation, with every single band that AAS have ever worked with represented. That includes The Cuban Boys, White Town, The Fighting Cocks, Rodney Cromwell and several versions of MJ Hibbett, along with the first new material from Johnny Domino and Dr. Coca-Cola McDonalds in 15 years. Between them the people appearing can boast 16 entries in the John Peel Festive Fifty (three reaching number one), 10 Peel sessions, four other Radio One sessions a residency on BBC3's Comedy Shuffle, and one UK Number One. "It's brilliant that everyone wanted to be involved," says co-Chair Frankie Machine. "Our main goals, apart from defying THE MAN, were to not rip people off and not be total wankers, so hopefully this shows we achieved them." "Hence the name," adds other co-Chair MJ Hibbett, unnecessarily.
Tracks:
No Candy - The Fighting Cocks
Sing Something That You Want Sometime - The Frightened Prisoners Of The Kraken
I'm Doing The Ironing - MJ Hibbett & The Validators
Every Day - White Town
Wristwatch Television (Alternate Mix) - Rodney Cromwell
Contact - Stumble
99% Potato - Jane and John
Old Habits - Johnny Domino
Evil Jukebox #6 - Evil Jukebox
Collective Nouns - Frankie Machine
Workstrike - Cuban Boys + Petrol Bastard
Talkin' 22nd Blues - The Chemistry Experiment
Sport! - MJ Hibbett
At The Surface - Pala
Love Song (Lovebirds Remix) - L Christian Lundholm
My Pronouns Are CLOWN and CLOWNSELF - Dr. Coca-Cola McDonalds
The Pebble And The Boulder (Wandrin' All Stars vs. MJ Hibbett Mix) - Wandrin' All Stars
Valentine - The Nightjars
Mess Up Your Life (Doppelganger Mix) - Sienna
Rocco PI - Voon
Ebbnflow - Mallard The Wonderdog
Dark Reflections - I Am Wilbraham
Sorry, I Was Drunk - Marc-O
On The Ideal Of Manhood - The Lovely Brothers
Do It Yourself - MJ Hibbett (and Steve)


An Artists Against Success Presentation