Blog
Gigs
Facts
Music
Shop
Links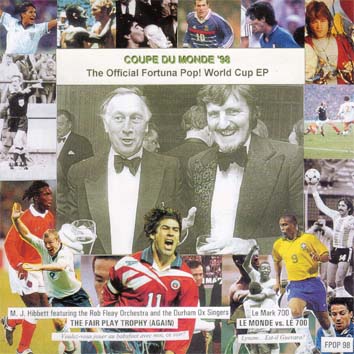 This EP sold out ages ago, and as far as I know isn't available anywhere.
The Fortuna Pop! World Cup '98 EP, this also featured a track from Mark 700 and one by Thee George Squares, who were Scottish Mick (Prolapse), Joni (Discordia) and James The Kung-Fu Cookery Teacher (Fabians). So many stories – this somehow came out on the same day as Clubbing In The Week, which was bizarre, and is so far the only record I've ever had played on John Peel. Afterwards I went to the Pub with Turk, Pat from Prolapse and Tim the Celebrity Drummer, who had a very long conversation about The Most Boring Seaside ANYWHERE. The song itself was recorded on my 4-track, which I took round to Rob's for trumpet, and then down the PUB for some backing vocals. Searching for a name for the group of people who turned up that Sunday afternoon, we came up with The Durham Ox Singers, and a LEGEND was born.

The Main Story about this, however, is How David Beckham Stole My Fame. Sean had sent the single to all sorts of places, and ended up in Deep Discussion with "Under The Moon", the late night TV sports programme. They were dead interested in having us perform the song LIVE on the show, and I set about recruiting a band. They asked that a new copy be BIKED round to them for a final decision the morning after England's next game. That game was England vs. Argentina, granted it was probably one of the most EXCITING games EVER (I watched it in the Pump & Tap and didn't think I was going to survive the Rollercoaster Ride of NERVES), but the next day even I could see that a song about the Fair Play Trophy wouldn't be fitting at all.

We did win it that year though.
Tracks:
74 in 98 - Thee George Squares
The Fair Play Trophy (again) - Mark Hibbett feat. the Rob Fleay Orchestra and the Durham Ox Singers
Le Monde Vs Le 700 - Le Mark 700


An Artists Against Success Presentation