Blog
Gigs
Facts
Music
Shop
Links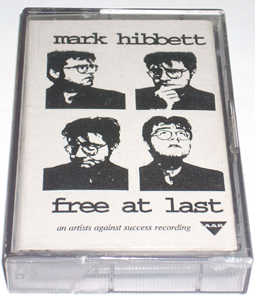 In 1995, after five or six years of playing in bands like
Voon
and
The Council
, I decided it was time to try doing something all on my own. Like George Harrison I had a LOT of songs that I'd wanted the band to play but had never quite got as far as being tried. Unlike George Harrison, however, the majority of them were a bit rubbish, but I wasn't to know that at the time.
I'd just moved into a flat of my own which, rather conveniently, had an attic with nothing much in it (apart from the usual landlord detritus of old carpets, locked wardrobes and mangy sofas) so borrowed a four track off my friend Mr Chris Lawson and a tape deck to mix down onto from Mr Gary Gilchrist, and got myself a studio set up.
Over the next month I recorded 26 songs (I said there were a lot left over!) and, rather than prune away the dodgier material, stuck it all onto an hour long cassette called
Free At Last
. Some of it was pretty rotten it has to be said, especially some of the songs that had been originally written for my Rock Opera "Welcome To The Market" - yes, I know - but some of them were all right.
The Perfect Love Song
,
Billy Jones Is Dead
,
Fucking Hippy
, and
Would If I Could
would all be re-done later on and there's one called "Last Night" that I still intend to resurrect one day. On the whole though it was a bit ropey - part of the problem was the unpleasant way I was trying to sing, but the main trouble was what I was singing. I was trying very hard to write "Proper Songs" so it was all a bit humourless and where it wasn't it was just annoyingly whacky. I handed about 50 copies out to friends and people I knew in other bands, and to my surprise it completely failed to get anyone to offer me a record contract.
Tracks:
Nothing Special
Morning After
The Perfect Love Song
Stay The Night
Oh Well
Caroline
My New Flat
About You
Billy Jones
Quarter Life Crisis
Out Tonight
Best Wishes
Wide Awake At 2am
Leftovers
Confidence
The Perfect Love Song
Last Night
Fucking Hippy
Desperation Row Desperation Row
Billy Jones Is Dead
I've Pulled
The Best
Kenneth's Tuesday
Nearly The End
Over You
Would If I Could


An Artists Against Success Presentation