Blog
Gigs
Facts
Music
Shop
Links
Releases With Other Bands: Last Notes On A Late Story/Air Vent Telephone Vasectomy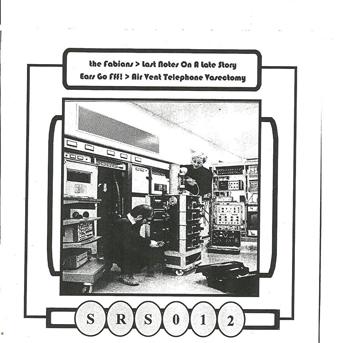 Jimmy already had a version of this recorded with just vocals and guitar and he came round my house one night to record the flute. He also brought a flute player. As I was there, and as there was a spare track going, I very kindly forced him to let me play some bass. Later on we went to Sorted Supremo Dave Dixey's house to put it onto his six-track, and then we recorded some of Neil playing Synthesiser. It was all thus recorded very basically, and ended up being mixed at Abbey Road!
The other side is Geordie Mick from Prolapses "side project". You wouldn't want to listen to it more than once, and even that was perhaps taking it a bit too far.
Tracks:
Last Notes on a Late Story - The Fabians
Air Vent Telephone Vasectomy - EARS GO Fff!


An Artists Against Success Presentation