Blog
Gigs
Facts
Music
Shop
Links
Internet only: Now That's What I Call Valid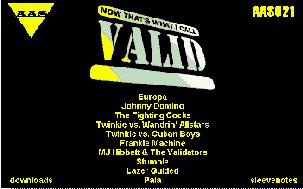 After the success of
Hey Hey 16K
we looked around for Another Idea to use the Interweb creatively, and came up with the first Internet Compilation Album - EVER! We'd been talking about doing a label compilation for AGES, but it all seemed such a headache arranging tracks and especially paying for the damn thing. However, once we decided to do it online the whole thing was finished in about a month - bands just emailed us songs they had spare, we bunged them on the internet, and HOLA!
Mr Right
is another leftover from the
Say It With Words
sessions and is a rerecording of a song on the tape
The Thoughts of Chairman Hibbett
. This version is a LOT better than the original!
If you'd like to download it,
you can find it here
.
You can get it online here:
Bandcamp
Tracks:
Supermodels - Europa
Chicago - The Chemistry Experiment
The Good People Of America - Cuban Boys vs. Wandrin' Allstars
Bands from London (are shit) The Fighting Cocks
My Funny Valentine - Frankie Machine
The Canadian National Anthem - Johnny Domino
Slow Razzle - Lazer Guided
Mr Right - MJ Hibbett & The Validators
Keep In Time - Pala
Chromosomes - Saloon
Terraform - Stumble
This Is Your Enemy - Twinkie vs. Cuban Boys
The Artists Against Success Company Song


An Artists Against Success Presentation