Blog
Gigs
Facts
Music
Shop
Links
EP/Singles: The Swingin' Sounds Of Sixties Marvel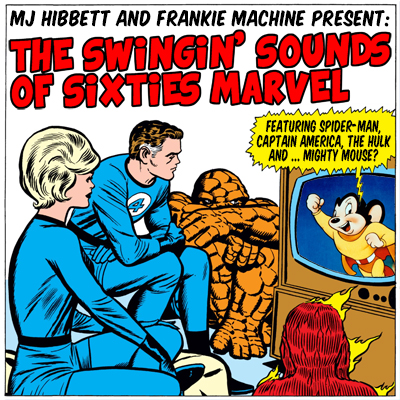 MJ Hibbett & Frankie Machine release an EP of superhero theme tunes.
You can get it online here:
Bandcamp
'WandaVision' was not the first TV show to give catchy theme tunes to Marvel superheroes - that was 'The Marvel Superheroes', a cartoon series from 1966 that featured theme tunes for Captain America, Iron Man, Thor, and The Hulk. These songs have since been sampled by MF Doom and Ghostface Killah, re-interpreted for the Marvel Cinematic Universe, and are now the subject of a new EP from MJ Hibbett and Frankie Machine.

'The Swingin' Sounds Of Sixties Marvel' features eight versions of superhero theme tunes, including those for 1967's 'Spider-man' and 'Fantastic Four' cartoons. They were originally recorded for a forthcoming presentation at Birkbeck College's 'Transitions 9 - New Directions In Comics Studies' conference, which will see MJ and Frankie discussing how these songs captured the spirit of Marvel comics during this time, and comparing them to other theme tunes such as 'Mighty Mouse' and 'Batman'.

The presentation originated in MJ's PhD research - a thesis being undertaken at Central St Martins called 'Doctor Doom In The Marvel Age (1962-1987): An Empirical Approach To Transmedia Character Coherence' - but is a joint effort between the pair. Frankie and MJ have performed together for over 20 years in MJ Hibbett & The Validators, but remarkably this is their first release as a duo.


Tracks:
Spider-Man Theme
Batman Theme
Captain America Theme
The Incredible Hulk
The Marvel Superheroes Have Arrived
Mighty Mouse
The Fantastic Four Theme
The Merry Marvel Marching Society
The Merry Marvel Marching Society (whistling version - bonus track)
Batman/Spider-man mash-up (bonus track)


An Artists Against Success Presentation